Bag of words

Using the Bag of words tool, you will receive the relevant keyword list by the analyzed text. The tool shows the most used keywords in the text with keywords frequency.

The tool will help to:
• understand the topic of the text;
• divide keywords by theme (for tags creation, for example);
• expand the pull of keywords;
• delete spam keywords;
• analyze feedback and form the main thought.

The Bag of words will be useful for:
• SEO specialist;
• copywriters, editors, and everyone who engaged with text;
• owners of websites and businesses.

How to use the tool:

1. In the tool, type your API token from the profile.
2. Choose the source to analyze: by the added text or URL.
3. Paste the text or the URL. You can also choose the option to show the words that were mentioned once to get the full list of keywords!
4. Click on Run.
5. In the table below, you will see the ready result.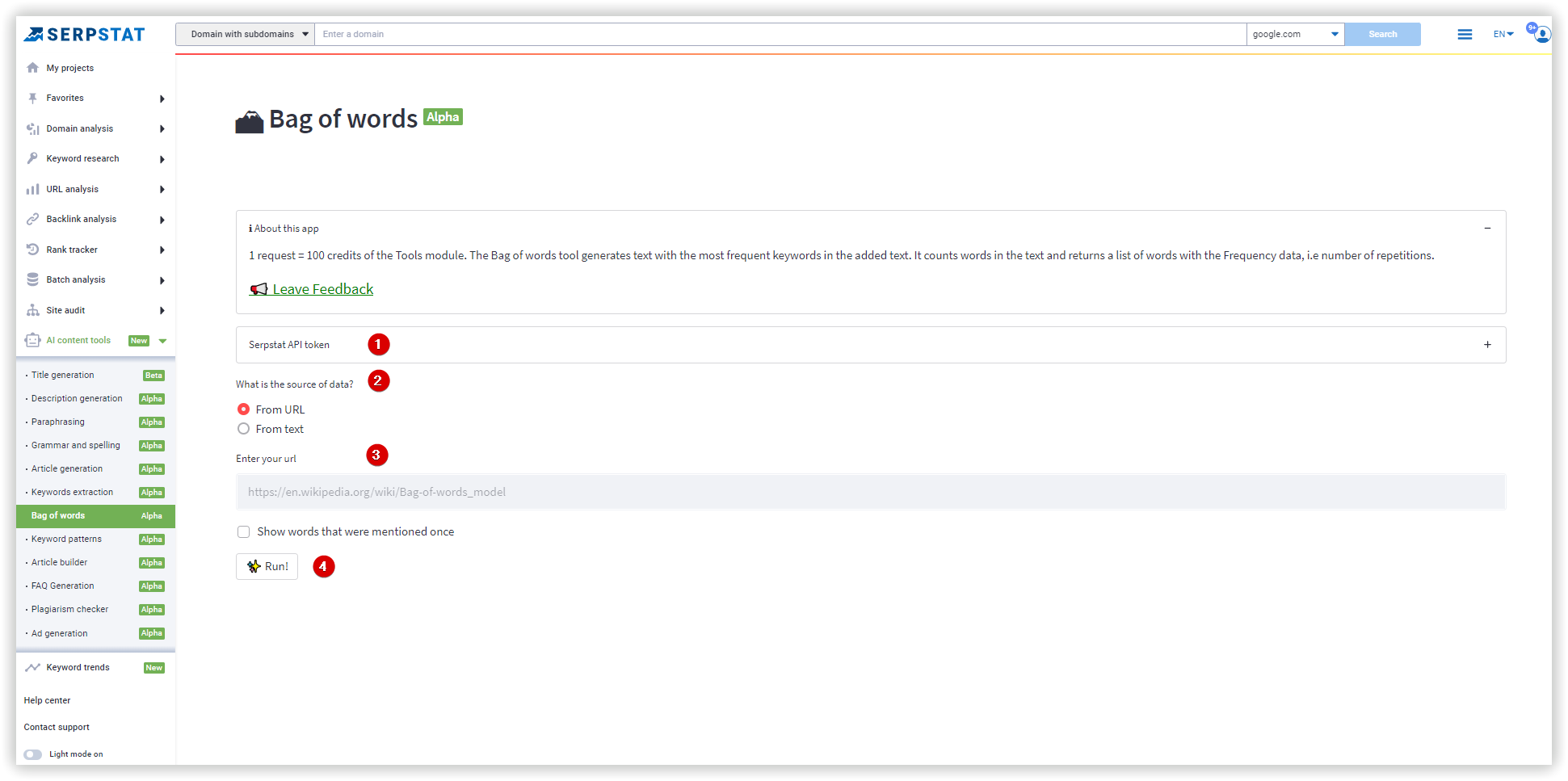 Use Cases

1. Copy any part of text from articles, product descriptions, blog posts, or social network posts, and then paste it into the related field. In this case, you will get the most relevant keywords from the analyzed text in a specific business field.
2. The analysis by URL allows you to check the competitors' page without additional copying part of the text. Also, this method helps in updating old articles from your blog.
3. Use finished keyword lists as tags for the articles or categorize your pages by using them; such remarks increase the interactions in your content by the users.
4. As a news website owner, go to the Keyword trends section, filter the date by the last week or day, choose the city or region, then copy the list of most frequent search queries and paste them into the Bag of words tool. In this case, you will get free topics for the news, analytics, or articles.

Available to:
Users with a Lite subscription or higher.

Credits:
1 request = 100 credits of the Tools module.
If you still have any questions, can contact the tech support chat.

To learn more about how the tool works, you can watch the attached video!