Analyze organic/paid search results in mobile and desktop Google and Yandex
Track changes of search results of the analyzed keywords instead of separate domains
Check positions of the site in search results of any country, region and city, in all languages
Receive detailed daily reports with the latest site position updates
Serpstat Rank Tracker features

Serpstat tracks the top 100 for a keyword in Google search results, and the top 50 for Yandex. This means that you receive data of all domains, not just yours or tracked competitors. Thus, you receive data on the domains of all competitors in the search results of this request.
Keyword grouping for maximum tracking

Serpstat allows you to distribute keywords into different groups and see the dynamics of positions changes in the context of these groups. It makes no sense to study the top for all phrases as a whole - it is necessary to analyze competitors on specific topics. For example, if you are an online store that sells various groups of products, then you have different competitors in each group of products. Grouping phrases with tags will help simplify the analysis.
Use your limits as you wish

You have the opportunity to manage the limits as you like. We do not limit you to daily rates and if the pricing plan allows you to remove the position of 15K keywords in 1 region per month, then you can do it at a time.
Traditional rank tracking
Regular rank trackers show you the position of your domain for monitored keywords and, depending on your preferences, positions of your competitors that you add manually.
With Serpstat, John can track the positions of top-100 domains that rank for his keywords.

"By tracking only your progress, you're missing a lot. Without knowing how the positions change for those domains that are not included in your project, you can miss the big changes or the arrival of new competitors."

Serpstat saves data on all 100 positions, which means that John can track the ranking progress of any competitor, and John will also see when a new competitor shows up in top-100.
When using another tool, users are limited to their domains.
To get the same kind of data for another domain, they need to create a separate project and re-configure everything.



John adds all his competitors in one project, and when he needs to check how they are doing, he simply switches to their domain with the same settings for the same keywords.
Local monitoring of paid and organic search in mobile or desktop results with the accurate to the city.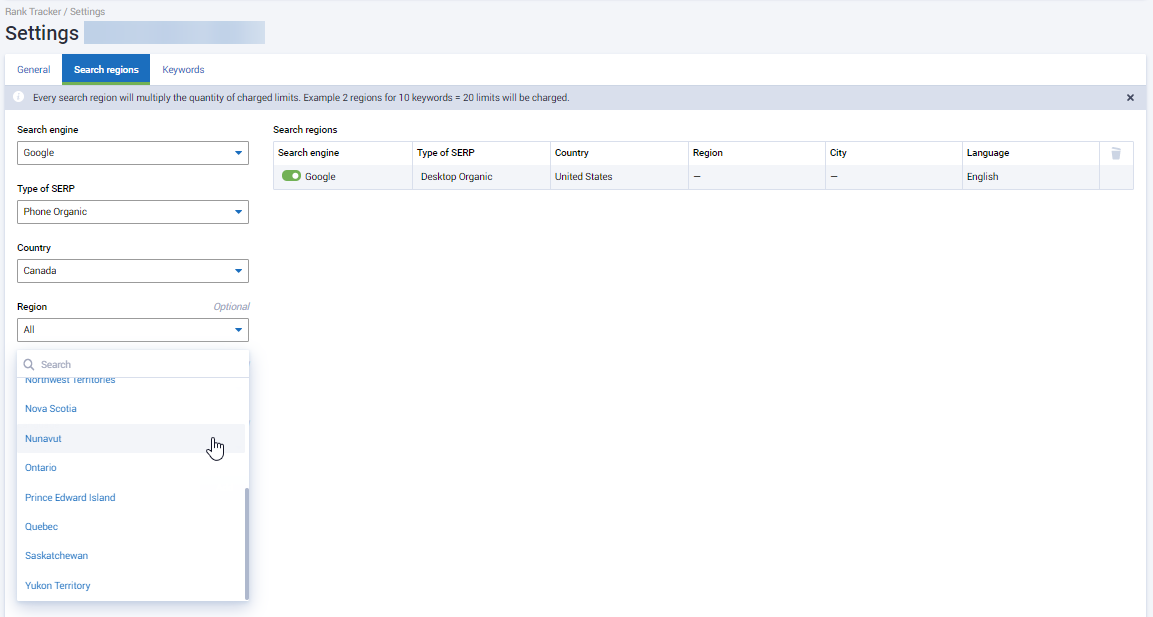 The minimum, average and maximum position of the domain upon request in SERP.

SERP historical data for all projects.
Analysis of expected URLs and URLs in SERP.
Unlimited users at no additional cost.
Share your project with team members and give your clients or boss their own login for reporting. Make the process of reporting easier and automatic.
Serpstat updates ranking data every day, thus providing the data that is as accurate as possible. Track as many keywords as you need, there's no limitation on the number of keywords to track.
Graphs of the positions dynamics on demand, changes in snippets and the Storm for the analysis of site bounce in search results of a specific request.
The most flexible schedule for tracking positions rather than standard daily/weekly/monthly.
No restrictions on the number of tracked competitors. The number of search regions depends only on the limits of your plan.
Serpstat tools that may interest you
Comprehensive data on keywords so that you can better understand your audience.
Getting a detailed list of all backlinks to find referring pages, domains and anchor list.
Running an in-depth analysis of your site to get a complete list of errors and ways to eliminate them.
Group a large number of keywords into clusters for simple and quick work with the semantic core of the site.
Making a list of tasks to work on projects. Use Serpstat templates and adapt them to fit your goals.
Personal demo
Leave a request and we will conduct a personal demonstration for you via Skype, provide a trial period and offer comfortable conditions to start exploring