SEO Tools and Features 
Analyze websites and competitors, create content, collect keywords, check backlinks, find on-page SEO issues, cluster tons of keywords and track rankings daily.
Over 55 tools for SEO and PPC professionals, marketing experts and big digital agencies.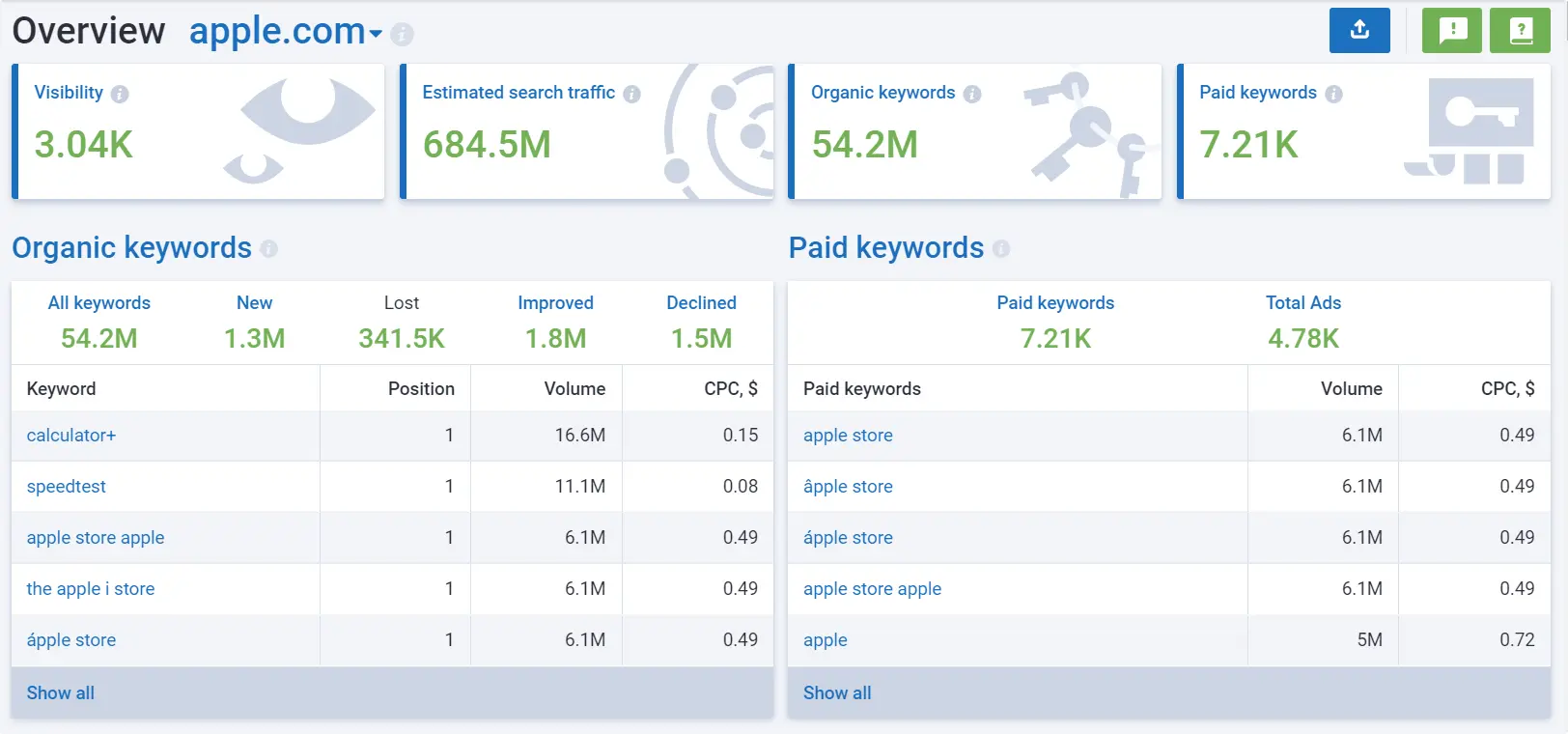 Trusted by






More Information About our SEO Tools
Track
Rankings
Find
Keywords

Get more
 links
Upgrade
On-page SEO
Compare domains
and keywords
Keyword Research

Collect keywords for a site, based on regional search results, and analyze the following metrics: volume, popularity, competition, keyword difficulty.
 ● Find all keyword options, similar keywords and suggestions
 ● Analyze your competitors by keyword search results
 ● Expand content for each page with missing keywords
 ● Analyze volume, keyword difficulty and competition
Read more about Keyword Research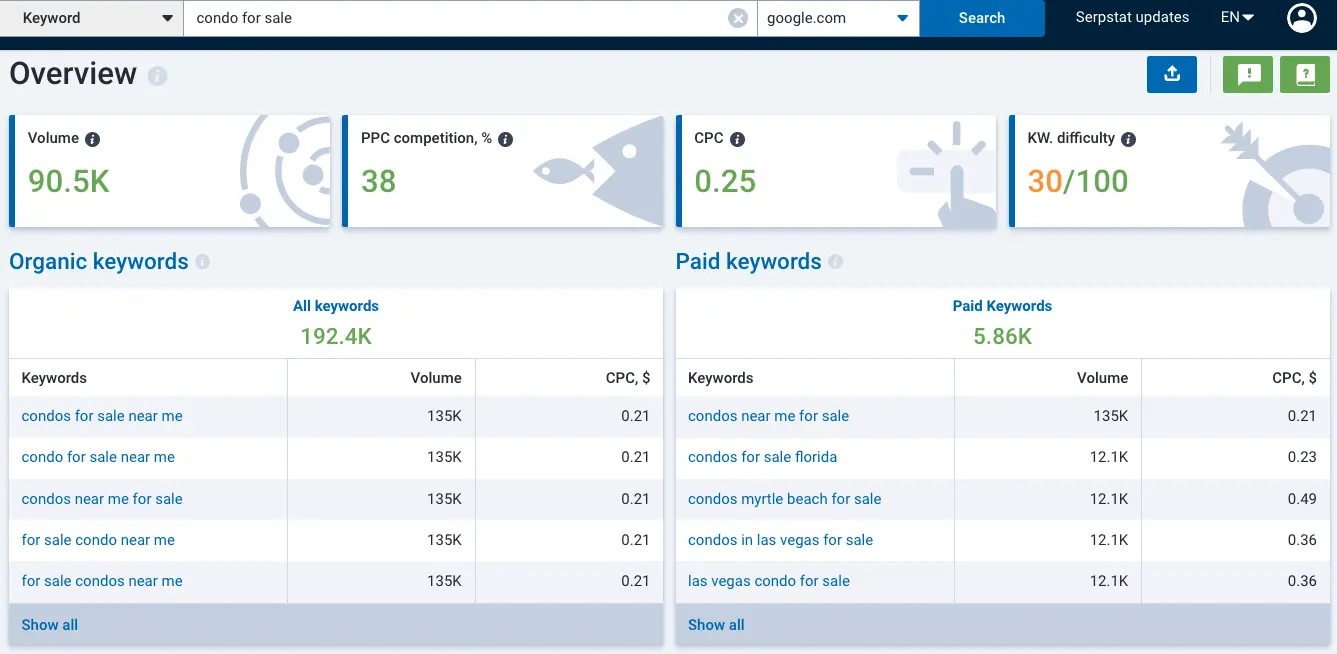 Rank Tracking
Check rankings in search results of a domain and its competitors. Rank tracking in Google allows detecting changes in search results and controlling the market share of your domain.
 ● Track market share and your site ranking with analyzed keywords
 ● Schedule reports for your rank tracking project
 ● Track rankings of your closest competitors
 ● Group your keywords by tags
Read more about Rank Tracker

Backlink Analysis
Backlink analysis tool provides data on backlinks, anchors, link donors, identifying malicious links and tracking all changes in the link profile of your domain and the sites of your competitors.
 ● Track lost and new backlinks
 ● Collect common link donors of your competitors
 ● Find malicious links you need to get rid of
 ● Check the quality of your site backlinks
 ● Analyze the results of your link building campaign
 ● Make up a list of all anchors and link types.
Read more about Backlink Analysis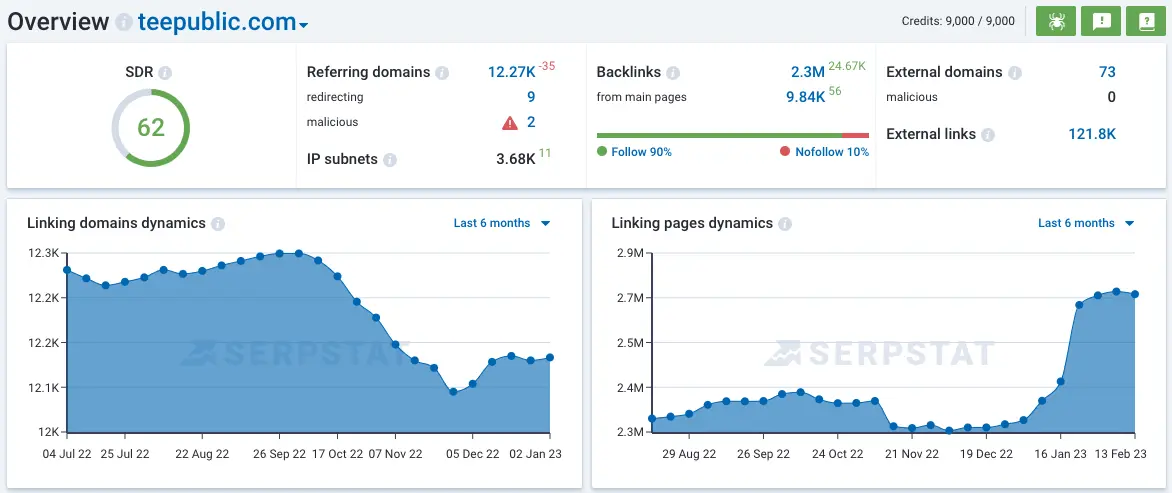 Website SEO Audit
Quick and advantageous audit of any site or page allows you to find technical issues that affect the optimization and visibility. Audit results are displayed by priority and include issues and detailed recommendations for their elimination.
Read more about Website Audit

Batch Analysis
Analyze up to 100,000 keywords or list of domains and compare the most important metrics.
● Grow your traffic by optimizing a site with relevant keywords
● Check out competitors link profiles.
● Compare data on any 5 search databases at the same time
● Select authoritative sites for placing links
● Analyze the SEO of your site's subdomains
● Export popular keywords for a region and run ads based on them
Read more about Domain or Keyword Batch Analysis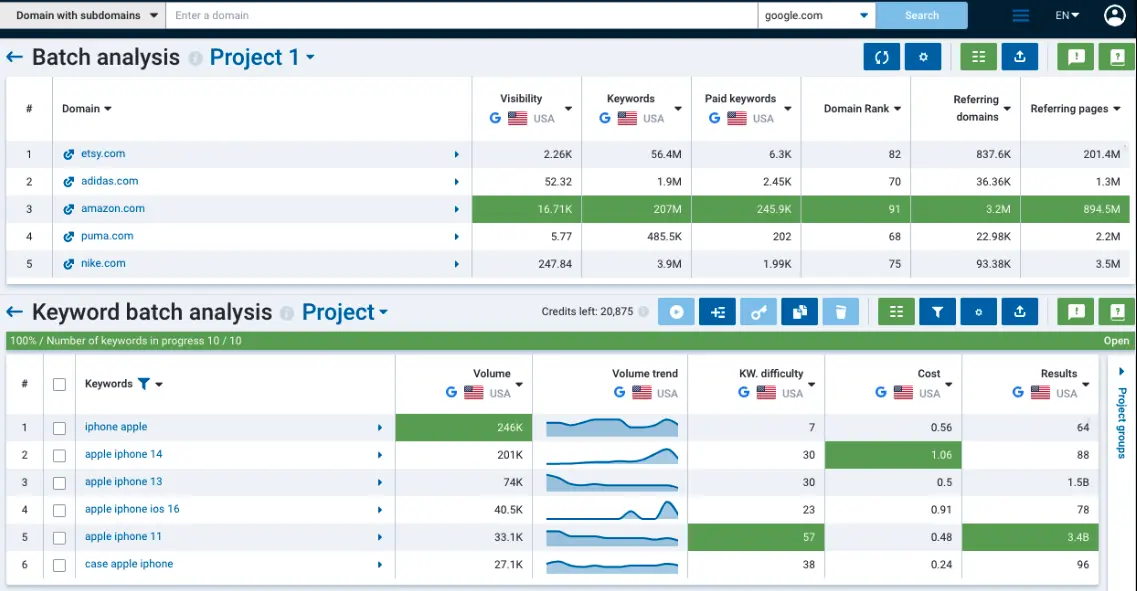 Competitor Analysis
The competitor analysis tool allows to find relevant online competitors, the keywords which they use for promoting, analyze successful ads and identify organic traffic of the site.
 ● Find your SEO and PPC competitors
 ● Find the most popular pages of competitors that attract traffic
 ● Collect the best keywords of competitors for SEO and PPC
 ● Compare domain visibility and traffic
Read more about Competitor Analysis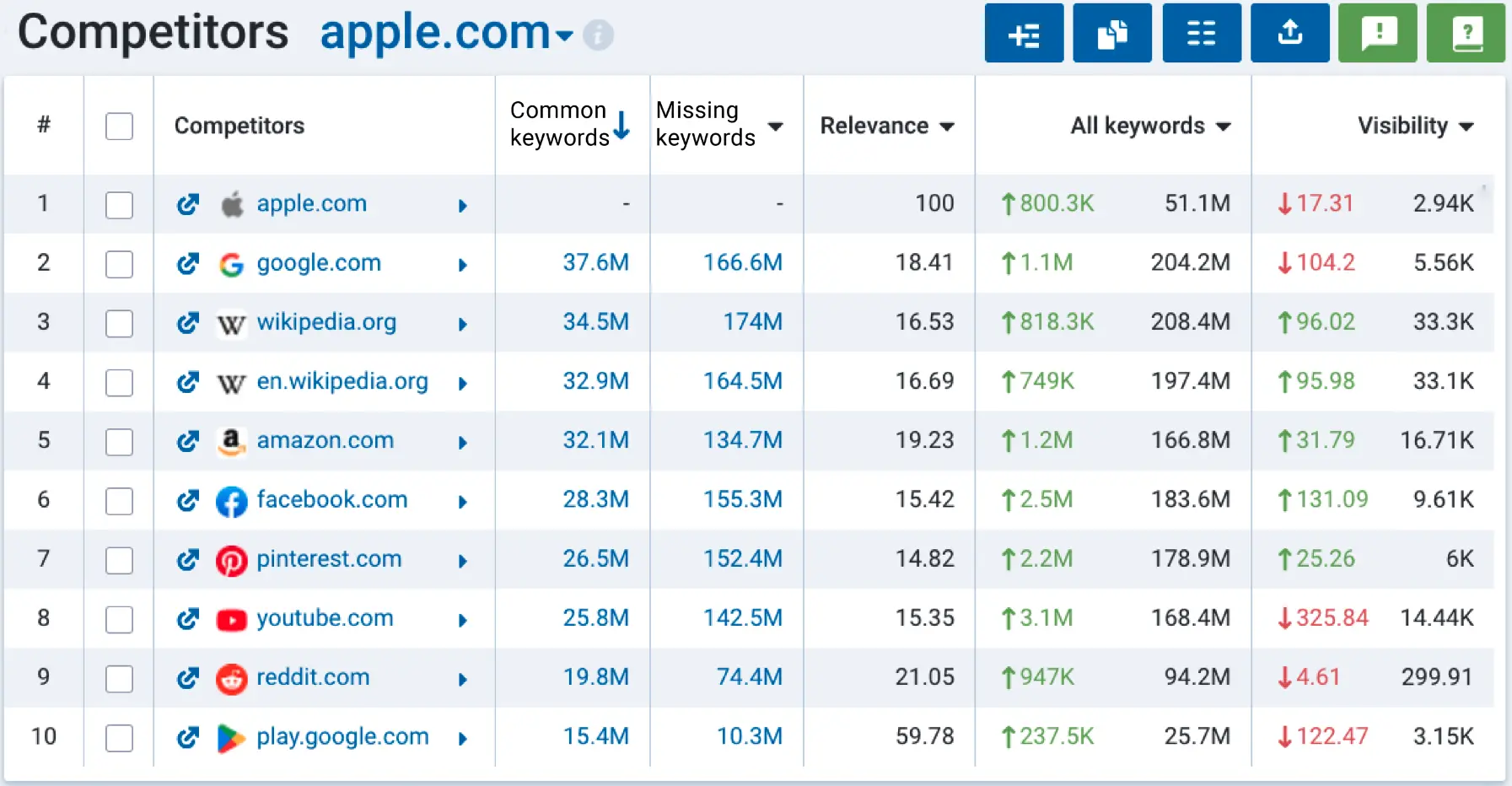 PPC Analysis
PPC Research tool assists PPC specialists to establish work with an ads manager correctly, based on the ad analysis results, keywords and landing pages of the most relevant competitors.
 ● Check product groups which competitor promotes using PPC
 ● Perform an analysis of trending landing pages
 ● Find out cost per click and keyword competition indicators
 ● Make a group of the most relevant keywords and ads
 ● Explore ad examples of competitors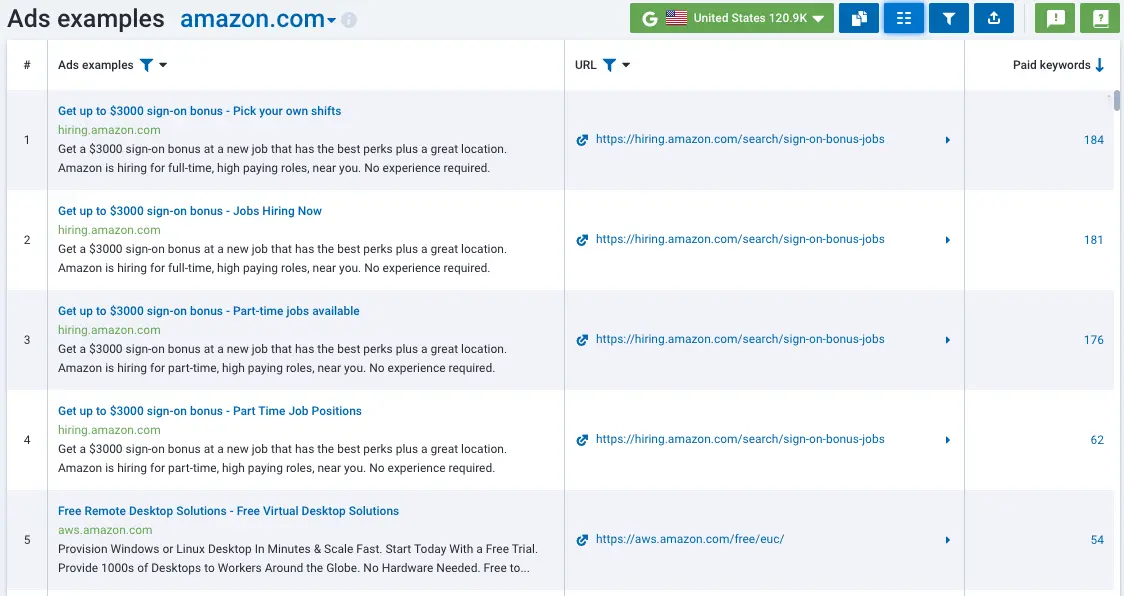 Keyword Clustering
Tool for a quick automatic grouping of a large volume of keywords to compose the right structure of your site. Clustering tool assists you with grouping of the whole packs of keywords with the same meaning for a better semantic search.
 ● Group keywords for PPC to upgrade your advertising results
 ● Use Text Analysis to get on-page recommendations
 ● Group keywords by site pages
Read more about Clustering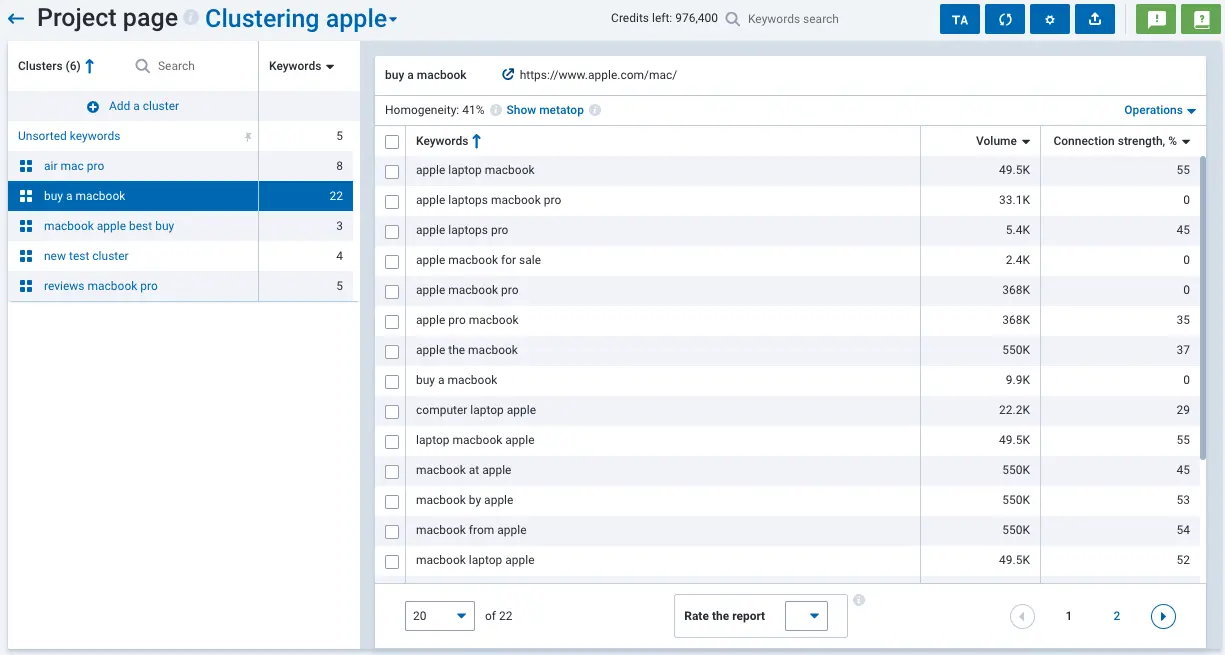 AI for content
Over 10 tools for writers, content marketers, copywriters, SMM-managers, PR-specialists, editors, SEO- or PPC-specialists. Based on Artificial Intelligence and Machine Learning, tools will speed up content creation and help to save time for other tasks.
Generate meta tags, articles, FAQ sections, paraphrase text, check grammar and spelling, export text from YouTube videos, and more.
Read more about AI tools for content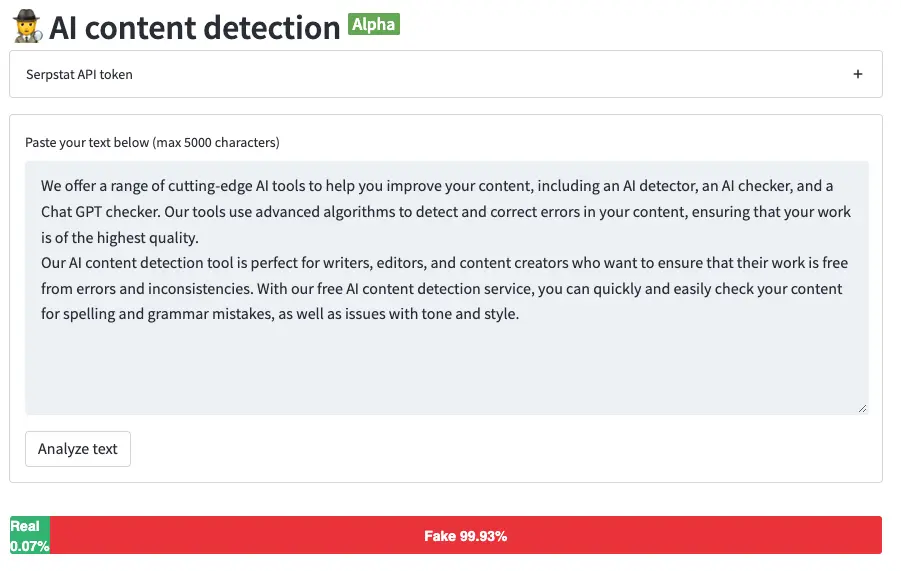 Projects Insights
Get insights from AI about changes in visibility, traffic, and organic keywords count for your projects. Look for sudden increases and decreases quickly to change the SEO strategy.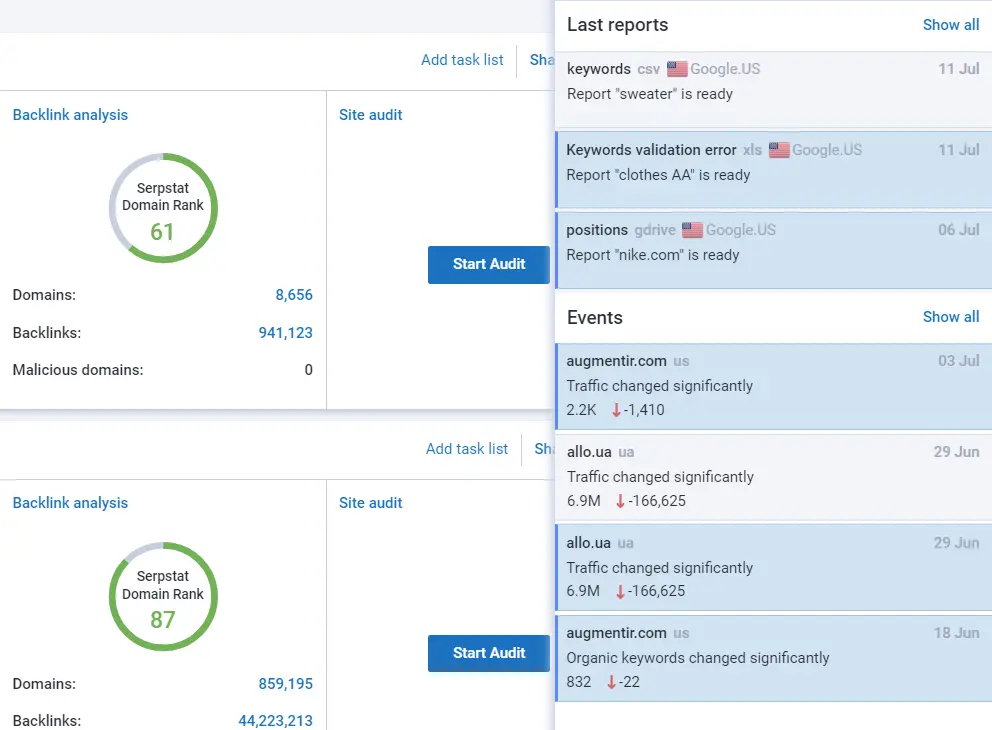 Find right data for your tasks and needs
1 trillion
links in Serpstat's index
4.7 billion
keyword suggestions
230 regions
for Google search results
Analyze SERPs

Speed up
with the API
Analyze trending queries

Local SEO
Make your brand more visible in the local search results, attract new customers and increase organic traffic with Local SEO tool.
 ● Get access to all listing directories in the location of your business
 ● Complete your profile for all listings in one convenient interface.
 ● Set up automatic content posting and attract customers by posting new unique content.
 ● Manage reviews, get the average review rate and find out which reviews need urgent reply.
Read more about Local SEO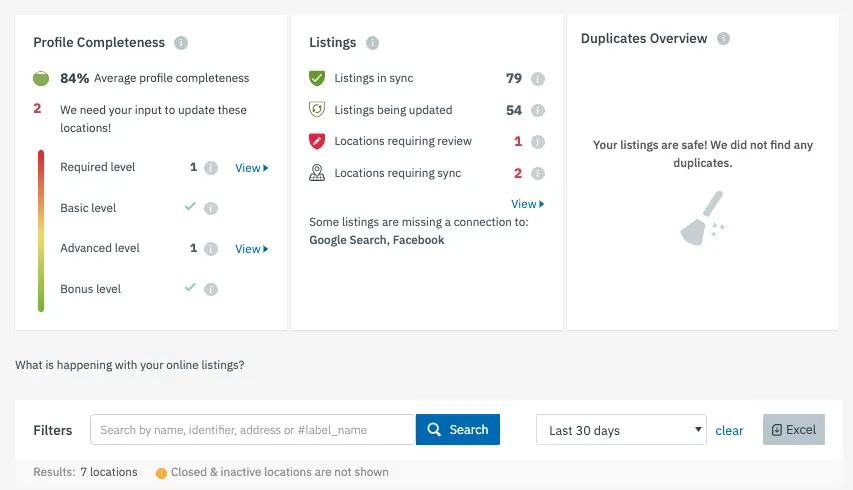 Search Volume or SERP Crawling
Explore SERPs of Google or analyze keywords search volume in a bulk using a separate tools by Serpstat. Use the API, process large databases and visualize them in any convenient format.
 ● Scan the top of SERPs in Google
 ● Select any region, including a city
 ● Set up a schedule for scanning and reporting
 ● Get your data using API in JSON format
 ● Get a report on 100 000 keywords in one hour
Read more about SERP Crawling or Search Volume Crawling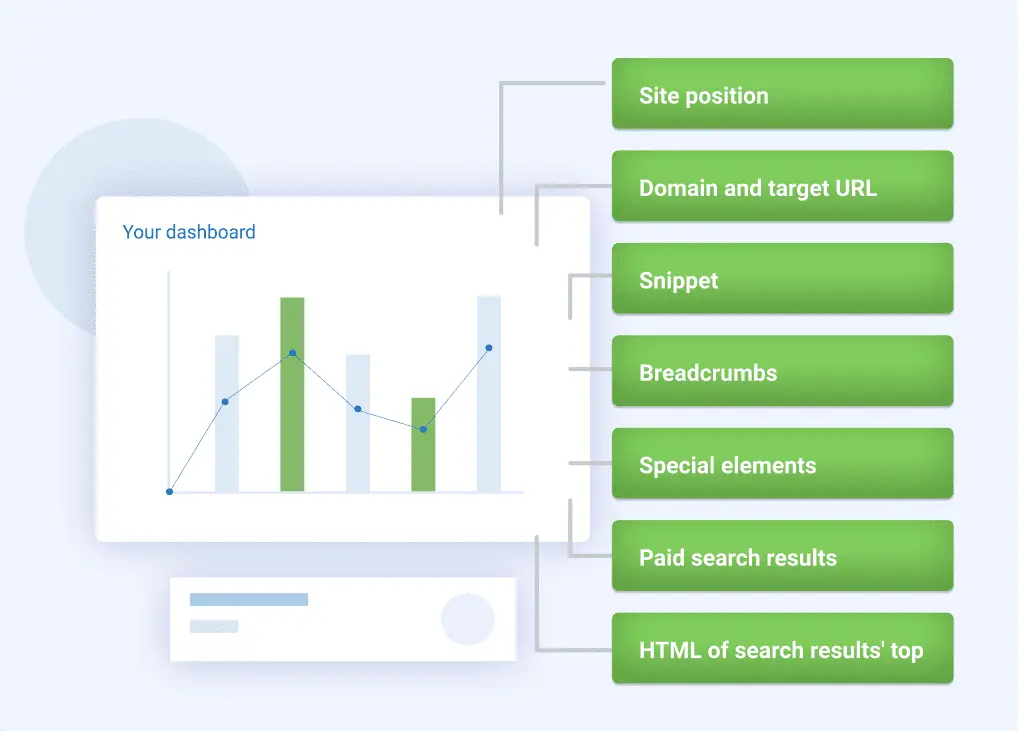 API Integrations
Automatic Serpstat data integration involves using other platforms and in-house developments of your company. Serpstat provides API access for any tool and any paid pricing plan.
 ● Ready integrations and apps for fast work with any site
 ● Complex express website analysis in one click using the Serpstat Website SEO Checker extension.
Read more about Serpstat API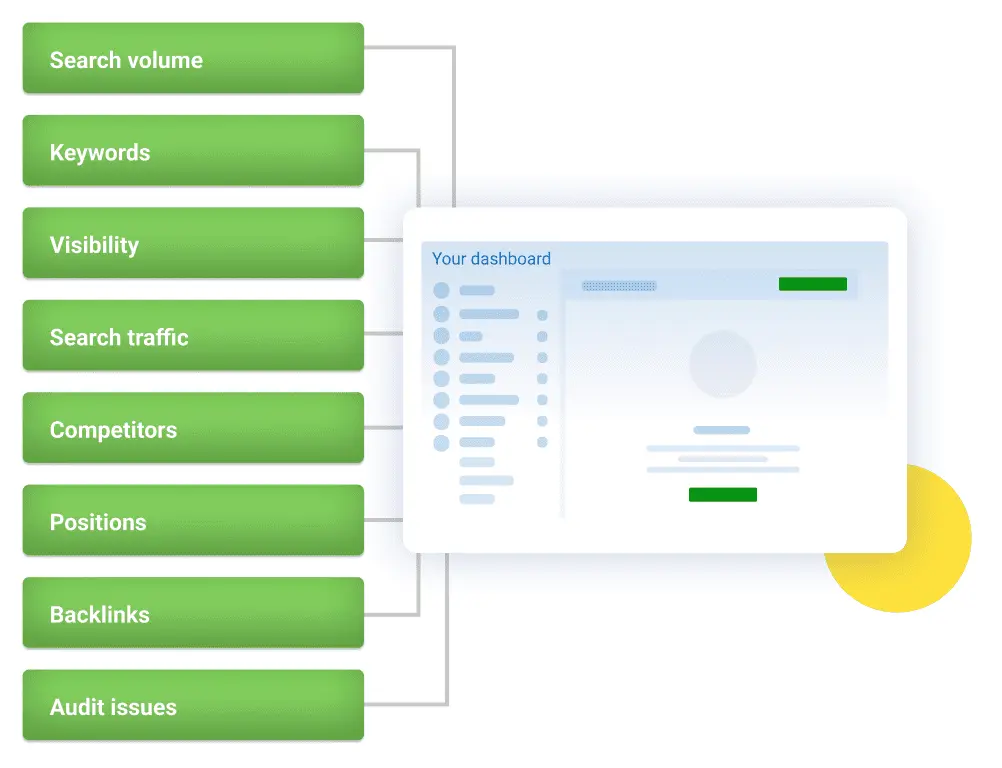 White Label
A handy tool for setting up automatic reports and notifications about changes in projects. Serpstat's white label feature and brand reporting are complete SEO solutions for professionals that include a wide range of custom reports.
 ● Set up automatic reports on changes and results
 ● Specify contacts with read or edit mode
 ● Disable the Serpstat logo on the graphs, as well as upload and display your logos
Read more about Reporting Tools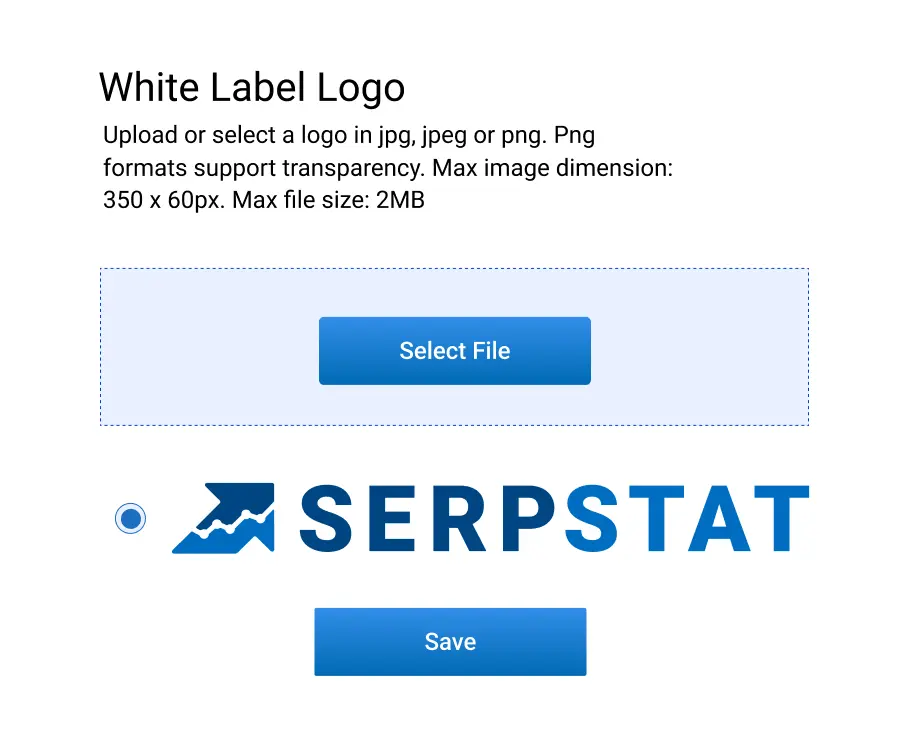 Keyword Trends
The first tool on the market for obtaining a list of trending search queries, no competitors have analogs.
 ● Get a list of the most popular searches for the selected region
 ● Analyze more and more trend requests as the report is updating constantly during the day
 ● Make a content plan based on popular queries, improving page positions
 ● Use keywords to name your articles or videos, embed them on a blog or news post.
Read more about Keyword Trends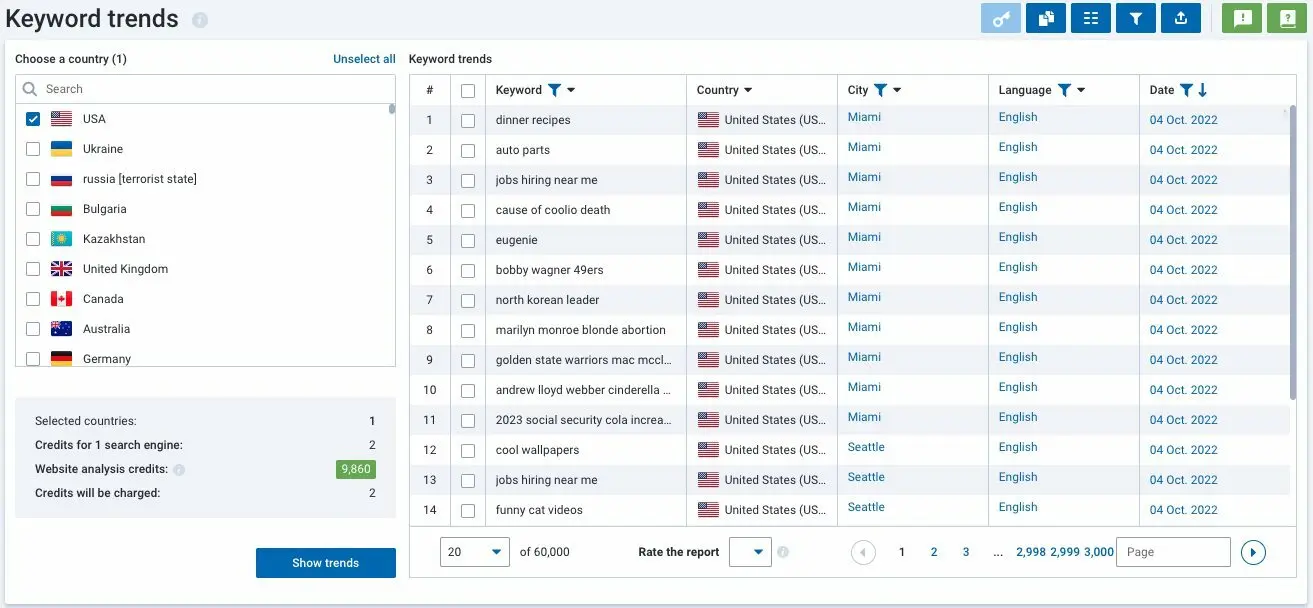 What professionals say about our SEO Tools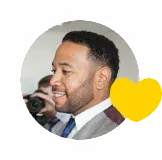 JANEIRO BLACKMON

DIGITAL MARKETING CONSULTANT, DESIGNBLAZE MARKETING

For my use, there is much to like about Serpstat. I really like the site audit tool and information I can gather on competitors.
Most of all, I like all of the training and support they provide.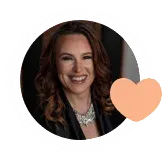 JENA APGAR

MARKETING STRATEGIST, 2XMYBIZ.COM

I love that it tracks SEO over a time period tracking keyword growth across your site and competitors over time. I'll leverage it
on client meetings to show how their current SEO guy is failing.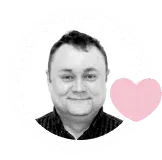 JOHN NEWTON
MARKETING DIRECTOR, OXYGEN FINANCE

Helps you understand how your site and sites belonging to competitors are performing in paid and organic search, and what to do about things you want to improve.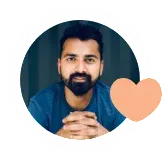 HARSH AGRAWAL

FOUNDER AND CEO, SHOUTMELOUD

Serpstat is another comprehensive keyword research tool that I discovered recently. They've done some really good work when it comes to helping us identify winning keywords.