About Serpstat
Serpstat is a SaaS all-in-one platform for competitor analysis, keyword research, position tracking, site audit and backlink research.
The service is designed for:
collecting profitable, organic and paid keywords of your competitors to use them in your SEO and advertising;
daily tracking of your rankings, as well as changes in your competitors' positions;
in-depth domain or URL analysis against a range of ranking factor. The returned data will give you insight into issues that may negatively impact your search visability;
backlink research. The data on the domain's link profile will help you identify toxic backlinks or find linking opportunities when researching a competitor.
Online shop managers
Our service will help them analyze keyword organic and paid search results, will show what keywords competing shops use to attract visitors to their websites and beat on in advertising. Ads texts, queries they are being triggered by, cost per click are all here on Serpstat.
Digital agencies while performing the whole range of tasks
Using Serpstat, SEO specialists reduce the amount of their work. For example, they can develop semantic core just in few minutes using competitor's semantics, select phrases for internal linking, estimate domain's visibility along with backlinks' weight.
Serpstat will help avoid guess work while developing successful advertising campaign: discover here the best keywords as well as negative keywords, level of keyword competition, and average CPC.
Copywriters and journalists for creating content that drives traffic.
It is easy to find topics for fascinating articles when you have at your disposal: volume of search queries and a huge number of search suggestions (phrases that pop up while you're entering a particular word into the search engine). Serpstat will also identify questions related to a keyword that users are seeking answers to.
What is the easiest way of becoming a power user of Serpstat?
To quickly learn how to use Serpstat, please visit these sources:
Read our

User's Guide

Watch short

video

tutorials.

See the Use Cases section.
Subsribe to our newsletter to stay up-to-date on the freshest learning content (you can do this on our blog main page).
Read the news posts and guides on Serpstat blog.
Please feel free to contact us via chat on the website or email us at support@serpstat.com if you have any questions.
Do you offer SEO or PPC services?
Serpstat is not doing SEO or PPC services.
The platform is designed for digital marketing professionals.
Our database
Can I have data on my website removed from your database?
Removal is not possible. The data we show is based on information that is publicly available. Although, if your website is beyond the top-100 Google and top-50 Yandex, it won't show in our database.
Where does Serpstat data come from?
We are parsing Google top 100 and Yandex top 50 search results for each keyword from our database.
The stats on the number of keywords, domains, search suggestions or ads in our database can be found here.
The service shows that the website does not use paid search. But I know for sure it does. Can you help me sort it out?
Keywords the website shows its ads for are probably not present in our database. The reason for this can be a low search volume for the keyword.

If the website is not ranking in Google top-100 or Yandex top-50, the analytics data for it won't be available either.
What countries is data for?
Serpstat has data for the following countries and regions:
Google

US
Google

RU
Google

UA
Google

BY
Google

KZ
Google

LT
Google

LV
Google

UK

Google NL

Google

CA
Google

AU
Google

BG
Google

ZA
Google

DE
Google

FR
Google

ES
Google

IT
Google

BR
Yandex Moscow
Yandex Saint Petersburg
Yandex Ukraine

Yandex Yekaterinburg
Why does rank tracking tool show different positions from what I see in SERP?
There are several reasons why you see different positions in SERP and Rank Tracker.
1. Private Results. Search engines create personalized SERPs based on your search and browser history.
2. Search Filters. For example, your search parameters may be set to show only results from the last 24 hours.
3. Typos. Even slight difference in spelling or word order may cause the difference in positions.
4. Search Engine Updates. Search engines update SERPs constantly and sometimes the time of the update for your target keyword is different for rank tracker and search engine.
5. Search Region. Looking up the same queries in different areas will give different results, Make sure that you're checking SERPs from the same area that you set in your Rank Tracker.
How fresh is the data presented?
The data on keywords and domains from our database is updated continually. However, due to the large size of the database we're not able to fully update the whole database every day. High-volume keywords are updated more frequently than the low-volume ones. The full database update cycle can take up to a month.
The Keyword Distribution Chart in the Overview report shows the data from our database as of the current date.
Some queries don't return any results. Why is the data missing?
The possible reasons are as follows:
the researched domain is not ranking in Google top 100 or Yandex top 50 search results for any keywords;
the keywords domain is ranking for are missing from our database due to low search volume. Our database contains keywords with search volume of at least 10 more monthly searches.
I have allocated a large budget for AdWords campaigns this month - why I don't see any data on paid keywords and ads in Serpstat for my domain?
If your AdWords campaign has been launched recently, we may have not yet noticed your paid keywords, or when we updated the data on keywords from our database, your competitors' ads were shown in paid search results. You may also have used some narrow location targeting. There's a bunch of possible reasons for the missing data on your ads and paid keywords.
Why do I see the inconsistencies between my rankings returned by Serpstat and my actual rankings in SERP?
Possible reasons for this:
personalized search results for your query
we show data from our database - it's not possible to update this large data amount on a daily basis. For this purpose, we recommend to use Serpstat Rank Tracker.

volatile search results as a result of Google algorithm testing or updates
What do SERP features mean?
SERP features are search results that go beyond the standard blue link and a few lines of page description. These may include answer boxes, knowledge graphs, carousels, local packs with maps and dozens of other elements. You'll see special icons beside keywords that produce such features in the search results:
The SERP features are covered in our complete guide to Google SERP.
What do the values in the 'Types of Keywords' parameter mean?
The export file for keywords contains a column ''Types of Keywords", and the JSON answer for an API request for keyword data also has this key-value pair, "types".
Now, let's find out what these values mean.
a_box_c_converter

currency converter

a_box_card

tournament schedule

a_box_color_picker

color picker

a_box_dictionary

dictionary (keyword definition, transcription, pronunciation)

a_box_dtime

date and time

a_box_earthquake

earthquake map

a_box_flights

flights box

a_box_fsnippet

large snippet with a link to the source

a_box_g_converter

unit converter

a_box_map

map with direction or address

a_box_nutrition

food calorie calculator

a_box_population_information

population graph

a_box_some

bio dates, addresses and so on

a_box_sports

sports events, scores, and schedule

a_box_stock

stock market chart

a_box_translation

translation box

a_box_weather

weather forecast

a_box_when_is

date of event — answer to question

ads_bot

ads below the organic search results

ads_rhs

ads to the right of the organic search results — rarely seen

ads_top

ads above the organic search results

also_asks

people also ask

calc

calculator

car_loan_calc

auto loan calculator

discover_places

popular destinations (a block beside related searches)

graph
graph

for math functions

images
images

associated with your query

kn_graph_brand

brand knowledge graph

kn_graph_card

knowledge graph

kn_graph_carousel_list

carousel — single row of items, each of them leading to a new search results page

kn_graph_carousel_table

carousel — several rows of items, each of them leading to a new search results page

kn_graph_disambiguation

other the search results below the knowledge graph on the right side of the SERP

kn_graph_health

rich results with disease description

kn_graph_hotel_booking

room booking — part of a knowledge graph

kn_graph_local

knowledge graph with a map

local_pack

local 3-pack

map

a map

mortgage_calc

mortgage calculator

news

top stories (news block)

related_search

related searches, search suggestions

shopping_rhs

shopping ads on the right side of the SERP

shopping_top

shopping ads above the organic search results

snip_breadcrumbs

breadcrumbs instead of a URL

snip_doc_type

document type label beside the title

snip_https

https in the URL

snip_image_thumbnail

an image in the snippet

snip_info

additional info — contacts, events, dates, founders, chemical composition...

snip_reviews_stars

snippet contains the content rating (with asterisks)

snip_search_box

a search bar within the snippet

snip_sitelinks

snippets contains links to other site categories

snip_twitter

block with tweets

snip_video_thumbnail

snippets contains a video icon

video

the SERP contains at least one snippet with a video icon
Plans and pricing
Which plan works best for me?
The plans differ primarily in the number of queries available per day and the number of returned results per query, keywords to track and pages to audit.
A query is a request you make to our database when entering a keyword or domain for research or navigating between reports on the service.
The limits for results per report imply that there's a fixed maximum number of results you can get per report.
For instance, let's take a closer look at Plan B limits. With Plan B, you can get up to 15 000 strings in a report. If a domain is ranking for 25 000 keywords, you'll get the first 15 000 results. To export all keywords of the domain, you'd need to upgrade to Plan C (40 000 strings per report).
Except for Plan A (which doesn't provide access to "Missing Keywords" and "Cluster Research", Serpstat API and Google KZ database), all plans offer the same tools.
Starting with Plan B, users can access "Missing Keywords" and "Cluster Research", as well as get data via API.
Starting with Plan D, users are provided access to the Google KZ database.
The limits for "Site Audit", "Keyword Clustering and Text Analytics" and API are given for 1 month. 1 month equals 30 days, irrespective to a number of days in a calendar month.
You can turn on/off the recurring payment in your account details:


How can I upgrade to a higher-level plan
If you have already subscribed to a paid plan and want to upgrade to a higher-level plan, you can simply proceed to the new plan checkout on the Pricing page. The unused funds from the previous plan will be transferred to the new plan subscription.
Feel free to contact us via website chat or in Skype (support.serpstat) if you need help or advice :)
There're at least 5 ways to get a discount, a promo code or even a free access to Serpstat - they're listed on the Discounts page.
How can I activate my discount code?
When proceeding to the checkout, you'll see a "Got a discount?" field. Enter your discount code and click on "Pay"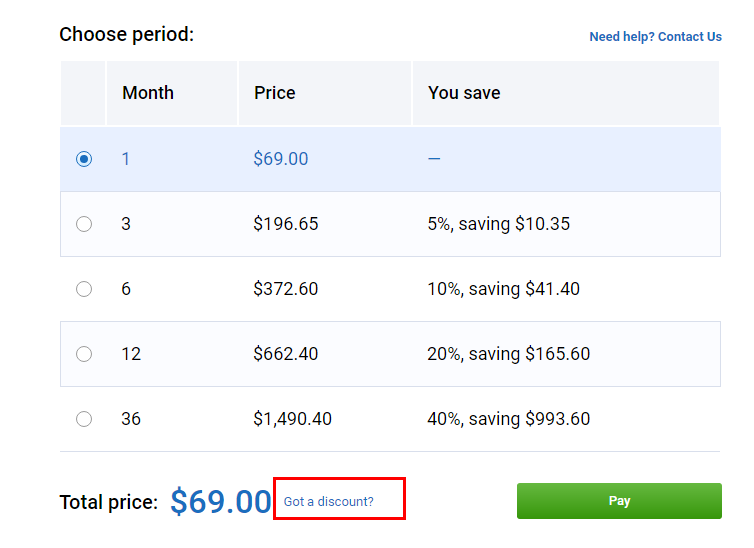 How can I activate my promo code?
1. Go to your Account Details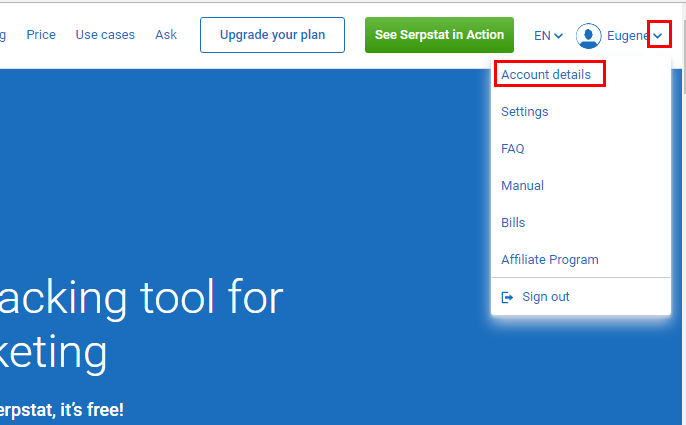 2. Click on the "I have a free trial coupon" button and enter the code.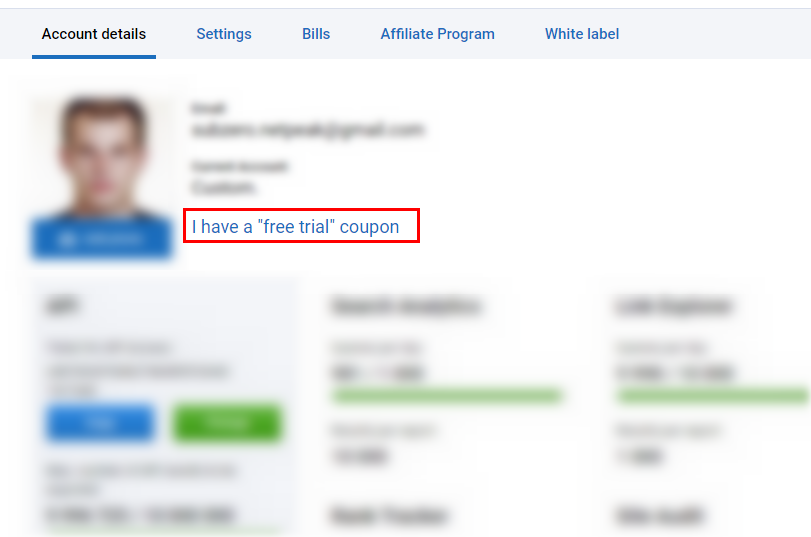 Why am I getting an error when trying to activate the promo code?
You can activate only one promo code for an account, a single account can't use two promo codes at a time.
If you are struggling with activating your promo code, please contact our support team via online chat or at the email support@serpstat.com.
We're a legal entity. How can we pay for the subscription?
We offer legal entities an opportunity to purchase a subscription based on a public offer. For details, please contact our support team via online chat or at the email support@serpstat.com.
Can I create two accounts - one as a free account and the other via affiliate link?
No, you can't. Both accounts will be blocked.
But you can create one account and earn money via our affiliate program - get up to 30% from each payment made by users registered via your affiliate link.
How can I get a refund / cancel my account?
You can request a refund in accordance with the chargeback policy section of the Terms & Conditions.
To initiate the refund process, please contact our support team via online chat or at the email support@serpstat.com.
Customer service
How can I contact your team?
The easiest and fastest way to reach out to Serpstat team is to use the online chat on our website. You can access it by:
1. clicking on the "Ask" button in the upper section of the website.
2. clicking on the "Contact us" menu option at the bottom of the page.
3. simply clicking on the green chat icon in the bottom right corner.
Also, you can email us at support@serpstat.com.
We're always there ready to help you :)
I'd like to have my account deleted. Can you do this?
To have your account deleted, please contact us via online chat on our website.
I've got a few ideas for making Serpstat even better. Are you interested?
Yes! If you have a idea on an outstanding feature that could be implemented on Serpstat, we'll put it on our development list.
Please tell us about your suggestion via online chat or email us at support@serpstat.com.
Do you have an API? How do I use it?
Serpstat's application programming interface (API) allows you to get the raw data from Serpstat without having to manually log in to the service. With API calls, you will be able to get data right in your browser without navigating to Serpstat's website.
We offer API free of charge for all our paid subscriptions.
The API documentation page will guide you through working with Serpstat's API.
Reach out to us via online chat on our website or email us at support@serpstat.com.
SERP Tracking
What is the Value of SERP Tracking?
Serpstat SERP Tracking allows you to get the top 100 search results for a keyword delivered via API in the JSON format. The developer-friendly API parses the SERPs in the specified location for 100 000 keywords in one hour - unbelievably powerful and amazingly convenient way to get the accurate data on your rankings right into your computer, CRM or app. Focus on your SEO, and let Serpstat do the tracking work for you.
Why Serpstat SERP Tracking?
Simple, powerful and precise. SERP tracking allows accurate city-based tracking in the location of your choice- over 12 000 cities supported. Get the rankings for 100 000 keywords in just one hour for a reasonable price- rank tracking has never been easier!
Serpstat stores the crawled data for 24 hours upon the crawling completion.
What is the pricing per query and how do I find out the total price?
The pricing starts with $0,001 per query for more than 1 000 000 queries per month, and $0,0013 per query if you have less than 1 000 000 queries per month.
To get the total price for the necessary number of queries, please use the pricing plan calculator on the SERP Tracking page.
How do I request the tracking services?
Please use the Send Request form on the SERP Tracking page to contact us. We'll get back to you in the shortest amount of time.
For how many locations, search engines and keywords can I get the data?
You can get the top 100 search results for any number of keywords in any country and 12 000 cities around the globe from Google or Yandex search engine, provided that the order amount is at least $300.
What is the minimum order price?
The order amount should be at least $300. Please use the pricing plan calculator on the SERP Tracking page to get your rank tracking service price for necessary number of keywords and locations.
Keyword Difficulty
What is Keyword Difficulty?
Keyword Difficulty - a keyword metric that shows how hard it is to get to the top 10 in SERP for a given keyword.
How do I read the KD score?
Keyword difficulty is measured in percentage, where the 0 is the lowest competition on a keyword and 100 - the highest.
The metric will help you prioritize your list and figure out what keywords are most likely to bring benefits in a short amount of time.
Why am I seeing the N/A in a KD column?
The KDs are available only for US, AU and UK at the moment.
For some keywords, we won't show the KD because we didn't parse the SERP for absolutely all keywords from our US and AU databases - a N/A will be shown in this case. If you are researching a keyword in the US/AU database and see grey dots pulsing next to the keyword in the KD column, this means that the score is being calculated. The KD for that keyword will be displayed in a few minutes.
We're going to add the KD metric for other countries later.
How long does it take to calculate the KD for a keyword?
The calculation of a KD score for a keyword from the US database takes up to 10 minutes, depending on the service workload.
KD for other databases is not displayed at the moment.
What is the difference between Keyword Difficulty and Competition?
Keyword Difficulty estimates how hard it would be to get a listing in top 10 organic search results for a keyword, while Competition shows how many advertisers are bidding to show their ads in the search results for a given keyword.
This gives a clue as to which promoting method is likely to produce better results in a short-term perspective: SEO or PPC.
Keyword Grouping
What is Serpstat Keyword Grouping and why do I need it?
Serpstat Keyword Grouping is the process of grouping a set of keywords into clusters based on their semantic similarity.
What is it for?
- developing a site structure (clustering will discover groups of keywords that are closely related);
- collecting targeted keywords for specific landing pages;
- crafting task specifications for copywriters;
- partitioning your keywords into commercial and informational search queries;
- identifying individual keywords that don't fit any cluster topic.

How is Serpstat Grouping better than other tools out there?
Existing tools either produce keyword clusters without strong semantic similarity, or the resulting data set contains too many clusters, depending on the preferred Soft/Strong parameters. Also, a common drawback is that clusters with similar topics are scattered across the dataset.
Serpstat employs intelligent hierarchical clustering where clusters are combined in a supercluster. Unlike many competitors' solutions, Serpstat grouping tool doesn't set a cluster center (a keyword with the highest search volume which is compared with other keywords to detect the number of matching URLs in SERP) — Serpstat analyzes relationships among all clustered keywords.
Weak/Strong and Soft/Hard parameters provide unprecedented flexibility and accuracy of clustering.

Which parameters should I choose in the Grouping tool?
Weak requires keywords to have at least 3 common URLs in Top 30 search results to be combined into a cluster, while Strong defines 7 common URLs as a condition for creating a cluster.
Opting for Soft clustering means that a cluster can be created if at least one pair of keywords has 3 or 7 common URLs in Top 30 search results. Hard parameter requires that all keywords in a cluster have 3 or 7 common URLs in top 30 search results.
If the keywords belong to a specific topic, for example, watches of different brands, you can select Strong+Hard or Strong+Soft so that only the closest synonyms are merged into a cluster. The result of such grouping will be lots of clusters tailored for separate pages or particular categories.
If various products and services are the case, for example, a keyword collection for a large multi-category online store or beauty salon with a wide range of cosmetic treatments, it's worth selecting Weak+Soft. The choice of Strong+Soft will produce more clusters and a possibility to get more topic-targeted clusters.
What are the Unsorted keywords?
Keywords that don't fit any cluster are placed to the Unsorted folder. Most likely, they are not relevant to any other keyword group and can be removed from the dataset. If you think that they should be kept, the keywords can be moved to any of the created clusters or you can use them on separate pages.
How I am charged for Grouping?
Grouping credits on Serpstat are dubbed points. One point corresponds to one keyword. If you're going to cluster, say, 1, 000 keywords, you'd be charged 1, 000 points.
After clustering a set of keywords, you can proceed to text analytics on the clustered keywords. Text Analytics charges you with an extra point for each analyzed keyword, i.e. performing clustering and text analytics analysis of 300 keywords requires 600 points.
Text Analytics
What is Serpstat Text Analytics and how do I use it?
Text Analytics is a tool designed to help you target multiple keywords with a single page.
For Text Analytics, you need a keyword cluster from the Grouping tool and an associated URL. Serpstat will analyze the text content on the page for the targeted keywords and page's relevance to search queries from a cluster. Read on in the User guide.
What are the advantages of your Text Analytics tool and how do I benefit from it?
The text analytics can be performed in two ways:
based on a URL

without a URL (when you need general recommendations prior to setting up a page).
The TA report based on URL contains:
page's relevance scores to keywords from a cluster;

words that should be placed into Title, H1 and Body;

word's scores: LSI Rank, Chance and whether a word is present on the target page; also the TA evaluates word stuffing;

suggestions on whether you need to increase/decrease the number of words in the Body section (recommendations are provided based on the average number of words on competitor pages);

Text analysis without a URL will provide suggested words for Title, H1 and Body along with their LSI Rank, Chance and percentage ratio of a recommended word's lemma to the total number of unique keywords on corresponding sections of pages from the metatop .

Should I plug the recommended words in this same form?
We display words' lemmas, but you can use these words in any form that fits your content generally or individual sentences. Don't sacrifice the content quality to include a portion of suggested words in the exact form.
How I am charged credits in Clustering and Text Analytics tools ?
Clustering credits on Serpstat are dubbed points. One point corresponds to one keyword. If you're going to cluster, say, 1, 000 keywords, you'd be charged 1, 000 points.
After clustering a set of keywords, you can proceed to text analytics on the clustered keywords. Text Analytics charges you with an extra point for each analyzed keyword, i.e. performing both clustering and text analytics analysis of 300 keywords charges you with 600 points.