Keyword Research tool
Use keyword research to find the best keywords for your website:

Analyze big volume of keywords in a few clicks

Collect competitor's most successful keywords

Get monthly search volume, keyword difficulty and other metrics

Trusted by






Keyword Research tool Advantages
Find the right data using large databases of keywords and keyword suggestions for Google. There are 7+ billion keywords that your audience is looking for on search engine page results.
Keyword niche finder
The obtained data will help your audience to come to your site.
- Explore your niche with a niche research tool and SEO site analyzer to get the best results.
- Don't use multiple services — Serpstat includes everything. 
- Find related keywords and other search terms that are often used with your keywords.
- Research the competition for any topic in paid and organic search.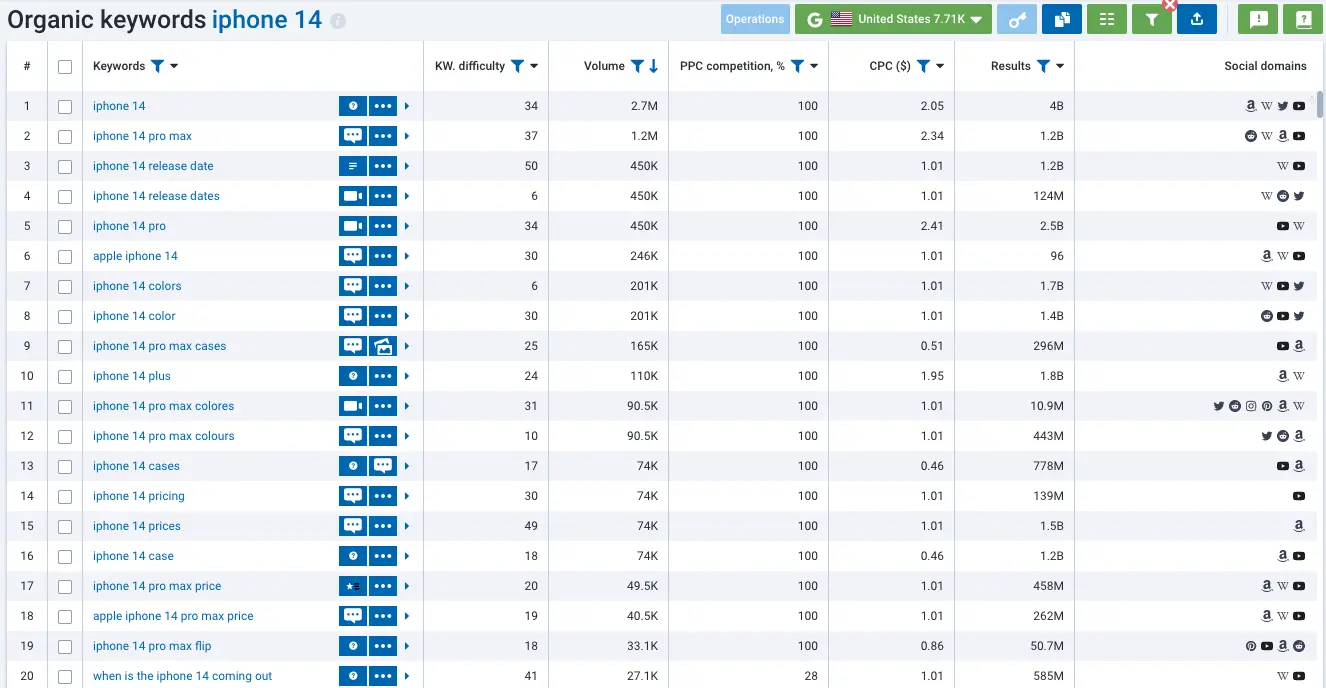 Keyword Planner alternative: Discover what your audience wants
 ● Analyze and find the most profitable keywords for SEO and advertising with a website keyword analysis tool.
 ● Check the keyword difficulty and find ranking opportunities
 ● Understand the topic trendiness and seasonality
 ● Estimate keywords costs and plan your ad budget effectively
 ● Find the top-performing content, keywords, and ads samples for your topic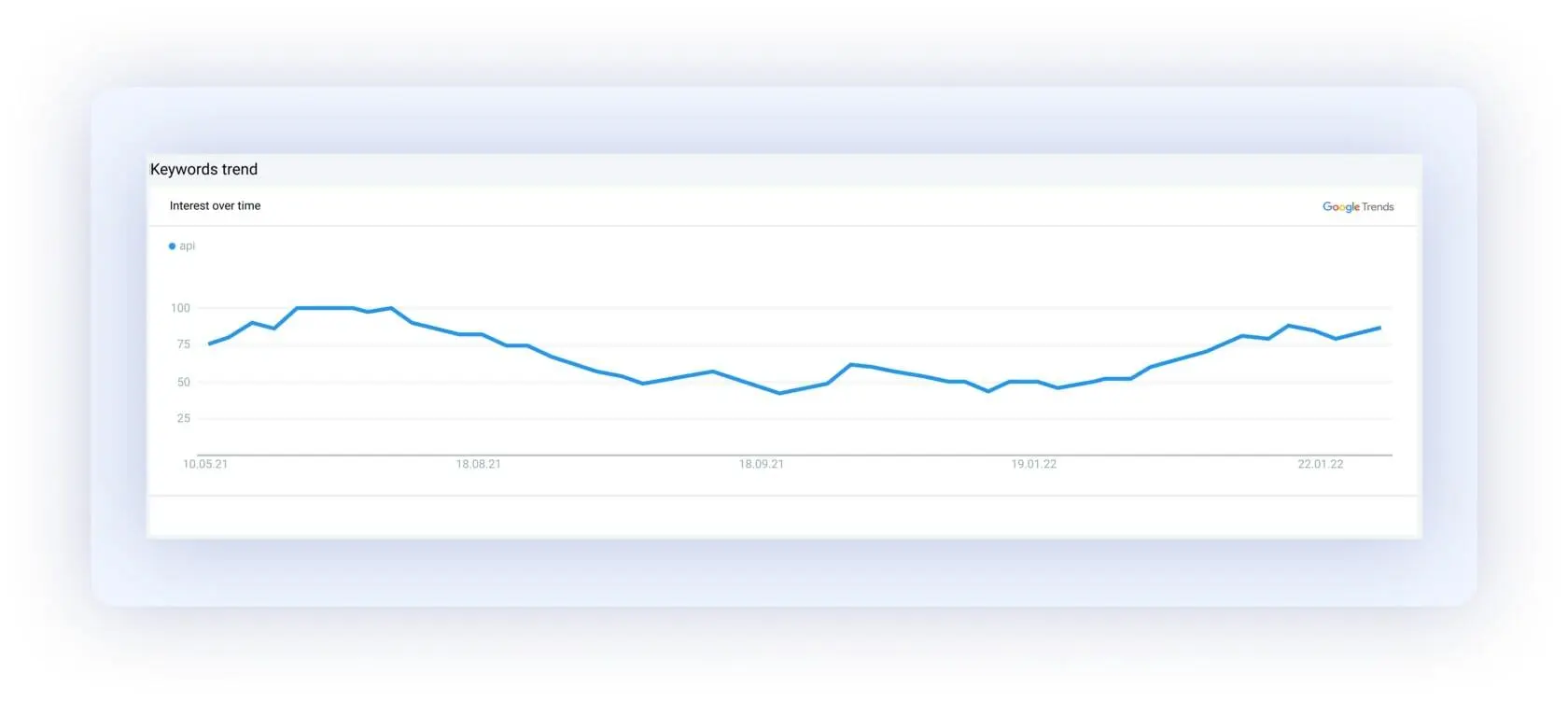 Create an effective content plan
The search questions tool will show the interests and needs of the target audience. These are ready-made headlines for articles on your blog. Use the obtained data to form the content plan of the site.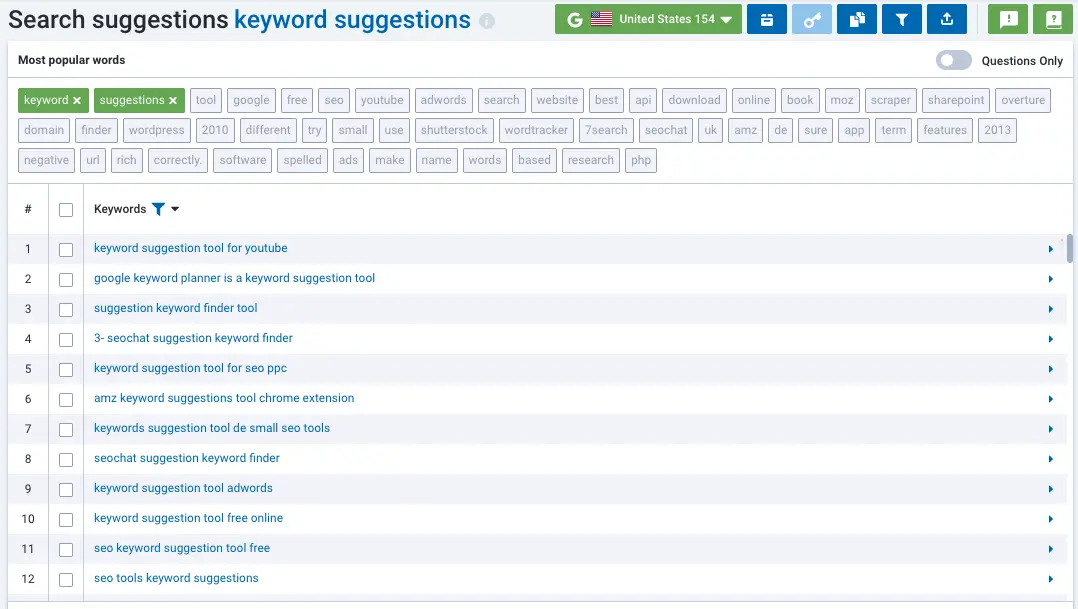 Compare up to 100,000 Keywords in One Report Across 5 any Databases
 ● Export popular keywords for a region and run ads based on them
 ● Integrate keywords into Rank tracker projects
 ● Get data on 5 parameters: volume, difficulty, cost, PPC competition, number of results
 ● Improve traffic by choosing keywords with the best metrics


What experts say about Serpstat

Jacob M.
Cloud Engineer

Our overall experience is incredibly useful.
We found many issues on our mobile version and realized that we should improve the visibility of our blog posts. Serpstat is constantly improving. It could be quite engaging, I pull up our Rank tracker dashboard every morning and look at our current positions on Google.
Read more on G2

Klemen V.

Actuary

Serpstat is using a large database. This is
evident when researching long tail / low
volume keywords. Serpstat produces more
accurate results than the majority of other
tools, while being cheaper than best of breed tools like Ahrefs and Semrush. It also has very good competitive analysis. I use Serpstat for initial KW research.
Read more on G2
Lori N.

Creative Director & Web Designer

We love Serpstat. Its clean interface makes
it easy to navigate. We use the rankings tool
daily as well as the keyword research tool.
We've compared it with other software, and
it always comes out on top. Any time we
have questions, Serpstat is quick to respond. It helps us tremendously with SEO,
especially local SEO.
Read more on G2
Keyword Research FAQ
What is keyword research process?
Keyword research is a way to understand what language your target audience uses when searching for your products, services, or your content. It helps to avoid creating content about things that are not searched for, and prioritize it to the topics that are interesting for your potential visitors or customers by analyzing and comparing the keywords.
What is the purpose of keyword research?
The main purpose of keyword research is to attract the audience with the content, services, or products that they are searching for. It helps you gain a deeper understanding of your audience, their interests in terms of content and companies, and make sure your website is ranking well for these topics.
How do you research keywords for a new site?
To find the keywords for your own website, you need to: 1. Think like a potential visitor, from the customer's perspective. 2. Collect a list of semantics tailored to your services. 3. Research your competitors and borrow their semantics. 4. Don't ignore long-tail keywords and those of low search volume. 5. Use keyword research tools to speed up and automate your work.
What is niche research?
Niche research helps you reach a more targeted audience. Niche keywords are specific to each company or even a product. They are sometimes referred to as long-tail keywords, and usually, they contain 3 or more words — they are more specific and bring more accurate visitors to your site. They are as effective for your SEO strategy as short-tail keywords, which are more general.
How can I find my niche?
If you want to find your niche, start from small things — identify the category your website is working with. Then, try to narrow it down to a more specific field, but not too much so as not to miss out on a potential audience. For example, the category of your website is clothes. Designer clothes will be a niche request. After this, try thinking about your specialty. Is there anything that makes your product or content stand out? Speaking of our example, maybe your website about French designer clothes includes interviews with French designers?
How to research a niche market?
Niche market research includes, first of all, knowing your audience. Understand their needs — this way, you will always have ideas on what to write or what to sell. After that, analyze the competition. Find out how you can be different and unique to stand out for your visitors. Also, research your niche market keywords and trends in your niche to optimize your SEO strategy the best way possible.
How to use Keyword Research Tool?
Just enter the keyword you need to the search bar and voila — you have the detailed report right at your hands. You can request a personal demonstration of our Keyword Research tool to be made aware of all its capabilities. We will conduct a personal demonstration of the service for you, provide you with a trial period, and offer comfortable conditions for starting to explore the tool.
How to check Keyword Difficulty?
Keyword difficulty shows how easy or hard it is to rank with each keyword on the search engine result page. You can check it with the online Keyword Research Tool from Serpstat with just a few steps and make your website rank well in SERP by the keywords suitable for your website.