Ad generation
Contextual advertising operates selectively and is shown to visitors of the web page, the scope of which may match / intersect with the subject (target audience) of the advertised product or service, which increases the likelihood that they will respond to advertising.

With the Ad Generation tool, you can create ads based on the keywords you specify. The feature of the tool is that we use sample ads from the Serpstat database for our generation.


The tool will be useful for:
SEO specialists;
Website owners;
Marketers.
Use case:
For example, you are the owner of an online clothing store. One of the fastest ways to catch up with your competitors in a niche is to set up contextual advertising correctly. You can find your competitors using our Domain Analysis tool, and find information on the keywords they use in contextual advertising.
Once you've selected the main keyword for which you'll be setting up your ads, enter in the Target keyword field.
Then, in the Relevant keywords field, enter at least one relevant keyword that will match the topic of the ad and will be used in its generation.
By clicking on Generate you will get information about the generated contextual ad, with unique text and marking of keywords that were used.
How to use the tool
Enter the token from the

profile;
Choose language and enter the main keyword, such as the one you plan to use in your ad or the name of the product you want to promote;
Specify additional keywords which are relevant to the topic of your ad and will be taken into account during ad generation (you will need to specify at least one auxiliary keyword);
Click on the "Generate ad" button to run the ad generation.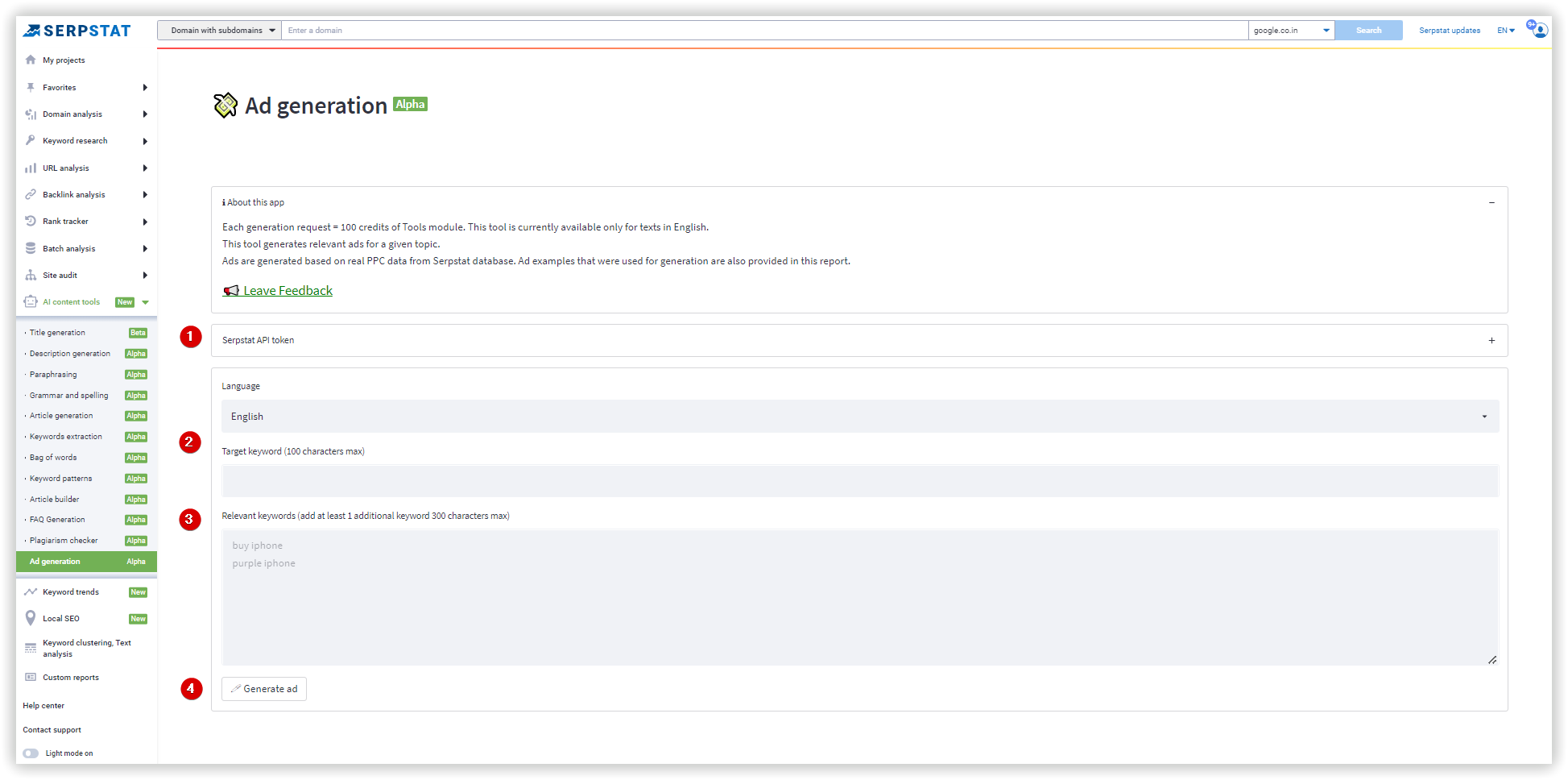 As a result of the generation you will get a unique contextual advertising text, which was collected according to the keywords that you added.

Available to:
Users with a Team subscription or higher.

Credits:
1 request = 100 credits of the Tools module.

If you still have any questions, contact the tech support chat.

To learn more about how the tool works, you can watch the attached video!