How To Implement Schema.org Microdata And Why It Is Useful
Schema.org microdata allows structuring general information from a webpage and presenting it to search systems. Microdata code creates an expanded snippet that draws users' attention appearing in search results.
What is Schema.org microdata?
This is a form that includes site structure and the important data from the resource pages. It is used to make up an informative snippet in search results and propel the website to top positions. The clickability of such snippets is significantly higher than of a common sample due to extended attractive-looking page preview.
Schema.org
dictionary is officially confirmed by major search systems: Google, Bing, and Yahoo. This is how a page with implied microdata looks in search results:

In the provided sample, the snippet includes description, rating, and bread crumbs. If a user types-in "strawberry cheesecake recipe", it is most likely that he/she will choose this site out of the list of results as it looks informative and convenient. As for search systems, they recognize object type, its attributes, and characteristics better due to microdata.
You can check if you have any markup-related issues with Serpstat Site Audit tool, just create a project and go to All issues report that contains a list of errors: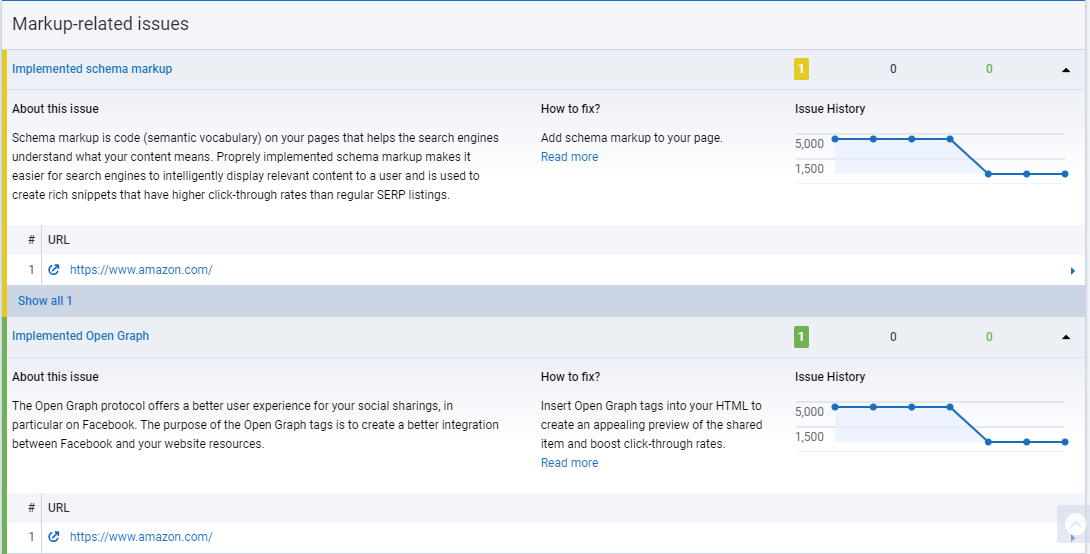 Our specialists will contact you and discuss options for further work. These may include a personal demonstration, a trial period, comprehensive training articles, webinar recordings, and custom advice from a Serpstat specialist. It is our goal to make you feel comfortable while using Serpstat.
Webpages with microdata look more attractive in search results and undergo indexing effectively. Today, Schema.org is considered to be a major microdata vocabulary stock. It includes hundreds of entries; each of them describes an object, a service, a product, a video, etc.
This
list
is constantly expanding. Representatives of the most popular search systems never stop enhancing it.
How to implement Schema.org on your website
Describing an object by means of microdata requires tags and attributes. The three variables are as follows:
itemscope — serves to indicate object description that is included into the page;

itemtype — object type from the official vocabulary list;

itemprop — object properties to be used for the description.

This is how it actually appears: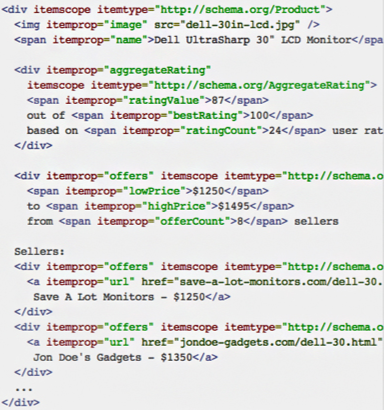 The code conveys data concerning the product, its rating, and seller information, including the price.

The dictionary of objects on the site has a form of structure: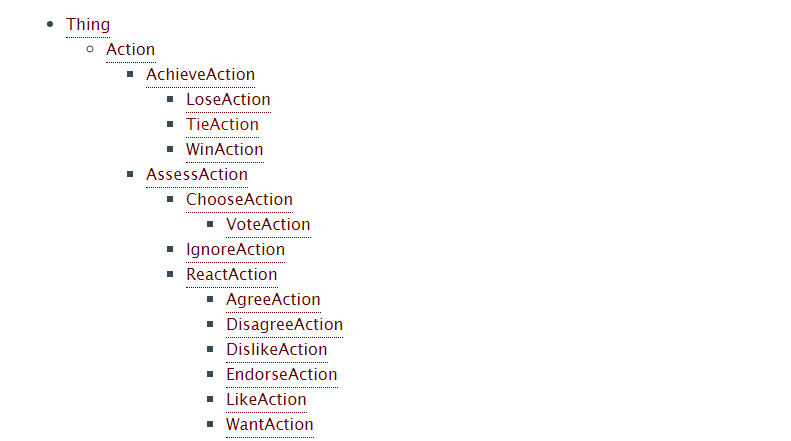 The chain starts from "Thing" that includes "Action" proceeded with "AchieveAction", "IgnoreAction" etc. Meta tags that note objects and their attributes are used to describe these items in the microdata scheme.

Here is an example of arranging video data: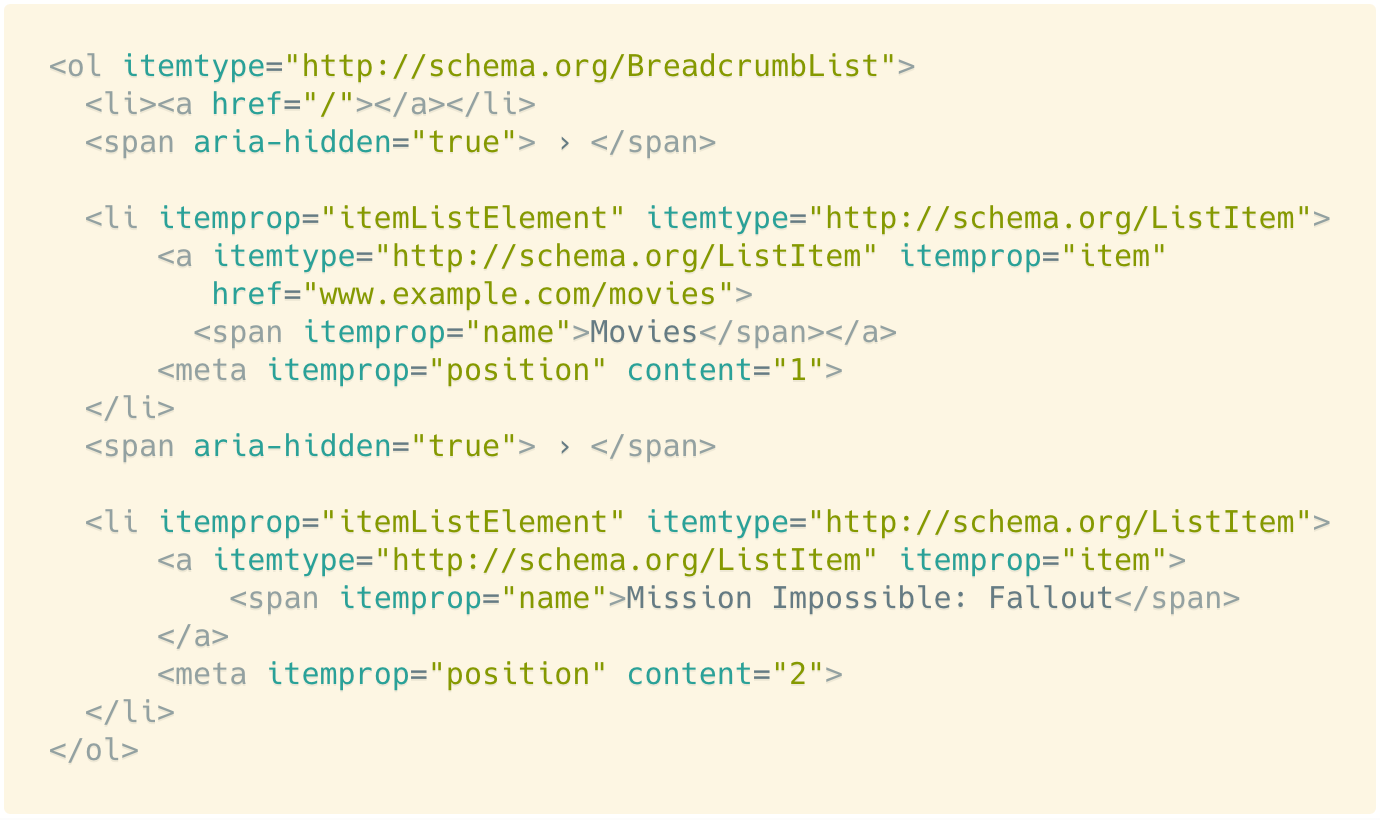 The code may include the following meta tags:
<div></div> —opens and closes the description;


<span></span> — describes attributes with words;


<link>, including href attribute — a link with "canonical" attribute that users cannot see;


<time></time> with attribute date time — notes date and time in the defined format "year-month-day", "hour-minute", "hour-minute-second";


<a></a> — notes the link that can be seen by users;


<meta> — used for the text that is not displayed to users.


To generate the code, it is essential to pick the right object from the list and define its attributes. Having made up the code, you can check it using
Google
validator.
The most time-consuming stage of the markup process is setting the parameters for both search engines. There should not be any mistakes in these services to ensure correct data evaluation.
Microdata should be implied in the code of every page that will include the implemented semantic vocabulary. To automate the markup, you can use plugins.
For example, there is a
Schema
plugin for WordPress that generates automatic markup. However, it selects attributes itself. If you prefer to indicate certain properties of the object, you should create a markup code manually.
Use of Schema.org provides the following description options:
Markup of products, services, and data.
Bread crumbs Schema.org. This microdata displays site, section, or page structure in the snippet.
Customer and user feedback.
Contact information of a certain person or company.
Schema.org rating. Indicates the rating of a product, service or another object with the help of stars.
Showing locations of offices, companies, sellers, or any other kinds of places.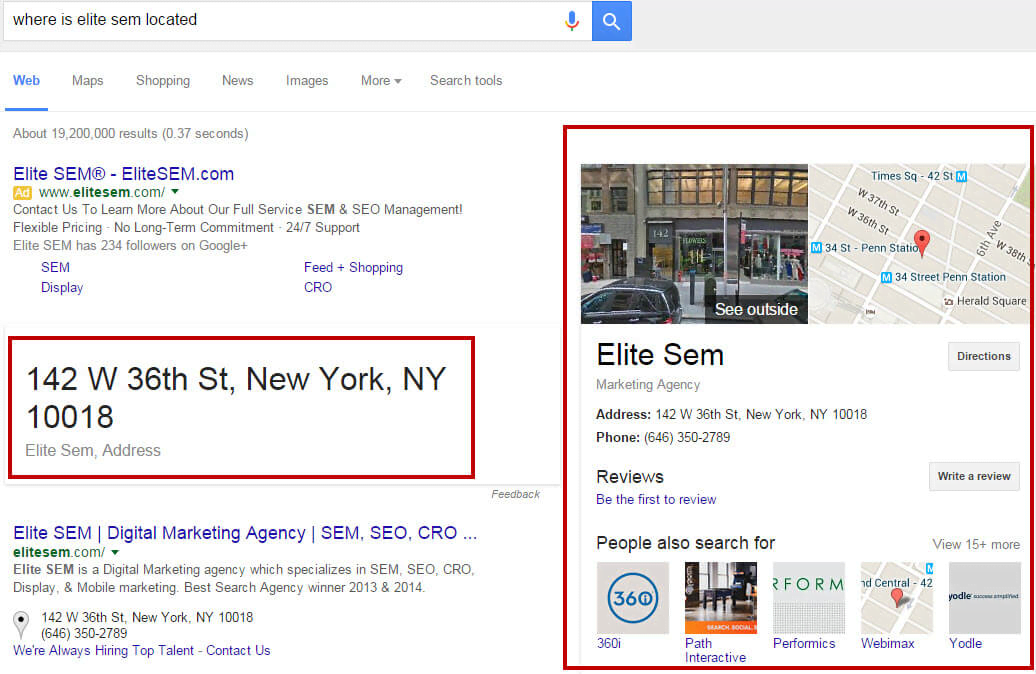 Schema.org is used to form informative snippets and point out certain information on site pages to search systems. This method of data presentation makes ranging easier and increases website reliability in the eyes of potential users. Descriptions with metatags and attributes should be implied in every page of your source.

Additionally, you can arrange Schema.org breadcrumbs, the markup of rating, contacts, feedback, and other properties that may describe a product or a company.

To check out markup fidelity, you should use Google validator. They allow reviewing the code of a ready-made or manually created microdata. Search systems will fail to evaluate and display the required data in case the code contains any mistakes.

Learn how to get the most out of Serpstat
Want to get a personal demo, trial period or bunch of successful use cases?
Send a request and our expert will contact you ;)
Found an error? Select it and press Ctrl + Enter to tell us
Cases, lifehacks, researches and useful articles
Don't you have time to follow the news? No worries!
Our editor Stacy will choose articles that will definitely help you with your work. Join our cozy community :)
By clicking the button, you agree to our privacy policy.