SEO

–

11 min read

–

January 18, 2022
Персональная демонстрация
Оставьте заявку и мы проведем для вас персональную демонстрацию сервиса, предоставим пробный период и предложим комфортные условия для старта использования инструмента.
White Label SEO Reports For Big In-House Teams and Agencies
Custom reports, White Label and Branded Reports by Serpstat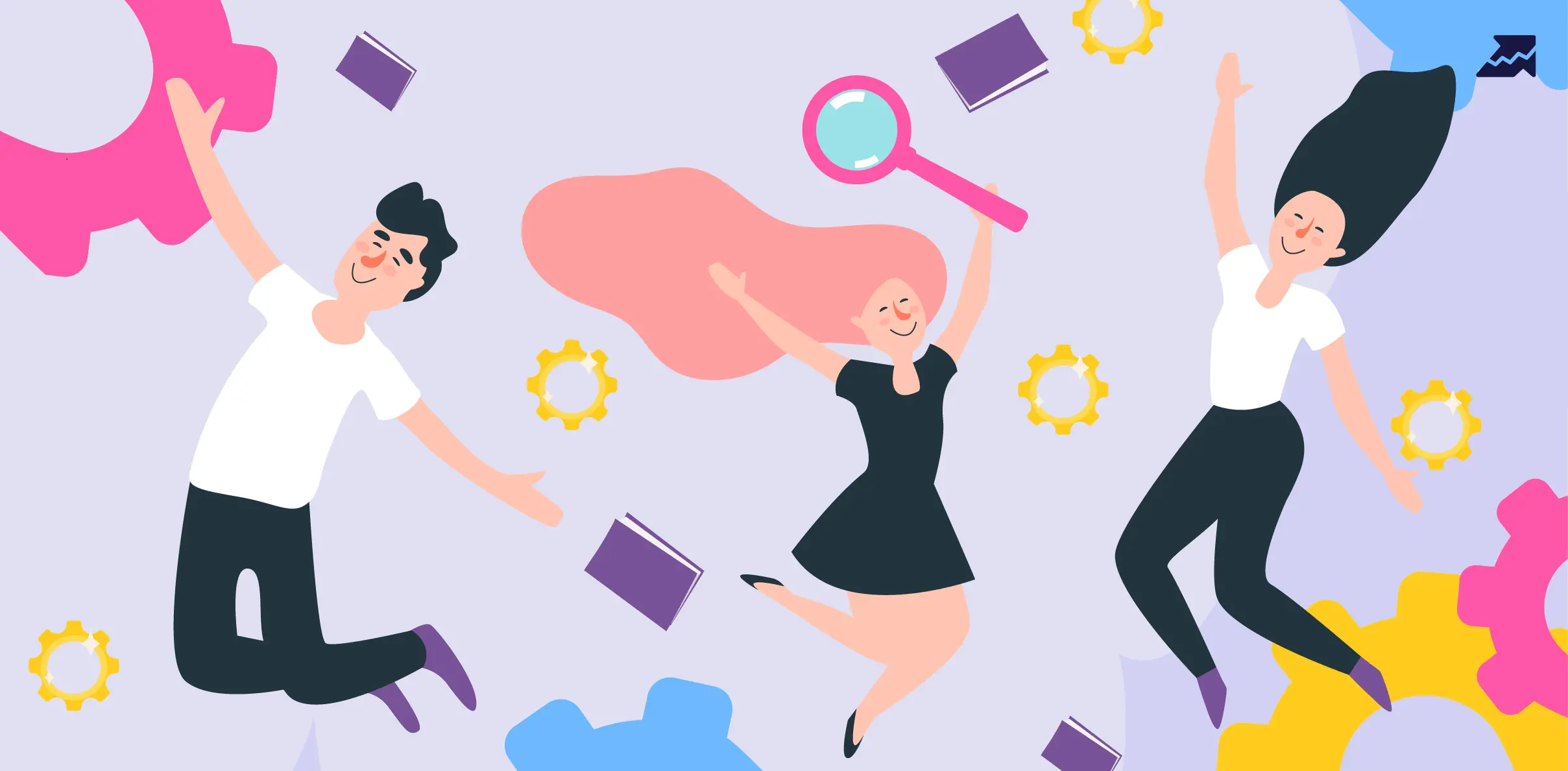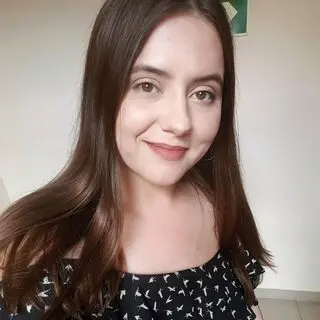 Would you like to explore all Serpstat possibilities for free?
Sign up and get a free 7-day trial! Create customized reports for your clients and test all Serpstat tools.
White Label and Branded Reports: What are They and Why Do You Need Them
Generally, a white label product or service is manufactured by one company but renamed after another to make it appear as if they created it.
Serpstat White Label reports allow you to remove the Serpstat logo from all Serpstat reports and graphs. That way, you can replace it with your company's logo and present all data as your own.
Here's an example of Serpstat graphs with and without our logo:
With the Branded reports feature, reports contain your company's logo and Serpstat's logo.
White label and branded reports are most crucial for SEO and digital marketing agencies, SEO specialists and marketers.
So what makes Serpstat White Label SEO reports so beneficial?
They're a major time-saver.

While creating custom SEO reports from scratch takes a long time, with Serpstat, you can create personalized client SEO reports in just a few clicks.
Besides, if a client requests an unplanned report, you'll never be caught off guard.

They keep your clients informed.

All SEO and digital marketing companies provide regular updates to their clients on their current performance and future plans. The results of SEO work are never immediately apparent, so allowing your clients to keep track of all the progress is a must.

You can easily combine all necessary data on rank tracking, backlinks, competitors, etc. in one convenient, completely customizable report.

Increase brand awareness and customer loyalty.

With the Serpstat White Label feature, you can deliver data to your customers under your agency brand. Seeing your name on high-quality, convenient reports will increase clients' loyalty to your company.
How to Create and Export White Label Reports in Serpstat
1.
Go to your account settings, and select the White Label section. Then tick "Enable White Label":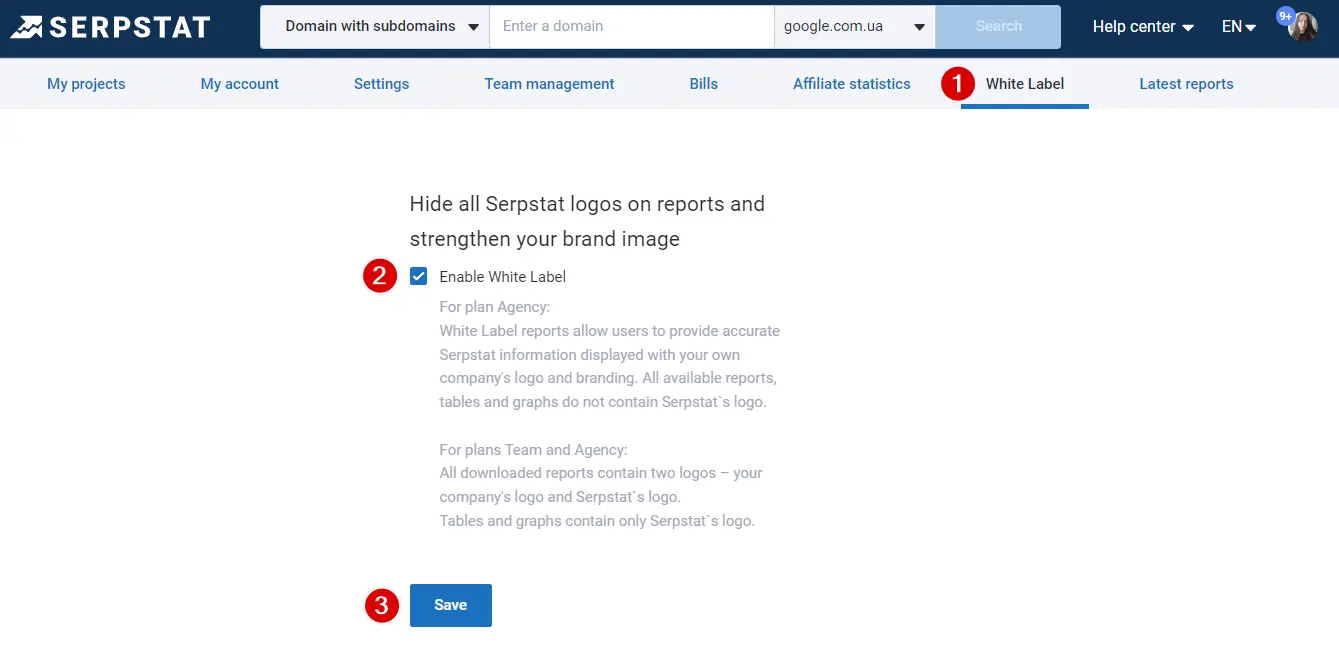 2.
Then click "Select file", upload your logo and save the changes.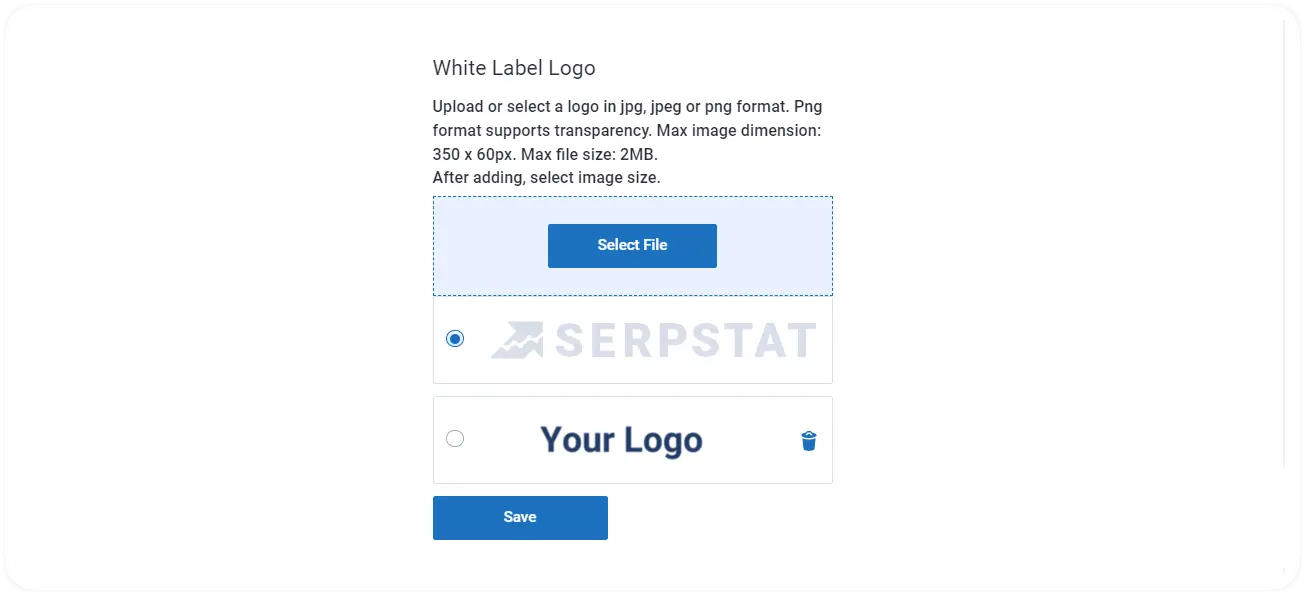 Now that you've successfully turned on the White Label feature for your account, let's learn how to export the reports:

1.
Click "Export" in the upper right corner and select your logo.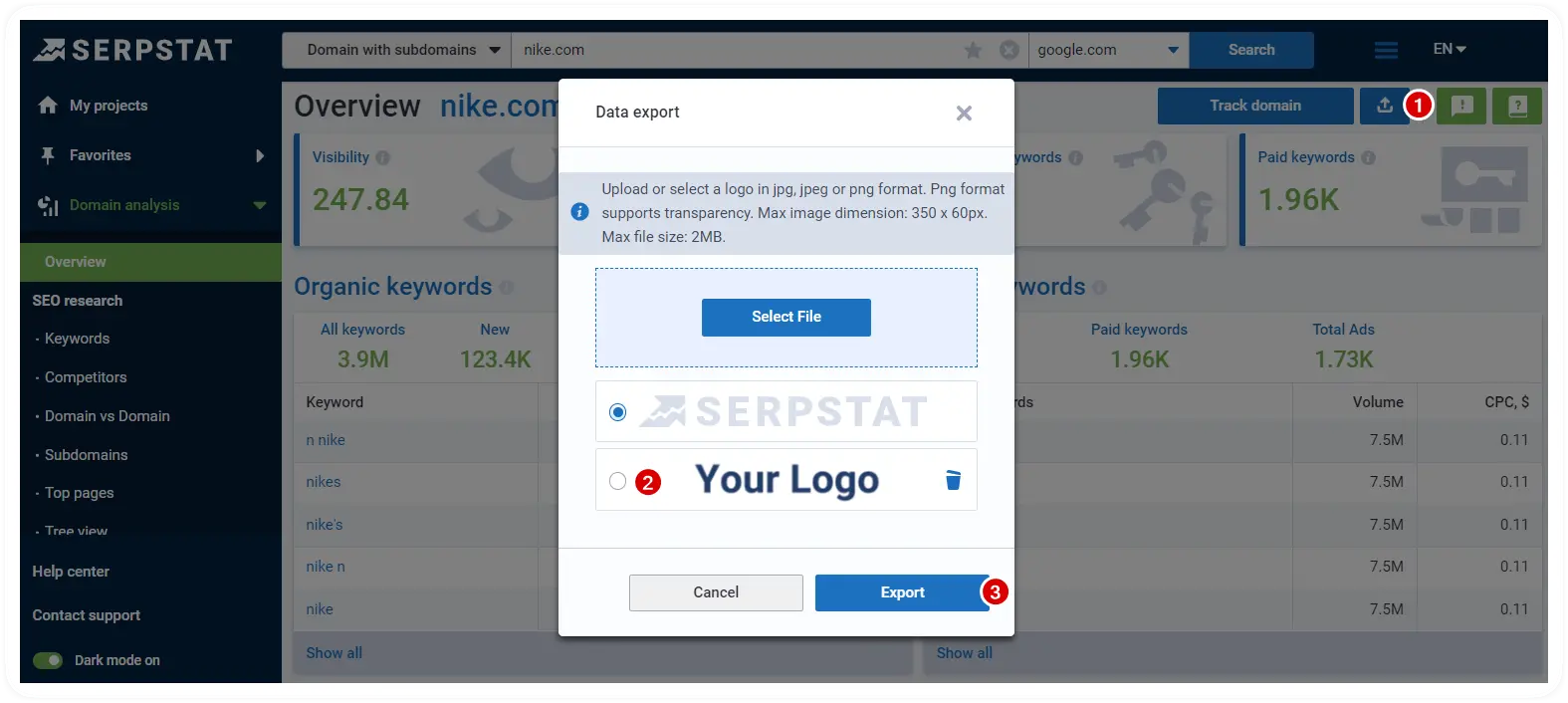 2.
Download the file. Your logo will be displayed in the upper left corner of the report.
Serpstat Custom Reports: Overview
Did you know you could create fully custom reports on Serpstat? There's no need to export dozens of reports from different tools and then sort through them on your computer.

All you need to do is select "Custom Reports" on the sidebar of the platform and customize your own personalized dashboard with Serpstat data from different reports. As you tailor all the information to your needs, you can export it into one PDF file.

1.
Select "Custom report" on the sidebar.
4.
If you have an existing project, select it from the menu.
5.
Select a pre-made template or start from scratch.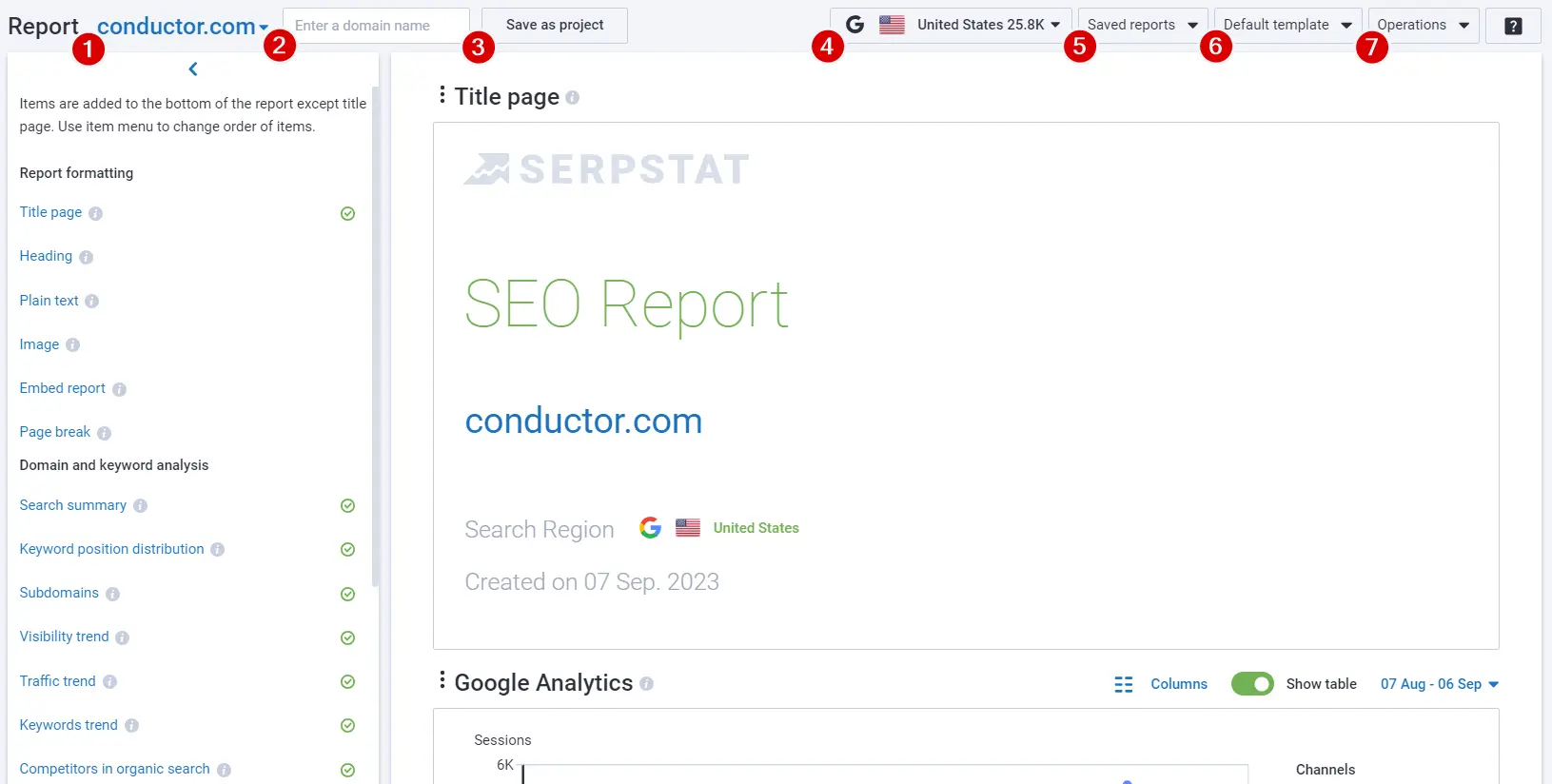 What you can do after creating a client SEO report in Custom Reports:

1.
Select one of the existing projects.
2.
Enter any domain for a report creation.
4.
Select a database to display data from search analytics.
5.
Save a report and send a report link to a client or team member, even if they don't have a Serpstat account.
To share it, open a saved report, copy its URL address, and send it to your colleague or client.

6.
Save a new or apply existing templates.
7.
Copy the link to the current template or export the report in PDF.
And what can you do with report sections? You can add and delete them and move the sections up and down. It can be done via the block menu (1) or the side menu (2).

By default, all blocks, except for the title sheet, are added to the end of the report. The cover sheet block is always added to the beginning of the report.

The blocks added to the report in the side menu of the custom reports are highlighted with a green checkbox.

Watch the video overview of the tool to see Custom reports in action.

Besides the data Serpstat gathers on a domain, you can enhance reports with the data from an embedded report from Google Looker Studio (or any embedded report) and Google Analytics 4.

Embed report
Embed a Looker Studio report to better the customized report with more data. Embedded reports appear in view mode.
The viewer can interact with the report:
Filter and select a date range.

Use the navigation controls on the bottom to go to the second page.

Open this report in Looker Studio by clicking the Looker Studio logo.
Options not available for viewers:
Editing, copying, and sharing.

Refreshing the data in an embedded report (the data is refreshed when the cache expires).
How to get an embed link from Looker Studio?
1.
Share the report: for public or private use.
If the report is publicly shared, anyone viewing the page sees the embedded report.
If the report is shared with specific users, groups, or domains, only those people can see the embedded report. These viewers must be logged into a Google account.
2.
Go to File → Embed report (or click <>).
3.
Click "Enable embedding".
5.
Copy the link to the clipboard.
6.
Insert the link to the Custom reports "Embed report" block.
As said, you can embed any site that uses the oEmbed format ;)
Google Analytics 4
Add a "Google Analytics" block to provide additional data in the customized report.
Data is displayed for the last 30 days by default, but you can change it.
How to connect GA4 to Custom reports
1.
Add the item from the left menu.
2.
Choose your Account ID and Web property ID.
3.
Get a graph and a table with information imported from Google Analytics.
4.
Choose a required time span, hide/show the table and hide/show columns.
Which Serpstat Pricing Plans Include the White Label and Other Features?
If you want to create custom reports, you should have Individual, Team or Agency pricing plans.
For Team and Agency plans, all downloaded reports can contain two logos — the company logo and the Serpstat logo. Tables and graphs only contain the Serpstat logo.
If you enable a White Label option on the Agency plan, you get all the available reports, tables, and graphs without the Serpstat logo.
| | | | |
| --- | --- | --- | --- |
| | Individual | Team | Agency |
| Branded reports | | | |
| White Label | | | |
| Custom reports | | | |
Conclusion
Serpstat's white label feature and brand reporting are comprehensive SEO solutions for professionals, with a variety of custom reports included. You can use the white-label features to notify your customers about your SEO performance while also increasing brand loyalty.
In just a few clicks, you can export Serpstat data in a variety of formats and generate stunning visualizations!
If you still have questions, you can find answers in our FAQ, use cases or contact the technical support chat.
Found an error? Select it and press Ctrl + Enter to tell us
Cases, life hacks, researches, and useful articles
Don't you have time to follow the news? No worries! Our editor will choose articles that will definitely help you with your work. Join our cozy community :)
By clicking the button, you agree to our privacy policy.