// В этом файле есть те нужные стили которые в других файлах нет.?>
SEO

–

9 min read

–

August 2, 2019
SEO Reports For Freelancers And Agencies: White Label And Brand Reports By Serpstat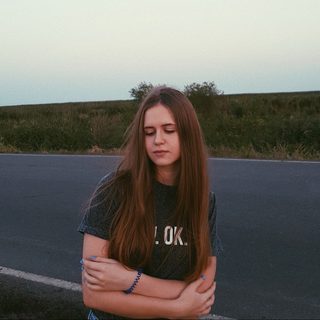 Editor at Serpstat
Are you a freelance SEO specialist, or are you heading an SEO department in a company? Is reporting one of your daily tasks? Then white label and branded reports are a great way to save time and keep your customers informed.

This is one of the most useful features of our service. It allows you to disable the Serpstat logo on the graphs, as well as upload and display your own logos. In this article, you'll learn how to optimize your routine and improve the quality of reporting using these functions.

SEO reporting: what should you consider?

Before you start a project, you should approve several important aspects with your customer. This includes SEO reports.
Which reports does the client want to receive? Some of the most popular reports include:
Overall
site report
with such metrics as
visibility, traffic, number of keywords
.
Site audit results
with a list of SEO errors and weaknesses that can affect site's rankings.
Position of a site in search results
for a list of tracked keywords.
Development of the site's
link profile
.
Market share of a site
compared to leading competitors in the niche.
How many times does the customer want to receive these reports?

Most often, clients require monthly reporting on all important areas. Nevertheless, they can also ask for reports on the measures and services used weekly or on demand.

Effective Site Audit With Serpstat: Tool Overview
Technical Audit Of A Page In 2 Clicks

White label and brand reporting: crucial notes

White Label
is a product or service that is manufactured by one company and renamed by other companies to make it look like they have made it.
Serpstat white label allows you to:
Remove the Serpstat logo
from all infographics and reports.
Export all reports without Serpstat logo
or Serpstat data under your brand name.
Why do you need white label and brand reports?
If you're an SEO freelancer or work at an agency that provides SEO services, dozens of different reports are part of your daily business. Why is it worth reimbursing brand and white label reports?
Reports for customers.
All SEO and online marketing agencies regularly report to their clients to present performance and plans. It is essential when positive results of optimization are not so obvious. In this case, regular reports are the best solution for clients to follow project development.
Insight into a project.
Serpstat reports will help you if your client requests an unplanned report. In a few minutes, you can present the most critical indicators of the project. Also, the quick site analysis and creation of the infographic are useful when starting your SEO activities.
Time savings.
Serpstat reports are the best option to show accomplished tasks in a few minutes for agencies and freelance SEOs who simultaneously optimize multiple websites. Creating custom reports and charts from scratch requires a lot of time. Now you can create a report for your customer with just a few clicks.
Professional reports.
White label reports allow you to present data to customers under their own name or agency name. So you improve the reputation of your company. This is crucial, whether you own an SEO agency or work for yourself (I mean personal branding here).
Loyalty
. Such reports strengthen customer loyalty. Each time your client receives your reports and sees your name, it combines convenience and quality, and the loyalty to your business increases.
Why do you need white label and brand reports?
Go to the
White Label
section of your Serpstat profile and tick
Enable White Label
in the
White Label Status
menu and save the settings.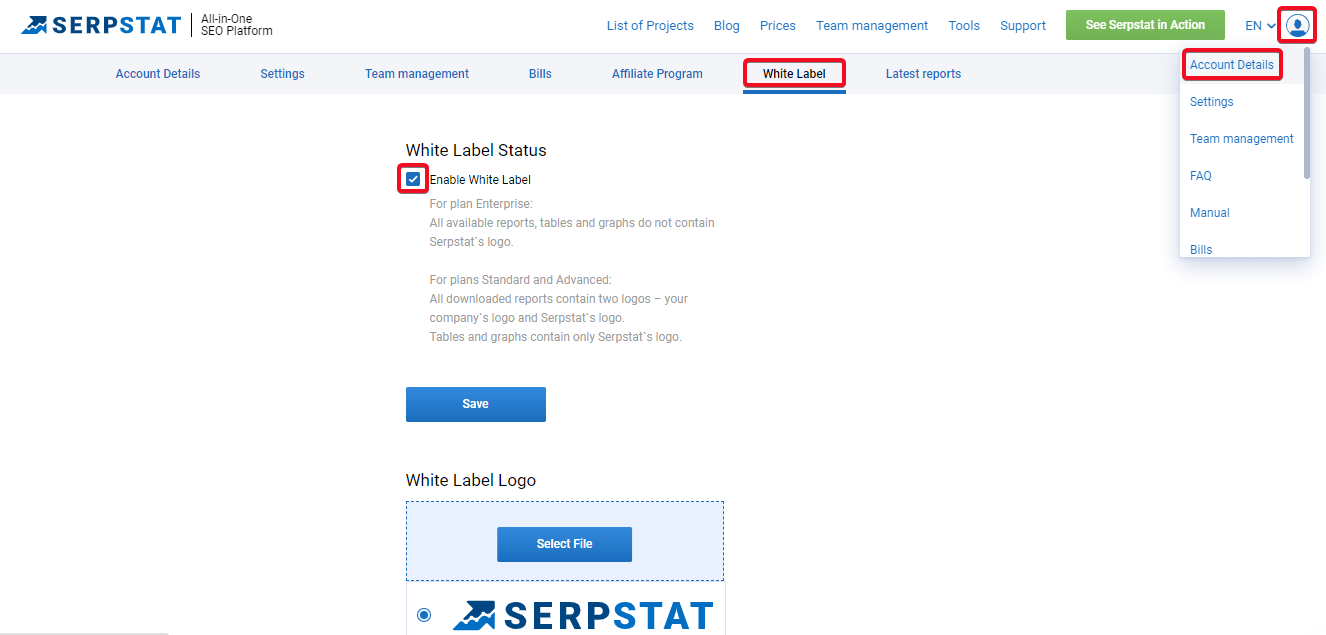 Go to the section
White Label Logo
and click on
Select file
. Please note that the logo must be on a transparent background to appear correctly in your reports. After selecting the logo, check the box and click
Save
.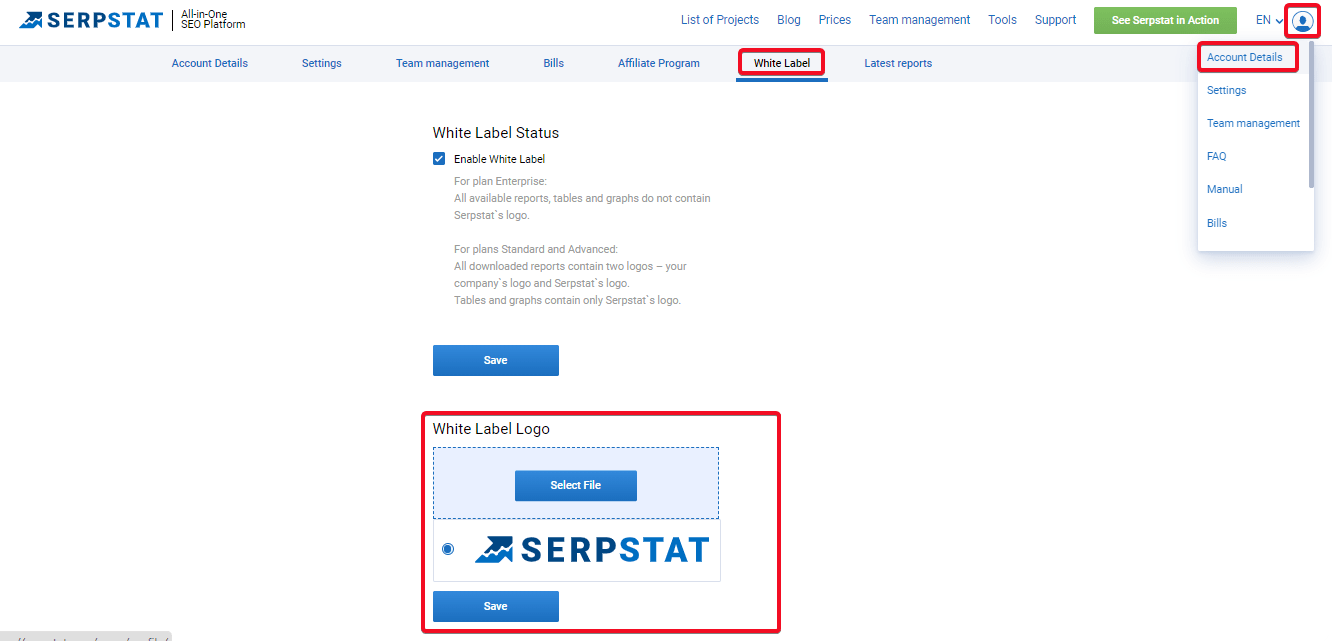 If you want, you can also add other logos when exporting reports to choose the one you want.

How do you export reports with your logo?
Select the table to export and click on Export in the right corner.

Then select the PDF format and the desired logo.

Open the downloaded file. Your logo will be displayed in the upper left corner and in the lower right corner of the file.

Pricing plans allowing white label feature

If you want to create unique reports with your name or the name of the agency, you should have
Standard, Advanced, or Enterprise
plan.
For
Standard, Advanced, and Enterprise
plans, all downloaded reports can contain two logos — the company logo and the Serpstat logo. Tables and graphics contain only the Serpstat logo.
If you enable a white label option in the Plan
Enterprise
, then you can get all the available reports, tables, and graphics without the Serpstat logo.
Serpstat's white label feature and brand reporting are complete SEO solutions for professionals that includes a wide range of custom reports. With white label you can inform your customers about your SEO performance while increasing loyalty to your brand.

Export Serpstat data in various formats and create beautiful visualizations for your clients in a few clicks!

We've created the Serpstat Website SEO Checker which allows you to find out the key metrics of any site in just a few clicks.
To examine a domain, you don't need to open Serpstat in a new tab - all necessary data is available with one click directly on the site!
Click on the icon and you'll get multiple SEO metrics about a domain or page: visibility, traffic, keywords, top competitors in the region, etc.
Read the post to learn about the benefits of the updated Serpstat checker.

Learn how to get the most out of Serpstat
Want to get a personal demo, trial period or bunch of successful use cases?
Send a request and our expert will contact you ;)
Found an error? Select it and press Ctrl + Enter to tell us
Cases, lifehacks, researches and useful articles
Don't you have time to follow the news? No worries!
Our editor Stacy will choose articles that will definitely help you with your work. Join our cozy community :)
By clicking the button, you agree to our privacy policy.