How To Find New Keywords And Expand Semantics
Selecting keywords is necessary to collect and expand the semantic core used in SEO and PPC. Search engine keyword statistics, online services, and special software will help you to gather a complete semantic core, contributing to the successful website promotion.
Types of queries in the semantic core
The semantic core is an ordered list of all keywords and phrases used in website promotion and advertising. These keywords are grouped according to certain parameters, separating information and commercial requests.

Example of commercial query: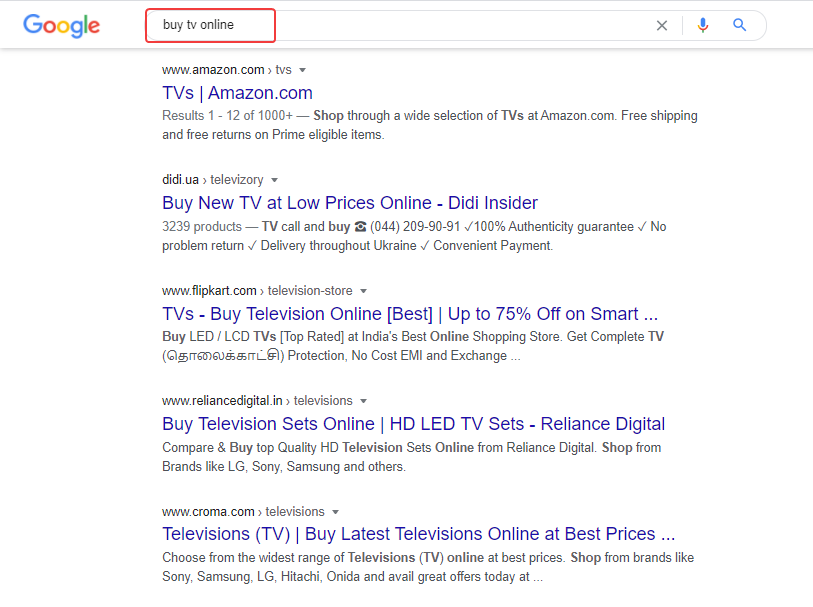 Example of information query: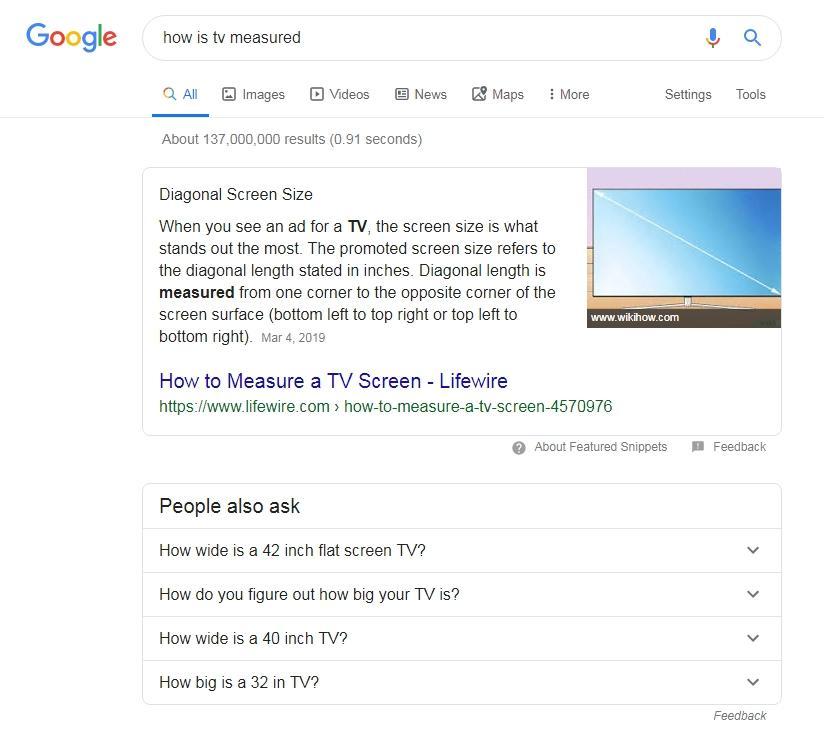 Also, queries can be divided into geo-dependent and geo-independent. An example of a geo-dependent query shows results based on the user's location: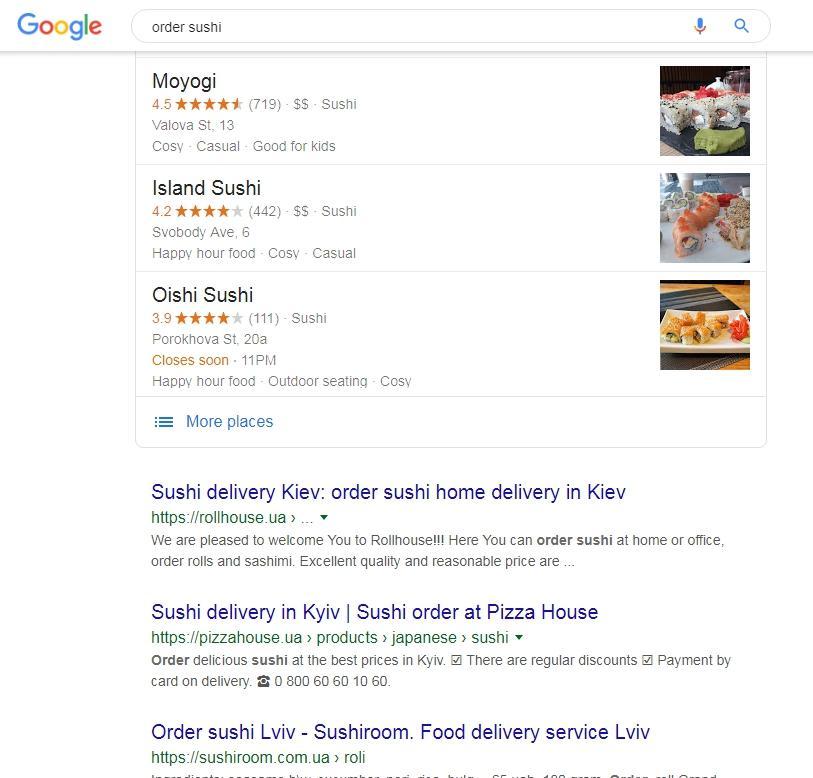 An example of a geo-independent query shows results that are relevant for the specified city: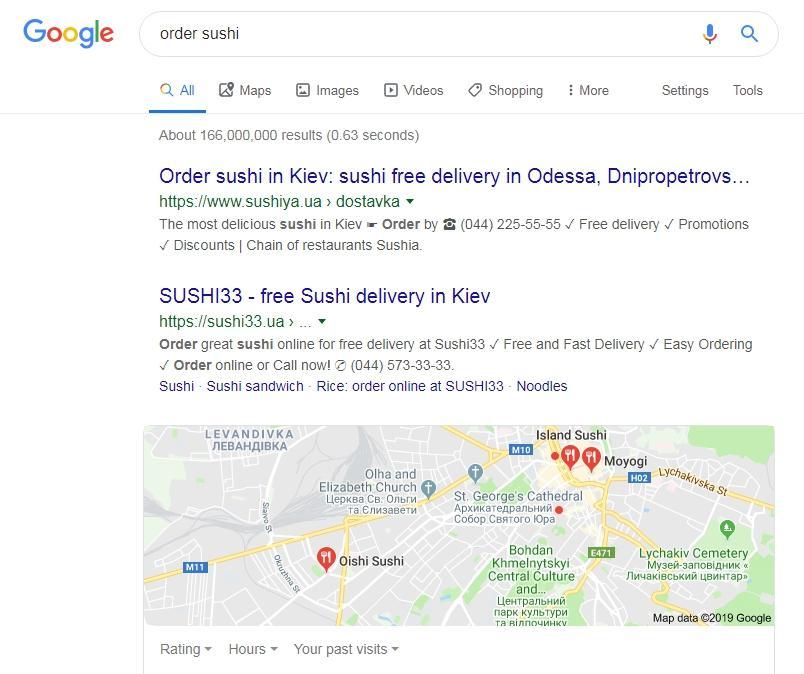 Also, all requests are grouped by frequency:
high-frequency queries are the most competitive and are most popular among users. It's the most difficult to get to the TOP results in the organic search, but they can attract the most traffic to the website.In contextual advertising, such keywords are usually more expensive than low-frequent ones, and PPC can be quite expensive;


mid-frequency queries are less popular and are easier to promote. In case with an online store, such keywords should be used for the names of product categories or subcategories, as well as added to contextual advertising (the same is for high-frequency queries;


low-frequency queries are keywords that are most rarely used by users. You can get pretty much traffic using many low-frequency keywords on the website. The advantage of such queries lies in easy promotion and higher average conversion compared to mid-frequency ones.

Google contextual advertising won't display ads for extremely rare requests and, thus, gain the status of "Few requests".
Keyword selection in Google Adwords
To generate or expand the semantic core, you can use the Google Adwords
Keyword Planner
, in which Google Ads keyword statistics are available:

New features were added to this service in 2019:
you can add up to ten source keywords to find new options;

viewing and downloading popular keywords is available;

the system groups keywords by topic so that it's more convenient to add them to ad groups;

you can add and save your favorite keywords to an existing campaign;

you get recommendations for setting a daily budget that includes the maximum cost-per-click and expected cost;

detailed keyword performance information is available in the competitiveness column.


Find new keywords using the Planner. Let's have a look at the example of creating a semantic core for an online women's clothing store. Enter up to 10 suitable keywords separated by a comma and click "Get results":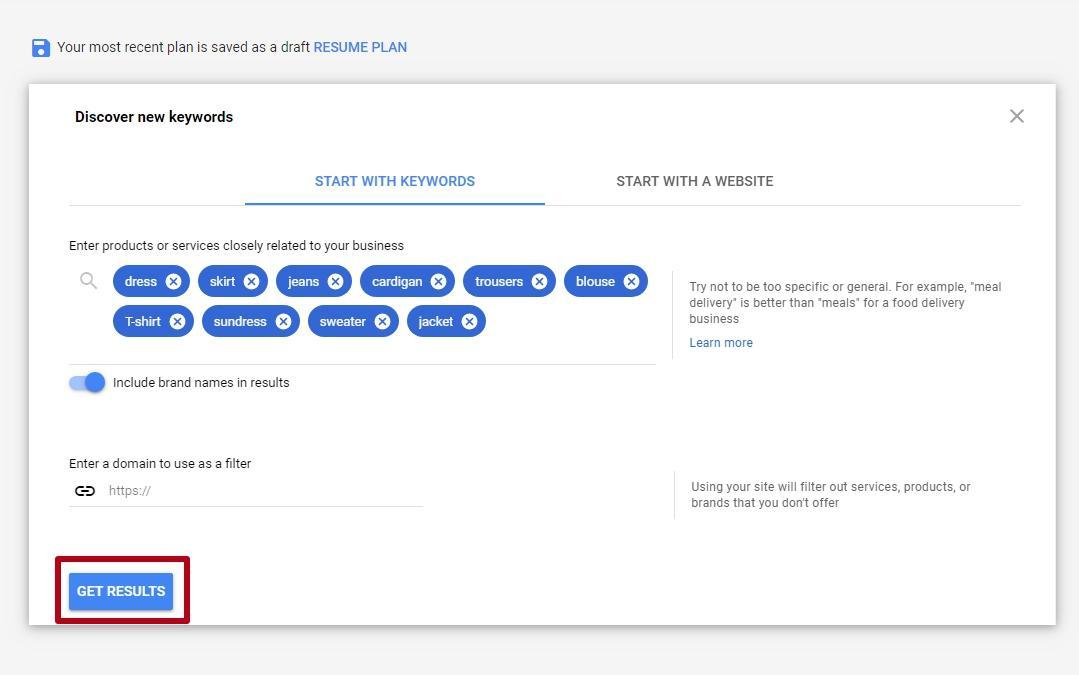 We received more than 8000 keyword options with an indication of their level of competition and the average number of impressions per month. The report also displays the minimum and maximum price for an ad for this keyword at the top of the Google results page: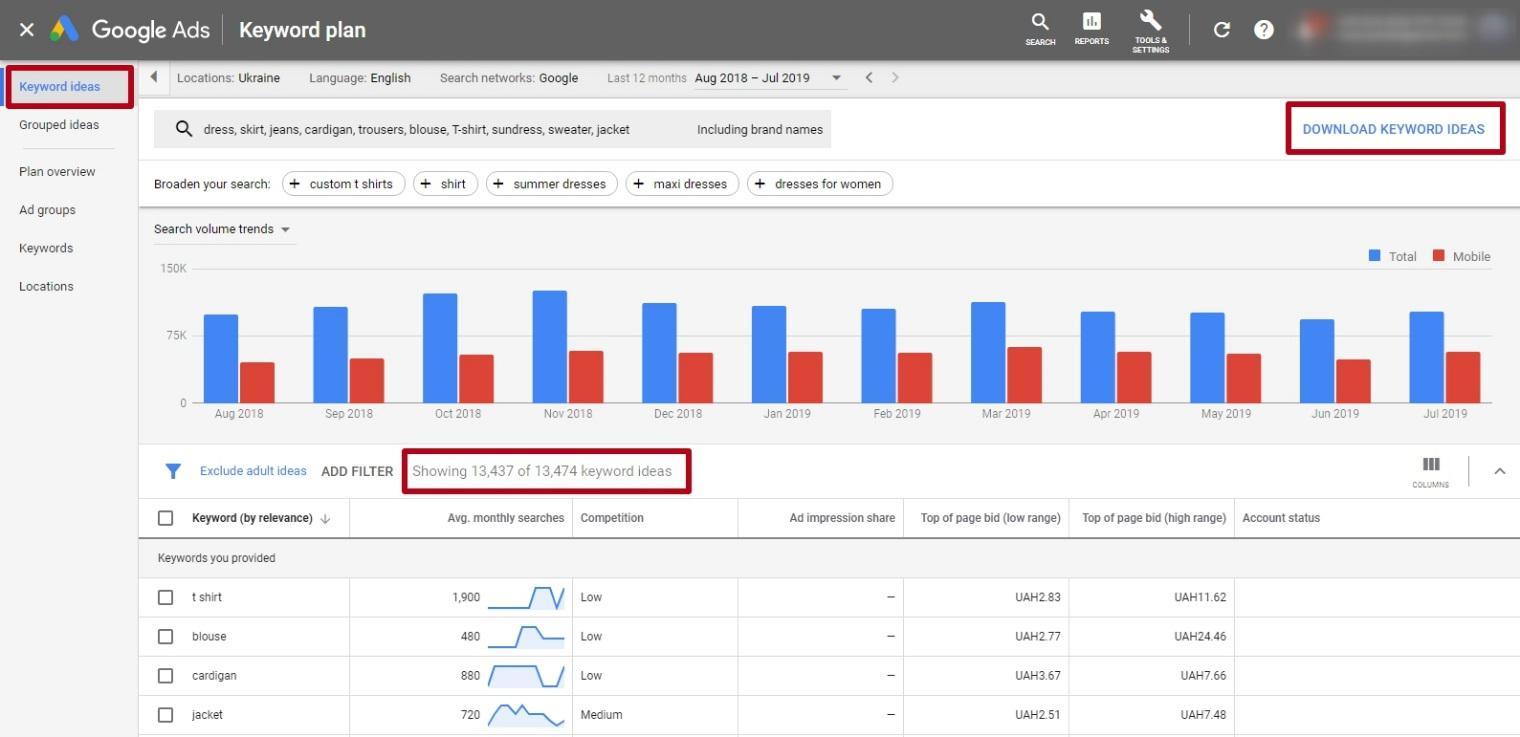 Switching to the "Grouped Ideas" tab, you can view the created groups of keywords: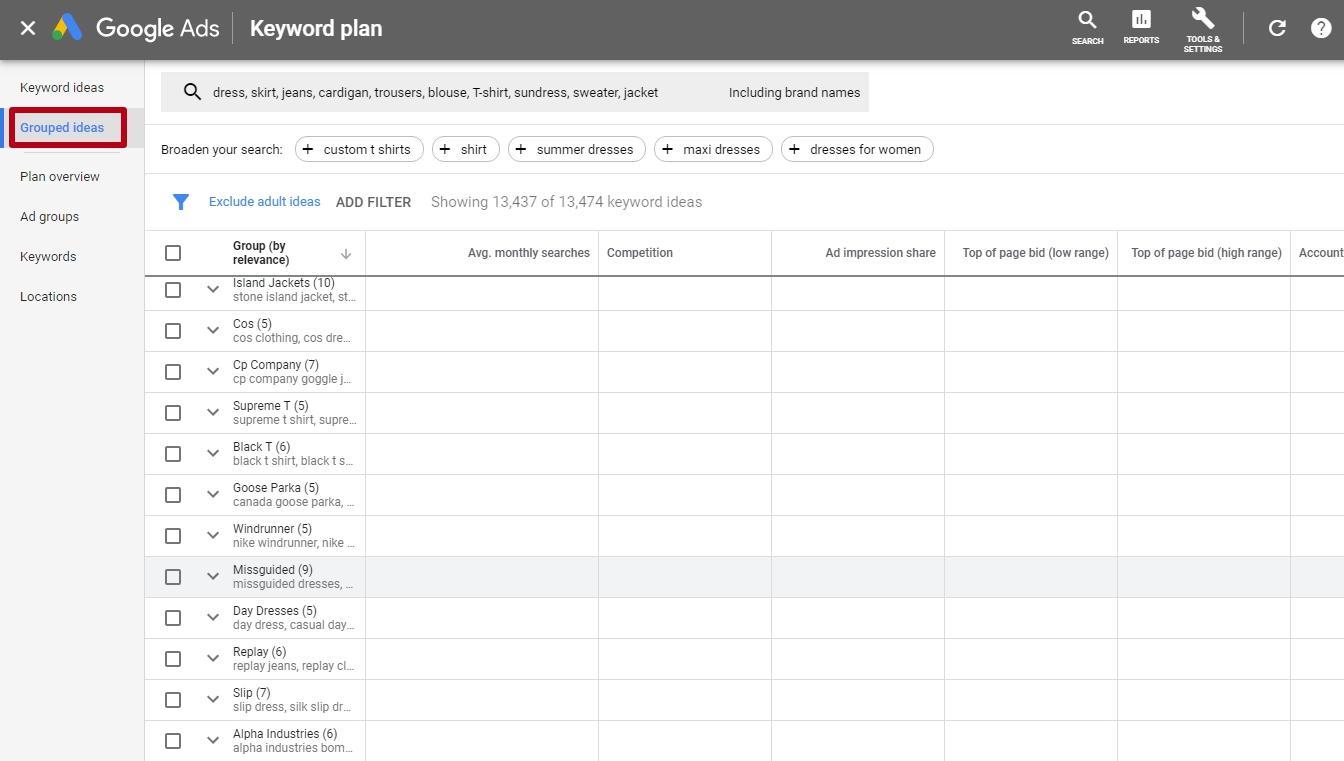 You can download the received keyword options in CSV format to work with them: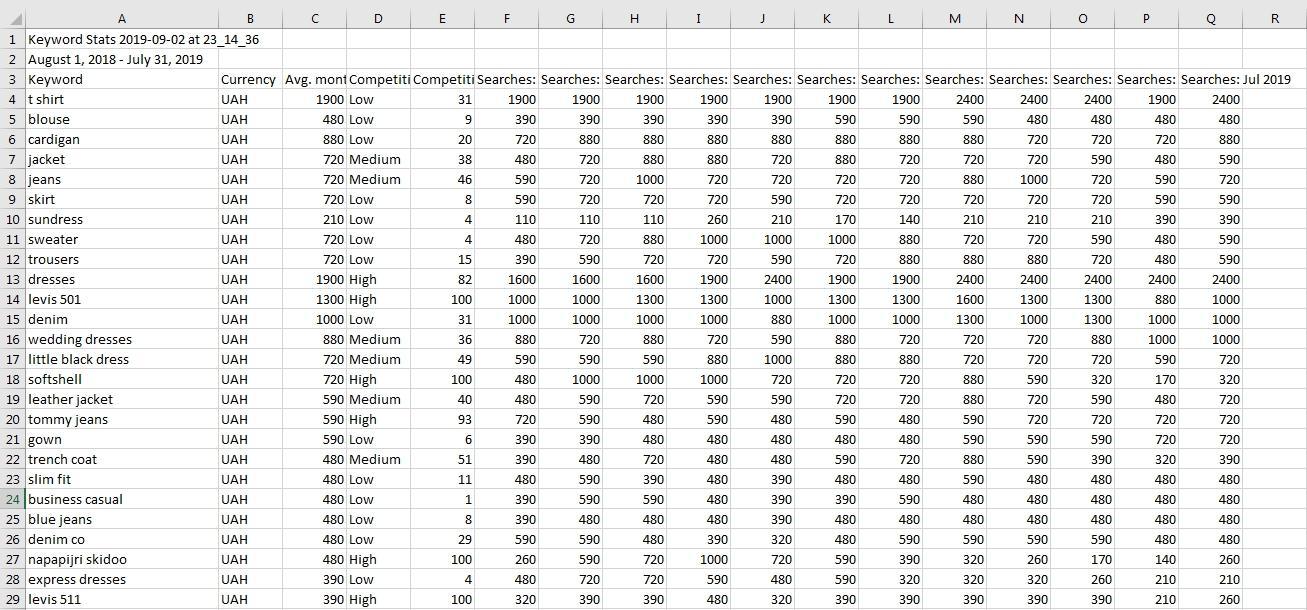 Keyword selection in the Google Search Console
Google query statistics available in the Search Console are also often used to extend the semantic core. Data on all keywords by which your website is already displayed in Google will help to improve the position on these and similar queries.

Information about queries and impressions is available in the Performance section. This data can also be downloaded: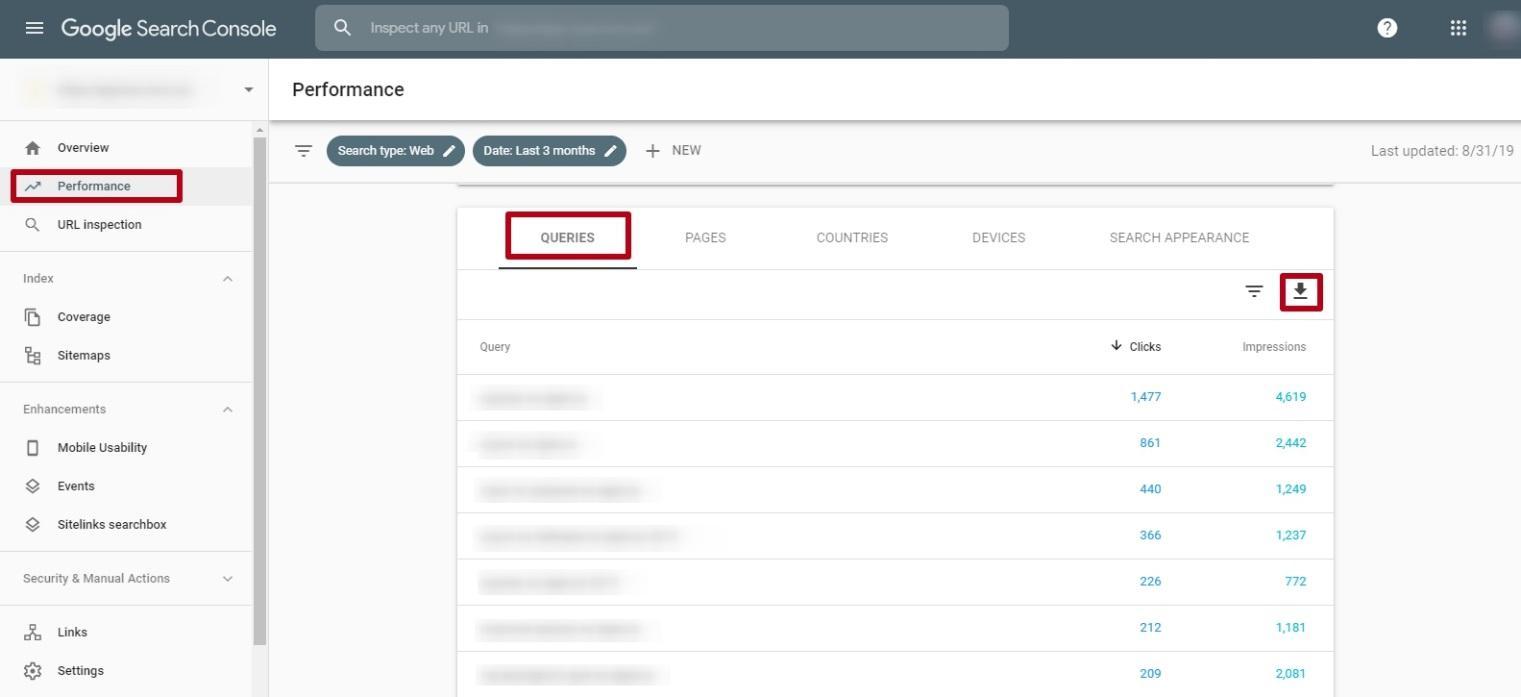 Add new queries to the existing semantic core in the CSV file, highlight them in color for your convenience, and sort the keywords in alphabetical order. Such formatting will help highlight new variations of keywords that can be used in SEO and PPC: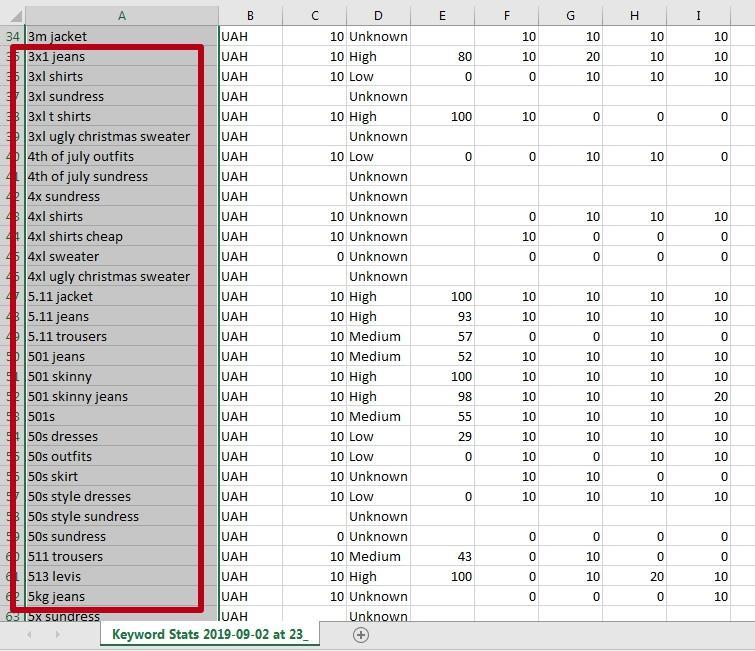 Keyword Selection in Serpstat
The
Serpstat
SEO platform also has many
keyword research tools
that are suitable for creating and expanding semantics. Go to
Keyword Research - SEO Research - Keyword Selection
. Enter a query, specify a search engine, then click
Search
: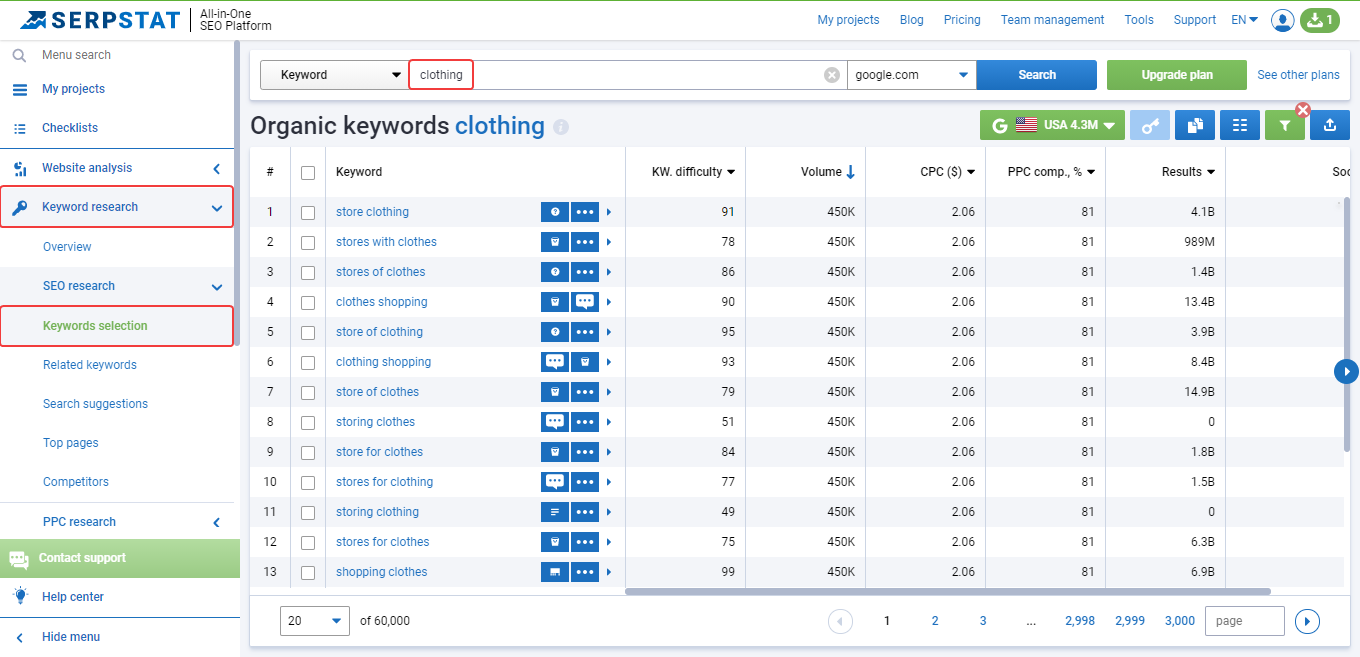 The report contains statistics on the frequency and competitiveness of the request, the number of results, as well as PPC cost. After choosing the appropriate options, go to the "Related keywords" module:

Here you can find all similar keywords collected using the unique Serpstat algorithm. All keywords related semantically to the search query are added to the report. The system determines them by the coincidence of URLs in the TOP-20 of the search results.

The report uses the Connection Strength parameter that indicates how many URLs match the analyzed phrase and the query from the report. For example, with a connection strength of five, a given pair of requests has five common URLs in the TOP-20 of search results.

After collecting additional keywords, you can use another report called Search Suggestions: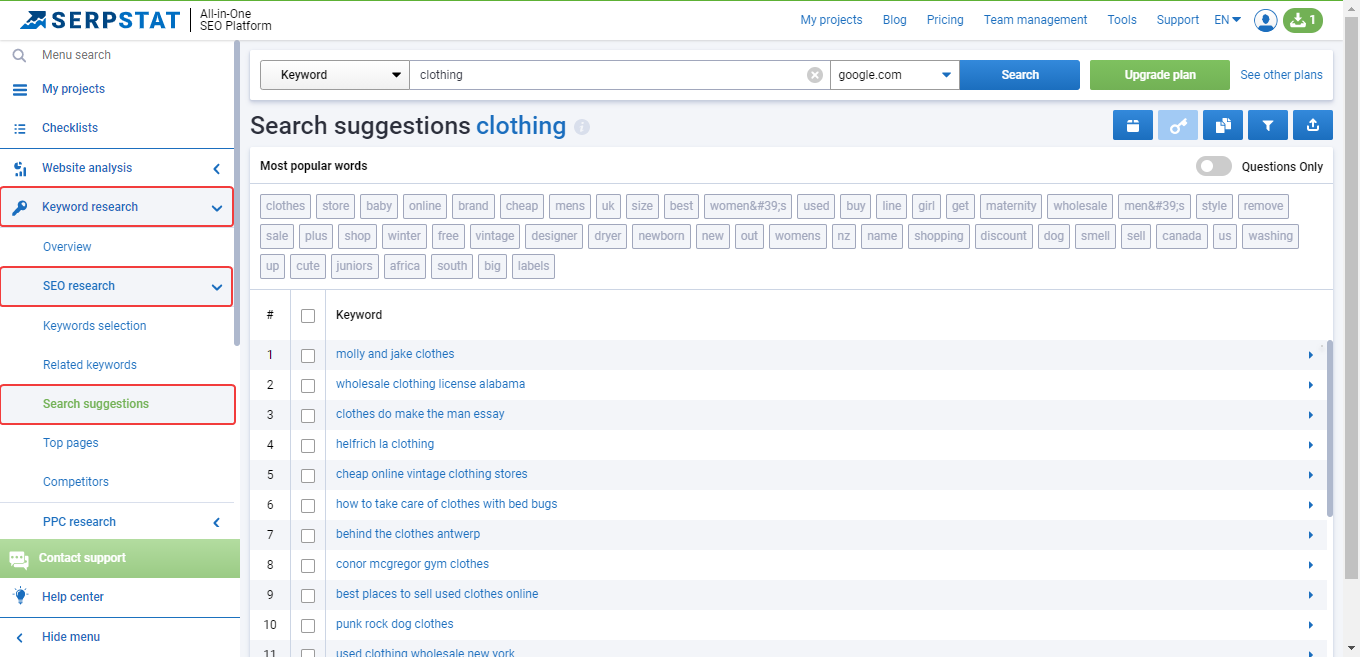 There you can find information on the most popular search suggestions that can be used together with the selected query.
Our specialists will contact you and discuss options for further work. These may include a personal demonstration, a trial period, comprehensive training articles, webinar recordings, and custom advice from a Serpstat specialist. It is our goal to make you feel comfortable while using Serpstat.
Additional services for keyword selection
Besides the above-mentioned tools, you can use the following free online services to get additional keywords:
Keyword Tool
is a free version of an online tool that allows you to get a limited number of keys and information while applying filters and negative keywords: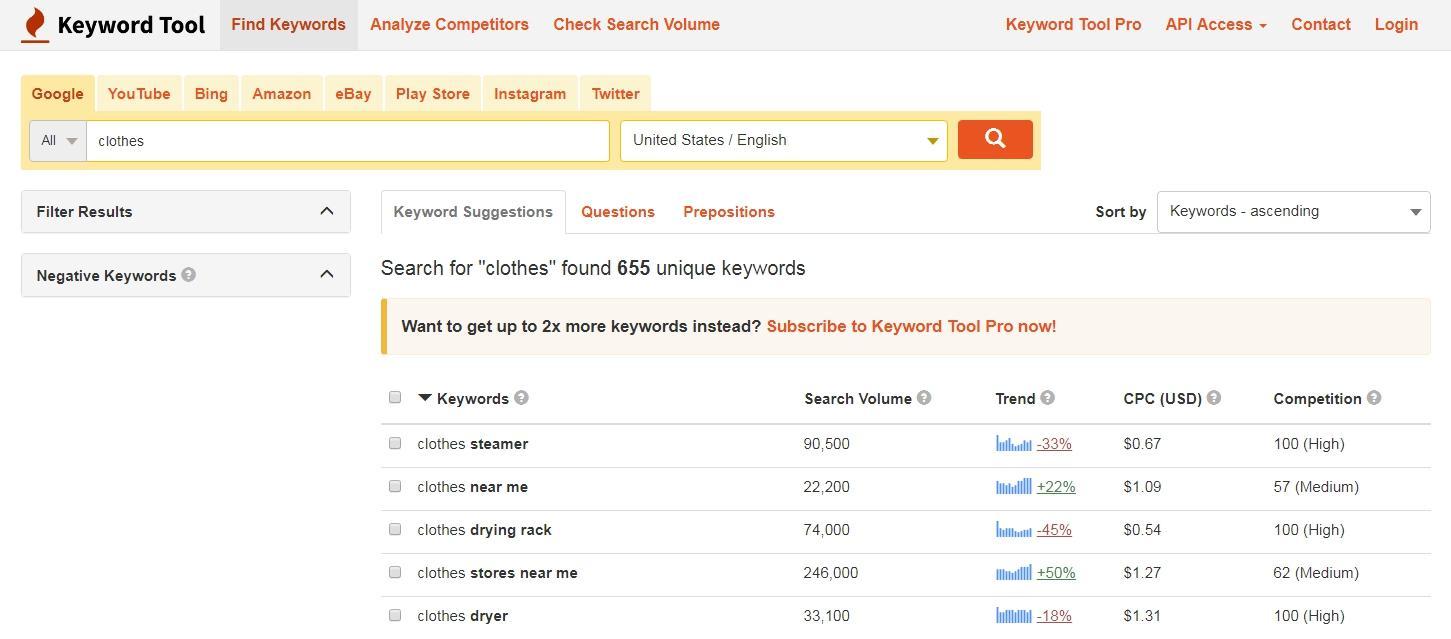 Kparser
is a partially paid service that allows you to collect a semantic core for SEO promotion on Google in a specific country: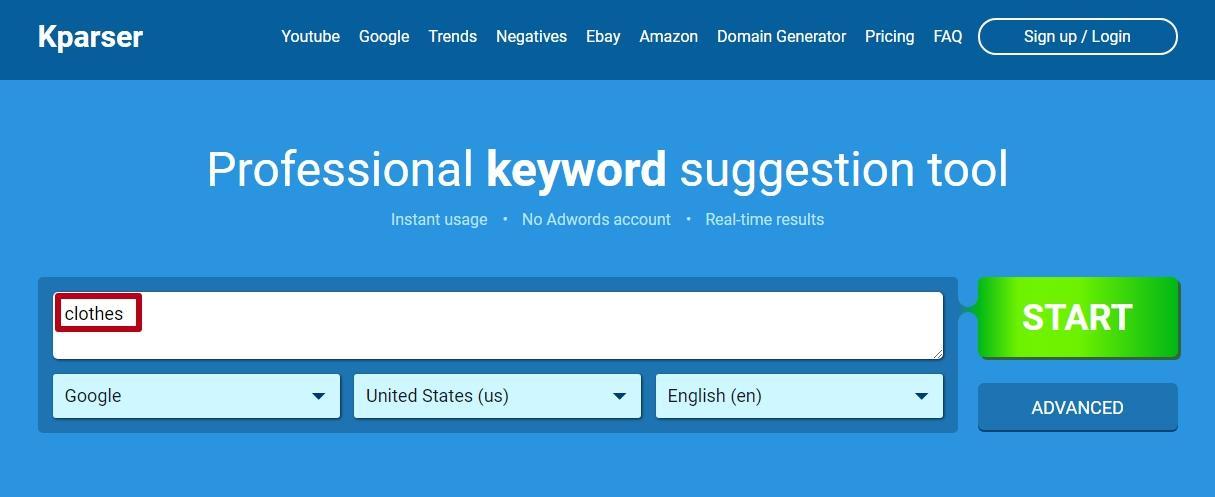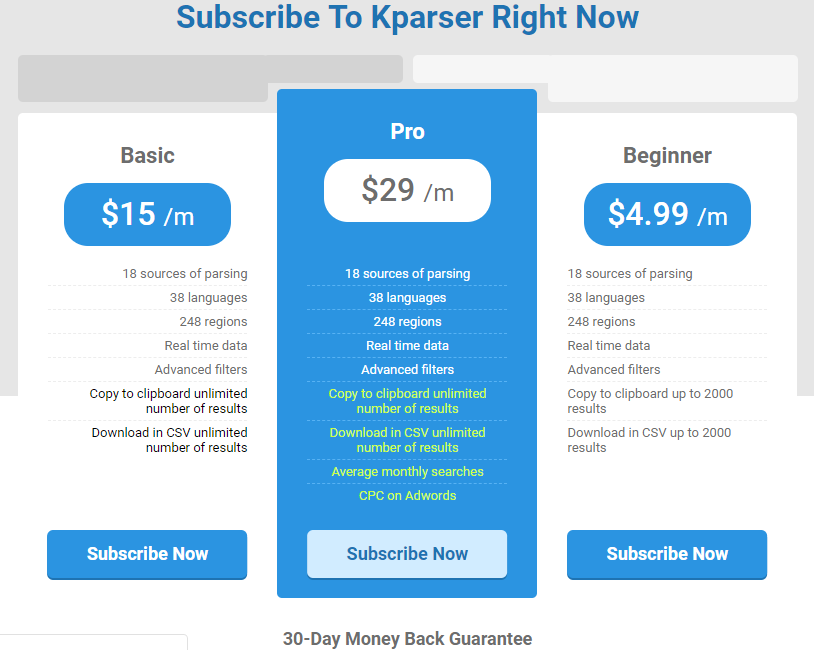 The expansion of the semantic core will allow attracting additional traffic and successfully promoting the project according to low-frequency and mid-frequency queries.
You can collect keywords for Google using the Keyword Planner, Google Search Console, Serpstat
keyword research for competitor analysis
and other services.
Learn how to get the most out of Serpstat
Want to get a personal demo, trial period or bunch of successful use cases?
Send a request and our expert will contact you ;)
Found an error? Select it and press Ctrl + Enter to tell us
Cases, lifehacks, researches and useful articles
Don't you have time to follow the news? No worries!
Our editor Stacy will choose articles that will definitely help you with your work. Join our cozy community :)
By clicking the button, you agree to our privacy policy.