Serpstat Keyword Batch analysis allows you to evaluate keywords using 9 SEO metrics, 9 indicators for link research and 5 databases simultaneously. Load a list of keywords in a few clicks, get data and save time on analytics.
Do you work on large SEO projects and want to save time on keyword analysis? Save your time and conduct a keyword analysis with Serpstat. Try this method to compare up to 100,000 keywords in one report.
Keyword Batch analysis: how to analyze a list of queries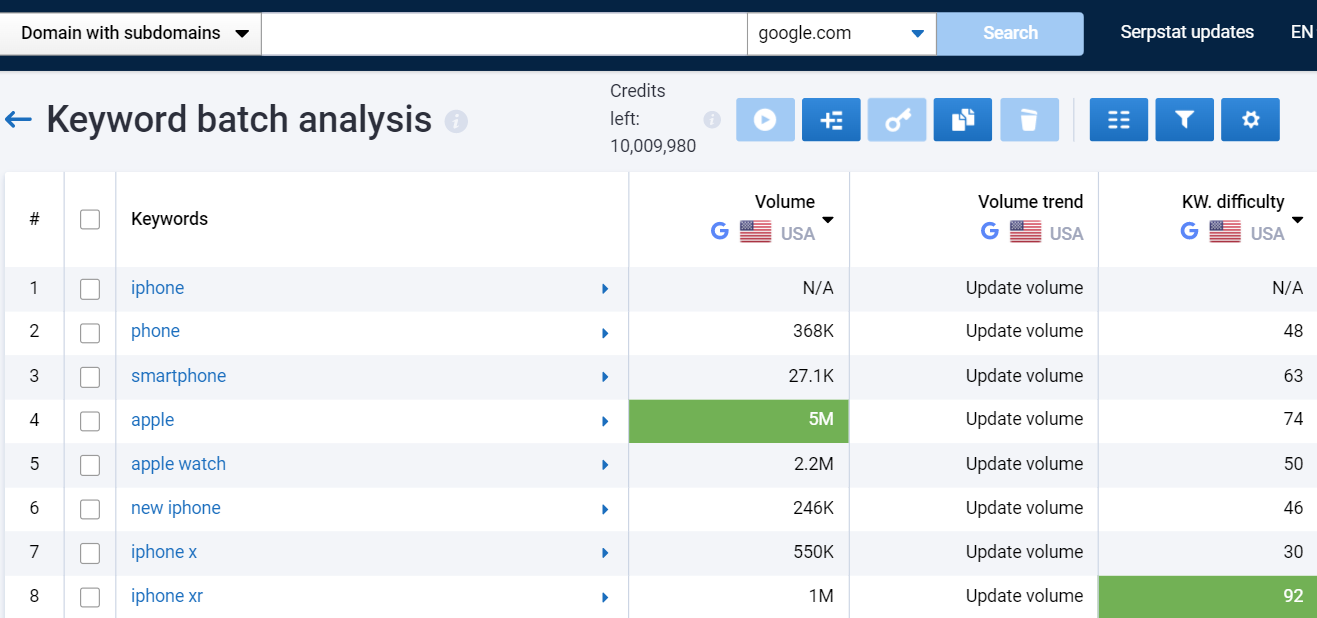 Collecting and analyzing keywords in a list
Easily analyze search queries, even for large projects. Especially if you have downloaded thousands of keywords using the Keyword Search tools, Similar Keywords or Search Suggestions, Keyword Keyword Batch analysis will allow you to analyze up to 100,000 keywords within a single project.

Enter the required list of keywords manually or import in txt or csv format. Analyze keywords by 5 indicators, as well as any regional Google databases.


Take advantage of flexible filtering settings

Analyze and compare keywords across 18 metrics with our Batch analysis feature. The filtering option in Batch analysis allows you to check keywords and evaluate a keyword in terms of cost, frequency, number of results, level of competition, number of words in a keyword, toponyms and others.

Specify clear criteria for the keyword, for example - "cost from and to", "frequency - more than", "special elements in the search results - contain types." Get customized data for each keyword and use it to improve the performance of your SEO campaigns.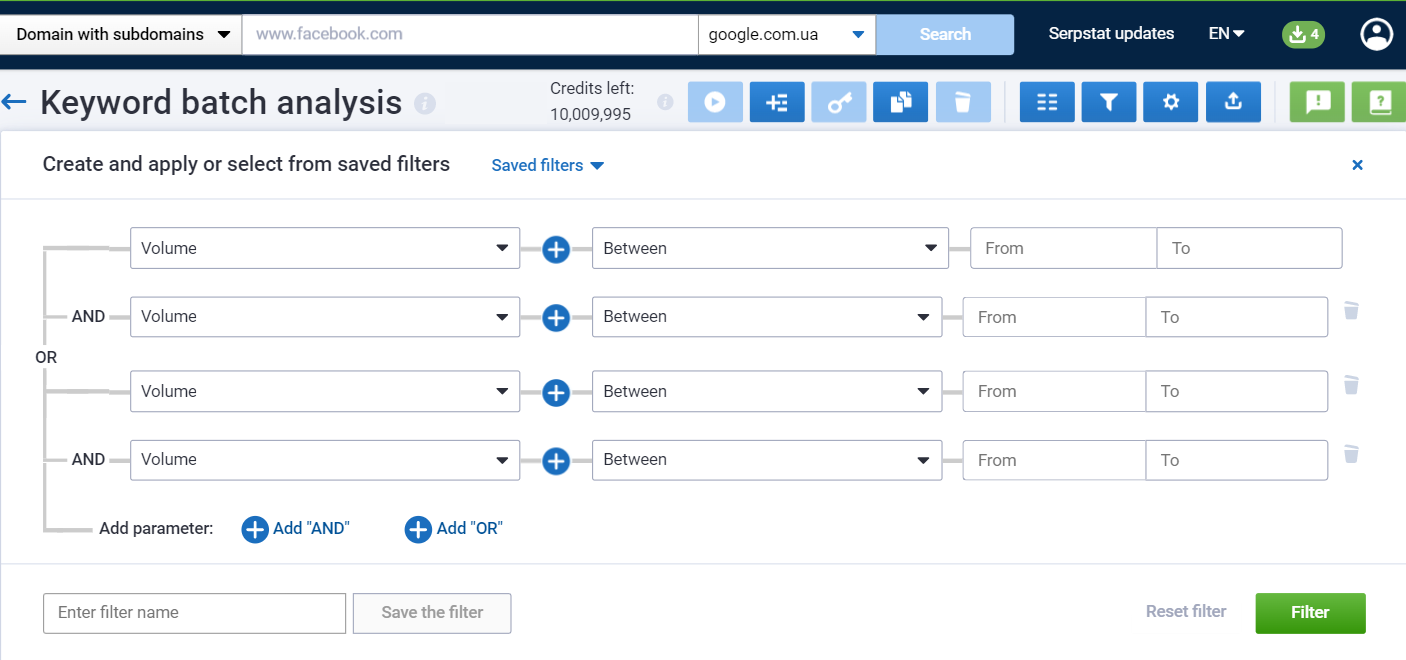 Updating data by keyword lists
Are you betting on certain keywords for your project? Conduct a keyword analysis and monitor how the indicators are changing for keyword groups, spend your budget wisely.

Refresh the data by lists to see the keyword analytics in selected search engines for the following indicators:

the number of search results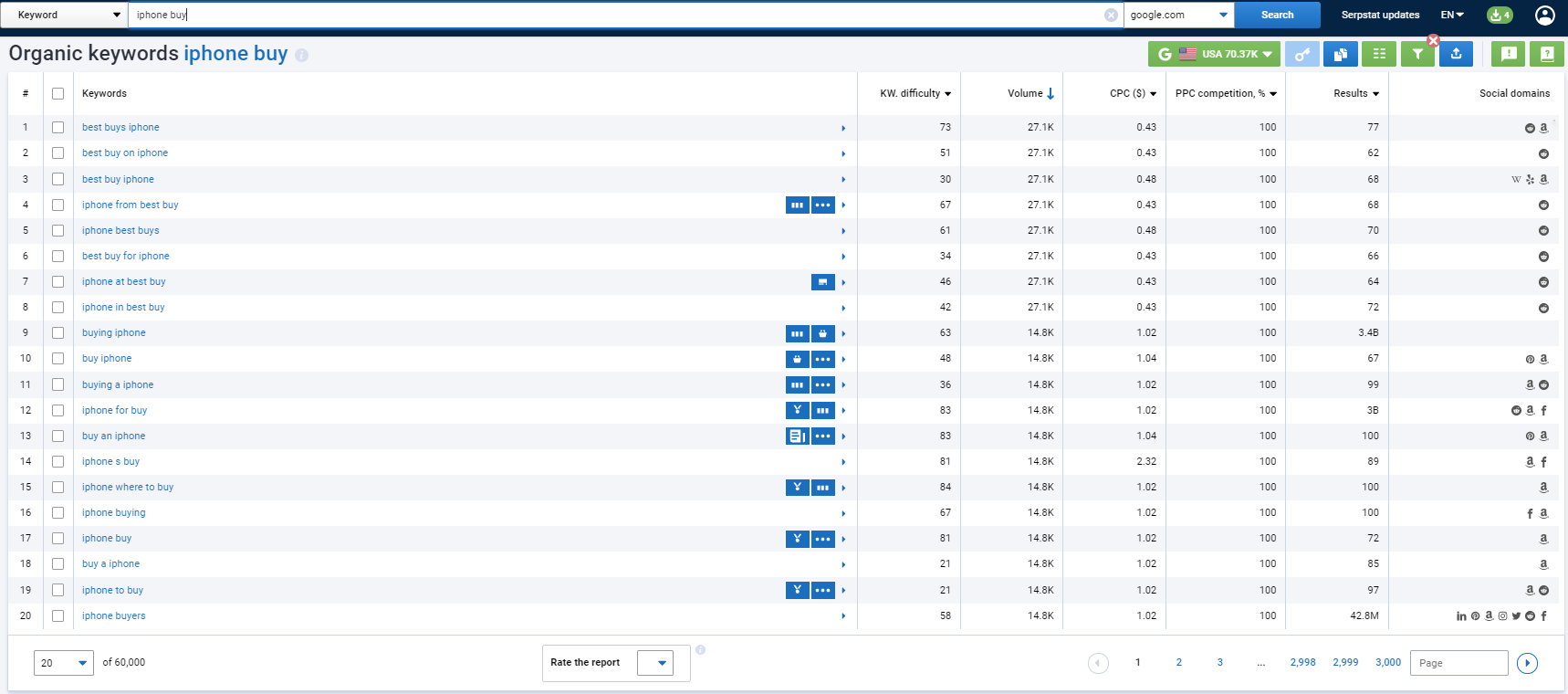 Volume update
Collect volume data and a keyword trend in Google for a year, explore the dynamics for a certain month.

In the Volume Dynamics report, you can see data on keyword volume changes according to Google Ads. Data is based on average keyword metrics over the past year.

Report generation

Customize the column order for your report. Available for projects with a specific priority system for indicators.

Within the Keyword Batch analysis tool, you can customize the report display, e.g. arranging data columns in the desired order or hiding the display of certain columns.

The report can be downloaded in any text format for further keyword search.

Submitting keywords for rank tracking or clustering
Check your most promising keywords and start clustering or rank tracking without leaving the Batch analysis report.

Save time: select suitable keywords by simply ticking them, then start tracking or clustering them without switching to other tools or leaving the report.


Tasks that can be solved using Keyword Batch analysis from Serpstat
Keyword analysis with up to 100,000 units
Evaluation of SEO keywords efficiency based on 18 indicators and 5 regional databases
Identification of effective keywords for campaigns and optimization
Identification of the most promising regions for promotion
The largest Google SERP data and own link index:
Serpstat Key Benefits
Analyze massive keyword lists quickly and save time and money. Upload lists of up to 100,000 keywords and get accurate data on cost metrics, PPC competition, frequency and more. Collect data quickly and integrate it into your projects to increase efficiency. Learn more about the Keyword Batch analysis tool by signing up for a free 30-minute consultation.

Are you ready to try it?
Keyword Batch analysis quickly and efficiently to optimize your projects

More on Keyword Batch analysis
FAQ. Common questions about Keyword Batch analysis

1. Who needs Keyword Batch analysis?
Keyword Batch analysis is a handy tool for working with large projects. It can analyze up to 100,000 keywords at a time. The tool is useful for an in-house SEO specialist who runs large projects and for agencies that conduct several projects at the same time, since Keyword Batch analysis can significantly reduce the time for data evaluation.
2. What is the best export format?
Serpstat's Keyword Batch analysis tool allows you to export data in 6 formats:
CSV Open Office, Libre Office;
CSV Microsoft Excel;
XLS Microsoft Excel;
XLSX Microsoft Excel;
Google Sheets;
PDF.
Depending on how much data you need to download, as well as on what you plan to do with the report, you can choose the most suitable format. CSV formats are suitable for working with large projects. It is possible to upload reports up to 1 million lines. XLS, XLSX, and Google Sheet are suitable for medium-sized projects as they are limited to 65K and 75K lines respectively. To download a small amount of data, for example, when drawing up a report for a client, you can use a PDF format with a limit of 2 thousand lines.
3. How to filter requests correctly?
In Keyword Batch analysis you can filter queries based on your project goals. Flexible filtering system allows sorting data by 18 parameters. To properly filter requests, follow the next steps.

Step 1. Select one of the options:
Frequency;
Price;
Number of results;
Competition level;
The number of words in the keyword;
Special items in the issue;
Search engine type;
Filtering by toponyms;
Keywords.

Step 2. Select data according to one of the parameters:
Between;
More than;
More or equal;
Less than;
Less or equal;
Equals;
Not equal.

Step 3. Enter numbers in the appropriate field

Step 4. If necessary, add more parameters for analysis by pressing the "and / or" button and repeating the procedure for creating a filter.

Step 5. When all the filter settings are set, click the "Apply" button and get a report for the parameters which ideally match your project tasks.
4. How to analyze a site by keywords?
Depending on the number of keywords you need to analyze, you can choose either the Keyword Batch analysis tool or the Keyword Analysis tool. To start working with Keyword Analysis enter the desired keyword in the search box on the Serpstat main page and click "Search". Then find the tool in the left column that matches your needs and using the tooltip suggestions analyze your project data

For Keyword Batch analysis the steps are::

Step 1. Go to the Keyword Batch analysis tool and click the "Add Project" button. Give the project a name and enter the necessary keywords: manually or import as a list.

Step 2. Select up to 5 regional databases in Google, as well as the indicators for which you want to analyze keywords (frequency, difficulty, cost, competition in the PPC and the number of results). Click the "Create" button.

Step 3. Add filtering to the report if necessary. You can find more about this in the previous paragraph of the FAQ.

Step 4. Upload data using one of 6 formats for use within your project.
You can learn how to create projects in the article and video. If you want to test the tool, leave a request for a free demo on Keyword Batch analysis.
5. How do I identify a competitor's keywords?
To find out keywords for a competitor's site, use Serpstat's Online Domain Analysis tool.

Step 1. Enter the required domain in the search box on the main page of the service. Then enter the search engine and region and click "Search".

Step 2. In the left column, where the toolbox is described, select Page Analysis, then SEO Analysis and Keywords.

Step 3. In the report you will see a list of keywords users use to search in the top 100 Google.
The Domain Analysis tool will not only get a list of a competitor's keywords, but also show detailed data on difficulty, position, frequency, traffic, cost, level of keyword competition.
6. How to find keywords?
For high search engine rankings, it is very important to use the correct keywords. Keywords allow users to find pages that are relevant to their query. When writing pieces, it is worth using specialized services for keyword selection. Serpstat Keyword Crawling allows you to select keywords for any domain or topic in a few clicks.
To make a keyword selection, follow these steps:

Step 1. Enter your domain or keyword into the search box on the Serpstat main page. Select a search engine and region, then click on the "Search" button.

Step 2. In the summary report, select the SEO Keywords report,, then get the keyword data in a list. The Serpstat analyzer only displays words that are in the top-100 Google results.

Step 3. Choose the most suitable keywords in terms of cost, difficulty, frequency, competition and filter them for further use in your projects.
Using the Keyword Selection tool, you can find keywords that are suitable for creating an effective SEO campaign.
Personal demonstration
Leave a request, and we will conduct a personal demonstration of the service for you, provide you with a trial period, and offer comfortable conditions for starting exploring the tool