// В этом файле есть те нужные стили которые в других файлах нет.?>
Keep Moving: Serpstat Changes Pricing Plans And Starts The Last Chance Sale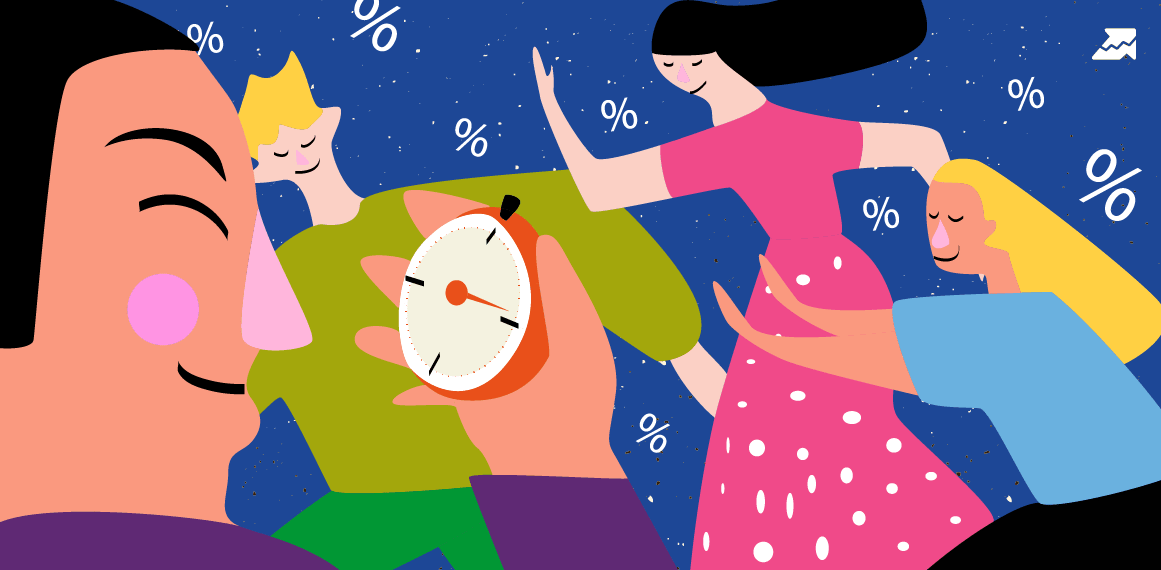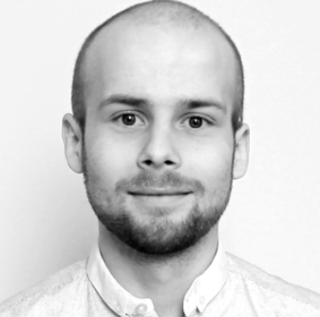 Eugene Lata
VP of Marketing at Serpstat
You've probably noticed that Serpstat regularly undergoes fundamental changes. New features, advanced possibilities, and unexpected but helpful solutions — all this reflects Serpstat evolution. And this evolution brings new challenges to our team.
In short, we need to change our pricing policy. We don't change the price, but we cut the limits for some modules for the current plans, leave 4 plans and completely close the basic Plan A.
On
June 10
, all the changes will come into force. To keep your current plan with existing limits up to 3 years, participate in the
Last Chance Sale
from
May 13
to
June 10
!
Our features and improvements

Last year, our development team underwent a significant change: we
set up several teams
responsible for each Serpstat module to be able to implement all user requests in time and to respond appropriately to our customers' needs.
All suggestions for improvement and customer requests are forwarded to teams via
online chat
and
Facebook community
. This system has dramatically accelerated tool development. Thanks to this fact, we introduced new unique and useful features, started the development of the latest version of our own
Backlink Analysis
module, and increased the overall speed and efficiency of the tools.
Over the year, we:
Released the
Team Management mode
to monitor the effectiveness of project management by different team members. Large agencies and in-house teams have already appreciated the tool.
Prepared a ton of training content for small businesses that promote sites themselves.
The changes affected other modules, I won't list everything, but it's already clear that the end of 2018 was the beginning of the birth of a new tool, which we called
Serpstat 3.0
.
Support and customer service

The rapid growth of the tool introduces new tasks to our users who face a steep learning curve. That is why our sales and customer support departments provide users with expert advice. Here are the key indicators that characterize the work of our support:

---
User satisfaction level, %
---
Average response time, sec
We have developed a user training system to make sure that you know how the product works and how to effectively use every cent out of it.

The crucial thing is that
Serpstat doesn't raise prices
! These changes will affect only the limits for some modules, and we'll also stop selling Plan A, Plan F, Plan G, and Plan H, that is, we'll reduce the number of plans to the four most popular ones.
Over the past year, Serpstat has become a real dream-tool. Having collected all the databases in the world, we began to move towards creating some
kind of CRM for SEO teams
.
To speed up and increase the efficiency of our development, as well as to educate users and provide timely support, we have grown a team and invested in modern technologies. The team, hundreds of servers and incredible capacity for processing and storing huge amounts of data require large investments, without which the product can neither exist nor develop.
We
remove the Plan A
, because its maintenance and online support, as well as user training, is not profitable for the service at this stage of development. It's possible that one day we'll return a similar plan for small business and freelancers, but for now, we have turned it off for new purchases from June 10.
We leave Plans
B
,
C
,
D
,
E
, which will be called
Lite
,
Standard
,
Advanced
, and
Enterprise
.
So, starting from June 10, 2019, the following pricing system will be valid: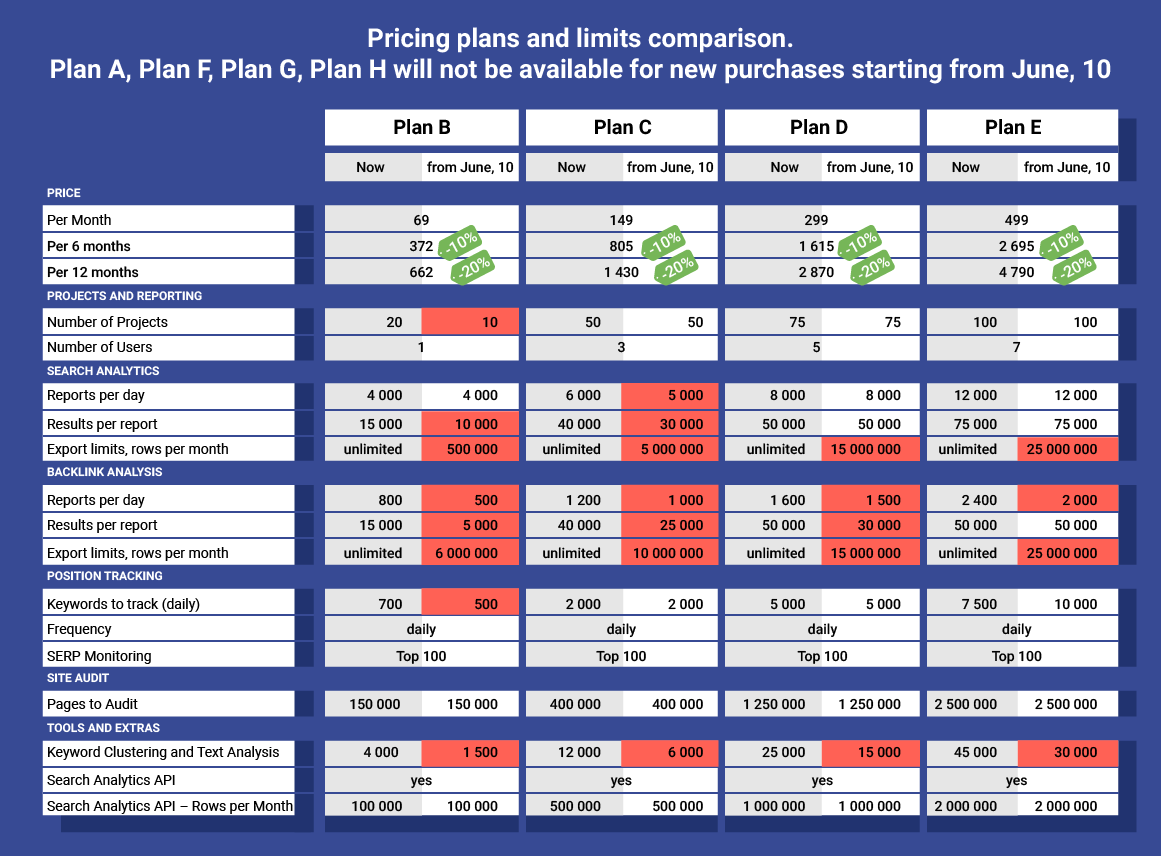 Until June 10, you can purchase any plan for a long period and fix the current limits for the duration of your plan.
Starting from June 10, it will be impossible to buy plan A
.
Let me remind you that only until June 10, you have the opportunity to buy Serpstat Plans for the old prices and to receive a discount when paying for a long period (from Plan B):

3 months — 5% discount

6 months — 10% discount

12 months — 20% discount

If you have any doubts about the choice of the best plan for your business, I strongly advise you to request a personal demonstration from our sales department:

Comparison with competitors

Despite the changes, Serpstat
is still the most affordable platform
on the market. Developing a tool, we not only pay attention to user requests but also focus on market leaders. I prepared a detailed comparison of the limits of all modules for the most affordable plan of each of the competitors. In Serpstat, I analyzed the
Lite plan
, formerly called
Plan B
.
Domain and Keyword Research

Serpstat has the largest number of Google databases. Besides the fact that we collected all the databases, their size is also impressive.
We calculated the maximum number of results per month using the formula
number of requests per day x number of results x
30 days
.
For the
Lite plan
(former Plan B), we reduced the number of keywords to 500 per day, however,
Serpstat remains a platform that monitors the top 100 positions daily
. While at Ahrefs and MOZ it is possible to carry out tracking no more than once a week at a similar plan.
Keywords to Track / Daily

Kewords to Track / Weekly
Keywords to Track / Monthly
This module hasn't undergone any changes. On the Lite plan, you can analyze up to
150,000 pages per month
. There's still no limit to the number of analyzed pages in one project.
Pages to Audit / per Project
In February 2019, we announced the development of a new version of the Backlink Analysis module. We are now putting a lot of effort into improving this module and still provide the most affordable limits for users.
Number of Domains / Daily

Number of Results / Monthly
I am proud that Serpstat
is the only tool
on the market that provides access to the API, starting with the $69 plan. The user gets 100,000 lines for this money.
I believe in automation and efficiency, so we are trying with all our might to rouse love for the API, creating integrations and making the API affordable to all.
As you can see from the analysis,
Serpstat remains the most affordable tool on the search marketing market
.
Learn how to get the most out of Serpstat
Want to get a personal demo, trial period or bunch of successful use cases?
Send a request and our expert will contact you ;)
Found an error? Select it and press Ctrl + Enter to tell us
Cases, lifehacks, researches and useful articles
Don't you have time to follow the news? No worries!
Our editor Stacy will choose articles that will definitely help you with your work. Join our cozy community :)
By clicking the button, you agree to our privacy policy.