Personal demonstration
Please leave a request and our specialists will contact you back with the demonstration of the Local SEO package and other marketing tools available in Serpstat.
Trusted by






Which businesses or specialists need Local SEO tools?
Local SEO focusing on building a brand's trustful reputation. Small or large business, offline or online, Local SEO is useful for all of the above. Business owners, CEOs, social media, PR and brand managers could use Local SEO to track and manage all reviews, keep actual information about the business updates, check statistics, schedule social posts, and other.

What's inside of Local SEO package?

Local SEO becomes your operational control center for Directories including GMB, Yelp, Facebook, Instagram, Google Maps, TripAdvisor, Uber, and many others.

Access to all available listing directories in the location of your business.


Edit profile for more than 20 directories at the same time.

Reply to reviews, publish pictures, track clicks and impressions dynamic.

Don't waste time on adding and editing business information to each directory separately.
Receive detailed online presence report
Get main analytics data for location such as Profile Completeness, number of Listings, Average Rating, Reviews Reply Rate, Clicks, Impressions, and suggestions for completing profile to increase business visibility, track online performance and figure out which locations require additional attention.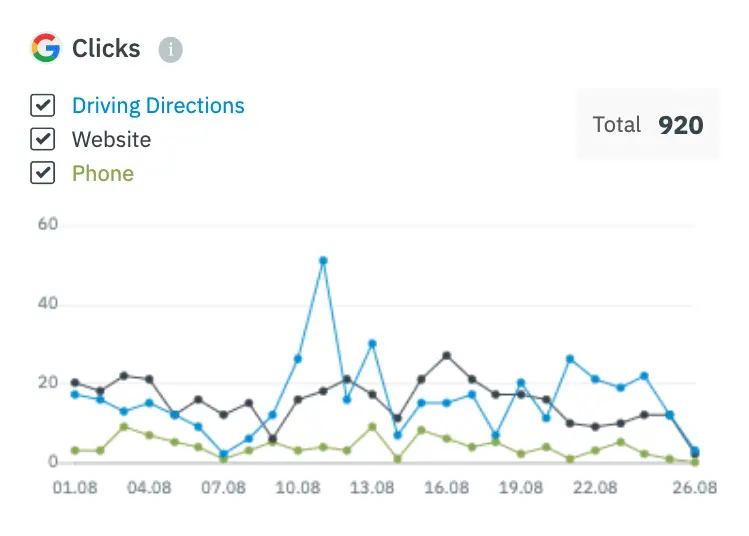 Enhance your locations
Complete information in the profile. The brand reputation tool will advise what you need to add in order to get more customers. Even if the search results are full of leaders, you can beat them if you complete business profiles as much as possible.

General information such as name, address and contacts

Available payment options

Business description, brand keywords and logo

Opening hours for working days and holidays


Photos, videos and social media profiles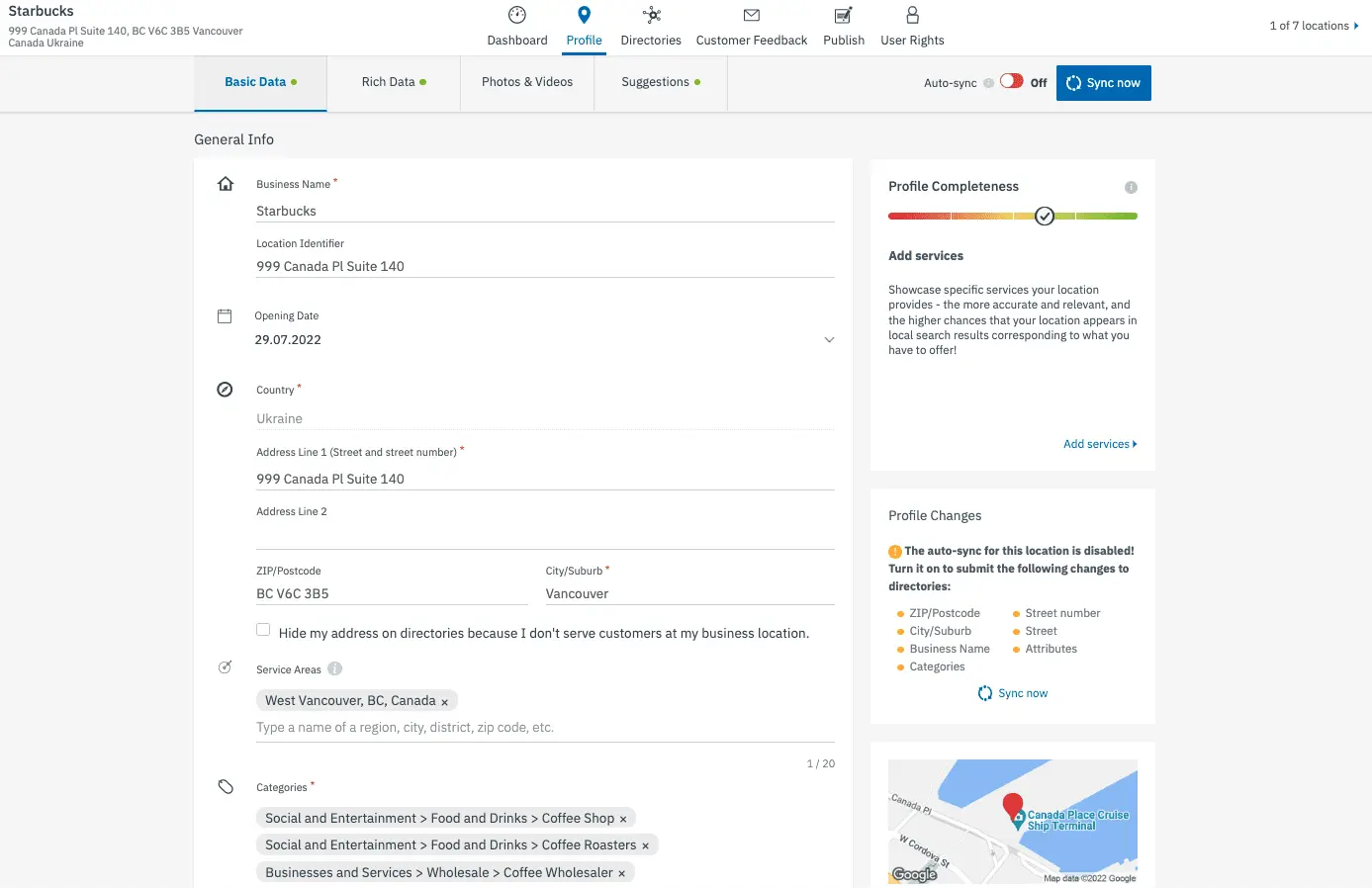 Easily manage directories

Achieve 100% of Profile Completeness by adding all available listings. Don't waste time filling out profiles on dozens of sites. Add information about your locations and select a directories list.

Contact us to find out if your location is available for Local SEO.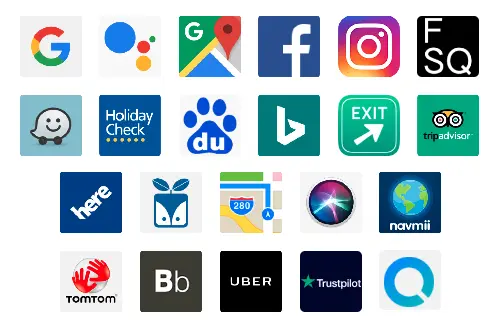 Handle reviews from all business listings

Review management has never been that easy. Get all reviews in one place, sort them, check your average review rate, work with negative reviews and decide which of them require more attention.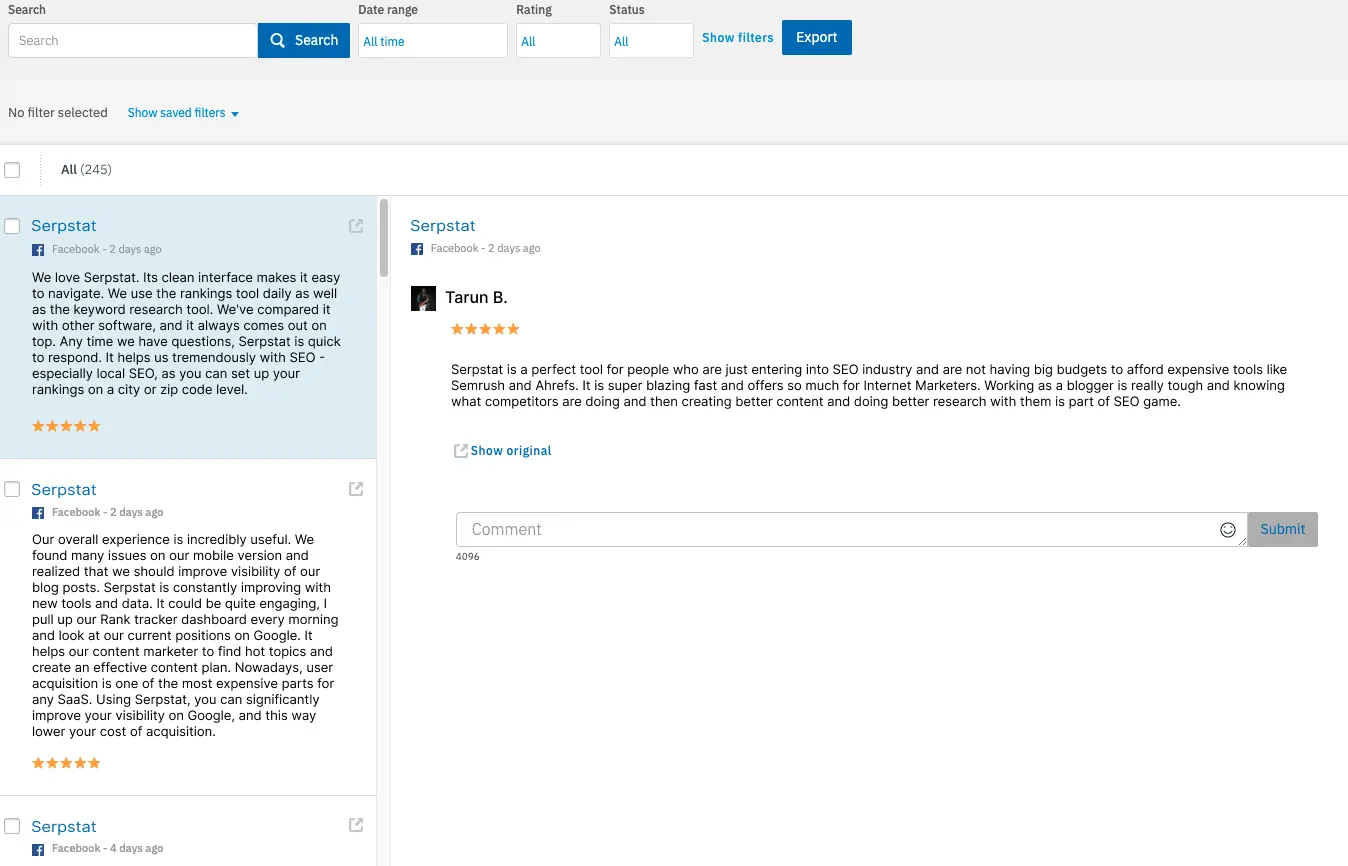 Set up automatic content posting

Set up automatic posting for social networks, attract customers by posting new unique content regularly. Compete with niche leaders using photos and reviews.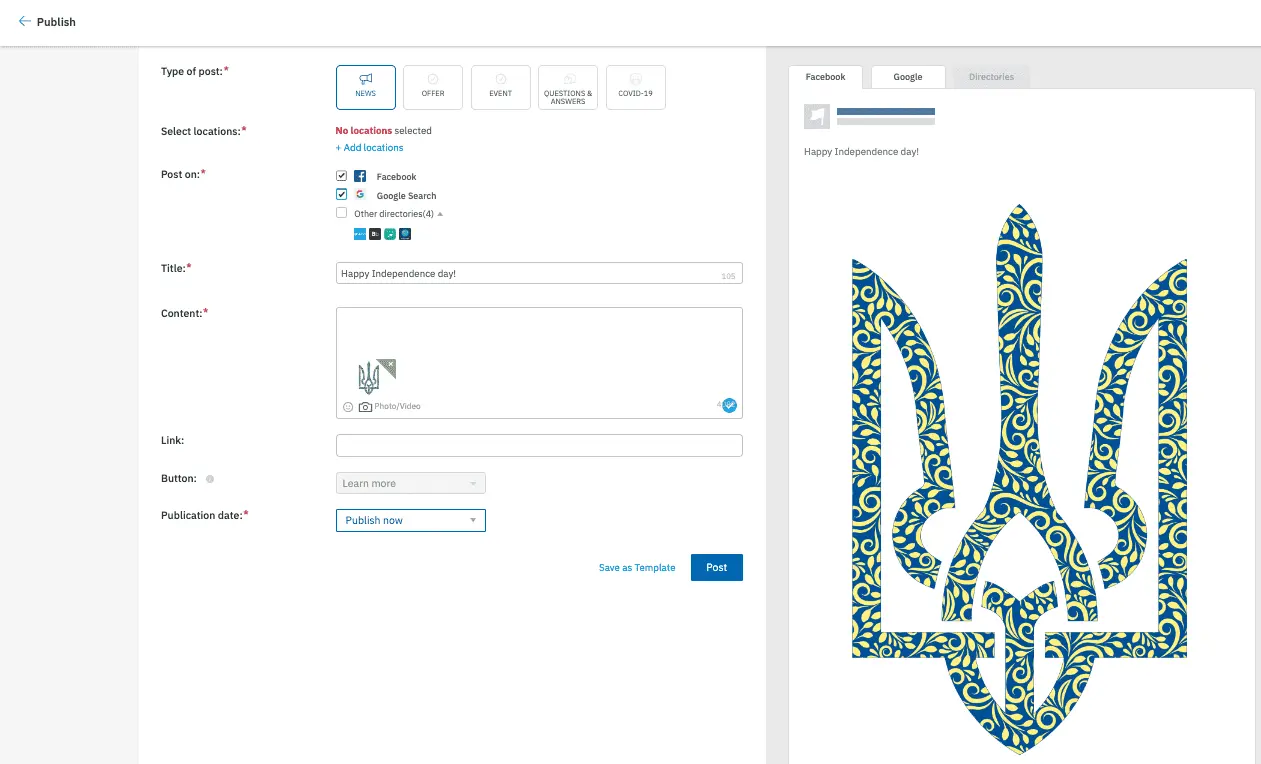 Our beloved and thankful customers rate us highly
Local SEO cost and pricing
Local SEO price for Serpstat users is not included in regular plans and contains 20 USD for one location per month. To get more information about Serpstat plans and pricing, please contact us in live chat or by email, support@serpstat.com.

What professionals say about our tools

Jacob M.

Cloud Engineer

Our overall experience is incredibly useful.
We found many issues on our mobile version and realized that we should improve visibility of our blog posts. Serpstat is constantly improving. It could be quite engaging, I pull up our Rank tracker dashboard every morning and look at our current positions on Google.
Read more on G2


Lori N.

Creative Director & Web Designer

We love Serpstat. Its clean interface makes
it easy to navigate. We use the rankings tool
daily as well as the keyword research tool.
We've compared it with other software, and
it always comes out on top. Any time we
have questions, Serpstat is quick to respond. It helps us tremendously with SEO,
especially local SEO.
Read more on G2


Klemen V.

Actuary

Serpstat uses a large database. This is
evident when researching long tail / low
volume keywords. Serpstat produces more
accurate results than the majority of other
tools, while being cheaper than best of breed tools like Ahrefs and Semrush. It also has good competitive analysis. I use Serpstat for initial KW research.
Read more on G2
Local SEO FAQ
What is Local SEO?
Local SEO is a set of actions to promote the business and increase its recognition in the local search results. It includes working with maps and reviews, and adding full information about the business to make it easier for customers to find.
Why are business listings important?
Keeping your business information up to date on multiple directories can help improve your chances of being found by customers and improve your local SEO.
Which directories does Serpstat Local SEO have access to?
Serpstat Local SEO can help you promote your business in up to 70 directories in the United States, as well as in more than 30 directories in the United Kingdom, Canada, and Australia.
What happens after I add my location?
After you complete your business information, Serpstat will start updating directories with that data. You can check the status of information updating inside the tool.
How much does Serpstat Local SEO cost?
Price of Local SEO managing tool is not included in regular Serpstat plans and contains 20 USD for one location per month.