How to improve website ranking in the search and increase traffic: 5 stages of search engine optimization
To improve your ranking and get more organic traffic, you need to comprehensively work on your website. If you do not engage in website optimization, the more optimized resources of competitors will occupy the first positions in organic search results.
If you have not previously been engaged in website optimization, here are five main directions that you should pay attention to regardless of the type, subject, or region of optimization:
Technical optimization.

Semantic kernel collection.

Internal optimization.

Working on behavioral factors.

External optimization.

Working on a website should start with a technical audit. The main purpose of the analysis is to assess the technical condition of the resource and its performance.
A technical audit should be carried out before the launch of the project, after a change in its structure, moving to another domain or redesign. We also recommend analyzing the website for errors at least once every 1-2 months, even if everything seems visually fine in terms of technical optimization.
Why is it important? Technical audits identify weaknesses and problems that interfere with website optimization. You may have a page that fully answers the user's query and is optimized according to all the canons of SEO, but what is the use of it if it is closed from indexing?
You should necessarily check:
accessibility of pages for search engines;

loading speed and adaptability for mobile devices;

correct internal redirects;

internal linking;

whether there are there any duplicate pages.

Next, we will look at how to find errors and what to fix first.
Google Search Console panel
This is the main tool for webmasters. We recommend adding websites to it immediately after creation.
In the Google Search Console you can see:
how Google evaluates pages, that is, their accessibility for robots and users;

the quality of optimization for mobile devices;

whether there are any security problems and if sanctions were imposed on a website;

how the internal weight is distributed; the search engine considers the pages to which the most internal links go most priority;

the correctness of micromarkup.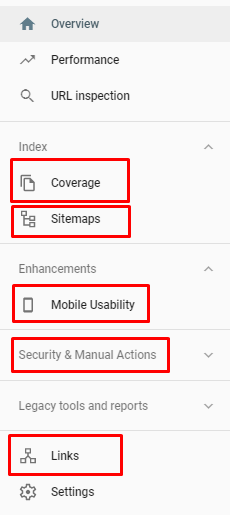 Also in the webmaster's panel, you can check the correctness of the robots.txt, Sitemap files. This is important because with their help you can specify the parameters of website indexing by search engines.
Any available parser.

A parser is a program that is used to automatically collect and process the information on a given criterion. Then it saves the data to its database, converts them and produces the result in a user-friendly shape.

The most understandable example of a parser is the work of a search engine with a website. Search robots crawl pages → add them to their database (index) → show them to users in the search results.

Using the parser, you can find broken (inoperative) links, duplicate pages, Title, Description and H headings, documents inaccessible to robots, etc. Also, you can see the server response speed and the level of nesting.
You can use paid (for example, ComparseR, Netpeak Spider, Screaming Frog) and free (WildShark SEO Spider, Xenu, Majento SiteAnalayzer 1.4.4.91) software for technical audit.
After collecting the data, we proceed to their analysis and sorting. Then we prepare instructions for fixing errors. We recommend dividing all recommendations into three priorities for easy implementation:
The error affects optimization; you need to fix it as soon as possible; a website or a page is closed from indexing, there are problems with the server, etc;


The error affects the optimization of a single page, but not of the whole resource, fix in the second place; for example, they may be Title duplicates, blank Description, no Sitemap;


The error that will not affect the optimization, or a recommendation: the website region is not specified (for information resources), online chat has not been added in the search.


After eliminating technical errors, we can proceed to the next stage which is the collection of a semantic kernel.
Semantic kernel collection
The semantic kernel is a set of words, their forms and collocations (key phrases) that fully cover the website's subject, reflect the type of activity and website structure. In fact, they answer the question: what will the user find on the resource pages?

Defining key phrases is the main and most important stage of website optimization. It depends on what search queries users type to see your website. Search queries reflect the demand for the service.

If you skip collecting the semantic kernel, you miss demand. Well-worked out semantic kernel makes it possible to compete with large aggregators.

Collecting the semantic kernel includes:

Defining markers (basic keywords).

Markers are common phrases that most accurately reflect what's on the pages that you optimize.

Brainstorm to collect a complete list of basic keywords. Write down all variations of words and phrases that are associated with your product. Be sure to think about what phrases, wordings, synonyms people use. For example, a microwave oven can be searched in the following way: "microwave", "micro wave oven".

You can also use the structure of your website or a competitor's website to identify markers. The basic phrases are normally category names. They can be found in the product catalog.

For example, here are markers in the side menu of an online store that sells household appliances: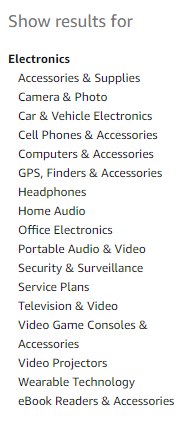 After the basic keywords are collected and written down, you need to expand the kernel.
Expanding the semantic kernel.
To solve this problem, we use keyword collection tools.
If you optimize a website in
Google SERP tracker
, use Google Ads to expand the semantic kernel. Add markers to the
Keyword Planner and specify your region.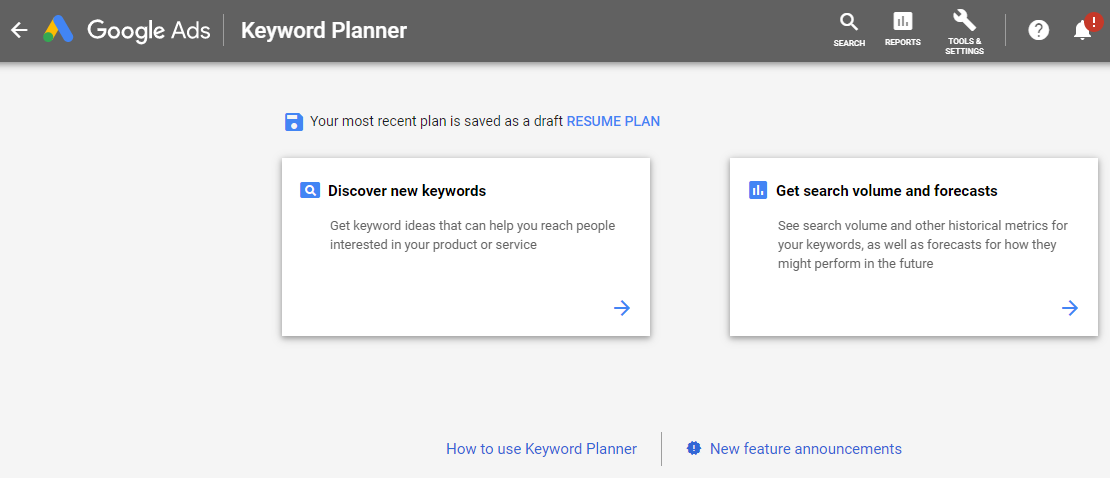 You can quickly collect the query cloud using
Serpstat
. To do that, go to "Keyword research" → "Keyword selection", select your search engine and specify your region.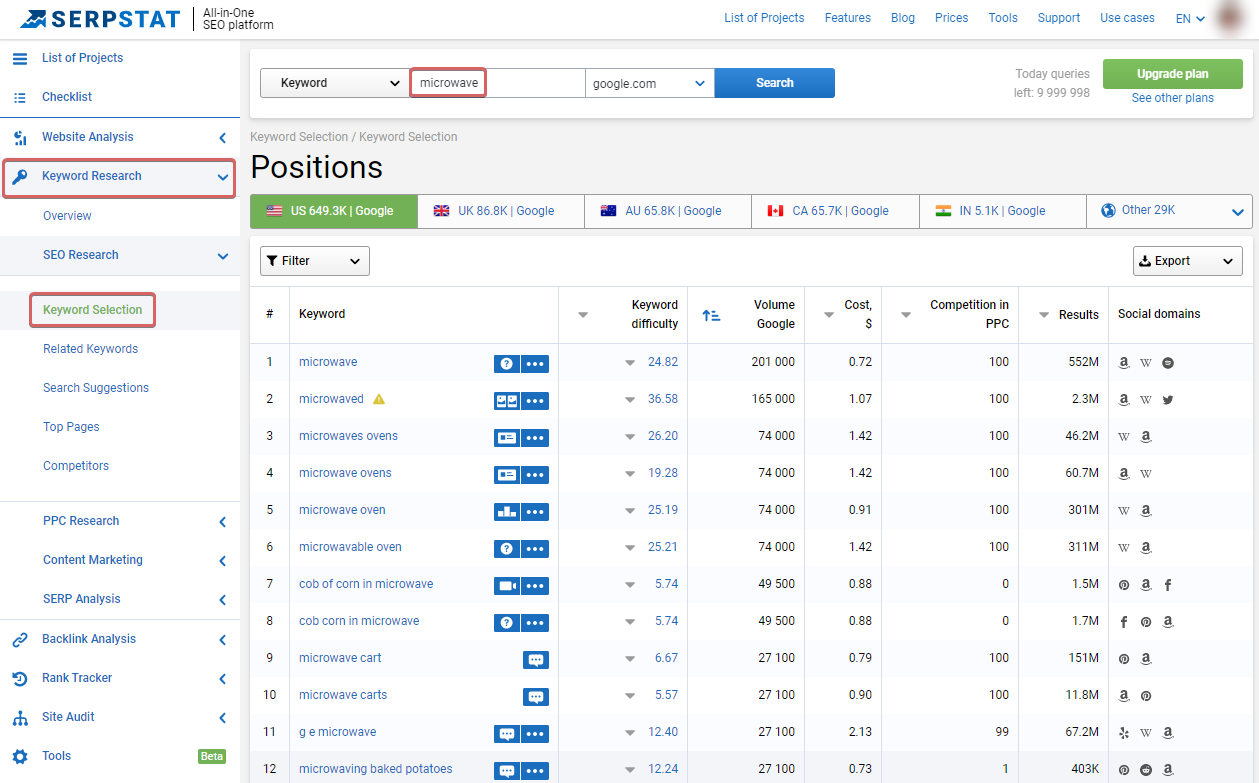 Also, using Serpstat, you can download similar phrases and search suggestions.

As a result, we get a file with a list of search phrases for each marker. Then, remove duplicate words and inappropriate queries. For example, keywords with such "negative keywords" are inappropriate for an informational website: "buy", "cheap" or indicating a toponym (for example, "in New York").

After that, you can proceed to the distribution of key queries on the pages of the website.

Distribution of keywords on the website.
To understand which phrases to distribute and on which pages, you need to group them. To do this, semantic clusters are created; they are groups of queries that are similar in meaning. They are drawn up in a multi-level structure and form the website structure.
The right structure offers these benefits for optimization:
helps the user to find the pages they need;

allows search engines to understand the website better;

allows you to correctly identify priority pages;

plays an important role in the distribution of internal weight on the pages.

Based on the grouping, queries are distributed on the website pages.
At the end of this step, you should get a list of queries distributed across pages. Note: each group of the last level should correspond to one need ("intention") of a user.
For a detailed algorithm for collecting markers, expanding the semantic core, and grouping queries, see the article
"5 simple ways to find keywords for online store".
Internal website optimization implies complex works with the website code and content. Their main goal is to make the resource pages fully meet the requirements of search engines.
This is the longest stage. We need to work on internal optimization throughout the lifetime of the resource.
Major steps are the following:
optimization of Title, Description, H1;

content optimization;

internal page linking tasks;

image optimization;

working on commercial factors.

Let's consider each of them in more detail.
Optimization of Title, Description, and the H1 heading
These are the basic elements of the page. Title and H1 are taken into account by search engines in determining the content of a document. The Description does not affect ranking. However, it is important to fill it out as search engines are more likely to use this text as a description in the snippet.
Here are basic requirements for the elements:
they contain the main queries of a page;

they correctly display the contents of the document;

they are readable;

they contain no spam;

they are unique in relation to other elements of the website.

The website text is one of the important ranking factors for service sites and informational resources. The description on the page should fully answer user questions, be readable, and should not contain errors. Avoid overspam. For an online store, product listing is more important.
There are no strict requirements for the number of characters and keywords per page. You can determine approximate indicators as a result of the analysis and
checking the keyword search volume
of competitors. At the same time, remember that you, first of all, write the text not for search engines, but for users; they must find the answer to their question in the description because of which they came to your website from the search results.
Pay special attention to the structure of the description. Break it into paragraphs, add lists, subtitles. Pictures and videos will be an additional advantage.
Working on navigation and internal page interlinking
The website should have convenient navigation and correct interlinking. By adding breadcrumbs to the website, you can solve several problems at once:
Improve website navigation.

Add more keyword instances to a page.
Correctly distribute the internal weight among pages.

There are other ways to solve this problem: add links to the name, product characteristics, description. Place the block "People also buy", etc. on the page.

Here is an example of interlinking in the product card of an online clothing store: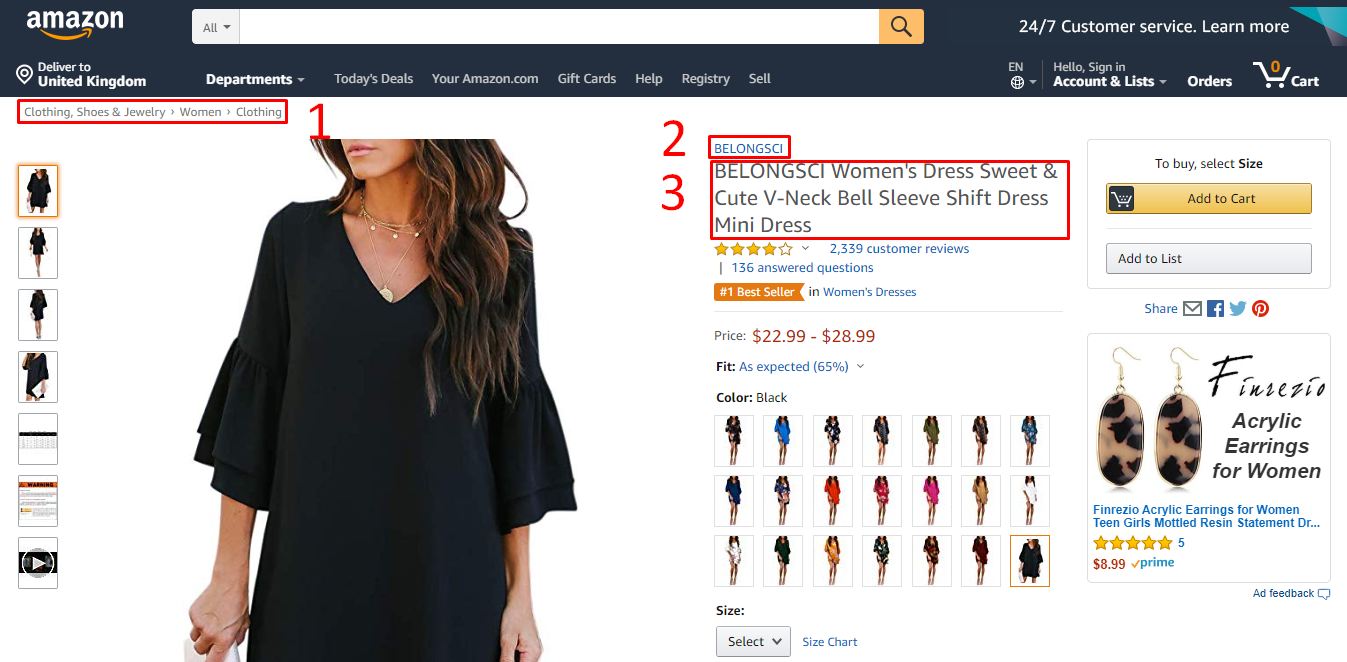 In the screenshot:

1 — breadcrumbs;
2 — a link to brand characteristics;
3 — promoted keywords in the product card name.

It is important to remember that the main weight should be transferred to the promoted pages. In online stores, these are normally categories.

We recommend optimizing the structure so that it takes no more than 3 clicks for you to get from the main page to any page.

Images make pages more appealing to users. With their help, you can increase the page rank in the search results.

Pay attention to the "Alt" and "Title" attributes of the images for successful optimization.

Alt is an alternative text. It will appear if the user's browser cannot load the image. This text is taken into account by search engines.

Title is a description of the image. The user sees it when they hover their mouse to the image. This text is not taken into account by search engines.

With proper image optimization, your website will receive additional traffic from image search.

Working on commercial factors
Add blocks and calls-to-action on the page that will encourage users to stay on the website or buy/order a service from you.

Alternatively, you can add the "Related articles", "People also buy" blocks, a table with prices, the "One-click order" button, etc.

For example, here is a commercial block on the page of a hookah accessories store: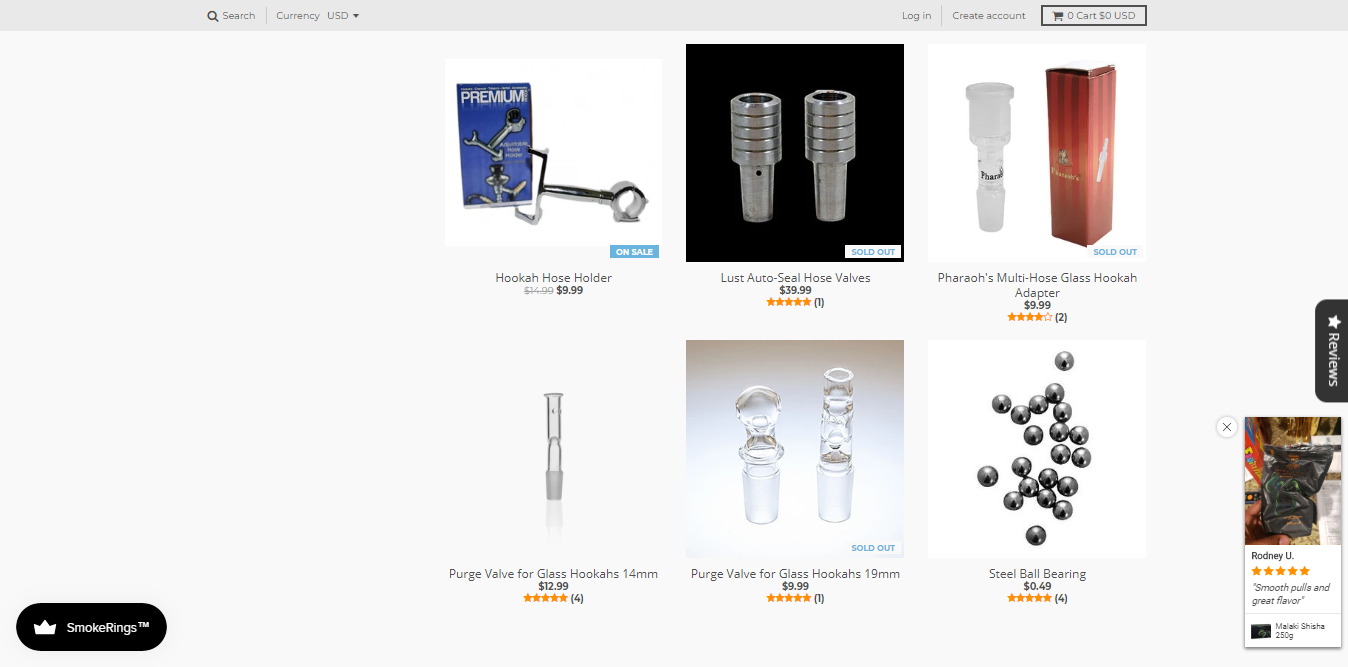 Internal optimization is a long process. It is important to constantly work on the website, improve the quality of pages for search engines.
Working on behavioral factors
Behavioral factors are actions of website users. They are evaluated by search engine algorithms and affect the assessment of the resource quality.
Behavioral factors can be divided into external which occur in the SERP (this is the click-through rate of the snippet) and internal which are on the website.
The latter factors are:
time spent on the website (average session duration);

the number of pages the user viewed (average page depth);

bounce rate, that is, how many users closed the website immediately after they got to the page;

the number of repeated contacts.

Snippet click-through rate
The logic of the search engine implies that if the website in the search results is clicked more often than the pages of competitors, it means that it is more popular and should take better positions.
You should pay special attention to this item when you have finished internal page optimization and your pages are in the top 10. Because, according to the data of
Advanced Web Ranking, most organic traffic goes to pages from the top 3. The click-through rate of the pages that are beyond the top 10 is almost zero.
For example, this is how the clickthrough rate (CTR) was distributed in Google in April 2019.

In the screenshot:
1. The blue line shows desktop clicks.
2. The red line shows mobile clicks.

Add micromarkup to make your snippet more attractive.

Here is an example of a rich snippet in Google:


Working on behavioral factors on a website
To appreciate what is interesting to the users on the page or why they return to the search results, use any service that captures user actions on the page.

This will help you to understand which elements of the page users click more often and where they stay longer. Based on the information received, you can make pages more convenient for users and, therefore, improve behavioral metrics such as average session duration, bounce rate, etc.

External optimization means getting links to your resource from other websites. Thanks to this, search engines understand that a website is interesting, authoritative, and the information on it is useful.

Links are especially important when optimizing a website in Google. For this search engine, this is one of the factors without which a website normally cannot take a top position.

Optimization no longer depends on the number of links but on their quality. Google rejects low-quality links using a special algorithm, they are no longer taken into account.

Before proceeding to build link mass, conduct a link audit of the website, compare your link profile with one of your competitors. This can be done using Ahrefs.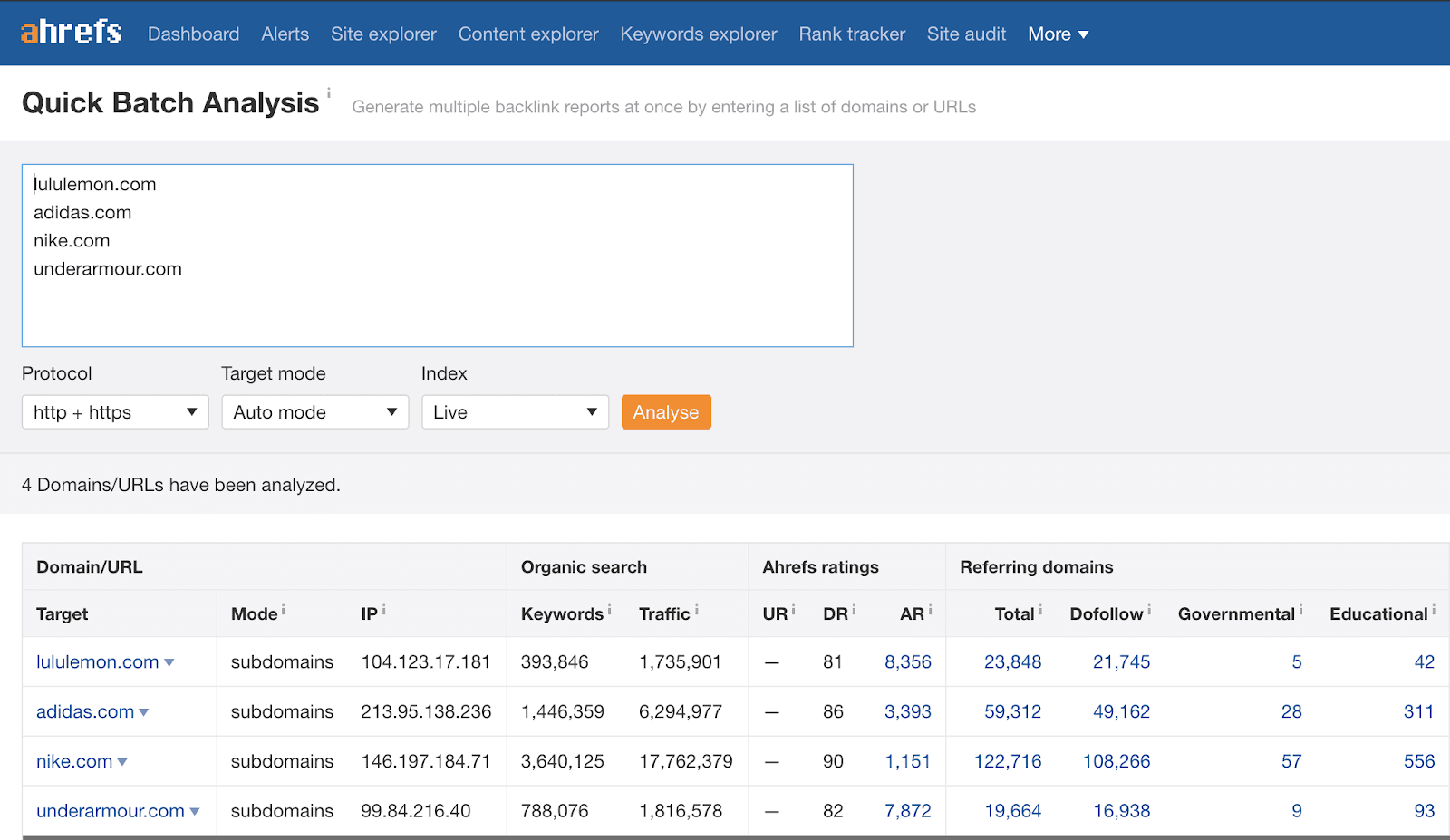 You can also use "Backlink Analysis" in
Serpstat
to compare your website to competitors. Go to the "Competitors" report and specify websites whose link profiles you want to compare.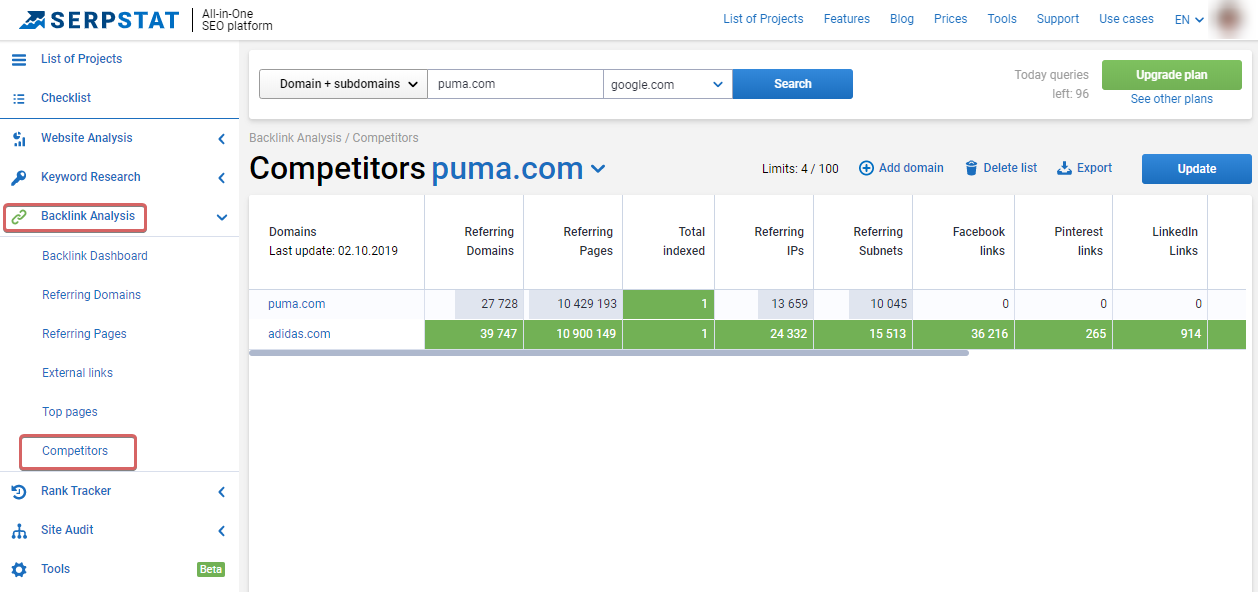 These data allow us to calculate the average number of links that need to be put, to understand their quality and dynamics of building, to determine suitable donors.

Based on this, draw up a link strategy, that is, how many and which links to buy for a specific period.

Next, we'll look at popular link building techniques.

This is an effective method of obtaining external links to the website. Its essence is to write and reproduce unique articles with links to the pages of your resource.
You can get a link from an article on another website in two ways:
outreach;

buying it in a marketplace.


In the first case, you need to contact the webmaster/owner and ask to post an article with a link on their website. For this, any thematic informational resource is suitable.
The article can be placed both on a paid and on a free basis. It all depends on the arrangements.
You can also get an article link using special marketplaces. In this case, you will need to register your account, prepare an article and select the resource on which you want to place it.
This is the safest and most natural way of link building. You post a link to your site on Q&A websites, in forum discussions, or in article comments.
Here are basic requirements for links in the comments:
the article or discussion should be thematic;
the link should be appropriate;
you cannot use spam anchors.
Registration in catalogs/directories
We recommend registering the website in thematic catalogs/directories without automatic registration. Specify as complete website information as possible: description, address, contacts. Add images.
PBN or Private Blog Network contains not only blogs and is used for external website promotion using drops.

Drop is a subject-related website with history and backlinks whose domain was not renewed on time and is now available for new registration.

Web 2.0 is a blog network hosted on free subdomains (for example, sites.google.com).

Building links using blog networks is a complex and time-consuming process. In the case of PBN, it's also expensive.

However, as a result, you will get a fully controlled link mass: you can change anchors, put additional links or remove them.

Here are major stages if working on a website:
Identifying and fixing technical errors using Google Search Console and parsers.

Collection of the semantic kernel of the website, distribution of key queries among pages.

Optimization of meta tags, texts, and images. Correct placement of internal links, working on website navigation.
Increasing the click-through rate of snippets, average session duration, and average page depth.
Getting links from quality thematic resources.
These are the most important items that allow you to improve your website's positions and get more traffic.
In the future, website works will be more of a targeted than massive character.
You need to:
constantly monitor the technical condition of the website and fix errors;

update the semantic kernel: remove queries that users stop typing and add those that have become more popular;

update information on the pages;

improve behavioral factors;

build your link profile.

Speed up your search marketing growth with Serpstat!
Keyword and backlink opportunities, competitors' online strategy, daily rankings and SEO-related issues.
A pack of tools for reducing your time on SEO tasks.
Found an error? Select it and press Ctrl + Enter to tell us
Cases, life hacks, researches, and useful articles
Don't you have time to follow the news? No worries! Our editor will choose articles that will definitely help you with your work. Join our cozy community :)
By clicking the button, you agree to our privacy policy.