SEO Agencies Survey: How the Way We Measure Success Damages the Results We Deliver?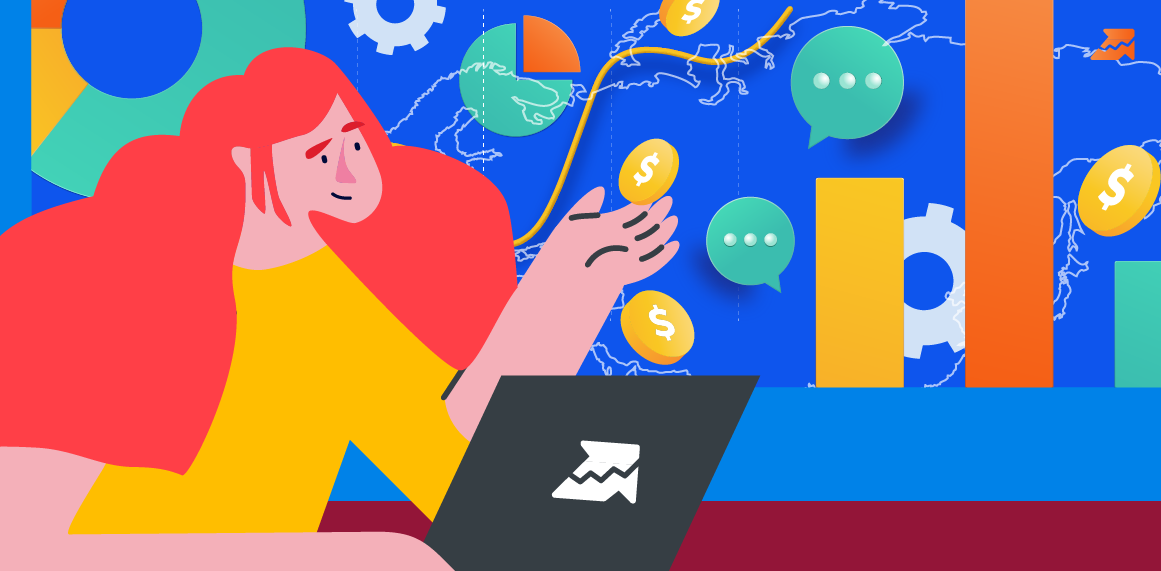 SEO Agencies Survey: How the Way We Measure Success Damages the Results We Deliver?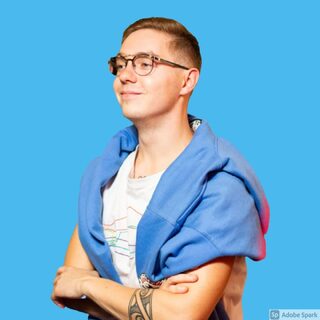 Taras Prystatsky
Blog Editor at Serpstat
According to our global survey featuring 40 SEO agencies, professionals are more likely to spend time on improving the success metrics they can display in client reports, rather than investing in activities they know will improve website rankings.
Reading most of the State of SEO reports, one might notice that over ⅔ of data accounts for all sorts of SEO specialists, with only ⅓ representing SEO agencies. Here at Serpstat, we believe that agencies' expertise is especially valuable as these professionals provide services to clients across various industries, meaning they have a broader viewpoint, compared to an average, even senior, in-house professional.

That is why Serpstat has conducted a survey among 40 SEO agencies from 16 countries, that operate within more than 15 industries. The survey collected data from December 17, 2021, to January 12, 2022.

The majority of the survey participants represent SEO agencies, holding managerial positions. Representatives of full-scope digital marketing agencies are people, responsible for the SEO branch.
The main topics covered in the survey:
best-performing business development strategies for SEO agency;
performance and budgeting dynamics at the end of 2021;
most likely challenges in 2022.
Will be particularly useful for:
SEO agency owners, interested in comparing themselves to the competition;
companies that outsource their SEO processes, eager to understand work processes agencies have;
SEO agency representatives, willing to learn about the core challenges in their niche;
digital marketing agencies, willing to outline the core performance threats for their SEO campaigns.
while the performance of SEO agencies have grown drastically, less than half of agencies have reported a budget increase;
there is a direct correlation between the time agencies spend on SEO activities and how they measure the effectiveness of their campaigns;
almost 60% of agencies believe that the latest Google Page Experience update is going to change the current competition in the SEO services market.
This section is dedicated to determining agencies' headcount and core services, as well as their clients' geography. Having this data gives us more context, enabling better assumptions regarding the markets and niches agencies operate within.
Operating in 15 countries
Within over 15 industries
Company headcount
Among 40 agencies that participated in this survey, the majority (70%) are small enterprises, with an employee headcount ranging from 5 to 10 employees. The rest 30 percent is gradually distributed among larger companies:
agencies with 10-25 employees (15%);
agencies with 26-50 employees (10%);
agencies with over 50 employees (5%).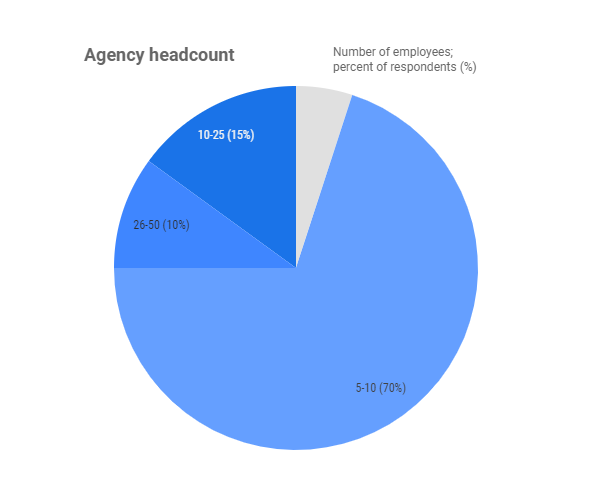 Core services
When it comes to the set of services provided by our respondents' agencies, the Top-3 positions are On-Page SEO, Off-Page SEO, and Technical SEO with 27%, 26%, and 23% respectively. Rather novel services like Voice Search SEO, as well as non-directly SEO-related services like Content and PPC, are equally represented at an approximate rate of 8%.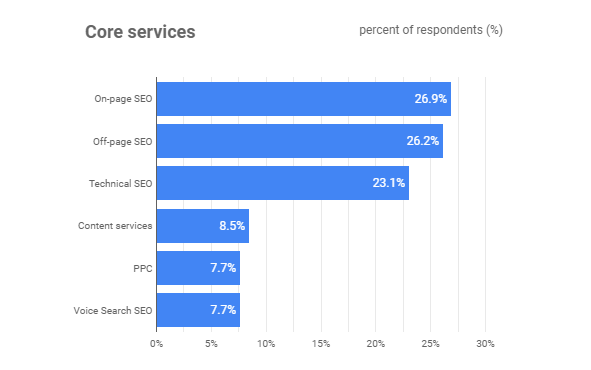 Geo
The top-3 positions are presented by agencies from the US (37.5%), Germany (12.5%), and the UK (10%). The rest of the results are distributed across Europe (20%), North America (10%), Asia (7.5%), and Oceania (2.5%).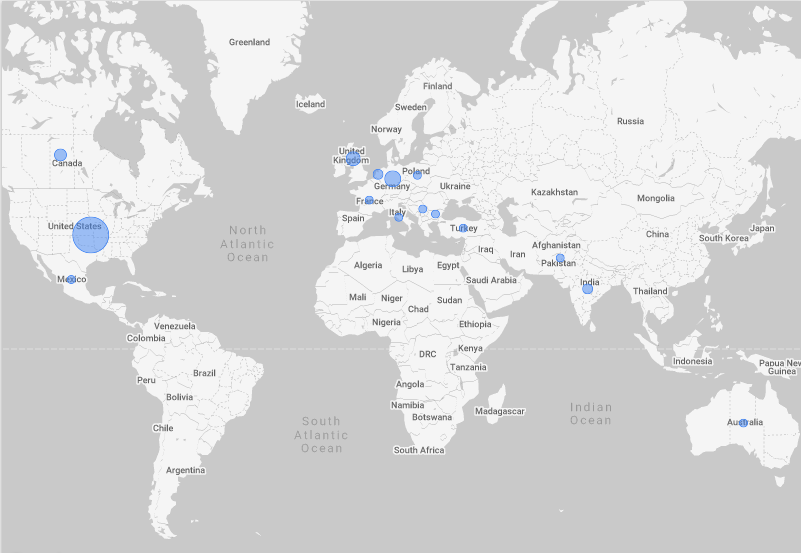 We can summarize this section by generally stating that our survey mostly represents small agencies, providing a fair mix of On-page, Off-page, and Technical SEO throughout North America and European regions.
Business development
This section provides deeper insights into the client companies' headcount, the industries they operate within, as well as the approach agencies, use to generate leads and sales.
Clients company size
Top-3 positions in clients' company size are Small (10-49 employees), Medium (50-249) and Large (250+) enterprises with 32.5%, 30% and 22.5% respectively.

Agencies that provide services to the microenterprise segment (1-9 employees) and individuals are presented by 10% and 5% respectively.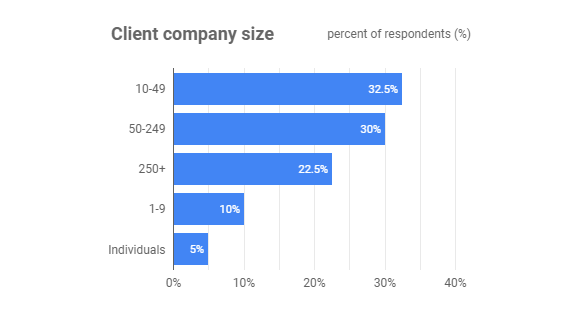 Clients industries
Top-3 positions in the clients' industry are IT, E-commerce, and B2B, represented by 20.6%, 11.8%, and 10.8% respectively. The next two positions are shared between Tech and Healthcare (7.8% each), followed by Fashion and SaaS (5.9%).

Retail, Education, Marketing, and Food&Bev clients together account for another 29.4% of agencies' clients.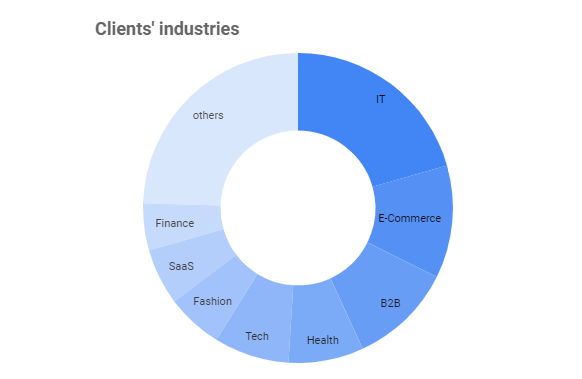 Do agencies have a Sales Department?
Half of the respondents have mentioned they do not have a fully functioning sales department. Among the other half, 19 agencies have mentioned they have their sales needs met by an in-house team and only a single agency representative told them they outsource their sales processes.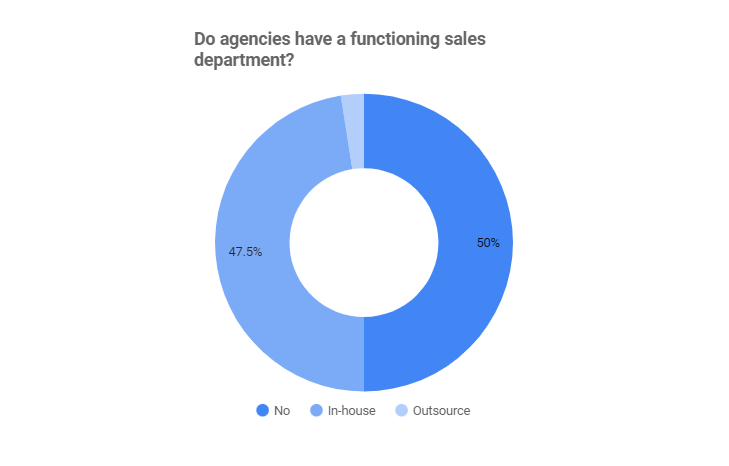 Where do agencies generate most clients from?
More than half (60%) of respondents told that inbound channels have performed better than Outbound in 2021. 27.5% have evaluated both channels' performance equally, while only 12.5% have marked Outbound as the best performing channel.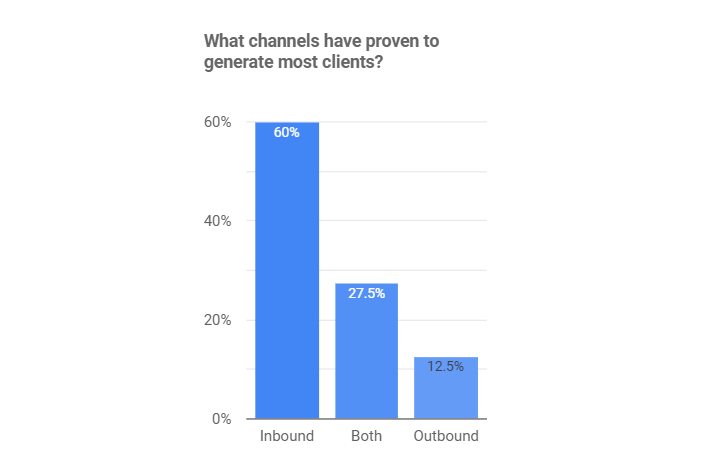 Despite our respondents have quite a wide range of industries in their track record, clients from IT, E-commerce and B2B seem to be prevalent, with only 15% of clients being microenterprises or individuals.
Compared to the company size of each agency, we can assume that having an extensive team is not a necessary factor for an agency to deliver services to bigger companies.
When it comes to
lead generation
, we can see that SEO agencies tend to use Inbound channels, with only a half of agencies having an in-house sales department.
With that being said, we can assume it is not necessary for SEO agency to allocate a lot of resources to
generate and convert sales
. Having a proper Inbound resource seems to be enough for 50% of respondents.
Work process
This section is a deeper dive into the work aspects that stand behind the SEO campaigns, provided by respondents' agencies. Do they prioritize Global SEO over Local? How does their performance match the budgets? What ranking factors are worth the attention most?



Global SEO VS Local SEO
When asked about how agencies allocate their resources when delivering their campaigns, we have seen close to equal distribution with:
37.5% of agencies focusing on Global SEO
32.5% focusing on Local SEO
30% mentioning they allocate resources to both of these vectors equally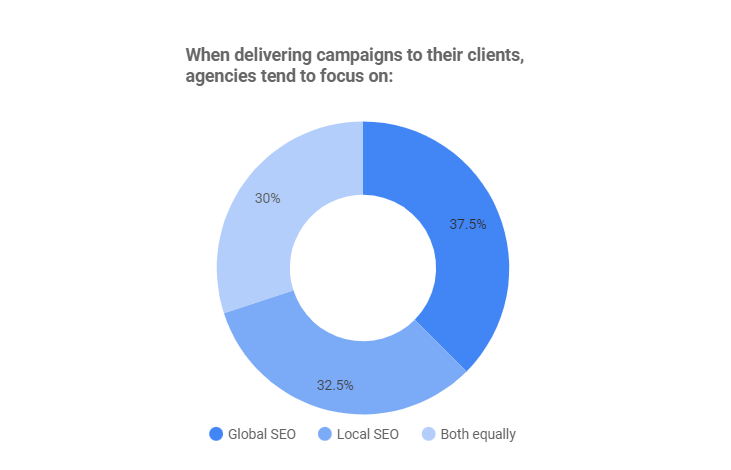 Performance & budgets
During our survey, we have noticed a slight inequality between the results delivered to clients during SEO campaigns and the budgets, spent on SEO: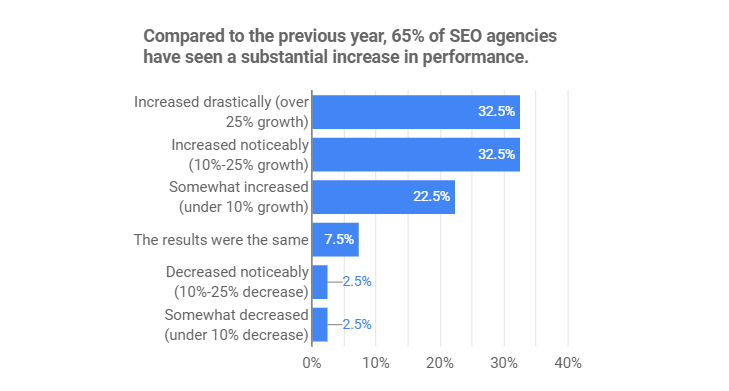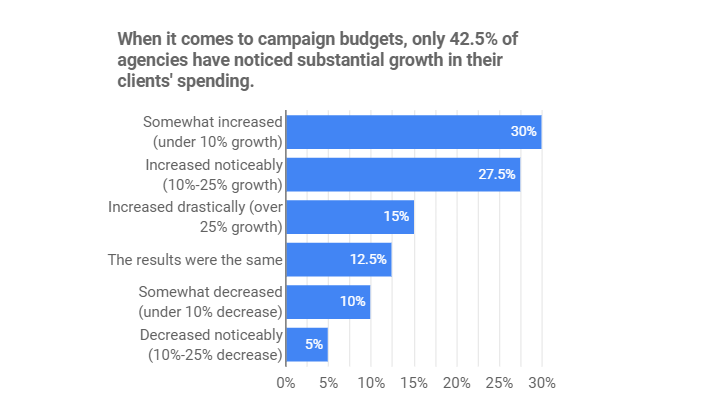 Core ranking factors and resource allocation
When it comes to the resource allocation during an SEO campaign, we have noticed a stronger correlation between the time spent and the metrics agencies use to measure success, than there is between resource spending and
ranking factors
.
Basically, agencies spend more time improving the measurement metrics they present to their client, than metrics they believe influence most on website ranking.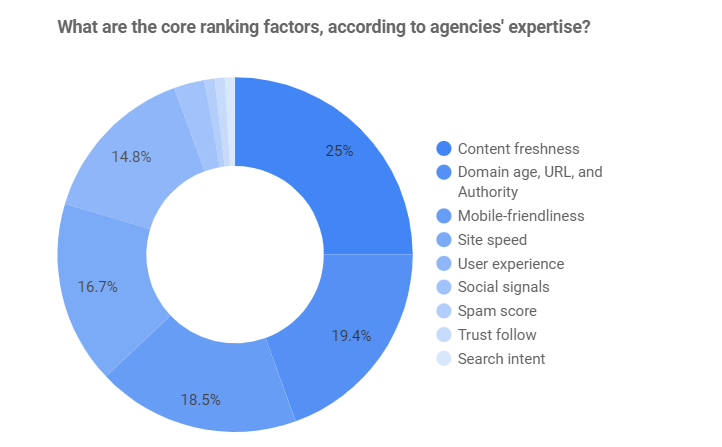 A lot of ground has already been covered by (tech) SEOs and no-code initiatives. Since "more influential", is talking about factors relative to each other, we likely won't see large gains in our "impact graph". Because if every site does it, they're "flattening the curve".
Freshness and social, they are about MORE than what we're seeing right now. They're about dynamic, real-time, cross-device, multichannel communication environments. And it's interesting to see what'll happen after the crisis, how it'll impact Google, and how new tech is going to change the way we work (and how governments will respond to it).
For instance, ¼ of respondents have marked content freshness as the most influential ranking factor, while only 6.8% of respondents admitted to spending most of their time on On-page SEO endeavors.

While 19.4% stated Domain age and authority are major ranking factors, only 7.6% spend most of their resources on Technical SEO improvements.



Domain authority, that is link authority, is going to become more important because it's the one huge SEO factor that is hardest to the game and that 99% of bloggers don't know how to game.
Next year, AI writing tools will become even better and every blogger using those tools will be able to produce a lot of content quickly.
So, if everyone can compete on content equally, that means no one has the edge, and then the edge, and key factor for Google to determine who'll rank become links and domain authority and page authority.
Moreover, 18.5% of agencies believe that Mobile-friendliness is a crucial ranking factor, only 6.8% combined spend big or moderate amounts of time on Mobile SEO (2% spending most of their time, 4.8% spend moderate amounts).



Google always focuses on user experience; therefore site speed, mobile friendliness, and a clear structure go hand-in-hand with UX. While content freshness isn't a factor for some industries, it can't be ruled out entirely. Some information is, by necessity, more recent than others and, as such, would need to be fresh to be accurate.
Having the correct categories is showing Google what is uniquely associated with their E.A.T. criteria. It is getting harder to game google with LINK authority by volume and spam. The entities on the page will also matter to the link weight.
Google is always looking for fresh content. The best tactic that we have seen is to first, fill in any content gaps that are missing and then second, go back and look at top blogs every 3 months to ensure they are up-to-date. This tactic has increased organic growth by triple digits for several of our clients.
The BERT update by Google shows how the search engine is trying to really understand context and conversation to provide the most accurate results for queries. Sections of websites can be pulled by Google into position 0 to answer particular queries, so focusing on content is crucial.

Whilst for years social signals have been seen as less valuable, there have been studies on how better performing social channels have better rankings. EAT being so important in ranking across multiple industries, it wouldn't be a surprise to see these social signals having importance alongside other valuable backlinks to establish authority and trust.

As mentioned above, we have seen a much clearer correlation between time spending and the core success metrics agencies use.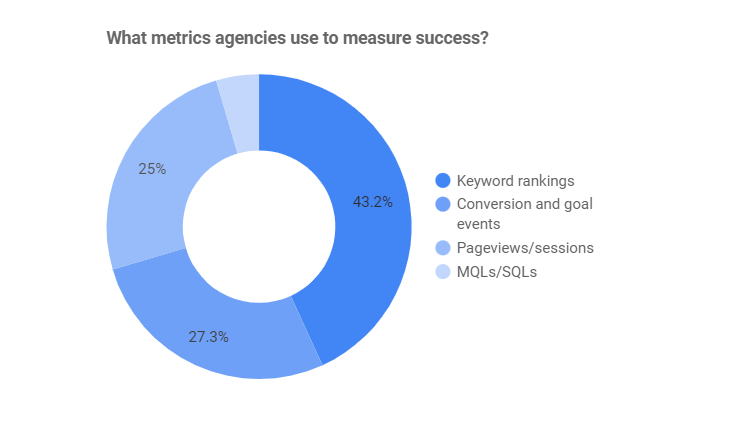 With over 43% using keyword rankings as a measure of campaign success, 14.8% of respondents combined spend most or moderate amounts of time on Keyword research.
With over 27% marking Conversion and goal events, only slightly above 9% spend their time on Audience research and almost 7% on Local SEO.



Wrapping this section up, we can see a tendency to spend more resources on improving the metrics agencies can use as a success measure in
their reports
, rather than investing in activities that professionals believe will influence the website ranking.
What tool does an SEO agency need?
Using the right toolset is one of the ultimate features of a highly-skilled SEO professional. It's all about what kind of data one gets and how one can use it to improve performance. In this section, we are trying to determine an
ideal SEO tool for agencies
.
A staggering majority of 80% of agencies have admitted they are using more than 3 SEO tools to meet their goals.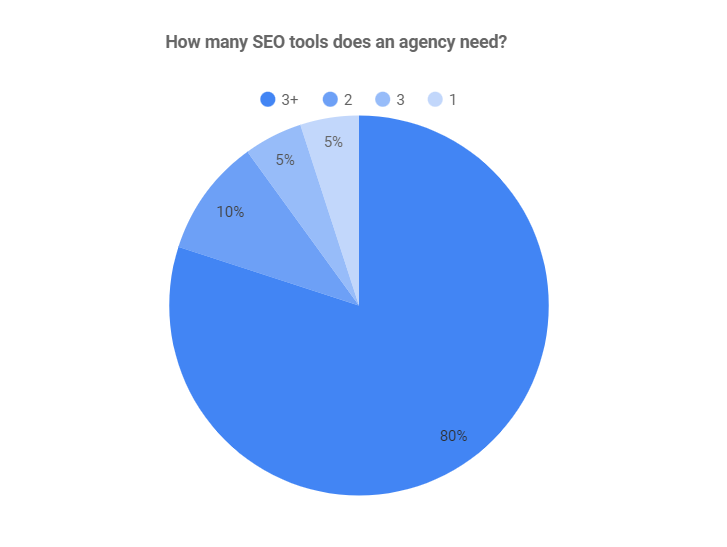 Among the core criteria when choosing a suitable SEO tool, agencies have marked Data Accuracy and Feature Variety to be the most important (26.8% and 21.5% respectively).



Accuracy; does it do one thing really well, or several things meh?
Among others, we can see that Versatility and Data Volume are sharing 3rd position with 12.5% percent of respondents.
The most inclusive tools for a full SEO outlook.
UX, Teamwork availability, and Price are placed in the last 3 positions, with 10.7%, 8.9%, and 7.1% respectively.


One of the main criteria for me is that it can be used by the people who'll have to work with it for different clients throughout the year. That has to do with cost management, and that includes training and labor.
It's simple. The tool has to be able to deliver accurate reports they need in a timely manner. The tool also has to be reasonably priced, but it's a minor issue because successful SEO agencies with many clients can afford even the priciest of tools, as long as they can do the job.
Accuracy of data. We analyzed a number of tools before choosing ours and found the number of keywords for research was much better in some. Time-saving elements also, such as competitor comparisons and ways of identifying keywords to target based on competition and search volume.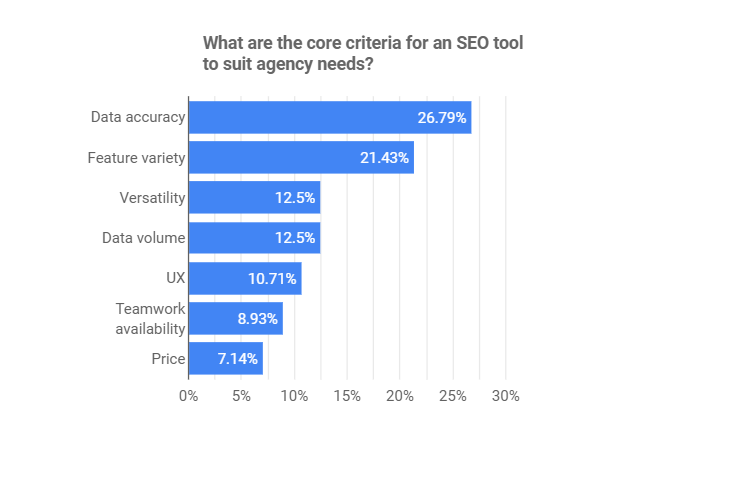 According to this section's results, we can tell that SEO agencies are looking for a tool that would be able to provide accurate insights, with a wide range of analytics features and high-scale versatility. Owning a big database and
enabling teamwork
would also be a preferential feature.
Here at
Serpstat
, starting from the Standard plan, an agency can have
multiple users accessing data
, generating
branded reports
, triggering special crawling sessions if needed. A special feature we offer is the ability to access data using
API
, in case agencies would need to display the dynamics without using our interface.
Want to know if Serpstat is a good fit for your needs? Fill the form below, and we'll reach out to you, offering a free personal demo, trial period, or a bunch of successful use cases!



Preparing for the future
What was the most challenging in 2021? Will the most recent major updates influence the competition in the SEO niche? To what extent are agencies ready for innovation?


What challenges agencies have been facing in 2021?
Among the major challenges in 2021, agencies have outlined 4 major ones:
Scaling processes (19,4%);
Lack of resources (19,4%);
Budget cuts (19,4%);
Pandemic-related issues (17,7%).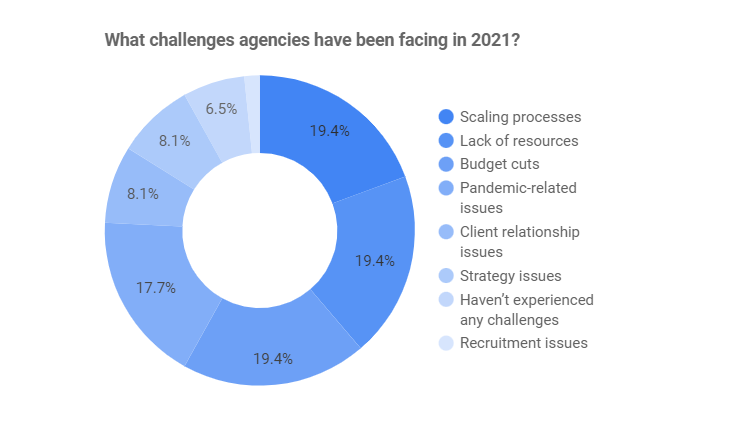 What are the most likely performance threats in 2022?
When it comes to the changes that agencies perceive to be potentially harmful to their performance, the Google Page Experience update was chosen by 37.5% of respondents.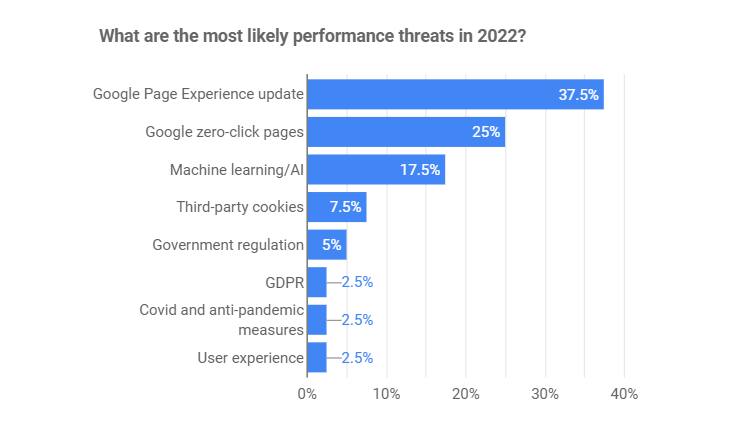 When we're talking about "page experience", we shouldn't just be talking about shifting layouts and load times. No matter how fast, feature optimized, organized, and factual your site is: if copy lacks personality, you may be losing out on a large percentage of your audience right there already. So research how your audience likes to talk about the subject, speak their language, take weeks if you have to, and go from there.
Creating a quality site in performance, content offerings, trust signals, and so on should always be top of the workflow. Occasionally something new is added - Core Web Vitals, E-A-T, Page Experience. Each time, it should be reviewed, and checked against current processes. Decide how much of a win each change makes. If it's a big win, move it up in your workflow. If it's not ... Well, decide whether it's worth even looking at.
Put the optimization for Google Page Experience update on top of everything else, and not instead of any other aspect of SEO. For example, don't suddenly drop link building because you have to optimize CWV. Instead, focus on the evergreen basics of SEO, and put everything else on top of it.
Ensure that your client is thinking about all aspects of marketing. That includes videos, images, FAQs, and anything that can enhance the user experience and keep them on your site.
Is Google Page Experience going to change the current competition in the SEO services market?
Almost 60% of respondents are sure that the Google Page Experience update is going to have a significant impact on the SEO services market, while 35% believe that the changes are going to be drastic.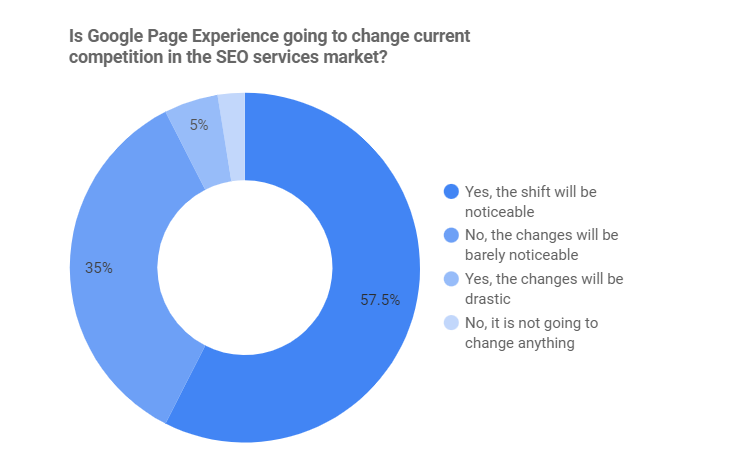 I have seen recent studies (from SEO Rockstar's event in Las Vegas, Nov. 2021) that it didn't matter much to rank by improving Core Vitals alone. However, in my testing, I have found that Core Vitals in addition to other factors has a "harmonic" effect and can make a difference when combing it with other signals. So I would say: "Yes if combined with other factors.
It's all part of the mobile and user experience, the only change would be for those that have particularly slow loading websites and poor user experiences, but as the mobile first index has already been implemented it is unlikely there will be a huge shift. A gradual progression and some SERP fluctuations sure, but not a widespread change as has been seen with previous updates.
Have agencies considered including Zero-click SERPs in their current strategy?
While 25% of respondents believe Zero-click SERPs are going to be a major performance threat in the future, only 27.5% are implementing some strategies to adapt to this change. Another 22.5% are developing a Zero-click SERP strategy soon, but don't have any yet.

40% of respondents have admitted they haven't started working on it, yet they are planning to do it soon.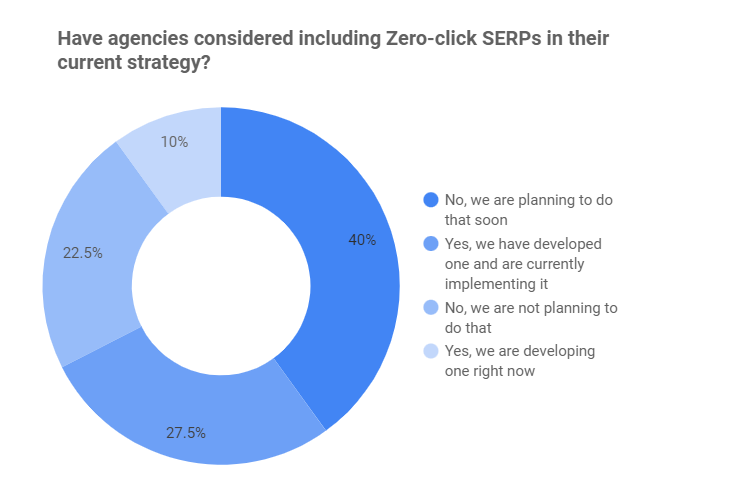 Before developing a comprehensive strategy to tackle the zero-click problem, and before investing seriously in it, make sure you make a clear distinction between keywords that produce zero-click SERPs and those that don't.
From the second bucket, find all keywords that are valuable to your business, and then target them aggressively.
After you've exhausted your pool there, then you can worry about zero-click SERPs and how to position yourself there.
Prioritization is key, and SERPs that produce clicks are obviously more important than those that don't.
Do agencies have a strategy for increasing intent satisfaction in their campaigns?
While intent satisfaction was mentioned neither in last year's challenges nor in potential productivity threats, almost half of respondents have mentioned they have developed an intent satisfaction improvement strategy and are currently implementing it.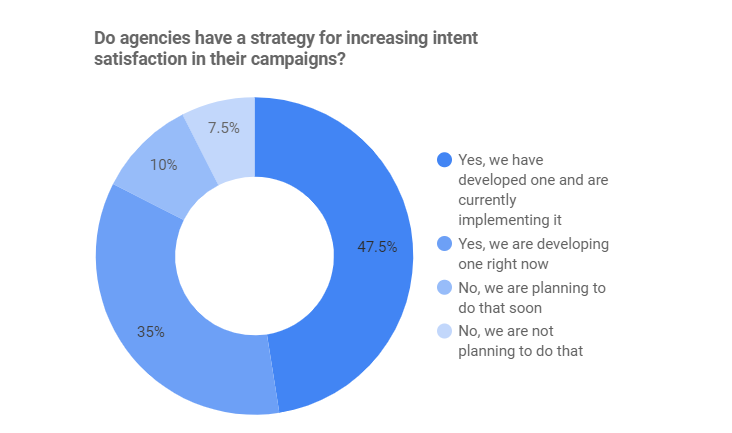 Leverage your local GMB; Focus on precise quality intros that are written for the user, not search engines; keep your meta information short enough that the entire snippet shows; Create content that matches each form of search: Transactional, Informational, Navigational.
Focus on featured snippet sections and utilize Google's own tools such as Google My Business. When conducting SEO research, look at those that have a featured snippet section, analyze the difficult, and use those to target. Also, update and maintain Google My Business profiles, as Google is constantly trying to prioritize its own tools.
Are E-A-T content principles going to be more influential in 2022?
85% of respondents believe that
E-A-T content principles
are going to become even more influential in 2022, with 32.5% believing the changes are going to be drastic.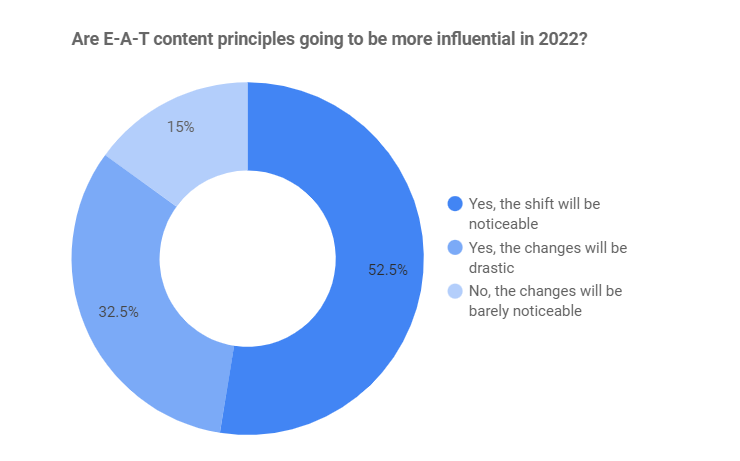 Niches that are in the Y.M.Y.L (Your Money, Your Life) categories need these elements to be stronger for ranking to occur. We believe Google needs to see those author boxes proving the degrees and certifications in order to give ranking juice.
Whilst EAT is a way for Google to understand how authoritative a website is on a subject that will always be relevant regardless of where that website operates, there are some industries that should put particular emphasis on it. Y.M.Y.L. in particular, those in health and wealth, should pay close attention to EAT as Google wants to not only show relevant information but accurate information.
However, according to our experts, this update is not equally important for every niche. Some content categories are going to be affected more than others, while Google is taking action to verify content creators' trustworthiness.



You must become familiar with the Google Quality Raters Guidelines and follow those principles exactly. The website needs to be clear about who owns it, who writes the content (whether it is high-quality or not), how products or services are delivered (and returned), and whether there are good reviews.
Personally, I don't work with measurable E-A-T factors, and in real life, they're not very concrete and different signals overlap into ranking factors. I try to see what's doable in terms of getting stuff online that's going to make people trust them more, and a lot of it is difficult to achieve since it deals with the business itself, rather than cold general web-specific elements. They're really connected to business processes that should be streamlined to generate the output that you want (certifications, sharp guarantees, high service level, positive reviews). Other stuff, links, content, and performance, are already integrated into SEO tasks.
About Serpstat
Serpstat is a go-to SEO platform, trusted by 400,000 users worldwide, from freelance SEO consultants to corporate SEO teams, including Uber, Shopify, Lenovo, Rakuten Viber, Philips, ESET, and Samsung.
We take pride in how versatile and multi-faceted our platform is. It fulfills SEO specialists' needs including competitor analysis, keyword research for both organic and paid traffic, tracking rank positions, and backlinks of any website, anytime.
In addition, Serpstat provides a set of more than 30 tools for link building, text analytics, clustering, website error detection, and fixes, boosted by our recommendations section.
We pay special attention to agencies among our clients, providing better solutions for:
lead generation and campaign pitching,
projects maintenance and reporting,
workload management and teamwork.
Summary
Despite SEO mechanics undergoing major changes and potentially threatening agencies' performance, SEO specialists have a tight grip on what's going on and are proactively searching for potential solutions.
However, both in the work process and adaptation to the future, there is a clear inconsistency. Agencies tend to focus on improving the metrics they can showcase to the clients while ignoring the activities that will actually improve website rankings. At the same time, while seeing clear threats in the Google Page Experience update, agencies seem to allocate more resources adapting to Zero-click SERPs and intent satisfaction.
We are not stating these decisions are wrong, however. There is no one-fits-all solution and according to our experts, all of those changes "will be a factor until all sites adopt it, and then it'll just be an even playfield for everyone. The same thing happened with HTTPS as a ranking factor".
With a mixture of
the right tools
and a client-oriented approach — agencies will be able to adapt to all the changes and thrive on "an even playfield for everyone".
Error get alias
Speed up your search marketing growth with Serpstat!
Keyword and backlink opportunities, competitors' online strategy, daily rankings and SEO-related issues.
A pack of tools for reducing your time on SEO tasks.
The opinion of the guest post authors may not coincide with the opinion of the Serpstat editorial staff and specialists.
Found an error? Select it and press Ctrl + Enter to tell us
Cases, life hacks, researches, and useful articles
Don't you have time to follow the news? No worries! Our editor will choose articles that will definitely help you with your work. Join our cozy community :)
By clicking the button, you agree to our privacy policy.