Polish Digital Market Research: How Everything Works Here?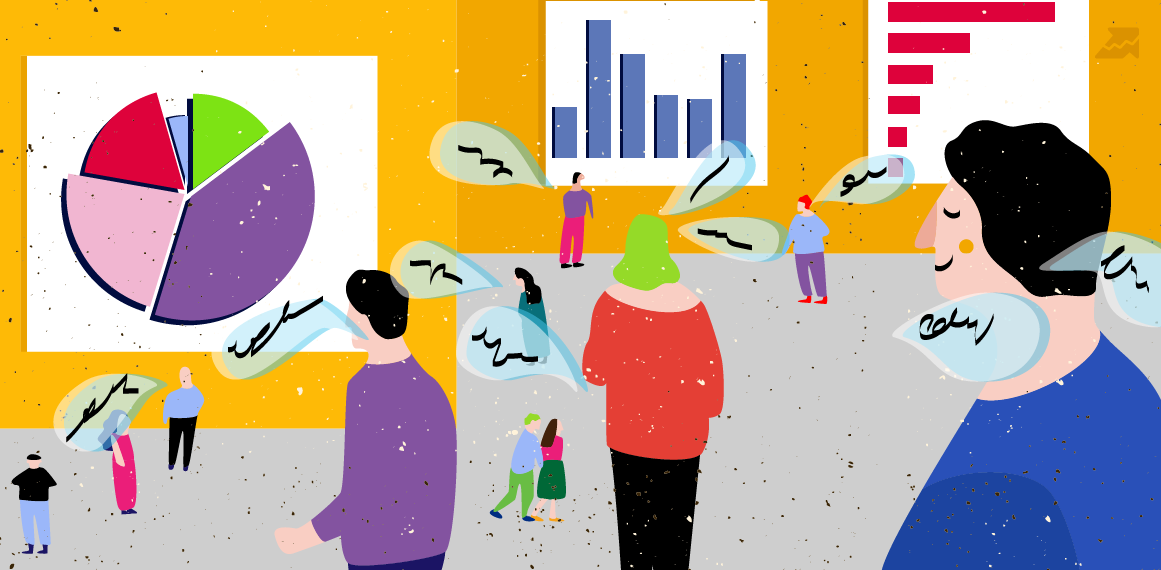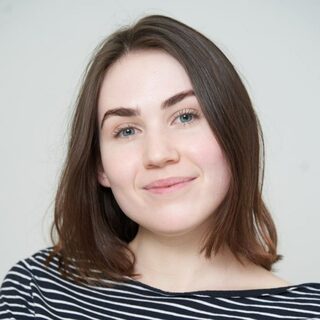 Blog Editor at Serpstat
Entering new markets and starting work in an unknown environment is a challenge filled with exciting adventures. We continue to explore the local markets to make it easier for you to start or improve your career in that region. In this article, we will look at the specifics of the digital marketing field in Poland.
We talked to experienced digital professionals who we trust. This article has been updated with their comments to give you a broader picture of the Polish market.
Adam Kubaszewski

Marketing Specialist in

Verseo

A versatile content marketer as well as a linguist and an experienced copywriter. For several years he has been responsible for the marketing of Verseo.

Sebastian Heymann

He has been deepening SEO and Internet Analytics since 2011. He has prepared and implemented visibility strategies for the most well-known brands in Poland. As Head of SEO, he oversees the implementation and direction of SEO activities for demanding brands.
For more information about how things actually work here, we spoke with Polish digital specialists. The survey involved 150 specialists representing a wide range of professions.


This article will be helpful to:
Professionals who are just starting their journey in the market;

Digital specialists who want to find fresh inspirational ideas;

Those who are just merely interested to learn more about the Polish digital market.
How do specialists keep up with trends?
To succeed in working or developing a business in a new country, you must pay attention to cultural specifics. The first one that appears in minds is language.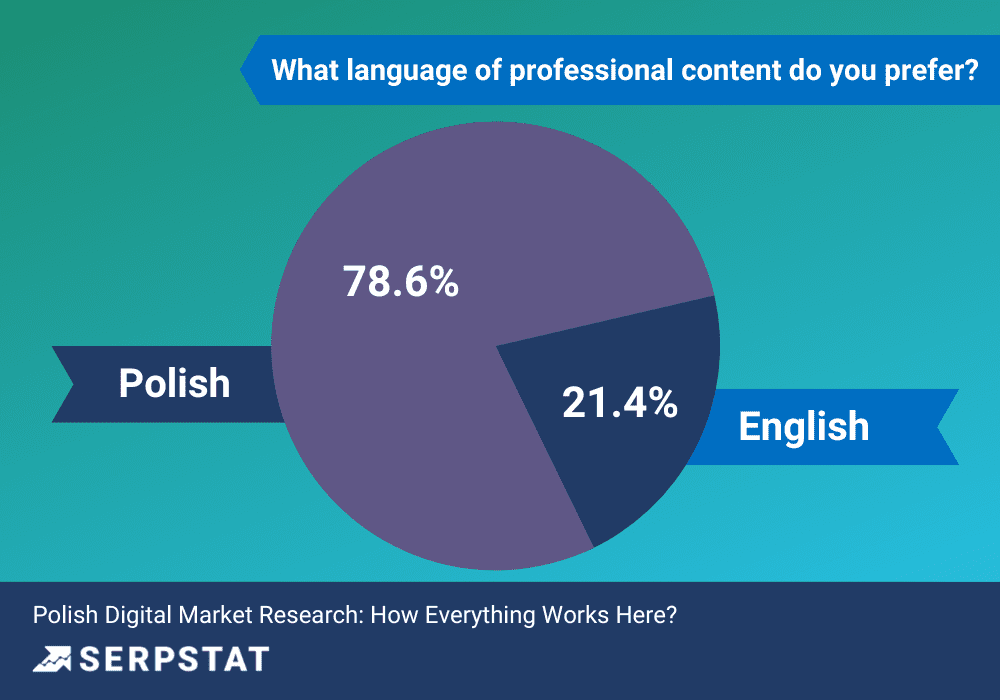 78.6% of respondents shared that they get professional content in Polish, and 21.4% prefer English.
"
Different peculiarities than Anglo-Saxon languages characterize Polish as an inflectional language. For this reason, working on the text using automatic tools created strictly for English-language sites is not very effective and usually requires the participation of a native speaker.
"
You don't need really know the language to work in different markets. Once I worked in an Arabic market. There are other languages. Even letters are different there. If you do everything correctly, you can look at metrics, and if there are good keywords, you will see them anyway.

As well, I have another example. The Netherlands is quite small country, and content writers are not that many. Not everyone from abroad can speak dutch. So the prices for content are relatively high.
When I have to work there, we translate texts to dutch by AI, and then a native guy reviews it.
We also asked which social networks are the most popular among Polish digital professionals.

The results are following: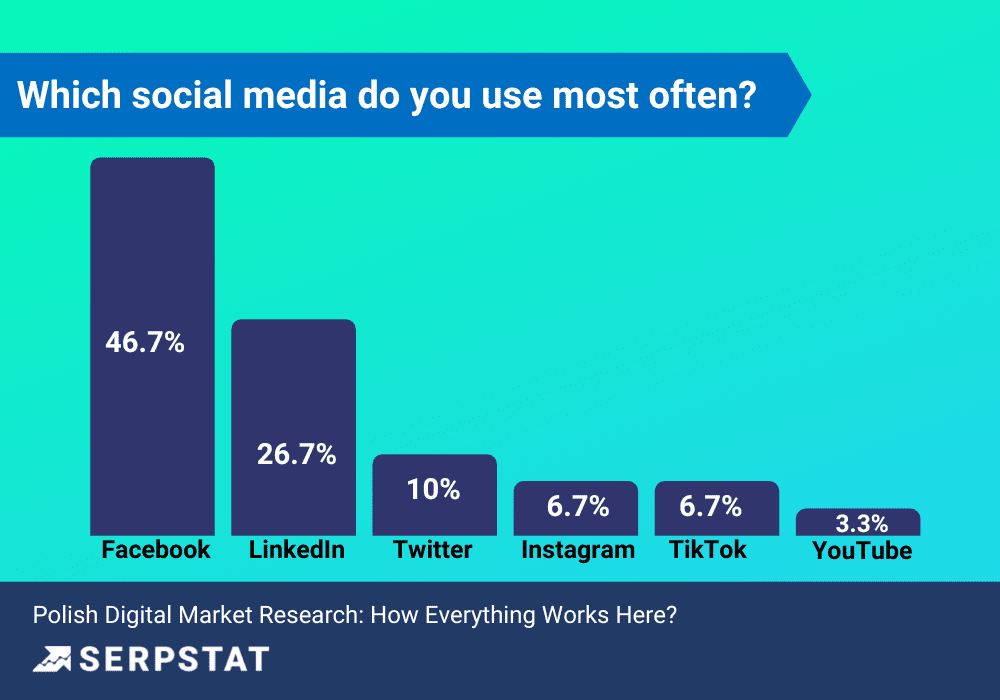 46.7% use Facebook, 26.7% – LinkedIn, 10% – Twitter, 6.7% – Instagram, 6.7% – TikTok and 3.3% prefer YouTube.
"
For professional purposes, I often use LinkedIn and Facebook (especially Groups, Events, and Messenger). Professionally, I do not use other social networks.
"
Regarding the number of users, Facebook is still number one, although it has lost momentum and popularity, especially among the younger age group.
What do Polish digital professionals read?
Everything in today's world changes extremely quickly. Thus to stay in demand in your area, you must regularly refresh your professional knowledge.

The most significant source of knowledge is various blogs. Therefore, we are inviting you to read what our respondents read:
SEO ninja

Main content for this blog is created by Jakub Wasielewski, SEO expert with more than 11 years experience. Learn how to optimize your website, position it and improve conversions. Editorial team presents a ready-made solution, so you can learn how to succeed in your business.

Zgred blog

This blog is dedicated to processes in website positioning, auditing, consulting and training. The SEO blog has been around since 2010. Articles are formed by professionals of the agency based on professional experience and knowledge.

Delante blog

The Delante blog gathers content from several major categories: e-commerce, marketing, news, PPC advertising, SEO, vlog and career. The creators focus on promoting best practices, sharing valuable tips and market research. Delante's blog may appeal in particular to those who are looking for help creating and optimizing advertising campaigns (such as Google Ads or Facebook Ads) and want to get the best results. There will also be something for those who would like to try their hand in the SEO industry.

Semcore blog

If you're looking for diverse, verified information in SEO, SEM and SXO, you're sure to find it on the Semcore blog. It's worth noting that Semcore publishes quite a bit and regularly. Among other things, the articles will appeal to those who want specific information about effective solutions for developing and optimizing their site, improving its visibility, functionality, conversion rates, branding, etc.

WhitePress

WhitePress is a platform that supports content marketing and influencer marketing, and offers an excellent knowledge base to cover the big picture. In addition to articles on various shades of marketing, copywriting, PR, and advertising, those interested will also find a special SEO section for beginners and professionals, a news and events section, and discussions of industry legal issues.

In the Verseo blog you can find various articles on digital marketing, social media marketing, paid advertisement, site positioning, and practical cases. As well, there you can find interviews with field experts. So it will be helpful for newcomers and experienced professionals.

Polska Planeta SEO

Polska Planeta SEO is a project that brings together in one place the most valuable information from the Polish SEM industry. Initially, the project focused blogs on SEO topics, but now, due to the rapid development of the industry, you will also find articles on Google Ads (AdWords), Facebook, web analytics or other related aspects of Internet marketing.

Empressia blog

Empressia is one of Poland's largest agencies. Their blogs are run by leading experts and include many marketing topics. But they mainly focus on SEO and programming.

One of the most read Polish digital marketing blogs. You'll find there articles about: SEO, PPC, e-commerce and conversion rate optimization. The authors regularly publish interesting rankings and lists. Readers favorite article so far is a list of the top polish SEO agencies. Widoczni blog is always up to date with 8 new articles every week.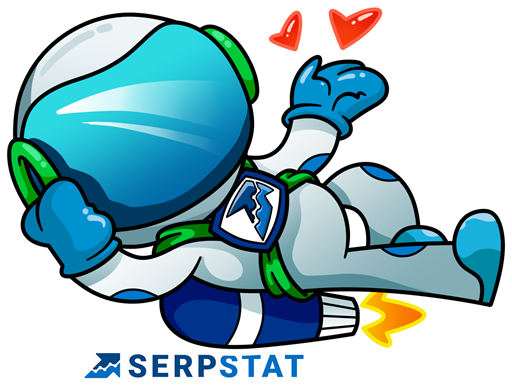 Want to select a list of sources for your topic?

You may quickly see the websites that are most related to the keyword you're searching for by using Serpstat.
Personal demonstration
Leave a request, and we will conduct a personal demonstration of the service for you, provide you with a trial period, and offer comfortable conditions for starting exploring the tool

Where to look for industry insights?
Subscribing to the best influencers in the industry is probably just as important as selecting the right tools for the job. After all, with the help of opinion leaders, you can keep your finger on the pulse: quickly learn news about your industry, gain practical knowledge based on personal experience, and much more.

We asked our participants to write down a couple of opinion leaders they trust. These include experts who run their blogs and those who have a big name and occasionally write material for external resources or their social networks.
List of infuencers on Polish digital market
Lukasz Zelezny

Since 2005, Lukacz Zelezny has been helping companies improve their organic performance – some of his past clients include HomeAway, Thomson Reuters, The Digital Property Group, Fleetway Travel, uSwitch, and Zoopla.

He is passionate about sharing his tips and knowledge with others through workshops and meetups. So every year, he attends numerous professional conferences.

Szymon has been involved in marketing in various forms for more than a decade, and I have been developing my competencies as an SEO specialist since around 2010. Along the way he has worked for various companies, and today he runs his own agency, Takaoto.

In his blog Szymon shares his knowledge about running an online business, content marketing, social media marketing, user experience, link building or SEO optimization. Lots of analysis, recommendations and news here.

Jakub is an experienced marketer who worked in US and Poland markets. He owns several websites, creates and implements growth strategies for the biggest online publishers in Poland (Onet-RASP, Agora), and consults and consults in analytics, e-commerce, and SEO/SEM.

He is also a practitioner and active member of e-commerce and SEO communities. As well, Jakub runs his

blog

, when he shares his experience.

An expert with 16 years of experience in SEO. Enthusiast of technology and its application for SEO purposes. In 2013 he won the title of Vice-champion of Poland in SEO.

He teaches and inspires about SEO at closed training sessions in the country and at the largest SEO industry conferences in the world. He also shares valuable tips on his blog.

Passionate about the world of IT, media and marketing for 30 years. Nearly 20 years of business experience gained in Poland and Western Europe. Currently owner at SEO Planner, a company providing training and strategic consulting in search engine marketing.

You can meet Grzegorz at various lectures and conferences. He is also active on his LinkedIn and shares his knowledge in the Papa SEO course.

Marta has passed a long way in the SEO industry and has been in various positions. Now she is a partner of Wake App Ltd., and her husband and I run the company INFEO, providing SEO services, leading SEO courses, and holding internal events.

She runs an

SEO blog

, and writes for different professional sources. As well, Marta is an author of several SEO courses.

Katerina specializes in auditing websites and online shops regarding SEO, optimizing sites, and preparing and implementing strategies related to increasing the popularity of websites in search engines.

From time to time, Kateryna makes presentations at industry conferences, taking the opportunity to share her experience and network. She keeps a blog and publishes articles on SEO and optimization in her spare time.

Paweł Gontarek

In his experience, he has worked with various commercial and public companies, providing SEO services. He now works as a freelancer and dedicates a lot of time to educating others: he conducts training and consultations and runs the SEO ZGRED blog, which we mentioned earlier.



CEO DevaGroup, a Google Premier and Google Rising Star partner agency. Trainer in SEO, Google Ads & Analytics. Author of trainings, articles, and books.

Worked for such brands as Allegro.pl, Neo24, Shoper.pl, Conrad.pl, Interia.pl, RMF Group and Bauer Publishing House. He mostly specialized on strategies using digital analytics to optimise operations and shares his experience in

blog

.

Mateusz Dela

SEO specialist with over 16 years of expertise. Founder of ContentLine, an SEO company consulting in a variety of countries such as Germany, Austria, Switzerland, Italy, Spain, and Poland that specializes in link building and content marketing. His name often appears in different medias. As well, he shares his experience on

LinkedIn

.

Miłosz Krasiński

With over 10 years of experience in digital marketing, Miłosz Krasiński turned to his main point of interest - link building through outreach about four years ago. He established a boutique link building and digital PR agency called Chilli Fruit Web Consulting in 2016 and is still developing it as of today. Milosz sometimes does public speaking at conferences and likes to share his knowledge on his

blog

. His main strengths are the ability to obtain authoritative links from SaaS websites, as well as consulting and international SEO.
What tools do Polish SEOs use?
It is necessary to rely on verified data to work effectively. Marketing tools are one source of such data. And they, like preferences in films, can vary from country to country.

We asked our respondents about their favorite marketing tools. Among them were both global and local platforms:
"
I will answer perversely: they pay attention to the tool's marketing instead of what they need. First, you need to determine the needs and then only get down to tool choices - what set of tools and at what price will give me everything I need.
"
We pay special attention to how fast the tool works. If it takes a few minutes to generate an SEO report, this is usually too long to wait. Also critical are the tool's capabilities in question and whether there are too many limitations.
The Polish digital sector is very diverse and full of professional resources. We should also note that they have their own local SEO tools, which are pretty popular within the country.

We hope this article was helpful for you! Have a nice journey in Polish digital market.
Speed up your search marketing growth with Serpstat!
Keyword and backlink opportunities, competitors' online strategy, daily rankings and SEO-related issues.
A pack of tools for reducing your time on SEO tasks.
Found an error? Select it and press Ctrl + Enter to tell us
Cases, life hacks, researches, and useful articles
Don't you have time to follow the news? No worries! Our editor will choose articles that will definitely help you with your work. Join our cozy community :)
By clicking the button, you agree to our privacy policy.