How to get backlinks to your site?
Quite often, link marketplaces are used to get inbound links, allowing you to buy or rent a backlink to your site for a small fee.
Search engines do not welcome this method, but it is still quite popular, so the
Links Intersection report
in Serpstat will help you when using it. It will allow you to understand how much the link mass of competitors is larger than the promoted resource and find good sites for promotion.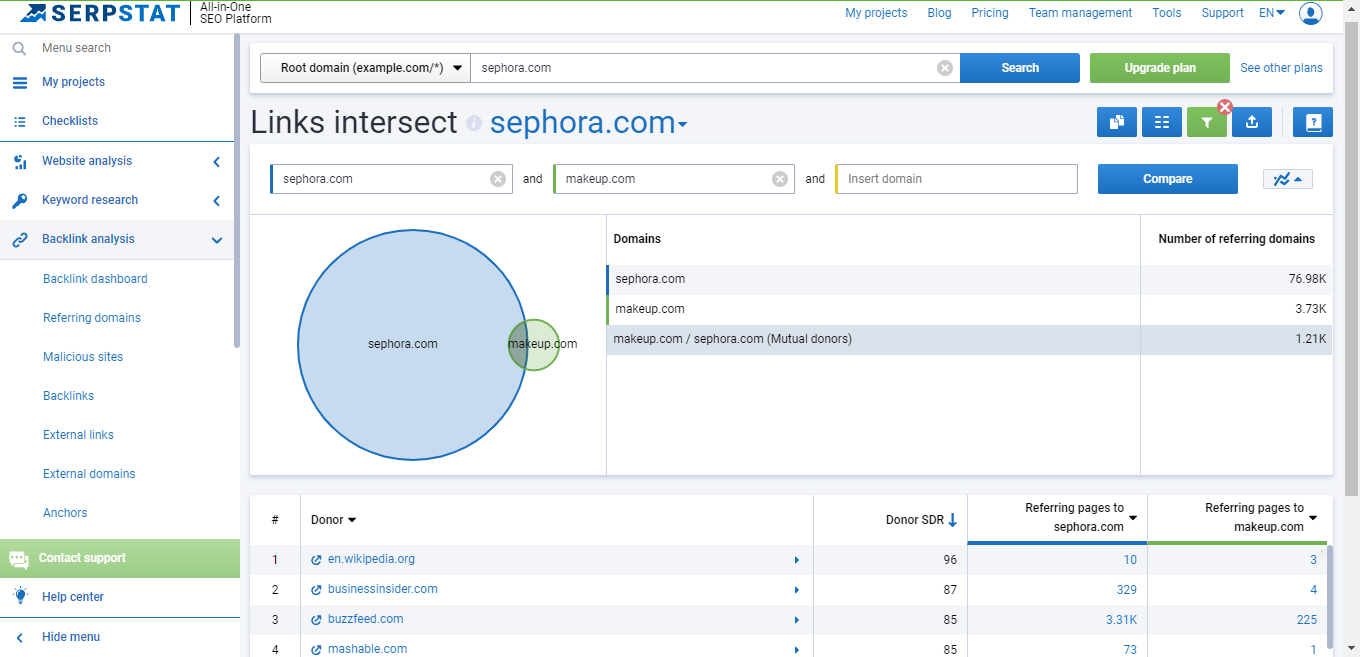 Additionally, from the report you can see which donors bring the most links to competitors, which can be used in the future.

If the decision was made in favor of organic promotion, then it is best to use the following methods:

Guest posts
There is a large number of sites that are ready to post valuable content on their blog and at the same time leave a link to the author; for example, you can contribute to
Serpstat by sending a guest post
. Additionally, it's worth forming partnerships with other sites in your niche.
Charity and partnership
In many cases, assistance with information support and other types of partnerships allows you to receive a link in gratitude, and sometimes participation may be paid.
Cooperation with bloggers
You can find talented and interesting blog authors who will gladly accept additional material and share a link to the author who sent it in any niche.
Help other users
Today, most of the question/answer services (for example, Quora) allow you to put links to the site or do it automatically, which will enable you to get additional follows from an interested audience.
Promotion on forums
Despite the fact that the forums are no longer as popular as before, but still getting links from them is a fairly popular direction.
Social media promotion
It is best to encourage users to share links to the site on social networks more often, which can be done by adding special buttons that automatically form a post and send it to the desired service.
Research and activities
In many cases, market research and events can help generate additional link growth.
Directories, aggregators and ratings
Despite the lack of popularity with many directories, being in some niche directories will help the resource to get an additional relevant link.
Added value
You can create added value by developing and investing time/effort in your own free tools or courses/materials that users will be happy to share since they could solve some of the problems with them.
Digital marketing consultant
How do you find linkbuilding opportunities?
Build out solid brand profiles using a platform like knowem. Check for domain authority.
syndicate your content to social media channels
"juice" your content and repurpose it on other platforms
influencer analysis
guest posting opportunities.
Our specialists will contact you and discuss options for further work. These may include a personal demonstration, a trial period, comprehensive training articles, webinar recordings, and custom advice from a Serpstat specialist. It is our goal to make you feel comfortable while using Serpstat.
And now, as promised - a link analysis checklist. We have collected all the main points for you in a convenient infographic so that the most crucial information is always at your fingertips.

Link analysis is an important ranking factor that needs to be given a lot of attention and energy. Using the above recommendations of this SEO link building guide, you can quickly draw up a plan for external promotion and choose a suitable way of placing links for yourself.
Speed up your search marketing growth with Serpstat!
Keyword and backlink opportunities, competitors' online strategy, daily rankings and SEO-related issues.
A pack of tools for reducing your time on SEO tasks.
Found an error? Select it and press Ctrl + Enter to tell us
Cases, life hacks, researches, and useful articles
Don't you have time to follow the news? No worries! Our editor will choose articles that will definitely help you with your work. Join our cozy community :)
By clicking the button, you agree to our privacy policy.