// В этом файле есть те нужные стили которые в других файлах нет.?>
How To Do A Content Audit On Your Website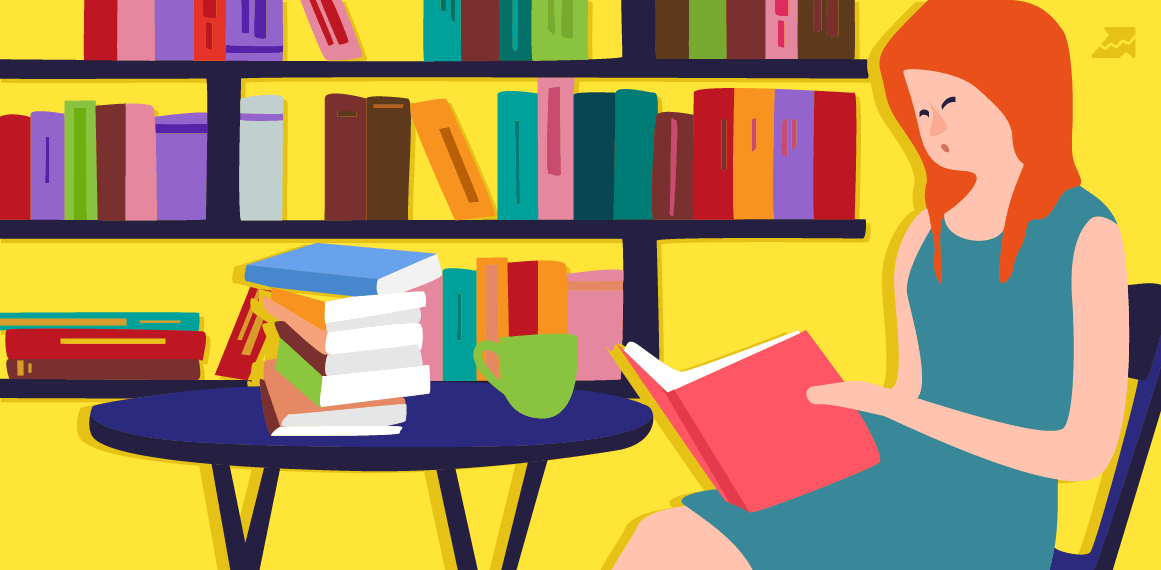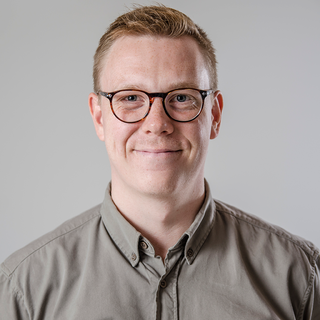 Emil Kristensen

Want to set up your site for success?
Then you need a great content marketing strategy. But if that's your goal, the first step isn't to start writing blog posts or sharing every article on your site through social media.
Not at all.

In fact, your first action needs to be taking a step back and understanding where you are, where you need to work, and what you've already done well.

Only when you take a step back and see what you've done and where you're going you can make progress with a content marketing plan.

Abraham Lincoln once said that if he had six hours to chop a tree, he'd spend the first four sharpening his ax. Doing a content audit on your website is that ax-sharpening—preparing yourself for faster and easier success down the road.

Let's see how to do it. But first—what exactly is a content audit?

If you're starting a new budget or creating a set of goals to accomplish over the next year, it's a good idea to review your progress before jumping into a new strategy.
You should see where you've been successful, what you need to work on, and what techniques are the most important to tackle, and in what order.
It's the same idea behind a yearly performance review at work.
Apply that same concept to your website's content strategy, and you get a content audit. It's an honest look at what you've done well, what's lacking, and where you should move your strategy forward.
The best way to show what this looks like is through an example. Infographic and design app Piktochart did a content audit to see what they needed to improve.
They
analyzed over 600 articles
on their site, then used pageviews to create a "top 100" list of the best-performing pieces.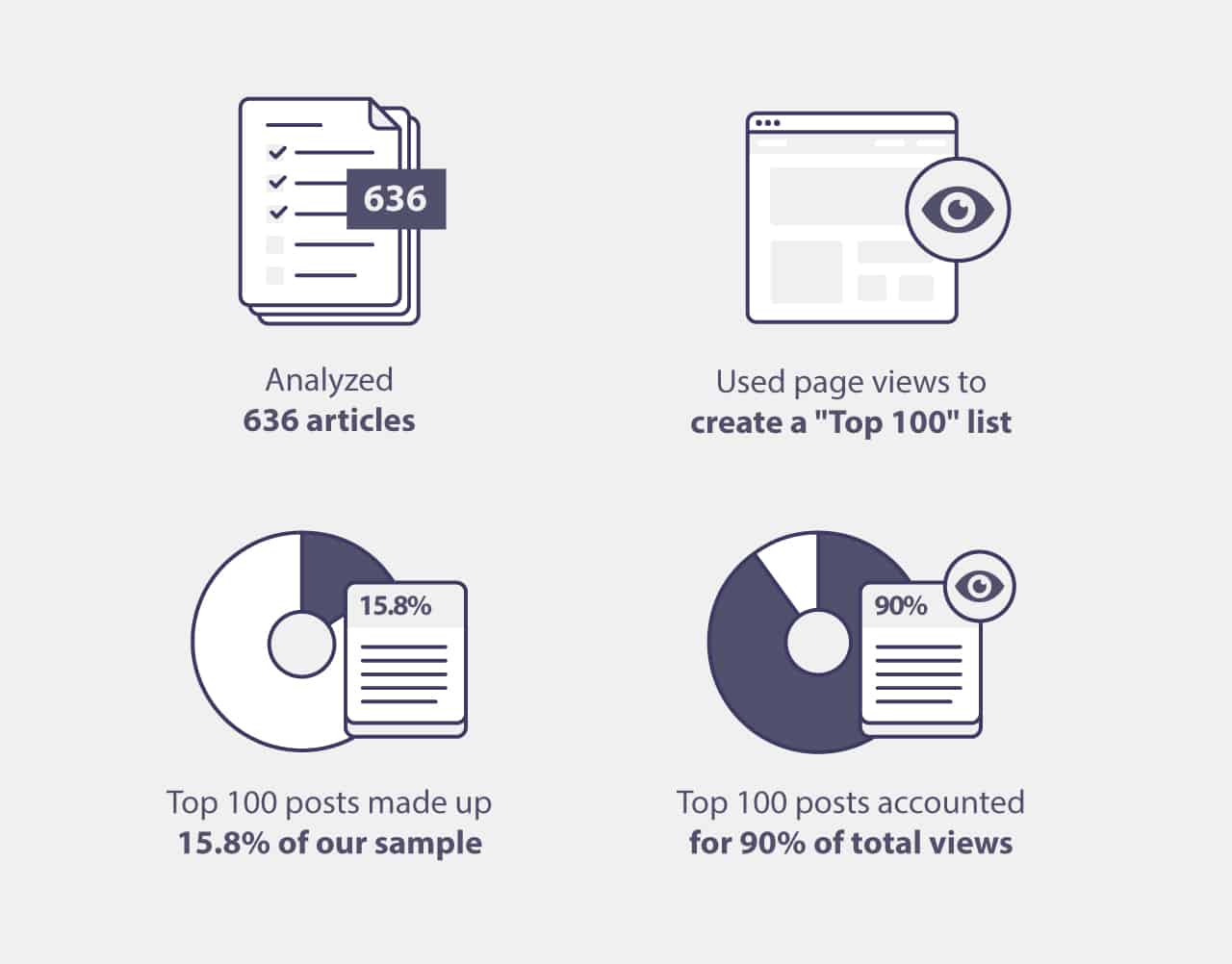 We'll cover more of the details behind their audit later—again to illustrate how it can be done—but let's dive into the results quickly.

After looking at how well those pieces were performing and seeing areas for growth, they created a new content marketing plan.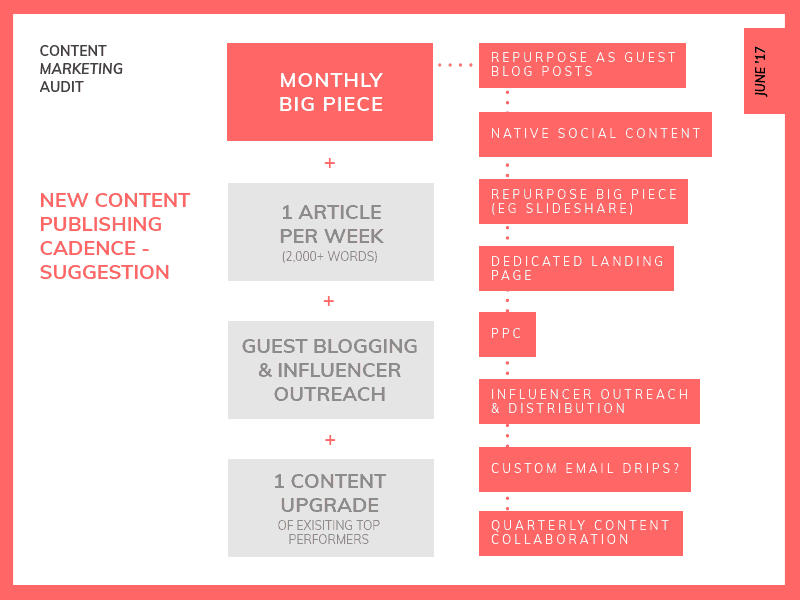 They shifted their publishing quantity and changed their general methods for producing and distributing the pieces they wrote.

It gave them more clarity on their strategy and they succeeded at a simplified, streamlined program that helps them accomplish their content marketing goals more efficiently.

By looking at where you are, where you can improve, and what you can learn, you'll change the work with content forever.

It all starts with defining what you're trying to accomplish.

Every business has different goals with their content, and figuring out what's most important to your specific industry and target is a key before beginning the
SEO audit of a page
.
Look at both short-term goals, like
getting email leads
and customers, as well as long-term goals like establishing authority in the industry and building word-of-mouth credibility.
For example, this chart from
Content Marketing Institute
shows how you can track form completion and signups with content over each quarter.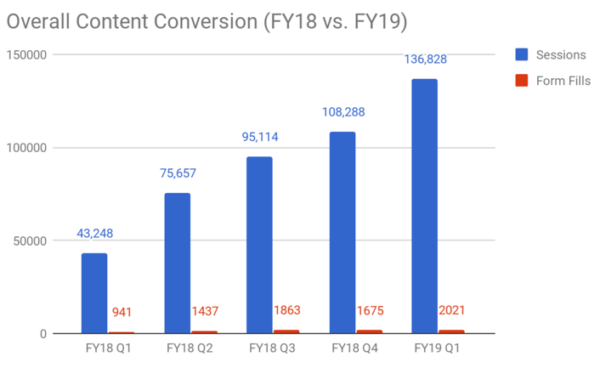 By zeroing in on that one metric — form conversions — it puts the entire spectrum of content in perspective. Growing sessions, shown in blue on the chart, are far less important than the form signups, indicated in red.
The key to setting goals is to define key performance metrics, or KPIs. Rather than a scattershot list of every possible improvement to track, KPIs bring your focus into what really matters for your business right now.
You might find value in more views, shares, and traffic. But typically, metrics that really move the needle are related to conversions and customers.
These
might include new leads
, conversion rates, or even something direct like revenue generated.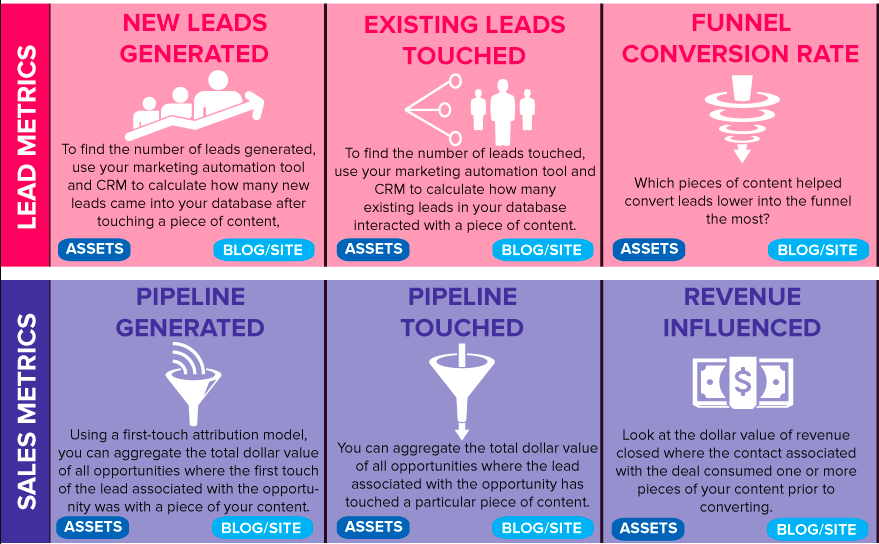 Look at the next step for your site's success to learn exactly where you need to put your efforts and attention.

With that in mind, it's time to start doing the actual audit itself.

There are two ways to conduct a content audit — manual and automatic. Both have their advantages and pitfalls, but in this piece, we'll be explaining a hybrid approach.
When doing a manual audit, you'll need to pull data individually for each piece. This simply takes too long to be time-effective for most teams.
The other strategy is automatic. The disadvantage with this strategy is that it can often miss out on some of the KPIs you determined earlier if it's not included in the software.
We'll supplement automatic data generation with manual number-crunching for a more complete picture.
And we should touch on one more tip before continuing — you want to compile and review all your content, not just what's on the blog. An "about us" or home page might include content that's outperforming your expectations and can provide helpful data.
With that out of the way, let's look at the specific
site audit tools
you can use to conduct a complete content audit, starting with Serpstat.
Serpstat
includes a lot of features in its all-in-one tool, but we'll focus on its recently-updated site audit feature here.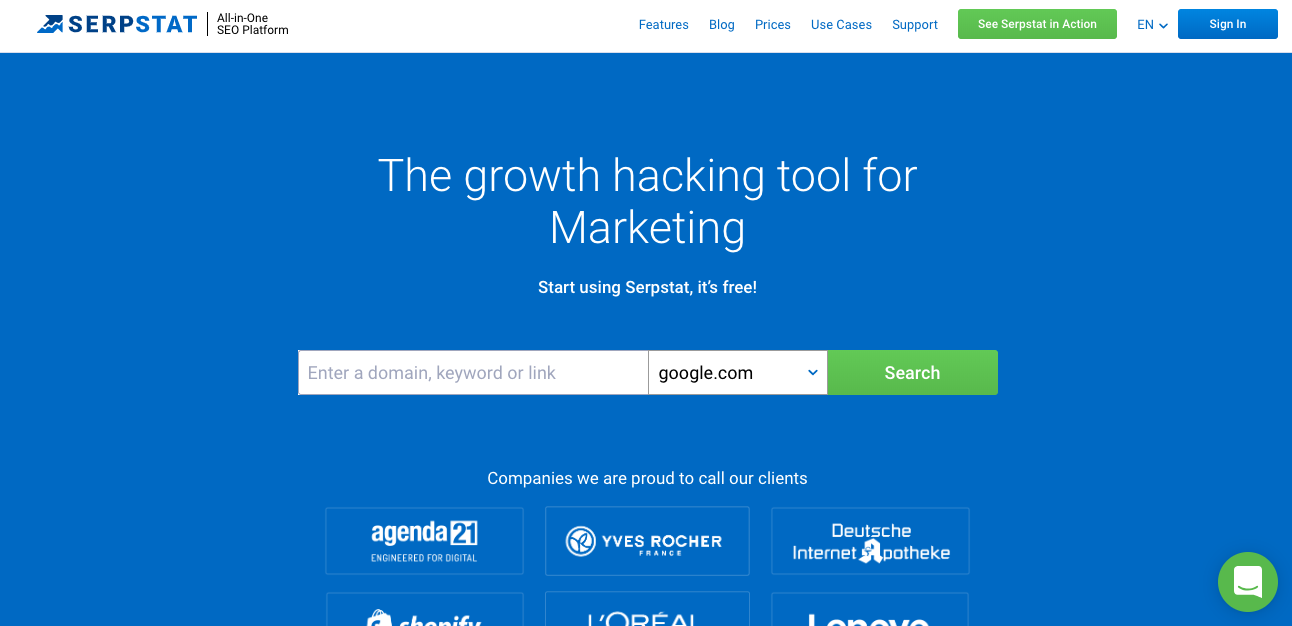 Once you have an account, click on "Tools" on the top menu.


From there, click on the dropdown menu next to "Site Audit" and select "Audit Summary."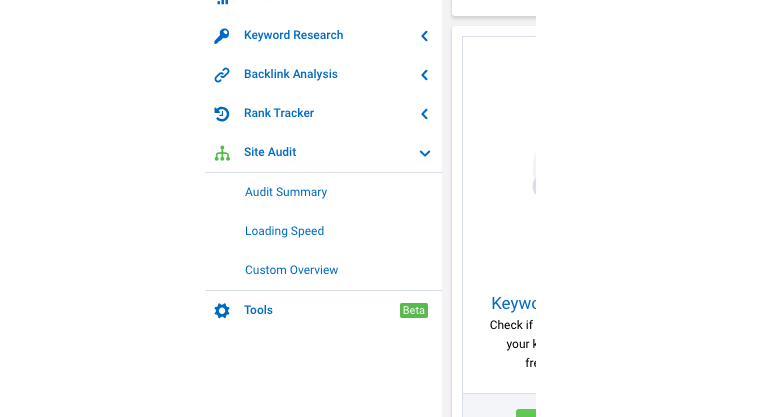 You can then click "Start analysis" to begin a new project.

(If you've already started a project, it will show up here.)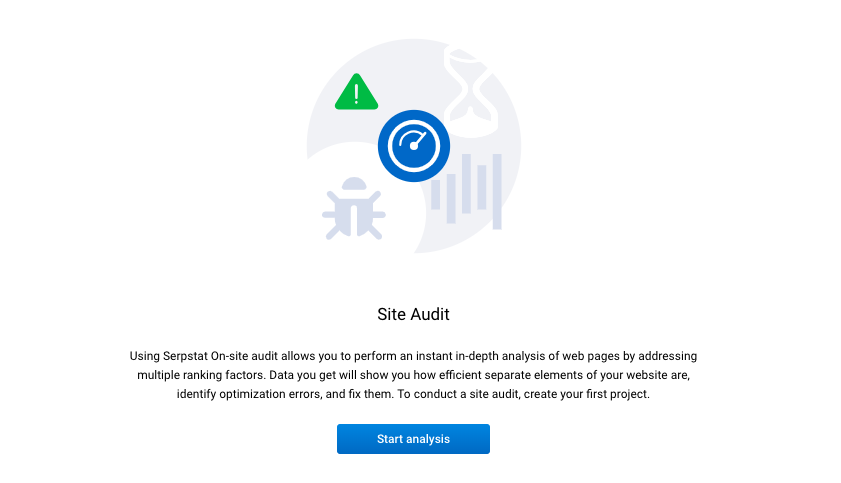 Enter the domain you want to audit — this is probably your website — as well as the project name and other more advanced features.

And that's it! Serpstat will conduct the audit as soon as you click "Start scan."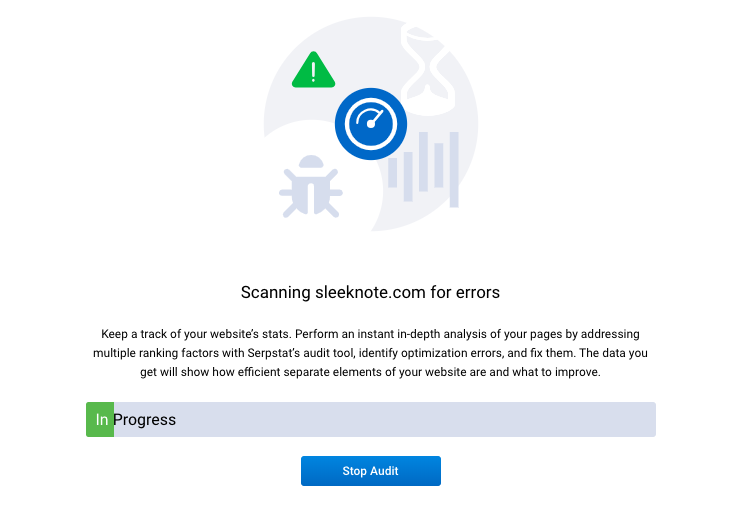 Because it does an in-depth analysis, it will probably take a while for the audit to finish. But when you're done, you'll get a comprehensive report that will form the basis of our audit.
With the details you've gotten from the scan, we'll now create a spreadsheet with a line for every page in our audit.
This is the manual part
of the site audit
, and while it adds a few more steps to the process it's well worth it. By using a manual spreadsheet you can sort, annotate, and combine data in custom ways specific to your business.
Here's an example
of what that spreadsheet might look like at the beginning of the process.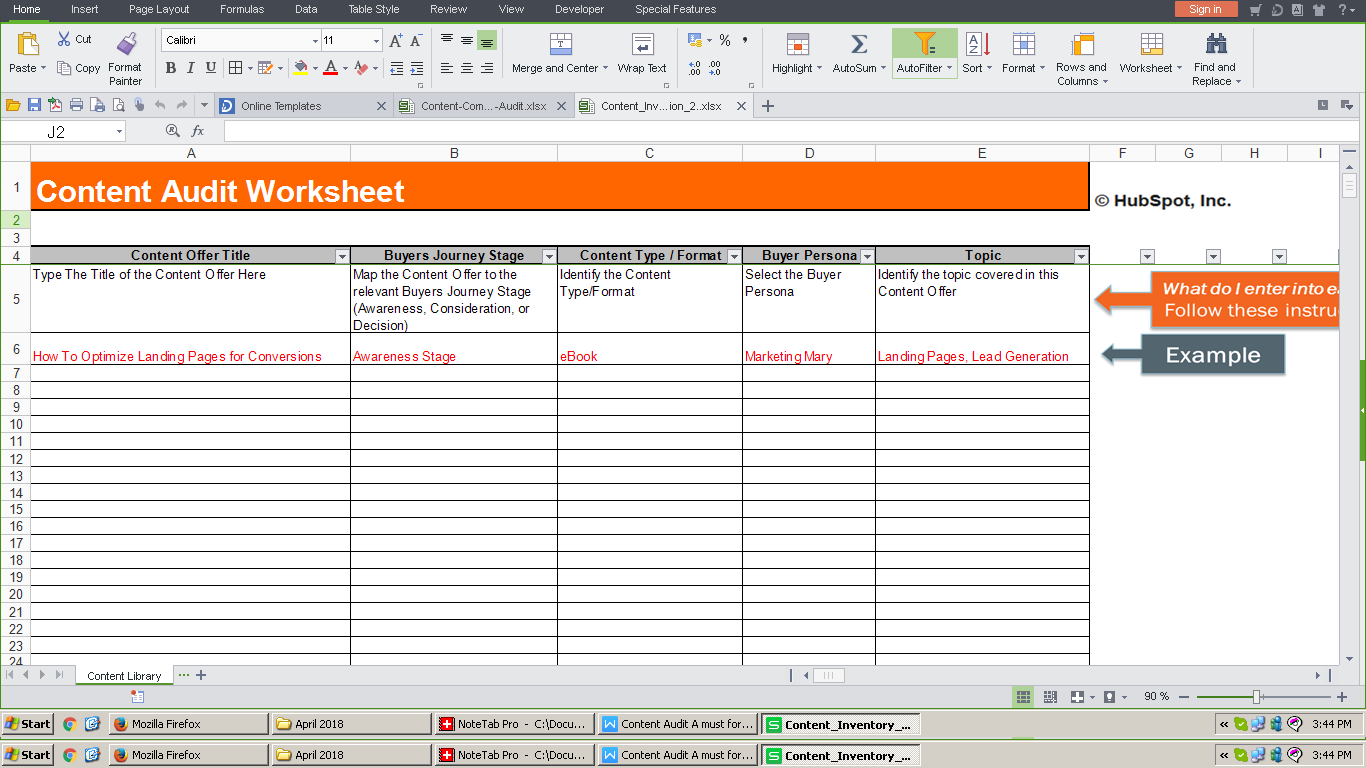 The main idea here is that you need to include information for your key metrics. That's where the power of the manual audit comes into play.
To start, look at your analytics software. Most businesses use some form of analytics to track their site stats and traffic. The most common is
Google Analytics
.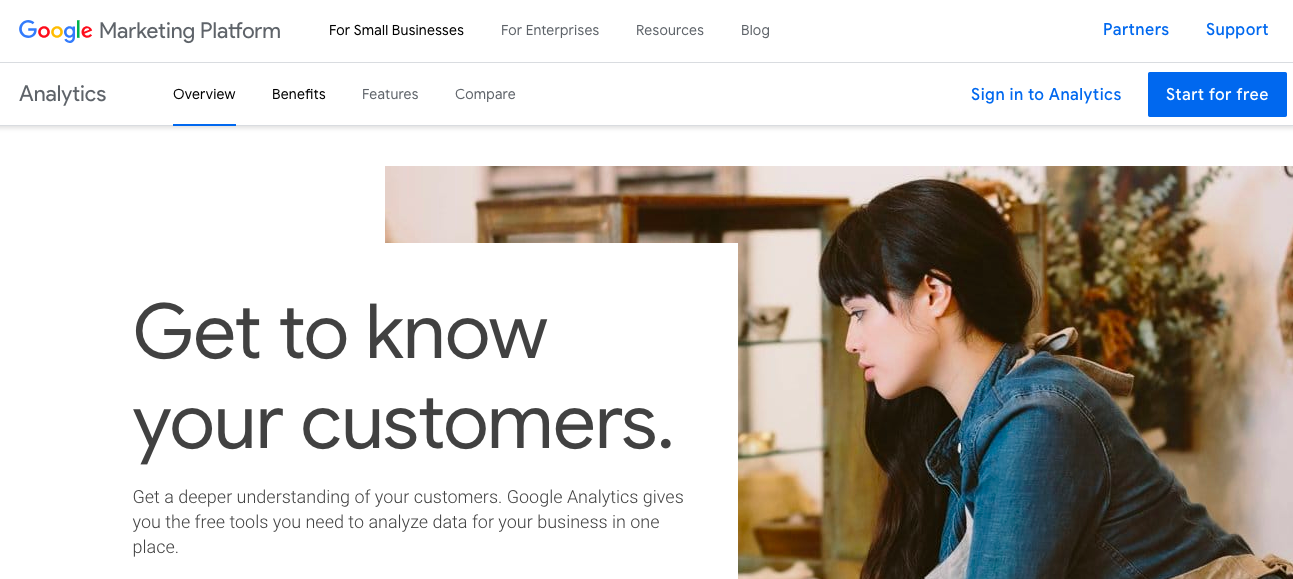 With analytics, you can see statistics like region and user type, as well as get a feel for how specific types of content interact and lead to different conversions and goals you've set up in the platform.
Another program to use is
Screaming Frog
, run by a UK SEO agency of the same name. There's a free and paid version.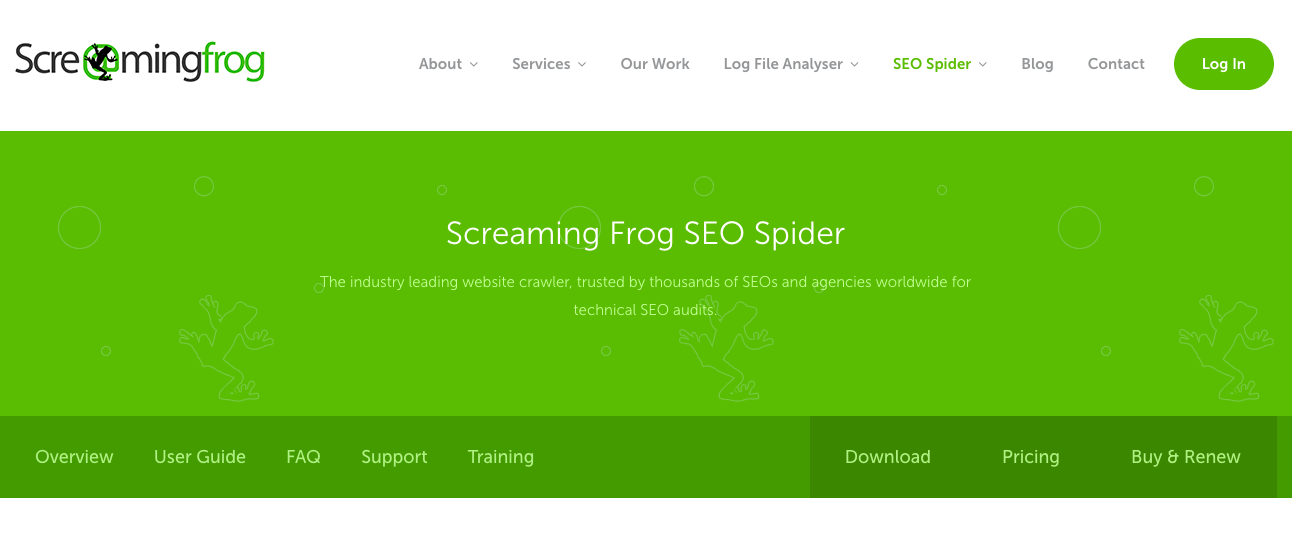 Screaming Frog can find a few different on-site data points that many other tools miss.

With the free version, you can find broken links, redirects, and create XML sitemaps among other features.

You may also have other programs you need for this step, including customer relationship management (CRM) databases, live chat data, email subscriptions, purchases, and more.

The idea is to make a customized spreadsheet that includes everything important to achieve the goals you set earlier.

Now, we'll take that information and turn it into actionable steps we can implement.

How to analyze the results

With your content audit spreadsheet complete, it's time to start analyzing the data and drawing conclusions from it.

You need to create three categories with the spreadsheet you've made — keep, update, and delete. Every article will fit into one of those categories.

As you work, keep a separate "create" list for new pieces to produce.

Here's what each category should include and how you can use it.

Chances are, the keep pile will be the smallest.

As you start inspecting the content on your site, you can notice most pieces are missing one or another best practice and you should make small changes.

But some pieces — perhaps the most recent articles or best-performing content resources — might not need improvement right now.

Not every piece will need extensive revision, but most articles and pages will probably fall into this category.
Some content will need refreshing, such as updated statistics, screenshots, or product information. You may also want to improve pieces' SEO potential with smaller updates like metadata, internal linking, or a fresh "updated on" date.
Other pieces will need complete rewrites, either because of outdated information or inaccurate references to your website as you've continued to develop and grow it.
There may also be other types of content that are perfectly fine, but need new (or improved) calls to action.
A great way to see where you need to improve your content is to
categorize it into buyer's journey stages
.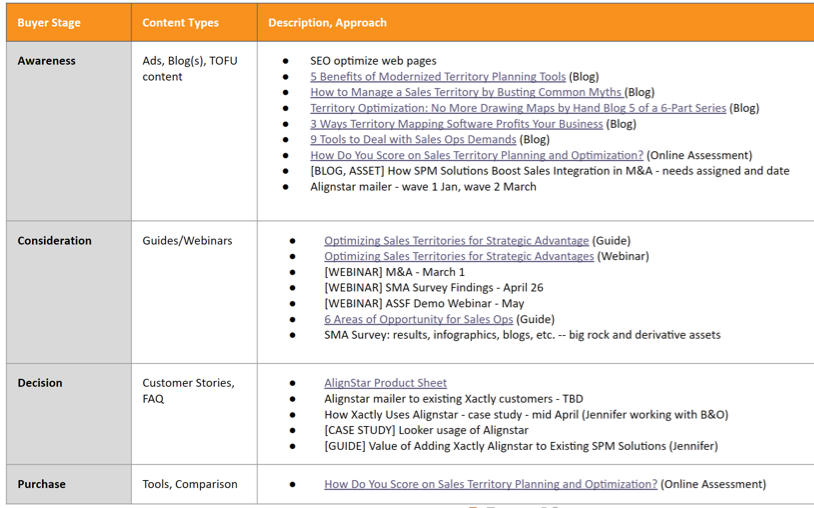 You can then pinpoint areas for improvement. For example, a piece that was originally written as a blog article for a newly-aware prospect might be too complex.

Converting it to an in-depth PDF guide for leads could improve your marketing strategy and maximum customer conversions without demanding more content generation.

There will be some pages you need to kill.

This can be the toughest category to follow through with, but removing duplicate pages, similar content, or information on old features and products can damage your site's online reputation.

Tools like Screaming Frog and Serpstat can help with duplicate content.

Anytime you delete a page, be sure to create a permanent 301 redirect to an updated version, or another page with similar content.

This allows users to seamlessly transition to a different URL in their browser, while keeping the SEO reputation of the original page.

As you analyze your strategy you can notice gaps and areas that you missed when writing the content. These are the basic components of your "create" list.
But you can also find areas where you can expand or improve upon existing content. A perfect example is creating new lead-generation forms, or lead magnets, for popular content pieces.
As an example, let's turn to the
Piktochart content audit
we mentioned earlier.
After the audit, the team realized that their top 100 articles only made up 15.8% of the total article share, yet received 89.2% of the views.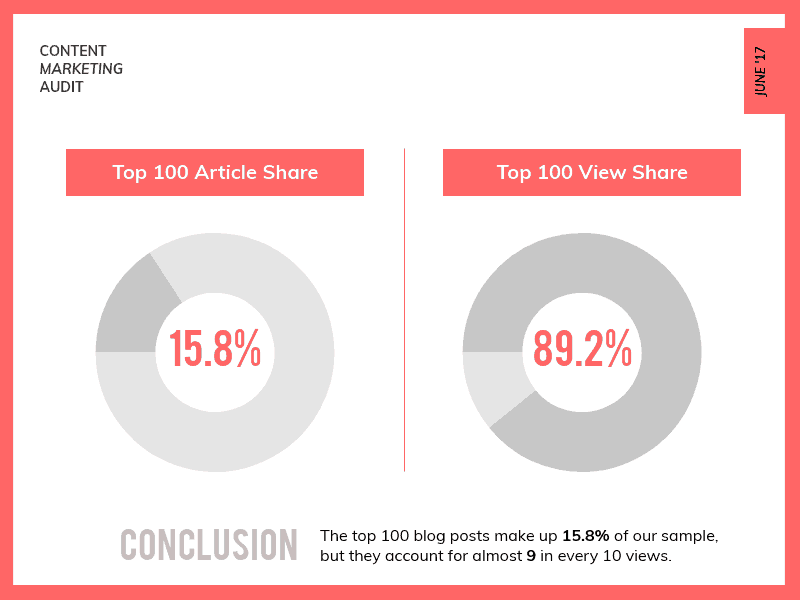 By creating a few powerful downloads or other calls to action for the top-performing articles, you can create disproportionate advantages for your bottom line without too much work.

Part of your create category should also include findings about what types of content work best and areas that need more focus.

When you're in the trenches writing content, it can be easy to miss key data. The content audit is the perfect time to find this out and realize where you have missed opportunities.

For example, some types of content may do best at generating traffic, leads, or SEO backlinks.

Piktochart's analysis mentioned earlier found that inspirational and non-product related educational content generated the most links.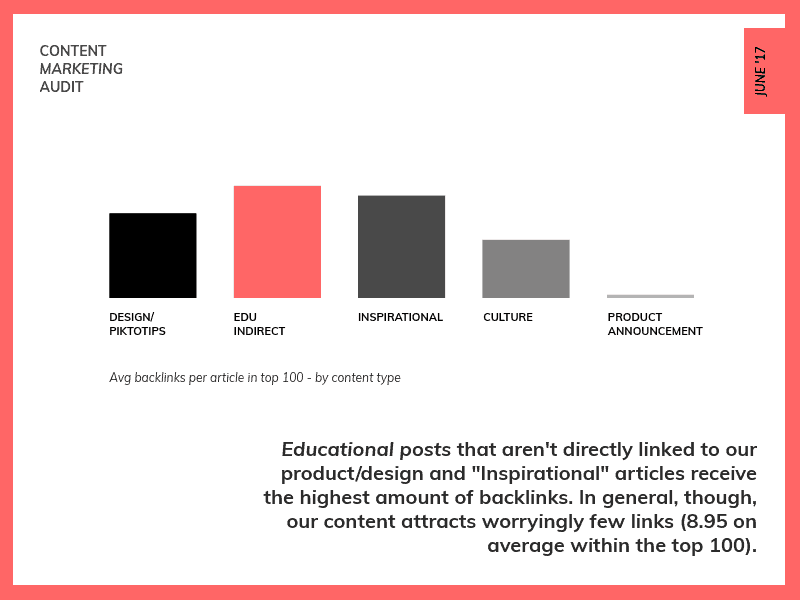 Expanding these strategies is a key component of a content audit.

At the end of the day, the areas you want to grow and improve will depend on the data and results you see in the audit.

But it starts with truly understanding what's going on behind the scenes.

No matter what marketing goals you have for your website, your first action needs to be taking a big picture look at what you've done with your site so far and where you're headed.

Once you get to that point, you can start to study where to move forward.

To start a content audit, define your goals and understand what you're looking to achieve. You can use a set of great tools to conduct a comprehensive audit of everything, not just pages or posts.

Finally, and most importantly, you need to analyze the results. It's a good idea to put all your content into one of a few buckets — keep, update, delete, or create.

You can use each category to dictate your strategy going forward. Once you've done that, you have a better feel for your content strengths as well as areas where you can improve.

And once you have a great content audit completed, the sky's the limit for the success of your content strategy.

Learn how to get the most out of Serpstat
Want to get a personal demo, trial period or bunch of successful use cases?
Send a request and our expert will contact you ;)
Found an error? Select it and press Ctrl + Enter to tell us
Cases, lifehacks, researches and useful articles
Don't you have time to follow the news? No worries!
Our editor Stacy will choose articles that will definitely help you with your work. Join our cozy community :)
By clicking the button, you agree to our privacy policy.