Serpstat API Batch Analysis Add-on For Google Spreadsheets: Data Analysis In One Click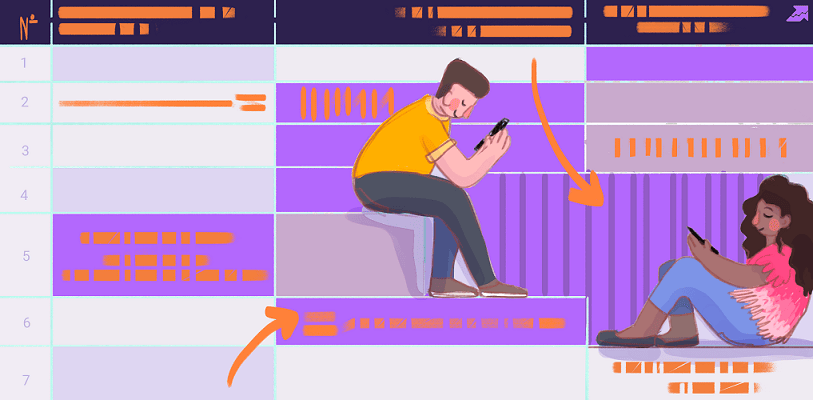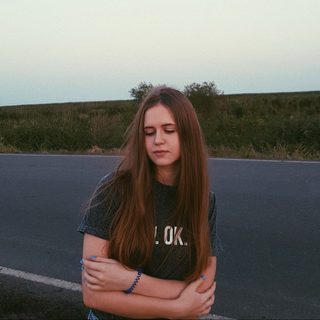 Stacy Mine
Editor at Serpstat
Our developers don't stand still on the way to improving Serpstat, so today I have another good news! Data bulk has never been easier to work with! API Batch Analysis integration with Google Sheets will report data in a usable table. It will allow you to perform data batch analysis in just a few clicks. Does it sound interesting? And if I say that it saves you 3 working days per month for just 69$? Let's discuss the details :)

I'm sure you already know that in January 2019 we presented a document which allows you to upload information from the
Serpstat API
.
Many users appreciate the convenience and functionality of the document. That's why we decided to release a new version with advanced features. Serpstat API Batch Analysis for Google Spreadsheets was created to simplify and automate the work with analytical information. You can get information about domains or pages, grouped in separate tabs of Google Spreadsheets in just a few clicks.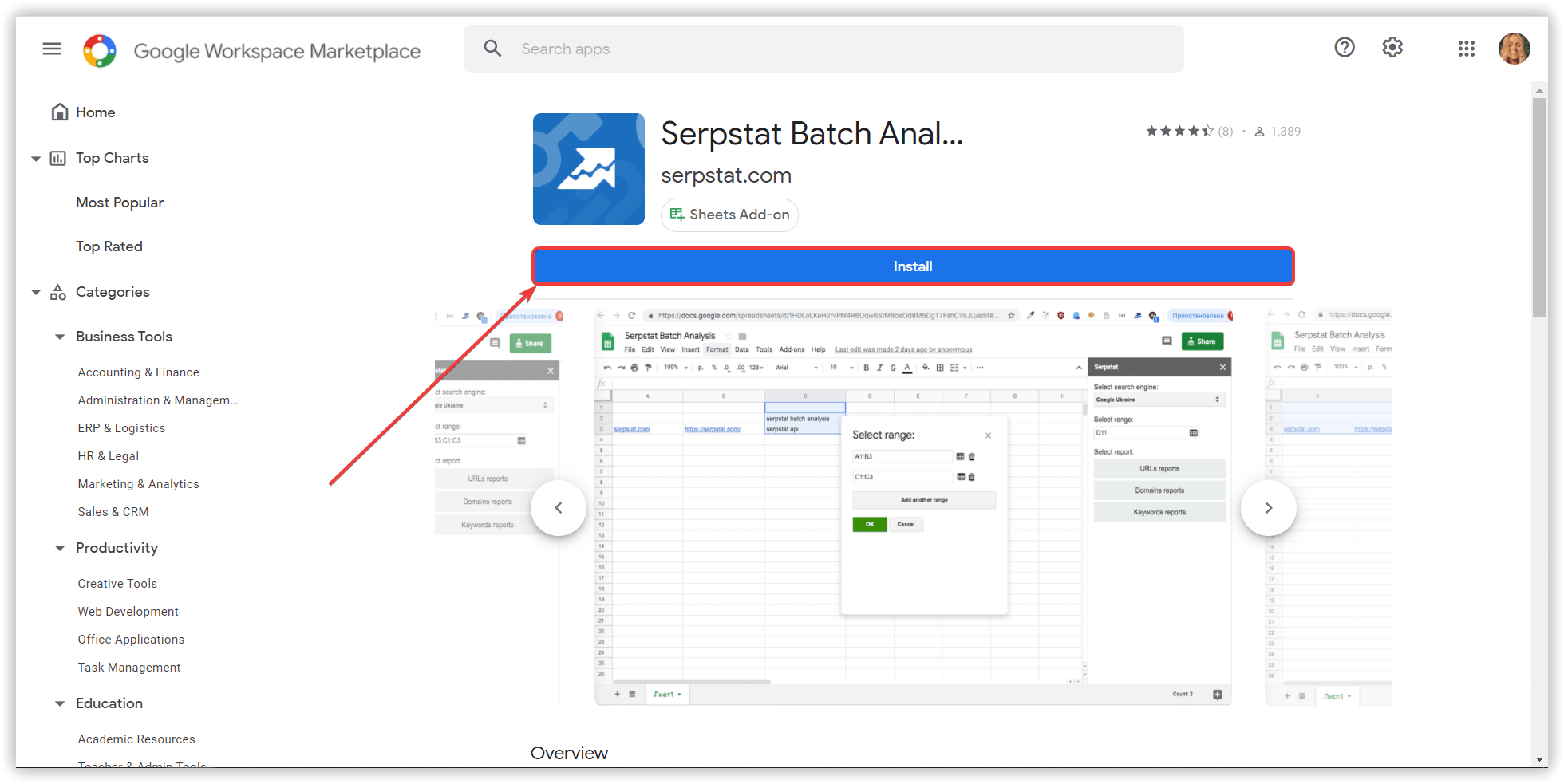 Next, go through a short authorization with your Google account:

Go to the Extensions section and select
Serpstat Batch Analysis
. There are two buttons in the menu:
Create report
and
Settings
.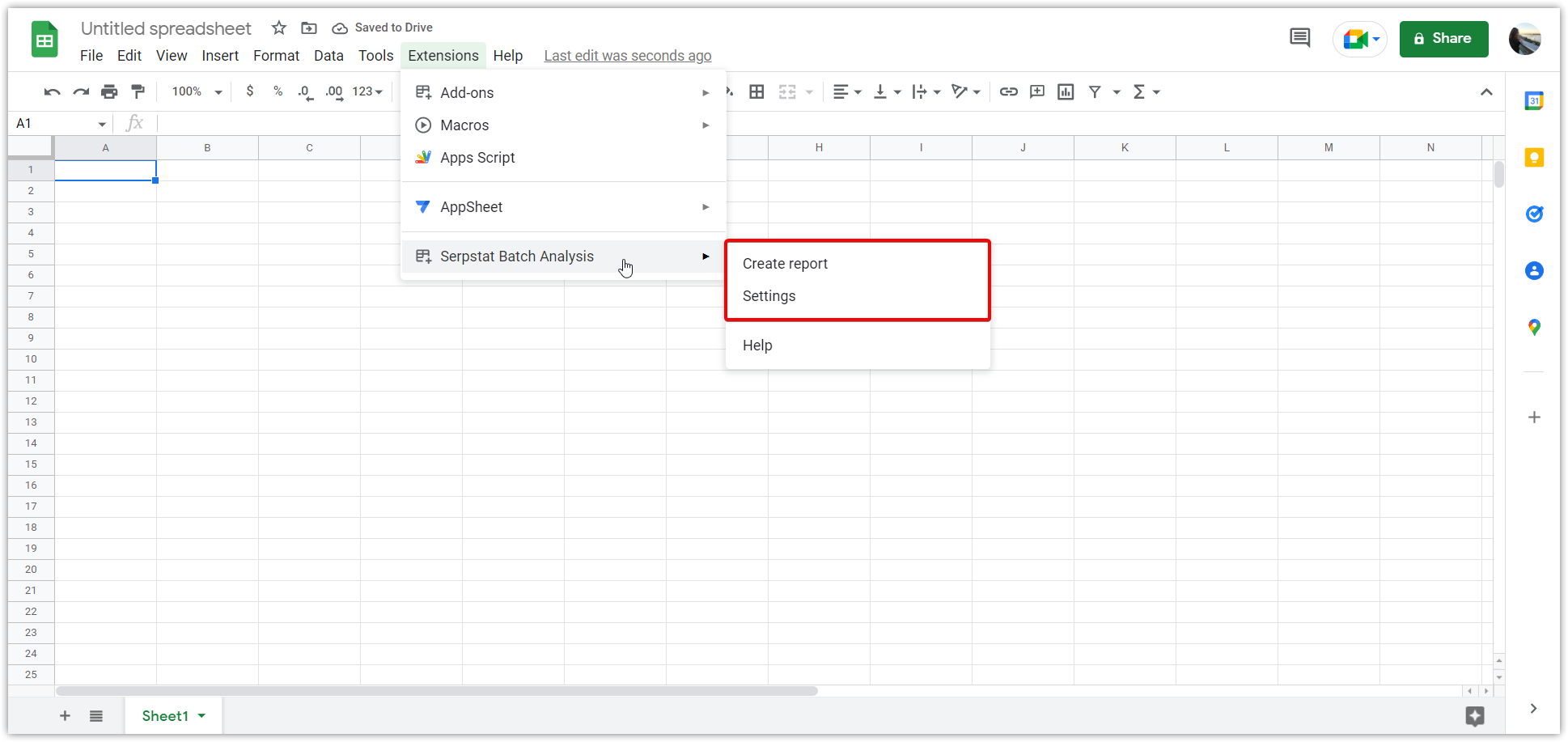 To use the add-on and generate the necessary data, you need to copy the API key (token) in the
personal profile
and enter it into the appropriate field. After that, you'll see a sidebar.
Important! The sidebar won't be opened until you enter a valid token.
The Serpstat API
is a way of collecting data that helps to immediately get massive volumes of data without using the Serpstat interface. It also allows you to integrate Serpstat analytics into your internal tools.
The Serpstat API includes
Website Analysis
,
Backlink Analysis
,
Keyword Analysis
,
Rank Tracker
and all the described methods allow you to get data on these modules.
Serpstat API is well-liked among our clients. Such businesses as
Flatfy, WebXpage,
Accesstrade
are already using Serpstat API to approach their goals.
Serpstat has very reasonable API prices. We reach such low costs because we have made our product just recently compared to competitors and with new technologies to make many features cheaper.
You can use the API as part of your plan with the following features:
In the menu on the right, you are to:

Select a search engine.
Choose a regional database for which you want to get a report.
Select a cell range.
It displays the cell value in which the cursor was placed by default. It must be set manually.
Important! Data must be entered using A1 notation.
To change the range, select the desired cells in the table. Click on the icon near the corresponding field to save the changes.

If you need to select multiple ranges, click "Add another range". You can seperate ranges by commas in the right menu.

Important! Enter the information for the analysis only in the specified range.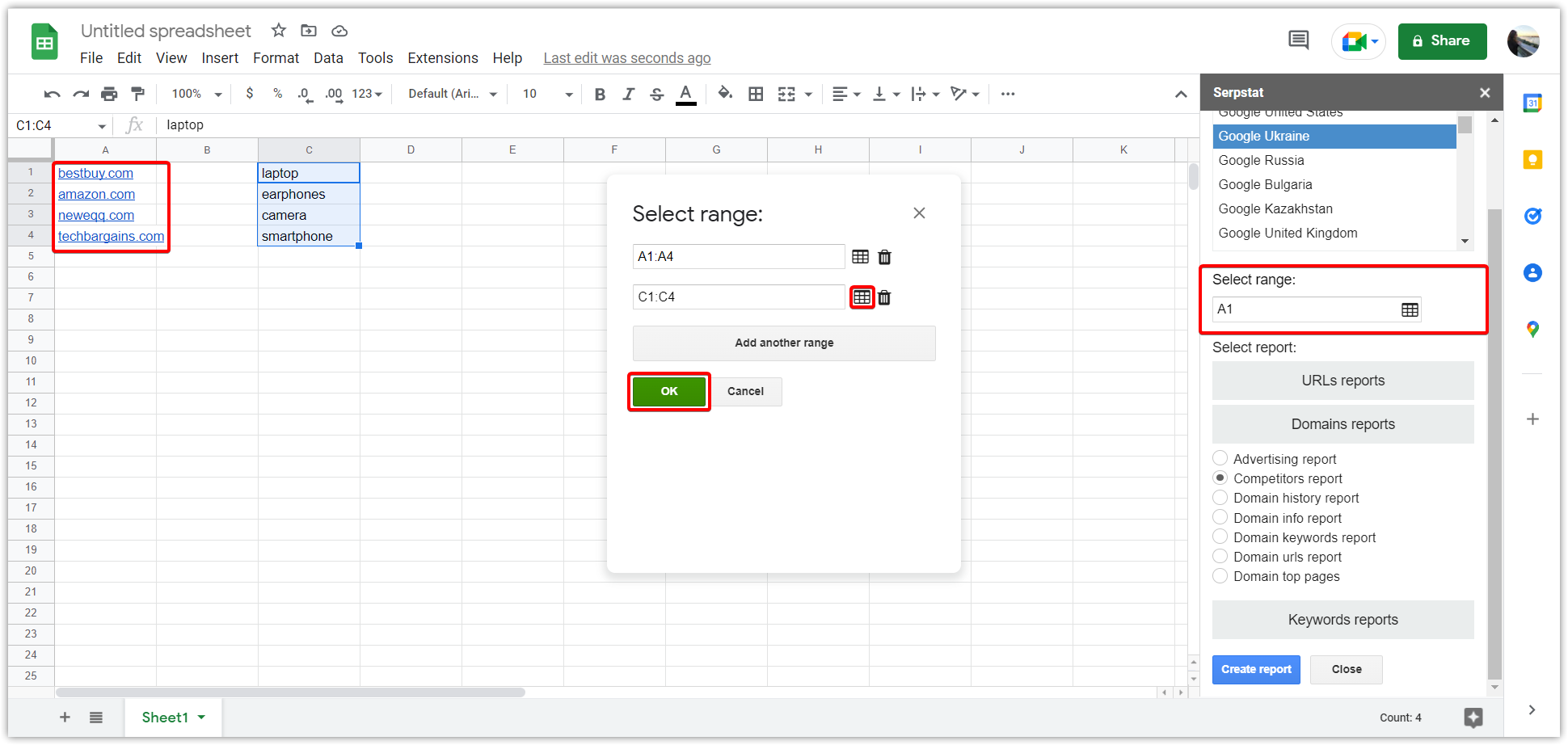 Select a report.
Choose the API method for which you need to get data. After that, filters will be opened (if they are provided for this method). Set up the filters and click Create Report.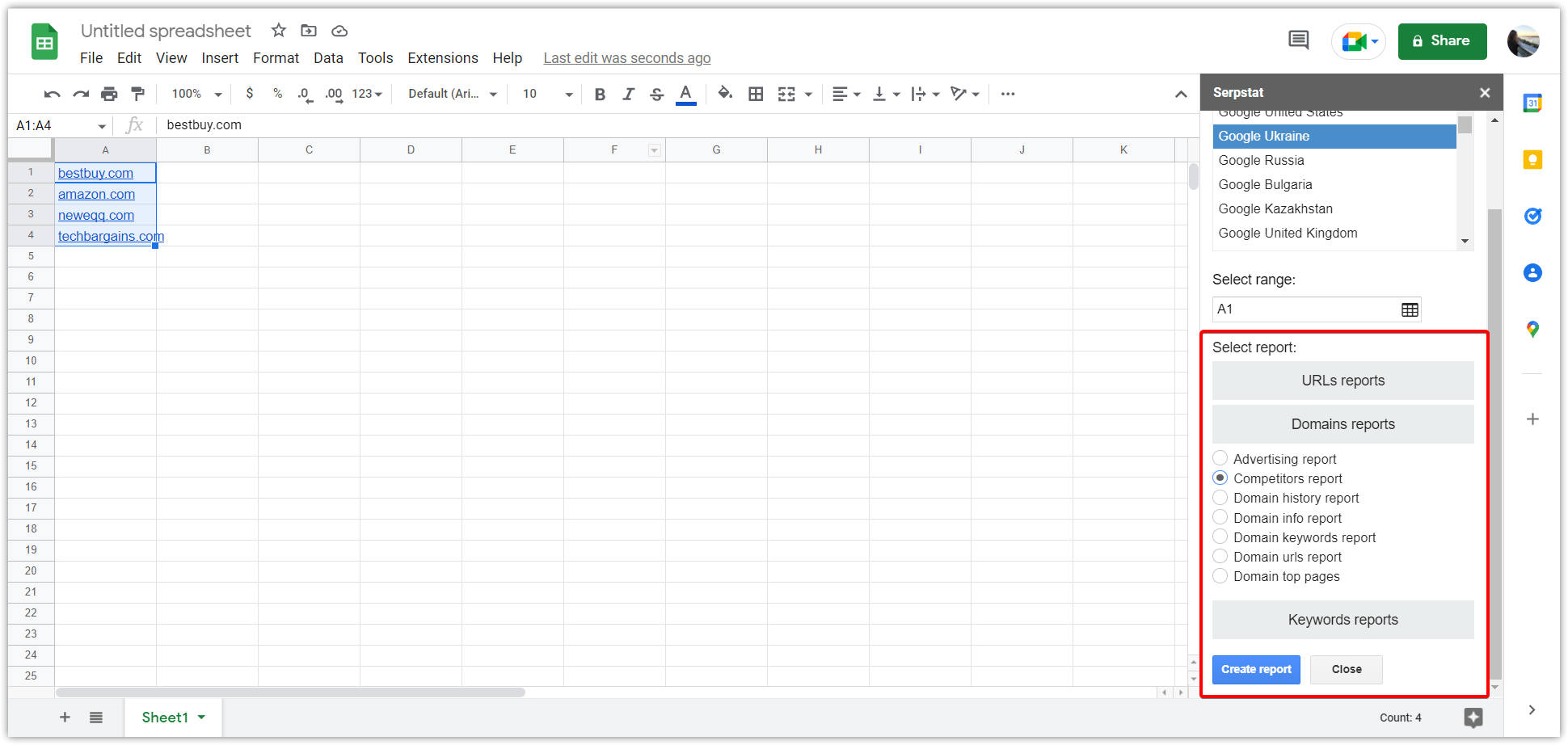 The report will appear on a new table sheet: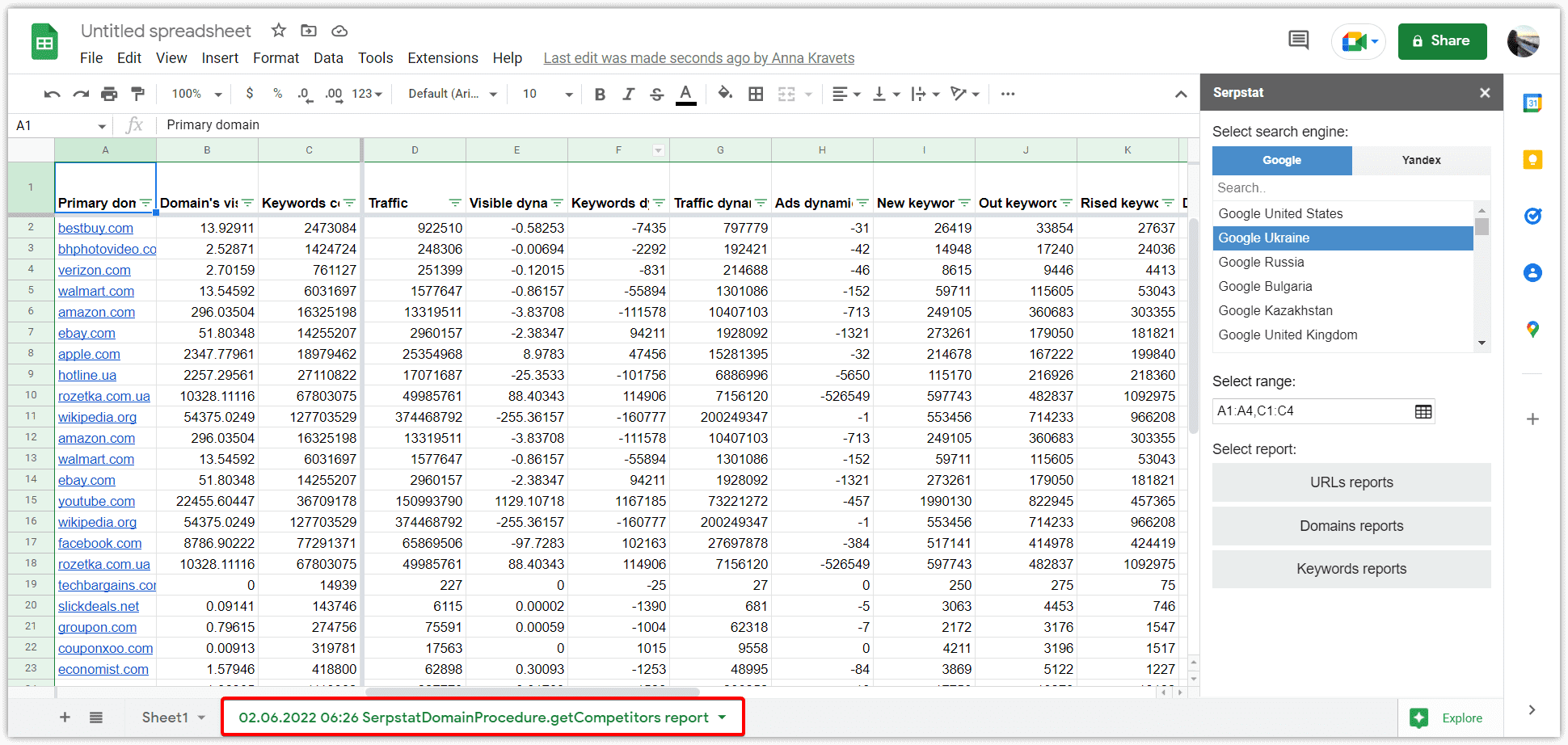 API credits for Serpstat API Batch Analysis

To get data using the Serpstat Batch Analysis add-on for Google Spreadsheets, you need to have:
To create reports using the add-on, you need to check max number of API results to be exported: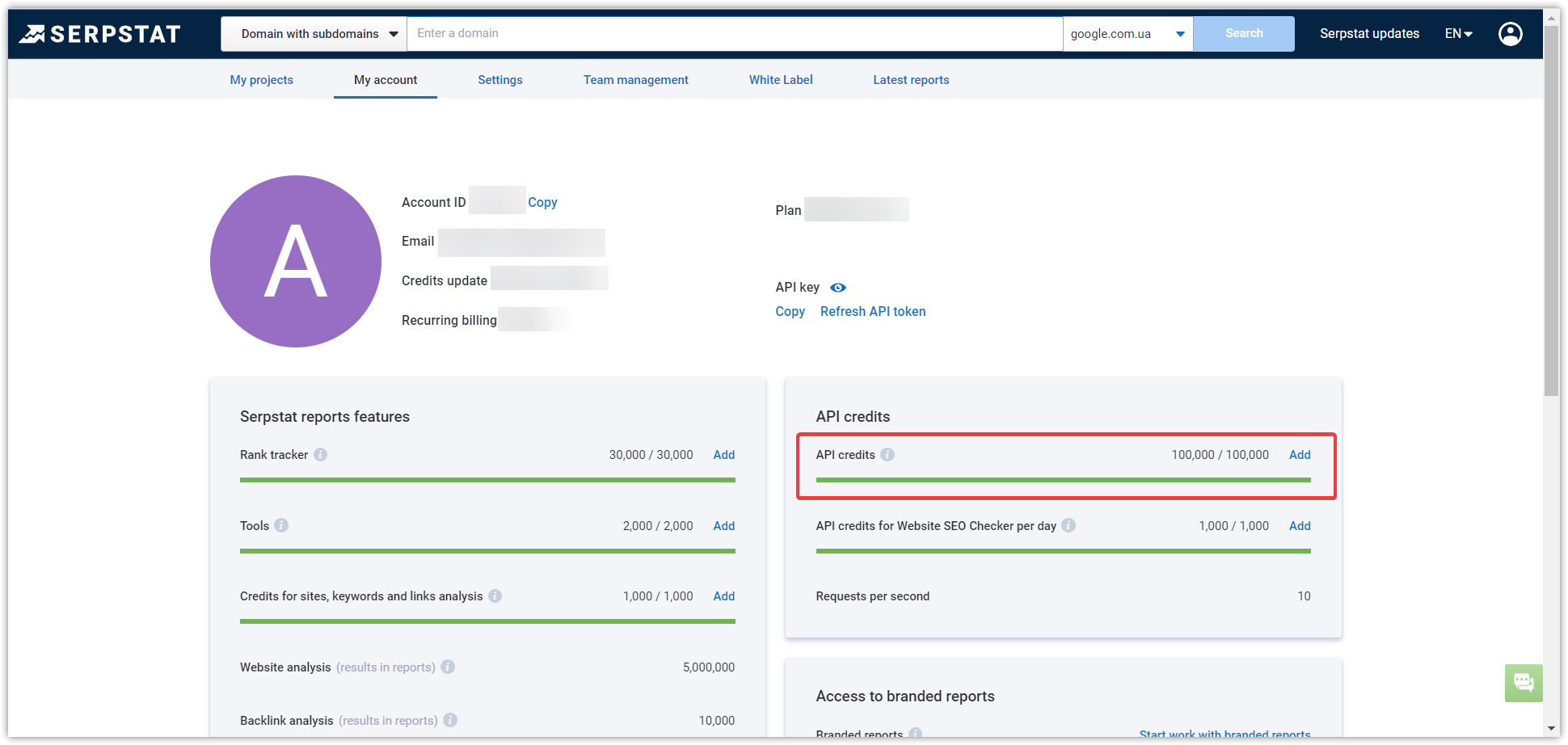 API credits are spent according to the following formula:
1 domain / 1 URL / 1 keyword = 1 request.

If you don't have API access, please
reach out to us in chat
or
contact our team by filling out the product demonstration form
.
API Batch Analysis
add-on for Google Spreadsheets is a unique tool that allows you to conduct data batch analysis quickly and easily. In combination with the Serpstat API, the add-on offers advanced capabilities for analyzing competitors.
To upload data with the Serpstat API, you need to:
Have a valid Serpstat account.

Set up the document according to the instructions.

Speed up your search marketing growth with Serpstat!
Keyword and backlink opportunities, competitors' online strategy, daily rankings and SEO-related issues.
A pack of tools for reducing your time on SEO tasks.
Found an error? Select it and press Ctrl + Enter to tell us
Cases, life hacks, researches, and useful articles
Don't you have time to follow the news? No worries! Our editor will choose articles that will definitely help you with your work. Join our cozy community :)
By clicking the button, you agree to our privacy policy.