Free AI content checker
Looking for a reliable AI-driven content detection tool?
Try it for free with the set of other AI and SEO marketing tools!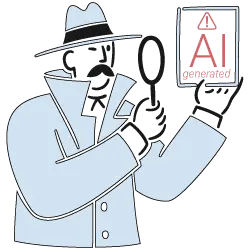 AI content detection advantages
● Realize if the text is AI-generated in a single click.
● Compare the percentage of handwritten and AI-generated text in your content.
● Find out if the editor uses AI tools for content creation.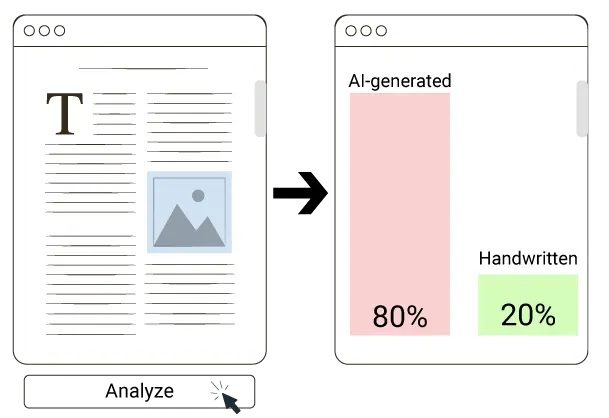 Trusted by






How to use an AI writing detector?
 ● Generate Serpstat API token.
 ● Paste your text into the window and press the "Analyze text" button.
 ● Get results in a few seconds!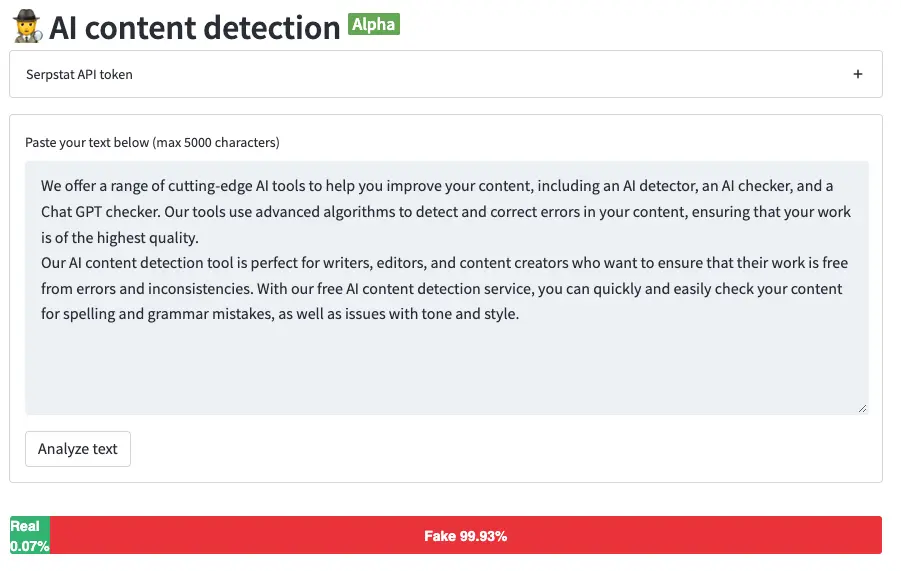 Read more about AI tools

Find the right data using
1 trillion
links in Serpstat's index
4.7 billion

keyword suggestions

230 regions

for Google search results

Our beloved and thankful customers rate us highly

FAQ about AI recognizing tool

Can I recognize if text was generated with Chat GPT?
In most cases, it is difficult to tell whether the text was generated with Chat GPT without using AI content detection tools. However, if the text appears unnatural, overly repetitive, or does not accurately capture the context of the conversation, these are potential signs that it has been generated with Chat GPT.
Who needs AI content detection?
AI content detection can be helpful to a variety of businesses and organizations, including:
content marketing teams who need to ensure that the content they create is accurate and up-to-date;
data analysts who need to find relevant information from an extensive database quickly;
social media managers who want to detect and remove inappropriate content or spam;
publishers and media companies that need to see copyrights and harmful content for their publications automatically;
lawyers and paralegals who need to find incriminating or vital information quickly from a large document database;
law enforcement officials who have to detect and classify suspicious content quickly.
How does AI text detector work?
AI text detection works by leveraging deep learning algorithms to analyze a given image and identify the text from the image. The AI classifier then looks for specific features within the image that indicates the text, such as shapes and/or patterns within lines and curves in the image. Once the classifier has identified the text, it uses Natural Language Processing (NLP) technology to analyze it and generate a text transcript. You can use the transcript to process the text further to extract additional information, such as keywords, entities, or other details that can be used to automate tasks.
Can I use AI-generated content detector for free?