SEO

–

22 min read

–

September 1, 2020
How To Avoid Unfair SEO Specialists: Why You Should Control The Work Of Your Team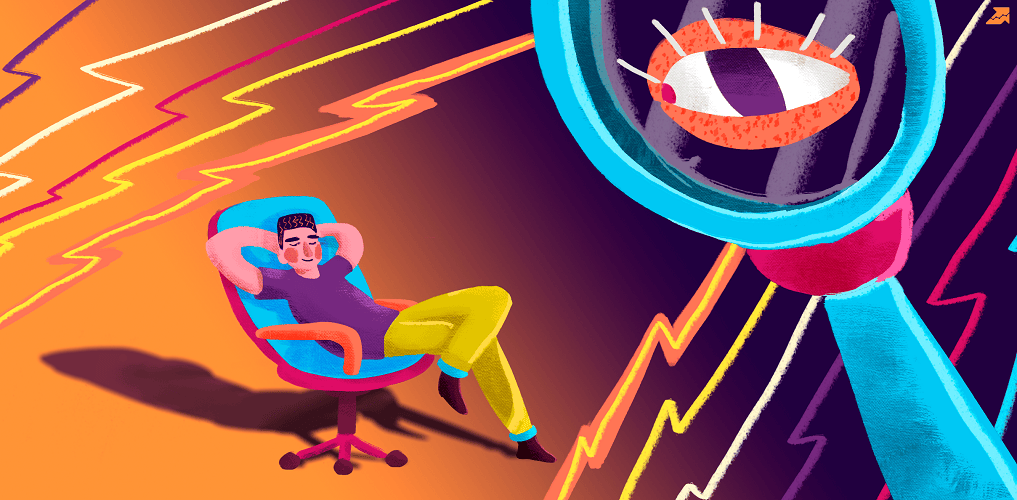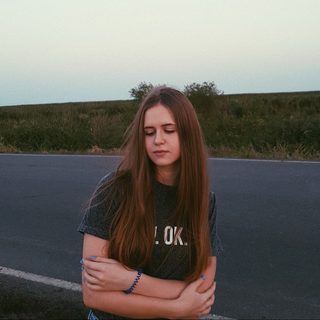 Stacy Mine
Editor at Serpstat
SEO experts are the magicians who make your site appear higher in search results. But the customer often faces a complicated task to understand who he deals with — an honest specialist or a fraud. There is a huge number of business owners who could waste hundreds of thousands of dollars a year on SEO and end up without any results. How do you know that your vendors are honest?

SEOs help you improve the interface and content of the site and ensure that it meets the requirements of search engines. Earlier, when the SEO area just started to develop, SEOs used methods of artificially increasing site traffic: buying links, building PBNs, and much more. Now the industry is becoming more transparent and simple.
Google has recommendations on optimizing sites to rank higher in search results. According to Google, if the site meets its requirements, it will be visible to users. But algorithms of the search engines are constantly changed, and techniques that worked a week ago, may already be irrelevant because the search engine could change the algorithm. And no SEO, even the most experienced, knows for sure how Google algorithms work.
Let's look at several cases that dishonest SEOs use to deceive their clients.
This scheme works like this: SEO leads your project and
receives payment for each client who leaves a request on the site
. This cooperation is unreliable for both the customer and the contractor because the SEO can hire people who pretend to be potential customers — call the company or leave the application on the site. You will pay for the lead, but won't receive any sales.
In this case, you need to
wait for 2-3 days and contact the people who left an application on the site
, but didn't buy anything. Remind the client that was interested in your product but didn't buy it, and ask about the reason. If it is a real customer, he will remember and answer something. If he's confused, and there are dozens of such cases, most likely, you are being fooled. The surest way to avoid cheating is to never work for leads.
One of the most common ways to deceive a client is
to offer to create a blog and put the necessary links in the articles
. They say that it increases pages' reference weight and improves site position in search results. Now, this method works only if your content is relevant and of high quality. If the blog has so-called SEO texts, the site will drop in search results. If your content and links are useless, the algorithm will think that you want to manipulate the search results.
You should remember that
useless content only harms the site
, and vice versa: a blog, which is led by experts in their field, will be useful for people and will improve site position in search results.
This is an easy and quick method to steal a project. An SEO agent claims that he
checked your site and found errors that seriously harm it
, and your experts are incompetent. Then he offers his help and a contract. You agree, but in fact, there are no errors at all, or they are not as terrible as the manager describes.
How to recognize and what to do. If the manager showed you the errors and didn't explain which of them are critical and why this is so, you should suspect something.
Consult with your specialists, order an audit from another agency or do it yourself using, for example, Serpstat SEO Audit
. It will show you the types of errors, how critical they are and recommendations on fixing them.
Sometimes SEOs don't include specific works, search queries, desired results, and deadlines in the contract
. Instead, they use vague wording and tell you that they work on promotion or contribute to finding the site in the top of the search engines. Next, you find out that your site doesn't appear on the first page of search results. Then they tell you that the search engine changed the algorithms, and they are not responsible for the actions of third parties. Finita. Managers make bold promises: for example, they guarantee that in six months your site will enter the top 10 positions for your requests. But these promises are not stated in the contract.
Suggest your agency to include position tracking in the contract to avoid these problems.
You can use Rank Tracker to monitor your positions daily and monthly to see the efficiency of the work of your vendors
. You can
read more about Rank Tracker
and see how to track keywords in paid search.
What's worth being in the contract:
List of keywords
, which they will use to promote the site.
Expected result
— for example, the site will enter the top 10.
Works that are planned.
Often they are drawn up with an additional agreement, because the site is first audited, and then it becomes clear what work it needs.
Deadline
. You cannot promise a result, but you can ensure that work aimed to help with achieving the result will be done in time: developing and implementing a new design, product filtering, and other features.
Our specialists will contact you and discuss options for further work. These may include a personal demonstration, a trial period, comprehensive training articles, webinar recordings, and custom advice from a Serpstat specialist. It is our goal to make you feel comfortable while using Serpstat.
SEOs can offer you to
promote your site by worthless requests
, e.g., "buy cheap flower pots in New York at night" and "buy cheap high-quality flower pots London". If you study them in detail, it turns out that almost nobody searches for them, and you will be in the top for requests that bring no customers.
You
need to be sure that your vendors choose keywords that are relevant to your business
. Check their volume, difficulty, and relevance. You can do this with the help of Serpstat Keyword Research. In this report, you can check keyword volume, i.e. how often people search for this service for a specific request. Besides, the keyword report will show you keyword difficulty — how difficult it is to appear in the top 10 with this keyword.
A company with a head office in a big city opens branches in smaller towns and
hires sales managers who only sign contracts with customers and accept payments
. Nobody plans to optimize your site. There's no secret that you won't reach success. Fraudsters expect the company won't going to sue for a little money. And the site itself can somehow go to the top, the internet is unpredictable.

If you ask your SEO what kind of work he does on the site, the fraudster will name the task that is invisible to the average user
. For example, changes something in the code or optimizes tags. These are short-term tasks, they can be completed in a week. If a specialist spends a whole month on it, this is suspicious.
It can take more than a week to correct critical errors — for example, if the site doesn't withstand a large number of users, and expert optimizes database queries. You can check types of errors using a site audit. The place of the site in search results depends, among other things, on how user-friendly it is. Therefore,
be alert if there are no recommendations from SEO that affect the design and interface of the site
and correct critical errors.
Serpstat is now actively developing tools to automate processes and manage projects. We strive to collect everything you need for your work in one place. And now you can not only export search analytics data, monitor your competitors and analyze backlinks, but also run your team.

Meet Team Management mode that will bring you such benefits as:
Process contro
l:
as a team lead you'll be able to monitor your team's projects, including SEO errors the audit found, the number of external links, the client's position in Rank Tracker, etc.
Security
: don't be afraid to add other accounts — they'll receive limited rights. They won't be able to delete accounts or change profile settings.
Credits control
: as an account admin you'll be able to monitor how credits are spent, who uses them and how much they use. Only you can prolong plans, change profile settings, and delete and add new team members.
One of the oldest cheating methods is filling your site with SEO texts
. These are unnatural texts, which often repeat keywords by which the client wants to promote the site. The specialist explains that robots need these texts to index your site better and put it higher in search results.
Google says that such methods of promotion are undesirable because SEO texts are useless for people. Panda algorithm recognizes such texts, regards them as a violation and punishes the site.
So just don't write SEO texts. If they already exist, remove them or replace with useful, relevant and high-quality content
. You can use
Serpstat Clustering and Text Analytics tool
to check the quality of your texts. Analyzing the reasons for the low text relevance is a complex task even for experienced SEO specialists.
An SEO offers the client to
buy links which will lead to his site
as it will increase the credibility of the site because it will be more often referred to. But this approach brings links that users don't follow: they become spam.
Link building is your friend on this stage
. Everybody knows that link building is one of the main things in SEO. It's a complicated and time-consuming process but it allows you to get real relevant links that will not only boost your SEO but also attract additional traffic on your site.
Serpstat Backlink Analysis may be handy — you can check referring domains and pages, link type, trust rate, and many other features. Moreover, you can
use it via API

.
Cheating with user signals

SEO specialist offers the following:
a client pays money for every visit to his site
. A visitor finds the client's site, orders something and leaves. The search engine considers this user behavior as a good signal — after all, the person found the product and no longer looked for it. Over time, the site will go up in search results.
But the search engine will know that you are cheating: your site will be banned and disappear from search results at all.
The only option is to
ask for a detailed report
to see what services are used. Check the list of services provided and look for something like: "creating visitors on your site that will leave positive signals." This should be avoided. Some experts warn the client about the consequences and still offer to take a risk. If you find yourself in this situation, remember that you risk your business.
SEO expert of Netpeak Agency Elena Voskoboinik shares with us her opinion on what reports should an SEO agency provide to a business owner:
At the very beginning of your cooperation, be sure to agree on the format of monthly reports with the contracting company: contents and deadlines. Ideally, the contracting company should hold a briefing at the beginning of the cooperation and ask the
following information
:
Current traffic, revenue, percentage of sales by phone
Recent changes in the site and their results
Your business goals/expectations of the cooperation, what would you like to achieve as a result, for example, the expected percentage of traffic growth or sales over a certain period.
If they didn't ask you such questions, you should suspect something.
I would divide the further reports that should be required from the contractor into two parts:
report on the work performed
and
report on results
.
Why do you need to separate them?
Because sometimes there are no results due to different reasons — seasonal decline, stagnation in the niche, etc., and then the only way to make sure that everything works is to check plans for the project and the percentage of their implementation.
Report on the work performed

The report is provided every month and includes:


The list of tasks that were completed during the month
List of tasks scheduled for next month

A good practice is when the contractor shows the volume of tasks for the next month (plan), and shows the percentage of closed tasks at the end of the month.
At Netpeak, we use the Personal Account (our own development), where experts write reports on all completed project activities. Comments are sorted in chronological order, that's why they allow 24/7 access to information on how the project is going. Also there are documents with monthly work plans and status of their implementation.

In these reports you may use the following KPIs:

Main:
Additional:

It is desirable that the monthly report is shown in comparison with the first month of cooperation and previous reporting month.
Organic traffic
is the number of sessions from the Organic Search channel. It is essential to analyze statistics from this channel, and not from the entire site.
You can also see this data yourself using Google Analytics.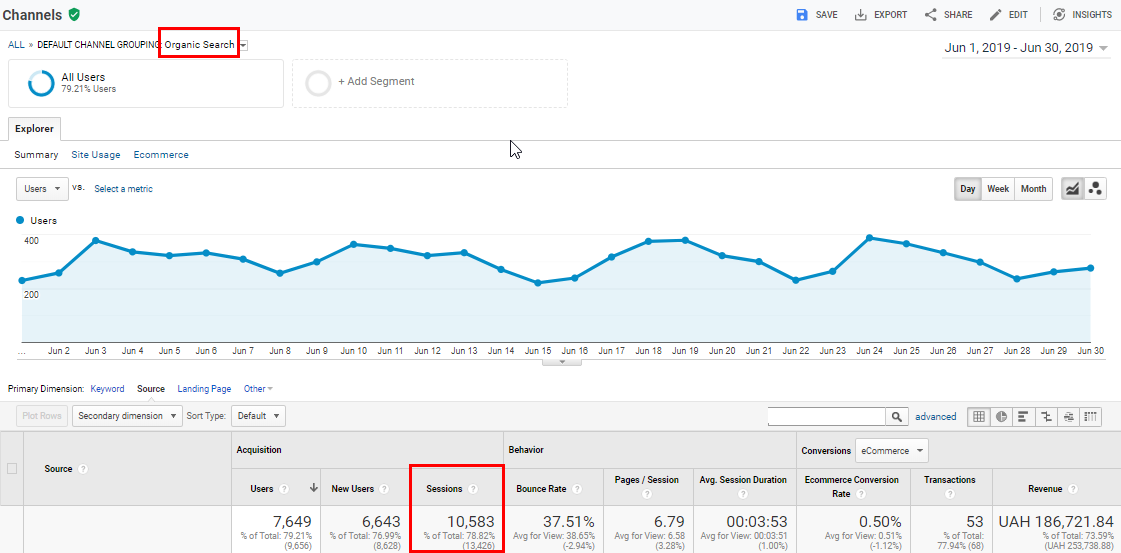 The number of conversions
is the number of targeted actions performed from the organic channel. For example, the number of purchases, registrations, subscriptions to the newsletter. You should set up goals to track the number of conversions for a project in Google Analytics.
There are site positions on the semantic core, i.e. by the pool of requests that specialists work with to promote your site. Sometimes companies use formulas like
site visibility
to calculate one indicator and track it from month to month for quick comparison.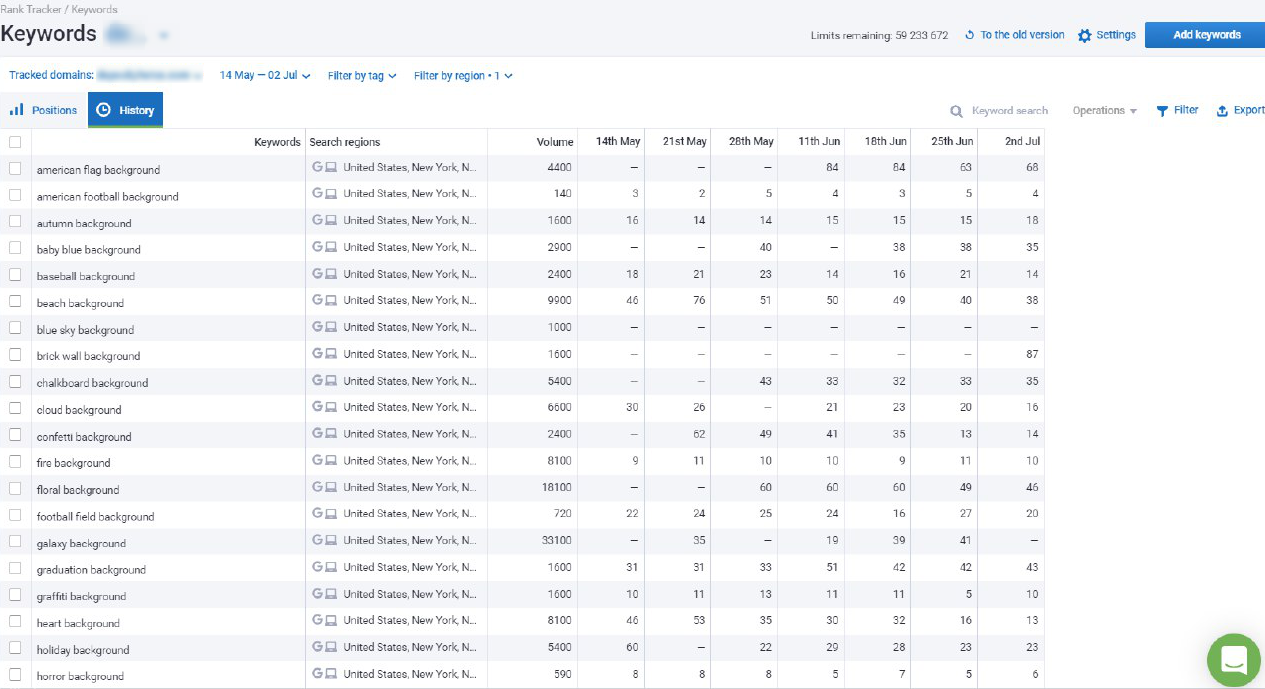 Here you should understand that no one can guarantee the fixation of the site for a specific keyword and that position volatility is absolutely normal because search results are continually changing.
Another thing is when most requests shift by -10 and more positions — then you need to sound the alarm.
Pay attention to the
dynamics
. Positive dynamics means that the site ranks better in search. Sometimes there are sharp falls, and it's not a specialist's fault. Don't panic — perhaps it's just an update of the service database, as indicated by the mark.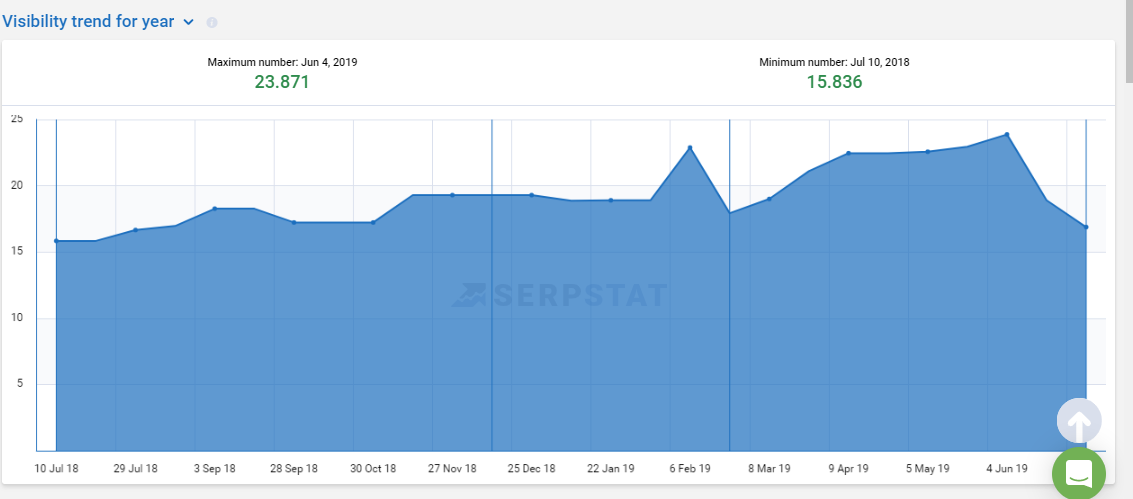 Behavior factors
are indicators of user activity on the site, which generally show the involvement and interaction of the user with the site. These indicators include:
Number of pages viewed per session
You can check these indicators in Google Analytics: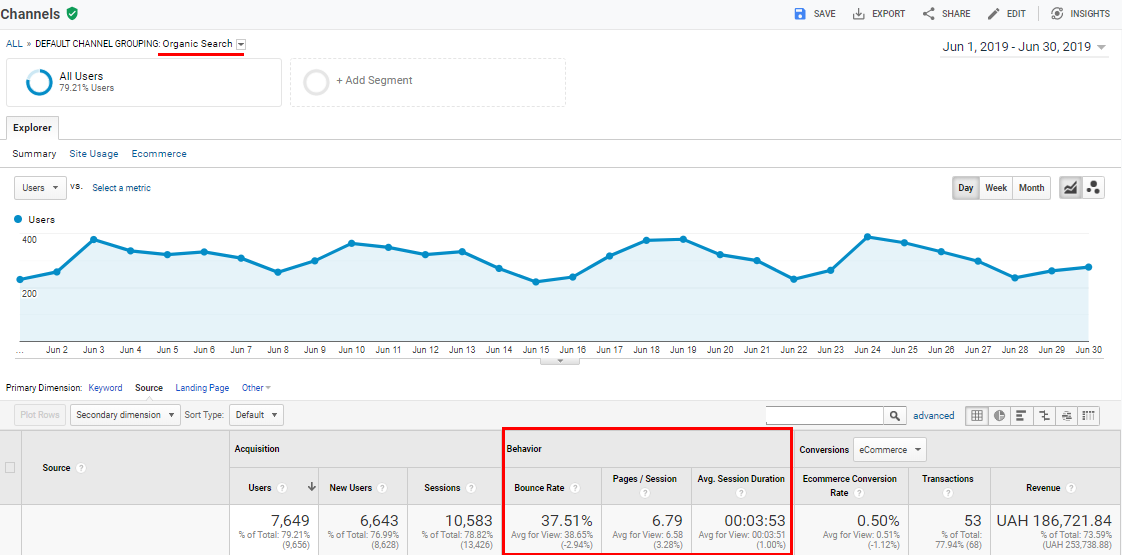 ROI
is an indicator of return on investment. It cannot be used if the majority of sales are made by phone or offline, so it is not suitable for all types of business and very often doesn't reflect the real situation of payback.
This indicator counts more or less accurate data if you have an online service and all orders are taken into account through it or if you have an end-to-end analytics system that collects statistics from all possible sources.
Which KPIs will be more objective depends on the project
; for example, if you have an online store, it will be logical to track traffic from the organic channel and the number of sales, and if you have a SaaS business, user registrations will be one of the metrics. If you are a blog owner, your main KPI will be traffic and the number of newsletter subscriptions.
The format of the reports is different.
There are many different tools, e.g.:
Customized dashboards in Google Analytics
Their developments which collect data into one place
Each company sets up reports in a different way. For example, our reporting is collected from various sources and stored in the client's Personal Account.
A sample report with KPIs for the project: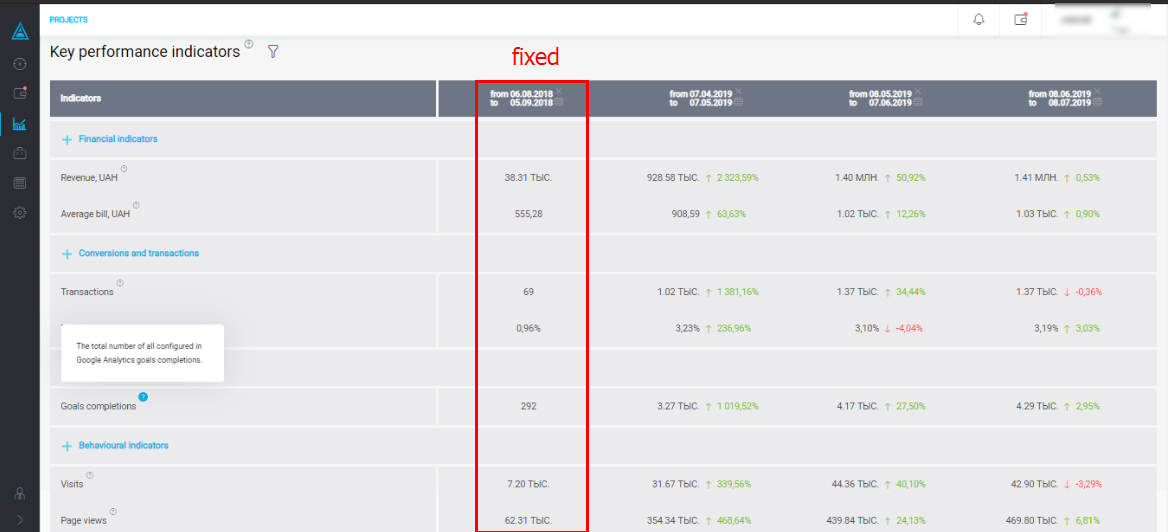 Search engines help indicate which SEO methods harm the site and which don't.
Good SEO specialists are careful with promises.

It is necessary to approve the list of works, their cost, the deadline, the expected result and the list of keywords.

All work on the site should be useful to customers and meet the requirements of search engines.

Cheating and SEO texts are evil.

Any attempts to cheat the search engine will lead to money loss. Even if there is a loophole now, it is likely to be fixed in several months, and the site will get banned.

It is better not to work for leads.

We don't want to offend anybody. We just want your cooperation to be transparent and honest.
This article contains the personal opinion of a specialist on
white label website audit tool
. If you also have an opinion you want to express, write us an article or leave a comment below :)
Speed up your search marketing growth with Serpstat!
Keyword and backlink opportunities, competitors' online strategy, daily rankings and SEO-related issues.
A pack of tools for reducing your time on SEO tasks.
Found an error? Select it and press Ctrl + Enter to tell us
Cases, life hacks, researches, and useful articles
Don't you have time to follow the news? No worries! Our editor will choose articles that will definitely help you with your work. Join our cozy community :)
By clicking the button, you agree to our privacy policy.