News

–

7 min read

–

April 26, 2019
Serpstat Multi-User Mode: One Account To Manage Your Teamwork
Update April, 2019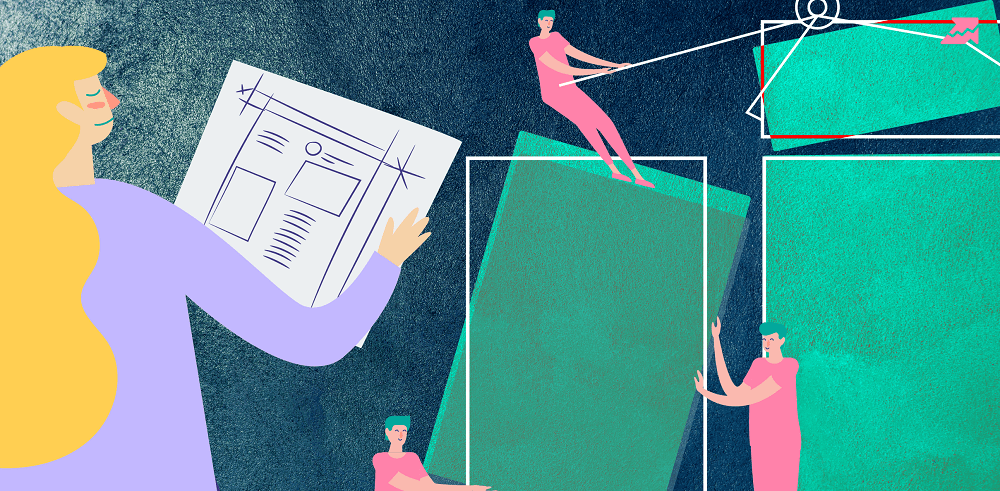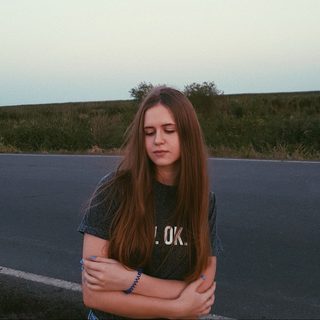 Stacy Mine
Editor at Serpstat
Good news for all those who work at agencies, in-house or just use Serpstat along with their team — we've launched our Team Management multi-user mode!

Now it's easier for you to assess your team's work, distribute plan limits, control
Checklists
, receive reports and much more.
In this post, I'll tell you more about Serpstat
Team Management
, how to set it up, what subscription plans can use it and what to expect. Let's get started:)
You've already seen (I hope) that Serpstat has launched
Checklists
, which can help you monitor how your team copes with the tasks. This means that Serpstat is now actively developing tools to automate processes and manage projects.
We strive to collect everything you need for your work in one place. And now you can not only export search analytics data, monitor your competitors and analyze backlinks, but also run your team.
Process control: as a team lead you'll be able to monitor your team's projects, including SEO errors the audit found, the number of external links, the client's position in Rank Tracker, etc.
Security: don't be afraid to add other accounts — they'll receive limited rights. They won't be able to delete accounts or change profile settings.
Limits control: as an account admin you'll be able to monitor how limits are spent, who uses them and how much they use. Only you can prolong plans, change profile settings, and delete and add new team members.
Get a quick overview and save your time
Would you like to receive a personal Serpstat demonstration, the trial version or successful use cases? Send a demo request and our support team will contact you!

New Team Management options

The first version of the Multi-user mode was aimed at team building, limit distribution and task control of the users. The updated version takes into account the monitoring of team histories. This means that you expect:
further options for distributing the limits — manually and automatically
user dashboard with statistics for all projects depending on the participant
possibility to track activities of the team participants: depending on the date, module and actions
The second version allows you even better control the staff and avoid problems with projects.
Team Management 1.0: how to set up and use it

Now multi-user mode is available for users with a paid subscription starting from Plan C with a certain number of members:
Plan H — 20+ users (upon request).
Step 1: Admin adds new team members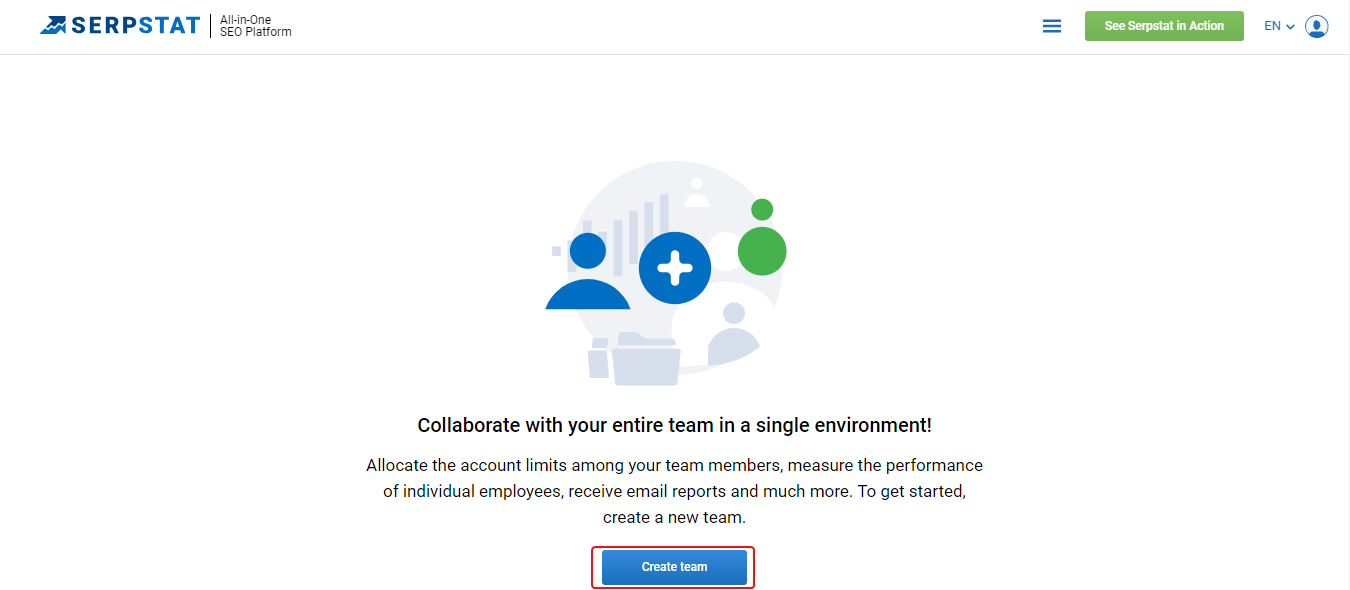 You'll see a window with two options:
Common limits: allocate limits between members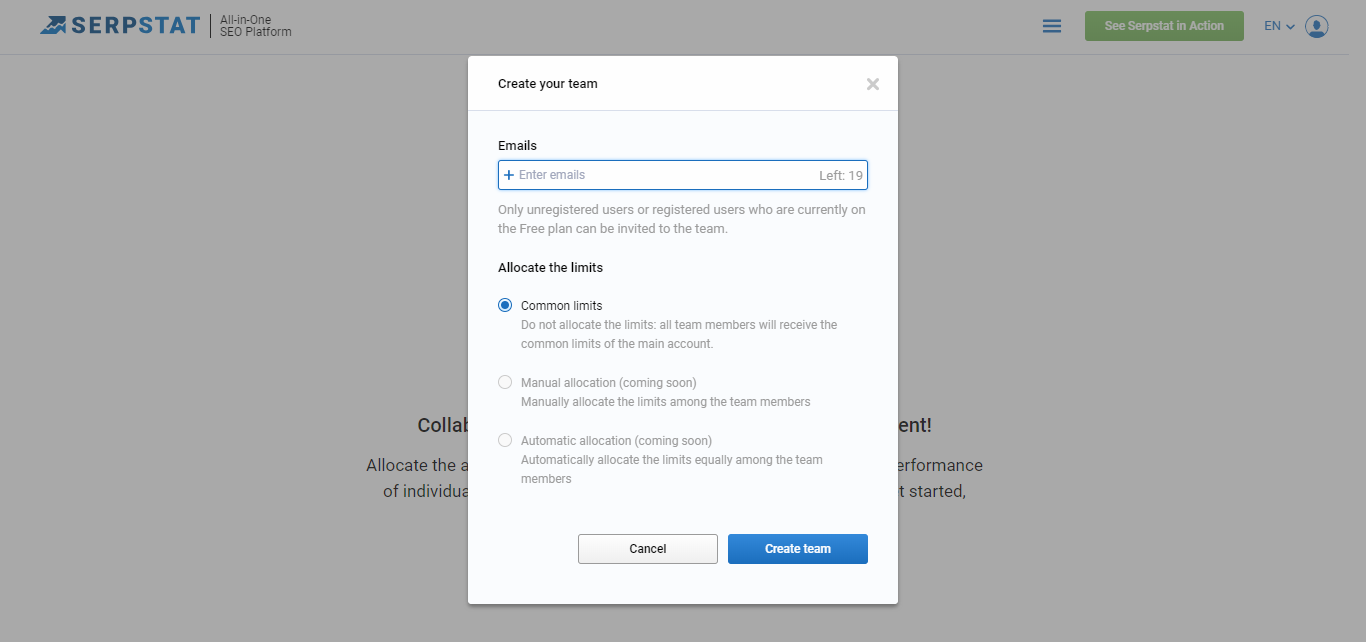 Only non-registered users along with those who use Serpstat for free can become members of subsidiary accounts. This means that you cannot add users of Plan A, B, С, etc.
There are 3 ways of limits allocation, but Team Management 1.0 currently allows only common limits: all team members will receive the common limits of the main account.
Step 2: Users confirm their participation

As soon as you add team members (enter their email addresses in the appropriate bars) they'll receive a confirmation letter. Unconfirmed accounts won't be involved in the project. Confirmed ones will become team members and owners of subsidiary accounts with limited rights.

Free plan users will receive an email with a link that activates a subsidiary account. Non-registered users will get a login and a password for their account.

Step 3: Admin keeps track of limits and project management

In the Team Management section, you'll see a box showing your limits allocation and spending according to the different modules of our tool: the number after the "/" shows the available limits, the number before the "/" shows the limits used. If you point to these numbers, you'll see a tip: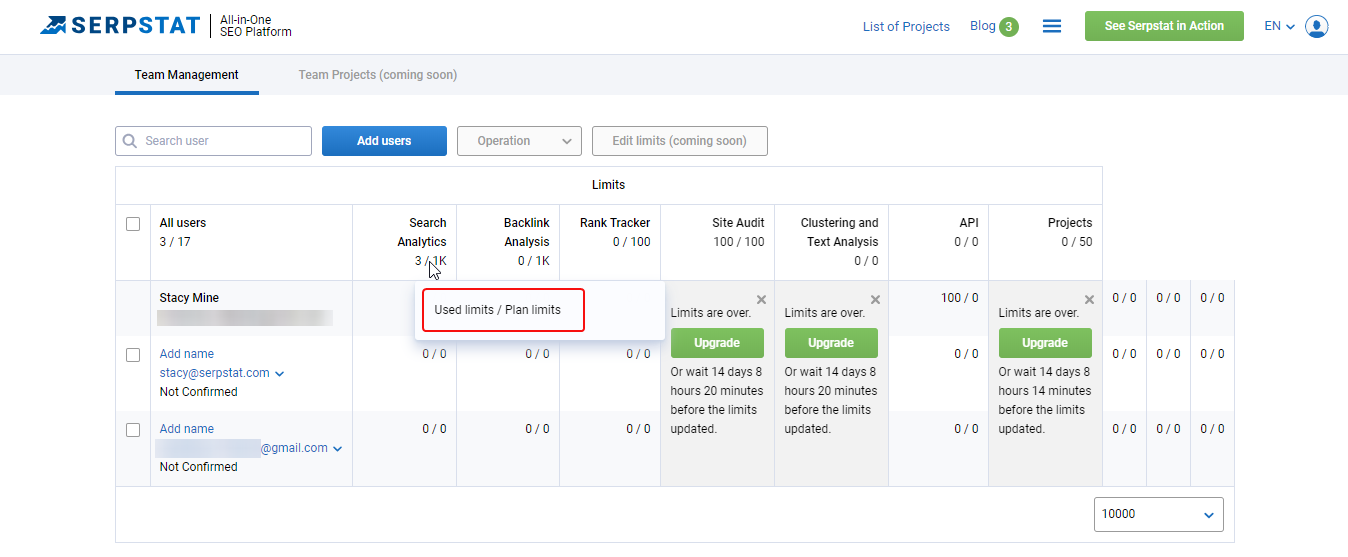 Limits of users who didn't confirm their participation aren't displayed, unlike the limits of the users who confirmed. You can delete or deactivate users and edit their data.

When you delete members, you exclude them from the team and they become average users with a free account. By the way, you can save all projects while deleting.

When you deactivate users, you pause their activities: they cannot go to Serpstat; rank tracking and site audit features stop working until you make the users active again.

You can create checklists for every member of your team and keep track of the tasks fulfillment.

Step 4: Team members and their rights
Subsidiary account users can't leave the team, edit their accounts' info or buy, update or change plans.

Although, they can create projects and analyze the data within them: rank tracking, audit, search analytics, etc. Limits are restricted by admin limits. An Admin profile is concise. It includes settings, last reports, and information on limits.


Learn how to get the most out of Serpstat
Want to get a personal demo, trial period or bunch of successful use cases?
Send a request and our expert will contact you ;)
Found an error? Select it and press Ctrl + Enter to tell us

Cases, lifehacks, researches and useful articles

Don't you have time to follow the news? No worries!
Our editor Stacy will choose articles that will definitely help you with your work. Join our cozy community :)

By clicking the button, you agree to our privacy policy.

// В этом файле есть те нужные стили которые в других файлах нет.?>