One-click batch data analysis
We created Serpstat Google Sheets add-on to simplify and automate your work with analytical data.

In just a few clicks you can get information about domains or pages, grouped in separate tabs of Google Sheets.

How to start using Serpstat add-on for Google Sheets?

Go to the Add-ons section and select Serpstat Batch Analysis. There are two buttons in the menu: Create report and Settings.
Creating the report
To use the add-on and upload the necessary data, you need to copy the API key (token) in the
personal profile
and enter it into the appropriate field. After that you'll see a sidebar.
But the first question that arises: is the indicator that we get good or bad? To do this, we derive a scale where we show the relevance, based on the competitor analysis. This is the average value indicated by the green area.
If we approach the minimum value, it means that the words from the query are too far apart in the text on the page, or are seldom used.
If we see that the indicator is approaching the maximum, then this indicates spam. You can remove some of the repeated words, or distribute them less often in the text.
In the menu on the right you need to:

- Select a search engine. Choose a regional database for which you want to get a report.
- Select a cell range. It displays the cell value in which the cursor was placed by default. It must be set manually.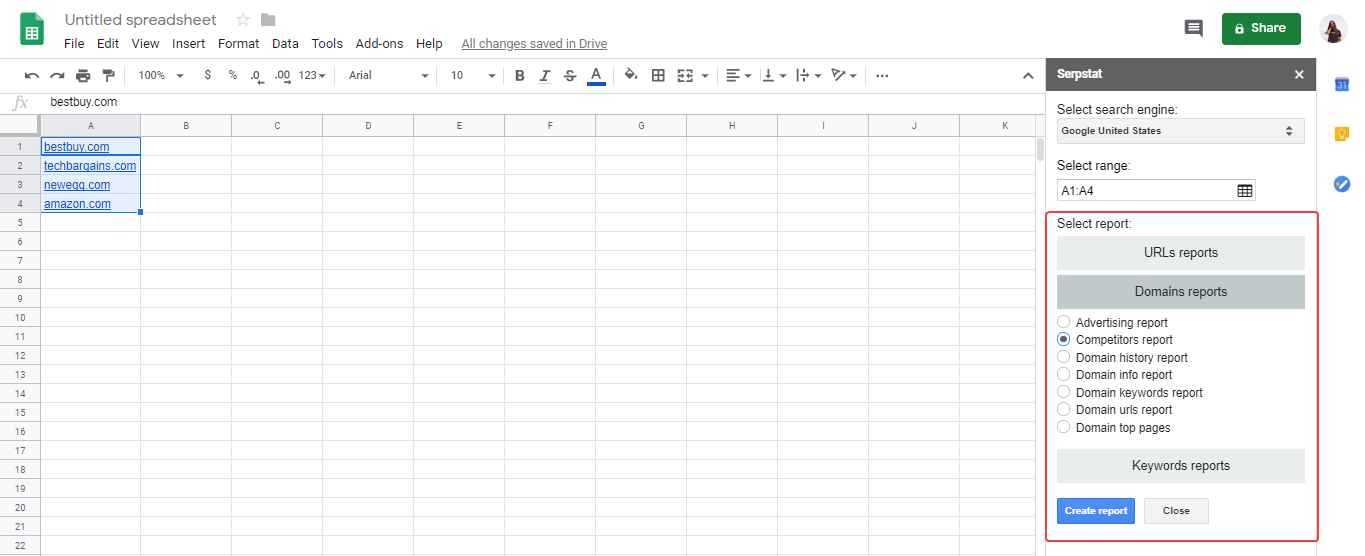 Select a report. Choose the API method which you need to get data. After that, filters will open (if they are provided for this method). Set up the filters and click Create Report.
The report will appear on a new table sheet.
Access and limits
To receive Serpstat reports in Google Sheets you need to have:
" alt = "Serpstat one-click batch data analysis: add-on for Google Sheets 16261788503986" title = "Serpstat one-click batch data analysis: add-on for Google Sheets 16261788503986" />
What are the benefits of the platform?
The use of the platform is completely free for all Google users.
Creating the reports doesn't take up so much time and doesn't require special knowledge or skills.
Reports can be tailored to your specific needs.
Data is automatically loaded from integrated sources and displayed in real time.
You can share dashboards via the link, and it is very convenient for teamwork