Keyword Research Without Agencies: Manual For Beginners And Online Shop Owners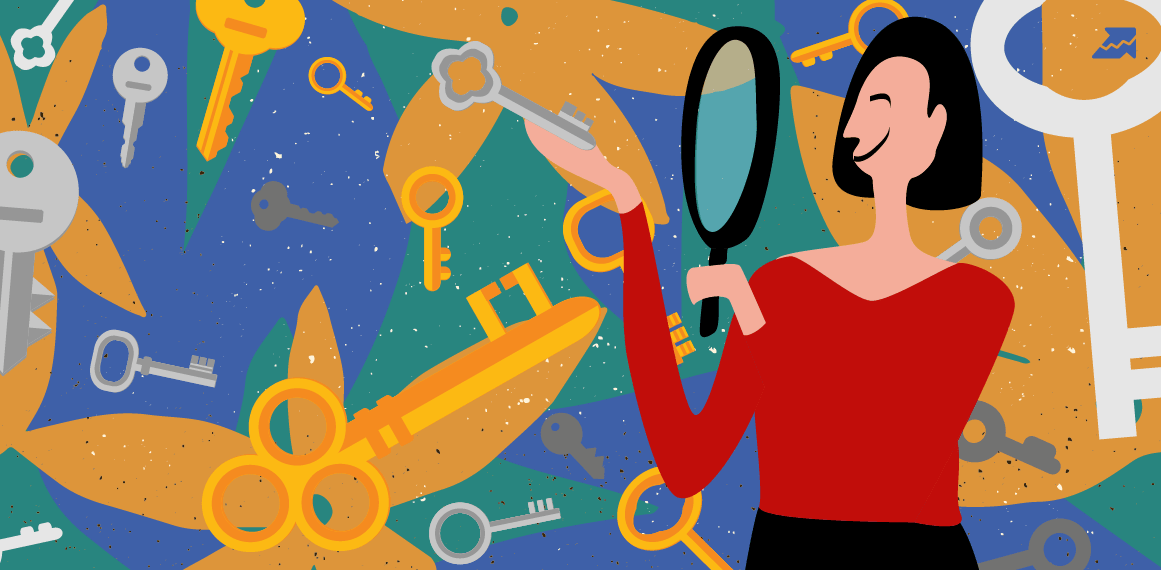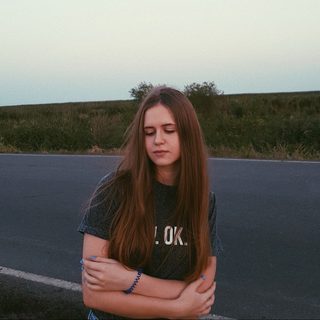 Stacy Mine
Editor at Serpstat
If search engines don't like your site, this article is what you need. I'll tell you how to improve your site's rankings by optimizing them for the right keywords. How do you carry out keyword research and what tools will be useful for you?

Why do you need keyword research?

If you want your site to be visible to search engine users, you should collect keywords of high quality. So, you find search terms and phrases that you use for optimization and distribute them between pages of your website. Then you write texts and meta tags are.
Features of the keywords you should keep in mind:
Search volume:
how often do users search for this term
Keyword difficulty:
how high is the competition level
Cost (CPC):
how much a click costs if the user clicks on an ad containing this keyword
Generally speaking, keywords are all words and word combinations that describe your activities, services or products and fully cover the subject matter of the website.
This keyword list should also match the wishes and intentions of users and your business goals. I'll show you how to collect the semantics for a website.
The whole process consists of 5 steps:
Delete unnecessary keywords
Look for alternative keyword sources

How do you create a keyword list for your website?

To get a keyword list, you should find the search terms that are relevant to your topic and website. Think about which keywords describe your product and offer. Save this list in a Google Spreadsheet. Then you can do the following:
Check these keywords in
Keyword Selection
to find all keywords that contain a specific one: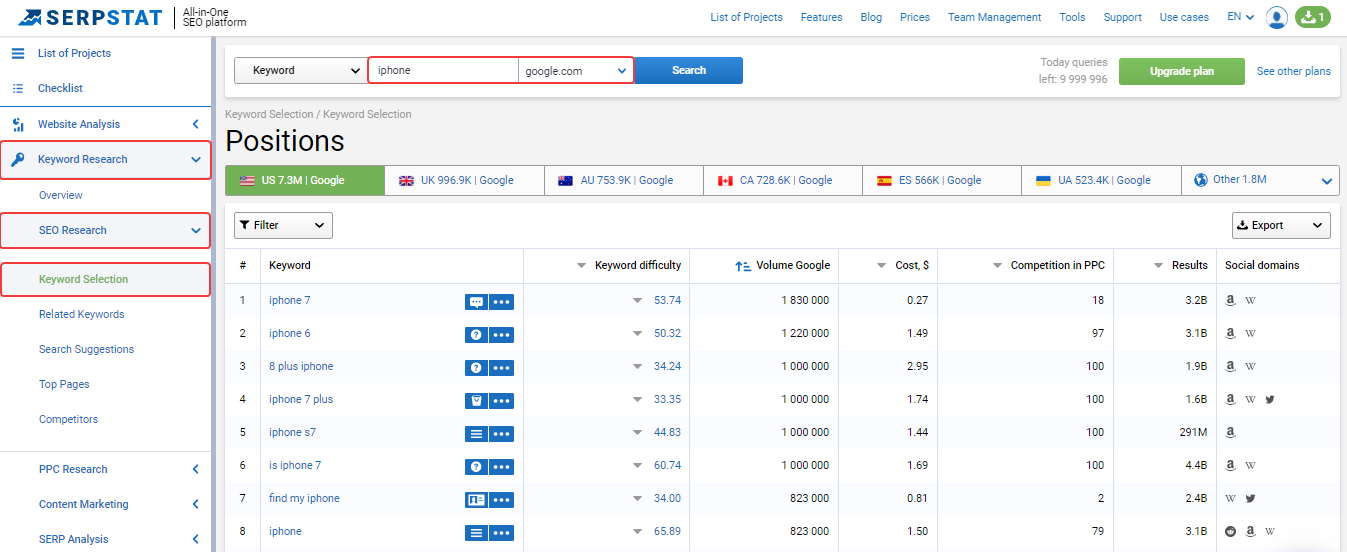 If necessary, you can sort and filter the keywords in all columns.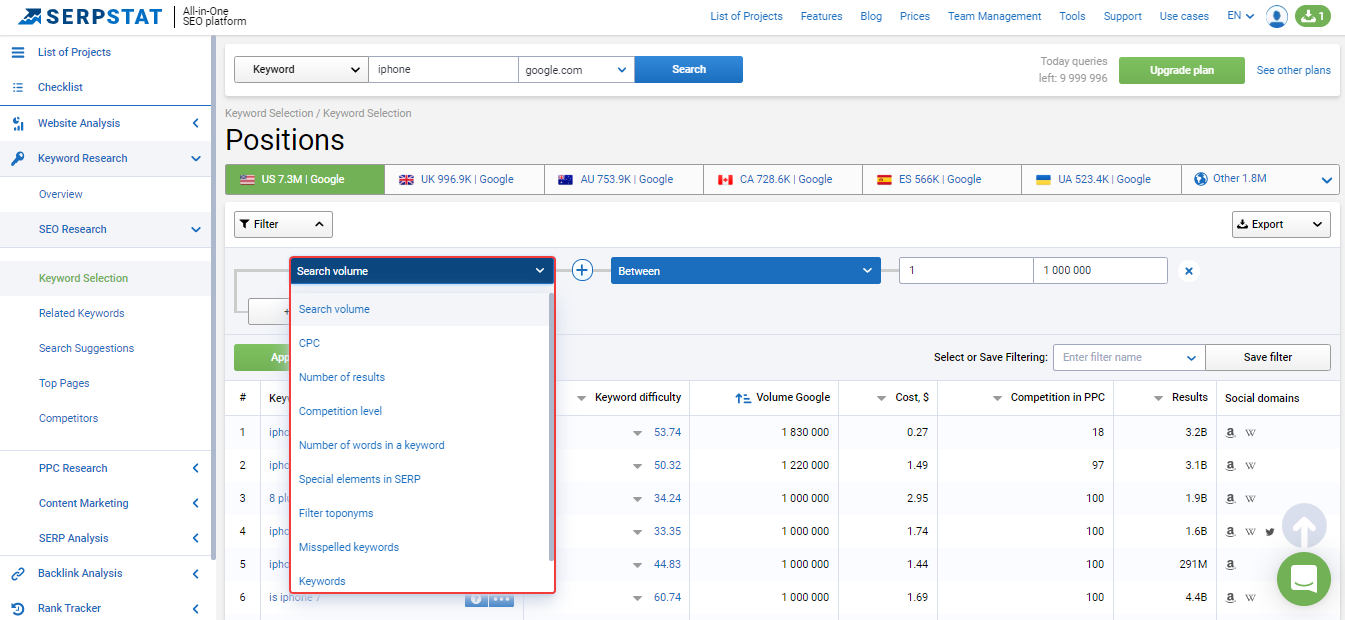 If you want to optimize your site for special search results, such as the rich snippet, knowledge graph, or local pack, I recommend you to use keywords with
Special elements in SERPs
.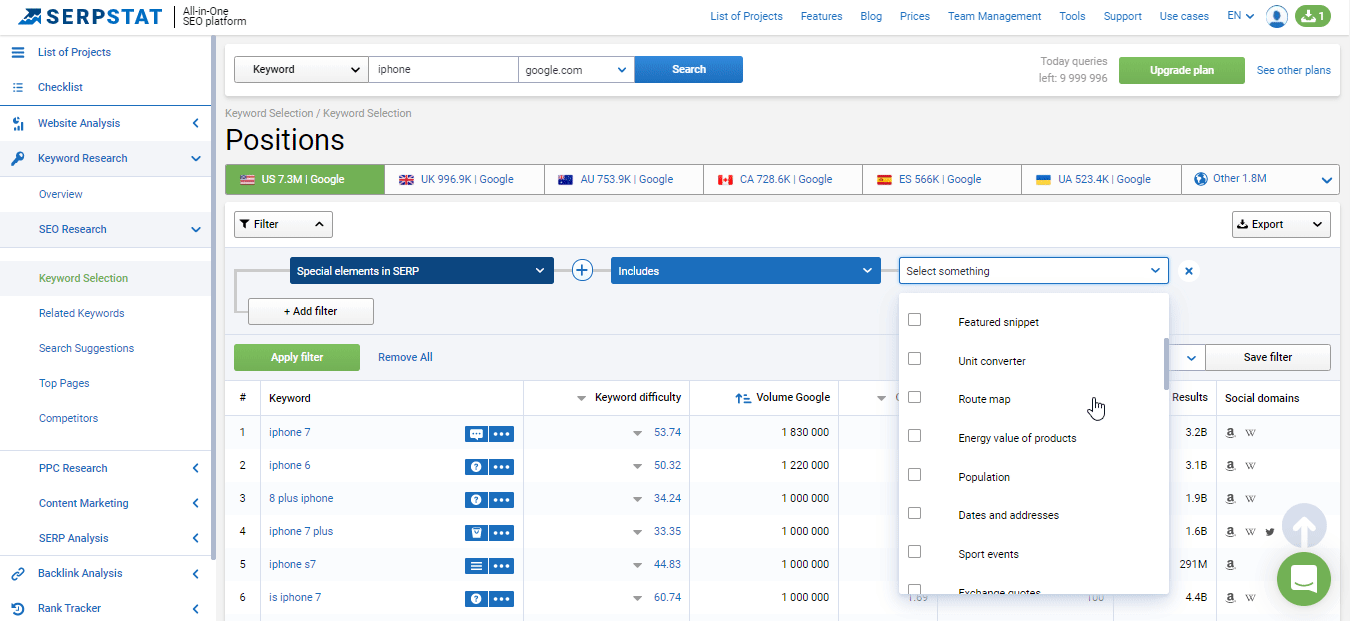 Fill in your list of keywords that are thematically related to the keywords you've collected. Open the
Related Keywords
section to find synonyms, colloquial variants, and LSI keywords that were not included in the initial research.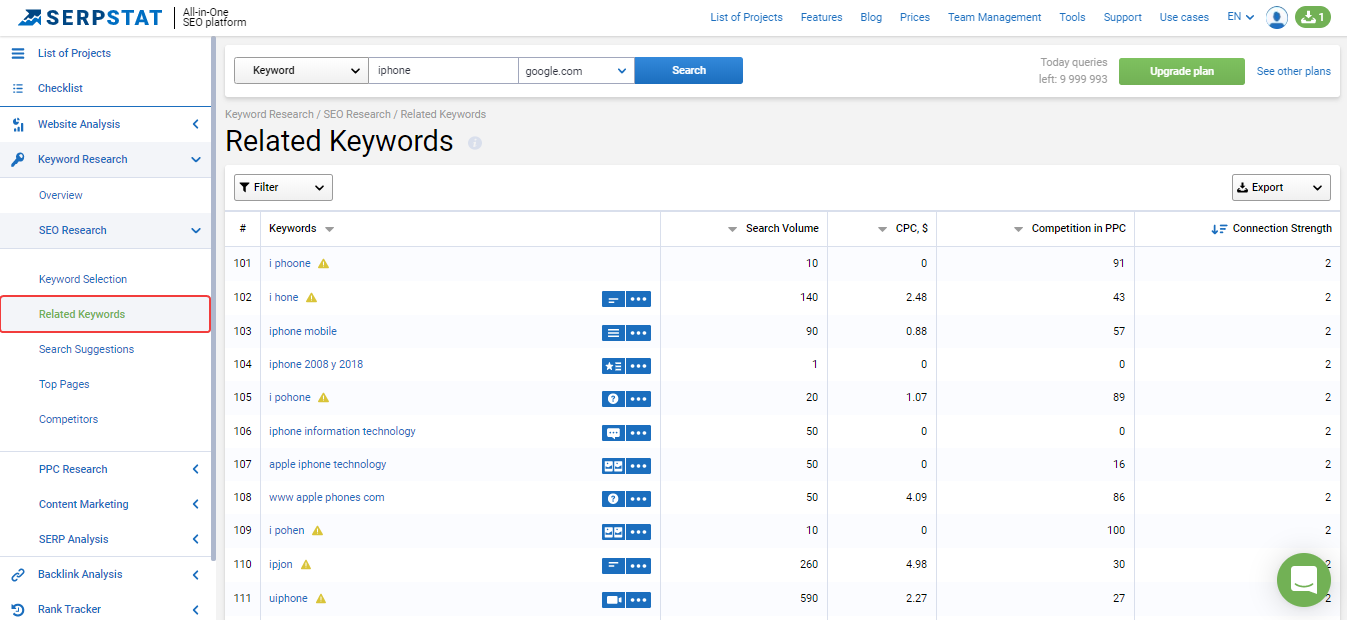 We've created the Serpstat Website SEO Checker which allows you to find out the key metrics of any site in just a few clicks.
To examine a domain, you don't need to open Serpstat in a new tab - all necessary data is available with one click directly on the site!
Click on the icon and you'll get multiple SEO metrics about a domain or page: visibility, traffic, keywords, top competitors in the region, etc.
Read the post to learn about the benefits of the updated Serpstat checker.

How do you expand the keyword list?

Competitive analysis.
Competitive analysis is a reliable source of relevant search queries.
By
analyzing your competitor's SEO
, which successfully appears in search results, you can improve your chances.
Serpstat also offers several options. Do you want to know which keywords your competitors use? Just enter the website in the search bar to see the keywords for which this site appears in search results.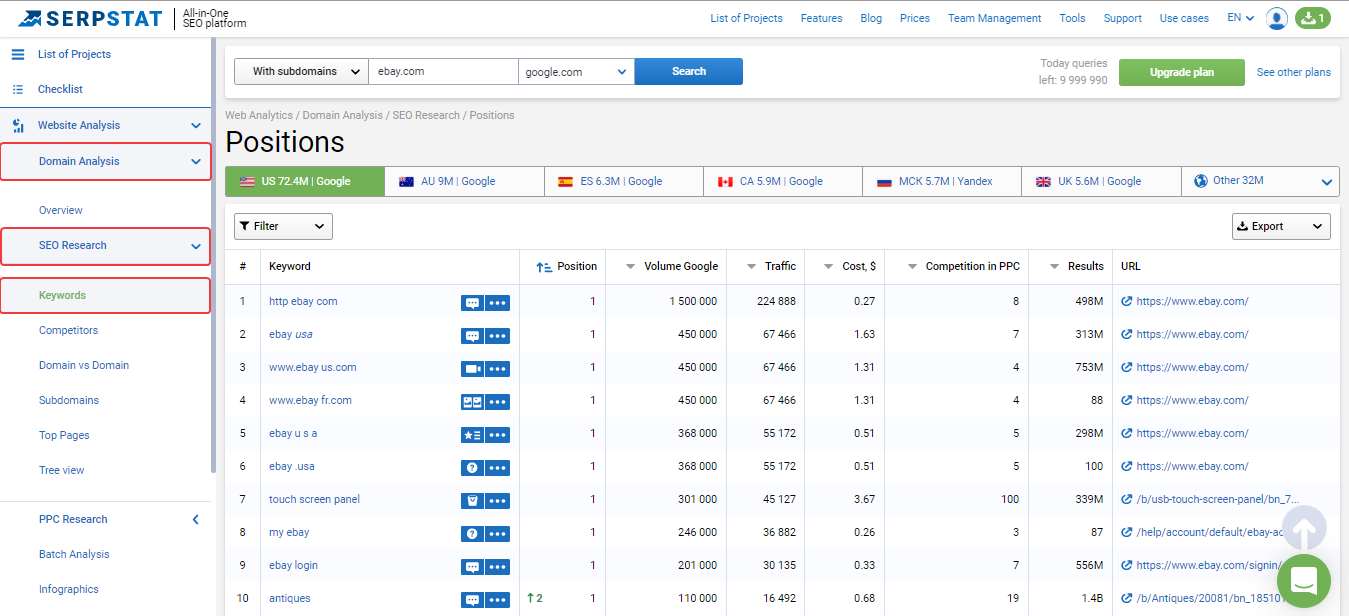 Find missing keywords
. If your website already exists, you can find more ways to optimize it.
Compare your page with competitors to find out which keywords you're missing.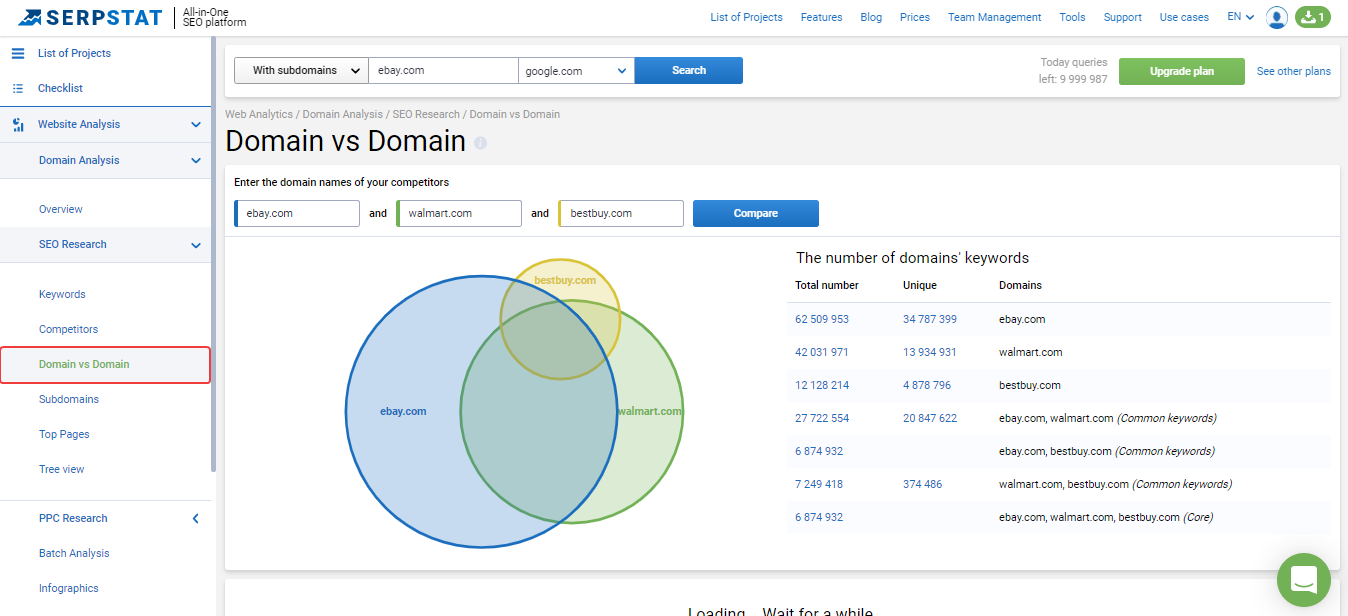 Search suggestions and search queries.
To fill in more semantic gaps, you can benefit from these features. These are search terms suggested by search engines when the user enters a keyword. You can be really helpful in keyword research.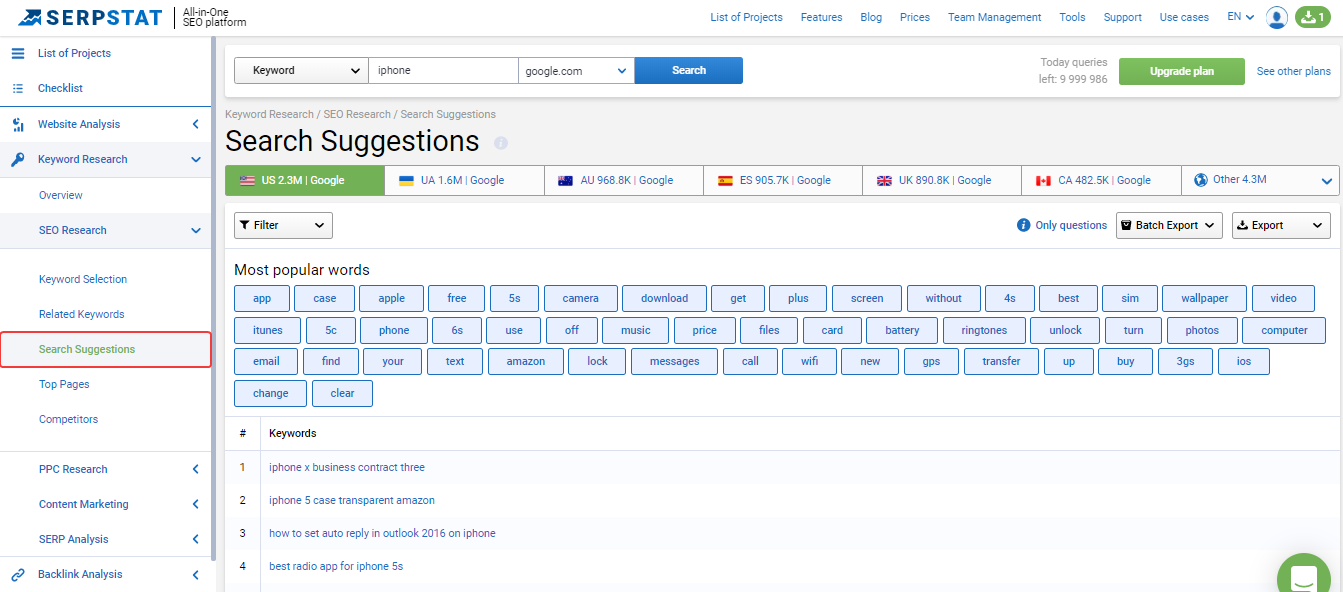 Click on the button
Only questions
so you can find excellent ideas for the headings of your articles.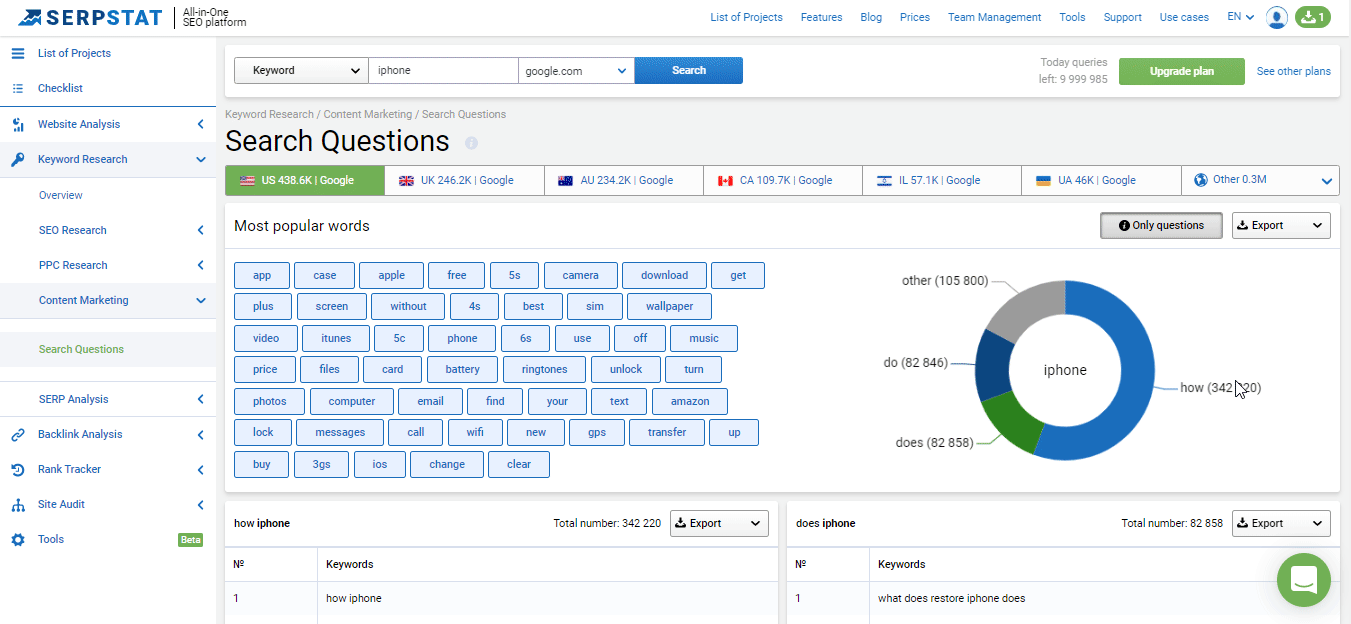 Get a quick overview and save your time

Would you like to receive a personal Serpstat demonstration, the trial version or successful use cases? Send a demo request and our support team will contact you;)

How can you delete negative keywords?

You've collected an impressive list of keywords. Well done! But if you look closely at these keywords, you may find that they don't quite match the theme of your website or don't fit for other reasons. Using them may have a negative effect — your target audience won't visit your site. To avoid this situation, you should delete unnecessary keywords.
The most common negative keywords are:
Place names that are not important to your business
How can you sort out these keywords? Serpstat offers a variety of options. You can exclude any search terms (keyword), as well as place names (filter toponyms) and delete typos (misspelled keywords).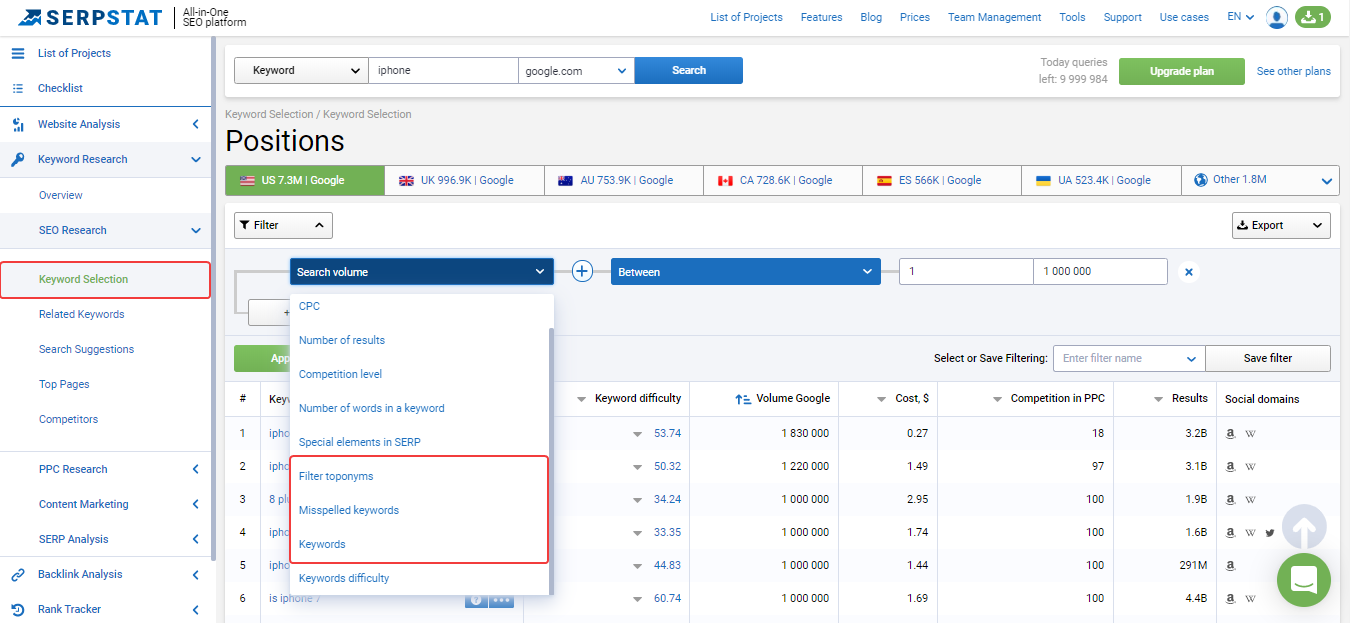 How do you group search terms?

You've collected a keyword list and deleted unnecessary search terms. Then you should put these words on pages. Manual keyword grouping requires a lot of time and effort. Serpstat has a solution — automated Clustering tool. Based on the downloaded keywords, the tool creates clusters that help determine a structure of the website and page content.

Cluster is a group of similar queries that have a hierarchical structure. It is collected based on the site analysis in the top 30 search results. You can learn more about Clustering in the article below.

You should understand that the search terms from a cluster correspond to a search intent of the users. Note that you shouldn't include commercial and informational keywords on a page.

If you've got a rough structure, you can check these keywords for search volume and forward exact tasks to copywriters. Recommendations for content creation or optimization of already existing pages can be made using the Serpstat Text Analysis tool.
Reports provide a list of
generated keywords
that work best with Title, Description, and Body Text.
Check our other
on page SEO checker tools
for full website analysis.
To get a complete list of relevant keywords for a website, you should:
Collect the basic list of keywords that will help you find more keywords.

Extend the semantics using competitor analysis and synonyms.

Complete the keyword list with search suggestions and search queries.
Delete unnecessary keywords that are not relevant to your website.

Carefully group the search terms and create the rough structure of the website.

Learn how to get the most out of Serpstat
Want to get a personal demo, trial period or bunch of successful use cases?
Send a request and our expert will contact you ;)
Found an error? Select it and press Ctrl + Enter to tell us
Cases, lifehacks, researches and useful articles
Don't you have time to follow the news? No worries!
Our editor Stacy will choose articles that will definitely help you with your work. Join our cozy community :)
By clicking the button, you agree to our privacy policy.