Keyword Clustering. Part 2: Text Analytics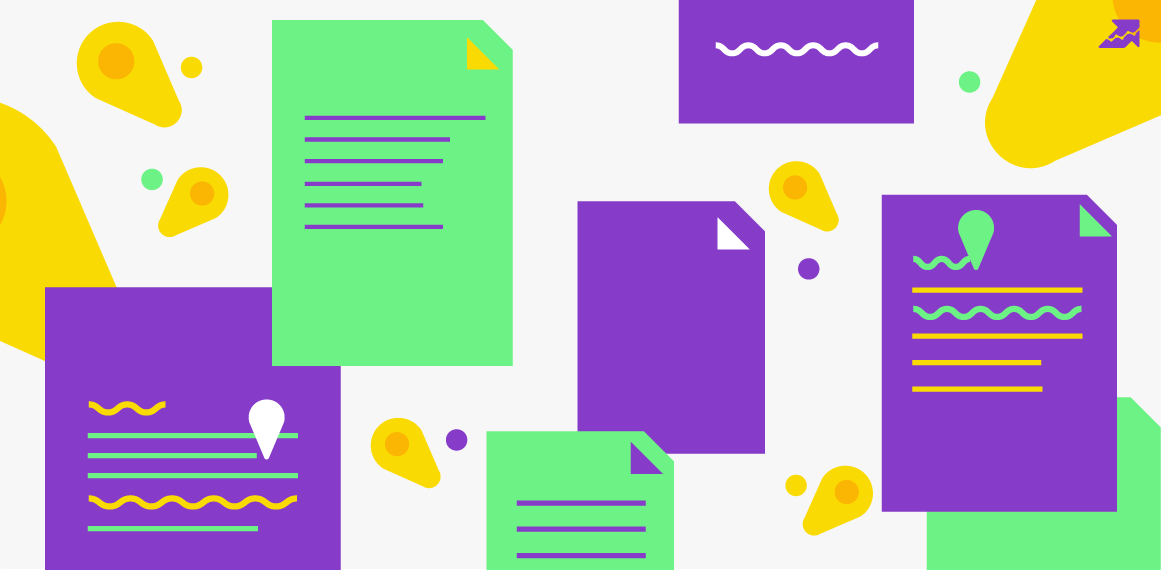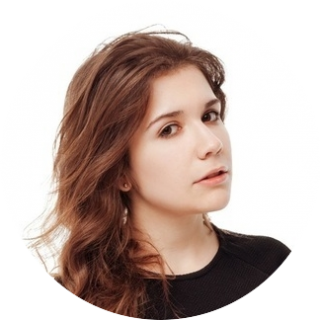 Elena K.
Editorial Head at Serpstat
Hope you had enough time to read
our previous post about Keyword Clustering tool.
As I promised, here is the second part devoted to Text Analytics tool.
As these tools are interlinked and you cannot launch text analysis without keyword clustering, read the previous article if you haven't done so already.
What is Text Analytics tool and why do you need it?

Text Analytics is a tool designed to help you to optimize the text on your page to rank for the whole clusters instead of keywords. It provides you with a list of recommended keywords to use in Title, H1, and Body based on top-10 search results of all keywords.

No secret that content is one the crucial ranking factors. Which means that the websites with well-optimized texts rank higher. If the target URL doesn't rank high for the desired keywords, rewriting the page's content to enhance its relevance for these keywords makes sense.

We've created the Serpstat Website SEO Checker which allows you to find out the key metrics of any site in just a few clicks.
To examine a domain, you don't need to open Serpstat in a new tab - all necessary data is available with one click directly on the site!
Click on the icon and you'll get multiple SEO metrics about a domain or page: visibility, traffic, keywords, top competitors in the region, etc.
Read the post to learn about the benefits of the updated Serpstat checker.


Advantages of our algorithm

Our goal is to provide you with the most accurate data and recommendations, thus we paid particular attention to the accuracy of our algorithm. And here is how it works:
As I've already said, our recommendations are based on top-10 search results as your most successful competitors. To avoid making recommendations based on irrelevant subjects, we divide your competitors' pages into semantic groups. Let's take the keyword "pool" e.x. and here is how it's SERP looks like. As you see, Google offers both "swimming pool" and "cue sport" pages.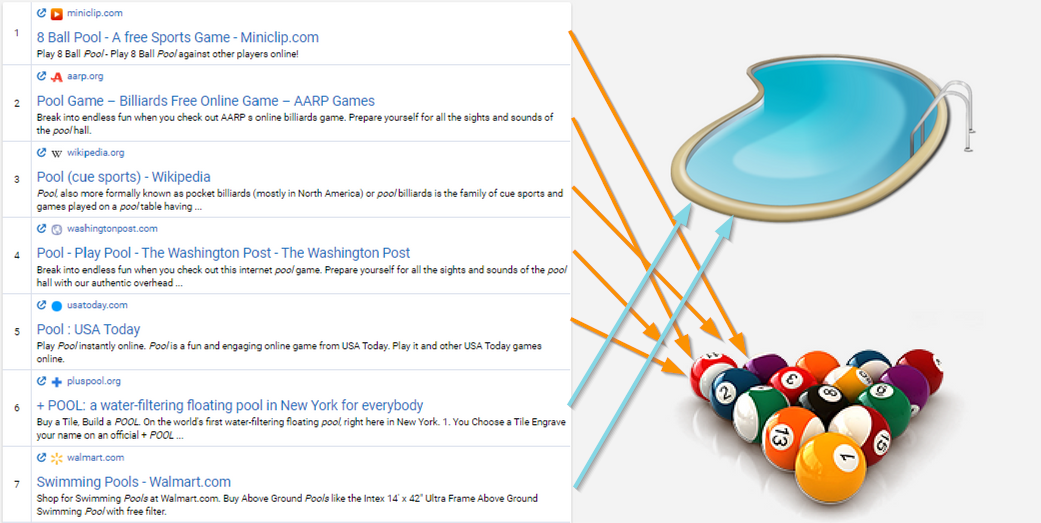 Sorry, Deadpool, Google thinks games and swimming are more relevant than you.
We divide these results into 2 groups and make recommendations based on the URL you added. So, if your page is devoted to outdoor swimming pools, we'll exclude pool game results from the competitor analysis. If you don't add the target URL, we'll take the topical group with the biggest part in SERP. BTW, here it'll be pool as a game as it's 5 against 2. Thus, mind adding your target URL in case the topic may have several meanings.

The same works with commercial and informational queries. If you Google "macbook," here's what you'll get: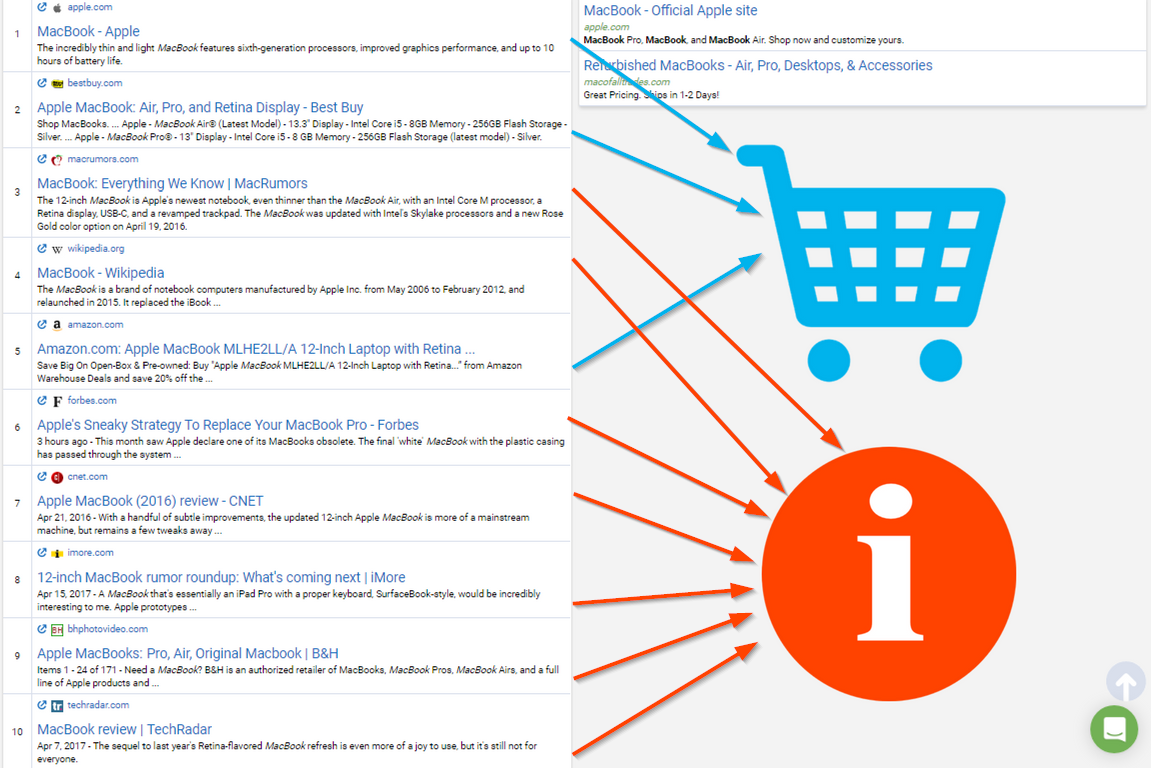 We split the results into e-commerce and informational ones and consider the one that suits your page.

Then we set up the keyword list for every page part: Title, H1, and Body. The list of keywords is formed based on three-tiered "
TF-IDF-CDF
" metric, where:
TF stands for Term Frequency — how often the keyword is used in the texts of your competitors.


IDF for Inverse Document Frequency — shows how frequently this keyword is used in general (in all whenever indexed texts).


СDF means Cluster's Document Frequency — shows the part of competitors' texts that include this keyword.
This filter helps us to exclude all most common words in the language, short function words (prepositions, articles, conjunctions), so-called stop words. Moreover, it sorts the most significant keywords (LSI keywords) for every cluster.
Watch this video if you don't know what LSI keywords are:
Let's see how the
text analytics
tool works. As I mentioned in the previous post about Keyword Clustering, Text analytics and
keyword grouping tools
work together, thus to launch text analysis you need a completed keyword clustering project.
Go to your keyword clustering project, and choose the cluster you want to run text analysis for. Then click on "TA" in the top right corner and then on "Start analysis." There we also display the number of limits you'll spend on this analysis.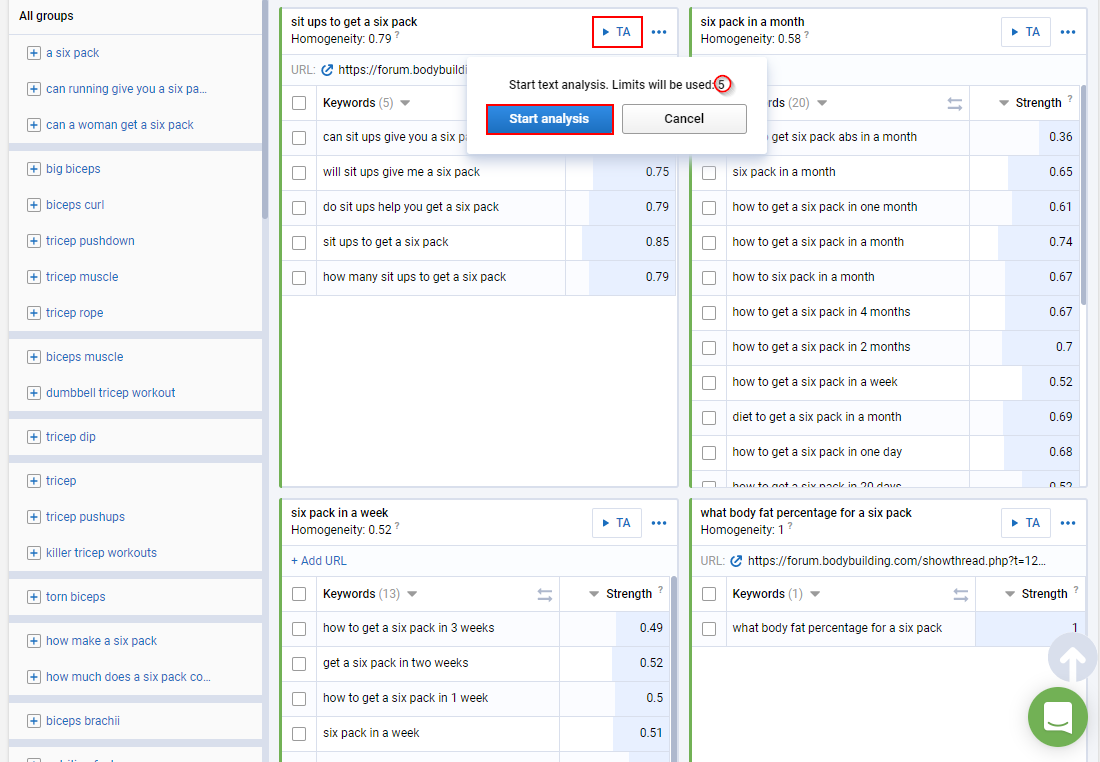 If you mention your domain while launching keyword clustering, we'll choose the most relevant URL and connect it to the cluster. If you pass this step, nothing will be displayed there. So, if you want, you can add or change the URL to the particular cluster before launching text analysis. If you have no website and your goal is to set up content for the upcoming domain, you can keep it that way.

If you want to run a bunch analysis, instead of launching text analysis for every cluster, go to Text Analysis tab and click on "Start text analysis." Here in the pop-up window, you can tick "Select all" or tick the clusters you want to analyze. There you'll also see the number of limits left.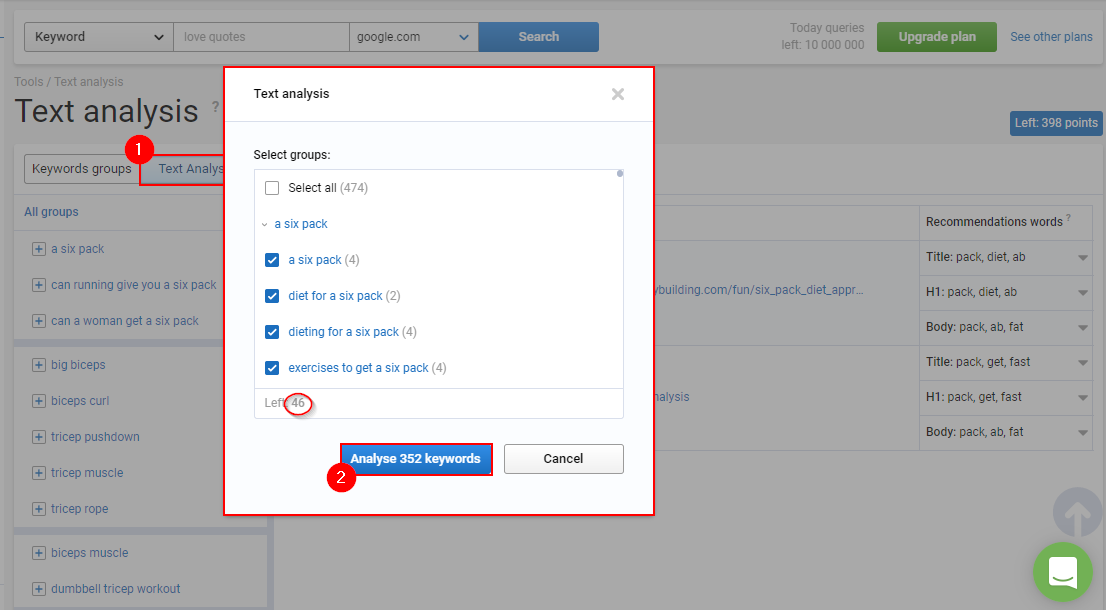 After the analysis is completed, click on "See results."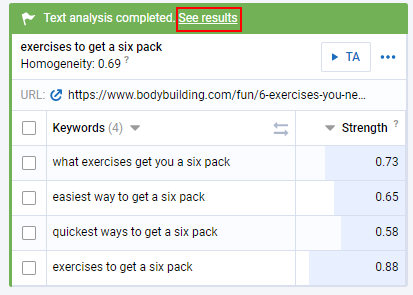 What do you get in the Text Analytics report?
After the analysis is completed, you'll see a detailed report and here is what you get there:

1. The first thing you see is the list of keywords of this cluster with their proximity level and relevance.

The proximity level indicates the strength of a keyword's relation to other keywords in the group based on their topics.

Relevance shows keyword and target page subject match.

2. Then goes the list of our recommended keywords for all parts of your text: Title, H1, and Body. Near each keyword you'll see its LSI rank, Chance and Status.
LSI rank — shows how important this keyword is for Title in the context of the analyzed subject. The higher this rate is, the more strongly we recommend to include this keyword to your text.

Chance shows how many competitors use this keyword in Title/H1/Body. Value shows how important it is to use the keyword, the higher the value, the more important it is.

There are 3 statuses that can be displayed in the last column. Overspam — keyword seems to be overused. We suggest you to review the frequency of the keyword usage. Included/ Not included — checks for the presence of a target keyword in Title/H1/Body.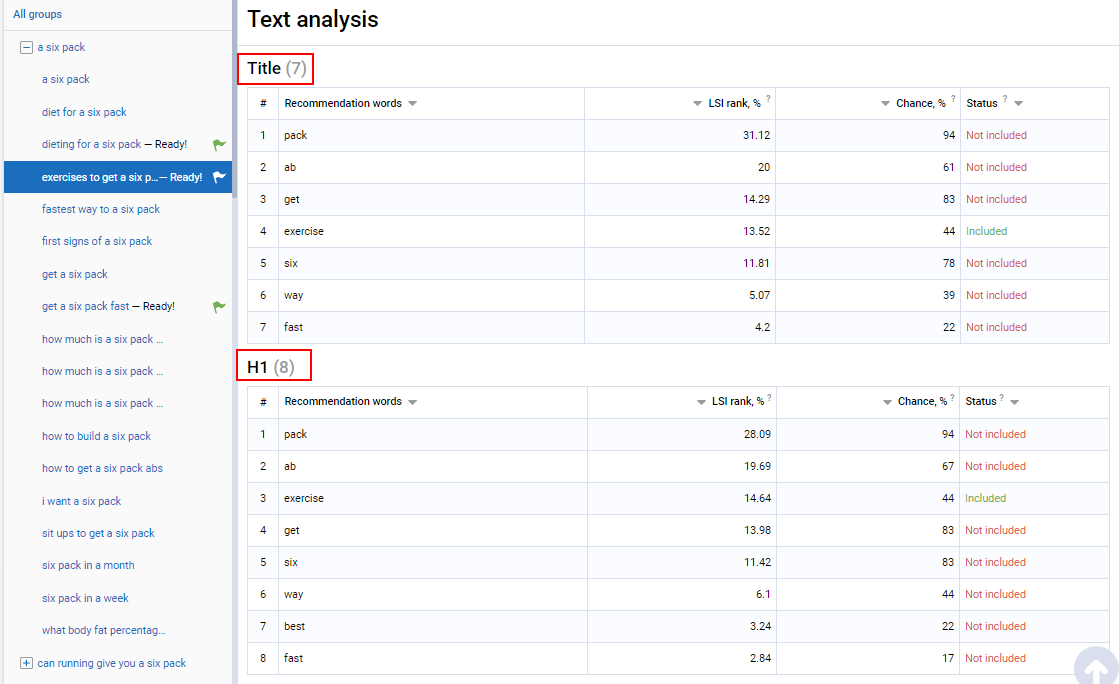 3. Body part of the report consists of 2 parts, the first one is similar to Title/H1 ones, the second one displays the text found on the target page. We analyze the text volume and give recommendations to increase or decrease the amount of text.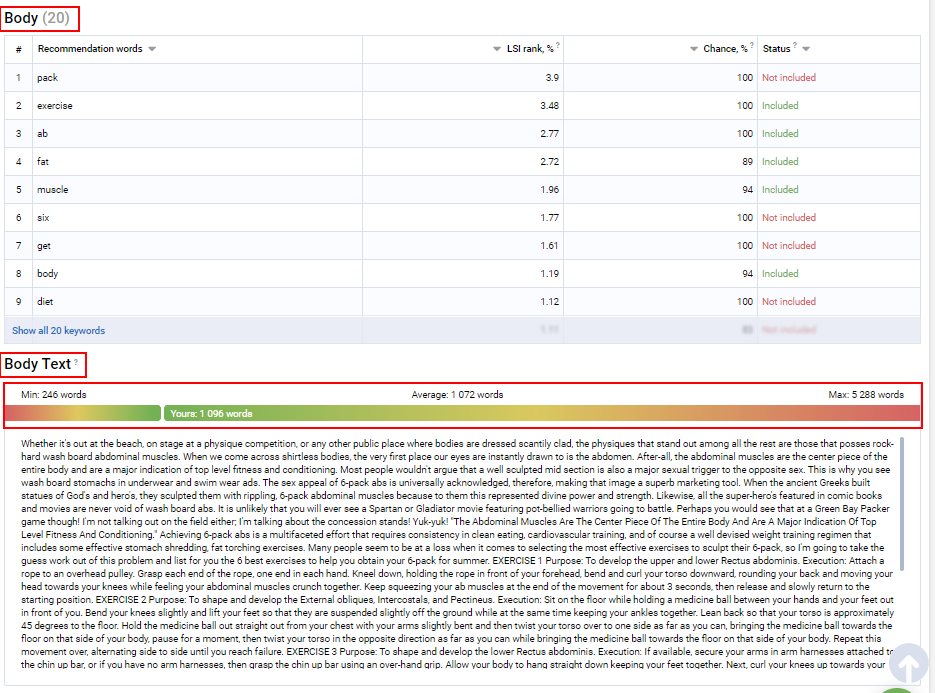 Check out this video to find more about these new tools:
That's all folks!

This Thursday we'll run a free webinar on how to work with these new tools. Subscribe to the webinar not to miss anything!
Try our new tools now to set up a list of questions to ask while the webinar ;)
If you already have some, don't hesitate to ask in comments!
Speed up your search marketing growth with Serpstat!
Keyword and backlink opportunities, competitors' online strategy, daily rankings and SEO-related issues.
A pack of tools for reducing your time on SEO tasks.
Found an error? Select it and press Ctrl + Enter to tell us
Cases, life hacks, researches, and useful articles
Don't you have time to follow the news? No worries! Our editor will choose articles that will definitely help you with your work. Join our cozy community :)
By clicking the button, you agree to our privacy policy.