How To Detect SEO Issues That Decrease Your Rankings And Traffic

[Serpstat Site Audit vs. Competitors]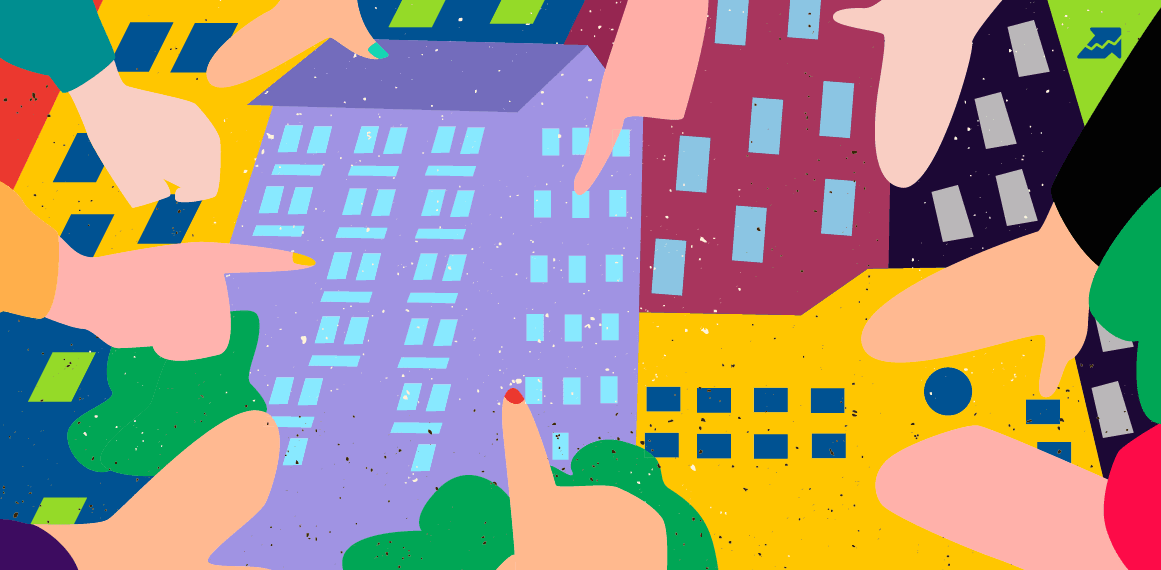 Serpstat Site Audit is a helpful, easy-to-use tool that allows you to quickly assess the quality of your website optimization, find SEO errors and ways of fixing them.

In this article, you will learn about the advantages of Serpstat Site Audit and compare it with the alternatives.

Problems You Can Solve With The Serpstat Site Audit
Serpstat
SEO Audit
is a complex tool that allows you to perform comprehensive website analysis. Let's go over the main problems Serpstat can help you with.
Find critical issues that have a negative impact on your rankings.
Serpstat shows 66 types of issues divided into categories and four priority levels: high, medium, low, and informational. These levels show how strongly the issue affects your website's rankings in search results.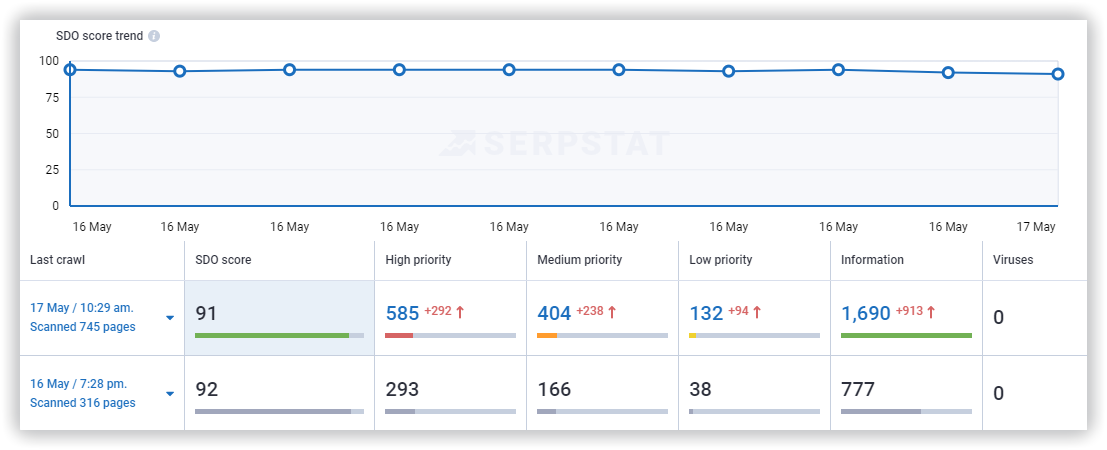 Estimate the quality of website optimization by a set of criteria and SDO Score
.
It's the parameter created by our analytical team that stands for Serpstat Domain Optimization. It determines how well a domain is optimized based on the correlation of the total number of issues and how critical they are to the number of all possible issues on the site.
Conduct a quick analysis of a potential customer's website to determine the workload.
You can include audit results in your SEO proposal and show the client all the issues that need to be fixed.
Control the work of your vendors with automated reports.
If you asked your SEO specialist what kind of work they do on the website, the fraudster could easily name the tasks, invisible to the average user, for instance, changes in the code or tags. You can check all types of website issues via Serpstat.
Track the progress of your website optimization.

You can see it on the SDO Score Trend that shows you the changes in the overall website optimization level. You can also click on any issue and see the issue history graph.


Export reports and schedule newsletters with reports on audit results
.
You can export your Audit Summary report to XLSX and get the issues for all pages in a single file. You can also schedule automatic email reporting.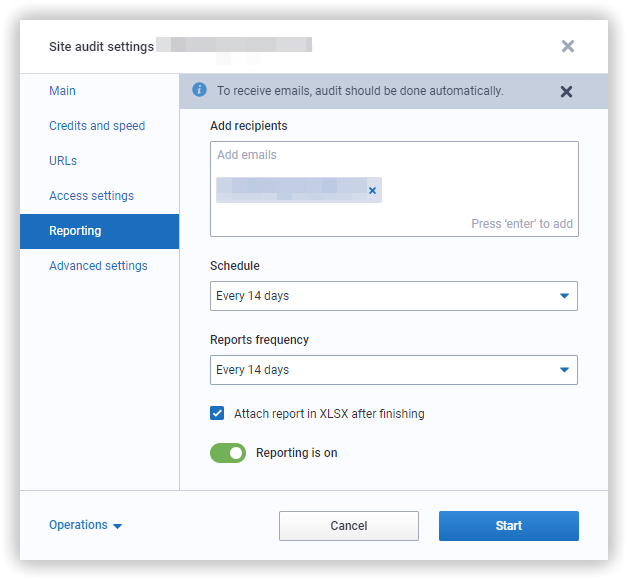 Get recommendations on improving page load speed for desktop and mobile.

The PageSpeed report shows you the main technical issues that can negatively affect the main page's speed. The issues are as well divided by categories - mobile and desktop, and priorities - high, middle and low.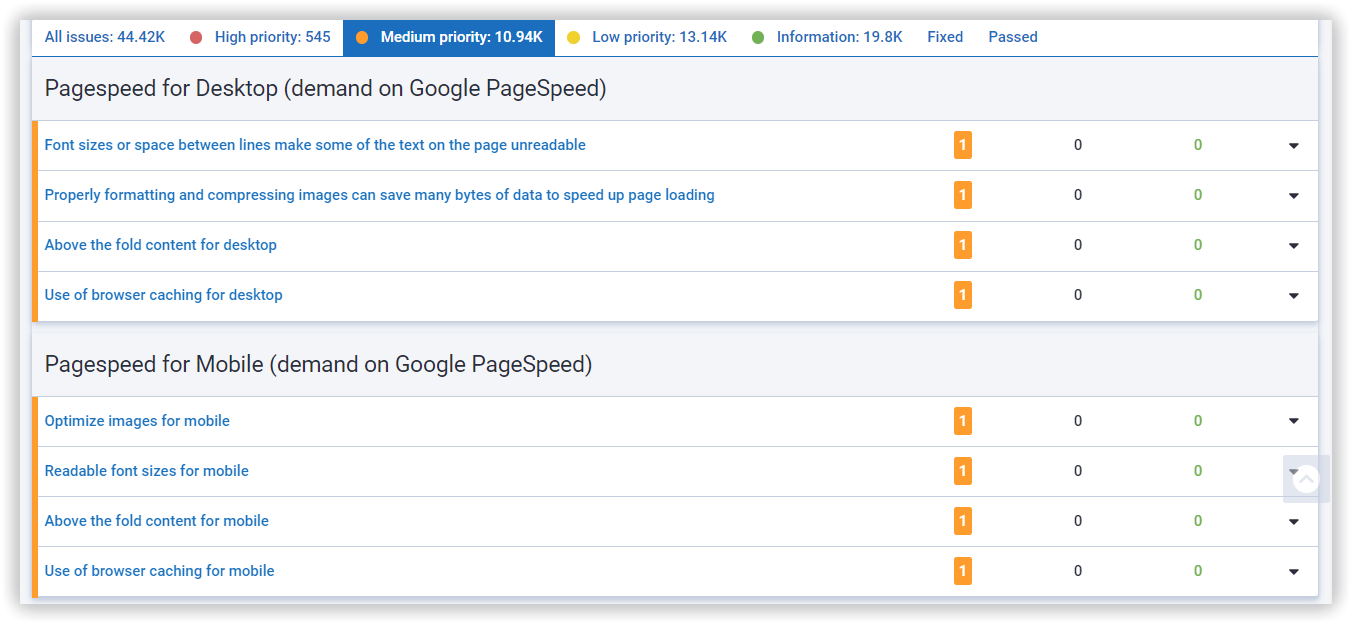 Perform an express one-page audit and check the effectiveness of issue fixes for a specific page
.
Page Audit is a unique feature that allows you to conduct an instant in-depth analysis of your page, identify the errors in optimization and fix them.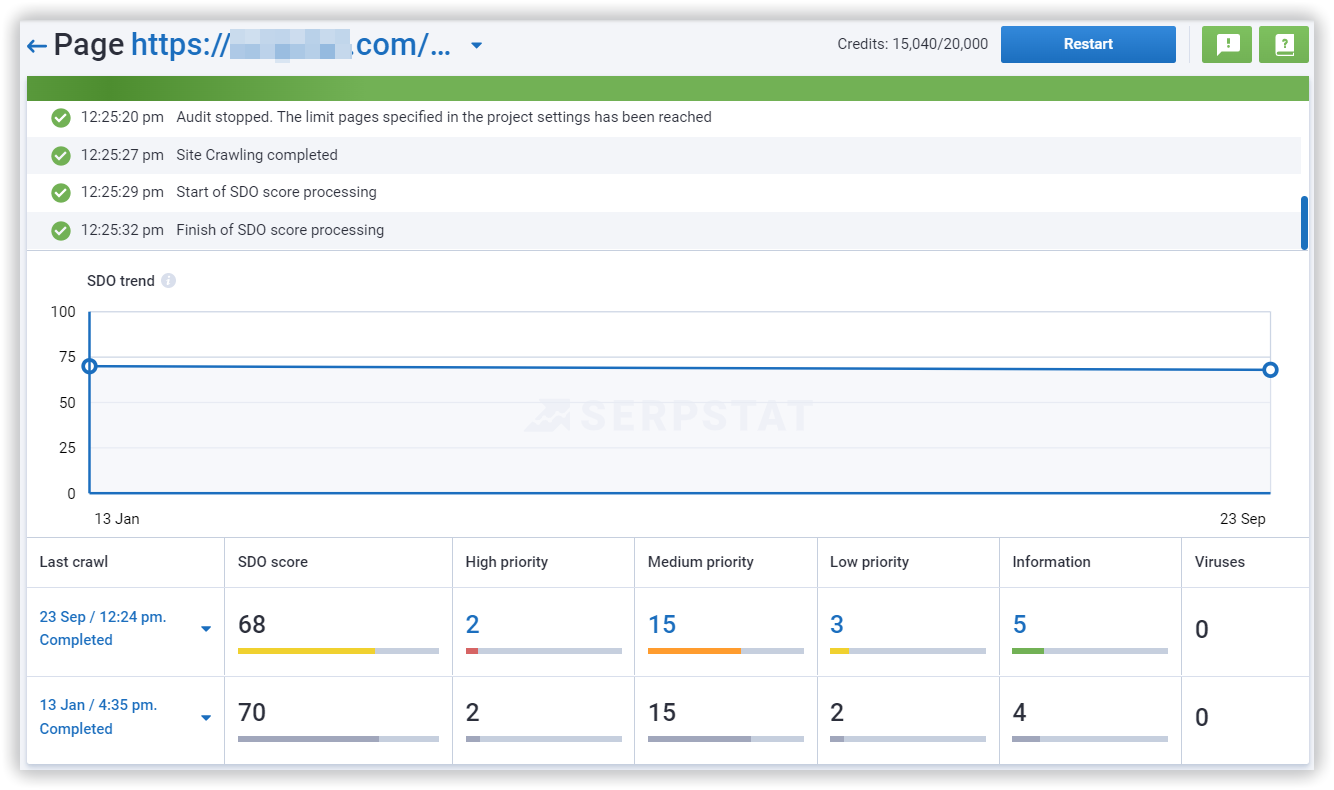 Page Audit provides you with advanced opportunities for competitor analysis. For instance, if you don't understand why the competitor's page ranks better than yours, you can evaluate your disadvantages and make necessary changes.

Advantages of Serpstat Site Audit
Description of every issue and a way to fix it
. Click on any type of error and you'll see a list of URLs containing the issue, the history graph, and a detailed report. Moreover, in the
How-to section
of our blog, you can find step-by-step guides on fixing the most common SEO issues.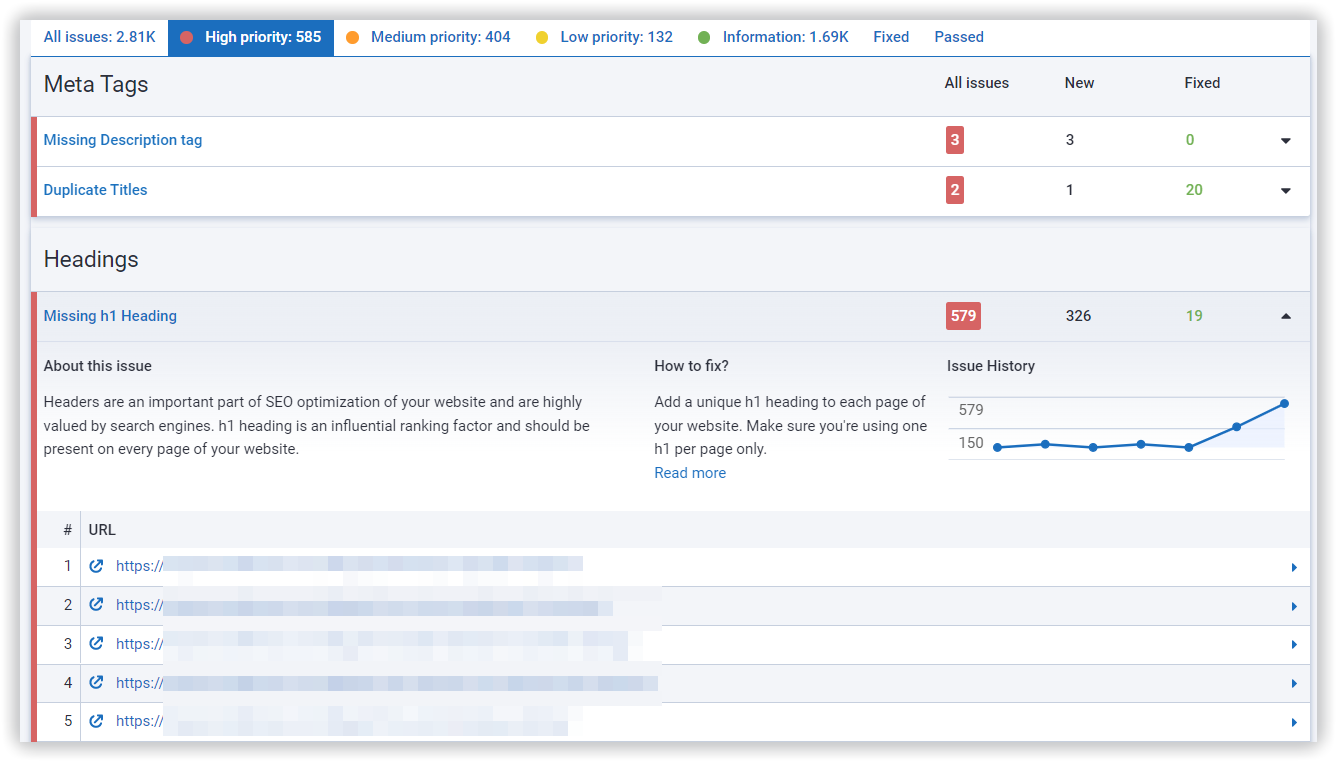 Clear and handy graphs
: HTTP status codes, title, and description length, page indexation, etc.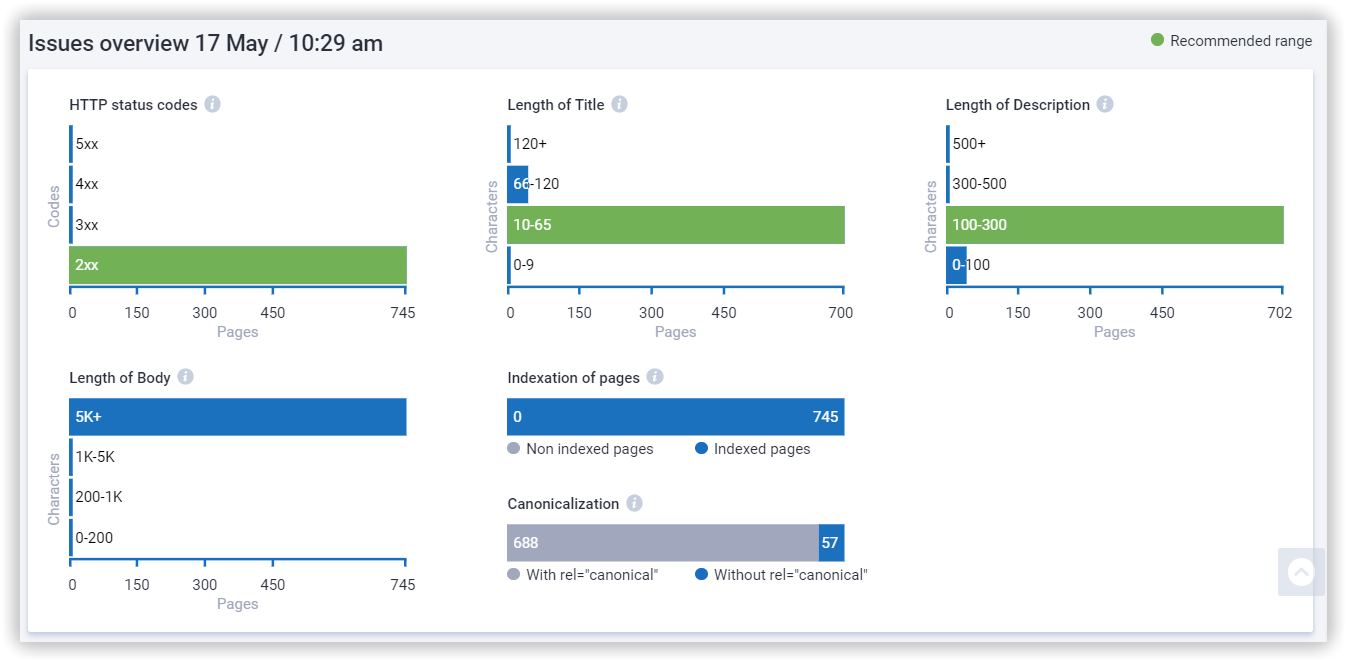 Custom Overview report
. In this report, you can filter the results by different parameters and export only the information you need for a detailed analysis.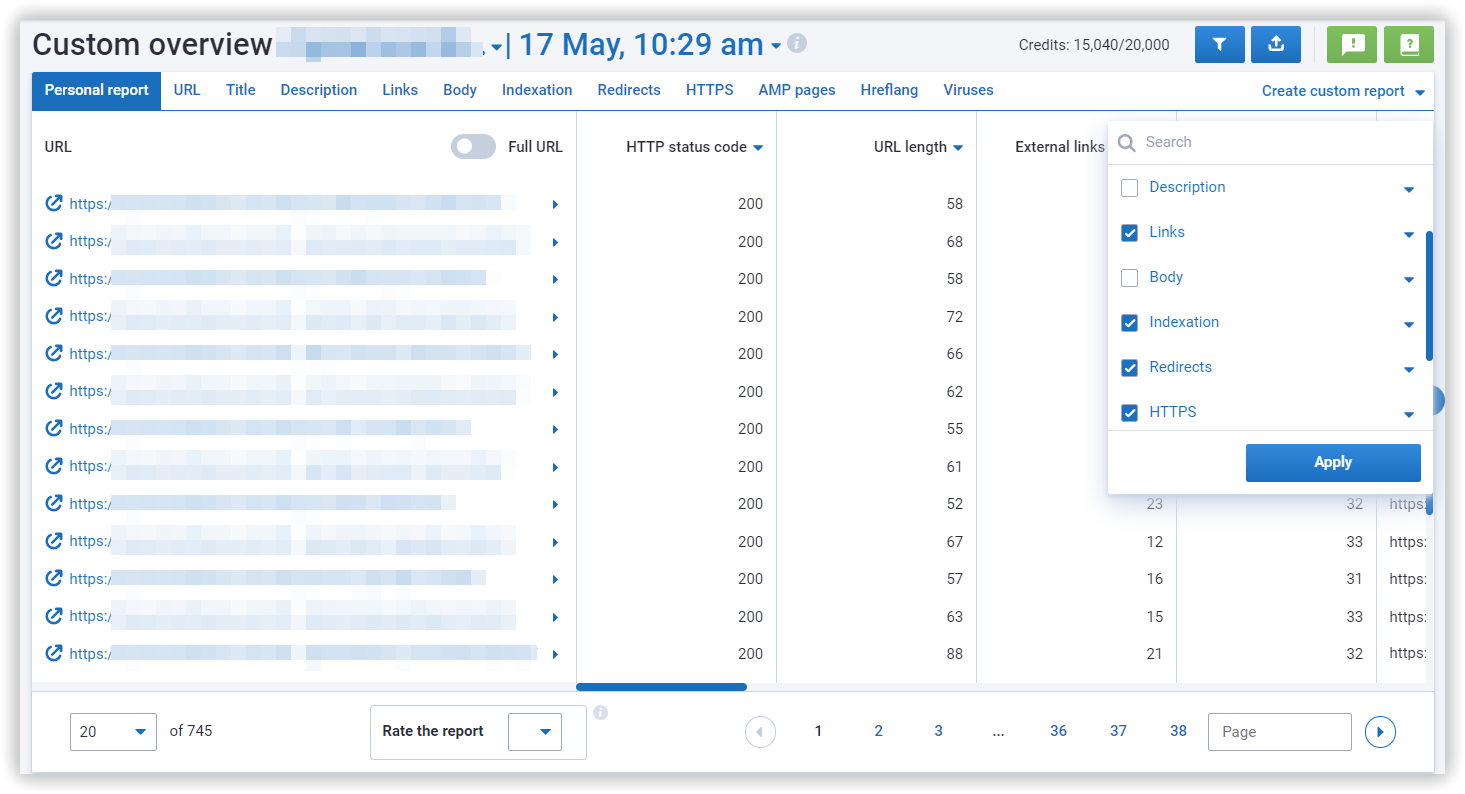 The largest number of checks among all competitors (66.)
The most popular types of issues that Serpstat Site Audit can detect are:
Issues with the HTTPS Certificate

HTTPS pages lead to HTTP pages, self-signed certificates, pages with insecure password input, etc.

Markup-related issues
Open Graph, schema, Twitter Card.

Server Parameters:
Website version with www does not respond

Proper use of canonical tags

Convenient settings.
You can customize the audit setting according to your needs. Our basic settings include:
Crawl duration
(you can limit the crawling time)
Crawl depth
(you can set the crawl depth and the robot will not go to further)
Serpstat Site Audit vs. Alternatives

We collected 3 dashboards to compare Serpstat Site Audit with its alternatives based on the availability of checks for certain technical issues, settings, and prices.


Would you like to try out the Serpstat Site Audit for free?
Sign up for a 7-day trial
and find the issues that damage your website!
As you can see, Serpstat Site Audit is a handy, easy-to-use tool aimed at checking the technical side of your domain. Serpstat has the largest number of checks among all competitors (66) and an affordable price which makes it an outstanding tool designed for your productive work.

Speed up your search marketing growth with Serpstat!
Keyword and backlink opportunities, competitors' online strategy, daily rankings and SEO-related issues.
A pack of tools for reducing your time on SEO tasks.
Found an error? Select it and press Ctrl + Enter to tell us
Cases, life hacks, researches, and useful articles
Don't you have time to follow the news? No worries! Our editor will choose articles that will definitely help you with your work. Join our cozy community :)
By clicking the button, you agree to our privacy policy.