Will TikTok Become the New Google?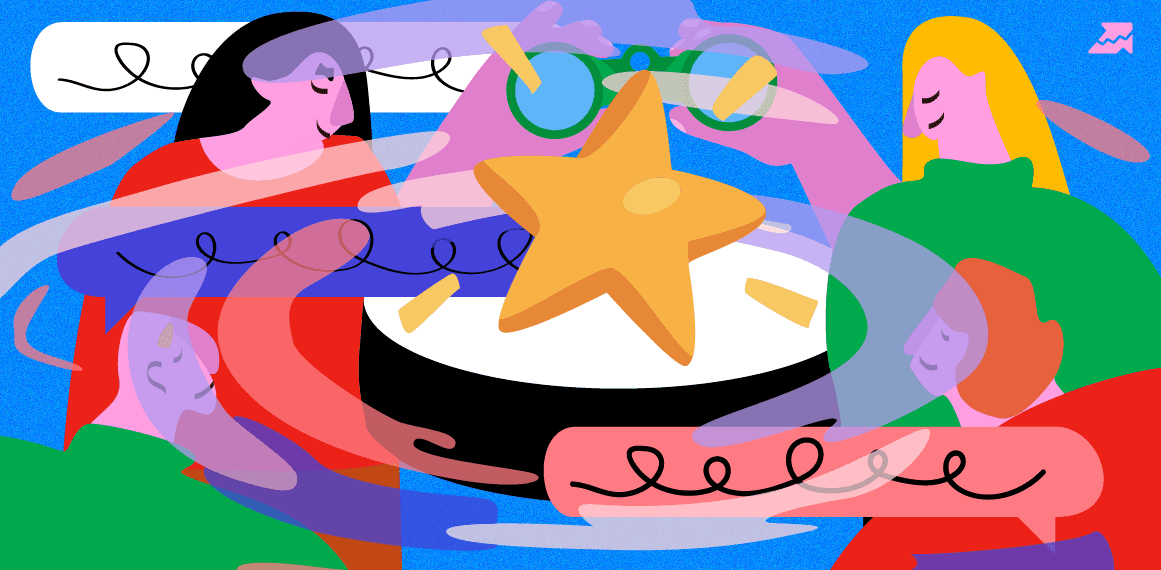 Research Editor at Serpstat
According to Google, up to 40 % of people aged 18-24 use TikTok as an information source. TikTok's audience is 1 billion monthly active users, so the application has taken a prominent place alongside other search engines and social media. To evaluate how user-friendly TikTok's search algorithms are, I surveyed Serpstat users (digital marketers, SEOs, etc.). Also, I conducted a series of experiments to get experience using the application.
Why is TikTok So Popular?
Prabhakar Raghavan, who runs Google's Knowledge & Information organization, claimed that new users aren't looking to type in keywords; they are looking for new, more engaging content. Using TikTok, users can watch and share 30-second videos that are shot on mobile devices and catch the creator's knowledge.

TikTok has retained its popularity since its release in 2016 but gained maximum popularity during the pandemic.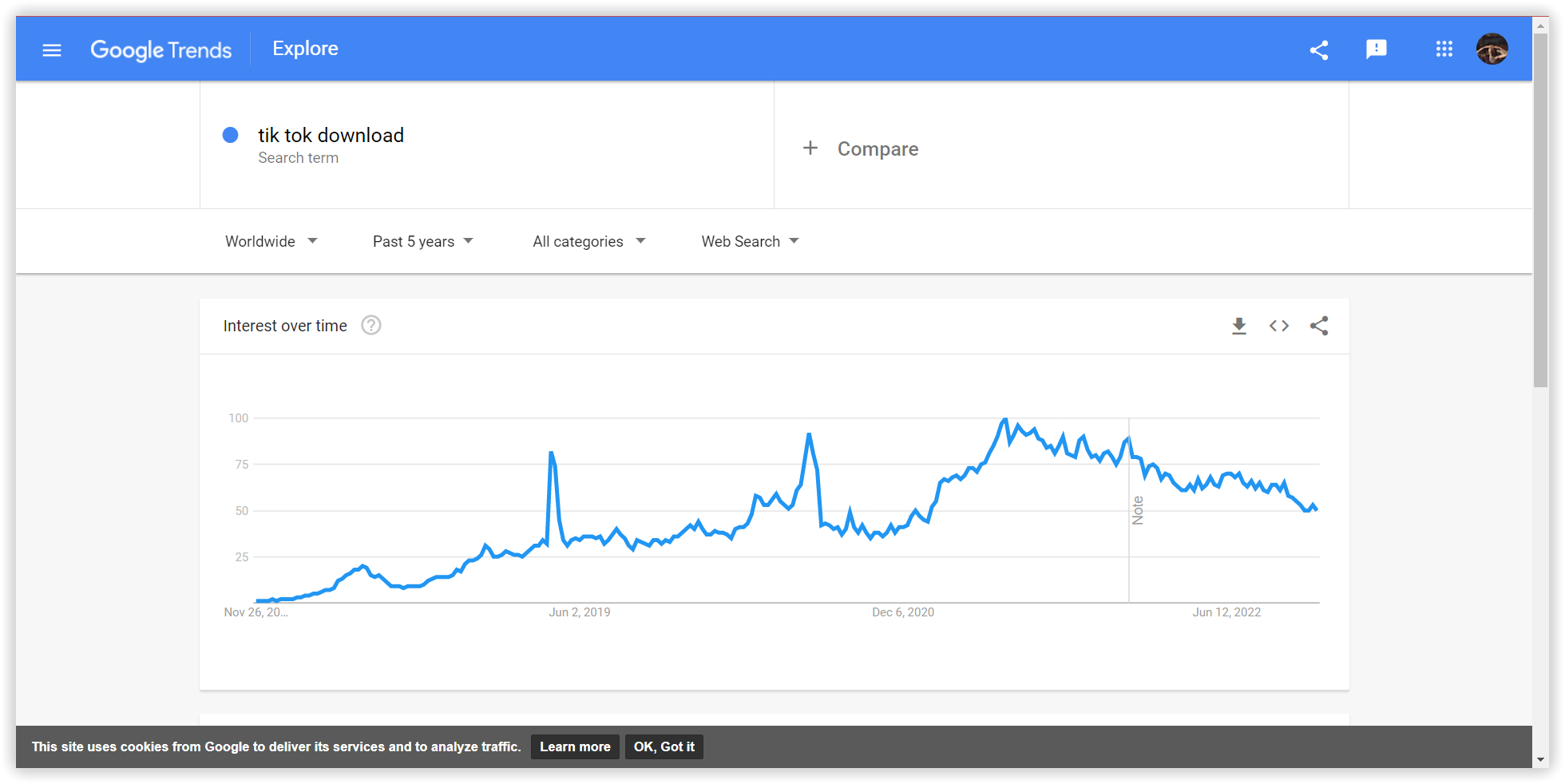 Contemporary users have a shorter attention span and want to get information quickly. 60-second TikTok videos use this marker.
Some users are dissatisfied with the quality of Google's search results. First and foremost, the search engine forces them to sit through advertisements. Also, it's the digital specialists who carefully curate the appearance of products and services in search engines. TikTok, by contrast, provides fast access to content from creators with first-hand experience with a specific product or knowledge in a particular topic.
TikTok's "For You" page shows videos the user may be interested in, and it's more about personalization and discovering content. Users get content based on their engagement, how long they linger on specific videos, or how much they like or comment on them. At the same time, Google, as a search engine, uses its system of ranking factors and understanding search intent. Although Google personalizes its results for users, it isn't as detailed as on TikTok.
According to Serpstat data from the Search questions report, people are looking in Google for queries like:
"how to share TikTok on the Instagram story"
"how to make 3 min TikTok"
"what hashtags get you the most likes on TikTok"
"what is the most viral TikTok", "how to get TikTok", and many else.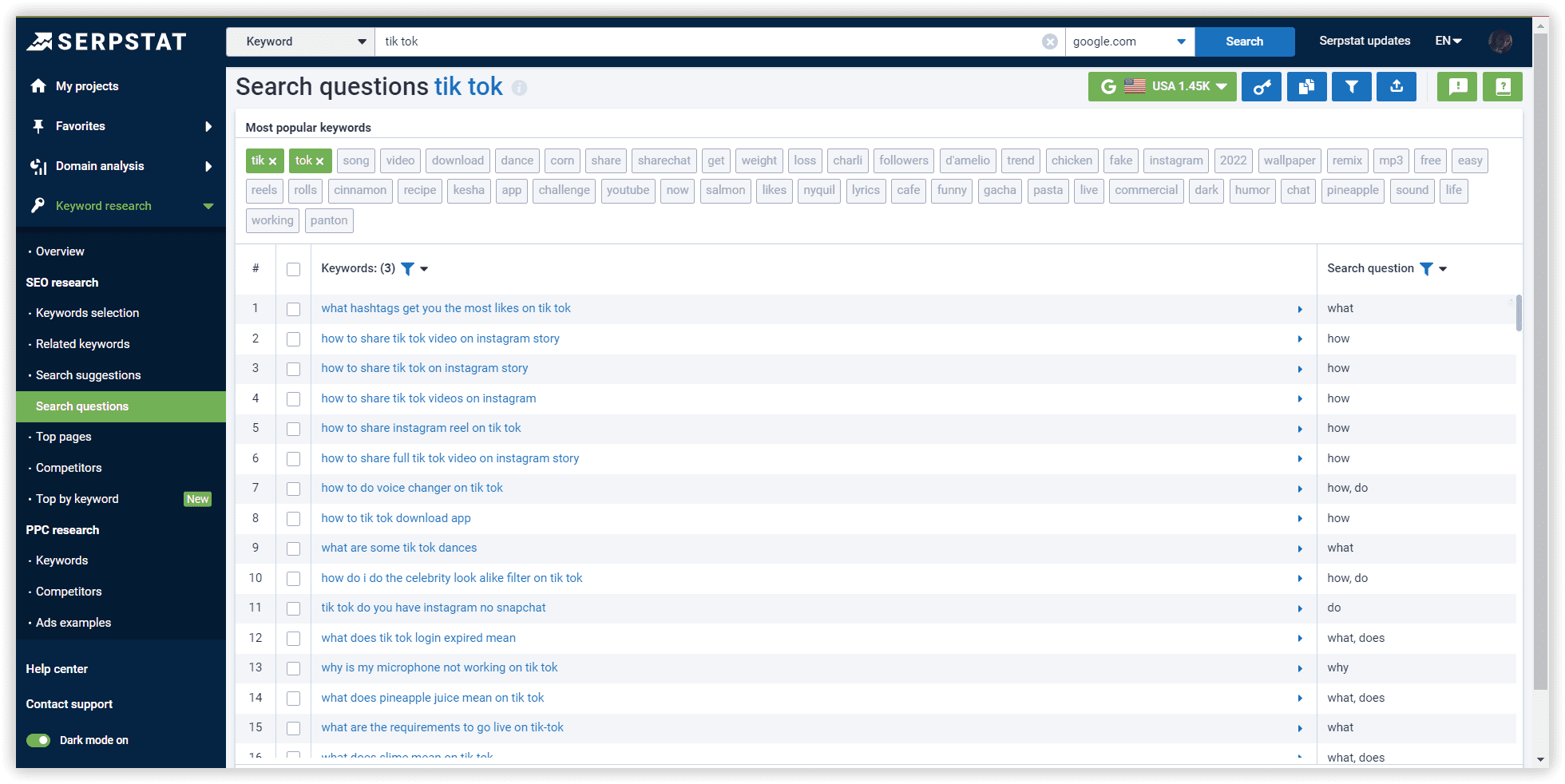 The most recent keyword trends in the US and UK also reveal a lot of trending news about the TikTok app, such as AI filters and voice effects.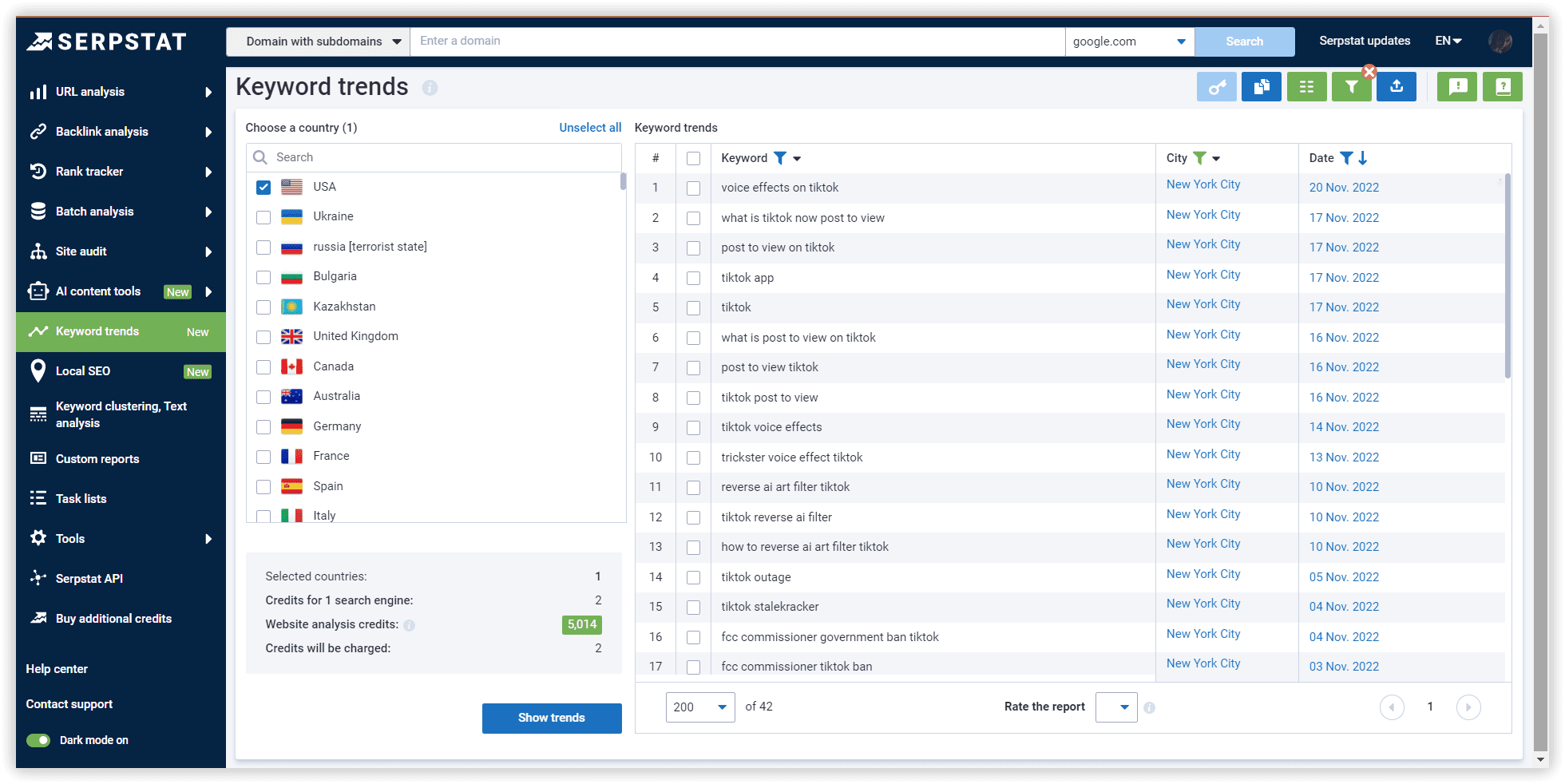 To figure out if TikTok could actually replace Google for us, it's worth going into more detail about the opportunities that TikTok opens up for searching.
How does the TikTok Algorithm Work?
Based on the survey data, we can say that TikTok for search is used by about 35% of our respondents. The majority of respondents use both Google and TikTok, depending on the type of request and intent.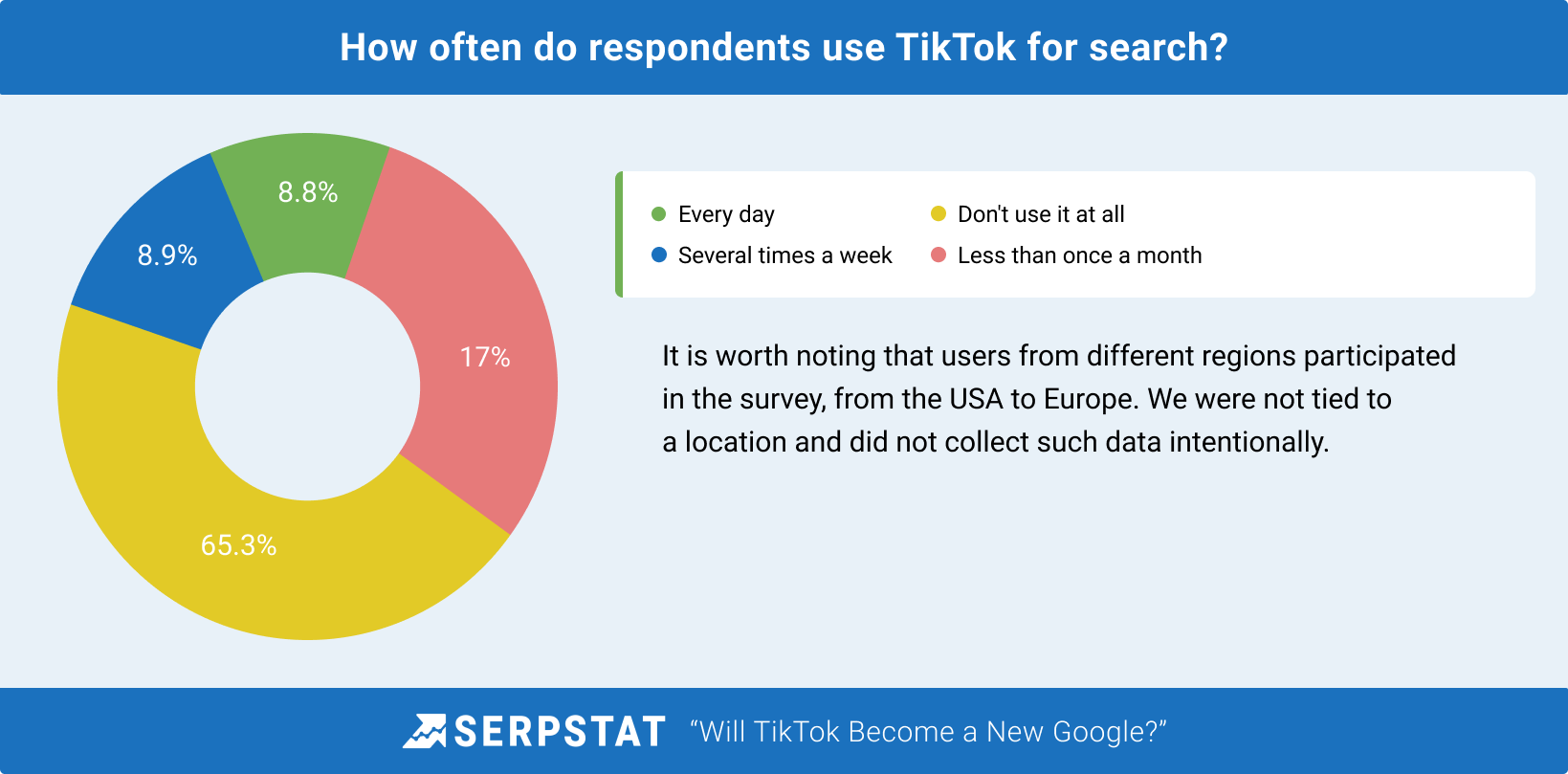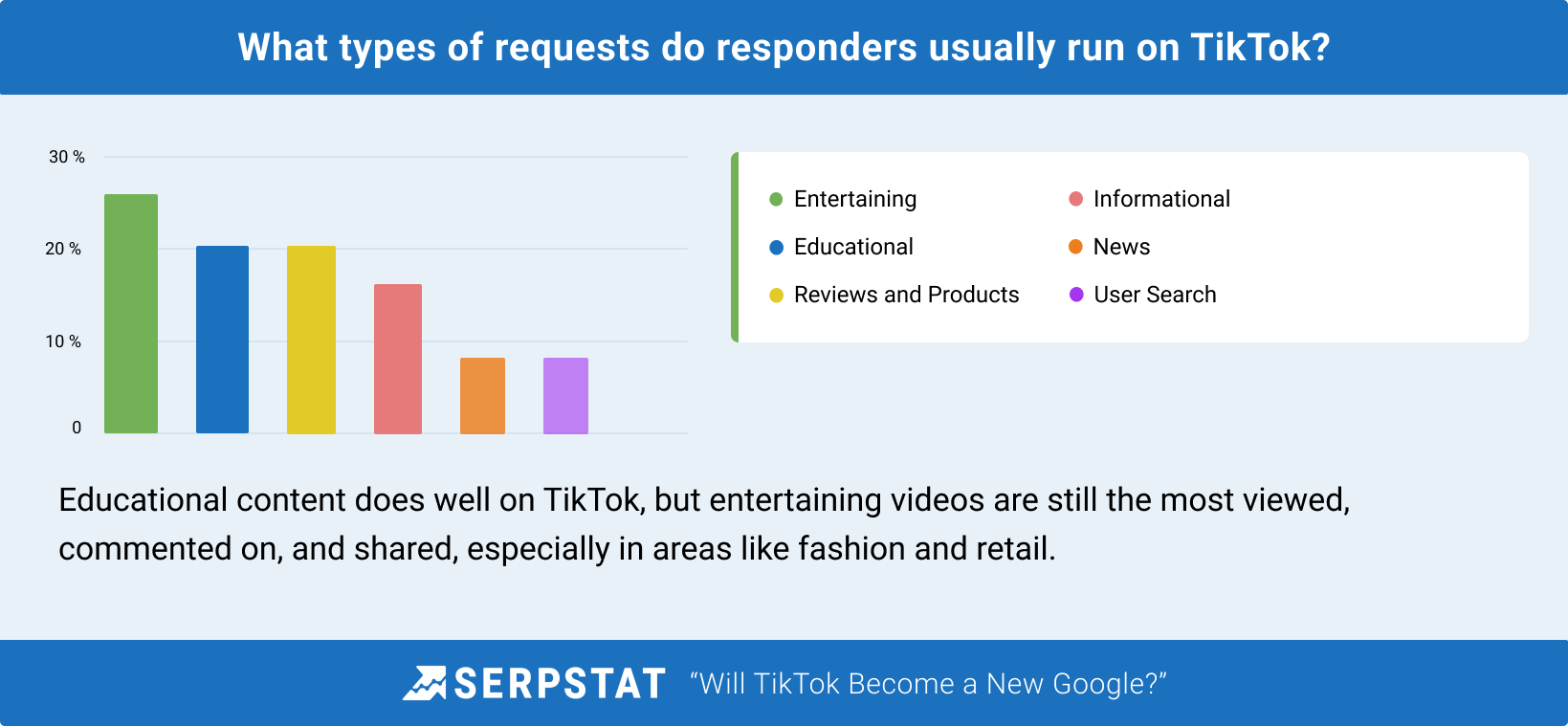 When it comes to the aforementioned categories, here's what kind of content TikTok has to offer:
Entertaining: trending sounds, TikTok challenges, popular hashtags, lip-sync videos.
Educational: lifehacks, how-to content about design, programming, marketing, TikTok optimization, etc.
Reviews and Products: tutorials, testimonials.
Informational: fashion or fitness tips, things to do, places to visit, activities to try.
News: fashion or beauty trends, tech-related updates.
User Search: influencers search, collaboration opportunities.
Using the proposed questions in the continuation of the phrase "how to", we can conclude the types of frequent requests on TikTok.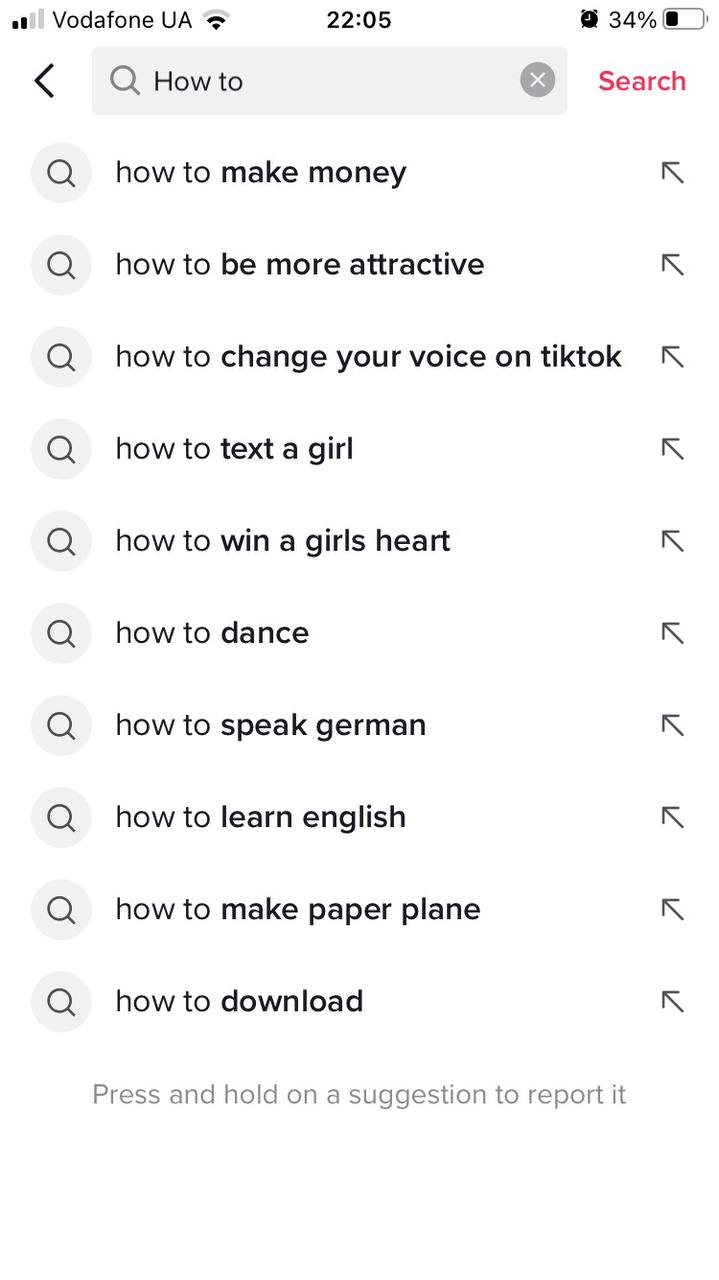 As for my own experience, I tried to use TikTok as a search engine during this research for the first time. I liked the way the algorithms adapted during the time spent in the application and tried to capture my attention more and more.

But for educational information, I was still mostly looking for influencers I already knew and could trust. Mostly they are from YouTube. Regarding fitness tips, recipes, and fashion trends, I often had to re-watch the same video many times because I needed more time to capture relevant information. I can assume that a Google search would take the same amount of time. In Google searches, people often ask "what to watch." In this case, TikTok is a suitable choice because you will see recommendations in different genres with many insights and additional information.
As a separate piece of advice, if you want the algorithms to adapt to your preferences quickly, do not set the localization. The reason is that local influencers who don't always match your content preferences might immediately take up the majority of your feed.

After using the app for a while, it kind of feels like you're communicating with your friends. The more time you spend with the creators, the more trust you build with them. A "verified" mark often comes off as a sign of the creator's expertise. However, medical and financial information should never be taken at face value, as it can carry significant risks.

In my opinion, Google will still be used as an additional source of information. While the TikTok algorithms are perfectly tailored to your preferences, sometimes you should go off the app and double-check the information with reliable sources.
The survey's results on the usefulness of searching on TikTok showed that many advantages could be identified in rethinking visual search. However, there is also an opinion that Google is a more serious source, and TikTok's primary purpose is to entertain.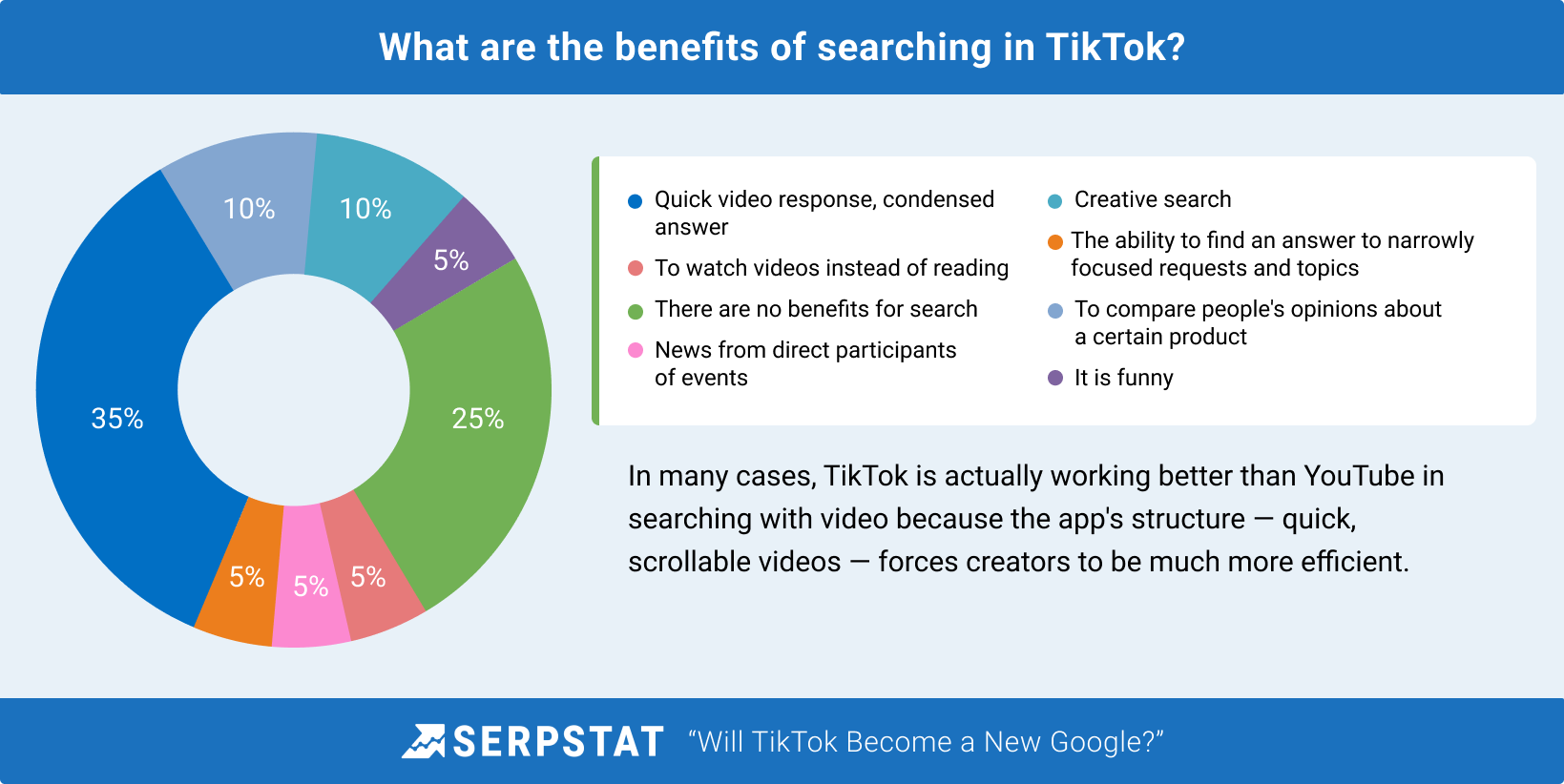 According to comments on the disadvantages of TikTok search, the most common ones are that it has distracting content that doesn't provide a direct answer and needs to be fact-checked. Moreover, there were unexpected drawbacks, such as the need to download the app or difficulty adjusting to such results.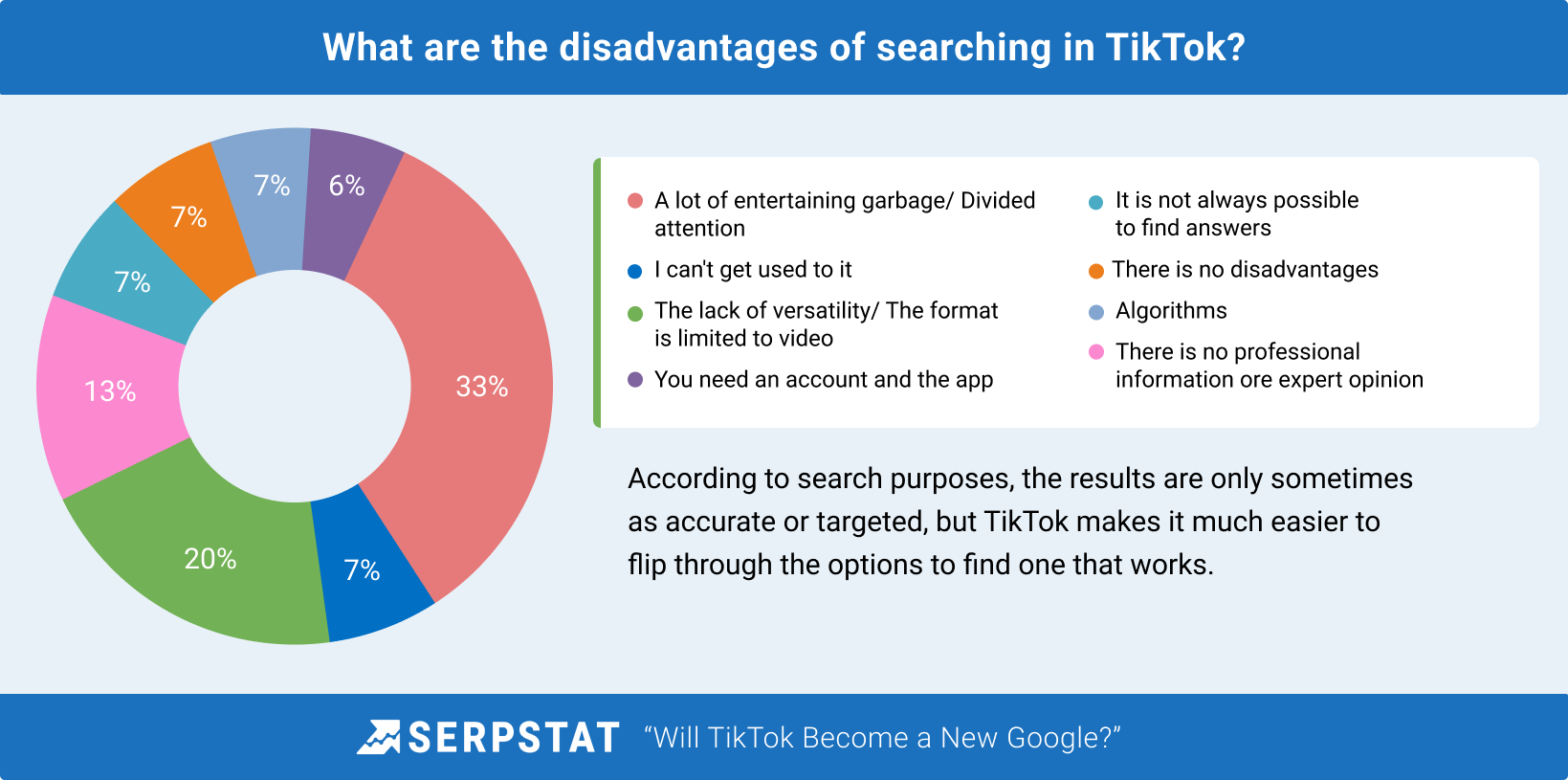 If we consider creators' goals, longer, more profound, evergreen, helpful content will not work in this space. Therefore, TikTok will also have to find a way to encourage people to create searchable content.
A frequent problem associated with insufficient verification of facts on TikTok and misinformation. According to the recent
Guardian research
, the service perceives fake election information, including incorrect data, as trustworthy and credible.
Nevertheless, TikTok is working on improving its algorithms. For example, it removed nearly 700,000 videos yearly, including election misinformation, disinformation, and manipulated media.
Thus, we expected to outline the main trends related to visual search and the shift to more diverse formats. We also tried to understand whether searches on TikTok will be as common as on Google.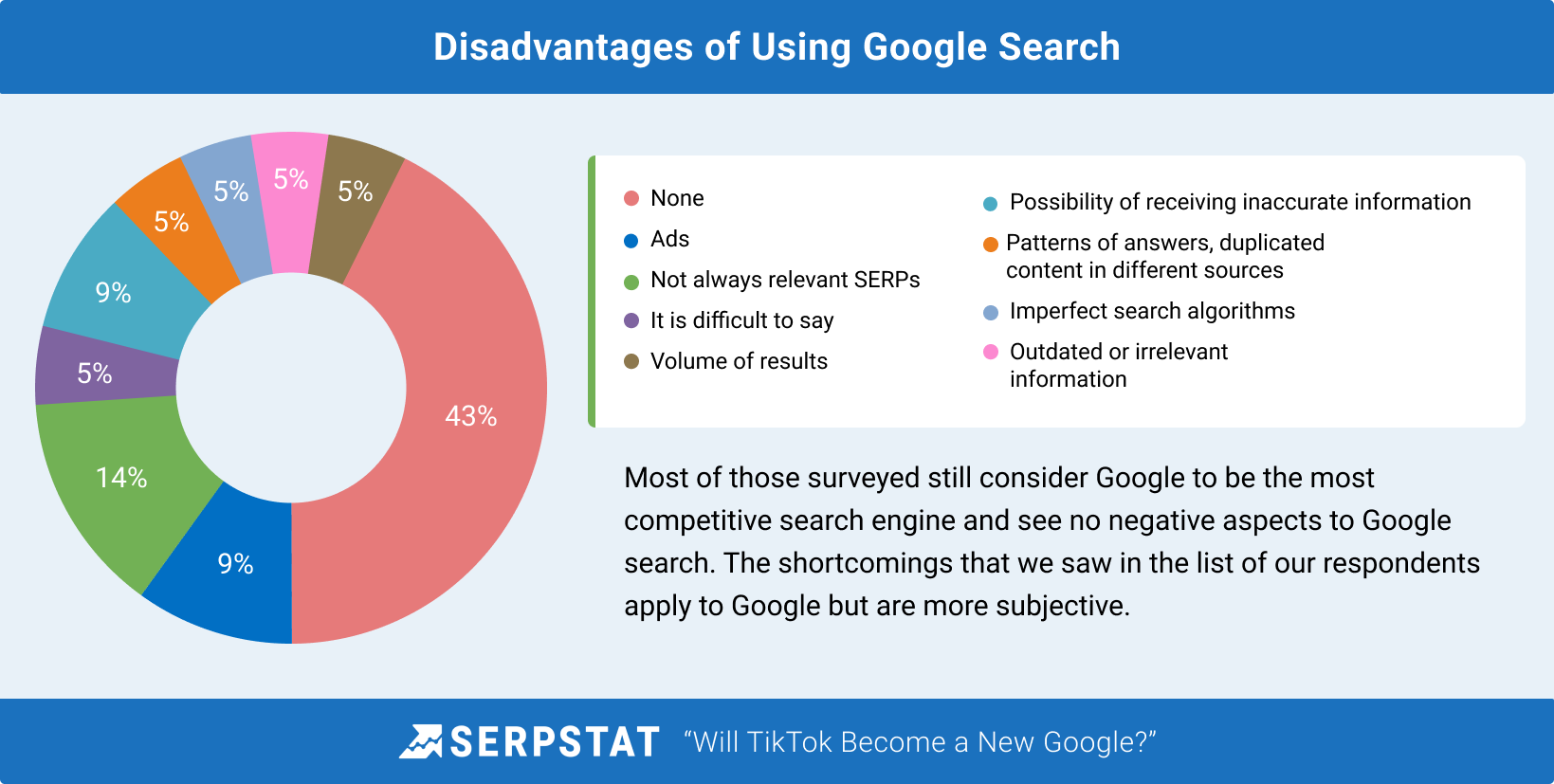 Regarding repetitive results and the imperfection of search algorithms, respondents used examples from practice that caused them frustration.

In continuation of the topic, let's discuss the possibility of completely replacing Google with queries that would be more appropriate to ask the search engine. In our survey, we asked: "Do you think TikTok can take the place of Google for everyday searches?". Only 10% of respondents answered with "Yes".
From my own experience, I find more detailed and specific data for work and study in Google Scholar. Further, I see much information on specialized verified resources, and I rarely expect a valid result from a first keyword. Ultimately, I prefer the Google app because all the valuable functions and search options are always at my fingertips.

Most of us can easily find the advantages of Google, but it is much more challenging to point out the disadvantages. As we shift our focus to more creative content in various formats (videos, podcasts), we gain more and more knowledge that will easily add to the textual content arsenal.
With our survey of TikTok users, we found that while the service is still considered a way to have fun, learning and receiving information allow us to consider it a strong competitor to Google and YouTube.

While each method has advantages and disadvantages, TikTok performs better in numerous queries where UGC (user-generated content) is significant. That is why the demand for optimization on TikTok for individual pages of brands is growing.

Answering whether TikTok will completely replace Google, it is unlikely to happen shortly. However, competition from services with the visual search will undoubtedly benefit Google. It will enhance this familiar and beloved search engine in a highly competitive market, bringing it to a whole new level.
Found an error? Select it and press Ctrl + Enter to tell us
Cases, life hacks, researches, and useful articles
Don't you have time to follow the news? No worries! Our editor will choose articles that will definitely help you with your work. Join our cozy community :)
By clicking the button, you agree to our privacy policy.