How to Reach a Wider Audience by Bringing Your Old Posts Back to Life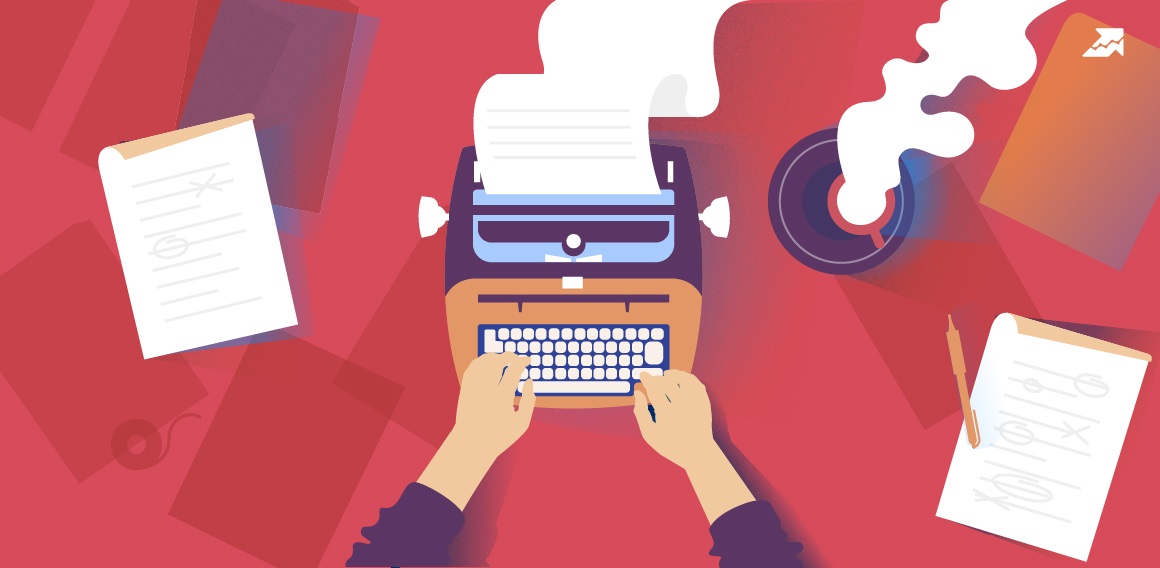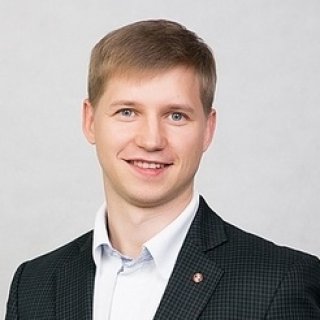 Nikolay Grinko
Blogger
Every blogger strives to reach a wider audience. Unfortunately, publishing a high-quality content on a regular basis doesn't guarantee traffic growth. In this post, I'll share some tips on how to attract a new audience by bringing your old posts back to life.
It's not enough to fill up your blog with useful content to get more traffic. Creating high-quality content is definitely critical to blog success as it engages and hooks your readers in from start to finish. But to read your ultra useful content, your potential reader has to find it via organic search, and there is a huge number of extra ranking factors besides the quality of your content. Content marketing doesn't work without SEO, and it's just something we can't ignore.

It's one of most common mistakes among blogging newbies. And if you have several ineffective posts, it doesn't mean that you should remove all of them and start over. Let's see how to optimize the old articles to generate more traffic.

I'll share my case so that you can see this method in action. Here is the article which had about 1000 visitors during 1 year and 1 month.



I optimized this post and here is the result I got: traffic has grown by more than 680% in 4 months.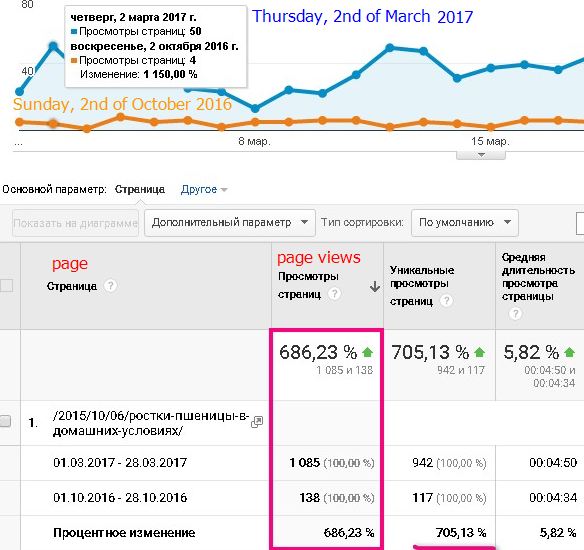 As you see, after re-published article received more visitors during a month than during previous 13 months. So, the first step is to find ineffective articles, which could potentially bring you traffic.

"
Enter your domain (or blog URL) into Serpstat search bar, go to "Domain analysis" → "SEO research" → "Top pages." Sort the gained results by the number of keywords the page is ranking for. Select the pages that have a lot of organic keywords, but low potential traffic."

Step #1
Check how efficient your article is

How to find out if your article isn't effective? If it hasn't reached the first 20 or at least 30 search results during 6 months, there is something to think about.
Ask yourself the following questions:
Have you researched the keywords users enter to find the content you're covering?


Is the article optimized for these keywords?


Is it possible that you've optimized the article for a high volume and high competition keywords?


Then enter article link into Serpstat's search line, choose the search engine and click on
Search
button.

You'll see the list of keywords your article is ranking for with your positions and Google volume. If you see that you're on top by some keywords, don't count your chickens as there are high chances that these are low volume keywords. For example, my old article was optimized for the "wheat germs at home" keyword. As a result, it was at the top for this keyword just because this keyword is low competition and low volume one.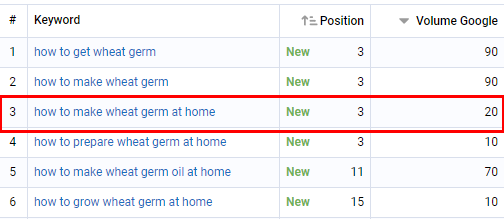 If your article is ranking just for several keywords, it won't bring you much traffic. And despite the fact that search robots are getting smarter, they need your help to understand what your article is about. You need to carry out keyword research to find more keywords for your post.

Step #2
Repeat the keyword research

Try to find more efficient keywords that:
To find such keywords analyze your report again. Filter the results by domain's position for a keyword and the search volume according to Google Analytics.
Here is how it looks like:

Set the domain's position for a keyword filter between 6 and 20 (30 maximum) and search volume from 100 (or 50 if there are no more).

Note:
Why do we set filter from the 6 position instead of 10? Even if you are at top 10 of Google results for some keywords, being at top 5 is much better. Thus you should work with keywords that are out of top-5 SERP and push them to the top of the search.
According to
Searchenginewatch research, first pages receive the most traffic, here are the results of the research: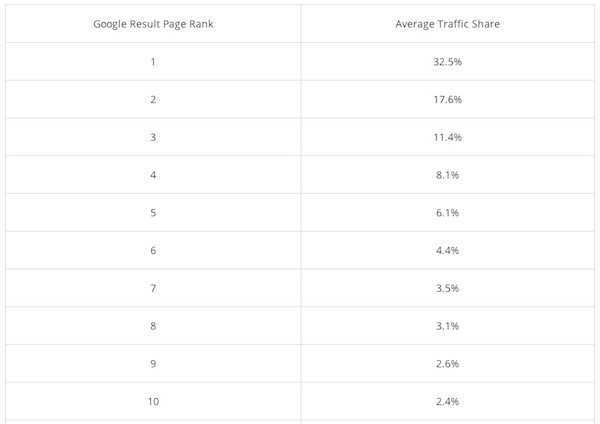 When you type something into Google, you'll see just the first 5 results before your scroll down. Here's an example: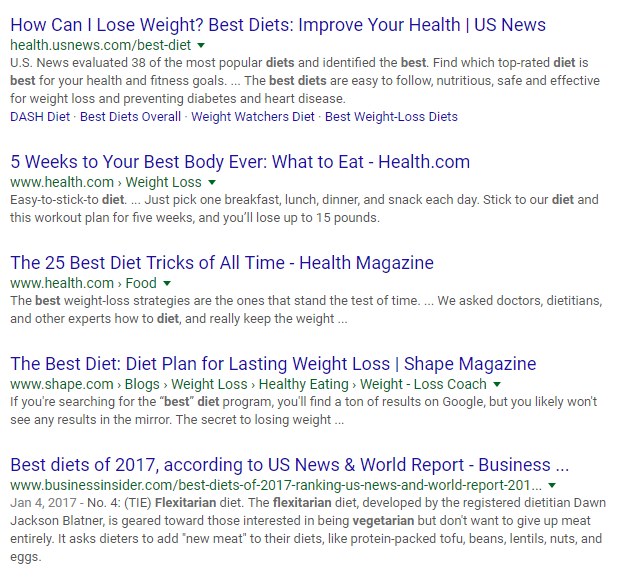 If your article is far away from top-30 of Google SERP, most likely it means that:
you used the inappropriate keyword;
it's a poor-quality content.
You need to use another more relevant keyword for your article according to the main idea of your post. Such problem may also occur when you chose one topic for your post, but while writing you switched to another one and thus you finally got two in one. That's why Google may not understand what you article is about your article covers quite a broad topic. Thus read your post again and choose the main idea. Then pass to the next step.
Step #3
Choose the main keyword

If you're close to top-10 but still can't reach it, try the other keyword. Mid-volume keywords fit better, especially for the young sites. If there are only high-volume keywords in your report, click on them to see related keywords.

So, by clicking on the phrase "how to grow wheat," you'll get more similar and related queries.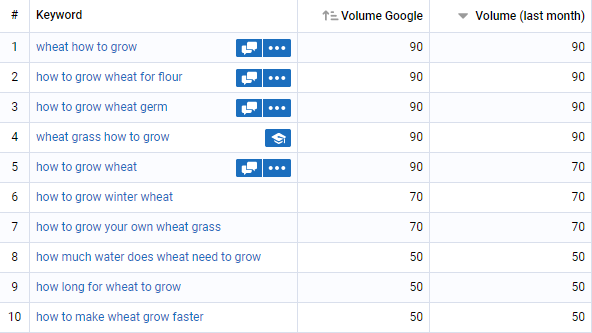 And here you can choose the main keyword for the article.

Step #4
Check how competitive the chosen keyword is


Now enter your keyword into the search line and click on this icon. You'll see the following metrics:
These are the most important ranking factors the search engines use. Here is how it looks like: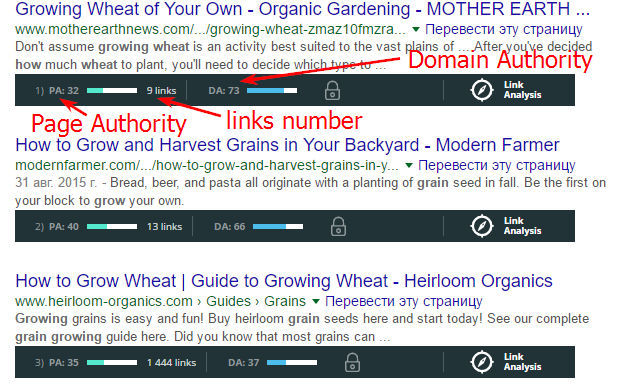 Then click on the number of backlinks to see what they are.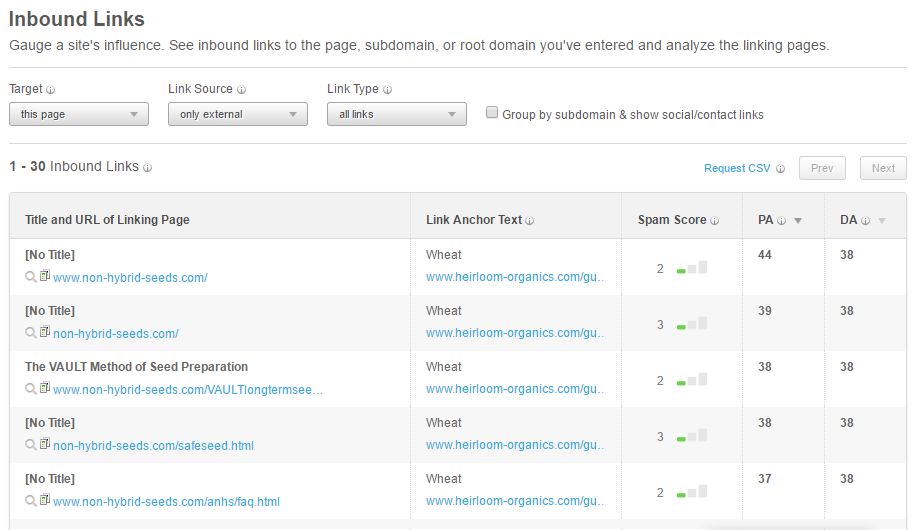 If the majority of competitor's links are internal, page and domain authority are low (PA, DA — below 20), then you probably can break into the top with this keyword.
But even if sites on top of Google results are quite authoritative and the word is profitable, you shouldn't stop there. What if their content not that good?
Pay your attention to:
the quality and readability;

the presence of outbound links to research.
If these posts are not good enough and you know how to write better, then you're holding all the trump cards.
Step #5
Use related keywords

Those days, when keyword spam worked as an effective SEO technique, fortunately, have passed. Now you should use related and similar queries to have a result.

To find such keywords, use Serpstat's features:
Here you'll get the largest variety of related key phrases. For example: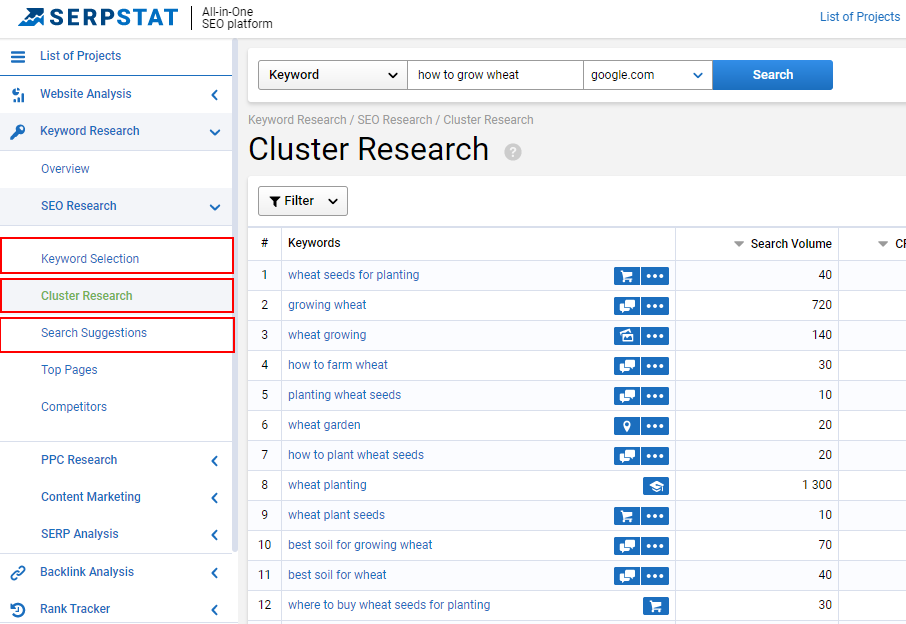 Collect all gained keywords to Excel, remove irrelevant keywords and use the remaining ones in your text.

While writing insert queries the way you speak in a simple conversation. Try not to use unnatural phrases like "wheat germs at home". Change the order and form of the word.

Step #6
Optimize page's title and description

To grab reader's attention try to answer the main question in a title of the page. The more readers click on your title — the higher your chances of getting into the top are.

This way the search engines will understand that your content meets the query better than all others. According to the Moz research, the titles which receive more clicks can reach top-5 SERP more often. These 5 results get 60% of traffic. To compare: second search page gets only about 17% of visitors.

The title of my article, which began to generate 680% more traffic is "How to grow wheat at home: 6 steps to resist cancer".

Maybe it's quite strong and controversial, but it works.

Note that such big statements should be proofed by reference to appropriate investigation or experiment. Without seeing the evidence, readers will simply leave the site. It will lead to increasing of refuses index. As a consequence - rankings drop.

Here are some tips to creating title that works:
Include keyword ( in a natural way);
Try not to use more than 12 words in the title (according to some sources the readers do not pay attention to first and last three words at all);
Put the keyword at the beginning of the title;
Use high-volume keywords in the title if it's possible;
Do not use ".", "!" and "?" in the middle of the title.

H1 should be optimized in the same way. It should be different from Title (can be insignificant), a little shorter and to continue the idea described in the Title.

Then add correct article Description, which most often (but not always) gets in a snippet. It's the text you can see under the headline in the search.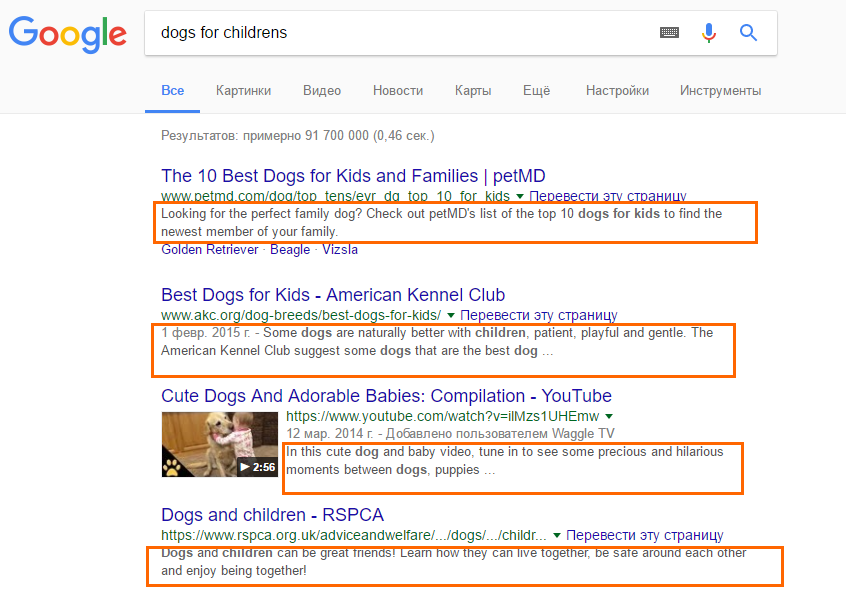 The main recommendation for creating a description:
It should be from 50 to 160 symbols (about 15-16 words);
It's desirable to use the main queries;
It should complement and amplify the title.
Step #7
Optimize images in the articles

It's well-known that images help to perceive information easier. Visual content is:
has 40% more social signals.
Remember that every image needs a name. It should be simple and descriptive. For example, if you write how to cook sushi at home, the title should be connected to the action.
This way
:
nori-choice.jpg
To help search robot understand what your image is about, include main or related keywords to its name.
For example:
nori-choice-for-sushi.jpg
Do not name your images using symbols as search robot won't understand.
Something like that
:
DSC4563.jpg
Optimize alt tags as well. It describes your image. Google's experts pointed out that it's important for ranking on
their blog.
It's important to use different alt-tags for every image.
Step #8
Interlink your blog articles

Doing interlinking, add links from the new posts to old ones and don't forget to do the same conversely.
MOZ blog points that internal links are useful for the following reasons:
They allow users to navigate a website;
They help establish information hierarchy for the given website;
They help spread ranking power around websites.

As to the anchor text, Moz says it should be relevant to the page you're linking to.
Avoid using phrases like "here" and "there", they're less effective.
Summary
As you can see, sometimes it's enough to do a few simple steps to raise the traffic:
Evaluate the competition and keywords' volume;
Pick correct keyword for the re-optimization;

Improve the article by giving it a new title and description;
Include the right images into the article;
Interlink it with other topical articles.

Found an error? Select it and press Ctrl + Enter to tell us
Cases, life hacks, researches, and useful articles
Don't you have time to follow the news? No worries! Our editor will choose articles that will definitely help you with your work. Join our cozy community :)
By clicking the button, you agree to our privacy policy.