// В этом файле есть те нужные стили которые в других файлах нет.?>
SEO

–

8 min read

–

November 9, 2018
A Step-By-Step Guide To Revealing Your Niche Ranking Factors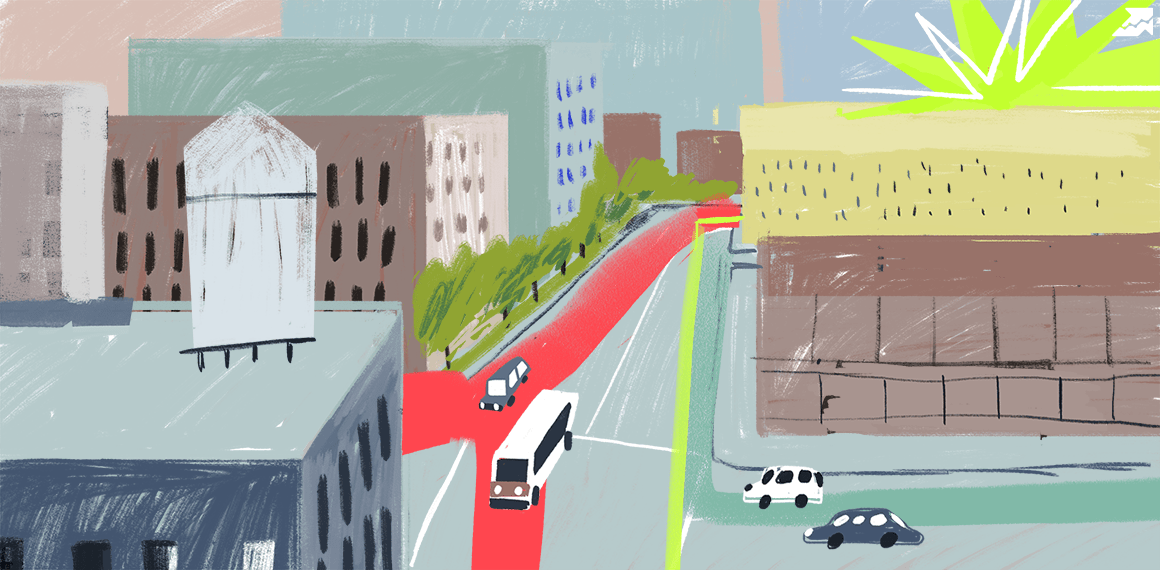 iEva Zelca
There's a good number of ranking factor studies that share what kind of metrics are affecting your site's visibility in Google. Some of them recognize links as a non-stop train to SEO Eldorado, others claim that direct traffic and user behavior signals play a much more significant role.

With all those researches being full of insights, they are not universal, and here's why:

Limited data sets: Every research is based on a different dataset, and every dataset is limited and cannot perfectly represent the whole landscape.

Niche specifics: Depending on such factors as website size, niche or competitive landscape, ranking signals can be prioritized in a different way.

Data fragmentation: The data that different researchers use for their studies can be fragmented: e.g., some studies only use traffic analysis, others can also investigate the SERPs.

So, how do you make sense out of it all? To figure out, what ranking factors truly matter for YOUR site, you'll need to run a DIY ranking factor study and see what's happening in your niche. And in this post, we'll show you exactly how to do it.

Start by analyzing what kind of sites and URLs are appearing in your SERPs

There's no better way to get an idea about what really matters in your niche than going straight to Google SERPs.

For instance, that's what kind of pages users see for a search query "SEO services":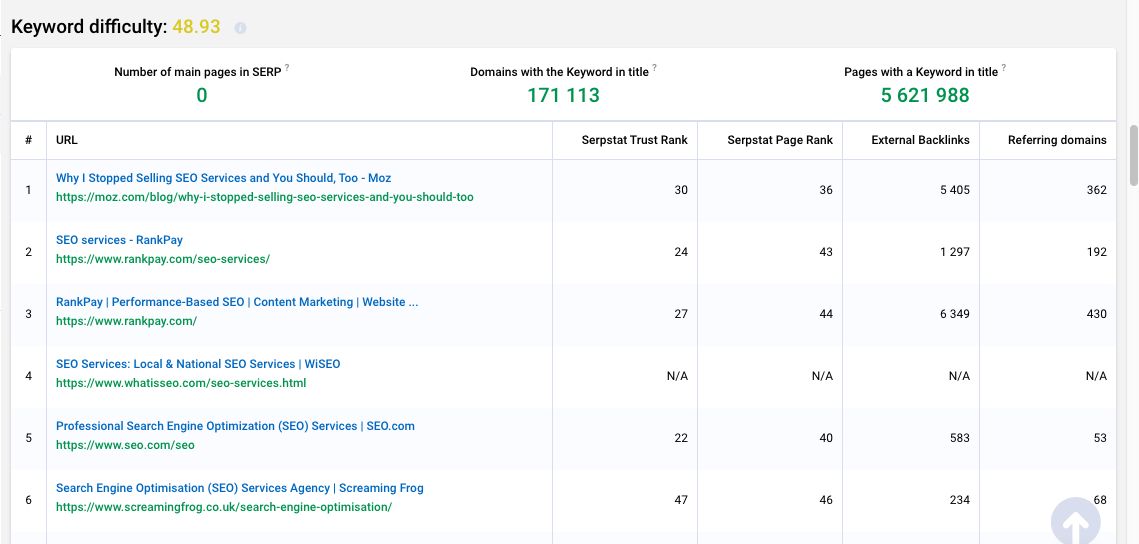 Checking the amount of referring domains that each page has will show you if links matter. They do pretty much all the time, but in some niches, their influence is not as obvious.

Another factor that can be revealed straight from the SERP is the presence of an exact matching keyword in the on-page elements: title, meta description, and URL-address.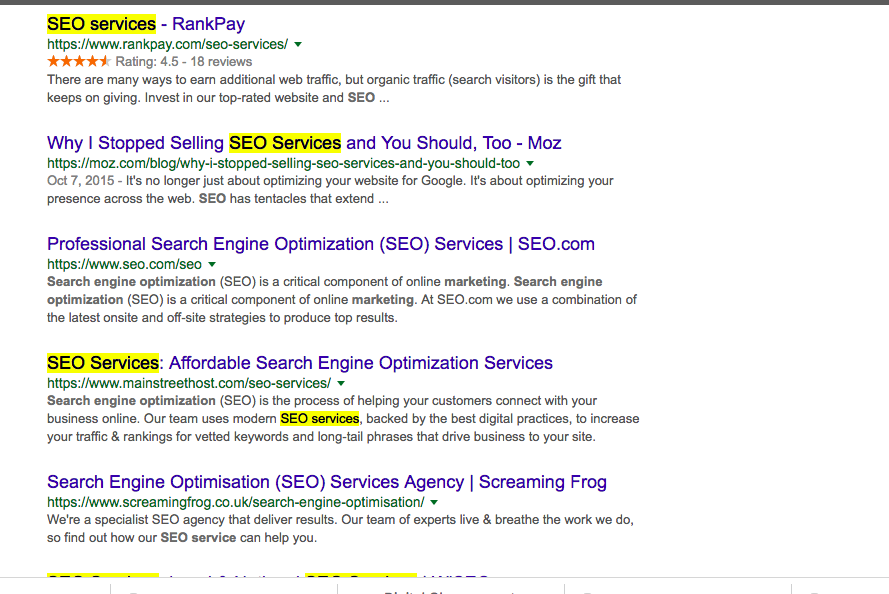 Check the snippets of the pages that you share the SERP with. Do they use the exact matching keywords, or do they focus on semantic meaning?
Doing this might be problematic for an extensive keyword set, yet it's still worth a shot on a small set of your most relevant keywords.
And if you're optimizing for various locations, it might get even more time-consuming. In this case, you'll need a tool that can show your search engine results in multiple locations,
for example, this one
. It can show you a live SERP for any keyword in any specific location on a mobile or a desktop device, plus it's 100% free.
Check your competition in terms of site speed and mobile friendliness

Google has been advocating for user comfort for a long time, so site speed and mobile-friendliness have been widely acknowledged as ranking signals. In fact, these two metrics determine whether love at first sight between your users and your website is even possible. There's no guarantee: if your site's fast and mobile-friendly, it's a start, but if it's loading for 40 seconds and looks weird on a smartphone, you'll need to be giving away dollar bills to acquire (and retain!) any visitors.
Once again, user comfort is a priority. So, regardless of what factors are important in your niche, such universal characteristics will always matter.
There are many tools out there that allow to quickly check any page speed: e.g.,
Google Page Speed
and
GTMetrix
.

The top page on the SERP for "SEO services" seems to be having troubles with the loading speed. This does not indicate that page speed is not an important factor in the niche of SEO service providers, rather, it's a signal that this site can be thrown off from the first place.

And here's what GTMetrix reports about the Moz.com blog post that ranks on the second position: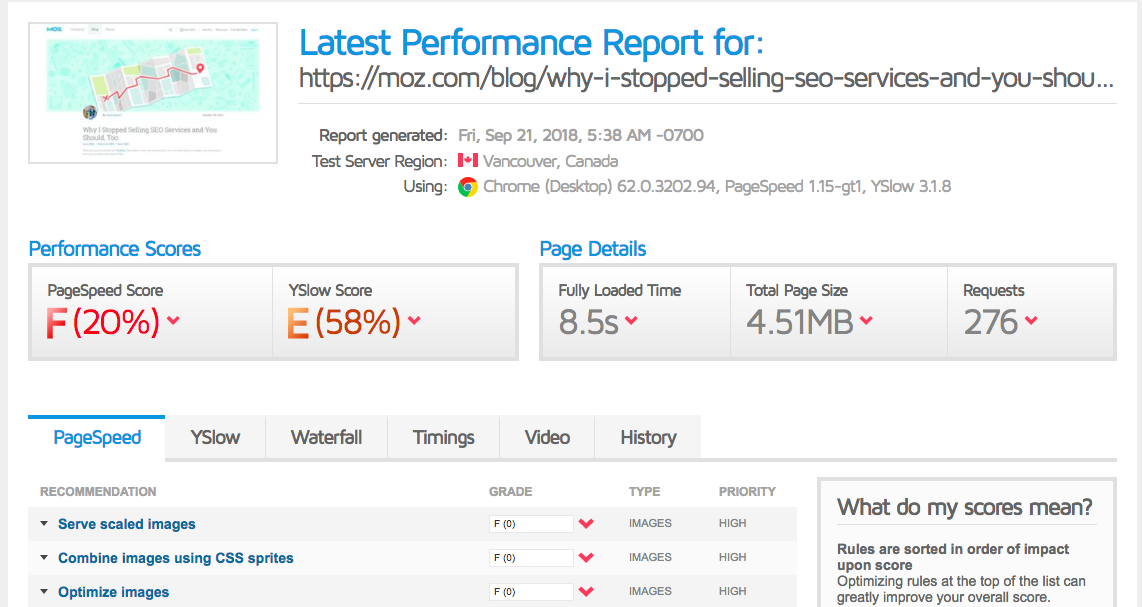 As you can see, GTMetrix provides more insights about a page, so might be more useful if you're looking to investigate more metrics.

Bottom line, after revealing how well these pages are performing in terms of loading speed and mobile-friendliness, you'll have an idea about how important these two factors are in your niche and whether you need to allocate more resources to optimize it on your website.

Reviewing how sites are acquiring traffic and users on site behavior

The final step is to understand how the leading websites in your niche are acquiring their traffic and how users are interacting with them. One of the recent ranking factor studies listed direct traffic as the number one factor. So, what does this mean exactly?

Roughly speaking, direct traffic is when the users type in the domain's name in the URL field. Users do so when they are already familiar with the domain's name, that is, it has a strong established brand. It is not carved in stone, and in some niches (especially the new ones, like cryptocurrency) you'll find out that other traffic sources are bringing more users on board.

SimilarWeb is the best tool to understand traffic channels for any site. It also shows how users are interacting with the site's content. For example, rankpay.com attracts 3 times more traffic from search than from direct visits: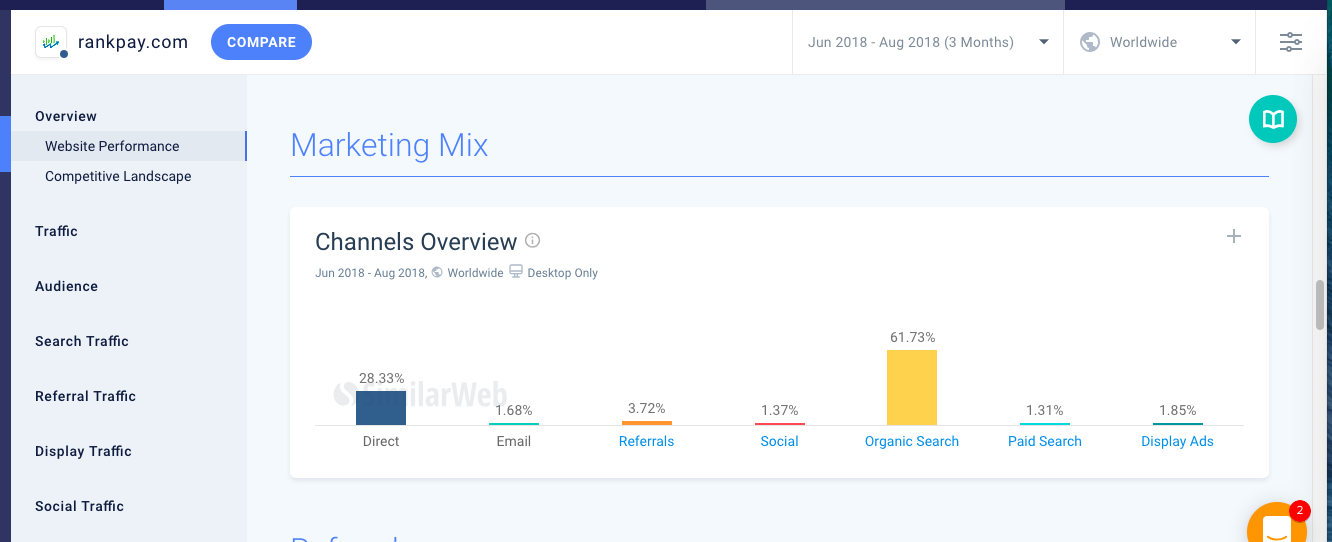 And here's how users are interacting with the site:


The bounce rate and the pages per visit metrics often indicate the quality of the content and users' satisfaction with it. The values of the top page on the SERP can serve as benchmarks for your site if you're aiming to take over the first position.

Okay, now I have this data, what do I do next?

After analyzing many, many SERPs, you'll be able to understand what ranking factors are important in your niche. Though it implies a good share of manual work, a simple SERP analysis and selective website check-ups can help you gain a lot of valuable niche insights.
The next step is to determine what your "blue ocean" is. If backlinks are your main ranking factor, you'll need to use it to its full potential.
Interlink various pages of your site so that the link juice can flow from one page to another
Target lower volume keywords so that you don't have to compete with the huge brands with thousands of backlinks
If user metrics are your main factor, then you'll need to improve your site's UX including its loading speed. The more convenient your site is for the users, the longer they stay, so the bigger will be your advantage in the SERPs.
Found an error? Select it and press Ctrl + Enter to tell us
Cases, lifehacks, researches and useful articles
Don't you have time to follow the news? No worries!
Our editor Stacy will choose articles that will definitely help you with your work. Join our cozy community :)
By clicking the button, you agree to our privacy policy.