What is a sales funnel and how to build it
A sales funnel is a universal business tool that is used to make your cold customers potential purchasers. You can build a sales funnel offline and online using standard methods of contacting potential customers.
This is the way of the consumer from the moment he becomes interested and to the moment when he decides to make a purchase. If most people who make a purchase become regular customers, the path will look like a pipe.
However, as practice shows, some customers are lost at each stage from first acquaintance to the moment of making a second purchase, so a narrowing funnel or an inverted pyramid is formed.
A classic sales funnel consists of
several stages of influence
on a consumer audience. In some cases, each stage can be divided into several parts.
The standard formula for building a funnel is presented in the form of a pyramid that has four components: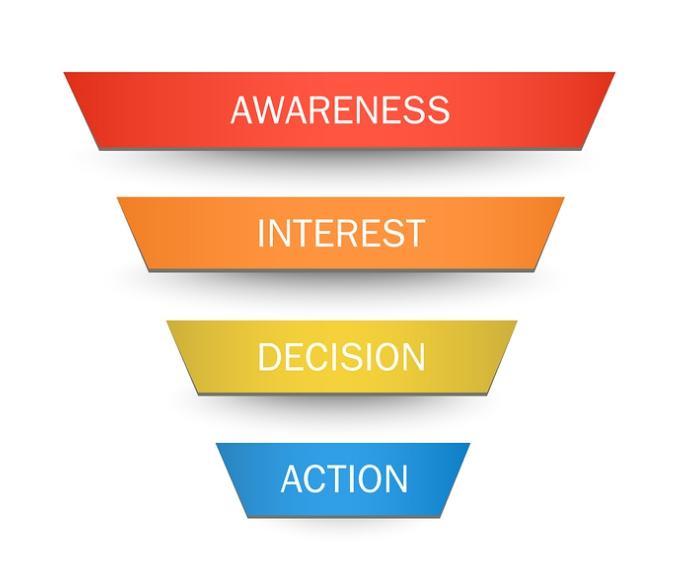 The AIDA (Attention-Interest-Desire-Action) formula was first introduced in 1898 by lawyer Elmo Lewis.

Now it is also used as the basis for transforming a cold customer into a potential customer, but now dozens of approaches are applied to each stage, the choice of which depends on the method of disseminating information about the product, options for interacting with people and variations in their response. In this regard, the funnels were divided into sales areas online and offline.

It is believed that most buyers go through several stages before making a decision. In order for this decision to be in favor of purchasing the product, the seller smoothly brings his potential customer to it.

Stages of interaction between seller and buyer:

Attracting customer attention through advertising.
Attraction and retention of interest to the product.
Confirmation of the desire to make a purchase.
Conversion action of the buyer (call or visit to the store, and immediate transaction).
Using a classical funnel, a plan of impact on customers is drawn up taking into account their behavior. After launching the funnel, you can trace all its shortcomings. For example, if you note a large loss of potential customers at one stage, you need to check the drawbacks it has.

To calculate the conversion of each stage, a simple formula is used:
number of people who committed the action / total number of people who found out about your company × 100%
For example, 1000 people saw your ad, and 200 out of them visited your website:

200/1000 × 100% = 20% conversion
Funnel conversion and analysis data can be taken from metrics and the CRM system.

In addition to conversion, it is necessary to take into account the costs of an advertising campaign and the average check. It is calculated by the formula:
total revenue after sales / number of people making a purchase
For example, you sold four smartphones worth $200, $500, $700, and $600. The average bill will be:
(200 + 500 + 700 + 600) / 4 = 500

An analysis of each stage and all its components helps to see all the drawbacks of a particular funnel.
In this case, all the interaction with the client from the beginning to the end is carried out virtually. This method of interaction is suitable for online stores that do not have offline sales. At the first stage, it is important to attract the attention of a wide audience with the help of SMM, SEO, contextual advertising, or social network targeting.

The purpose of such a message is to make people visit your website or landing page (landing page). Further, it is important to anticipate objections, show the benefits of the purchase in a particular place, and smoothly bring the person to the target action.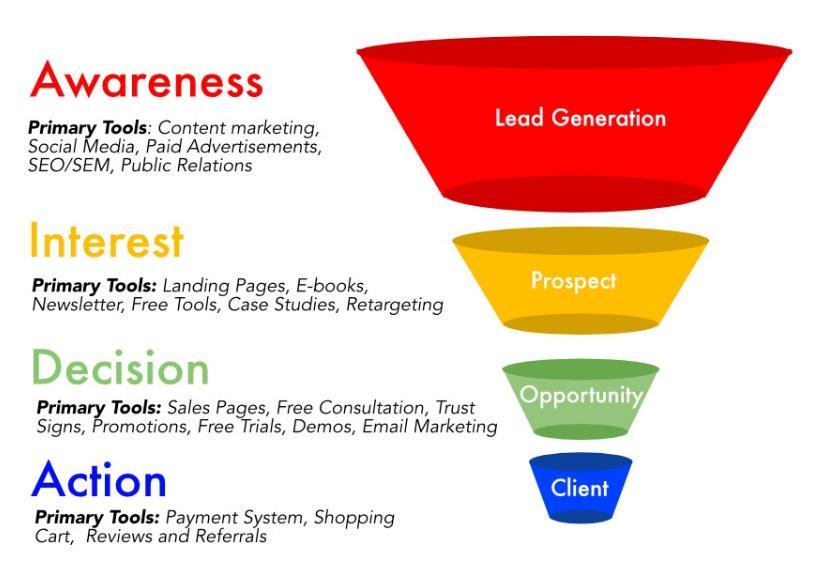 If there are offline and online stores, you can use combined methods of influencing customers.

For example, install billboards in crowded places and run contextual advertising with the same message. An ideal option for any online business is an automated sales funnel. You can implement it using e-mail newsletters, landing pages, push-messages, and other tools.

A standard automatic sales funnel includes:
Lead magnet. Demo version of the product, free book or webinar, which is sent in exchange for customer contact information.
Tripwire. A quality product that is offered at a low price. In this case, its value should be higher than the price.
Main product. Selling the main product at its standard cost.
Upselling. Offer customers products that complement their primary purchase.
For instance, you offer a free book on the website on the current topic of relationships (lead magnet). In exchange, ask to leave an e-mail, to which you will send an offer to attend a webinar on how to win a girl or boy's heart for a penny (tripwire).

You then give valuable and relevant information during the webinar. A few days later, you offer to purchase a whole course on building relationships with the opposite sex (the main product).

After completing the course, you wait another week and offer a follow-up webinar with secret communication chips, and later also training on successful conflict resolution (resale). Thus, you make a regular customer who only bought one main product.

The essence of the auto-funnel is in a one-time creation and configuration. After its launch, sales are carried out automatically. You only have to monitor the behavior of leads and the state of conversion in order to refine the existing funnel.
How to build a sales funnel
First, you need to determine the channels of communication with a potential client audience. In the case of an offline sales funnel, it can be flyers, billboards, ads in popular magazines, posters in supermarkets, etc.

In the case of online, search promotion, contextual advertising, cold calling, banners, and targeting in social networks are most effective. Some people will be interested in your offer and move on to the next stage.

This may be a transition to the website, a call to the manager, a letter sent to the customer support, and any other first interaction with your company. It is important here to show the customer that your product suits him and meets all his needs.

If a b2b sales funnel is created, it is necessary to send a quotation to a potential business partner at this stage. For ordinary website visitors, content is crucial. The bette
Interest pushes the buyer to make a decision to buy a product. It is possible to conduct negotiations, discuss the cost, guarantees, and other conditions of cooperation.
It is important to avoid unpleasant surprises. For example, an increase in the cost or lack of service support, which you reported at the first stage.
The last part of the deal is the purchase. After that, you can say goodbye to the client or try to make him a regular customer. In
online sales, sending out special offers and returning customers who decided not to make a purchase are quite effective.
When selling offline, they make a test call some time after the deal. You can offer after-sales service or an additional product besides the main one.
Example of a sales funnel
Suppose you have an online store for baby products. To attract a wide audience to it, you start SEO promotion, contextual advertising on demand, make social network posts. Since you sell products wholesale and retail, you simultaneously ring up a hundred stores with an offer to buy a batch of clothes, toys, and childcare products.

The metric shows that all the virtual tools brought 5,000 people to the website. After a hundred calls, 20 owners of small retail stores responded.

In the first case, you provide high-quality full-fledged content, instruct managers to respond promptly to questions of each potential client. In the second case, you send 20 commercial offers. After that, you give virtual warm customers the opportunity to think, and then make deals with those who already gave feedback.

If potential customers of the online store think for a long time, you can send them a reminder e-mail or call.

The same thing can work if a person has already bought something in your store. Then he will be interested in listening or reading about the new receipt of the goods. Often, sales funnels are repeated in a circle, but they come with new offers.

A sales funnel is a sequence of actions of potential buyers, their transformation into regular customers. Stages of a sales funnel include attracting attention, interest, a desire to possess a product, and a purchase. Each stage can be divided into several areas, depending on the characteristics of a particular business.

For online sales, it's effective to use an automatic sales funnel. It is created and configured once with possible adjustments in the future. You need to regularly analyze the funnel and optimize each stage using web analytics and CRM.

Speed up your search marketing growth with Serpstat!
Keyword and backlink opportunities, competitors' online strategy, daily rankings and SEO-related issues.
A pack of tools for reducing your time on SEO tasks.
Found an error? Select it and press Ctrl + Enter to tell us
Cases, life hacks, researches, and useful articles
Don't you have time to follow the news? No worries! Our editor will choose articles that will definitely help you with your work. Join our cozy community :)
By clicking the button, you agree to our privacy policy.