Персональная демонстрация
Оставьте заявку и мы проведем для вас персональную демонстрацию сервиса, предоставим пробный период и предложим комфортные условия для старта использования инструмента.
The Team & Process for Scaling Technical Blogs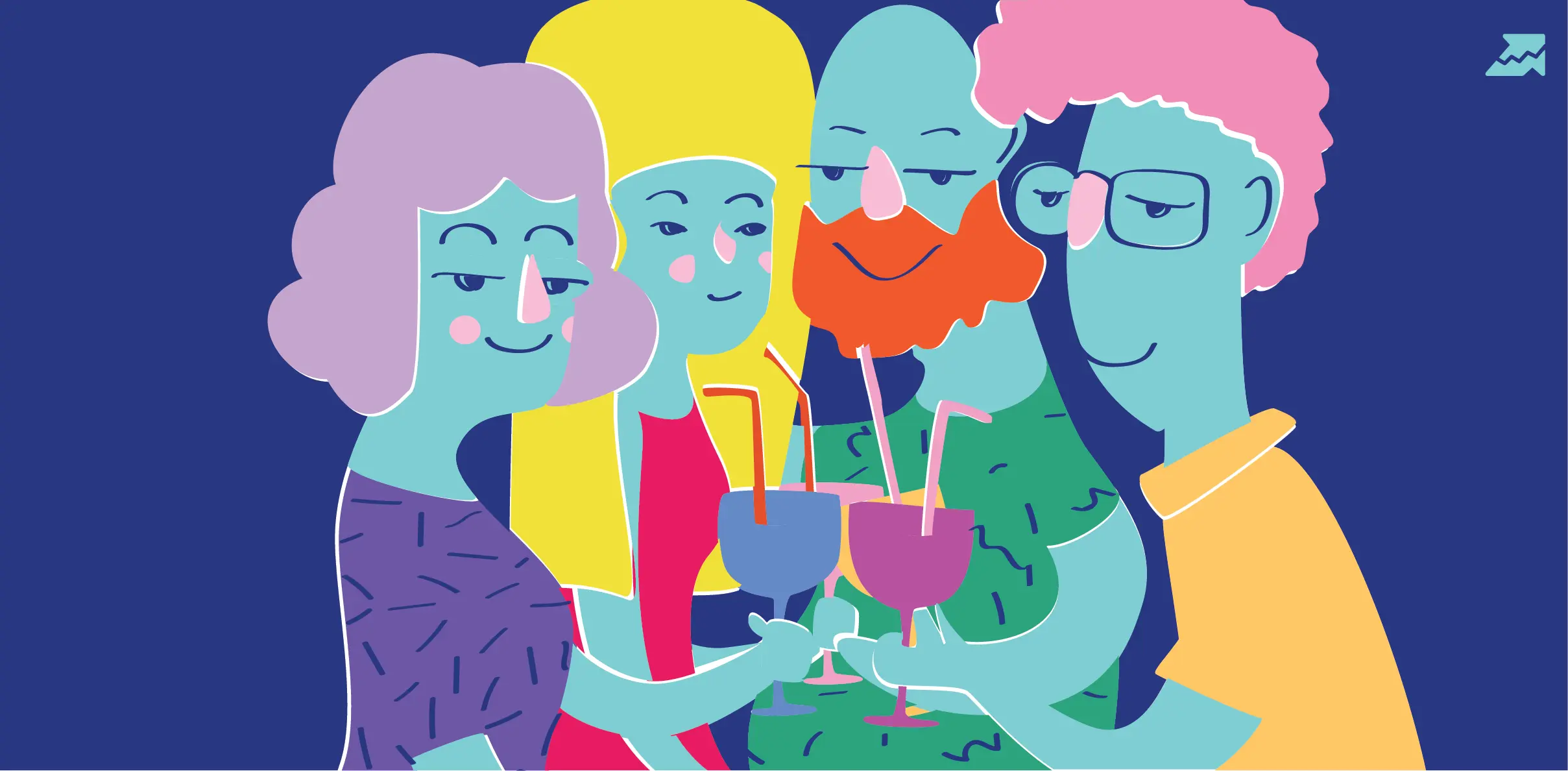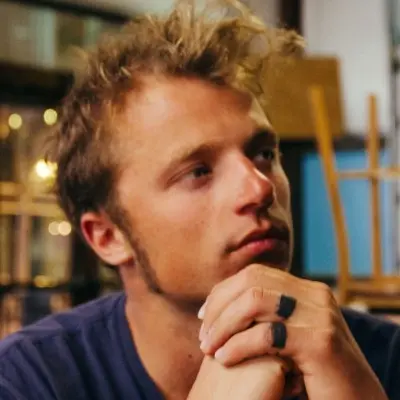 Stay tuned for more exciting conversations and tools to improve your SEO techniques — merge your plans with our online events and track them in Google Calendar:
The webinar in video format:
Let's return to the main topic of today's SEO-inspired journey! 

How Can Technical Blogs Build Authority and Trust?

Scaling your technical blog with multimedia content and modifying your team starts with understanding why you must overcome this hassle. The answer is pretty simple, the final goal is to keep long-term sustainable performance results and, as I'm also convinced, get quality traffic to feed the revenue operations. This is necessary to organize a healthier and more productive teamwork style, letting the marketing team focus on their promotion tasks with a solid content and SEO background.

Overall, the concept of trust and authority for technical blogs combines different performance patterns — from the team's competence and commitment to information and quality consistency and relevance. It means that your website's structure has to be well-thought-out and maintain the promised performance line. For instance, if the post's title doesn't match its content and is created by a non-knowledgeable writer, this mission will be failed. Here are some essential aspects to take care of to build your technical blog's authority:
Your content should be attention-grabbing and harmoniously correspond with the target audience's search intents. Accurately reveal what you promise on the site in its articles and posts.

The depth and breadth of your blog are also essential. No technical issues should require ongoing, diligent work from your development department.

Another thing that shouldn't be neglected is the overall transparency of your approach. It is all about white hat link-building techniques for interlinking and creating a more advanced and diversified backlink portfolio.

Goals and Results

Keeping your content at an ever-improving level is usually the core of what you need for blog scaling. That's how you get natural first-touch conversions and ensure the natural way for website visitors to have more long-term engagement with the domain, including mid-touch conversions and last-touch conversions.

Aside from leveraging your conversions, the intelligent use of available marketing channels, including social, email, and sales, should strive to "answer the question that solves a pain point" for end users to make blog scaling organic and smoothly efficient. Your consistent performance in content creation and planning and your chosen SEO strategy will get a snowball effect. In turn, you will get a stunning foundation for building your site's authority and trust among the competitors in SERPs.

Topic Clusters and Pillars
While search engines become smarter and more equipped to recognize user intent behind their search queries, it is not always the same with chosen SEO strategies. Establishing a topic cluster will be a good change in your approach to stay on the same side with modern trends and get the most out of the ever-changing user behavior. Simply put, this term solves the trouble — you switch the focus from keywords to topics.

Regarding topic clusters, we mean a strategic internal linking structure where the central theme unites related discussions, reviews, and other types of content. The so-called pillar page lets you link to and from the topic cluster. To better understand, imagine this format as a genealogy tree of the site. When it comes to SEO itself, this approach is a sort of diversification of content, which helps specialists implement SEO strategies simpler yet wiser. For example, particular clusters will focus on long-tail keywords, making searching for them more manageable.

In order to find such topics for interlinking, you can use the Tree view report in Serpstat, filtering the pages of your website by the keywords you are ranking for:


The latter is still important in gaining credibility and popularity for your site. With the help of topic clusters, it is a breeze to modify your website structure and its hierarchy. It is a tangible way to simplify finding and indexing your pages for search engines. Discovering related content more smoothly when it is structurally connected on the site in topic clusters is also advantageous for improving your platform's visibility.

According to traditional methodology, capturing the search traffic is closely associated with your content plan — you must keep creating and uploading post after post to gain momentum. In the long run, your website hierarchy becomes more disorganized, which makes it more complicated for Google to index and rank your pages. On the other hand, you can choose the cluster model and set a pillar on the website, which unites similar topics under the same roof.

Let's get into some cluster ideas. The cluster has variety in the subtopics, as well as the search intent. So it'll be a product page, blog articles with a variety of search intent (what is, how to, use case, case study, podcast-webinar, and articles), a downloadable resource for leads generation or backlinks, and a guest blog post with a much higher ratio for low-authority sites.


As practice shows, the number of internal links and your position in SERPs are interconnected — the more, the better. With the topic cluster model, you organically introduce more functional interlinking to the platform. The central pillar and related cluster pages have a mutual connection, utilizing the same primary keyword. Therefore, succeeding for one-page leads to a significant boost for the entire topic cluster itself.

Key Roles in the Team
The success of the technical blog project depends on your content plan, how relevant your keywords are, and so on. At the same time, a lot depends on how well the responsibilities are distributed among different team members. To make things work for you, don't hesitate to utilize this staffing model for your needs: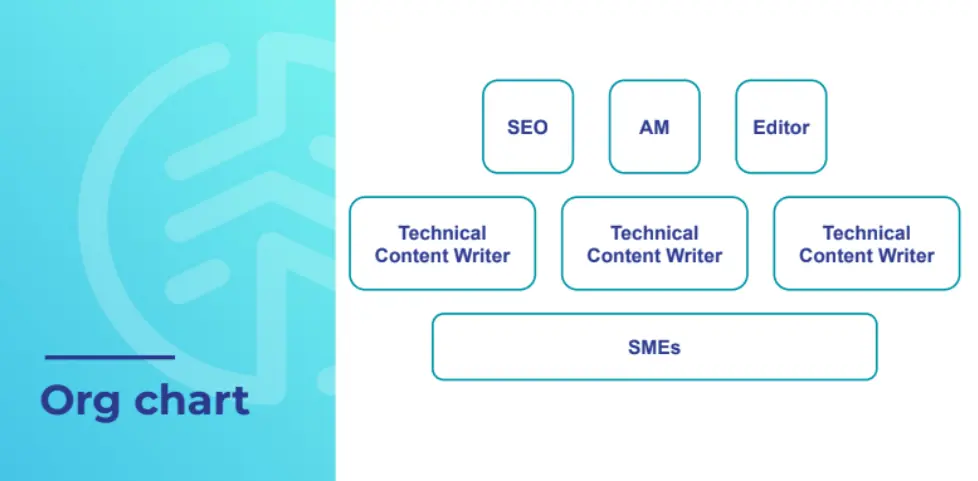 SEO — this expert "starts every piece of content with a brief and optimizes it before publishing."

AM — in this case, the transition of a project manager to an account manager will be influential in a good way, letting you implement the advantages of relationship management and strategy for utilizing resources to keep going and pursuing your website goals.

Editor — getting a separate expert for the team means a lot, letting even the most professional writers work better and keep the desired results consistently achievable. It is a measure to control your content and website's tune to ensure you deliver the same message through different writers' voices on your board.

Technical Content Writers — inviting a few professionals to the team will help you grasp more topics and take the most out of divergent experiences, letting enough space to expand your bandwidth and, therefore, website availability and functionality.

SMEs — subject-matter experts are usually people to collaborate with guest content and other specific tasks.
Your task is to create a collaborative work environment where each representative contributes to setting goals and reaching the desired revenue through a well-established technical blog.

Process: Checklists, Specs, and Templates

Production checklists will be essential tools to measure your team's activities and analyze their efficiency from short-term and long-term perspectives. Besides, it is way easier to control your site's content and the right and timely execution of your plan on the technological blog website when SEO specialists, writers, and so on know the zones of their full responsibility.

When it relates to a technical article for a blog, the following steps from our Chosen Data team's experience can be used as a brief example and sample simultaneously:

Choosing and confirming the blog topic. Please note that it is essential to qualitatively implement it into the existing content roadmap.

Initial research is inseparable from SEO analysis.

Creating a draft, including related visuals like images and videos.

Verifying its quality and optimizing it with on-page SEO tools. For instance, SEO experts ensure the correct internal links and create solid connections with social media and other marketing channels necessary for the target business. Don't forget about the value of backlinks here.

Monitor the audience's reactions toward your release by defining and measuring the traffic and conversions it has created. You can re-optimize your article to ensure its consistent efficacy in the topic cluster.

It is a little different for a guest blog posting, where it's heavier on arranging the partnership and easier on optimization because if you are writing for somebody else's website, you don't need to optimize the piece.

Conclusions

Developing high-quality content and building expertise will help you become a credible and authoritative technical blog in the pool. You can ensure your goals are achievable by taking care of the performance process. Set SEO and content creation standards to rock it.

The opinion of the guest post authors may not coincide with the opinion of the Serpstat editorial staff and specialists.
Found an error? Select it and press Ctrl + Enter to tell us
Cases, life hacks, researches, and useful articles
Don't you have time to follow the news? No worries! Our editor will choose articles that will definitely help you with your work. Join our cozy community :)
By clicking the button, you agree to our privacy policy.