// В этом файле есть те нужные стили которые в других файлах нет.?>
5 Tips To Create An Effective Email
A hot text is just a half of success, nobody will even read your text if the design is hideous. They go hand in hand and you cannot bail on one of them. In this article we'll talk about a visual partー about design.
Use your corporate style in every email
It's very important to follow one style from the very first letter, so that it will be associated with your company. Do your email recognizable and distinguishing, design it according to your brand colors e.g.

You may create a layout once and then just change its content, it'll strongly save your time. It's naturally that your style may be improved after a while, although try to think carefully about your design from the very beginning.

Logo should be the first that person sees after opening your email. We created a background image, placed our logo on it and stretched it over the entire width. Here is what we got: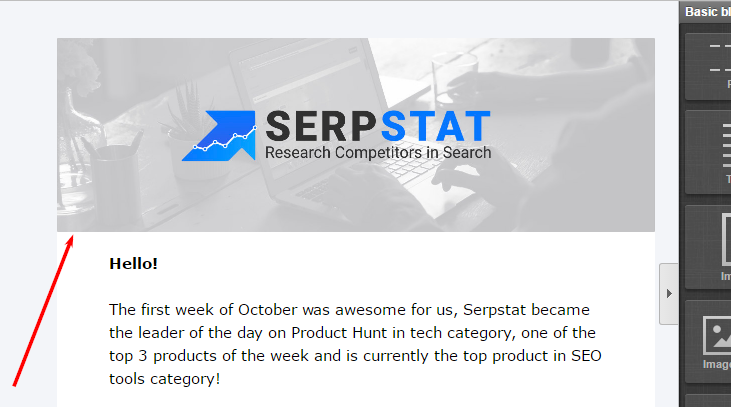 Emailmonday
conducted a survey to find out what devices people use for reading emails. Here are the results of this survey: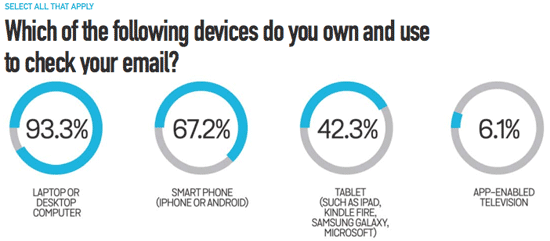 While majority still uses laptops to check the email, other devices are slowly catching up which means you need to ensure that your email will be correctly shown on every device. To meet this goal you need to use cross-platform layout through the standard size from 500 to 600 pixels. That means that the width of HTML-layout of your email should not exceed 600 pixels and be less than 500 characters.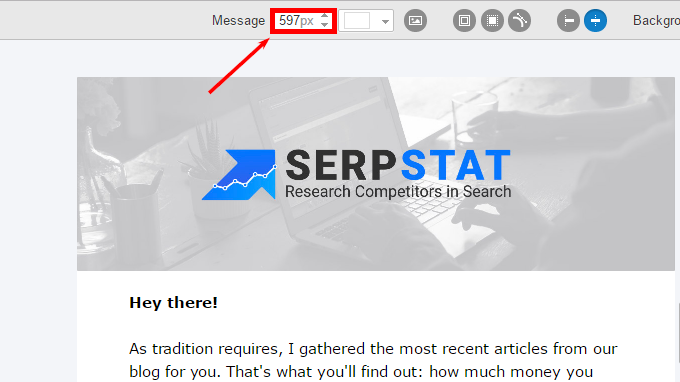 To make your text more readable you need to create well-defined borders of your email. Well-written text is just a half of success, in case you don't have well-defined borders and structure, your killer text won't be remembered.

You should fill the entire area of email with any particular color or paint the area around the selected frame.

As you can see, we chose the second variant: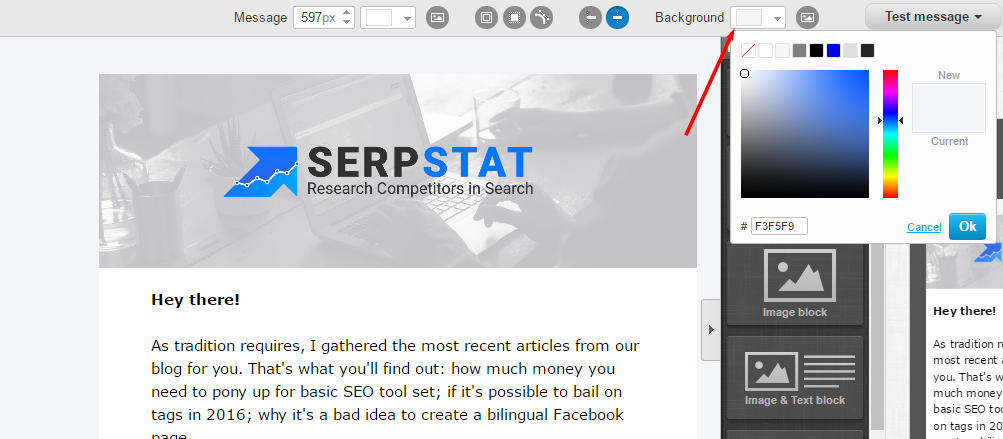 To highlight the text we decided to create inner borders as well. Here's what I'm talking about: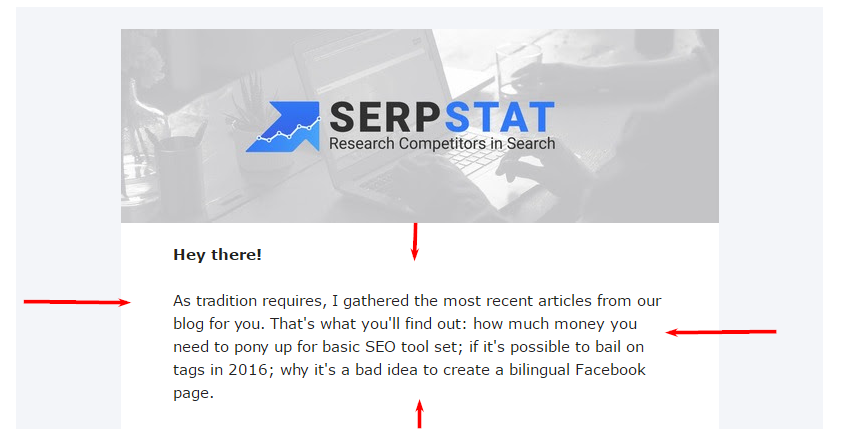 People are lazy and you should create an illusion that there is just a little text to read. In case your text is well-structured, there are small paragraphs and quite big intervals between these paragraphs this illusion appears.

Find your ideal font and font size
Bloomberg
conducted a research and defined 2 the best and 2 the worst fonts for emails. According to this research Verdana and Georgia make your email readable, while Helvetica and Arial vice versa.




Let's pass to font size, the optimal one varies from 12 to 14 and line spacing should be at least 1.15. Mind the users that will open your email on small screen, the text should be big enough to read it from even the smallest smartphone screen.
As to font's highlighting, remember that there is no need to use more than 3. The less you contrive a variety of colors and fonts, the better. Here is the standard scheme:
One for the header or greeting


The second is for the text


Third ー if you need to identify something and put a link
Adults like images as much as children do
Use indirect association method to find images
In our weekly emails we usually share our latest blog articles and in order to draw attention to them we use images instead of boring links. All images should be united by one theme and at the same time each image should indirectly be associated with exact article. Let's look at examples to get to the bottom of this.
I hope you've already understood what unites all these images. Of course, all of them are screenshots from films where Leonardo DiCaprio played the main role.

In the first article we wonder if tags are too oldschool to care about, that's why I've chosen screenshot from Titanic cause it's a real oldschool.

In the second article we told about how we screwed up while uniting two Facebook pages into one. For this article I've chosen a well-known screen from Shutter Island.

The third article is about the sum of money that SEO specialist pony ups for everyday SEO tool set. Here the screen from Wolf from Wall Street fits.
Don't use very large pictures and choose .png format
Large pictures may be shown incorrectly or not be shown at all. I prefer .png format because I faced the cases when .jpg picture was correctly shown on my computer while other users have problems with its displaying. Here is an example:

Don't forget about the Alt tag
Every image should have its alt tag. It's important because:
first of all, the alt tag for the header image also serves as a preview of the letter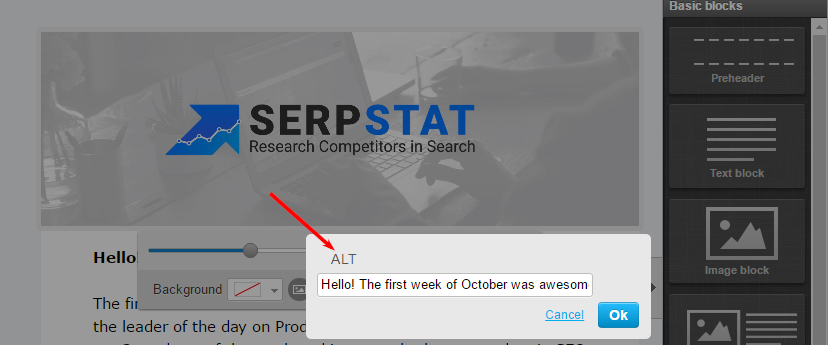 This is how it looks like in the email account:

in case the image doesn't load properly, user can see the alternative description of this image



in case you use the image with the attached link and the email service of your client hasn't verified your email, the receiver won't even see your image. Through alt tag the receiver will know where this link goes to. I usually copy the text I have on image (the article title) to alt tag.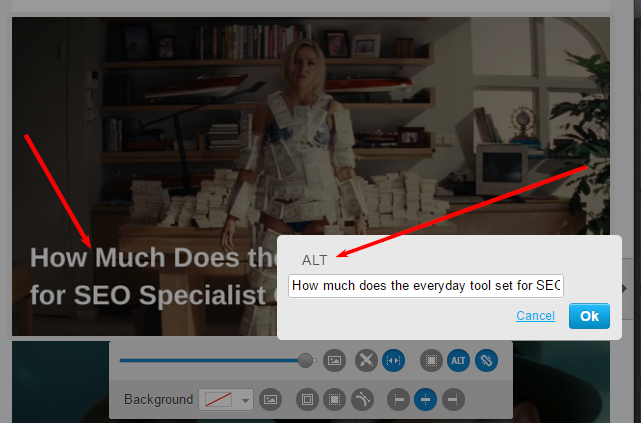 Don't use very bright colors in your emails. That doesn't mean that you cannot use colorful images, choose any you like but darken it a bit to highlight the text written on.
Don't forget about social media and CTA buttons
Add social media buttons to every email. It's a direct link to your social media pages and it's more likely that user will subscribe in this way than manually searching for your page on Facebook or etc.


Some editors prefer buttons, other – images. I use both of them cause I like their combination.
Here are 4 tips to create a correct button:
button height should vary from 40 to 50 pixels;

its color should fit a corporate style;

leave a little space around the button;

check whether it works on mobile devices
My buttons usually look like this one: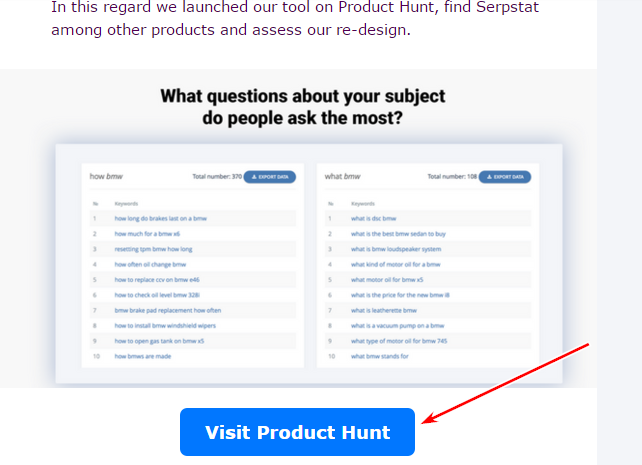 Let's summarize the key points of this article:
Use your corporate style in every email

Mind the borders
Find your ideal font and font size

Find images via indirect association method

Don't use very large pictures and choose .png format

Don't forget about Alt tag

Mind the color balance

Don't forget about social media and CTA buttons
If you like our email style, subscribe to keep finger on the pulse of new ideas.
To subscribe go to our
blog homepage
, enter your email and click on 'Subscribe'.
Learn how to get the most out of Serpstat
Want to get a personal demo, trial period or bunch of successful use cases?
Send a request and our expert will contact you ;)
Found an error? Select it and press Ctrl + Enter to tell us
Cases, lifehacks, researches and useful articles
Don't you have time to follow the news? No worries!
Our editor Stacy will choose articles that will definitely help you with your work. Join our cozy community :)
By clicking the button, you agree to our privacy policy.