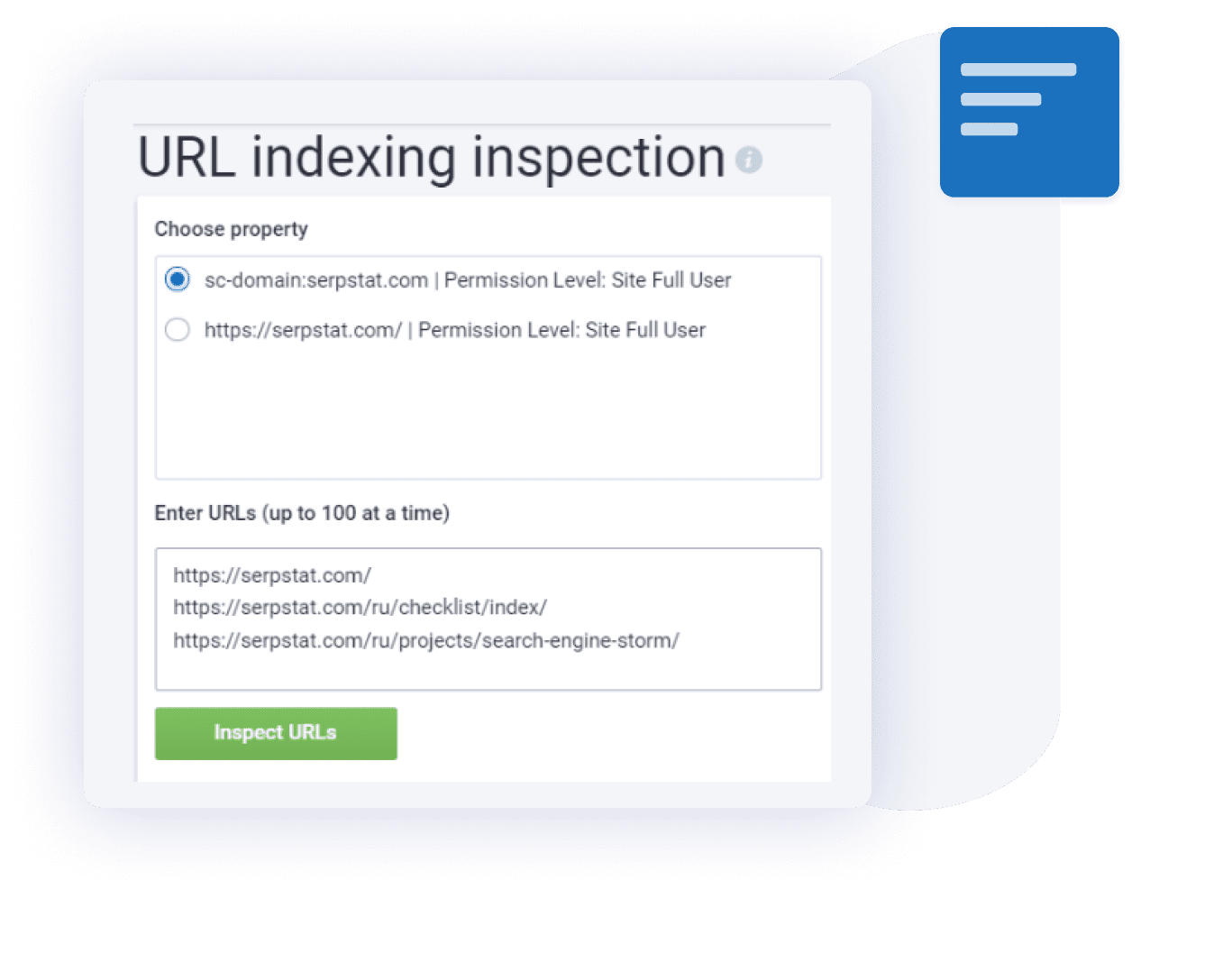 What is URL indexing inspection?
What is URL indexing inspection?When implementing new steps in your SEO strategy, you need to ensure that search engines "see" the right pages.
URL indexing inspection is a tool for finding errors and checking the status of page indexing in search engines. It is currently free to use for all registered users of Serpstat.

URL indexing inspection tool capabilities
The URL indexing inspection tool allows you to get a list of error pages based on a report from Google Search Console.

This tool will allow the site owner to spend less time waiting for the indexing process by search engines and make site updates visible to Google and users as quickly as possible.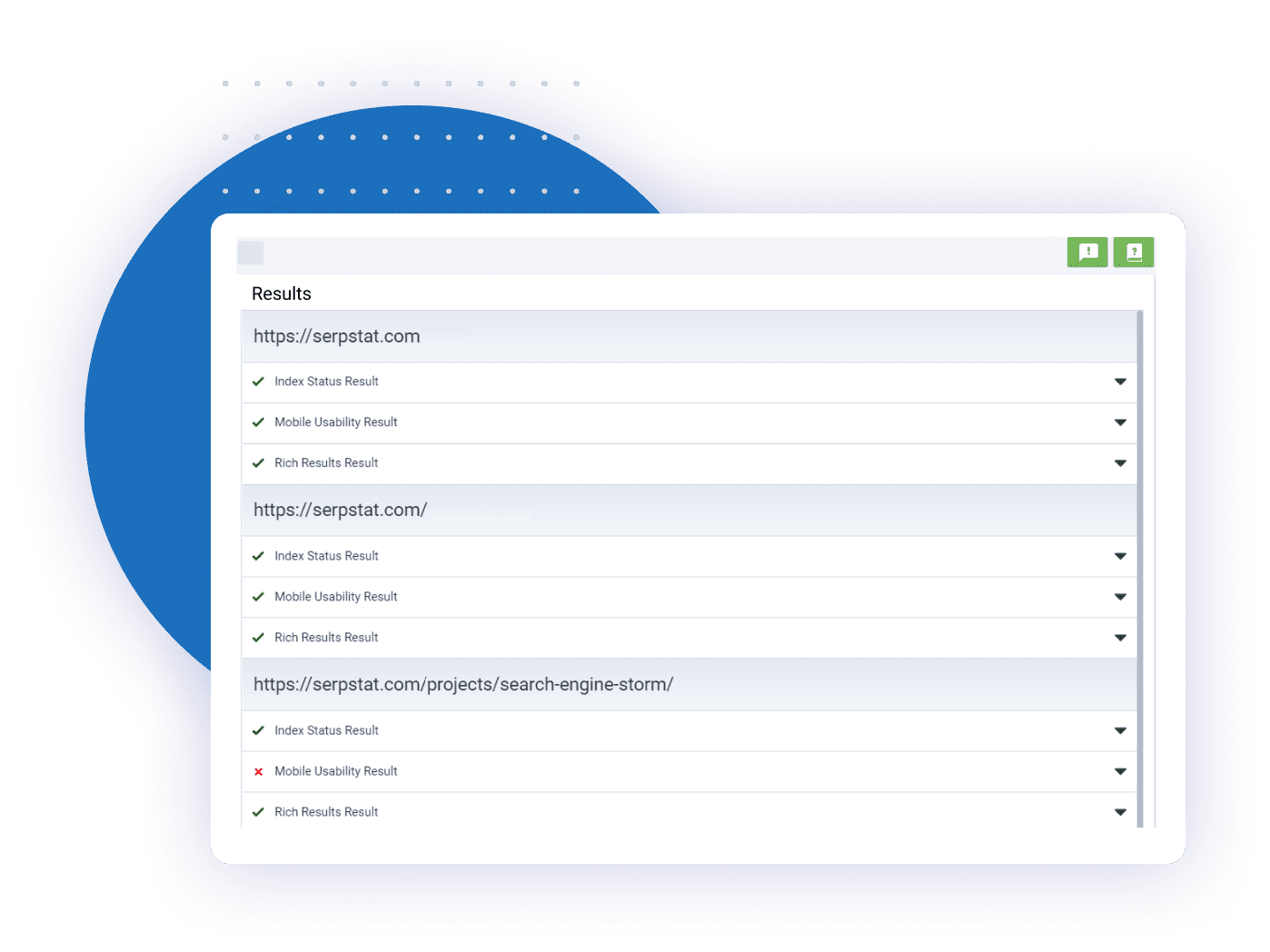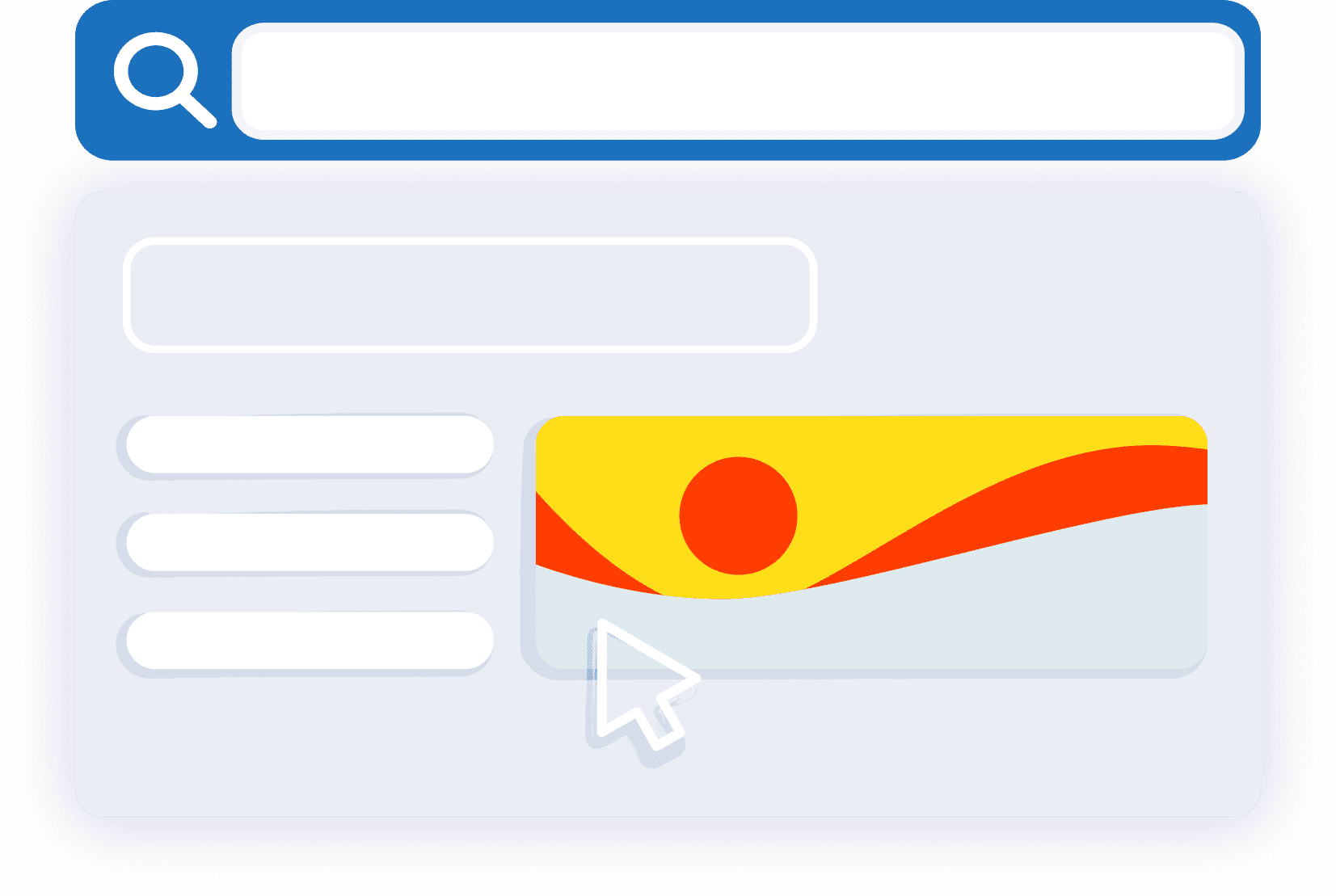 URL indexing inspection tool credits
URL indexing inspection is a tool available to any registered Serpstat user, including users without a paid subscription.
The only restriction that applies to users of URL indexing inspection is that no more than 100 URLs can be downloaded in a single use session.

FAQ: Common questions about page indexing in search engines
Why use Google Search Console?
Google Search Console provides users with information that site owners can use to attract more visitors. The tool collects data about a site's performance in Google search and provides crawling, indexing, and visibility data in search results. Thus, the site owner can optimize website components depending on the results in the search engine. Google Search Console works automatically. When it detects problems with the site, it sends an email to the user's mail, so it is unnecessary to log into the tool every day.

The tool allows you to track the effectiveness of a site, solving the following tasks:

— Track traffic changes over time. Determine from what sources new users come and for what search queries the user's site is displayed in Google.
— Track mobile search results for a site: track which search queries the site is shown for and set up more conversion targeting.
— Determine the page CTR in search results to adjust your SEO strategy.
How to index the site with Google Search Console?
Site indexing is important for your site's pages to show up in user search results. You can check which pages are already indexed using Google Search Console and Serpstat's URL indexing inspection tool.

If you need to index additional pages, submit an index request using Google Search Console. Go to the tool, then select the resource type, confirm that you are the owner of the site and add a list of URLs for indexing.

The scanning and indexing process may take some time. Google's knowledge base does not report how long exactly, however, if your request is not processed for a long time, there is the ability to resubmit the indexing request.