Персональная демонстрация
Оставьте заявку и мы проведем для вас персональную демонстрацию сервиса, предоставим пробный период и предложим комфортные условия для старта использования инструмента.
5 Alternative Methods For Discovering New Niches For SEO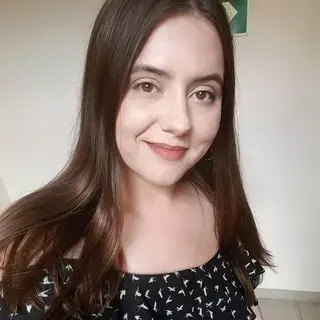 How To Discover Profitable, Low-Competition Niches via Keyword Difficulty

Discovering low-competition niches allows you to achieve better SEO results with the same effort, giving you a competitive advantage over others. But where do you start with this? Keyword Difficulty (KD) is a key component.

Keyword Difficulty is a metric used to evaluate the competitiveness of a particular keyword in relation to the effort required to rank for it in a specific search engine and geographic location. This metric is typically determined by analyzing the link profile, trust score, age, and relevance of the top ten search results. 

If you're looking to identify low-competition keywords for your website, our keyword suggestion tool is worth considering.

Serpstat Keyword Difficulty metric not only shows the level of competition for the keyword but also helps determine the feasibility of ranking for it. The higher the score, the more difficult it is to achieve a high ranking for the keyword; therefore, it's a great way to identify keywords that can provide the best ROI for your SEO efforts.

The indicator is measured in percent (%):
0-20 — easy

21- 40 — medium

41-60 — hard

61-100 — very hard.

How to Quickly Research Niches with Serpstat

Discovering low-competition niches can be a game-changer for your SEO strategy, but how can you efficiently research them?

In Serpstat, the algorithm is quite simple.

2.
Get a report with a lot of keyword suggestions;

3.
To prioritize your efforts, sort the report by ascending keyword difficulty;


4.
Focus on the low competition keywords.

However, manually processing the thousands of keywords obtained from such an analysis can be extremely difficult and time-consuming.

So, the traditional approach of focusing on the difficulty of individual keywords may not be the best choice here. Instead, you can opt for keyword clustering — group keywords by relevance and calculate the Keyword Difficulty (KD) score for each cluster. 

That way, you can combine similar keywords together, making it easier to identify clusters with low competition, and in turn, conduct a more targeted and efficient niche research.

What Is Topical Clustering?

Topical clustering is the process of combining related keywords into groups (clusters). 

We, as humans, naturally understand that keywords like "dog food", "cat food", and "bird food" can be grouped together into a cluster called "pet food". But how does it happen automatically?

Basically, the algorithm of Serpstat Keyword Clustering or any similar tool runs keywords through a search engine and compares the search results (SERPs) for them. If two different keywords often appear on the same pages, they are most likely semantically related. 

If the search results are different for each keyword, they will be separated into different groups. If they're similar, they will be combined into one group (cluster).
Then, the algorithm will do this for each keyword from your list.

How To Conduct Topical Clustering via Serpstat

Serpstat offers two ways of conducting keyword clustering:
via the Serpstat Keyword Clustering tool;
with the Serpstat API. 

The Serpstat Keyword Clustering tool has a user-friendly interface that analyzes your list of keywords and suggests relevant clusters, which you can then refine or edit manually. The process is as simple as it gets:

1.
Import your keyword list into the tool or transfer them directly from them Serpstat Keyword Research: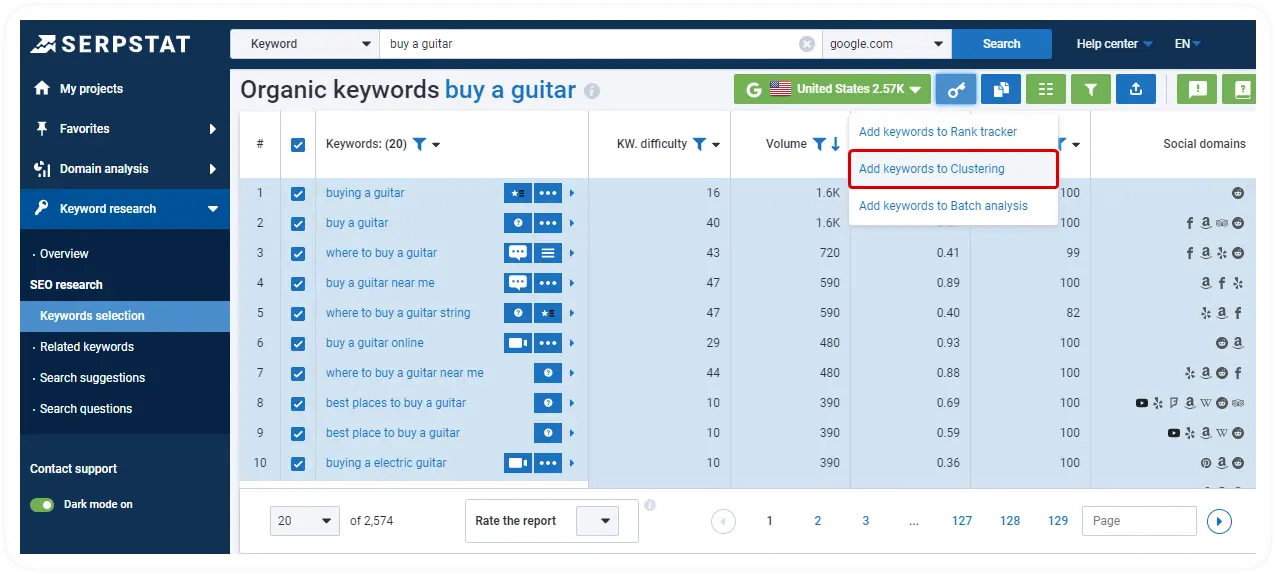 2.
Select the preferred project settings: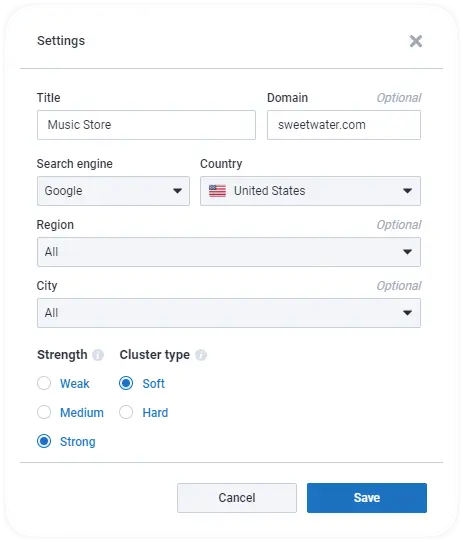 If you find the "Strength" and "Cluster type" settings confusing, we've explained them in this article: How To Group Keywords Automatically With The Serpstat Clustering Tool.

The Serpstat API (application program interface), on the other hand, is a way to retrieve large amounts of data from the Serpstat platform quickly, without having to navigate through its interface. It allows you to automate the keyword clustering process using your own tools or software. 

This gives you more flexibility in terms of how you approach clustering, and allows you to integrate Serpstat's analytics into your existing workflow.

With the API, you can decide yourself which modules to use for clustering. This level of customization allows you to tailor the clustering process to your specific needs and goals.

Serpstat API is extremely popular among our clients, as it can solve a lot of routine tasks in a matter of minutes:

Besides, the API is included in all Serpstat subscription plans and is extremely affordable.

How to Find Profitable Niches By Analyzing Competitors via an API
If you are looking to enter a particular niche that already has established leaders, it is essential to analyze the keyword difficulty of your target keywords. This indicator can help you assess the level of competition and determine the best approach to outrank your competitors.

While researching your competitors, it's helpful to analyze their best practices and learn from their experience to improve your strategy. However, existing services for finding competitors do not offer a way to see the keyword difficulty indicator in the competitor report, which can make the analysis process more tedious.

Fortunately, using an API can save you time and effort. With it, you can easily obtain data for competitor analysis and streamline your research process. Plus, you'll have access to more in-depth information, such as search volume, keyword trends, and more.

Here's how you can search for profitable niches with low competition by researching competitors:
1.
Utilize the Serpstat API-based script to collect keywords for which the domain ranks in a given search engine, region, and Keyword Difficulty range.

2.
Group the keywords based on the ranked page.

3.
Analyze the average Keyword Difficulty (KD) while taking into account the search volume of keywords for each page.

While an API may be harder to master than a standard tool interface and it does require some technical expertise, it's definitely worth it for businesses looking to gain a competitive advantage in their industry.

With the results of such research, you will have a list of low-competition keywords which you can use to achieve better rankings. For instance, you can create content that targets these keywords, attracting relevant traffic to your website.

How Diversity of Search Results Can Help You Enter a Niche
Performing an analysis of the top search results is a valuable step when considering entering a new niche, especially if you're unsure if there are established leaders dominating the market. By analyzing the top results, you can gain insights into the competition and identify potential opportunities.

So, what exactly is the diversity of search results?

It's a metric that measures the frequency of different domains appearing within the entire set of queries in a niche. This is calculated by dividing the number of unique domains by the total number of keywords.

Diversity= Number of domains / Number of keywords

The higher the ratio, the more different domains are found in the search results.
Here's an example of diversity for different niches: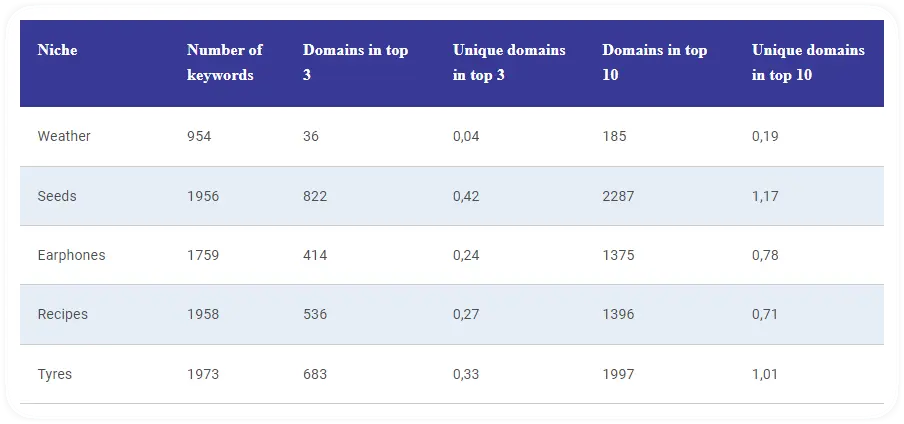 Here's what we have found out:

In the Seeds niche, out of the 1956 keywords checked in the top 3, we found 822 different domains, resulting in a ratio of 0.42. On the other hand, in the Weather niche with 954 keywords, we discovered less than 40 domains, resulting in a ratio of 0.04.

This indicates that the top positions in the latter niche are dominated by established leaders who are less likely to be outranked. However, it's essential to note that these coefficients provide only a relative idea of progress in a niche, and further analysis is necessary.

To identify niches without prominent leaders, you can leverage the Serpstat API.

How it works:

1.
Install the Serpstat API-based script.

2.
The script will download a lot of search queries for a given keyword.

3.
The top 10 search results will be downloaded for each query.

4.
The script then will analyze the data and present the diversity coefficient, a table displaying the frequency of domains, and a list of phrases where one or more unique domains appear in the top search results.

What we get as a result:

The script gathers keywords and analyzes the top 10 results for each query. It calculates the diversity of the top results and generates a table of domains with their frequency in the top 3 and top 5 results, as well as unique domains that are associated with specific keywords.

By examining domains that have established a foothold in a niche for certain keywords, one can learn from their experience and attempt to replicate their strategy. These phrases can provide insights into identifying such domains.

How to Discover Low-Competition Keywords Overlooked by Industry Leaders

Identifying keywords that are missed by industry leaders is a strategic approach to boosting your website's ranking. This method is especially effective if there is a dominant player in your niche who has established a significant presence in search results.

For instance, suppose you are searching for information about the "iPhone 14." In this case, the top search results will likely include Apple's website, which features a dedicated page on the iPhone 14. As the most authoritative and trustworthy page, it is considered the "king" of the search results. Additionally, pages from major competitors such as Amazon and BestBuy will also be present, making it challenging to compete with them directly.

However, there is a technique that can leverage the "king" to identify valuable keywords that competitors may have missed. By using this approach, you can uncover low-competition keywords that have the potential to enhance your website's visibility and attract more traffic.

How it works:

1.
Gather all the keywords for which the leader page ranks in the top 20 search results.

2.
Analyze the keywords and identify the primary keyword, which is the word or phrase that appears in the majority of the collected keywords.

3.
Conduct hard keyword clustering.

4.
Remove clusters that contain the primary keyword along with common modifier words such as "buy," "delivery," and other related terms.

5.
Manually examine the remaining clusters.

By implementing this process, you can generate a list of clusters that contain valuable keywords that competitors may have missed. However, it's worth noting that this technique is highly dependent on the individual characteristics of each niche. As a result, there is no one-size-fits-all approach or script that can be applied universally.

How to Discover Niche Trends Without Using Google Trends
When it comes to trends, search suggestions are a valuable element to consider. These suggestions can indicate changes in user interests and provide a quick response to such changes.

For instance, just a few hours after the France-Belgium match, relevant search suggestions appeared under the Google search bar. By tracking these suggestions, you can keep up with activity trends. Moreover, crawling them is much simpler than using Google Trends.

That's why we suggest trying out this technique that utilizes search suggestions to uncover trends.

For instance, let's take a closer look at the keyword "vacation." Using this technique, we can gather around 20 first-level suggestions for this keyword. For each suggestion, we can then extract additional suggestions at both the first and second level.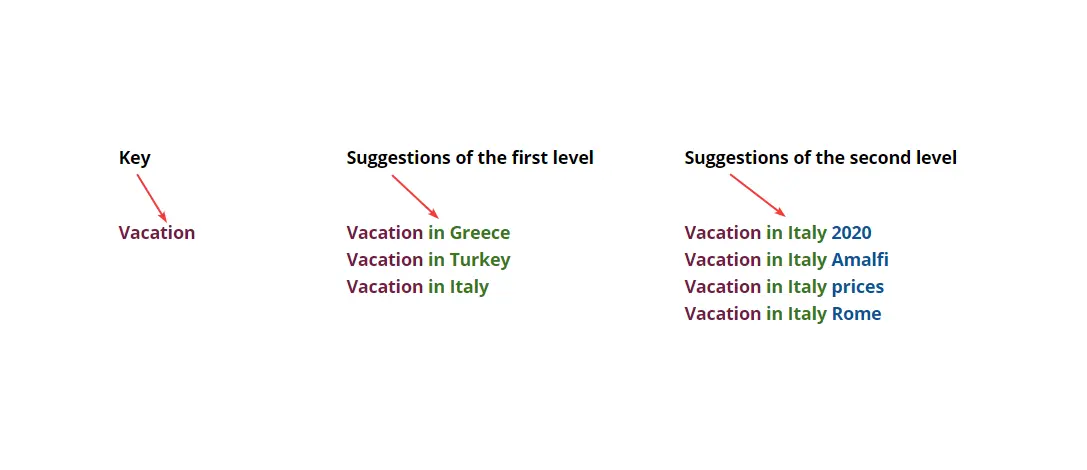 Here are the steps for identifying trends using search suggestions:

1.
Every day, you can crawl the suggestions of the first and second level. Select the keywords that appear, and save their number along with the current date to gain historical data.

2.
Keep crawling the suggestions of the first and second level daily and  accumulating historical data.

3.
Determine the keywords from the second level (blue) suggestions.

4.
Save keywords with the number of references and the current date.

5.
Fix the number of new keywords for the current date.

Through this process, you can generate a comprehensive data set, which will allow you to determine the appearance dynamics of new phrases based on your keywords. This is particularly useful for tracking new product releases and comparing data across multiple keywords.

The following example clearly demonstrates how search suggestions can help you monitor the activity dynamics related to an event.

Let's take Independence Day as an example. As early as June 27-30, search suggestions appear for buying fireworks. By July 1st, users are already interested in where to buy fireworks nearby. On July 4th, requests for how to cook corn on the cob become popular. And on July 5-6, users are interested in how to clean a grill and the floor.

This kind of data can provide valuable insights into user behavior and interests during specific events or holidays.


Consider a scenario where we are tracking an event using first-level search suggestions. For instance, let's take "losing belly fat".

We can observe that in early June, users were looking for ways to get rid of belly fat within 1-3 weeks, while during midsummer, they were interested in how to lose belly fat quickly.

While this may seem like a simple example, the underlying algorithm is straightforward and can be applied to a variety of situations.


Thanks to these techniques, it is possible to effectively track trends by processing search suggestions and bypassing the limitations of Google Trends. To achieve this, all you need to do is follow these steps:

1.
Set up a regular crawl of search suggestions for your targeted keywords and region.

2.
Configure an easy download process for the data.

3.
Set up notifications for relevant changes in search behavior.

4.
Analyze and work with the results obtained from the data set.

And finally, there are other sources of search suggestions:

Youtube

Amazon

Google News

Google Play

Bing

Found an error? Select it and press Ctrl + Enter to tell us
Cases, life hacks, researches, and useful articles
Don't you have time to follow the news? No worries! Our editor will choose articles that will definitely help you with your work. Join our cozy community :)
By clicking the button, you agree to our privacy policy.