5 Alternative Methods For Analysing And Searching New Niches For SEO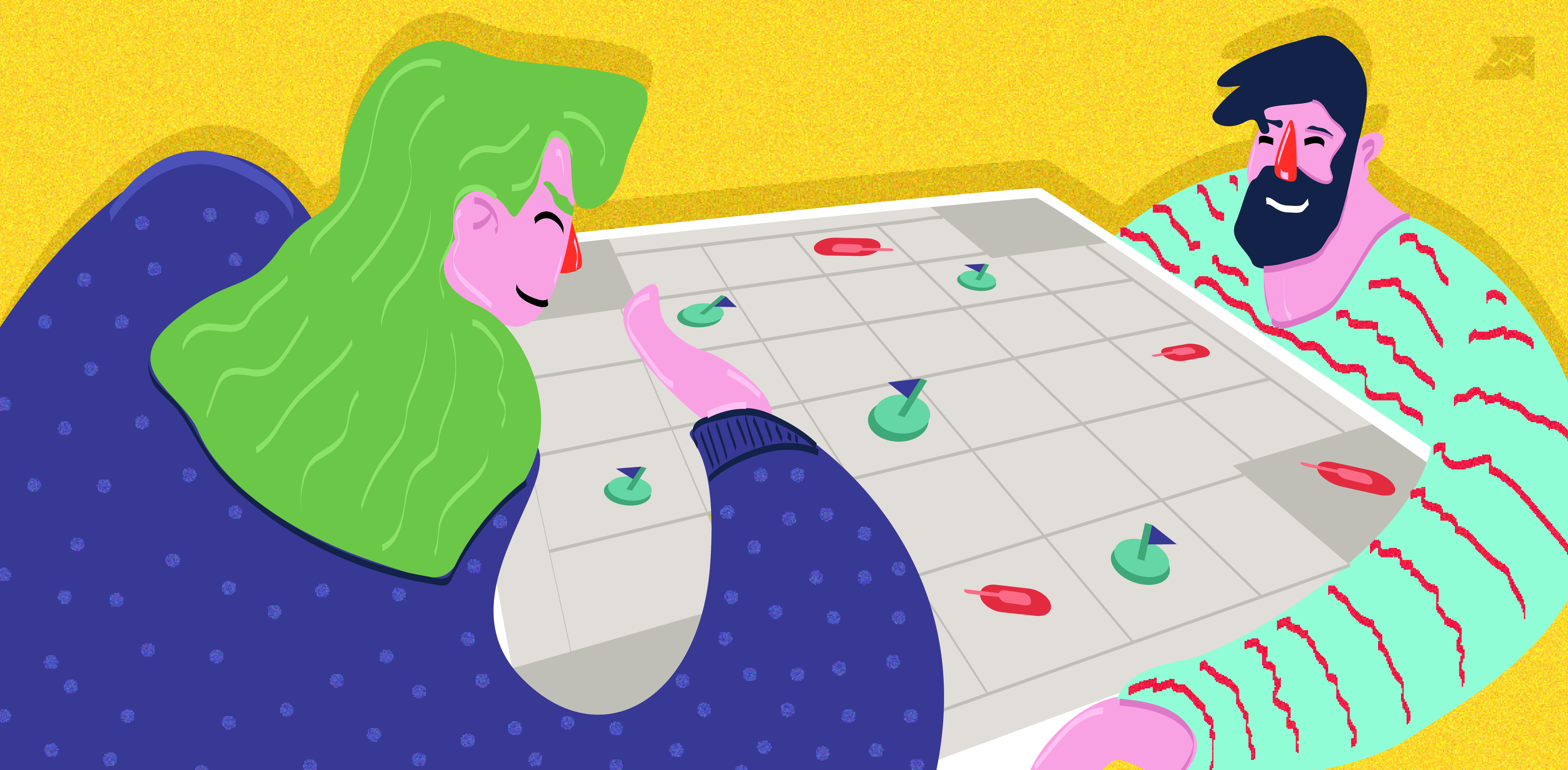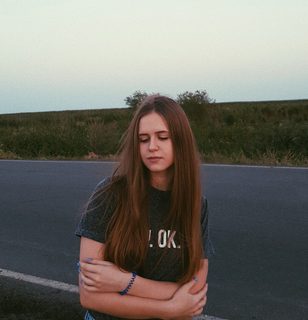 Stacy Mine
Editor at Serpstat
Flatfy (a platform for finding accommodations) saves 23 hours of SEO specialist work per month or 276 hours per year by automating routine tasks using Serpstat API. Are you sure you are rationally using your time and the time of your employees? In this article, I will tell you how you can save your time, find low-competitive niches, keywords that competitors missed, and how to determine trends without using Google Trends. And the most impressive thing is how to automate all these processes. Let's go!

How to find niches and subniches with low competition level?

Niches with low competition
are those niches that you can enter and most likely achieve a better result. The key to finding such niches is on the surface — it is the Keyword Difficulty (KD).
Keyword Difficulty
is an indicator that determines how difficult it is to promote for a particular keyword within a given search engine and region. It is usually established based on reference, trust, age and relevance of the top ten. You can try our
keyword suggestion tool for your website
.
Serpstat Keyword Difficulty
is an assessment of the level of competition for a keyword to promote in organic search in the top 10. The metric not only shows the level of competition for the keyword but also helps determine the appropriateness of promoting it. The higher the score, the more difficult it is to compete in a keyword.
The indicator is measured in percent (%).
How to analyze niches using Serpstat? The algorithm is simple:

Enter the keyword in the search tab.
Get a report with a lot of requests.

Sort the report according to the ascending keyword difficulty.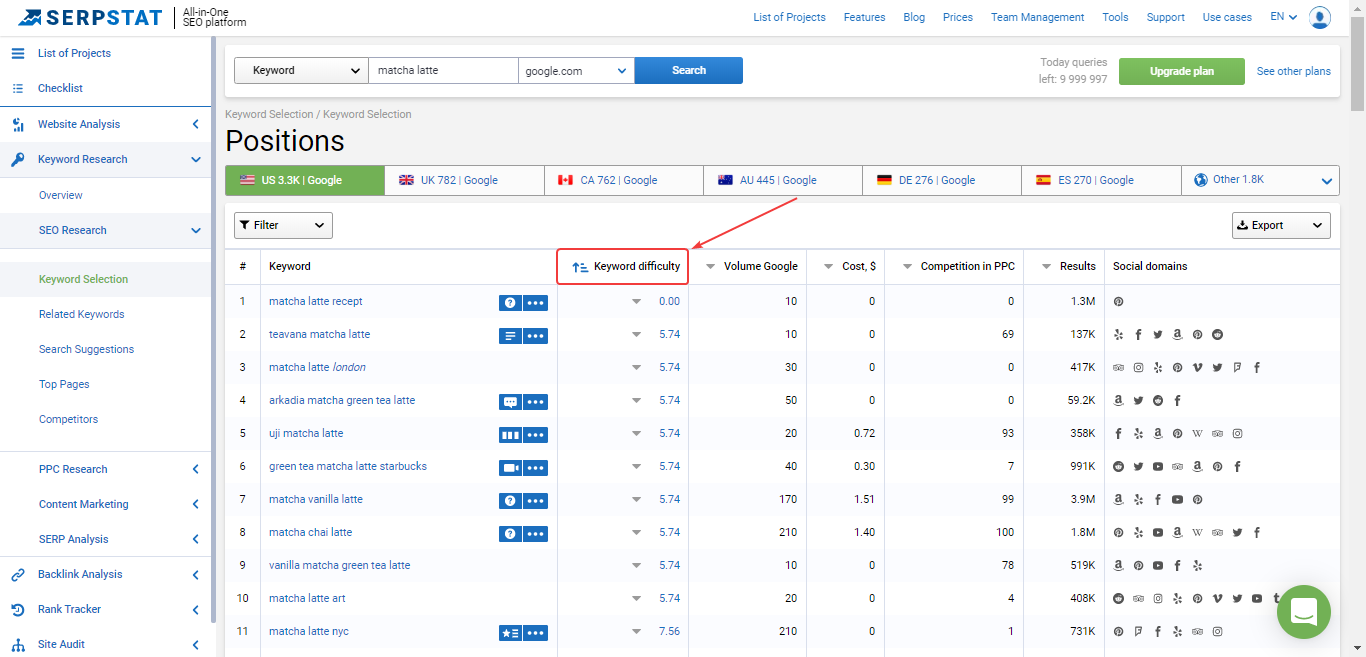 Work on those keywords that have low competition.

However, this doesn't always work. Since, as a result of such an analysis, we get thousands of keywords. And manually processing such amount of information with high quality is extremely difficult, or rather, impossible at all.
Therefore, the solution to the problem of finding niches with low competition is not in the keyword difficulty, but in clustering by tops and counting
KD clusters
.
Clustering
is the process of combining related keywords into groups (clusters). This process is sometimes referred to as keyword grouping. Ideally, the clustering of keywords should be based on the properties of the objects described by these phrases and the context of their use.
SERP
offers links to relevant pages in response to a search query, and by comparing the results for different keywords, you can accurately group keywords.
Programs use the algorithms of search engines, analyzing the composition of the top results to determine the semantic affiliation of keywords. The program sends requests, for example, "food for elderly dogs" and "food for adult dogs," and receives two different search results in response.
Conclusion
: these keywords belong to different clusters. At the same time, the search results for "food for adult dogs" and "food for elderly dogs" is likely to coincide, that is, these keywords belong to the same cluster. Thus, each request is checked.

How this happens:
20 different documents are ranked in the top 20 for each keyword.

Some documents are in the tops of different keywords.

Keywords are grouped by the number and position of common documents.


How to implement clustering by top?

Manually doing work on clustering queries by top is a challenging task, since you need to check the results up and down. Therefore, this process can be automated using the API.
The Serpstat API (application program interface)
is a method of obtaining data that helps to quickly download large amounts of information without using the Serpstat interface. It also allows you to integrate Serpstat analytics into your internal tools.
The Serpstat API covers the modules Website Analysis, Backlink Analysis and Keyword Analysis
and all the described methods allow you to get information on these modules.
Serpstat API is extremely popular among our clients, especially from the USA and Europe. Such companies as
Flatfy
,
WebXpage
,
Accesstrade
are already using Serpstat API to reach their goals.
Serpstat has very competitive API prices. We achieve such low costs because we not only made our product recently compared to competitors but also with new technologies so that we can make many features cheaper.
You can use the API as part of your plan with the following features:
How to implement clustering by tops:

Serpstat API-based script collects keywords for a given key immediately from KD.

Data on the tops is collected for the received keywords.

Using tops, the script clusters according to the algorithm.

As a result, we get clusters of keywords, using which it is easier to appear in top SERPs.

How to use competitors in search of simple niches?
Imagine that you have a niche with which you work or just want to enter it, and it already has leaders. An indicator of the keyword difficulty will also help here. In this situation, you can use the experience of competitors, their best practices and do better!

Unfortunately, in all existing services for finding competitors, there is no way to see the Keyword Difficulty indicator in the competitors report. As a result, to check a niche and obtain data for analysis of competitors, you need to do a lot of routine work.

Therefore, it is better to use the API.

Search for low-competitive niches that you can enter using competitors

Using the Serpstat API-based script, we collect keywords by which the domain is ranked in the given search engine, region and KD keys.

Group keywords based on the ranked page.

We analyze the average KD taking into account the volume of keywords for each page.
We use keywords with a low rate of complexity on our site. For example, we write content and get targeted traffic to the site.
What is the diversity of search results and how it can help

Such an analysis is useful when you want to enter a niche, but you're not sure if there are large leaders in it that occupy the top. Or a lot of different leaders in all subniches. Thanks to the analysis of tops, you can get this information.

What is the variety of tops

The variety of tops is a number that determines how often different domains are found within the entire set of queries in a niche. This is a ratio that determines how often new domains are found in search results for a multitude of niche requests.
Vcoef = Ndomains / Nkeywords
The higher the ratio, the more different domains are found in the search results.
An example of diversity for different niches:
What we see:

In the
Seeds
niche with 1956 checked keywords in the top 3 we found 822 different domains (ratio 0.42). And in the niche
Weather
with 954 keywords we found less than 40 domains (ratio 0.04). This suggests that the top of the second niche is densely packed with leaders who are unlikely to move. However, unfortunately, a comparison of these coefficients gives only a relative idea of progress in a niche, and you need to dig deeper. Not everything is so simple and further calculations are necessary. To find niches without explicit leaders, you can also use the API script.
Install the script that uses Serpstat API.

The script downloads a lot of phrases for a given key.

Top 10 is downloaded for each key.

Based on their data, the script determines and shows:

Coefficient of diversity.

Table of domains with data on frequency.

A list of phrases where one or more unique domains are found in the top.
The script collects keywords, processes the top 10 for these requests. In addition to the ratios (variety of tops), it also selects a table of domains (and how often they occur) in the top 3, top 5, and keywords by which we can find unique domains.

These are the phrases that can help you find the key to a niche: some domains that have managed to enter a niche for certain keywords, you can use their experience and try to do the same as they did.

How to find low-competitive keywords missed by leaders

Searching for keywords missed by leaders is a specific technique for finding keys that can help you get to the top. It works if in your niche there is a king of search results.

Example: we have the request "iPhone 10", the search results have an Apple website, and they have a page dedicated to iPhone 10. This page is the most authoritative and trustful, it is the "king". There are also pages from sites like Amazon and BestBuy - major competitors that will be hard to compete with. And there is a technique that allows using the "king" to find those keywords that competitors miss.

Collect all the keywords on which the leader page ranks in the top 20.

Using keywords, determine the primary key, i.e. the word/phrase that is found in the vast majority of collected keywords.
Do hard clustering by tops.

Delete clusters with the main keyword consisting of the base key and base words ("buy", "delivery" ...)

Handle the remaining clusters manually.

We get a set of clusters that contains keywords that competitors miss. However, there is one "but": in this technique, everything is very individual for each niche. Therefore, there is no script for it.

How to identify trends within your niche without Google Trends

Speaking of trends, one cannot but say about search suggestions. This is an element of search results that is especially interesting. Suggestions can reflect the change in user interest and quickly respond to it.

For example, a few hours after the France-Belgium match, relevant search suggestions have already appeared under the Google search bar.

Thanks to the tips, you can track activity trends. They respond extremely quickly, and crawling them is much easier than Google Trends. That's why I created a technique that allows you to work with tips to search for trends.
For example, we have the keyword
vacation
. According to it, we have about 20 first-level suggestions. For each of these tips, we can get suggestions of the first and second level.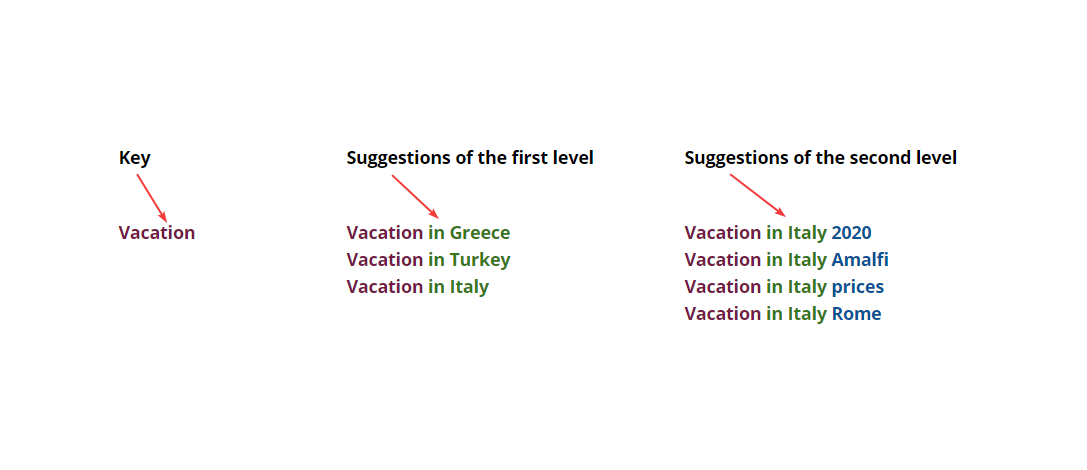 Every day we crawl the suggestions of the first and second level. Select keywords that appear, save their number and current date. So we are gaining historical data.
Determine the keywords from the suggestions of the first level (green).

Determine the keywords from the suggestions of the second level (blue).

Save keywords with the number of references and the current date.

Fix the number of new keywords for the current date.

As a result, we have a data set by which we can determine the dynamics of the appearance of new phrases by our keywords. For example, the new color of the phone that we sell. And by the number of phrases we can compare the data for many keys.

You can see an example of how search suggestions respond to a burst of activity. In the table below, we see data on how suggestions appeared after the release of a new series of Westworld. The series was released on June 10th, and on the 11th we already had suggestions. Moreover, the difference in the day is because in the States the series was released on the 10th in the evening, and the tips were crawled according to Ukrainian time on a Ukrainian server. Hence the difference in one calendar day, and not in a couple of hours, as it actually is.


The second example is how, with the help of search suggestions, you can watch the dynamics of an event. Here we took Independence Day as an example. And what we see: as early as June 27-30 appear search suggestions for buying fireworks.
July 1st - users are already interested where to buy fireworks nearby.
July 4th - requests for how to cook corn on the cob.
July 5−6 - users are interested in how to clean a grill, floor.


Now imagine the situation that the first-level suggestion is an event that we are tracking in dynamics. Let's check an example
how to lose belly fat
. We look at requests: early June - users are looking for how to get rid of the fat in 1-3 weeks. Midsummer -
how to lose belly fat
fast. This is a trivial example, but the algorithm is clear.

Thanks to all this, it's really possible to work with trends, processing suggestions and avoiding the limitations of Google Trends. Therefore, we repeat once again how to do this:

Set up regular crawling of search suggestions on your keys and target region.

Set up a convenient downloading.

Set up an interest notification.

And finally, there are other sources of search suggestions:

Speed up your search marketing growth with Serpstat!
Keyword and backlink opportunities, competitors' online strategy, daily rankings and SEO-related issues.
A pack of tools for reducing your time on SEO tasks.
Found an error? Select it and press Ctrl + Enter to tell us
Cases, life hacks, researches, and useful articles
Don't you have time to follow the news? No worries! Our editor will choose articles that will definitely help you with your work. Join our cozy community :)
By clicking the button, you agree to our privacy policy.