Персональная демонстрация
Оставьте заявку и мы проведем для вас персональную демонстрацию сервиса, предоставим пробный период и предложим комфортные условия для старта использования инструмента.
Detailed Market Research of One Million Domains
See the Market from a New Angle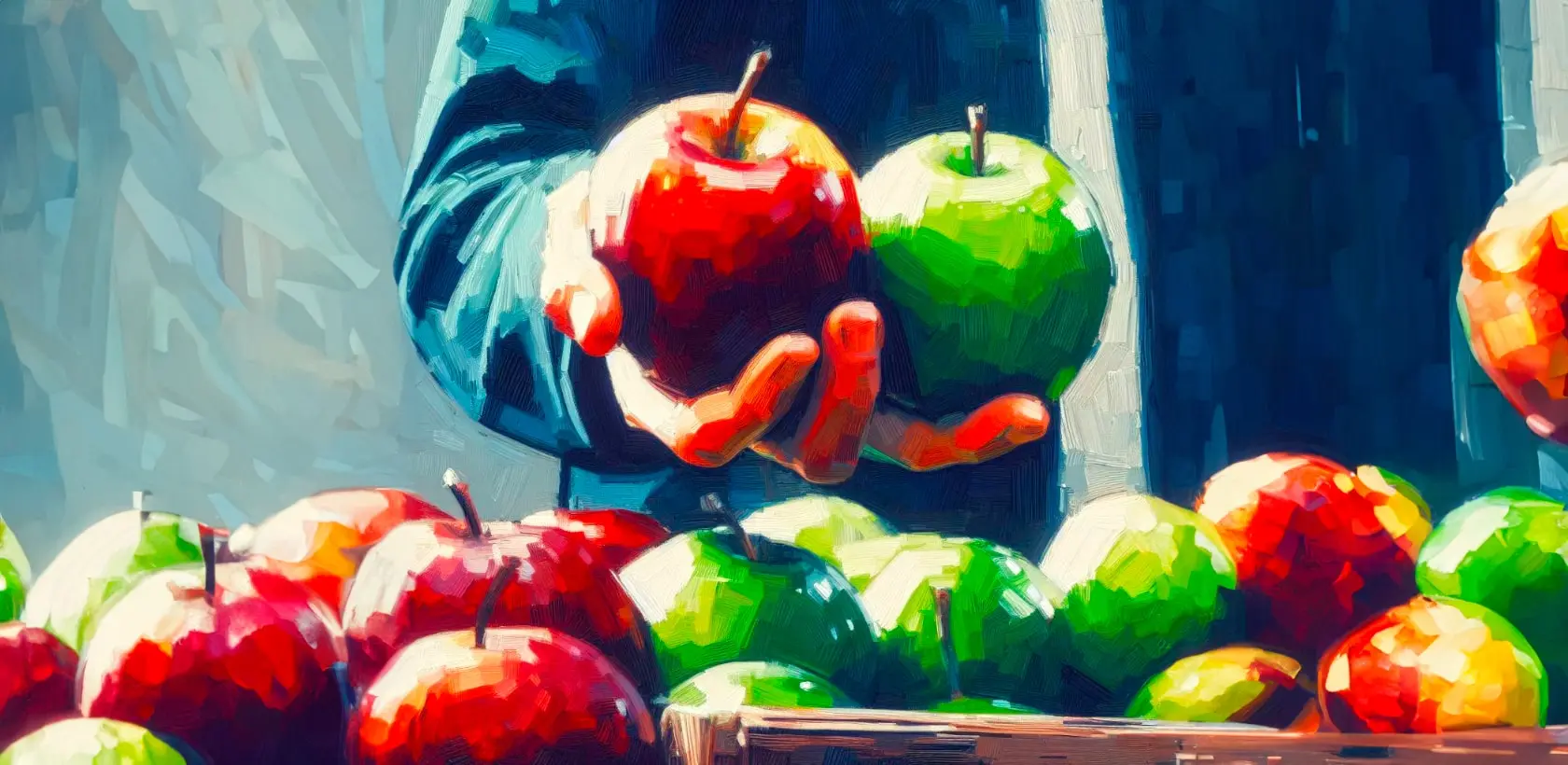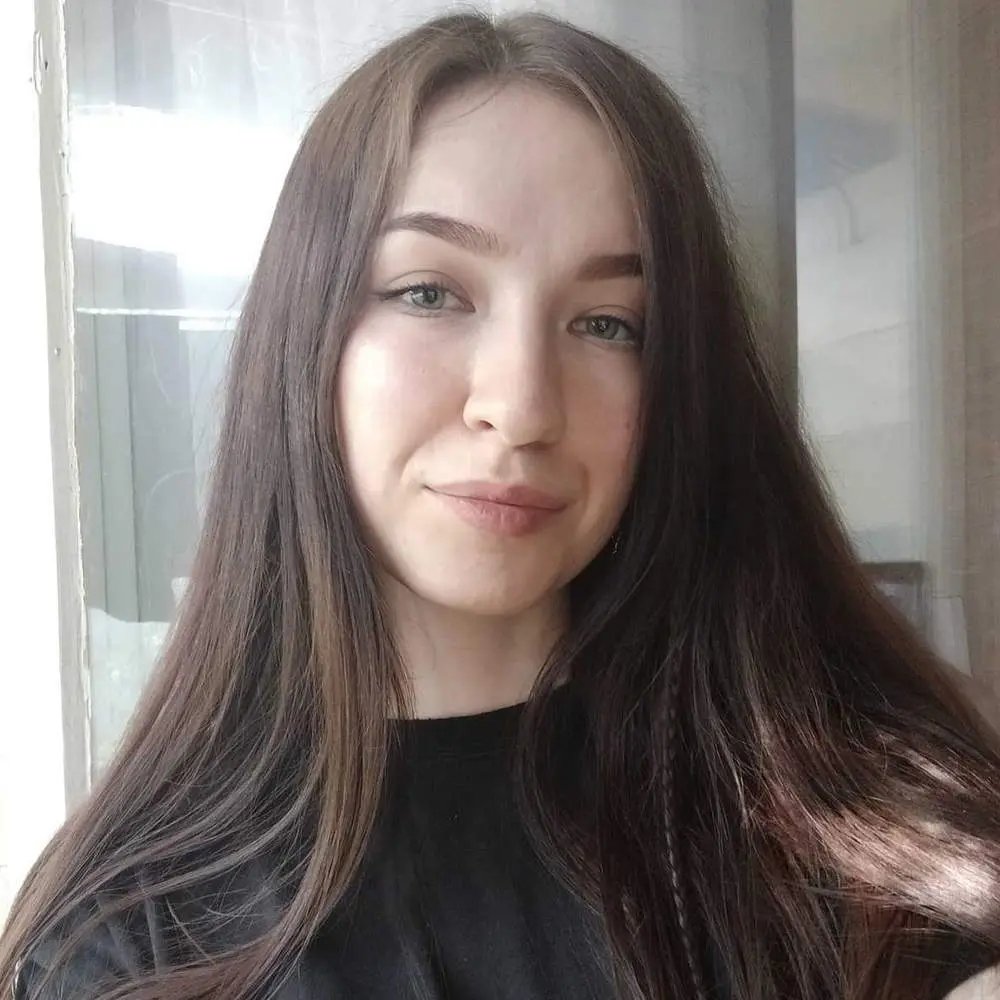 What Market Research Is and Why You Need It
Market research helps better understand consumer behavior and market trends, make decisions about what to sell, and build business strategies. Such research helps those who start a new business or seek new ways to overtake competitors or expand their business.
Yes, starting a business without market research is possible, but it increases the risk of failure. Without a comprehensive market analysis, you may miss important information about competitors and specifics of a niche or estimate your strengths wrong.
Let's review in what cases market research can be helpful.
Competitive analysis. Run an overall review to check the market's strong players, trends, and competitiveness. Assess your strengths and correct marketing strategies.
Relevant competitors. Pick out only relevant competitors and pay attention to their strategies. Meet strong players and be aware of newcomers to your niche.
Estimate competitiveness. Gather all the possible info about competitors to understand whether you have enough resources to attract customers and develop your business
Ideas for business development. Analyze relevant competitors to search for insights and get new ideas for business development. Discover missed and new trending products or services.
Ideas for USP. After competitor analysis, be sure you cover as much as your customers need. Don't forget to add a unique selling proposition to stand out among competitors.
Budget planning. Analyze PPC strategies. Before launching a new business, estimate the required budget to start a business and to stem the tide.
Assess the prospects. By analyzing your resources, competitors, budget, and market in general, you can build a correct strategy and see the prospects to grow to.
Find companies to invest in. Explore opportunities for passive incomes and encourage companies' growth. As they thrive, your passive income opportunities will also increase.
Find sponsors. Analyze a certain industry and find out the best companies to work with. Sponsors can help you expand into new markets or reach a broader audience by leveraging their existing customer base.
Market Research Tool Overview
Any market research starts with data collecting. The Market research tool provides one million domains for the USA base. Additionally, there are SEO metrics for each domain. This tool saves time on collecting this information and creating a report for analysis. No need to update it manually.
Let's review market analysis using the Market research tool.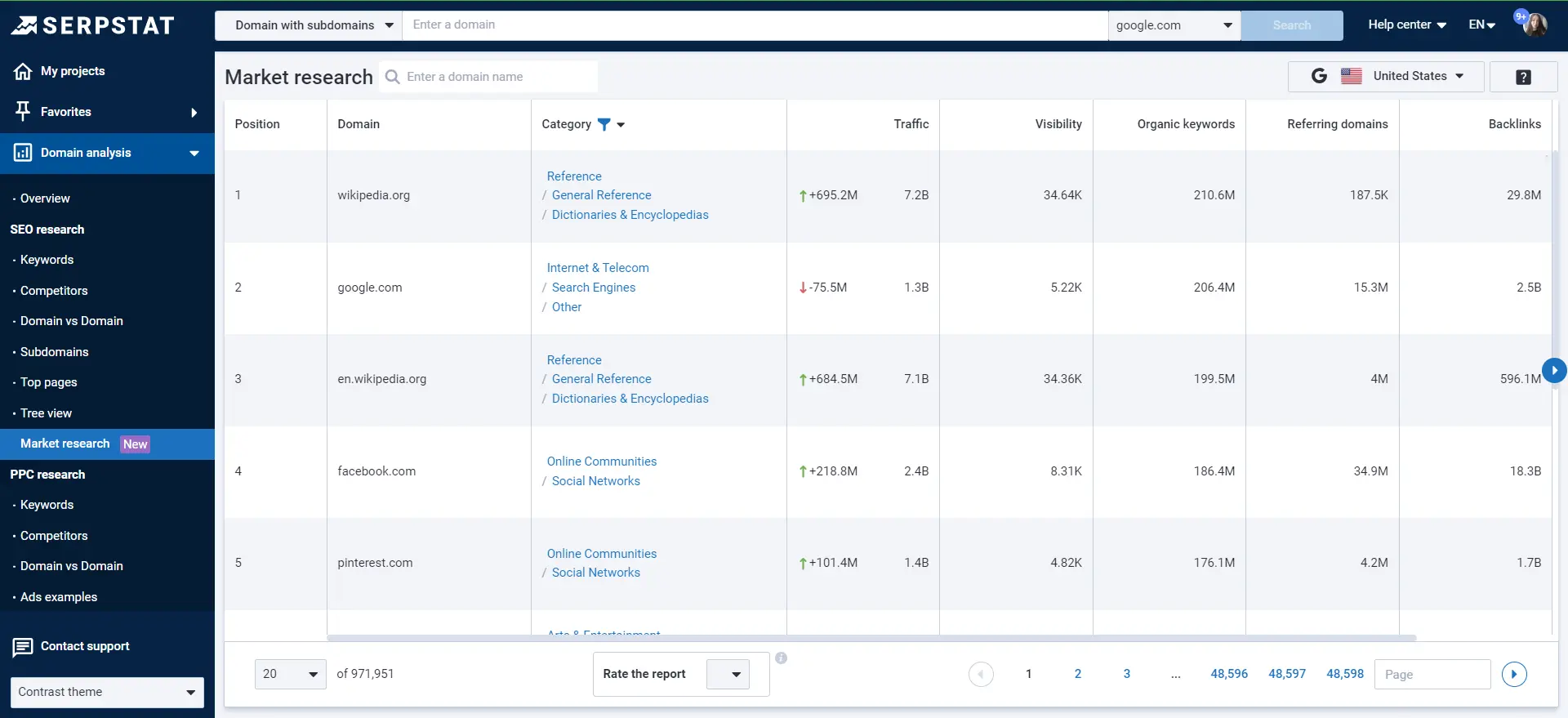 The market analysis tool contains 1M domains in the US region. It displays 6 SEO metrics for a convenient market analysis:
Traffic

Visibility

Organic keywords

Referring domains

Backlinks

SDR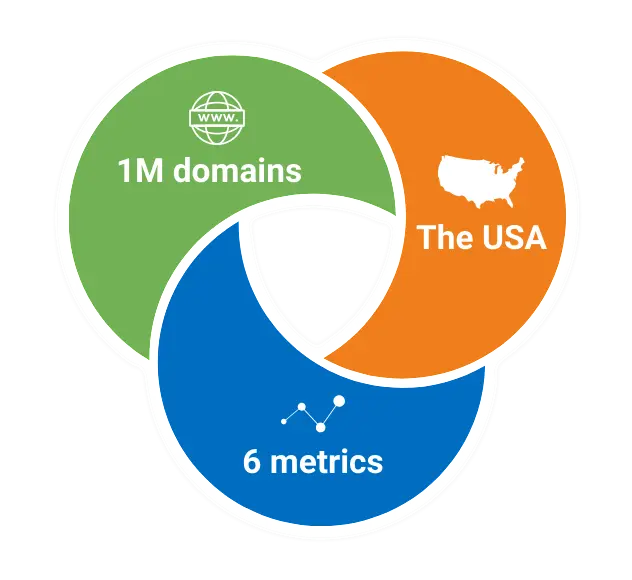 Websites are sorted by the number of keywords in organic search, and each domain has a category/subcategory. The rating is updated once a month.
Don't hesitate to leave your feedback in the support chat and tell us other regions where you'd like to analyze the market.
How to Select That Very Website?
Suppose you're looking for possible investment opportunities in a specific niche. Filter domains by your niche by clicking on the column or the category itself.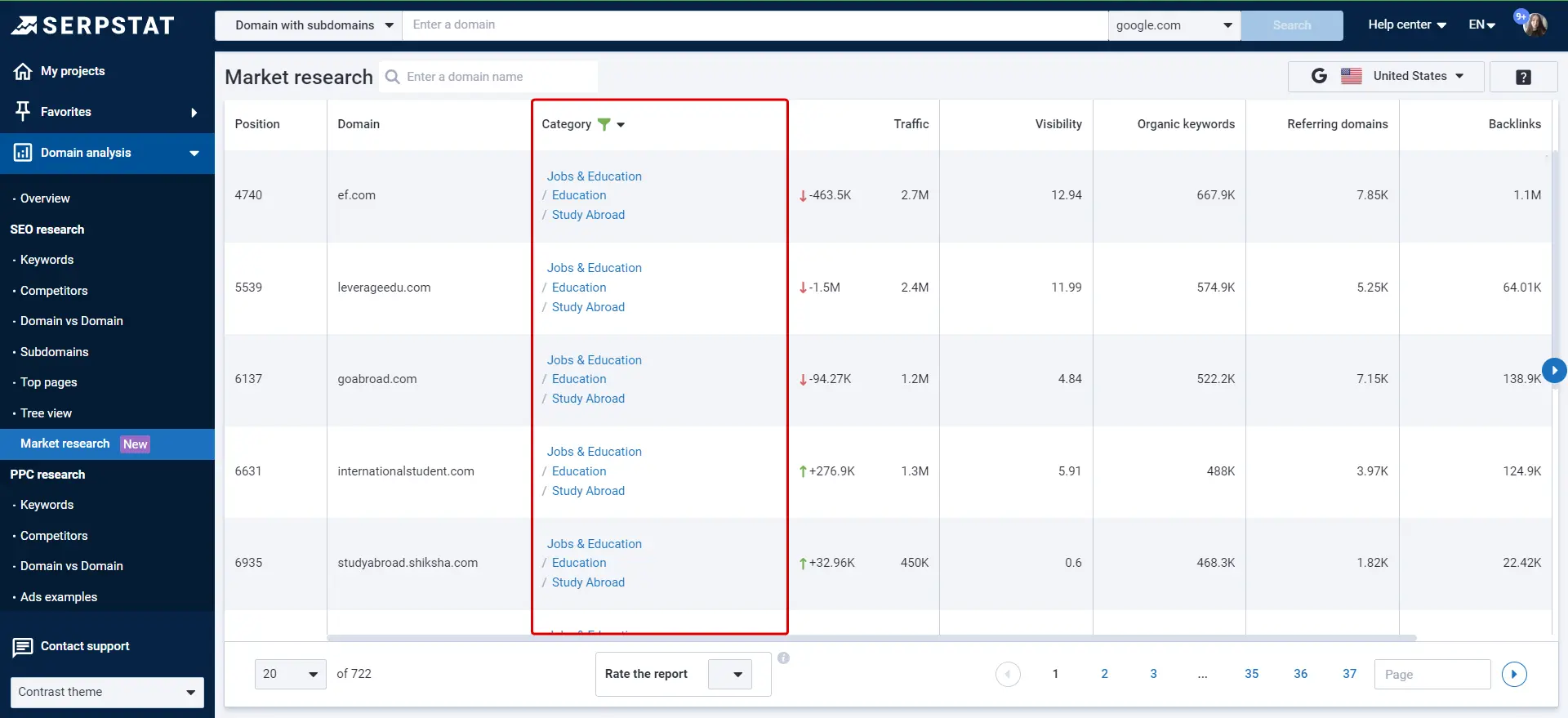 If you'd like to find a specific domain in the rating, use the search bar. If the searched domain is in the rating, you will get to the page where it is.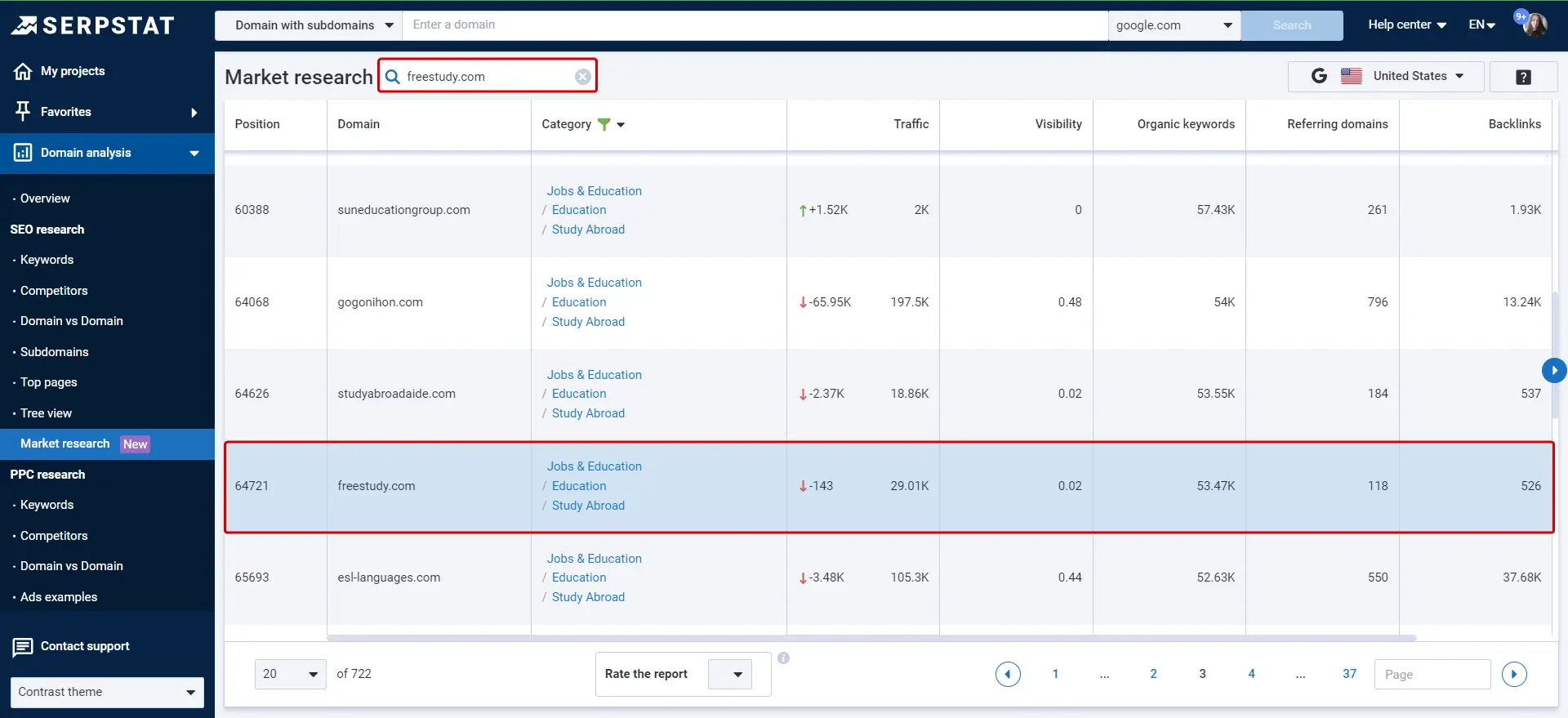 Analyze if a domain is a decent competitor or your target opportunity for investment/partnership by metrics in the table.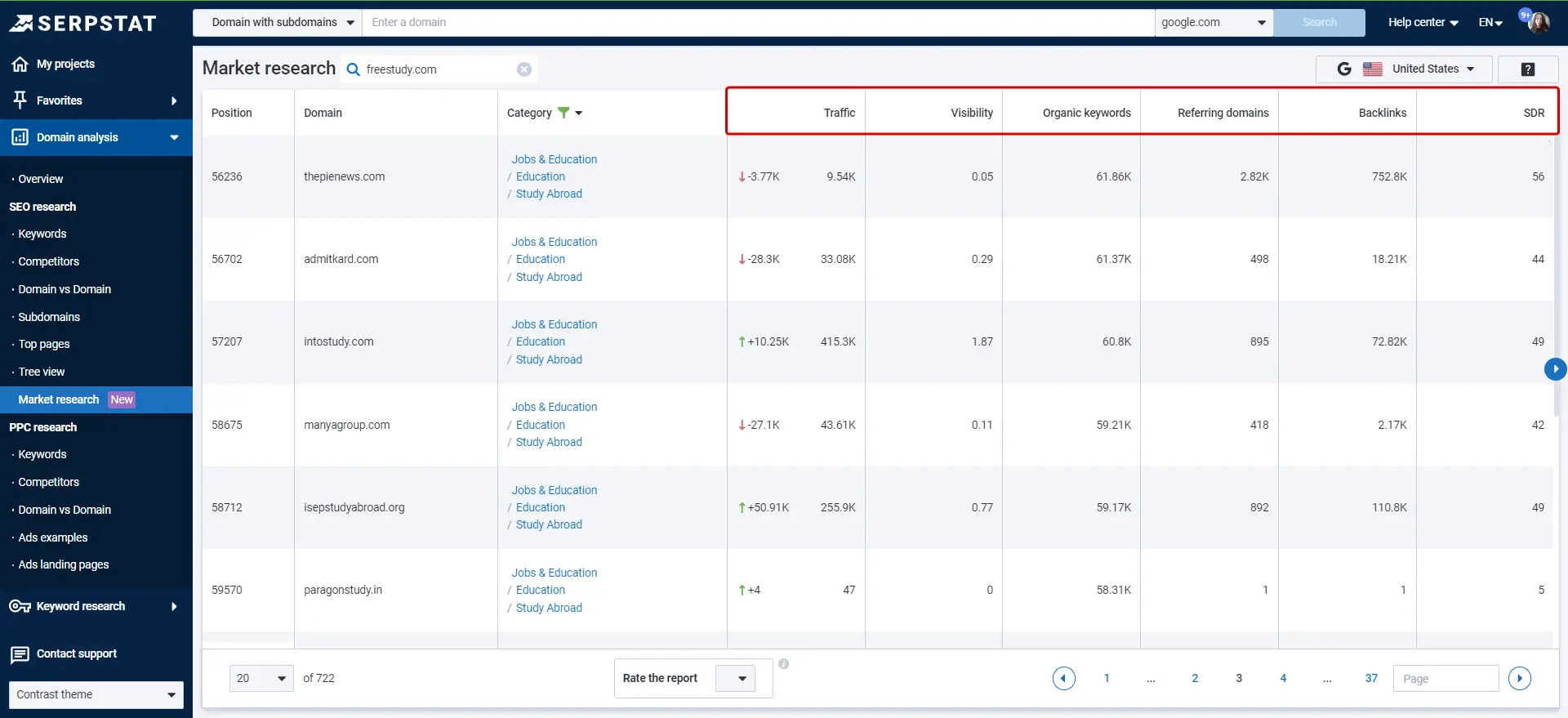 Which Plans Include Market Research?
You can access the Market Research tool on any plan. However, the capabilities in the tool differ for each plan.

The Free plan allows you to see the first 20 domains in the rating. Filtering by categories and the search bar are unavailable.

The Individual plan lets you see the first 20 domains and filter results by category.

The Team and Agency plans open you full access to the tool. See all results, filter by categories, and search for domains.
Competitive Market Analysis
Get a deeper look at a domain's SEO in other Domain analysis reports. Analyze its growth dynamics and decide if the project is worth investing in.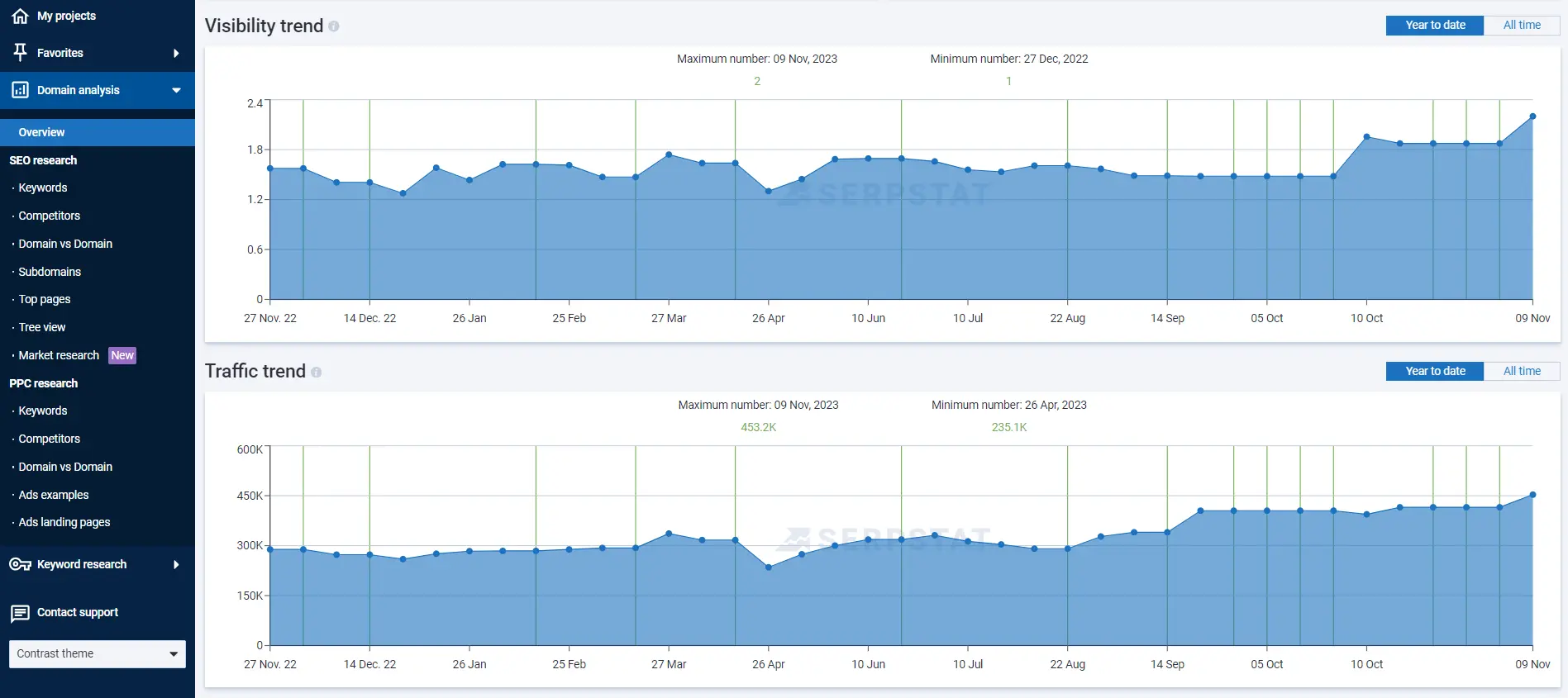 To compare selected domains for more than 6 metrics, use the Domain batch analysis tool. Pick out relevant to your industry websites from the rating and create a project with up to 20 metrics.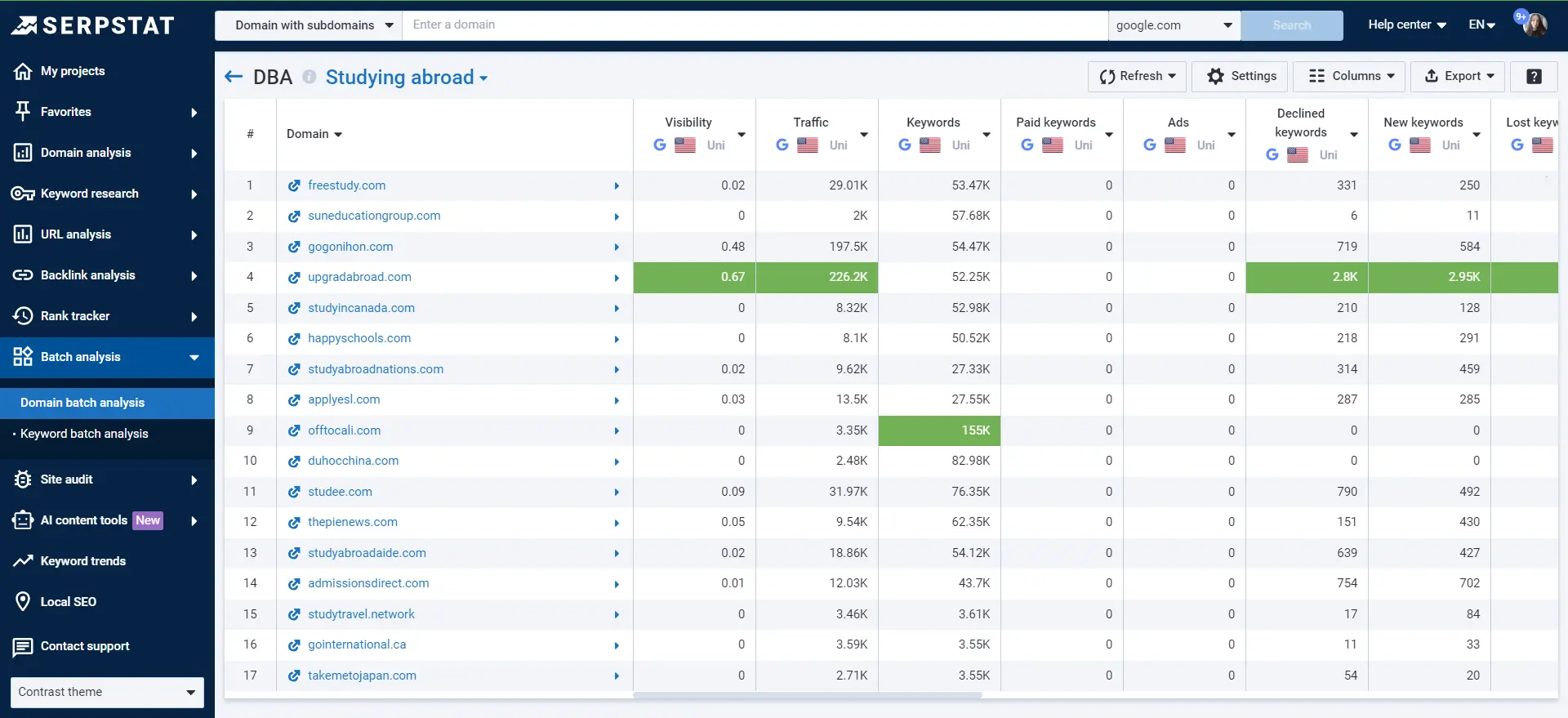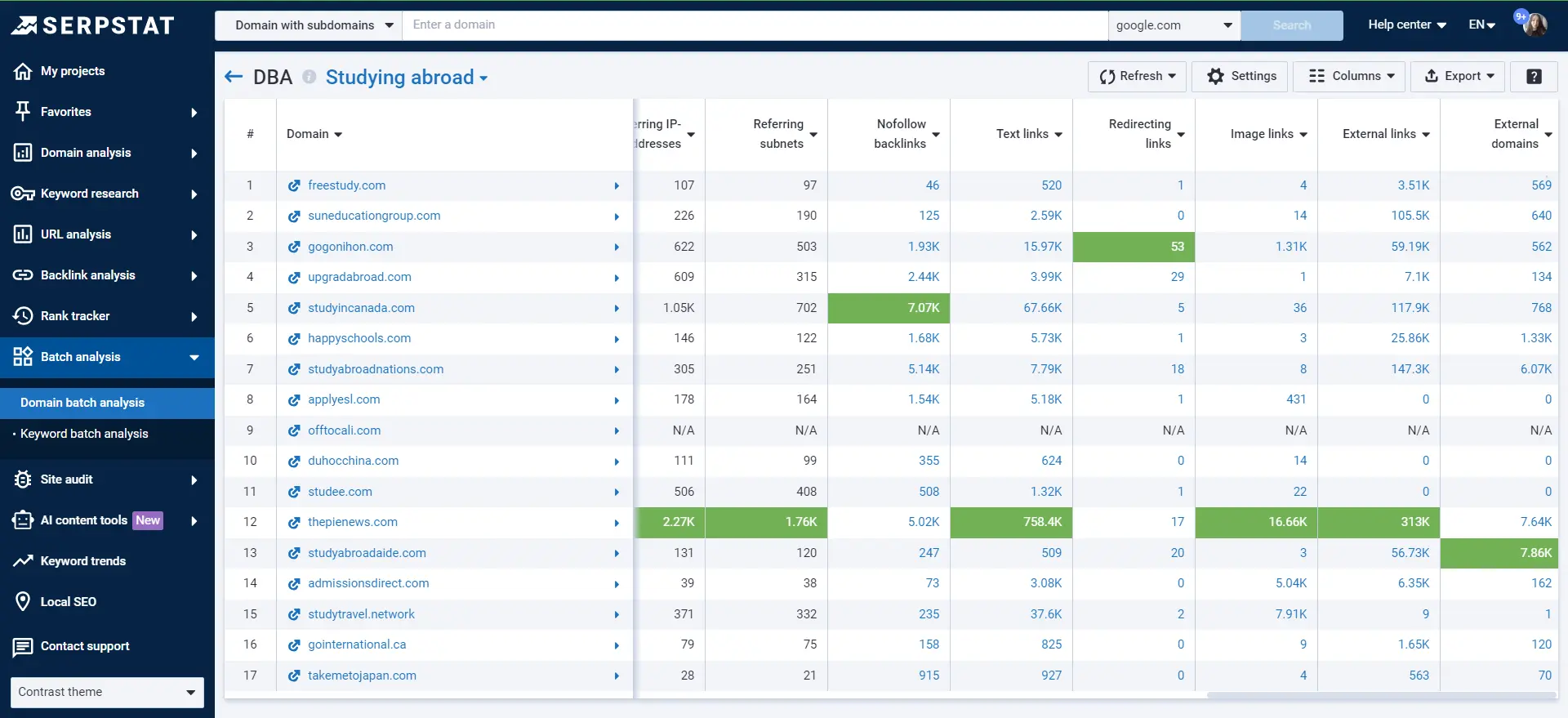 The highest values are highlighted in green, so you immediately see who's overtaking the competition in each metric.
Alternatively, create a project in the Rank Tracker and add as many competitors as you need to the project. Monitor how they rank for keywords in the project and what's their traffic share.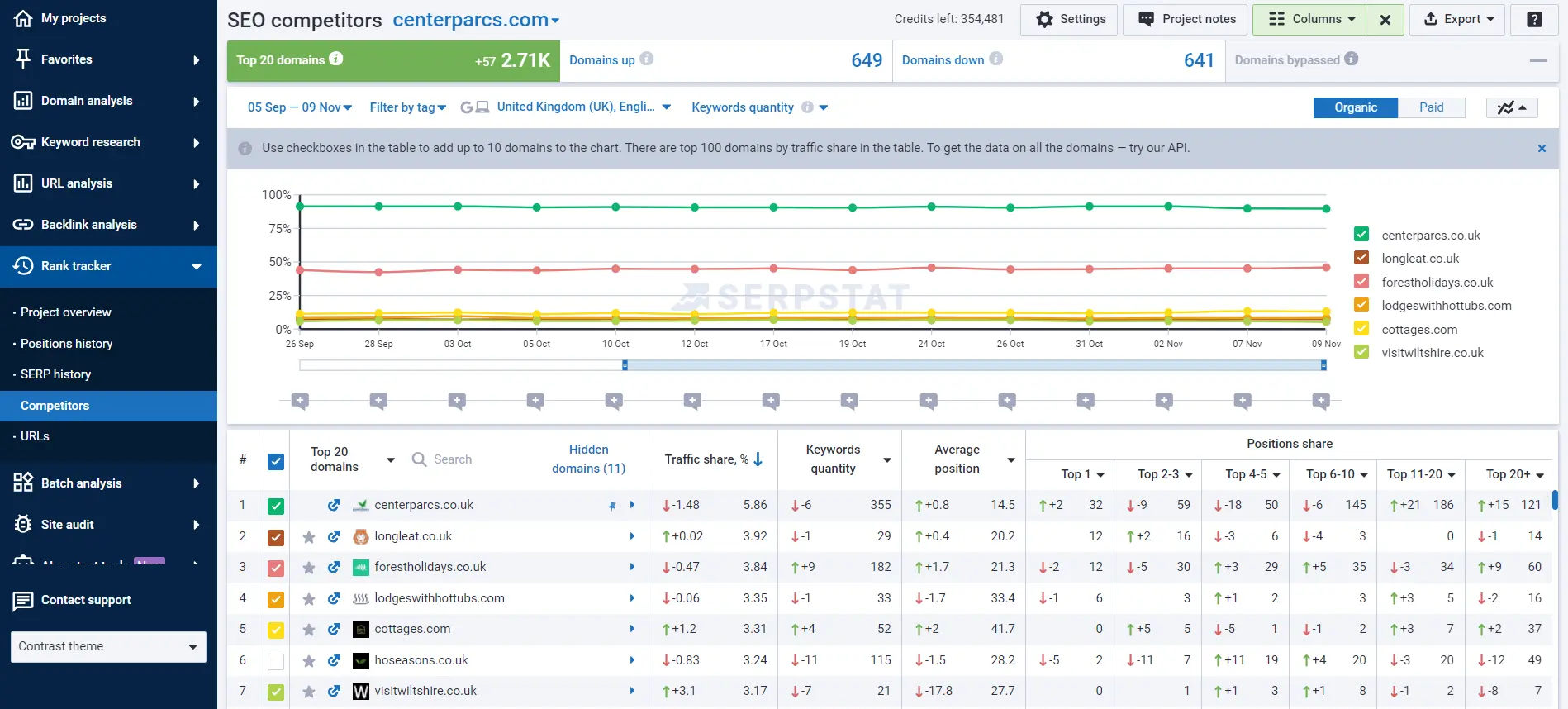 Competitive market research enables you to make data-driven decisions about website optimization, development, collaborations, and investments.
The benefits of conducting a competitive analysis:
New optimization ideas (content, keywords, backlink profile changes).

Finding a company's weak and strong points.

Keeping up with the market dynamics.

Selecting a sustainable, competitive business to invest in.

Assessing risks associated with a potential investment.

Seeing the best potential partners.
Market and competitive analysis is a vital part of keeping your business relevant in a dynamic marketplace. Combine tools to analyze the market and get the most detailed data.
Found an error? Select it and press Ctrl + Enter to tell us
Cases, life hacks, researches, and useful articles
Don't you have time to follow the news? No worries! Our editor will choose articles that will definitely help you with your work. Join our cozy community :)
By clicking the button, you agree to our privacy policy.