Персональная демонстрация
Оставьте заявку и мы проведем для вас персональную демонстрацию сервиса, предоставим пробный период и предложим комфортные условия для старта использования инструмента.
How To Check Server Response Time And Reduce It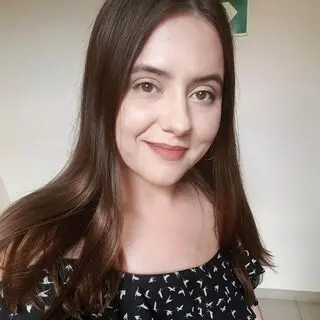 Is There a Difference Between Server Response Time and Page Load Speed?

Yes. While these terms are related, they shouldn't be confused with one another.

Page Load Speed is the total time it takes for a webpage to display in a user's browser, while Server Response Time is the time it takes for the server to provide the initial response to a user's request (basically, load the first byte). 

Once a request is made from the browser, the server accesses the database, and the page generation process begins. The complexity of the page, including the number of scripts and styles used, can impact the time it takes for the expected content to fully form.

Improving both metrics is essential for delivering a fast and reliable website experience to users. In this piece, we will only go over server response time, but we've extensively covered page load speed here.

How to Check Server Response Time

There are multiple ways to measure the server response time, so let's go through some of them.

One of the easiest ways to test this metric for a webpage is via Dev Tools of your browser:

2.
Select the Network tab, then Doc.

3.
Reload the page to see the result.

3.
Hover over the Waterfall and look for the Waiting for server response metric.

There it is!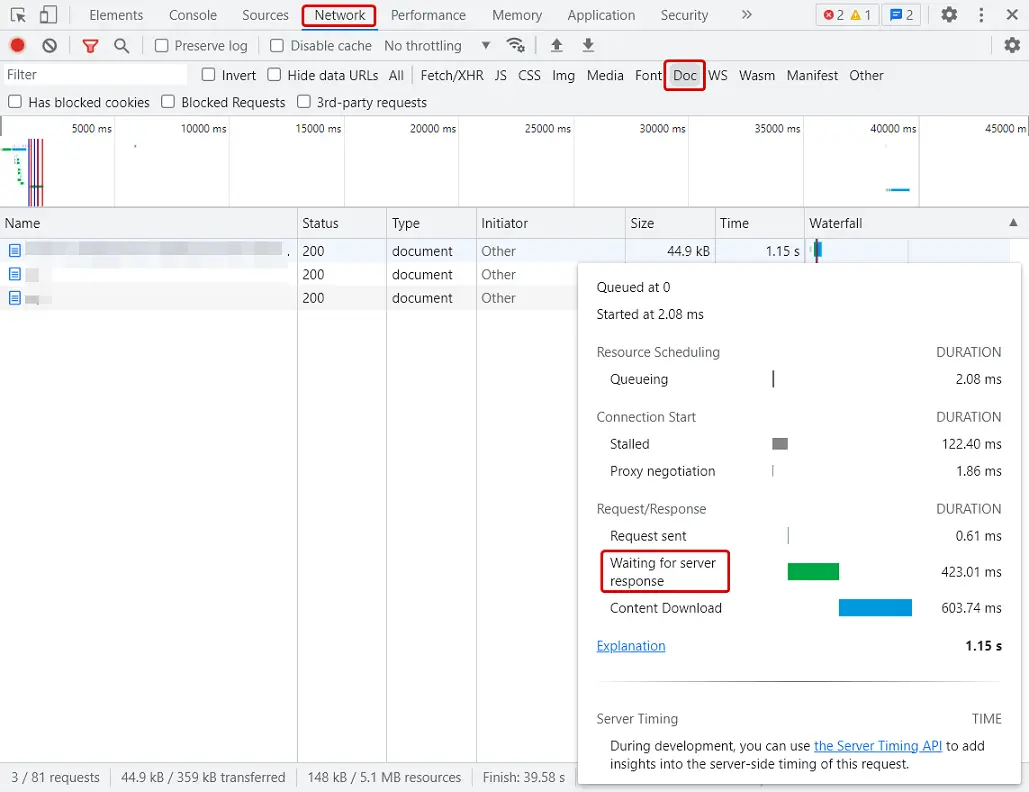 Here's how you can access the Dev tools from various browsers and operating systems:

Chrome for Mac – Cmd+Opt+J

Safari – Cmd+Opt+C

Opera – Ctrl+Shift+i

Mozilla Firefox, Microsoft Edge, and other browsers for Windows – F12

The server response time should be no more than 200 ms. Ideally, you should aim for four times less than that. The faster the server responds, the better the rankings in search results, according to the research by MOZ: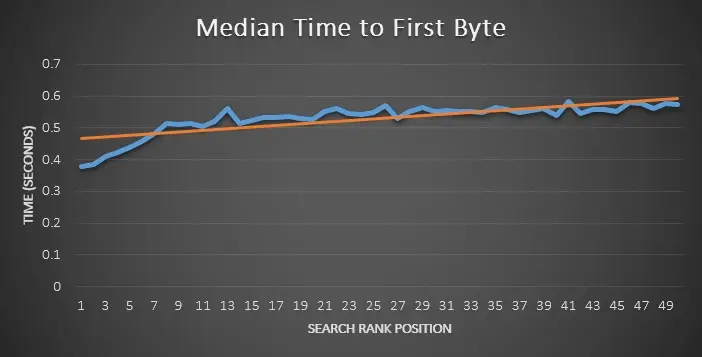 Please note that the server response time shown in Dev Tools may differ from what you would get with other tools or methods, as the timing can be affected by various factors such as network latency, caching, and the performance of the client machine. However, it's still a great first step.

You can also check page load speed and server response time via Google's Pagespeed Insights, as well as get recommendations for their improvement.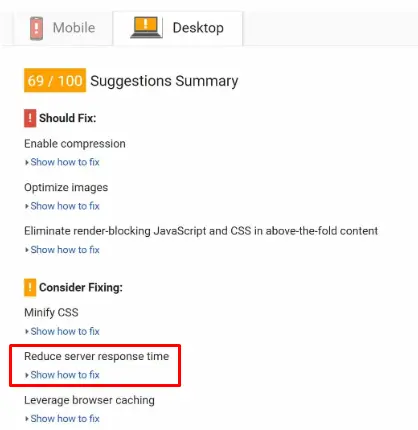 In the report, you can see the speed indicators for the mobile and desktop versions. To see recommendations for server response time, scroll down to the "Opportunities", and click on the "Reduce server response times (TTFB)" section.

It's important to note that the data shown in Pagespeed Insights may no be representative of the website's overall performance, as it's based on a single test. To get more accurate information, you should run your page through the tool multiple times.
Another method of testing the server response time of your website is using third-party tools. Some of effective solutions for measuring it are the following:

Serpstat Site Audit tool also allows you to check your website for server response time, along with many other technical issues: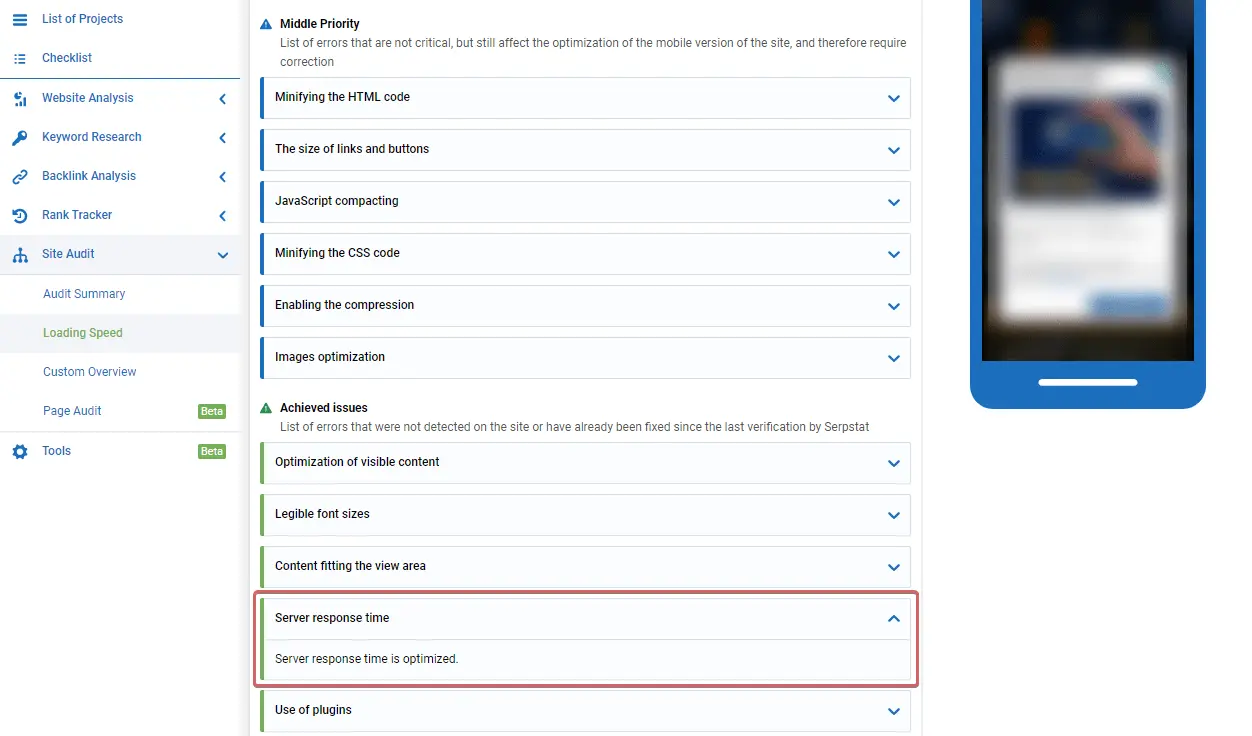 How to Reduce Server Response Time

Even if your website's server response time is within the acceptable range, it is always recommended to reduce it even more. Lest go over some aspects you should pay attention to:

1. Check the database.

To reduce server response time, it's crucial to optimize the website's database, as each request to the server involves accessing the database.

To identify which tables may be causing server response delays, you can sort them by size in the hosting panel. Once you identify the larger tables, you can assess whether they can be further optimized by removing unnecessary data or using more efficient database queries.


Important not: back up the database before cleaning the tables to prevent data loss.

To clean the tables and reduce server response time, it's recommended to open each table individually and remove unnecessary rows. These can include old plugin caches, extra options, and junk files. In WordPress, some plugins, such as WP-Optimize, can be used to automate this task.

However, it's important to note that these plugins may not always completely clean up the database. Therefore, it's essential to manually review and optimize the database regularly to ensure optimal website performance.

2. Set up page caching.

This technique involves storing a static copy of the website's pages so that they don't need to be created again with each request. When a user requests a cached page, the browser is offered a saved copy, resulting in faster loading times. For WordPress websites, the Hyper Cache plugin is a popular option. 

It's worth noting that while caching can significantly reduce server response time, it's important to regularly update the cached pages to ensure that users are seeing the most up-to-date content.

3. Maximize server performance.

To minimize response time and improve website performance, it's recommended to use a dedicated IP or VPS (Virtual Private Server), or dedicated server. Free hosting services or low-performance servers can significantly increase response times, leading to a poor user experience.

A dedicated server provides website owners with complete control over their server resources, allowing them to optimize server performance for their specific needs. Similarly, a VPS allows users to enjoy the benefits of a dedicated server at a fraction of the cost. By using a dedicated IP or VPS, website owners can ensure that their server is always running at peak performance, resulting in faster response times and improved website performance.

5. Use PHP Accelerators for caching scripts.

PHP accelerators are one type of caching script that can be used to improve website performance. These accelerators work by backing up PHP commands, allowing the next request to use a precompiled binary code instead of generating new code from scratch.

There are several popular PHP accelerators available, including eAccelerator, XCache, PhpExpress, and OpCache. Each of these accelerators has its unique features and benefits, but they all work to optimize PHP code execution and reduce server response times.
 
6. Minimize third-party dependencies.

Using third-party services can sometimes slow down the server's response time because the server has to wait for a response from an external source that it has no control over. This can cause delays or changes in the server's response time, which can ultimately slow down your website. To avoid this, it's best to use internal resource requests whenever possible.

Conclusion
Performing server response time check is a crucial aspect of search engine optimization. A fast server response time can positively impact your website's ranking on search engine results pages (SERPs).

The recommended server response time for each page is 200 milliseconds per page, but even faster is better.

To check your server response time, you can use webmaster panels or third-party resources. If you find that your server response time is too slow, there are several steps you can take to improve it.

You can reduce server response time by by cleaning up databases and removing unnecessary options, creating caches of pages and binary codes of PHP connections, upgrading to a higher-performance server, deleting calls to third-party resources, and minimizing the number of server requests.

In WordPress, you can further improve your server response time by using caching, data cleaning, and server request plugins. These plugins can help reduce the size of your database, compress your files, and optimize your website's code, leading to faster response times.

Speed up your search marketing growth with Serpstat!
Keyword and backlink opportunities, competitors' online strategy, daily rankings and SEO-related issues.
A pack of tools for reducing your time on SEO tasks.
Found an error? Select it and press Ctrl + Enter to tell us
Cases, life hacks, researches, and useful articles
Don't you have time to follow the news? No worries! Our editor will choose articles that will definitely help you with your work. Join our cozy community :)
By clicking the button, you agree to our privacy policy.