8 Ways To Incorporate Reviews Into Your Content Marketing Strategy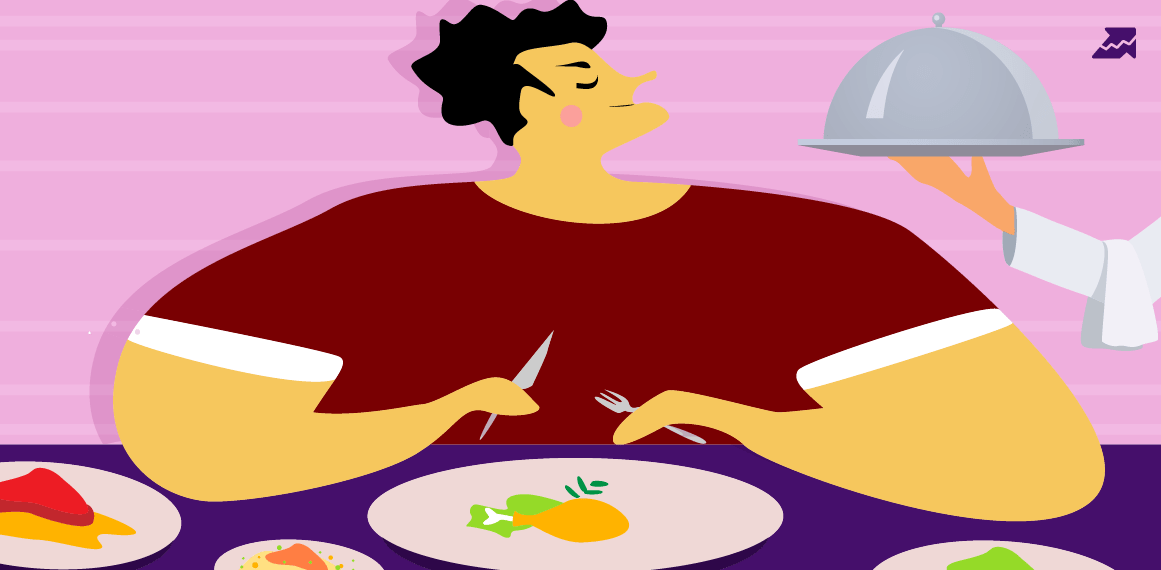 In a society focused on reviews, every business dreams of receiving five-star ratings on their products or services. Reviews provide useful information on product quality not only for potential customers but for business owners as well.
Reviews can also inspire your content marketing strategy. The topic creation portion of content marketing can be difficult, so make use of the user-generated content being given to you already.

An effective way of incorporating reviews into your content marketing strategy is to
use them as a way to find content ideas
. Although you shouldn't feature reviews in your actual content, they can be used to help generate topics for your blog. Look for patterns—which points are coming up over and over again? Identify high-level content that relates to these patterns and create content relating to those topics. The content you publish on your blog shouldn't be focused on selling your product but instead on informational and engaging topics that are relevant to your industry.
Additionally, you can publish content that recognizes your brand's success. For example, if a third-party review site recognized you as a top brand,
create a post that celebrates the news and informs your readers of it
. Content creation can help improve brand recognition and increase web traffic. If you execute this strategy well, it can influence your conversion metrics.
Skedulo
crafted an entire blog post that celebrates being listed as a
Leader in the Summer 2019 G2 Grid
for Workforce Management and Field Service Management categories.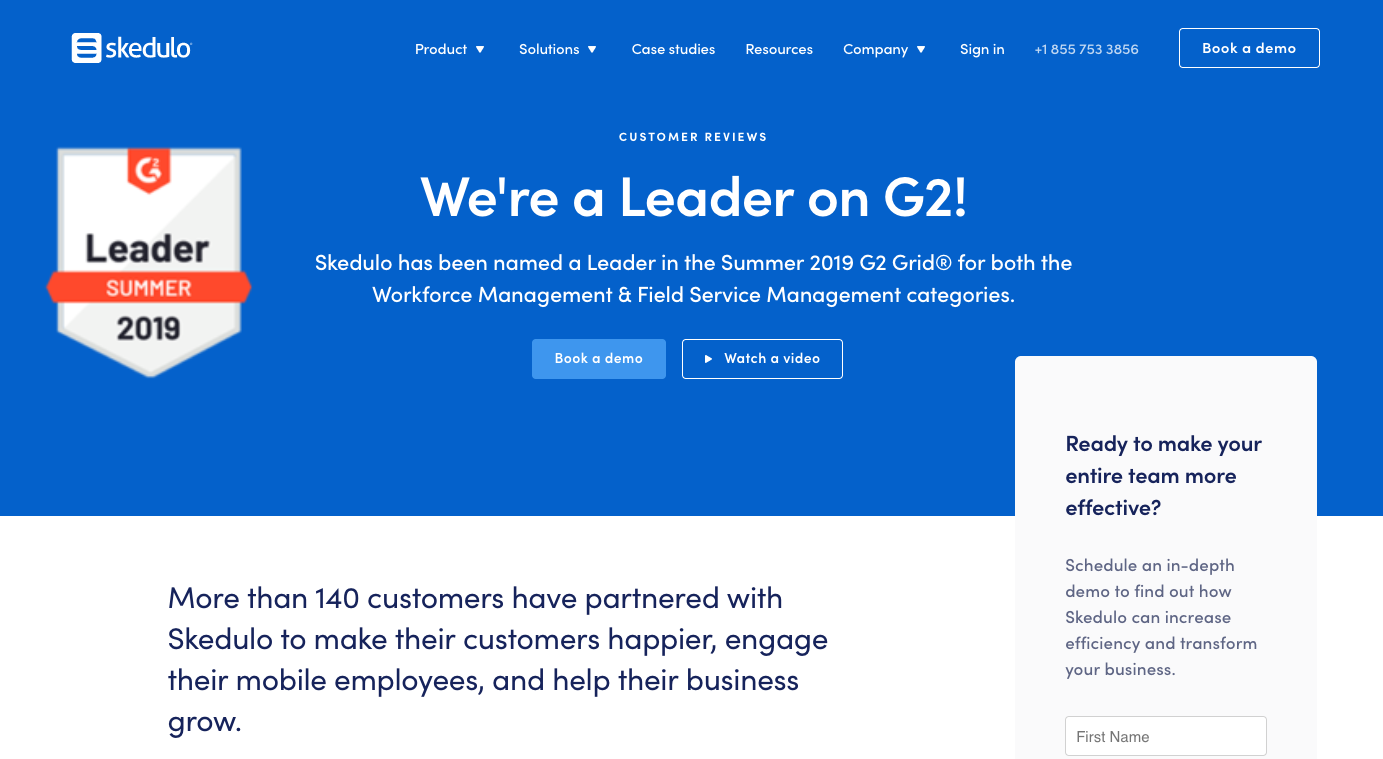 With
viewers retaining 95% of a message in video presentation compared to 10% when reading it in text,
video is no longer simply optional in your content strategy — it's necessary
. Reviews help businesses identify the most important features of a product, so using them to sprout ideas for videos is a no-brainer.
If you notice reviews contain similar things, consider creating how-to videos to provide insight and improve the customer experience. If there is a perceived problem with your product, you should offer a remedy in the form of a how-to video. Try to mitigate negative experiences before clients take to leaving a harsh review on your site or a third-party platform. In fact,
16% of businesses
currently use tutorial videos as part of their content strategy.
Reviews themselves can be videos too. If you have loyal customers that have taken the time to write out a detailed review,
consider asking them to partake in a video review
. Your potential clients will appreciate the multiple review methods available and this will also provide you with greater insight into your product. Utilize your own site, video platforms such as YouTube or Vimeo, and one of the many
free video editors to maximize exposure and attract more potential clients.
Beauty startup,
Glossier
, shows how to wash your face two different ways using their milky jelly cleanser on their product's page.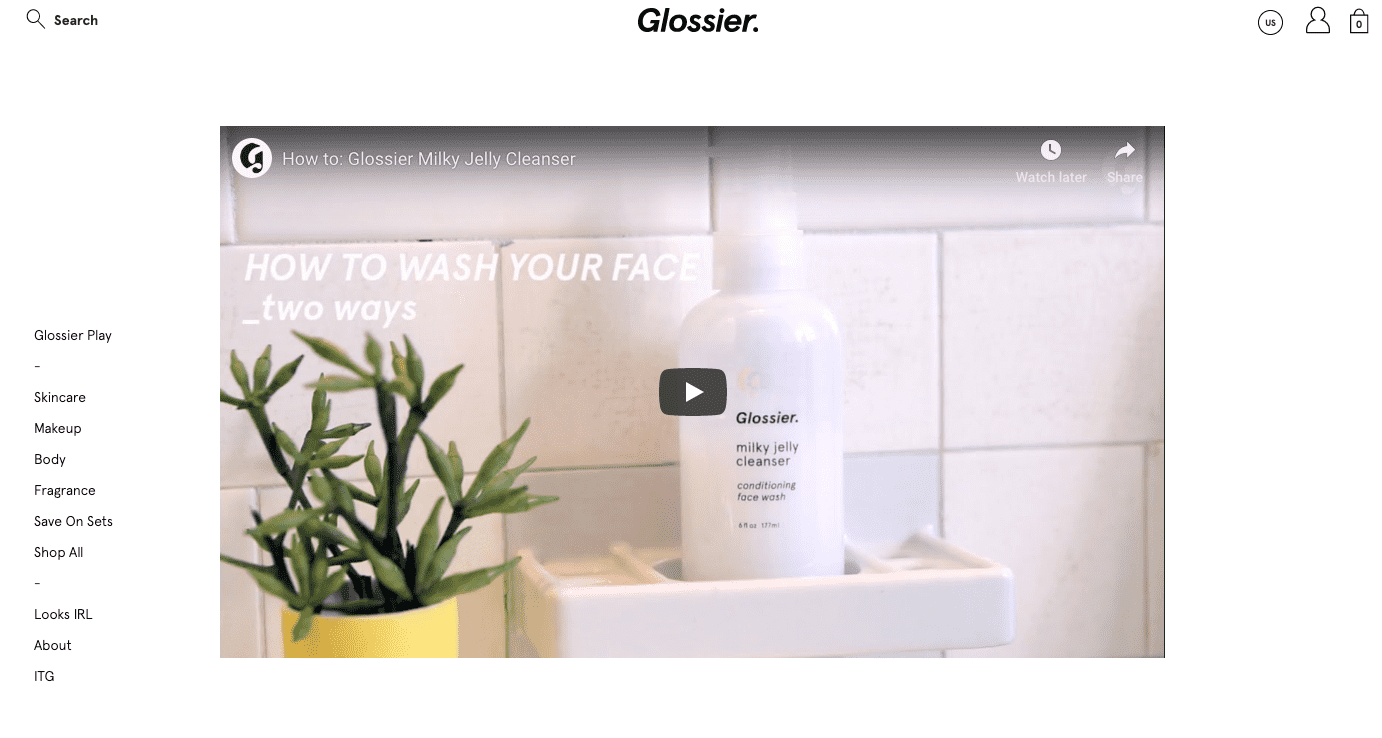 Finding new and engaging content to post on social channels can be difficult. Your social media presence needs to be promotional of your brand
but also conversational so that users are willing to follow and interact with you
. Reviews are an excellent source of new content for social.
Post a screenshot of a review, quote one in your caption, or even use them on your paid social posts. Ads need to be concise and compelling, which is why
using snippets from your reviews are perfect for including
. These quotes summarize your brand story and persuade others to try your product or service. Using reviews in social media is that easy, just make sure that you are using appropriate social media platforms for your industry to drive content back to your site.
You work to sell your product yourself, but your potential clients are likely to search out reviews before purchasing anyway.
Simplify the process for them and present them on your social media channels.

WPX_Hosting
shares their customer reviews on their Twitter account. They've created simple graphics that convey the main point of the review as well.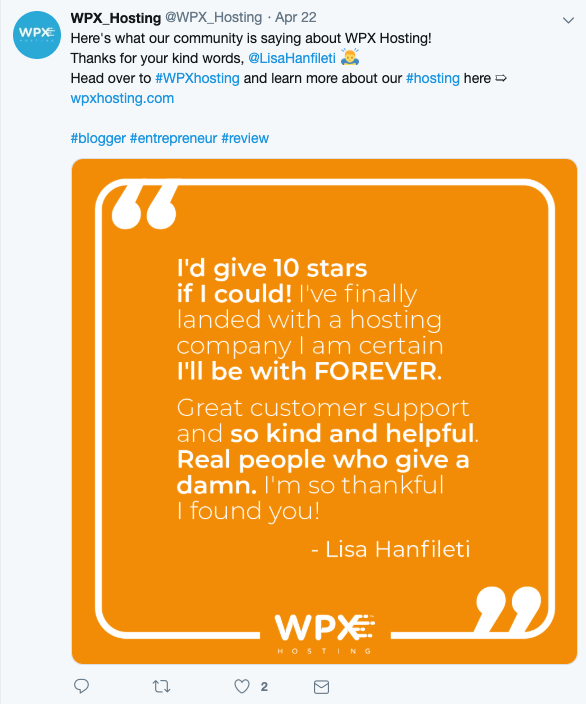 When you've gathered a considerable amount of reviews, it's natural to want to show off your best ones.
Email marketing campaigns can be enhanced by including positive reviews.
Highlight unedited reviews on products from both your website and third-party review platforms.
Put them in your email with links to reviews and the products.
Not only will this help further establish credibility in your company, but authentic reviews can improve trust in your brand. A glowing review in your email isn't enough to sell your product and reach your goals but it's a great addition that can increase the chance of conversion.
Make sure your email is engaging, simple, and highlights why your product or service is desirable.
A combination of these will help increase conversions in your email campaign.
Giant fashion retailer,
Nordstrom
, uses reviews at the bottom of their emails to highlight specific products. The simple star rating gives the viewer user reviews before clicking on the product page.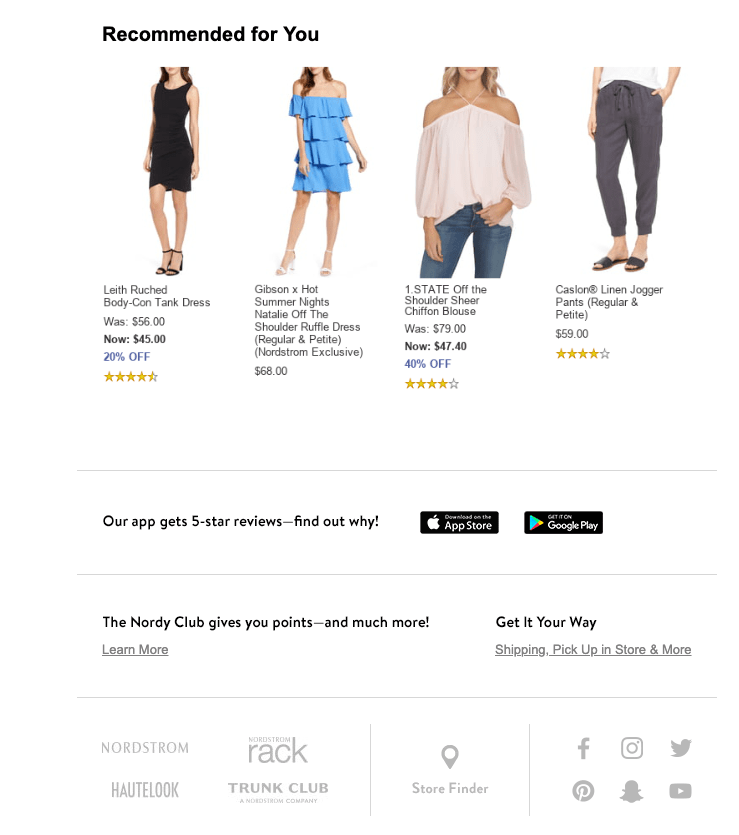 If you have offline interactions with your clients along with an online purchase option,
consider using review content in your physical marketing.
For example, if you have several highly rated products, consider creating a poster or sign that highlights a specific review or the overall rating of the product. Taking online content offline allows you to connect with your customers through all platforms.
Amazon's book stores
take their online reviews offline. They show the star rating from the online store and even can quote informative reviews that they think will be helpful to a potential customer.
Reviews can increase the online credibility of your business. When using reviews in your content strategy,
embedding reviews from third-party sites is your best option
. Many third-party review platforms allow you to embed reviews for free, but double-check the terms on their site before incorporating their review content on your website.
Don't include reviews on every page of your site.
It's overkill. Place them on the pages with high traffic and those that have the highest chance of conversion. Strategize where you put the reviews to highlight your strengths.
Check out how
Iconosquare
incorporates reviews on their main page from customers to increase the trust potential clients can have in their business.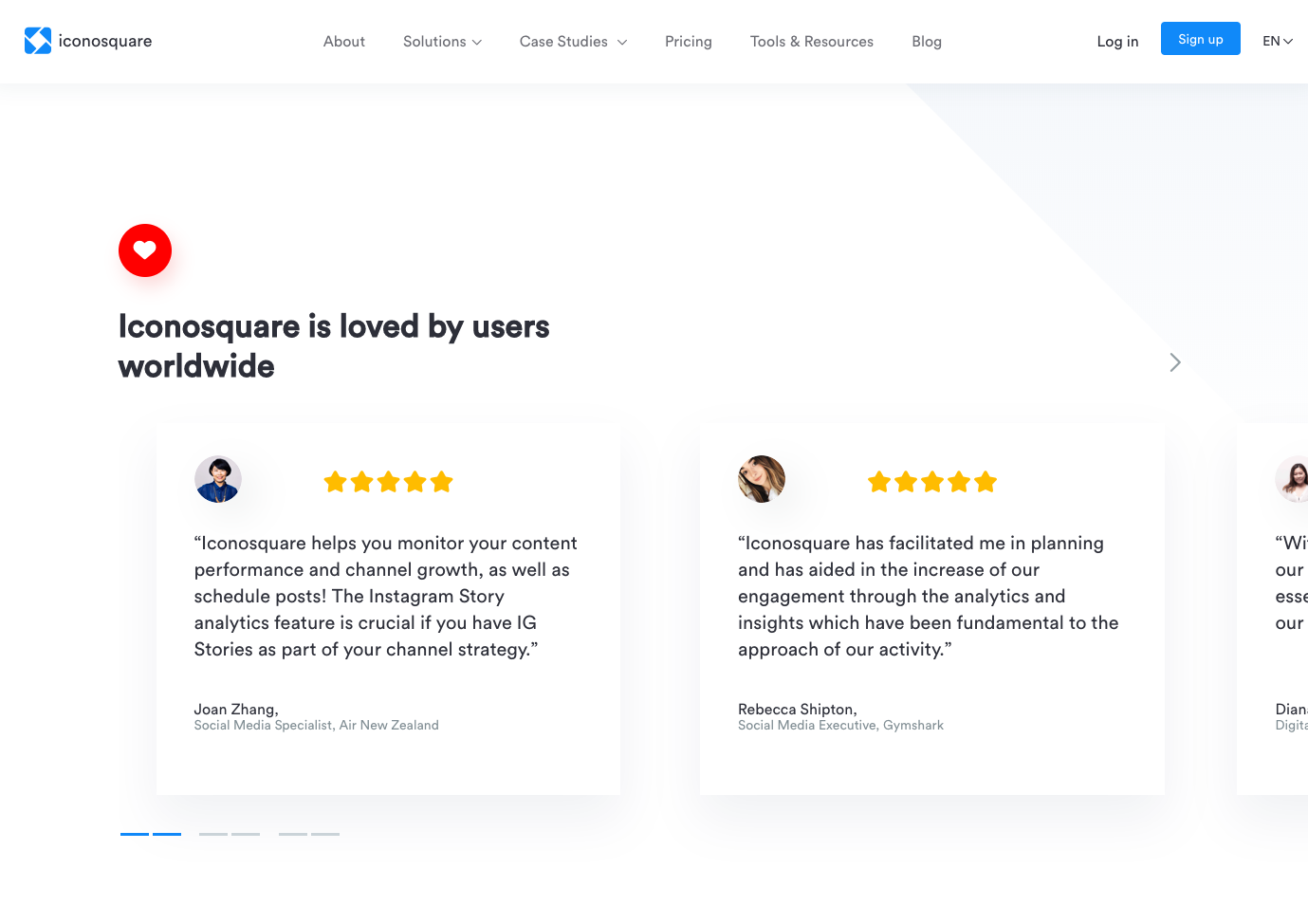 Collaborations and case studies

Look through your reviews — you'll easily find authentic users of your product or service. These reviewers can be perfect contenders for collaboration such as guest blogging and case studies since you can ensure that they are already users.
Have them guest blog about a higher-level topic related to your product that they are experienced with.
Consider using them in video reviews or user-generated how-to videos. This type of content will appear more authentic to future clients.
Case studies are ideal in the B2B sphere.
They can highlight clients who have used your product to solve a problem that was present in their business. Case studies are used in sales to convert prospects into paying customers as well. Look through your reviews and identify clients that would make a good case-study candidate. It's important to pick the right client to feature. Otherwise, you won't see the results expected. Identify candidates that are your brand promoters and have used your product or service to solve a larger business problem.
Reviews can help you identify customers that are already connected to your brand. Your biggest fans will encourage their network to try a brand's product, often with no incentive. Make use of these engaged clients by making brand ambassadors with just a little motivation.
There are many ways to set expectations and rewards for your
brand ambassadors, so identify what works in your organization. Ask brand ambassadors to contribute a guest post, retweet your content, or promote a discount code to their network. The greater engagement that they have with your brand the better.
Content marketing is no easy bear to tackle. However, using reviews as a source of inspiration for content can amplify the process. In fact, embracing reviews is a crucial way for your business to reach potential customers. Start implementing reviews in your content strategy whether that means finding new blog content, creating a case study, posting to social media, or more. Your customers are giving you free content, so make use of it!
Speed up your search marketing growth with Serpstat!
Keyword and backlink opportunities, competitors' online strategy, daily rankings and SEO-related issues.
A pack of tools for reducing your time on SEO tasks.
Found an error? Select it and press Ctrl + Enter to tell us
Cases, life hacks, researches, and useful articles
Don't you have time to follow the news? No worries! Our editor will choose articles that will definitely help you with your work. Join our cozy community :)
By clicking the button, you agree to our privacy policy.