How To Create A Content Plan + Video Guide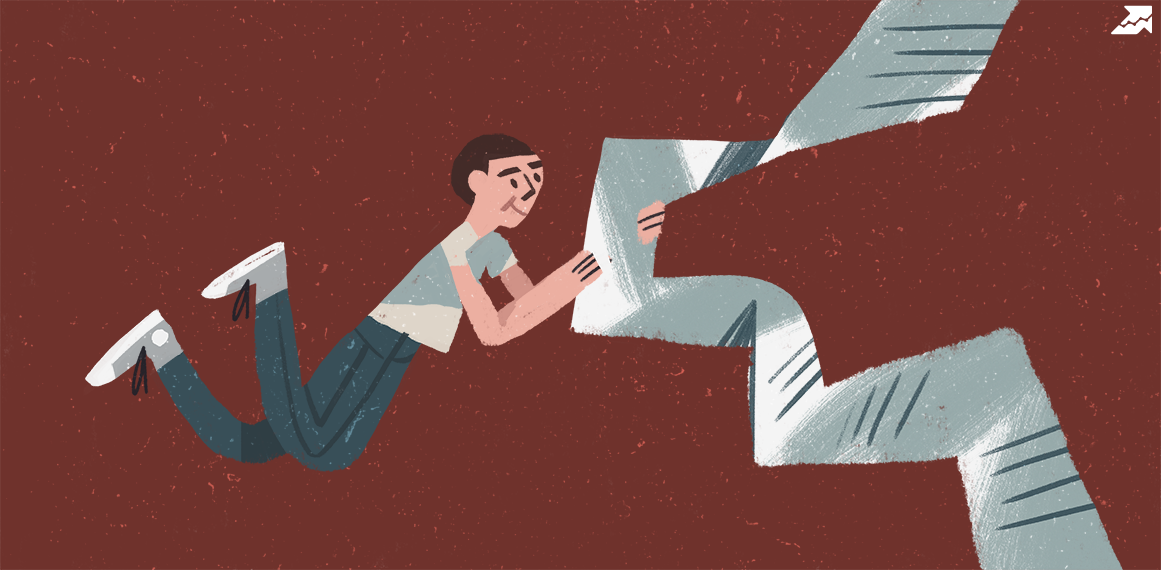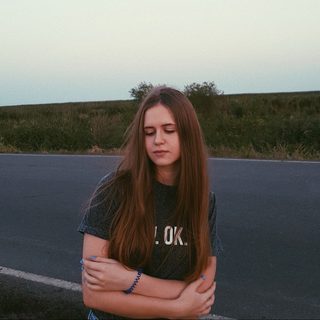 Stacy Mine
Editor at Serpstat
The first rule of the content plan is that there isn't the only correct way to gather topics for the content plan. Some experts create it from a list of technical support questions, others advertise for special posts and select questions in comments, others directly ask newsletter subscribers about what they'd like to see in new articles.

In this post, I'll show you the most effective ways to create and/or expand your content plan.

Content matrix is a unique and guaranteed way to diversify your content ideas. I'll show you 5 variants to expand the plan inside the matrix. Let's take as an example a shop which sells coffee. When you have a particular topic — coffee — you can vary your topic ideas as you wish.

Here you can slightly get away from the topic. Coffee is a drink, and food and drinks are a part of our lives. You can write how coffee influences your health; coffee and the medicine, etc. The list is endless. Here I gathered some ideas:

You can go deeper: types of coffee trees, ways to make coffee, types of coffee drinks, best local coffee bars… Take any coffee-related topic and go into details. Here are some ideas: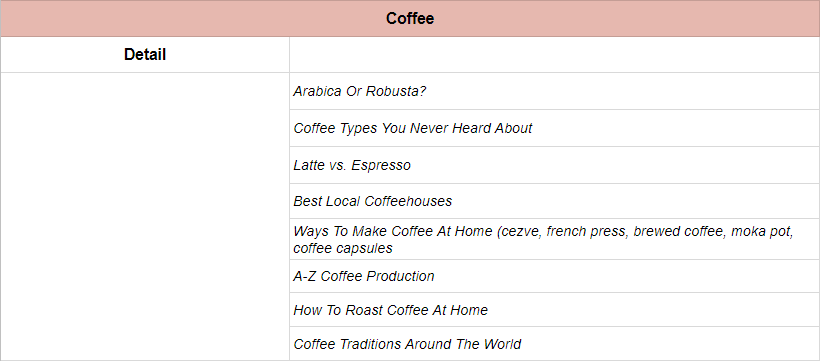 What beverages do people drink besides coffee? What drinks have the same invigorating effect? Pick up the related topics and expand them as you like.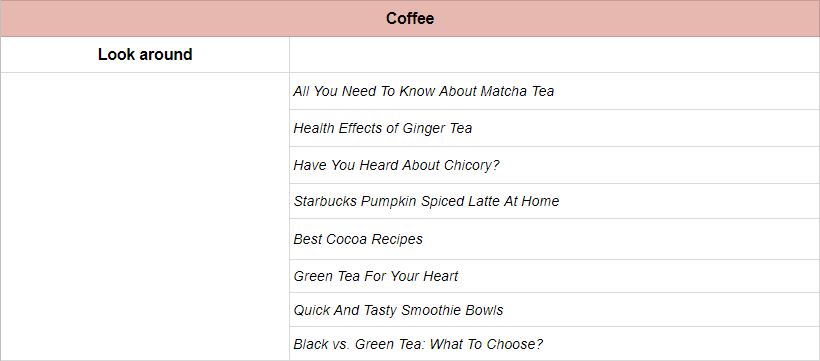 Time is the next metric — here you can cover all topics related to the history of drinks: how they were/are produced, outlook on the future.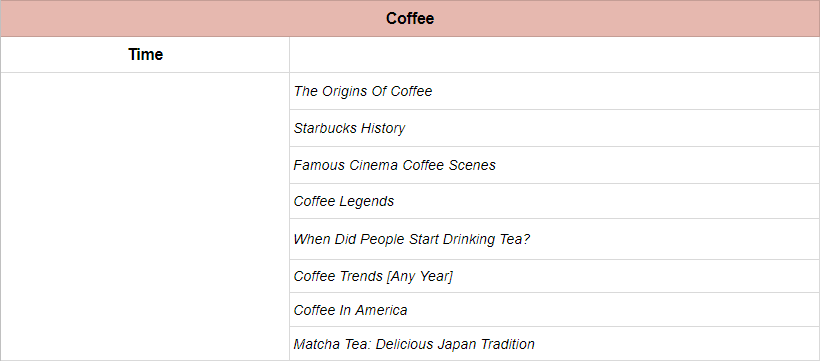 You can turn any topic to a different audience. This works every time, trust me :)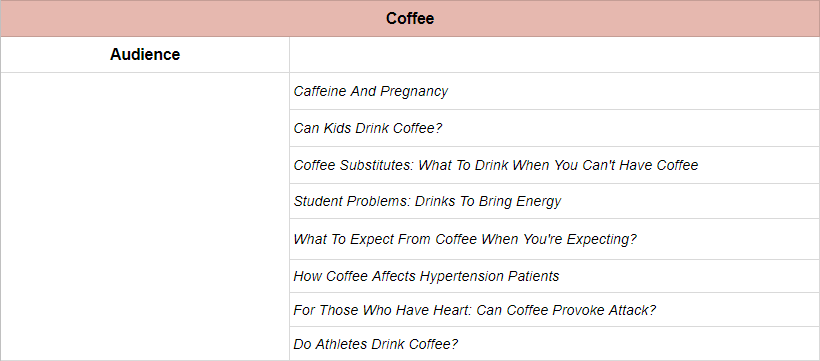 This way is collective as you should use several means to get a full view. You need to:

Look through comments in all your social networks: what users ask, what topics cause hype, what users like and don't like

Ask the subscribers of your newsletters, bring them to dialogue, find out what they would be interested to read in your blog

Collect the most popular questions to your tech support: it will help you write the most relevant articles for your readers

Create posts on social networks with the text "we will answer all your questions," and you'll collect a huge number of topics for your articles.

Let's imagine that we have a new site and we still don't know our competitors. But they certainly have a blog to attract organic traffic. How to find out who they are? Enter the keyword from our semantics into the Serpstat search bar and choose the search engine. You'll automatically go to the Keyword Analysis module. Then select the section SEO Research and Competitors. Here you can see the list of competitors' domains.

We can take an online store of pot plants as an example.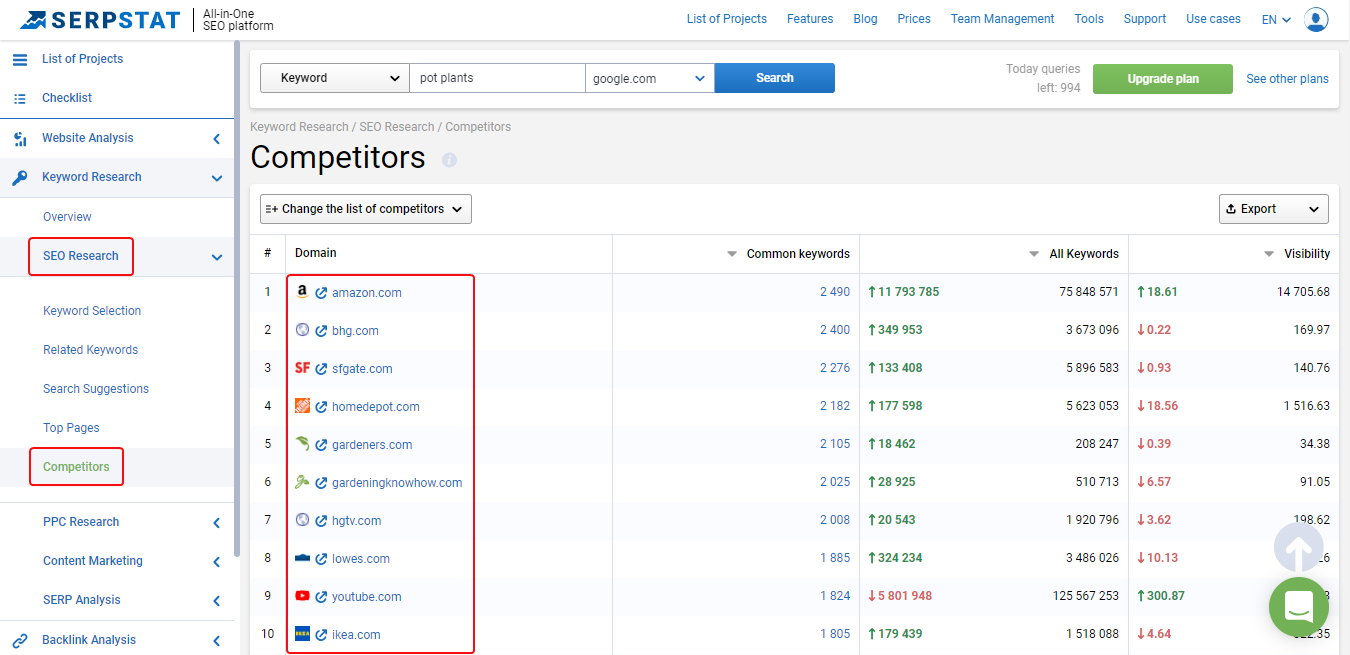 Some of the sites listed here may not be your direct competitors, even though the given keyword is present in their semantic core. YouTube, online magazines and news sites should not be considered. We are interested in more highly specialized resources. The task at this stage is routine. You need to manually select the five to ten most relevant competitors and keep them in the spreadsheet.

Collect keywords of your competitors

Click on the address of the competitor's domain in the report and find yourself in another section - with a list of search queries. We don't need the whole list of keywords; we'll focus only on those phrases that lead to a specific section of the site - blog or news. To do this, use the filter and select the URL → Includes, enter the required URL in the empty field, and click Apply. Get a list of keywords. You can use them to enrich already published blog posts or as topics for your content plan.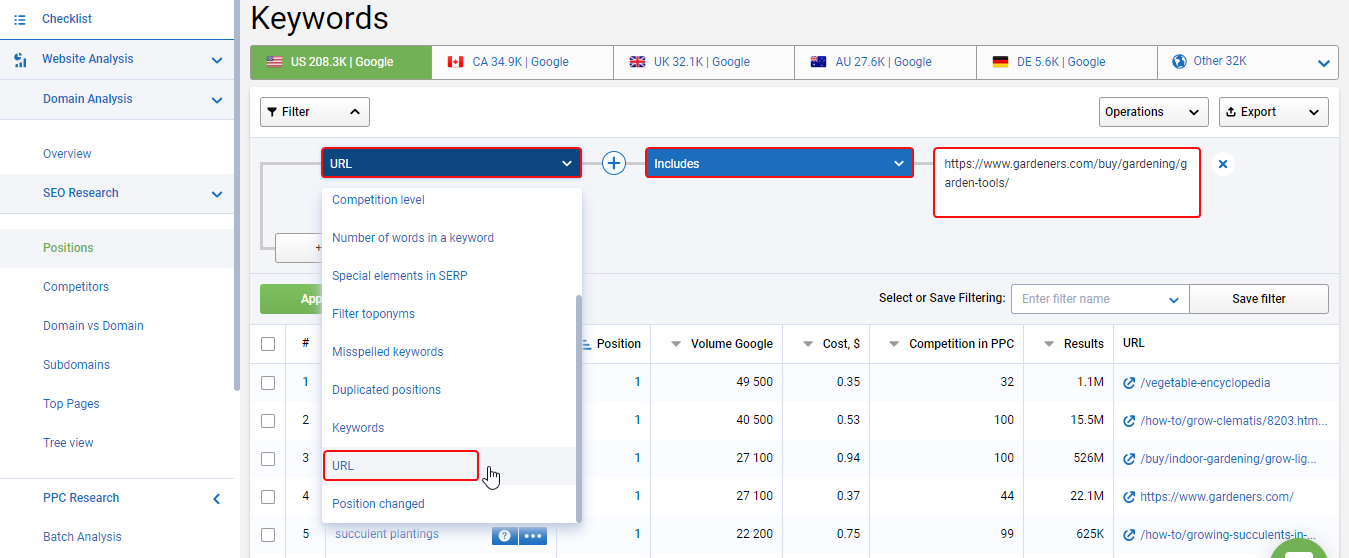 Collect headings from Search Questions
The Serpstat service has a special section that contains search suggestions in the form of questions ( how users are looking for them). They are perfect for creating headlines for new articles. Choose one of the keywords you received in the previous report, click on it and go to the section Content Marketing → Search Questions. This list contains all interrogative search suggestions concerning the keyword you are looking for. These are the queries that pop up under the search bar as you start typing your query. Serpstat arranges search questions in the list depending on the word. These are questions asked by your target audience on Google, and they can be easily used in content marketing.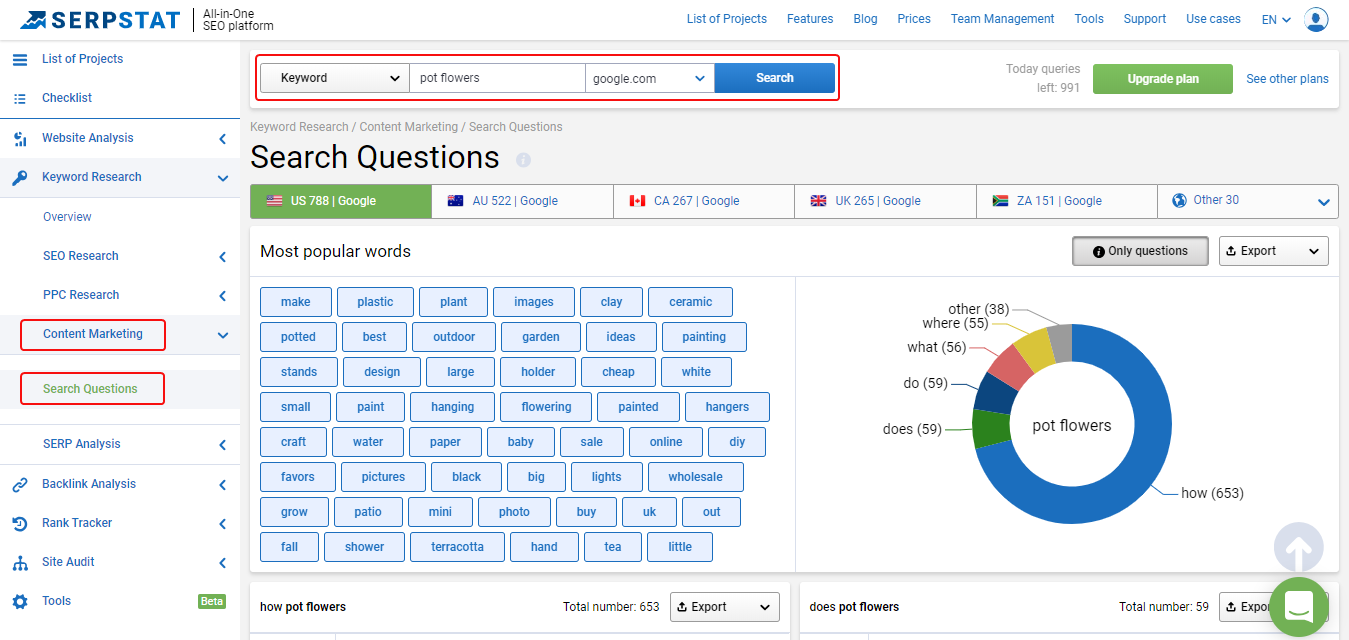 Voila! We get ready-made headings for posts, divided into groups by question words. Repeat the same with other keywords which you received earlier.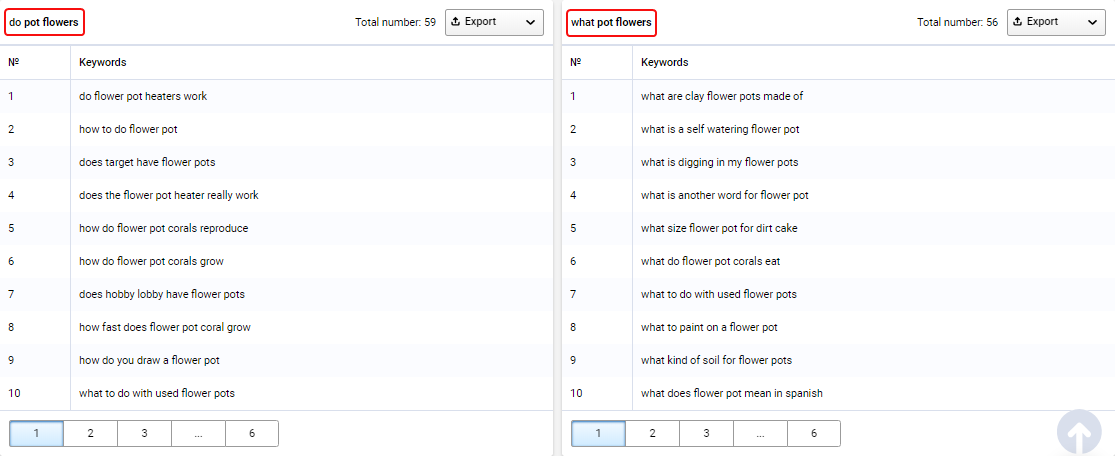 Lifehack: not to mess with each keyword individually, you can use the batch export of search questions. To do this, select the Batch export filter in the Search Suggestions, put the list of keywords into the empty field. Then tick the box only questions and without toponyms and click Export.

At this stage, you'll already have a bunch of ideas for your content plan.


Find competitors' articles with the highest traffic

If you want to get even more visitors from organic search, analyze the competitors' pages that bring them traffic, and borrow their ideas for articles. Let's return to the competitors of our pot plants website. Go to SEO Research → Top Pages, set the filter URL Prefix (Starts with URL), enter the address of the necessary section of the competitor site, select the region and click Find.


Wait until the results are loaded, and click on Potential Traffic to sort this indicator in the descending order.

Don't forget that Potential traffic is calculated according to the ratio of real and maximum possible traffic (the latter assumes that the page is in the first position for all phrases), therefore this indicator is indicative.

The first places in the ranking took pages with the highest potential traffic. Copy the topics of these articles to our content plan and return to the report. Then click on the URL of the page and go to the section with a list of search queries for which the page is visible in the search.

These key phrases can be used to optimize a future article by clearing the semantics from unnecessary phrases. Do the same with another 5-10 publications of a competitor.

Choose the most popular topics in social networks

The next stage is similar to the previous one - we'll work in the same tab Top Pages. However, this time we'll look at indicator FB shares. Sort our pages by shares to find the content of competitors which has received the largest number of shares. Be sure to use this technique if you want to get additional traffic from Facebook.


Then we follow the link, borrow the topic of the article and return to the report with search queries to match the semantics. In the same way, we process other competitor's popular posts.


I showed how you can do this in Serpstat interface, but you can do it in API spreadsheet. It may sound difficult to you but working with this spreadsheet is very easy. This document is our special development. It was made for you to save your time and efforts and make your routine easy and simple. Check out the article to follow our step-by-step guide!
Copy the file. To begin working with the Serpstat API, make a copy of the file. It is available only in read mode, so make a copy to be able to use it.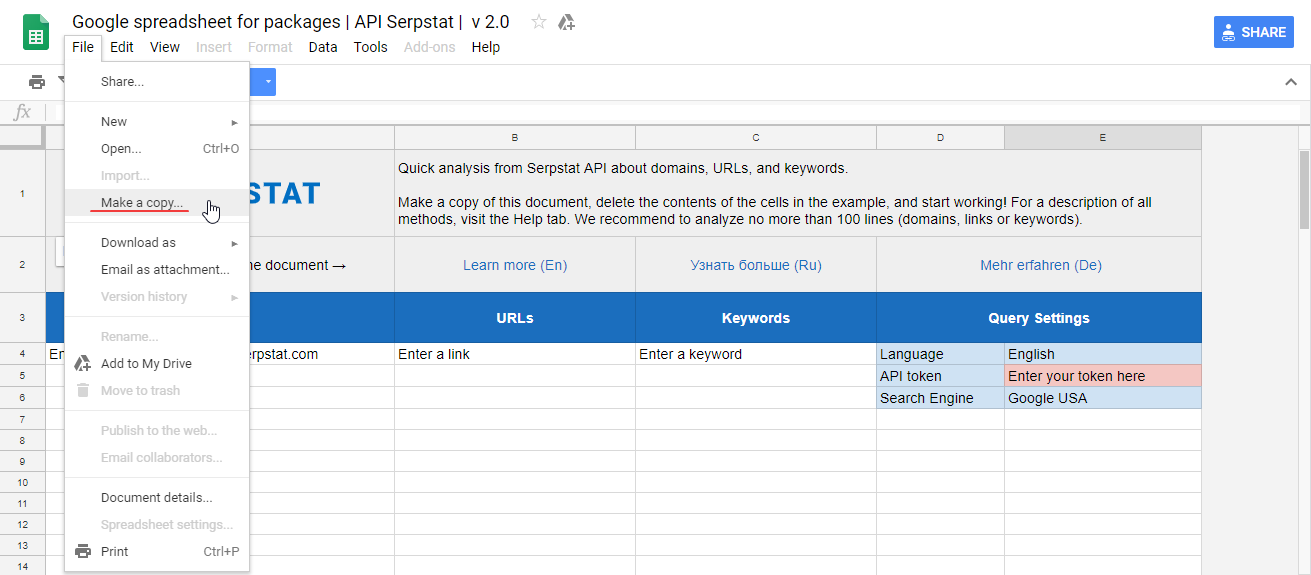 Manage your language settings. There are currently 2 languages available: English and Russian.


Enter your token. How do you get an API token? To get a unique API key, open your user profile on the Serpstat website. Access to API is available for all plans starting from plan B.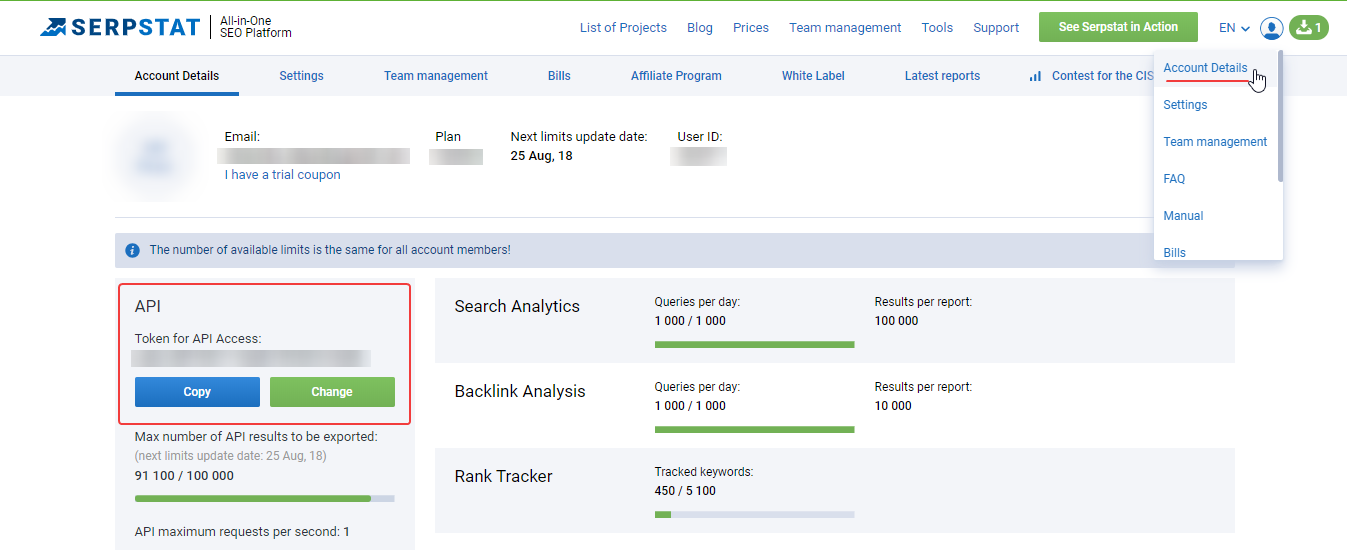 If you don't have API access, contact our support team by filling a product demonstration form in, or use our live chat.
After receiving an API token, insert it into the API token field in the Query Settings area. If everything is correct, the cell will change color from red to blue (or gray depending on formatting). Then start setting the API document.

Select a database you need from the drop-down list
. In this section, you can choose a database and a search engine. Full details on available databases can be found
here
.

Include a list of domains, URLs, and keywords for analysis. On this sheet, you should enter data that will be analyzed in reports. Delete the sample text before inserting the data.

NB! Don't add more than 100 domains, URLs, and keywords at once. This overloads the Google Sheets and can lead to invalid data.

Choose the API method. In the Serpstat tab choose a method, with which you want to get a report. To save time, you can use several methods at the same time.

NB!
You should link it to your Google account and allow access to make the script work correctly.
Sort results. Reports are delivered in the new spreadsheet. If necessary, you can sort data in the list by all characteristics.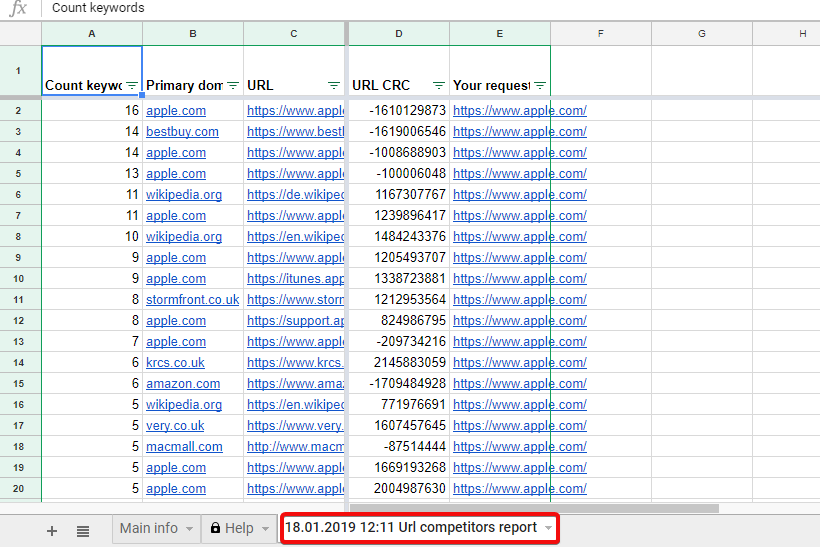 There's also one more way to find content ideas — by using API scipt.
Mind that this script is our latest development, it is in alpha version, so we'd be very grateful for your feedback and suggestions. This free utility lets you simultaneously analyze multiple competitors for a set of parameters and discover new opportunities for your website or blog. Check this article to know more.

Among other things, you can now automatically find keywords and topics that bring the most traffic to your competitors and that you don't use on your website. At the end you get the following data:
URLs of your competitor' pages that are visited most frequently
List of keywords for which this page appears in search results
The potential traffic of this site
The value of the pages (CPC * Traffic)
One of the most popular methods to collect ideas is brainstorm. Many content experts plan a meeting of the whole department: they gather together and exchange ideas that come to their minds. Many experts use it:

We hold a content planning meeting at the end of each quarter to plan the next 3 months. Our whole marketing team takes part in the meetings and usually, our customer success team joins as well.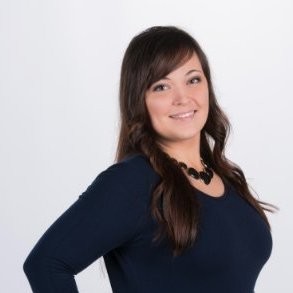 Judit Pál
We have a database of topic ideas to cover. We expand these whenever we have a good idea and develop each idea if we can, at the time. This means we've got plenty of ideas to draw from at any given time. For individual content pieces, it depends. The typical OP is for the writer to put together an outline. I'll review and provide suggestions if required.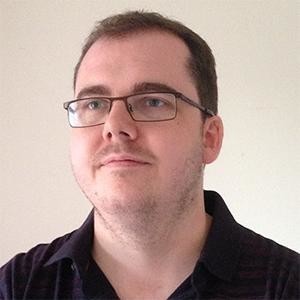 Adam Connell
My team or I build a database of keyword targets, and then we focus on trying to create assets around those targets. My focus is on maximum quality, and I pay little attention to quantity or routinely publishing.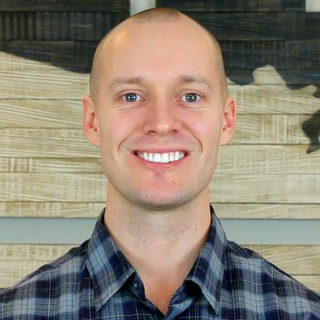 Nathan Gotch
The Content Manager is entirely responsible for creating the Content Calendar. This includes researching new keyword opportunities for blog posts as well as other forms of gated content, video content, guest posting, and more.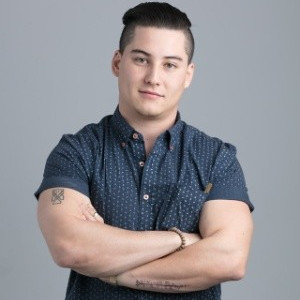 Sean Martin
Finally, we make a document with a detailed content plan for the year. Our average frequency of publications is at least one post per week. Topics themselves can be allocated according to weeks, months, etc., — it depends on the marketing strategy you chose. The main thing is trying to alternate between different types of content (reviews, guides, case studies, text + infographics, expert opinions), and also trying to keep approximately the same intervals between publishing posts.

Here's a webinar where I tell about creating the content plan and show you how to use API :)

Speed up your search marketing growth with Serpstat!
Keyword and backlink opportunities, competitors' online strategy, daily rankings and SEO-related issues.
A pack of tools for reducing your time on SEO tasks.
Found an error? Select it and press Ctrl + Enter to tell us
Cases, life hacks, researches, and useful articles
Don't you have time to follow the news? No worries! Our editor will choose articles that will definitely help you with your work. Join our cozy community :)
By clicking the button, you agree to our privacy policy.