Content Marketing

–

11 min read

–

November 11, 2019
How To Check Your Text For Plagiarism — Tips, Tricks and Tools To Avoid It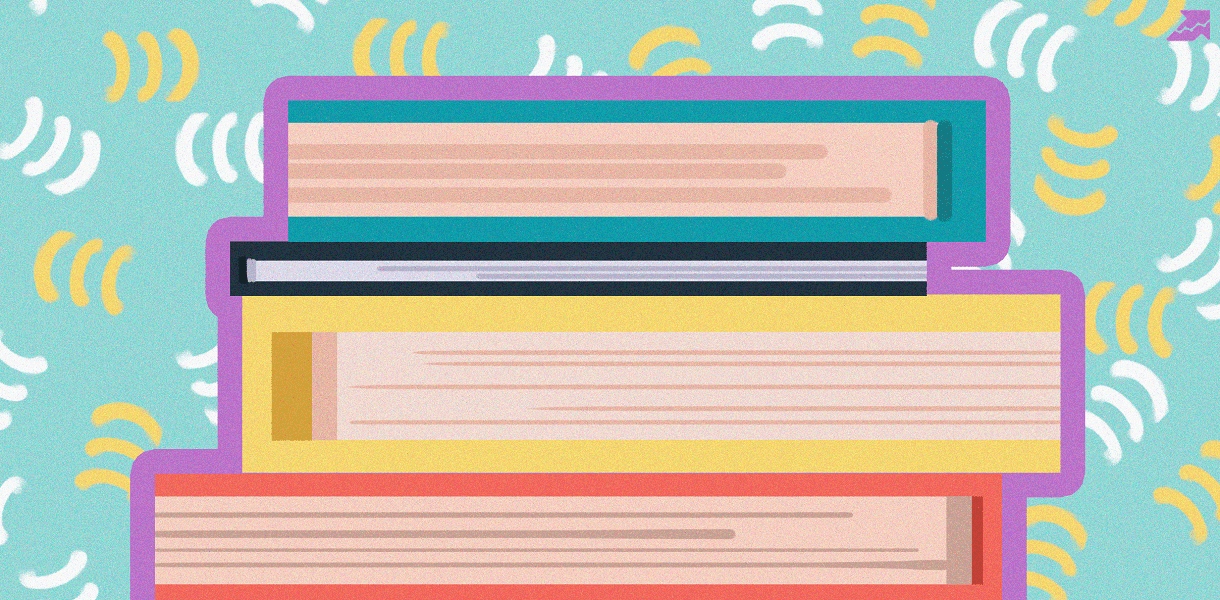 Natalia Diatko
Plagiarism is the use of somebody else's words and ideas in writing without adequate attribution. It is considered as fraud and is one of the easiest ways to ruin your professional or academic reputation. As a student, you put your academic, professional, and economic future in jeopardy when you commit plagiarism.

When you present the intellectual work of others as if it is your own, you commit plagiarism. Plagiarism is frowned upon in literary circles and is considered to be one of the worst infringements of academic integrity, along with cheating on exams. Plagiarism means
stealing and passing off the ideas
and/or words of another person in your writing without adequately acknowledging the source. As a student, you may unknowingly plagiarize someone's work simply by citing a source incorrectly. Either way, it's considered cheating, and you should avoid it at all costs.
Keep in mind that even accidentally or unintentionally using another's words or ideas without proper citation, because of carelessness, falls under the definition of plagiarism.
One of the most common forms of plagiarism involves copy-pasting or transcribing complete sentences or blocks of text from an article, research paper, or web page verbatim or with minimal change.
Why check for plagiarism?

Plagiarism is a serious offense, which can result in your research paper or essay being thrown out.

Also, it is easy to identify stolen prose in writing as it is usually considerably different in tone and style from your own writing. Committing plagiarism could also cost you invaluable professional referrals as well as future career advancement. Apart from being unethical, it is bad to steal other's words from an instructor's point of view because they have to grade your understanding and comprehension of the material. If you provide them with stolen work, they cannot assess how much you know. Therefore, avoiding plagiarism is essential for all types of people, including those who publish content online.

As Google tries its best to deliver the most credible and relevant results to its users, it does not want to show the same content more than once in its search results. In other words, if Google sees duplicate content or pages, its algorithm works to determine the best version and displays it. So, if your content is plagiarized, it will adversely affect your rankings on SERP.

Best tools to check your text for plagiarism

If you are concerned about traces of duplicate content, like blocks of copied texts, in your academic writing, essays, blog content, or web content, you have come to the right place. Here are some of the best plagiarism checking tools that will ensure your text is unique.
Grammarly
is easily the best plagiarism checking tool for both students and teachers alike. The Grammarly Plagiarism Checker is a robust plagiarism checker available in the Grammarly premium plan. The plagiarism checking tool relies on more than 16 billion web pages and academic papers stored in the
ProQuest's database
. The tool will compare your text against these databases to identify sections that match the content in the database or online version.
With Grammarly's incredible expertise to scan your document based on the type of document, the risk of unoriginal text is reduced to a minimum. The plagiarism checking tool identifies any plagiarized sentences in your text and delivers reference details regarding their sources. Grammarly also computes and shows the overall authenticity score for your text.
Here are the steps to check your text for plagiarism using Grammarly:
Log in to your Grammarly account to scan your paper for plagiarism.


You can either copy-paste your text or upload the document you want to check. Click
Upload
and choose the document you would like to check for plagiarism from your PC.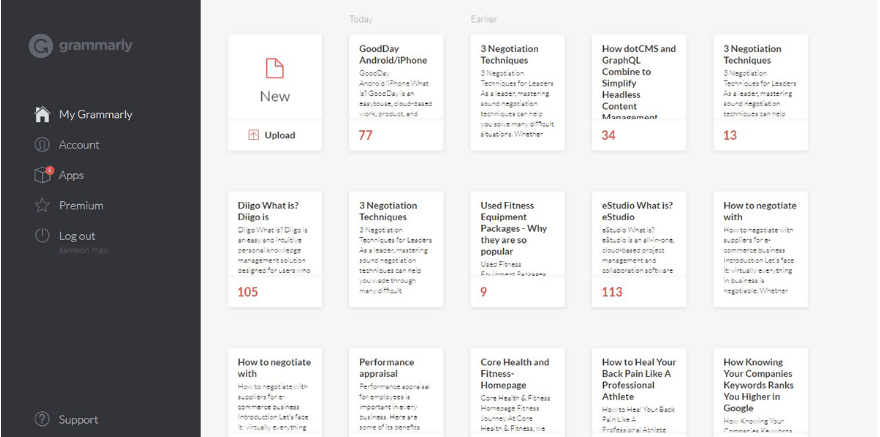 Click on the
Plagiarism
button present on the right-hand corner at the bottom. It will show you plagiarism results, highlighting all the plagiarized sections or parts.
Now, click the highlighted text to see details about the plagiarized text in your document. This will provide you with detailed information, like a link to the copy where you took the text and more.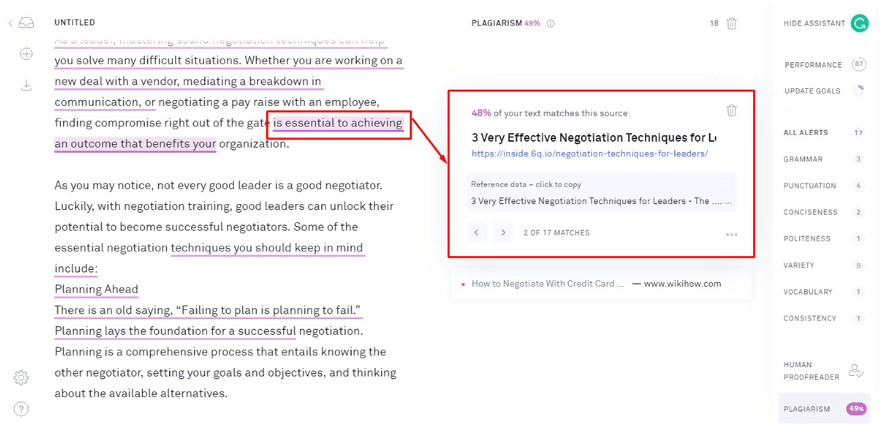 To eliminate all plagiarism, just modify the sentences or phrases until no more plagiarism is detected. You may have to replace some of the phrases and words using their synonyms or paraphrase the whole paragraph to make the text original.
Duplichecker
is an online plagiarism checker which is absolutely free. You can either upload your document or copy-paste text to use this plagiarism checker. Duplichecker is very simple to use, giving you instant results (within a few seconds).
This tool is ideal for professionals who outsource a lot of online content, such as blog articles, and web content from freelance writers. Similarly, if you are preparing an academic thesis, essay, or any other assignment, Duplichecker is an essential tool in your content arsenal. Because the tool is free and online, you can use it on any of your devices.
Here are the steps to check your text for plagiarism using Duplichecker:
Upload your document or text file using the
Choose File
button.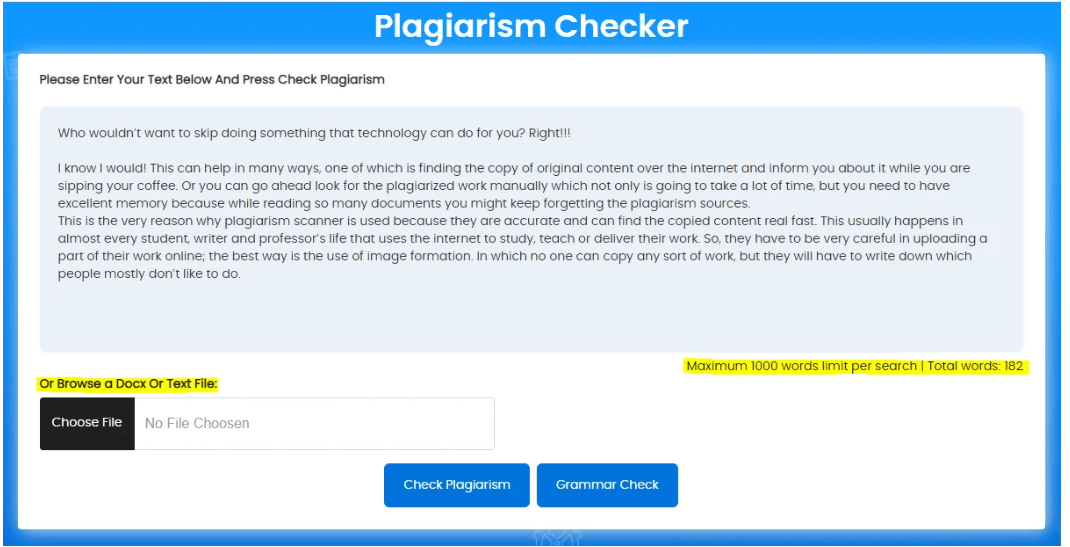 You can also copy and paste your content into the search box (shown above), with a maximum of 1000 words per search.
Now click on
Check Plagiarism
.
Your request will be processed, and the results will be displayed in just a matter of seconds.

To eliminate plagiarism, just modify the sentences or phrases until no more plagiarism is detected.
The great thing about this plagiarism tool is that if plagiarism is detected, there is an excellent option (button) to make the text unique with a great
Paraphrasing
tool.
Quetext started as a basic plagiarism or duplicate content checker. However, it now has some of the best features, making it one of the best plagiarism checkers. The
Quetext Plagiarism Checker
generates a report that provides a nice overview and is very easy to understand. It underlines the similarities and displays a plagiarism percentage.
With QueText's DeepSearch feature, users can get their text checked not just against common words, but for contextual plagiarism as well. It is ideal for teachers, freelance writers, students, and any content creator.
Here are the steps to check your text for plagiarism using Quetext:
Just copy your text or content and paste it in the box given (shown below) if you just want to try it for free.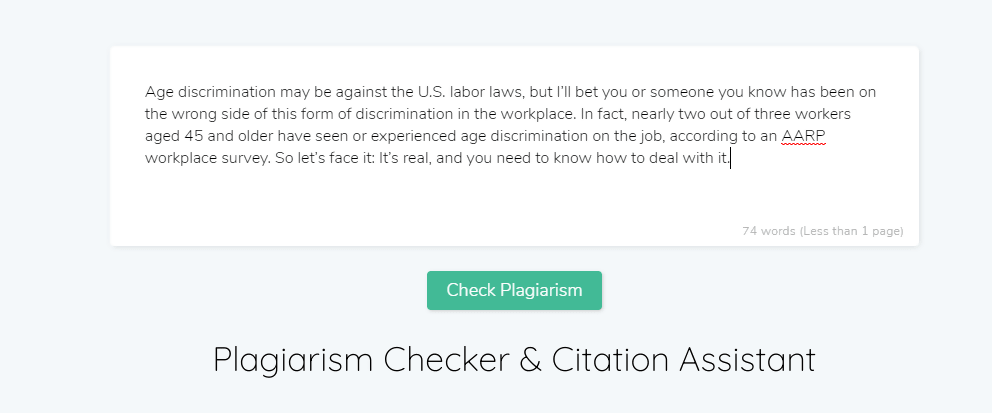 Click the
Check Plagiarism
(shown above) button to start the checking process.
If your text is plagiarized, the results will arrive with some text marked in
red color
. It only takes a couple of seconds.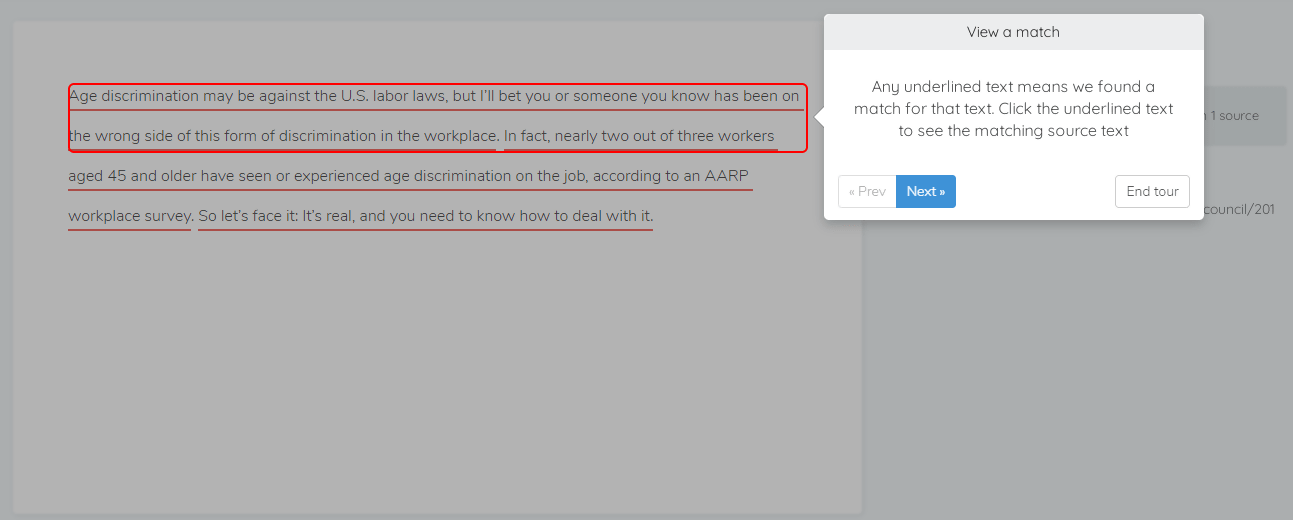 The parts marked in

red color

are plagiarized content. You can hover on these parts to find the source of original content and tips to remove them.

You can create an account by clicking on the signup button present on the top-right if you want the paid version.

Once you understand what plagiarism is and the necessity to avoid it, you have a better chance to implement some steps to help you stay out of trouble. Here is how you can avoid plagiarism in your writing.

Paraphrasing means to put the original ideas in a passage into our own words, often following the order in which these ideas were presented in the original document. When turning another person's ideas into your own words, you should set the source aside and avoid looking at it.

Staying away from the source will help you absorb, understand, and process the information before restating the ideas in a way that makes sense to you. However, be careful as sometimes paraphrasing can slip into plagiarism if you don't do it correctly. Reword and format your text in an original way, but try avoiding using too many similar phrases or words from the source.


Paraphrasing means to put the original ideas in a passage into our own words, often following the order in which these ideas were presented in the original document. When turning another person's ideas into your own words, you should set the source aside and avoid looking at it.

Staying away from the source will help you absorb, understand, and process the information before restating the ideas in a way that makes sense to you. However, be careful as sometimes paraphrasing can slip into plagiarism if you don't do it correctly. Reword and format your text in an original way, but try avoiding using too many similar phrases or words from the source.


One of the most effective ways you can avoid plagiarism in your text is by citing sources that you refer to while writing your assignment. When you allude to an idea or wording that is not your own, you should add a citation in your text to identify the complete name of the source, publishing date, and any other citation elements that are required by the style guide you are following. Understand the standards that apply to the paper and apply them accurately.

If you use the above tools and follow these simple tips, you will not need to be concerned about committing plagiarism. Avoiding plagiarism in your text is no rocket science, and any writer, be it a professional or amateur, can write pages after pages without including plagiarized content.

Found an error? Select it and press Ctrl + Enter to tell us

Cases, lifehacks, researches and useful articles

Don't you have time to follow the news? No worries!
Our editor Stacy will choose articles that will definitely help you with your work. Join our cozy community :)

By clicking the button, you agree to our privacy policy.

// В этом файле есть те нужные стили которые в других файлах нет.?>