Персональная демонстрация
Оставьте заявку и мы проведем для вас персональную демонстрацию сервиса, предоставим пробный период и предложим комфортные условия для старта использования инструмента.
How to Set Up and Optimize Your Google Business Profile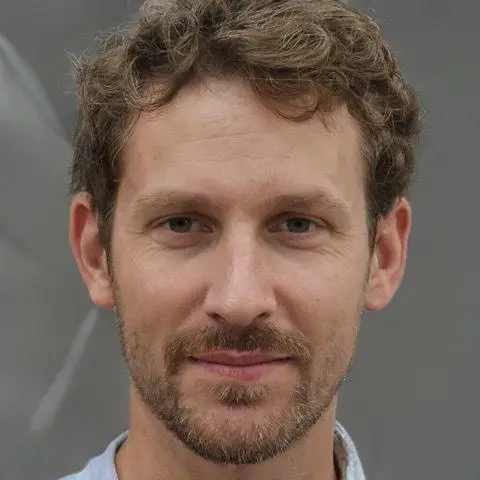 Claim and Verify Your Google Business Profile
To get started with optimizing your Google business profile after creating an account, you first need to claim and verify the profile. Claiming your business on Google gives you ownership of your profile and control over your business information. You get to edit your business details and determine what's displayed on your profile when people search for your business on search engines.

Claiming your business is important because Google may sometimes auto-generate business information on the map. Google also allows anyone to add a business listing to the map so you want to prevent unauthorized people from operating your business account.

Claiming your business also allows you to optimize your profile with photos, videos, and compelling descriptions. 

How to claim your business profile

Before you attempt to claim your business profile, you can check your business profile manager to confirm if the business is already assigned to your Google account. If it's not, follow the steps below:

First, go to Google maps and type the name of your business into the search bar. Alternatively, you can use the Google search engine. If your business is already listed, it'll show up in the search results as seen in the image below: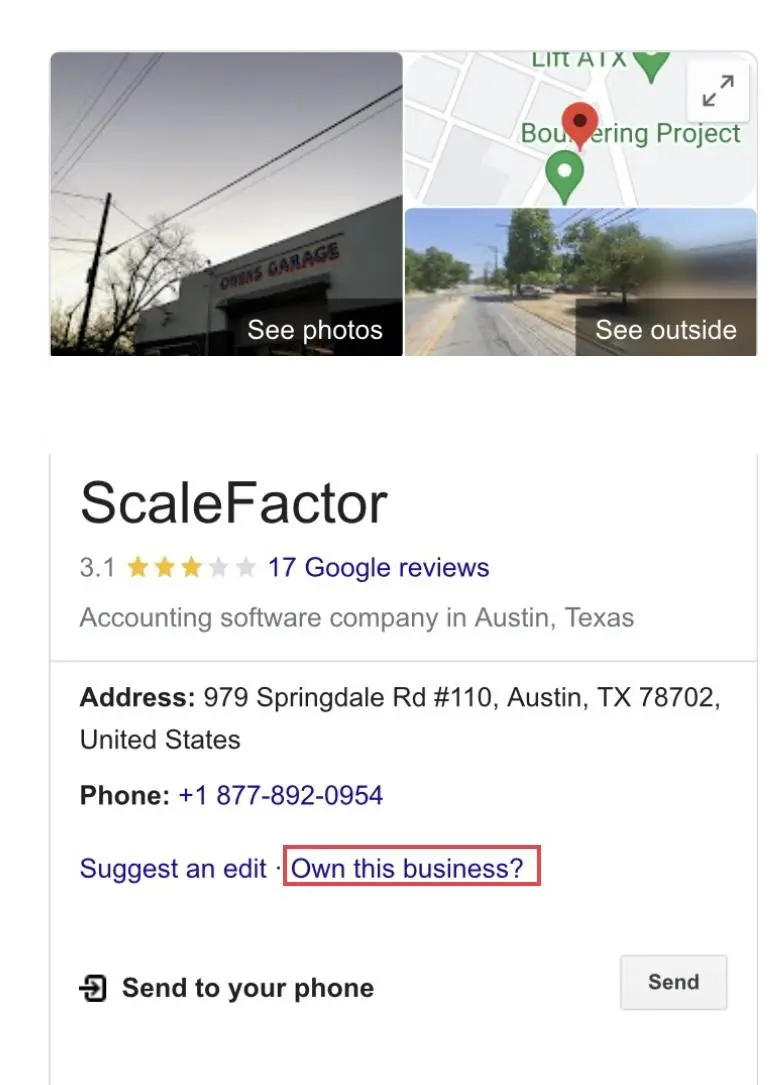 If you use Google search, the next step will be to click on "Own this business". But if you use Google Maps, click on "claim this business" as seen in the image below: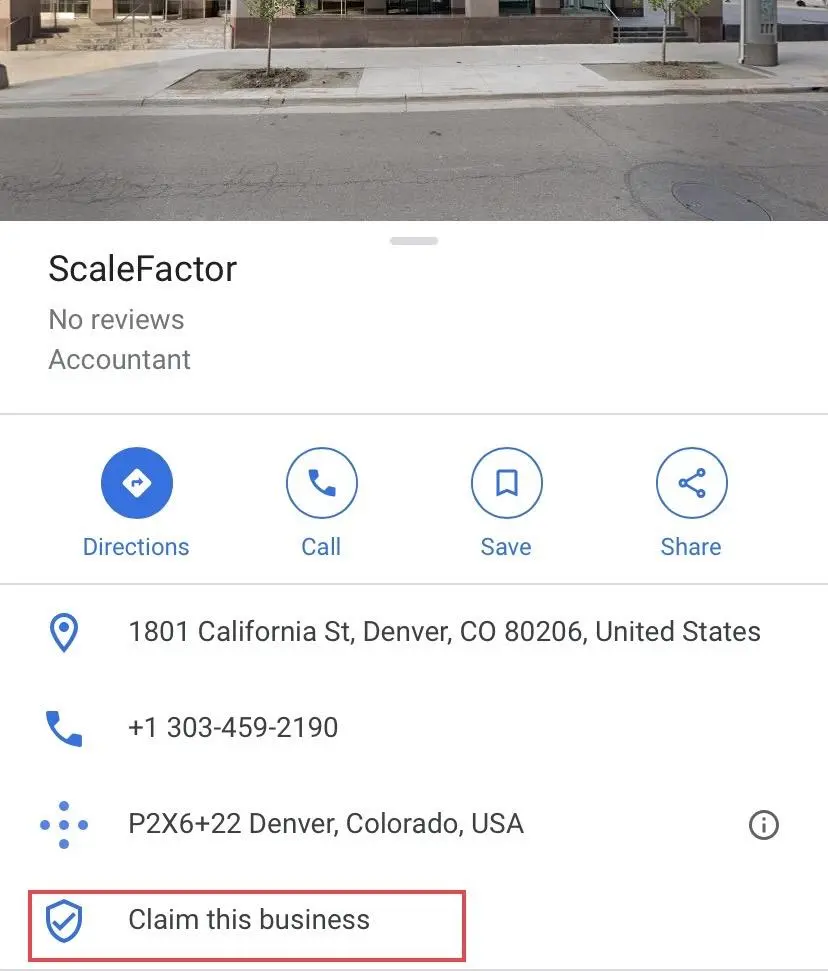 Both actions will take you to a page like the one below: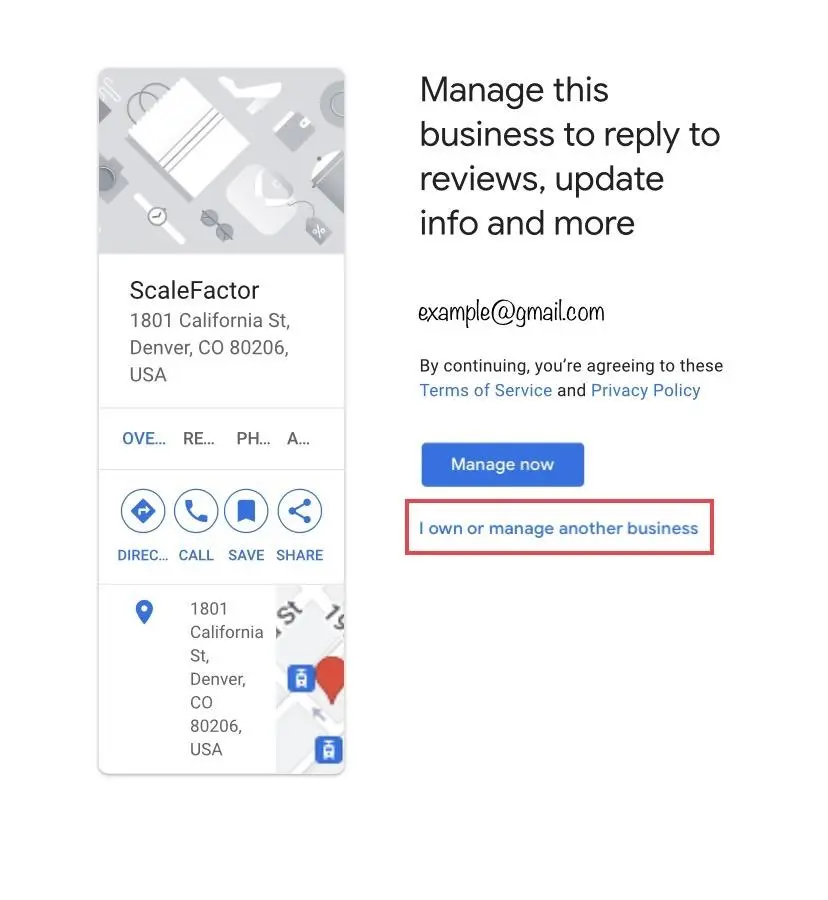 Next, click the "manage now" button. If you notice that the business profile isn't yours, you can click on "I own or manage another business" and follow the prompts.

Verifying your business profile

After you claim your business profile, the next step is to verify it. Verifying your business profile helps you confirm to Google that you own the business and are authorized to manage the business profile. Normally, a verification page like the one below is what follows after you click the "manage now" button.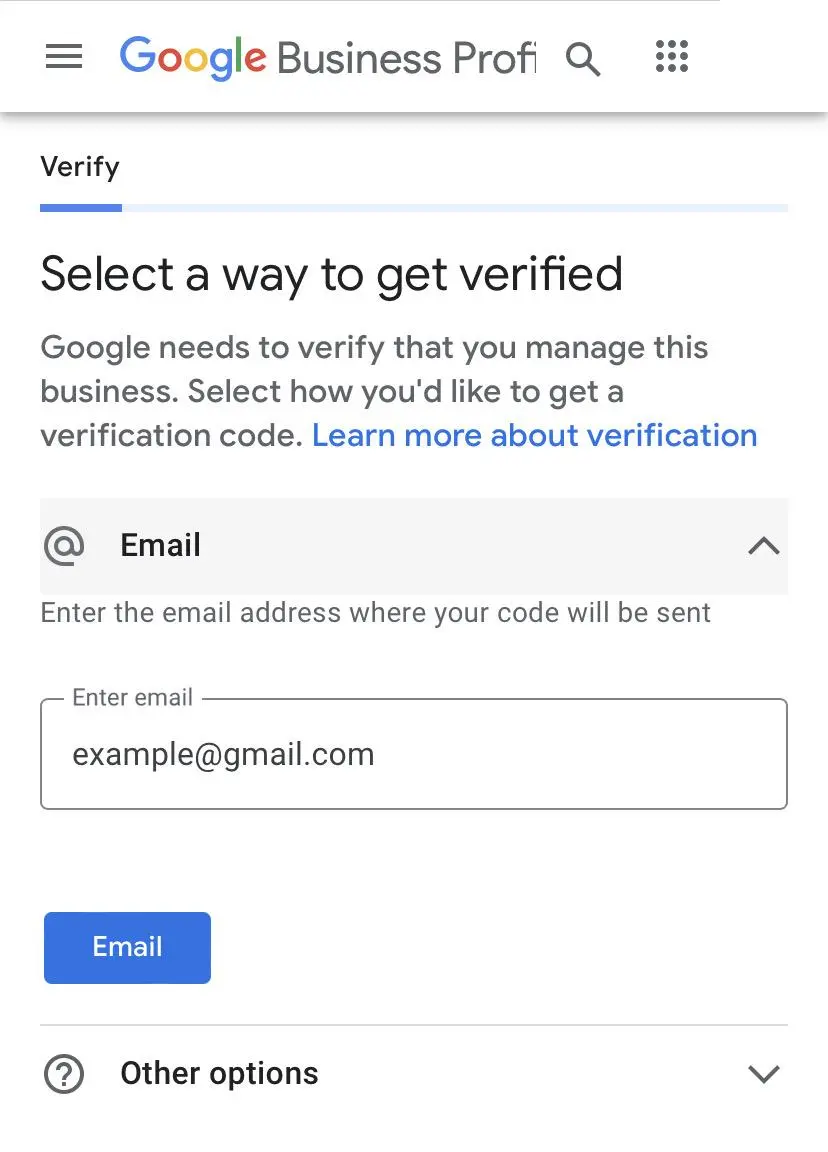 Alternatively, go to your Google business manager and click on the "get verified" button below the business profile you want to verify.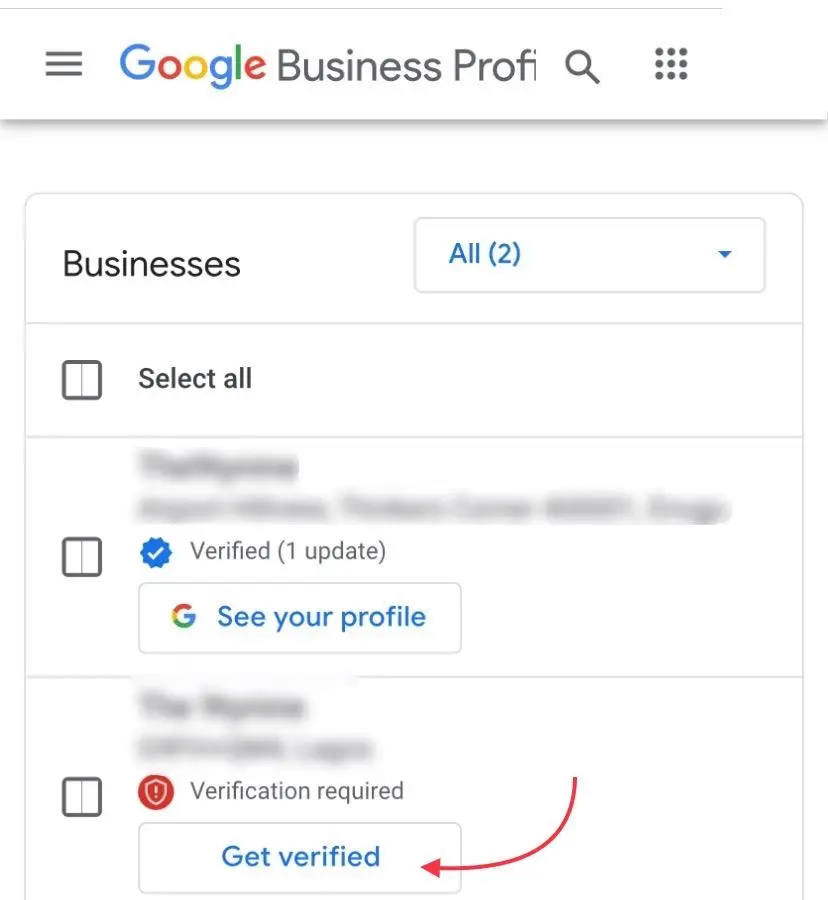 Google gives you an option with four verification methods:

Email

Phone or text

Video recording

Postcard

Live video call 

You can choose your preferred method. Sometimes, you may have to verify with more than one method. This often depends on things like your region, business category, public info, and so on. Typically, Google will review the information you provided to ensure they're accurate before they verify your business profile. This may take up to seven days or less.

Once your business has successfully been verified, you'll receive a notification. You can also check this Google support page to confirm if your business has been verified.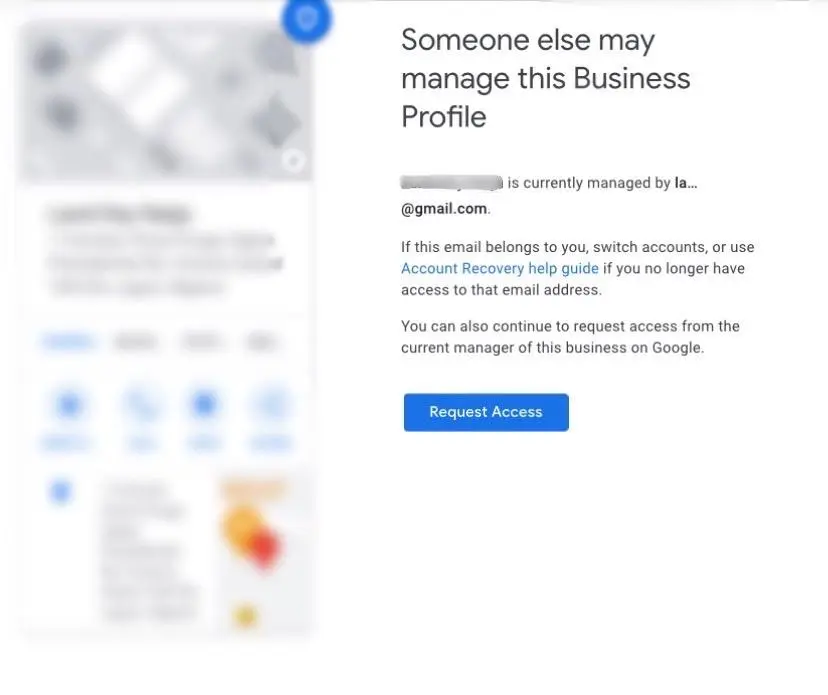 Note: If you're notified that your business has been claimed and verified by someone else, you'll need to reach out to the existing business manager and ask them to transfer ownership to you.

Ensure Accurate and Complete Key Information
Make sure you supply Google your accurate and complete key business information. This is another way you can optimize your Google business profile. If the information displayed on your page is incorrect, you risk losing potential customers. A study revealed that 68% of customers stop patronizing a local business if they find inaccurate information in business directories.

Also, when you have the wrong essential details on your business profile, customers that try to get in touch may find it difficult or impossible. As a result, they could go straight to your competitor.

For example, if you start an LLC in Wisconsin but the business address on your profile says Ohio, you'll pretty much end up having customers visit the wrong address. These customers may go ahead and leave bad reviews. These aren't good for your online visibility and business reputation.

With this in mind, ensure that you have all the key elements displayed on your business profile. This includes details like:

Your business name

Website URL

Contact details - business address, phone number, and email address

Working hours - indicate special hours and regular hours where applicable

If you notice an error after you set up your profile, simply use Google search to fix this. First, type your business name into the search bar. Since you already have access to your business profile, you'll see a result like this one: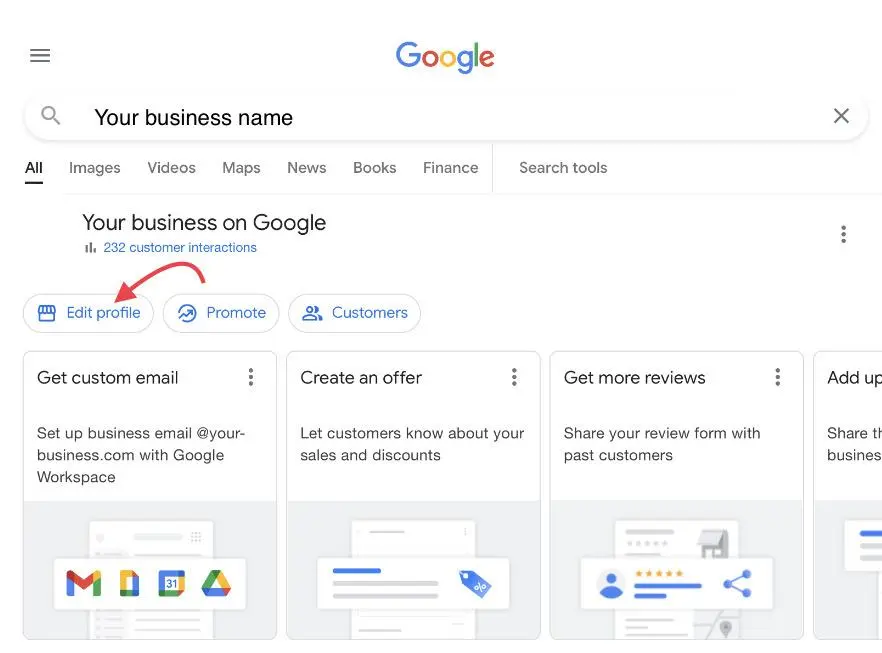 Click "edit profile" from the search result and make the relevant edits.

Note: Pay attention to the information on your business profile from the get-go, while creating your account. You may want to avoid editing your details after requesting a verification because this can delay the verification process. Also, it takes a while for new information to be displayed publicly.

Use High-Quality Images
Using high-quality photos on your business profile allows you to entice prospective customers. According to research by Search Engine Land, sharing photos on your Google business profile will increase your chances of getting seen on search engines.

So, whether you're a physical store owner, an e-commerce business, or a SaaS marketing agency, you should share product or business photos that are clear and well-edited. When adding pictures to your profile, pay attention to your cover and profile photos, logo, and other regular image uploads.

Google advises you to use eye-catching images that represent reality—-this means that you should avoid sharing images with heavy filters or edits. Check out the nice and real-life pictures AIS media shares in its Google Business Profile: 

Also, take note of other Google recommendations like sharing pictures in the right format (JPG. or PNG.), and using the right size and resolution.

Note that Google does not allow you to use stock photos on your business profile. Ideally, you should invest in a good photoshoot for your brand. Thankfully, you can also take high-quality pictures with a smartphone. This way, it wouldn't cost so much to put your best pictures out there.

Finally, don't hesitate to review and update your profile images occasionally.

Write an Engaging Business Description
Writing an engaging business description is one way to set yourself apart from competitors and boost your visibility. Your business description is where you get to sell your brand. Therefore, you should pay attention to your choice of words. You want to use powerful yet simple words to show prospects the value they get from your products or services.

Use descriptive words to explain your services. Add a very clear call to action so that you can get more interactions. You also want to state the specific target location.

Let's see an example:

In the above example, we see how Promenade Printing clearly explains that they're now an online print shop. They also indicate that they ship anywhere in the United States, making it easy for them to attract target customers.

Promenade Printing proceeds to mention the type of prints they provide and close with a clear call to action—telling prospects to check their website for a listing, request a quote, or send an order. So, like Promenade, you can apply this technique when crafting your business description.

Finally, you should use relevant keywords so that your business description is optimized for search engines. For quality results, you can use effective SEO software to find the best keywords in your niche and include the high-performing keywords in your description.

Add Relevant Categories
The "categories'' feature on Google business manager allows you to indicate the industry (or related industry) that your business operates in. According to Google, your category is one factor that determines your search engine ranking. Basically, you can set up one primary category and include a maximum of nine additional business categories.

As a business owner, you can optimize your Google business profile by adding relevant categories. Doing this ensures that your business is more likely to show up in search results when prospects search for businesses within your industry. Here's an example below:

Adding categories to your profile also helps you to be more visible to prospects within your industry so that you can attract and generate leads that are more likely to convert.

That said, here's how to add your category:

Go to Google search and type in "my business". Your business profile will show up in the search result as seen in the image below: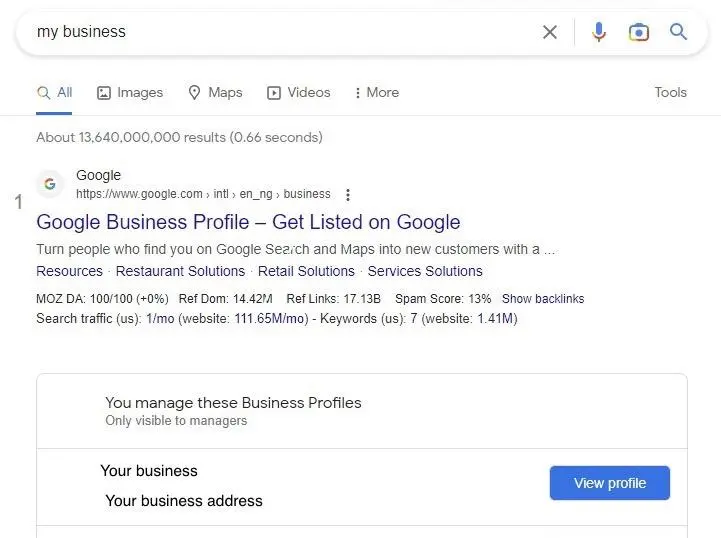 Next, click on "view profile", then select "edit profile".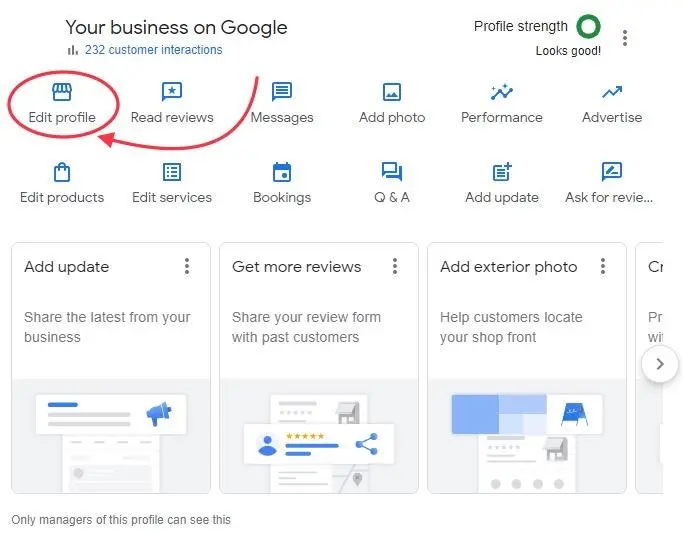 On the next page, go to "business information", add the relevant and correct categories, then save the changes.


When adding categories, be sure to add only the categories that are closely related to your business, especially if you don't find the exact match among Google's suggestions.

Collect and Respond to Reviews
Customer reviews are important because they help you know what customers are saying about your business. This is usually based on their experience. It helps you learn what to improve on.

These reviews also serve as testimonials for potential customers. Here is an example of these reviews from Barnes & Noble's business page:

To get reviews on your page, you can send customers emails or text messages with a link to your Google business profile. Request the review after they use your services. You may also choose to embed a link to the reviews on your website.

Typically, satisfied and happy customers will give positive reviews. Others who are displeased with one thing or another may give some negative reviews. Either way, you should respond to these reviews. Doing this will help other users know that you're active and that you care about your customer's satisfaction. It's also an effective way to improve your online reputation.

Use Google Posts
Your Google posts allow you to connect with customers and prospects by sharing regular updates. This works just like a basic social media post. It's also one way to stay active online. With Google posts, you can add different types of posts like new images and videos about your business. You can also announce new blog posts or share news about offers and business events. Here's an example from Best of Midland:

Publishing posts on Google business is easy. Simply navigate to your business profile and click on "add update".

Whether you sell e-books, courses, clothes, or furniture, Google posts are a good way to create awareness on your business profile. It also allows your audience to engage with you. 

Monitor Your Analytics
Having implemented all we discussed above, you shouldn't ignore your Google My Business (GMB) analytics. Checking your business analytics will help you see how well your company profile is gaining visibility.

GMB analytics also shows you how much traffic your profile generates for your website. You can see how many people are asking for directions to your business location, placing calls, or scheduling meetings. This is visible on your business dashboard.

To check your GMB insights, go to your business profile, click "performance" and select the period you want to analyze.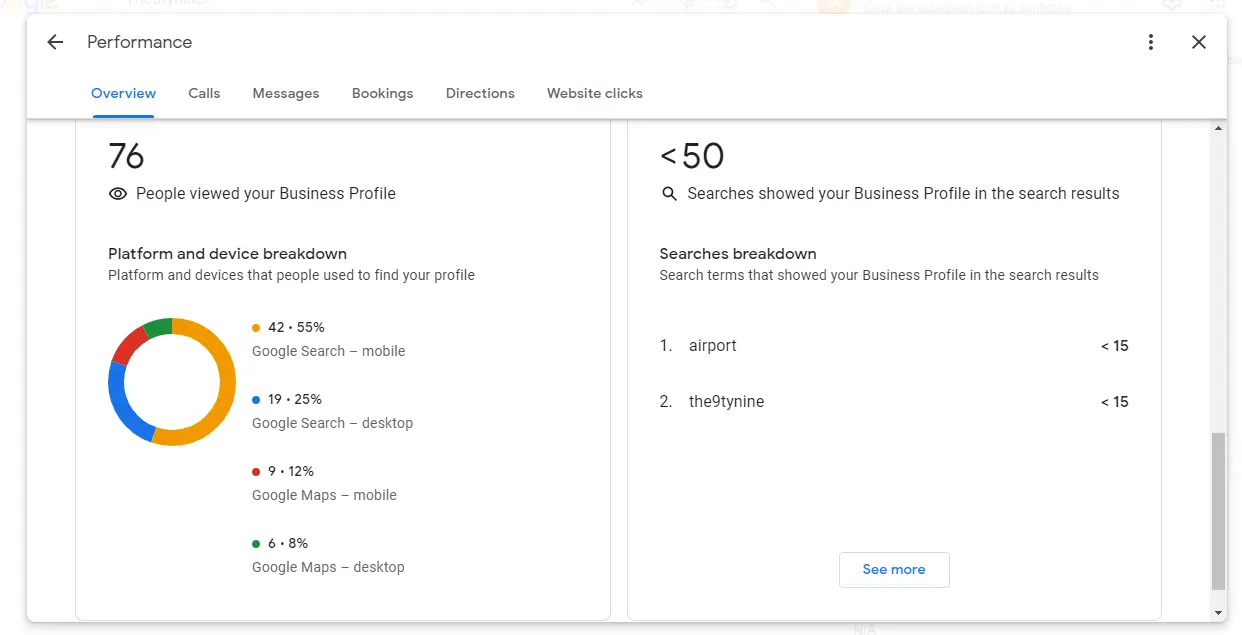 With the insight you gain from monitoring your business analytics, you'll be able to determine how best to optimize your profile for better results.

Conclusion
Your Google business profile is a powerful tool for gaining visibility on search engines and getting more ideal customers. In this article, you learned how you can optimize your profile for better results.

To get more visibility with GMB, you need to claim and verify your business profile. You also need to ensure accurate and complete information, use high-quality images, and write an engaging business description.

Also, you should add relevant categories and collect business reviews on your page. Finally, use Google posts to stay active and consistently monitor your analytics.
Implement these tips to optimize your Google business profile. You'll reap the best results. Good luck!

Found an error? Select it and press Ctrl + Enter to tell us
Cases, life hacks, researches, and useful articles
Don't you have time to follow the news? No worries! Our editor will choose articles that will definitely help you with your work. Join our cozy community :)
By clicking the button, you agree to our privacy policy.