How We Made $250,000 In One Week: A Guide For Successful Appsumo Promotion [Update]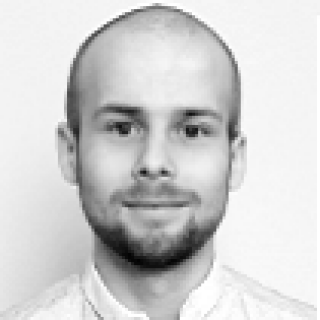 Eugene Lata
VP of Marketing at Serpstat
Have you ever tried to increase your brand awareness and attract a new audience? Then you probably know how hard it is. We're convinced that there are three main keys to achieving this goal:
have a useful and high-quality product;
find the right distribution channels;
offer an attractive deal.
In this article, we'll tell you how Serpstat became the best selling SEO tool on
AppSumo and entered the top of their 5 best-selling tools ever.
AppSumo is a daily deals website for digitally distributed goods and online services founded in March 2010 by Noah Kagan. It's quite a popular website with more than 1.5 million monthly visits. The audience сonisist of geeks from all over the world, mainly from the USA, Australia, Canada, and European countries.

Two times a week they put up for sale different tools with a significant discount and special conditions for their audience. Site administration carefully selects products and promotes only qualitative ones. But even not all approved tools succeed. The best selling ones are easy to set and use with the low lifetime price.

The results of best AppSumo deal

Let me start with the results of our Appsumo promotion to prove you that this long process of preparation and launching is worth it.
After this deal, we received:
6400 sales worth more than $250 000;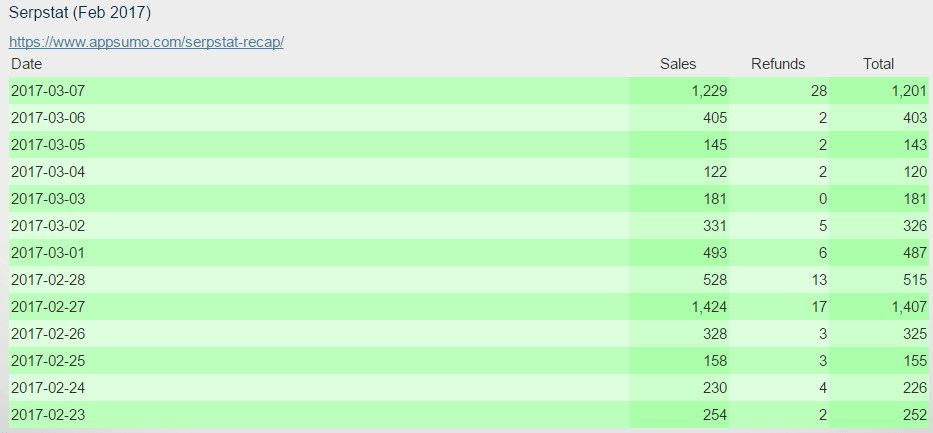 8,400 users from the US, Canada, Germany, UK;


685 reviews and comments;


more than 2 000 shares;


Serpstat became the best selling SEO tool on AppSumo and entered the top of their 5 best-selling tools ever;


Registrations and sales raised by 370%.

The process of preparation and launching took us three months. Bearing in mind that it was the time of New Year and Christmas holidays, it's not too long. However, preparation is the most important part of the deal, which determines whether you'll succeed.

Step #1: Making the first contact

Start with filling an application form on their
partner's page. Note, that your request can be considering for a few months. We spent two months waiting and then decided to contact AppSumo administration personally.
The guys from AppSumo are quite open to communication so you can try to get in touch with them using
Linkedin or Facebook. The way how do you get on AppSumo matters, so it will be much better if someone who has already been promoted on AppSumo recommends you. We turned to CBDO and co-founder of
Promorepublic Maksym Pecherskyy to recommend Serpstat to someone from AppSumo. And he introduced me to Olman via Skype: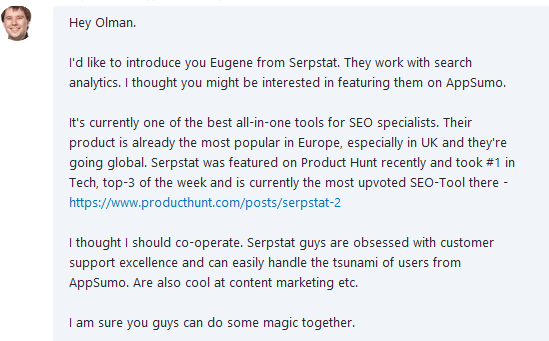 You can contact with managers of the AppSumo deal reseller via Facebook or Skype

Step #2: Negotiations via appsumo deal reseller

After you reached out to somebody from AppSumo, it's time to bring your A-game. Cover all benefits of your product and abilities of your support team. Convince them that you'll be able to handle a huge rush of customers and work 24/7 at the sales days. As it highly increases your chances to be featured on Appsumo. If there's no live chat available on your website or your support team is not big enough to process tons of requests, take care of it in advance.

Feel free to brag about your previous experience to prove that you're ready for such deal (we covered our Product Hunt experience). Be open and friendly, and speak informally as it's not the Royal reception at Buckingham Palace.

It is better to discuss the distribution of profits right away. AppSumo takes a high percentage of sales, which I understandably can't name. You can try to knock down the price, but do not push too hard. After approving all the details, they will send you an instruction letter.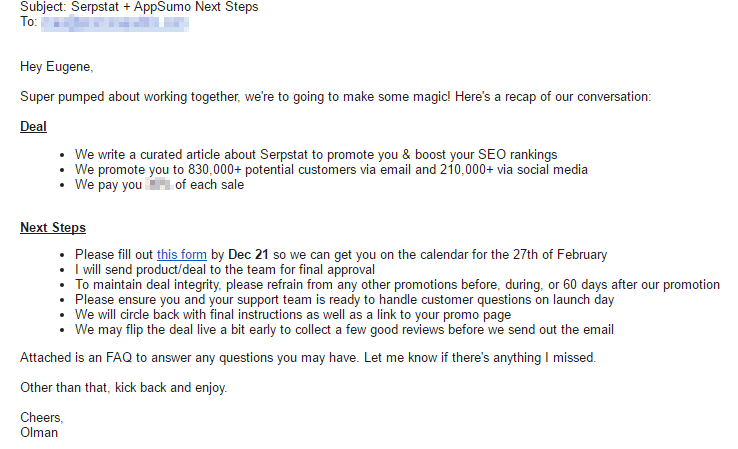 Instruction letter from AppSumo deal reseller

Step #3: Preparations for the launch of the campaign at AppSumo

Your deal conditions depend on the aim of the PR-company. Answer yourself a question: what do you want to get from this deal? Our purpose was to increase the awareness in the US and get the viral effect. AppSumo offered Serpstat lifetime subscription on the cheapest tariff (Plan A) with extended limits for $39 (its standard price is $19/ month).

AppSumo asked us to create at least 3 000 of unique promo codes for the customers. We created 10 000. All non-activated codes were returned after 60 days (the refund period).

Note, AppSumo has a quite wide audience — about 1 million customers. Make sure that your site is able to keep working with such a load. We bought two extra servers just in case.

We created a landing page and a greeting video for the appsumo users.


Creating of landing is necessary for promo codes activation. Highlight the benefits of buying Appsumo plan by pointing to the advantages over your standard plans.
We also created a free learning center called Serpstat Academy, which is powered by Academy Ocean.


The Academy lessons cover all Serpstat features and show how to use them. For the first day after the start of sales, we received about 250 registrations at the Academy, when the daily rate is just 7.
Draw up a work schedule for your support team for the Appsumo deal period. You should be prepared for the rush at first 48 hours after the first newsletter is sent. The second newsletter is sent until 24 hours before the end of the deal, thus get your second wind. We divided our team into shifts and worked around the clock.


Some people were working at the live chat on our site, other were tracking questions at the social networks, and the remaining part of our team responded to comments on Appsumo website. Programmers were also working around the clock to fix the potential bugs.

To encourage our new users to upgrade their plan, we made the transition to our standard tariffs for only $1 for the first month. But as practice showed, no one wants to reject from their lifelong tariff in favor of a larger number of limits.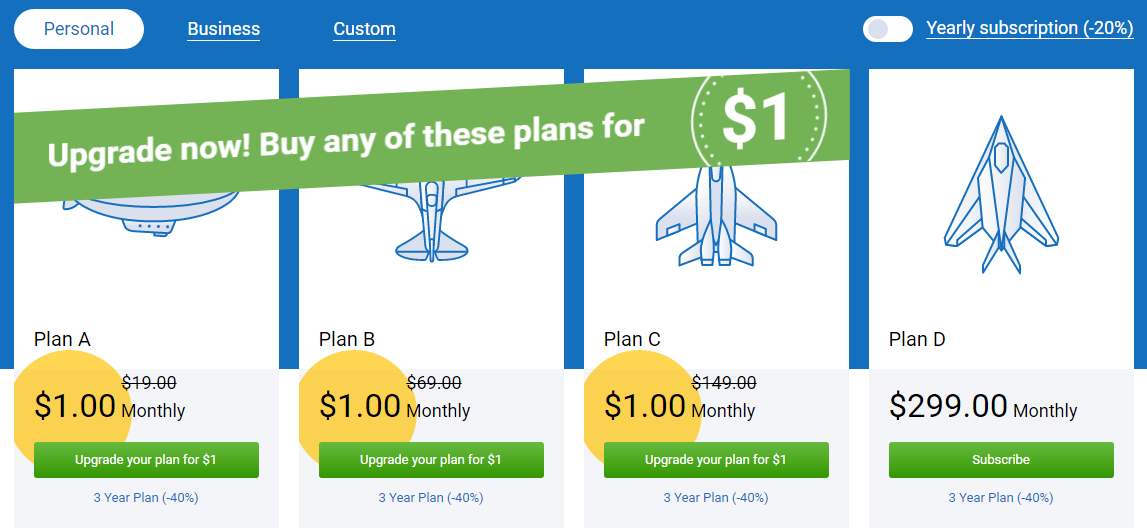 Before the actual sale, AppSumo usually sends the test newsletter for a limited base of its most loyal users. In this way, Appsumo creates some buzz around the upcoming deal as these users buy the tool, try it and share their thoughts in comments and their social media. It helps to warm up the interest of other customers.

If AppSumo sees that people are interested in your product at this pre-sale stage, they will promote you, involving bloggers and influencers.

Pay attention to every comment, no matter it's positive or not. BTW, we received almost a thousand of payments during the pre-sale period.

The first newsletter is sent at midnight EST, and your offer is placed at the Appsumo main page. We were quite surprised by the rush at our Intercom chat. A lot of customers had no idea what SEO is, but they bought the tool because of the low price and then asked us to teach them. Out Academy, webinar and landing page we've already mentioned were really helpful in dealing with such a rush.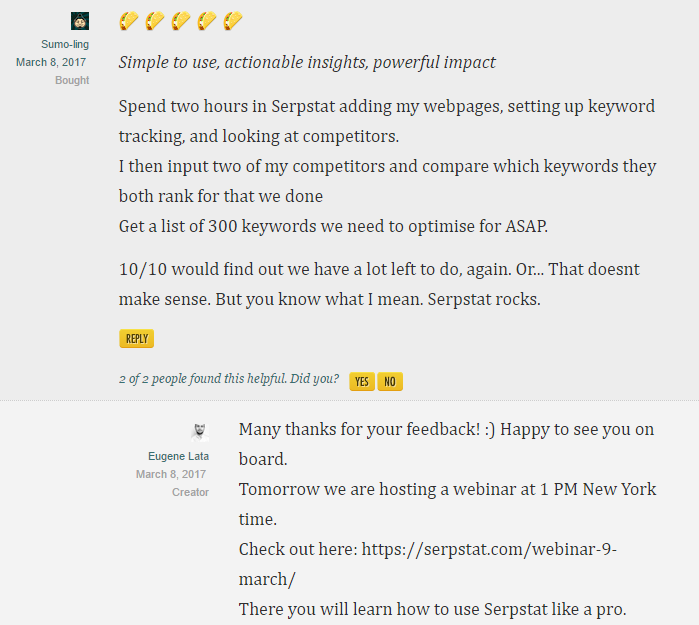 Track the reviews that appear on Appsumo website. Answer all questions, thank users for the positive feedbacks and make concessions to win over Appsumo audience.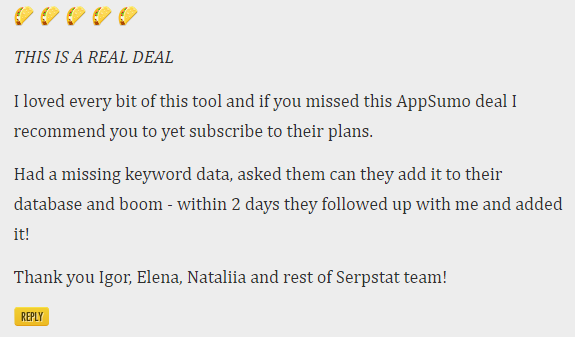 If you do everything right, interest to you brand, the number of registrations and sales will keep growing even after the end of the sale.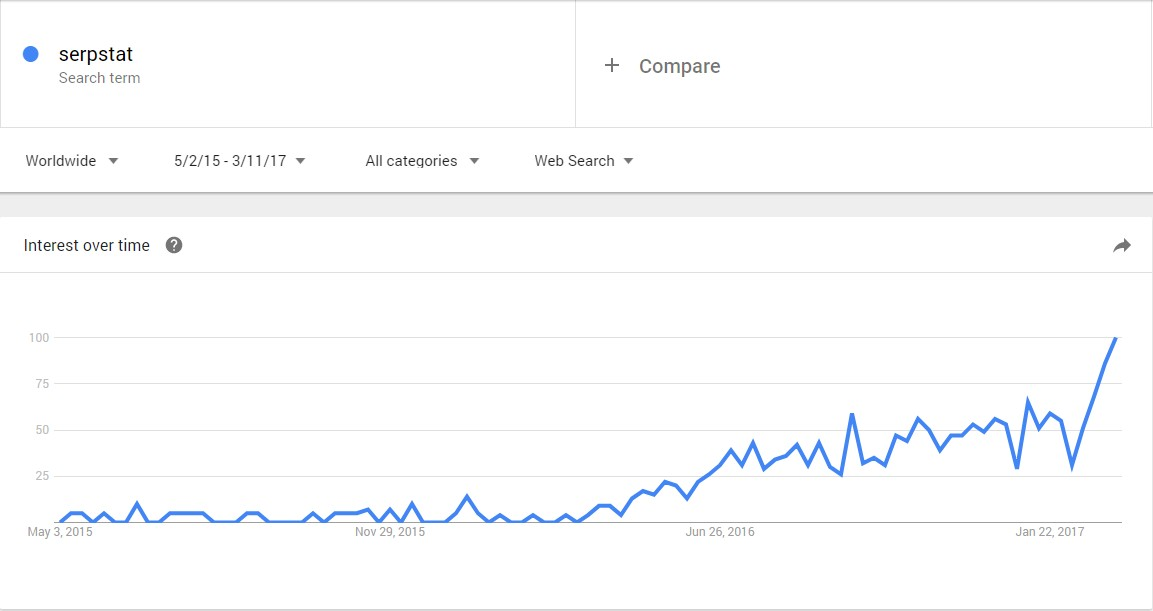 According to the agreement, after 60 days from the date of launching, you'll get your part of income and remaining promo codes you need to deactivate.

Now your main purpose is to hold the new audience. It's mainly loyal to your product, thus feel free to ask people for supporting you at the social networks and write reviews, but within limits.

We were so impressed with the first campaign that decided to repeat it next year. I want to share our experience of the second launch and cover the reason we decided to repeat this deal and the results we got.

Why we decided to repeat this deal?

There are several reasons why we decided to repeat Appsumo deal in a year after the first launch.

After the deal was over, we received lots of requests to our online chat and social media accounts applying to get this deal.

We got lots of loyal clients that highly appreciated our platform and upgraded to our standard plans to get access to more tools and gain more limits.

We received lots of requests on adding European countries. We were working hard and released 5 new regional databases (German, French, Italian, Spanish and Dutch). As we promised, we launched on Appsumo for the second time with a bigger set of regional databases.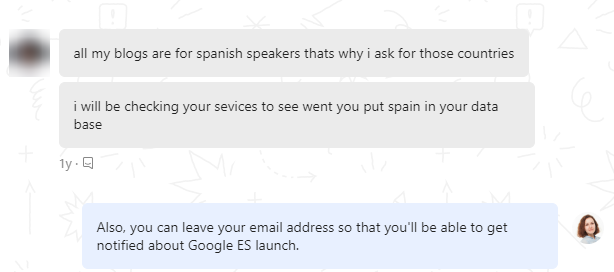 What's the difference between first and second campaign?

As one would expect, the negotiation and launching process was much easier than the first time. We were already aware of the main aspects of running the Appsumo deal, took into account the previous experience to avoid some difficulties we faced the first time.
The second deal was both launched on Appsumo and
ProductHunt. That's the reason why it lasted longer than the previous one. This time is lasted 19 days while the first one was available for 14 days. There were 4 newsletters sent and that's why we received more traffic and clients.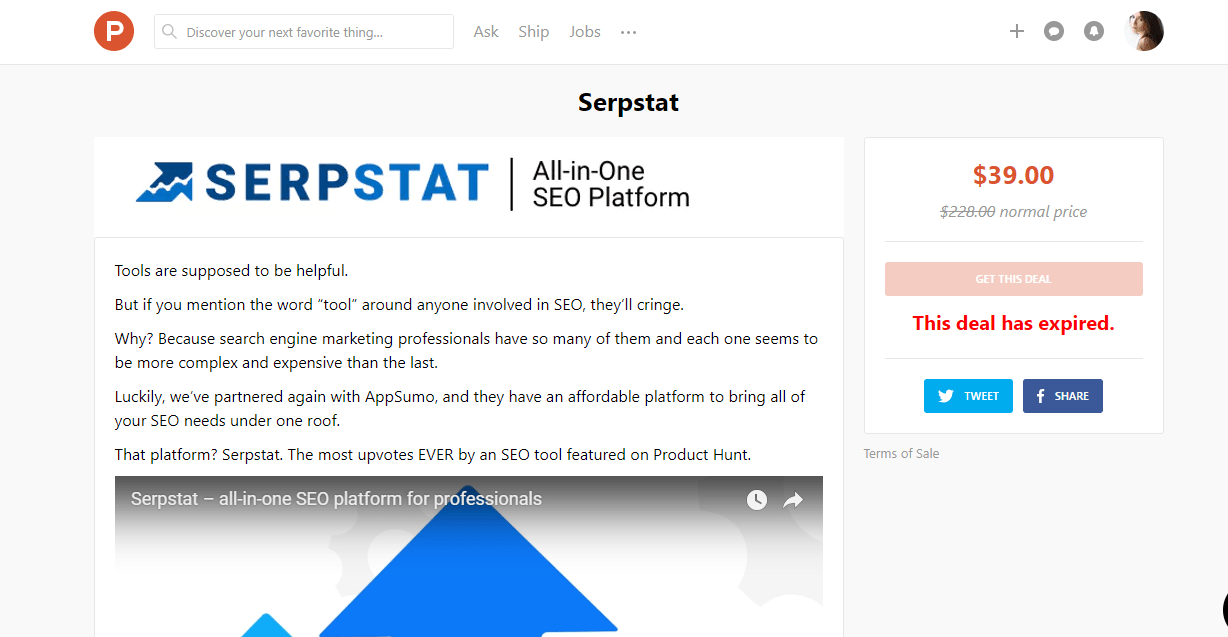 AppSumo Serpstat campaign
Was this campaign worth it?

Definitely, it was. We received a bunch of positive reviews. Lots of our new users used this Appsumo deal to see Serpstat in action and were so impressed with the tool that upgraded to our standard plans to gain the full capacity.


Campaign at AppSumo affiliate

Moreover, we got lots of mentions and backlinks on popular blogs, met many bloggers and increased brand awareness.

And I'm pretty sure you want to know the profit to compare it with our previous campaign. We got the record number of registrations, within these 19 days we gained 7700 sales worth more than $300 000. As you may see, the second campaign yielded better results.

What about the third campaign at AppSumo?

Despite all the advantages of these deals, we are not going to launch the third one. Now we want to invest all our effort into the product development. We are currently working on adding new tools and improving the existing ones. By running Appsumo deals we supported small business owners that had no necessity or ability to buy full-fledged plans. However, all our Appsumo users will have a chance to upgrade to get access to all brand new features, of course, if they want to.

Teamwork is crucial when it comes to featuring on Appsumo. Create a detailed plan for the whole team, assign responsibilities and be ready to work around the clock.

I hope that this piece of content was useful for you. Don't hesitate to ask if you have any questions ;)

Speed up your search marketing growth with Serpstat!
Keyword and backlink opportunities, competitors' online strategy, daily rankings and SEO-related issues.
A pack of tools for reducing your time on SEO tasks.
Found an error? Select it and press Ctrl + Enter to tell us
Cases, life hacks, researches, and useful articles
Don't you have time to follow the news? No worries! Our editor will choose articles that will definitely help you with your work. Join our cozy community :)
By clicking the button, you agree to our privacy policy.