How To Use Competitive Intelligence To Improve Your Content Marketing Strategy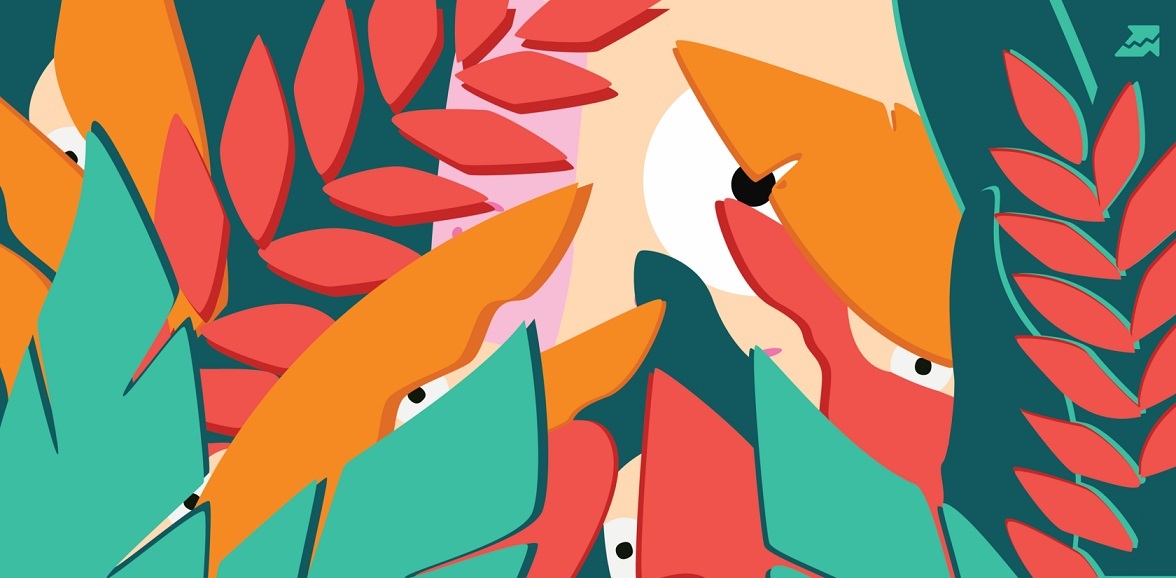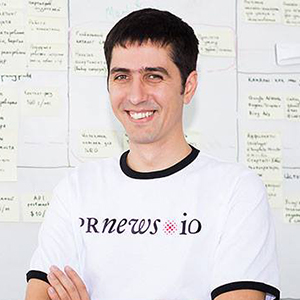 Alexander Storozhuk
An internet entrepreneur, launched several online tools in marketing and PR area, helps customers to increase the online media visibility worldwide.
Are you looking for the fastest and most effective ways to gather all of the information about your competitors' content marketing performance?

This in-depth article will guide you through the whole process of analyzing your rivals' content efficiency.
In addition to actionable tips and ready-to-use strategies, this article includes an example of blog analysis that highlights the most important metrics that you need to focus on, as well as what tools to use.

Imagine a business world where you don't need to fight for market share, where a word 'competition' only comes up when you talk about the Olympics, and the pricing pressure is almost non-existent.
This seemingly utopian scenario has been described in a book called "
Blue Ocean Strategy". The nautical-themed strategy has been brainstormed by people who know their industries inside out. And there are some people who did it very successfully.
For instance, the idea behind Cirque du Soleil was executed into such a successful entertainment company because they didn't have anyone else to compete with. As this theatrical giant was emerging, the majority of circuses were still focusing their performances on engaging animals. Cirque du Soleil abandoned this conventional idea and, rather, took it to the next level as animals were, and still are, a costly element of the show. Instead, Cirque du Soleil transformed the experience of going to a circus, from it being a place for poorly educated people to frolic, to a sophisticated venue that welcomes amusement connoisseurs.
However, not every business situation will create a promising environment where you can come up with a completely unique and unheard idea.
That's why I'd like to share some of the ways how you can manage to overcome your competition. Specifically, I'll tell you how to analyze what kind of content your rivals produce, and how you can enhance their ideas to create something entirely new.
Map out your competitive landscape
Most of us are more or less aware of our rivals. We might not know all of the existing names, but we can at least name a few companies that provide similar services or products. But the problem isn't about the direct competitors you may or may not know about. It's quite a pedestrian situation when a business owner discovers that sites he's competing with in Google are not among the list of companies he considers rivals. And that's where the fun begins.
To locate sites that rank for the same set of keywords as your domain is not rocket science. For example, Serpstat's
'Competitors' report
will show you these sites in a matter of a single click. On the screenshot below, you can see Contently's major competitors: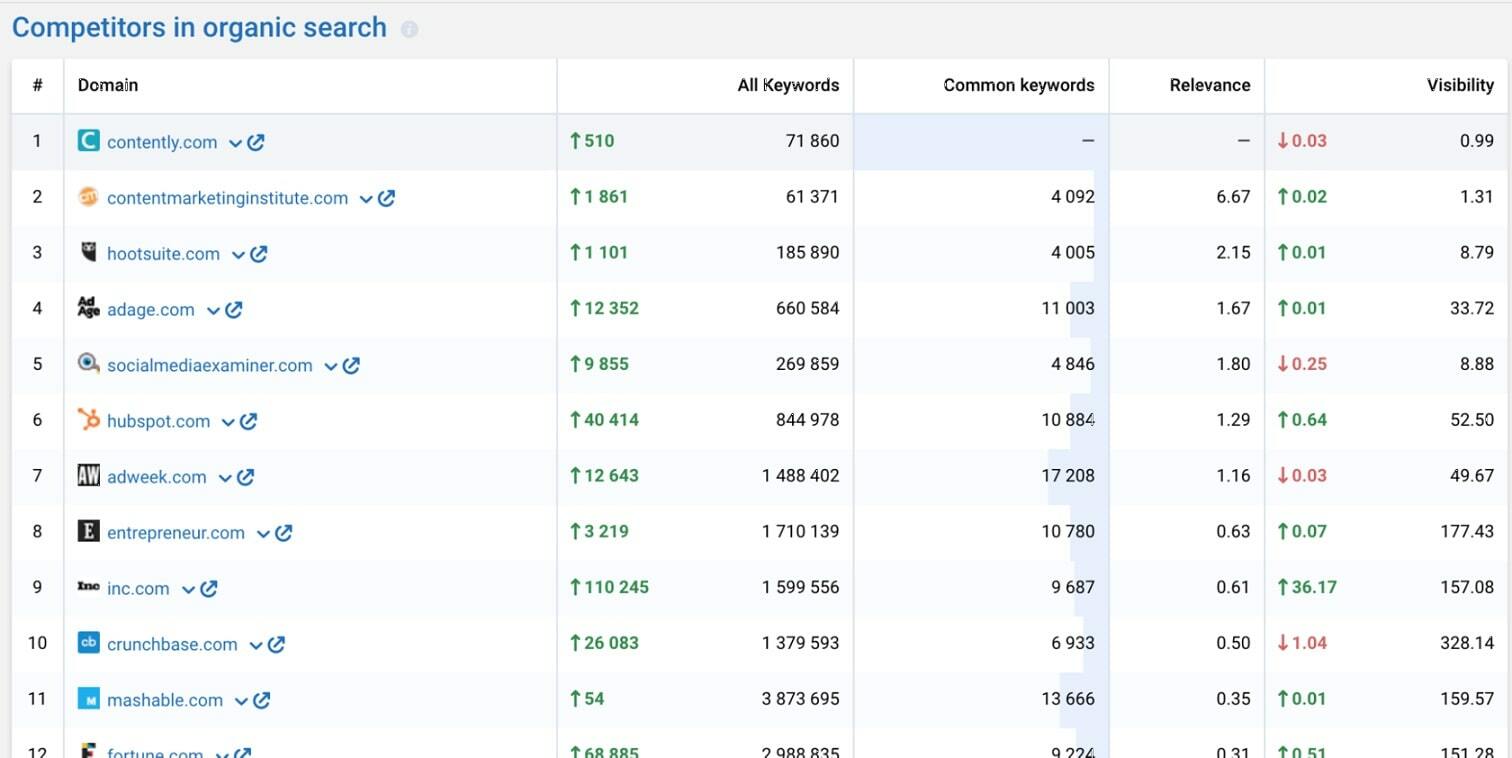 Apparently, a list of organic search competitors consists not only of Contently's direct competitors, but also has quite a few well-known blogs such as ContentMarketingInstitute.com, SocialMediaExaminer, Adweek, Entrepreneur, and others. The reason why Serpstat lists these sites as content projects is because it determines competitors for any domain based on the number of common keywords for which they rank within the top 20 pages.

This example clearly proves that competitors with similar products or services might hardly overlap with their direct competition in Google search results.

Analyze their overall performance
In order to be able to move in the right direction, you need to broaden your scope. Focusing solely on the number of articles your major rival produces a week isn't going to get you far. In fact, you may end up getting yourself in the corner. Considering different aspects of your competitors' content creation and promotion will help you make the right decision as to what's really going to work for you.

What metrics really matter:

Average number of posts per month
This metric will help you understand the general trend. Find out the average number of posts your competitors published regularly. But this metric will be absolutely useless if you don't look at their posts' performance. They can produce thousands of posts that don't attract any readers and, as a result, are useless.

Average number of social shares (e.g., post's virality);

This metric is a little controversial. Let me explain why. Normally, shares and clicks hardly correlate with each other. People can share your content proactively, but traffic might not come at all. Usually, I would say that even those posts that have reached more than 1,000 social shares bring less than 1% traffic from those hundreds of shares. However, the number of social shares still matters because it tells a lot about brand's community: whether it's active, if content shared among its users is relevant, and if this content reaches its target audience.

Average number of links acquired
When it comes to evaluating content performance, that's one of my favorite metrics. Basically, the number of links tells us if a certain brand is investing in its content outreach strategy. And if so, how effectively. Also, you can always dig deeper, and analyze their most successful posts in order to understand what kind of content works best for your own industry.

Average volume of traffic attracted through posts;
This one is the essence of the metrics listed above. If they have traffic, they've built a great content marketing strategy. But even if your competitors can't brag about online users flooding their site, it's something to pay attention to. Why some of your rivals aren't getting traffic? Is it the insufficient number of links, or is it the kind of keywords they are targeting? It's essential to know all the reasons that lead to failure. Learn from their mistakes, not yours.
So where do you get this data? You don't need to spend sleepless nights analyzing each piece published on your competitors' websites individually. That sounds miserable! A tool like
Buzzsumo
can make the magic happen in just a few clicks:

On a screenshot above, you can see the average number of social shares per post for the past year. When the average number of social shares is concerned, Сontently has nearly the same number of average social shares per post, even though ContentMarketingInsitute delivered 10 times more posts than Contently. The fact that ContentMarketingInstitute's 1,300 posts generated the same number of social shares as did Contently's 300 posts leads to the following question: Is there any point in publishing more posts, or is it better to focus on something else? To find the answer, I decided to run a further analysis based on CMI's example.

To get a comprehensive overview of CMI posts, you need to use BuzzSumo's Content Analysis report. This feature allows you to build a graph with the exact number of posts published a month: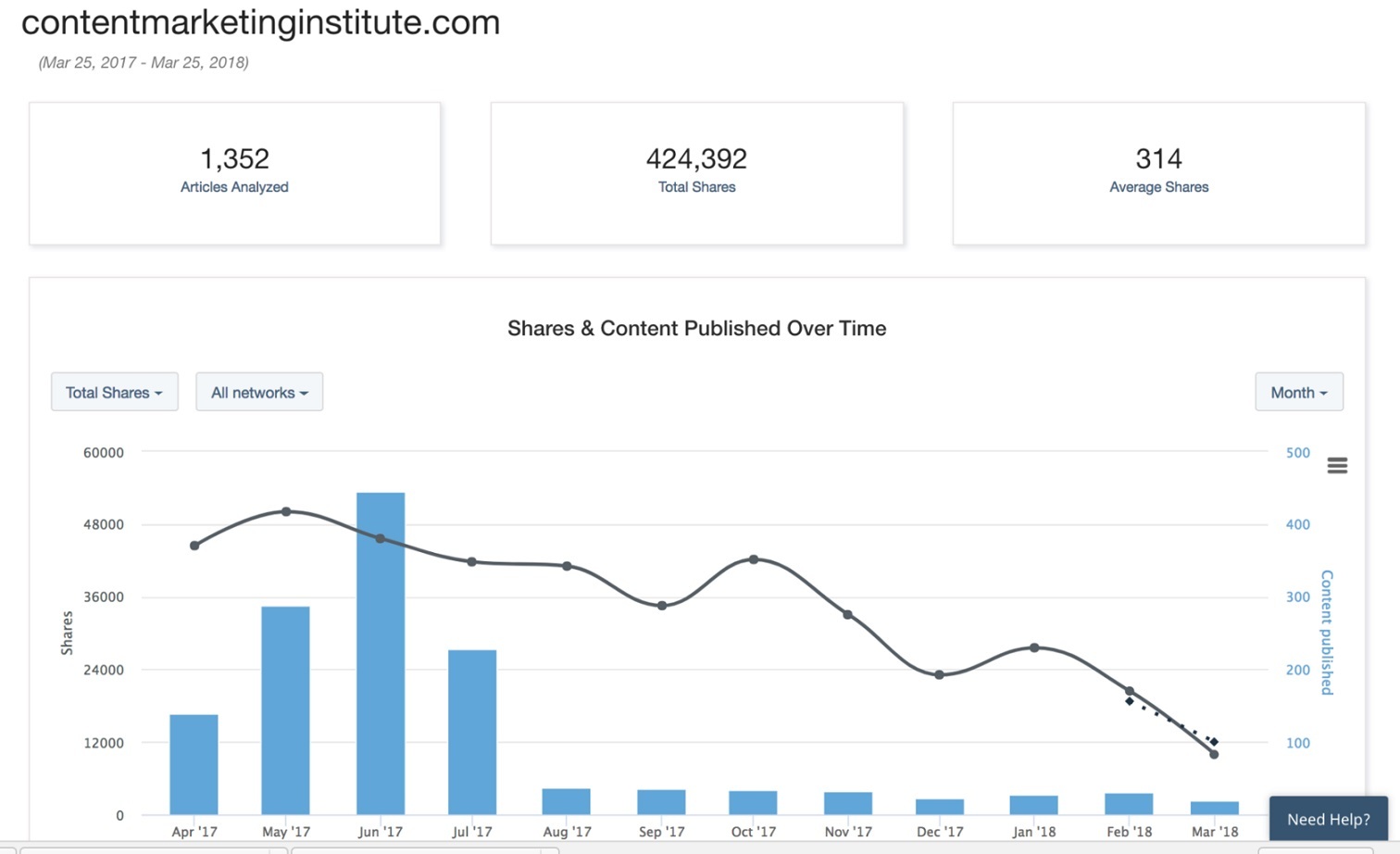 Having this information as a graph can help us easily comprehend what has been going on. I personally enjoy looking at how a trend has been developing and changing over the time. Previously, CMI has produced around 300 posts a month. In August 2017, they have decreased this number to 30. To me, it looks like something worth investigating.
These changes could have happened because they shifted their focus from writing content to promoting it more. Supposedly, the answer to my question is
less content is more. Or maybe they discontinued accepting guest posts? Or could it be that they no longer see the point in producing more content because it wasn't bringing them organic traffic? Any of these questions can be answered by delving into BuzzSumo's insights. You can also export the results in one click: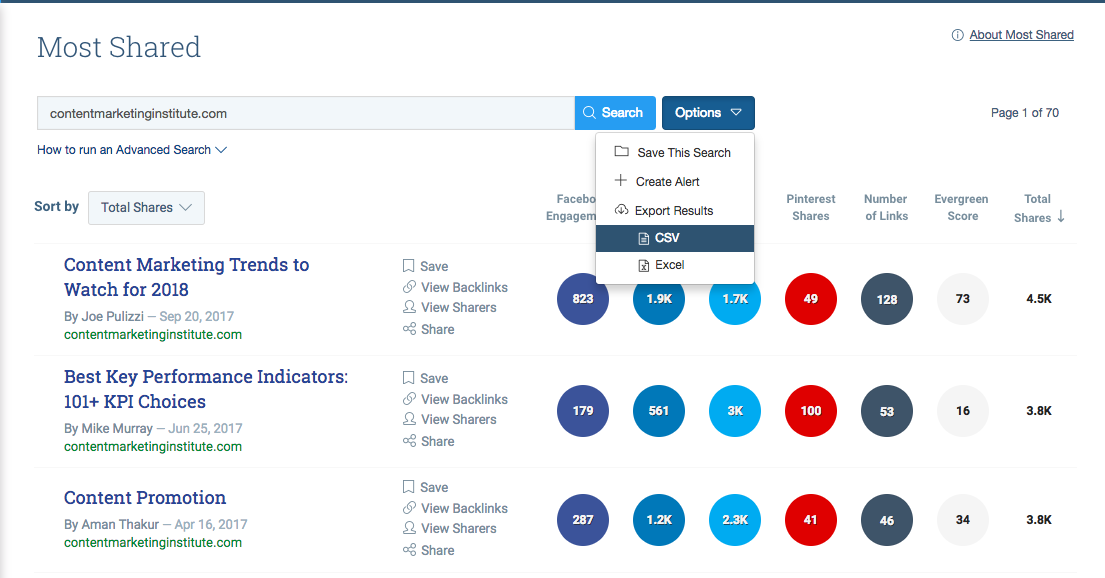 After I exported this data, I built a couple of pivot tables that got me closer to answering all of those questions at once. I added columns detailing the number of monthly contributors, social shares, and linking domains: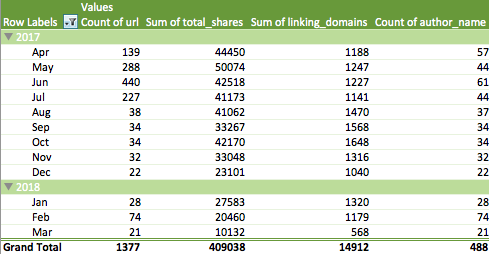 Judging by the results shown in this table, we can conclude that the number of contributors has decreased, and so did the number of social shares. However, the number of referring domains has shown some growth.

And finally, here's why there's an abrupt decline in the number of posts. They shut down one of their projects located on hub.contentmarketinginstitute.com, and here's the proof: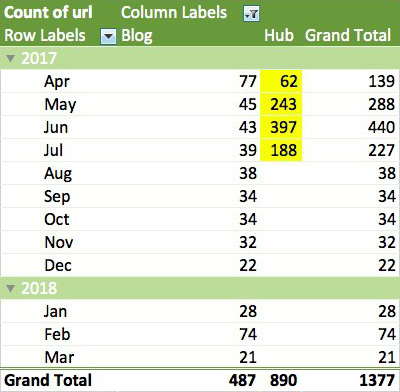 In fact, it t was a series of blog posts that were created to promote an upcoming event called "Content Marketing World". The only metric that's missing in Content Marketing Institute's data overview is organic traffic. If needed, you can download this metric from Serpstat by navigating to its Pages report and analyzing pages with the highest visibility: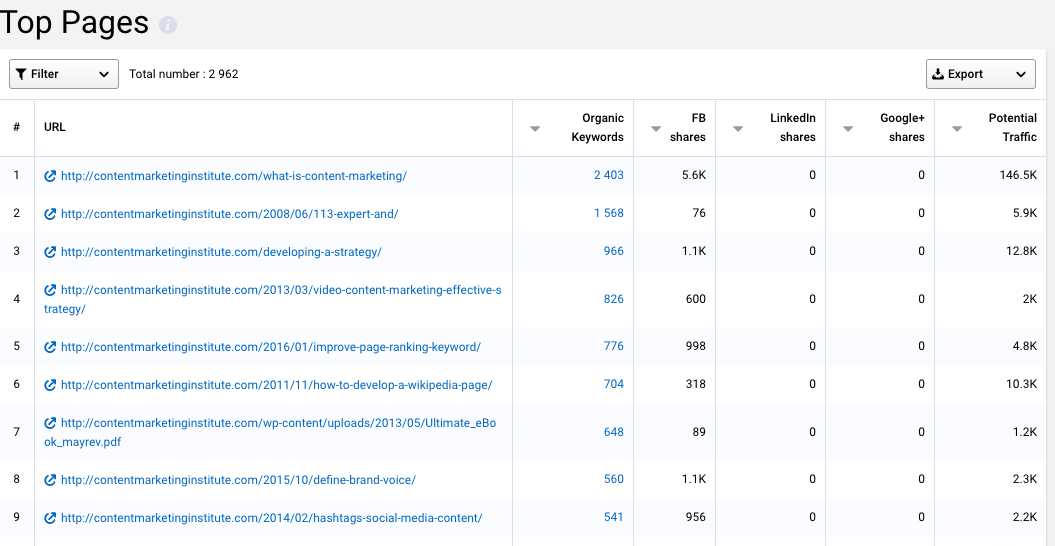 After you export this report, you need to simply match this data set with the one you've previously exported from BuzzSumo. Even though Serpstat only displays current month's potential traffic and not its overview from the very beginning, this data still unravels how well blog's pages are ranking in the search results.

Eventually, you'll get something that looks like the table below:


Due to the insufficient number of referring domains and low domain authority of linked websites, most of Content Marketing Institute's posts are not performing well enough:


Let's take a look at the first URL in this table. It has 17 referring domains, which is a lot of links. You might want to investigate this nuance a little bit further. Using Serpstat's
Backlink Analysis tool
, I discovered that only a couple of links have a high trust rank, the rest of them are totally useless: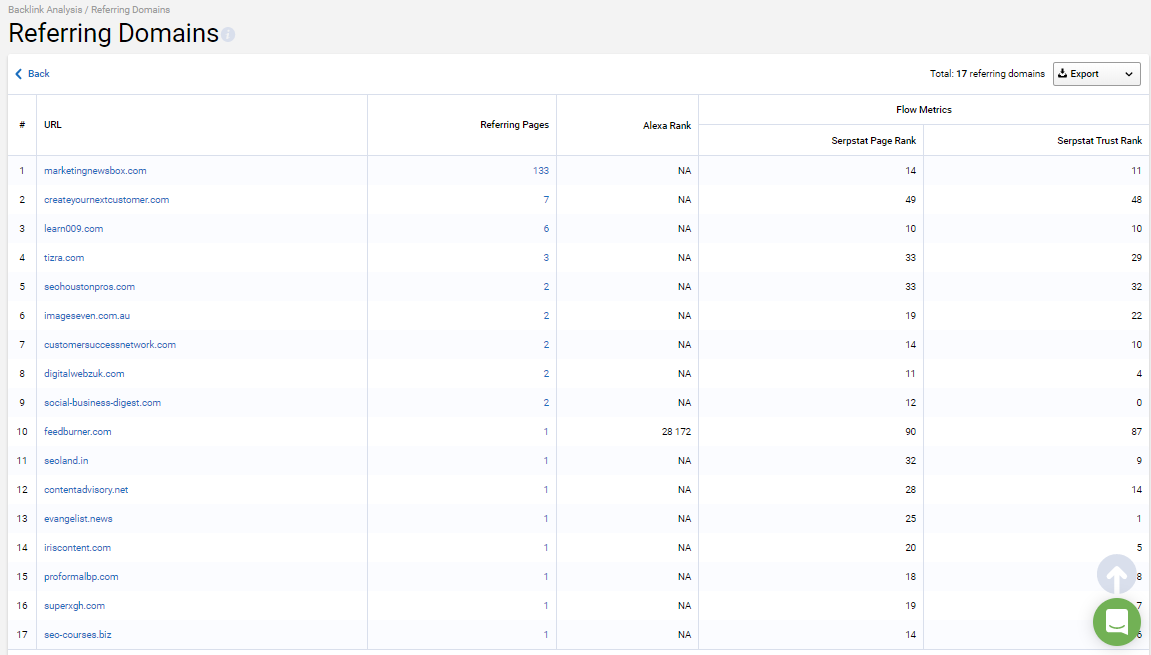 Once again, this data proves that quality and quantity of links should be considered among the top ranking factors.
At
Prnews.io, we've noticed a significant shift in the industry towards understanding this aspect, and, as a result, spending more budget and resources on content promotion. In order to receive a meaningful boost in organic traffic, I highly recommend to enhance your content promotion strategy with channels for outreach and sponsored posts that allow you to generate links and connect with a broader audience. And that's where Prnews.io can give you a hand. Prnews.io team have collected a
massive database of sites from various industries that have all the necessary metrics like traffic volume and its geography, cost, and so on. It only takes a few moments to pick the right site for your future sponsored post: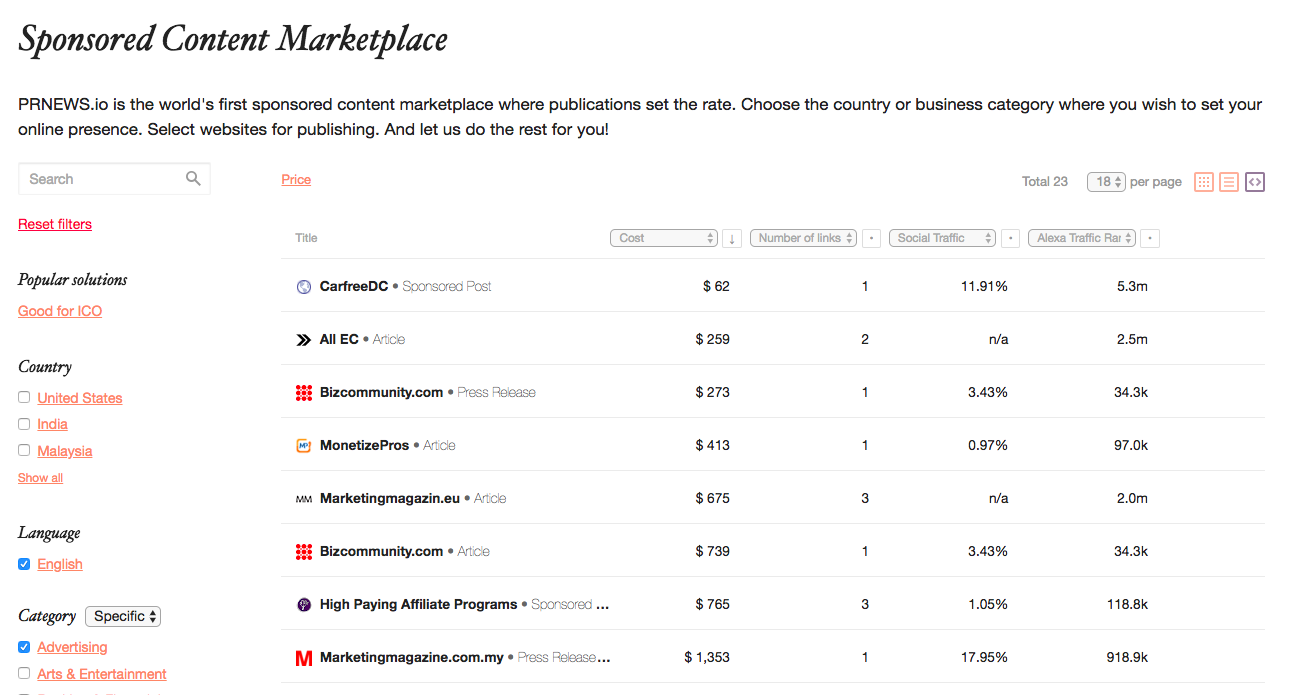 Identify your competitors' top performing pieces
This step should be an easy one because all data is in your hands now, you just need to filter out the most successful posts.

Organic traffic as a part of success
Personally, I consider a post successful if it is attracting a substantial number of organic visitors. In our data sample, the best performing article appears to have a bundle of editorial calendar templates. Apparently, content that offers free downloadable assets like templates
provides immense value to readers:

The number of linked domains as a part of success
To get an even better angle, you can look at the best posts by the number of linked domains -- it's helpful to know what type of content has more chances to receive a link. It doesn't mean that you can effortlessly attract readers who will begin linking to your piece right away. But it's much easier to keep promoting an article that reflects your audience's interests.

The number of posts that receive real traffic
As an alternative approach to identifying your rivals' best content pages,
SimilarWeb can tell you what keywords are driving traffic to your competitors' websites.
When using tools like Serpstat, you deal with evaluative data. On the other hand, when working with tools like SimilarWeb, we see actual visits. But like most tools, SimilarWeb isn't perfect: it mostly offers keyword data. For us, however, learning more about pages is more important, that's why we can't do without Serpstat.
So if you match keywords with pages for which your competitor's site is ranking in Google, then you'll have a complete list of their best pages. For instance, here is a list of keywords that drive traffic from Google to ContentMarketingInstitute.com: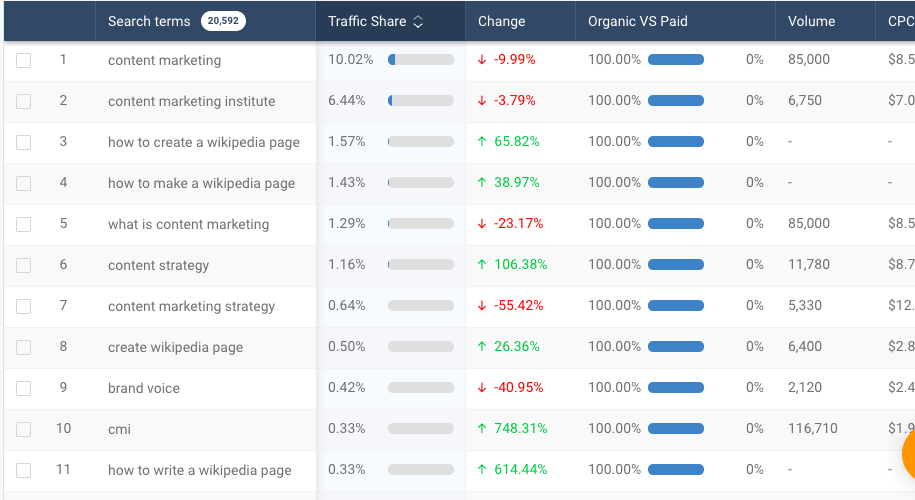 If you're looking for pages that contain keywords that push a particular domain to the top of the SERPs, you can find this information in Serpstat's
Positions report
: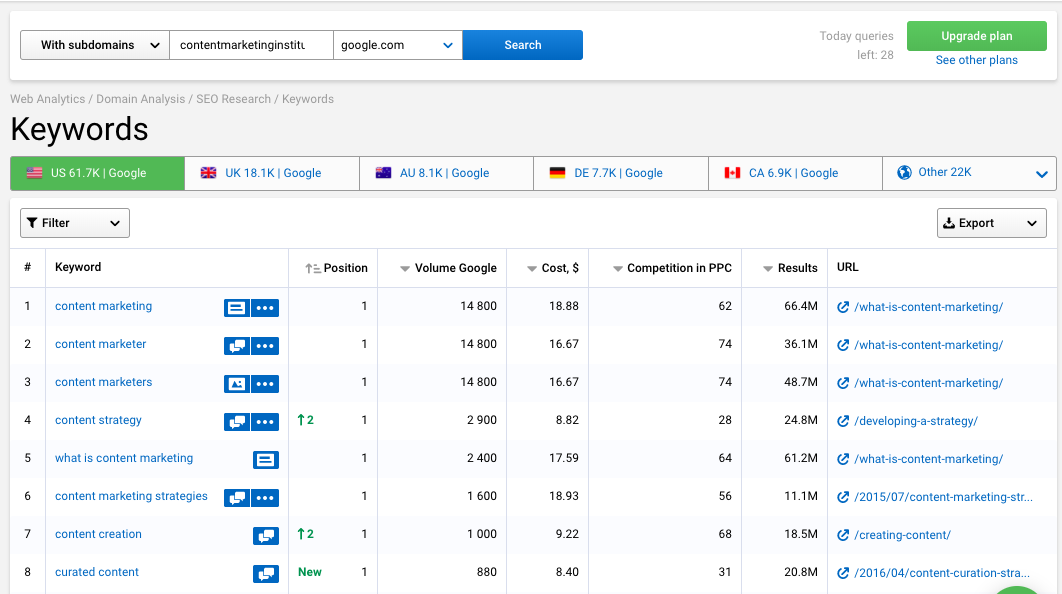 By matching these two data sets, you're going to filter out keywords and pages that inarguably attract traffic to your competitor. This is a very important insight that you should take advantage of when planning your next content strategy.

There's no point in blindly copying your competitors' strategies if you plan on becoming a bigger and better company. Let's review the steps of how you can get to where you want your company to be:
Find your opportunity for growth;


Research who your real competitors are;


Analyze their overall content performance based on:
- the average number of monthly posts;
- the average number of social shares;
- the average number of acquired links;
- traffic volume.
After you complete this analysis, you'll know what kind of competitors' content pages work like magnets in attracting users. Getting this data is like catching the wind in your sails to help you navigate to the 'blue ocean' quicker.
If they create static content, then you might want to start a Vlog that can be accompanied by video transcripts in a form of content pages. Or you can even try to build a community with user-generated content. But if your industry requires you to be much more aggressive, then don't be afraid to get creative. Act on the information you gather, especially if this information tells you that your competitors aren't getting traffic from Google or publishing less content. No matter what you do, any of your future decisions are going to be data-driven. So you're not going to play a guessing game. That's the main reason why it's important to understand your competition, even in content marketing.
Speed up your search marketing growth with Serpstat!
Keyword and backlink opportunities, competitors' online strategy, daily rankings and SEO-related issues.
A pack of tools for reducing your time on SEO tasks.
Found an error? Select it and press Ctrl + Enter to tell us
Cases, life hacks, researches, and useful articles
Don't you have time to follow the news? No worries! Our editor will choose articles that will definitely help you with your work. Join our cozy community :)
By clicking the button, you agree to our privacy policy.