3 Successful Holiday Marketing Campaigns To Take Lessons From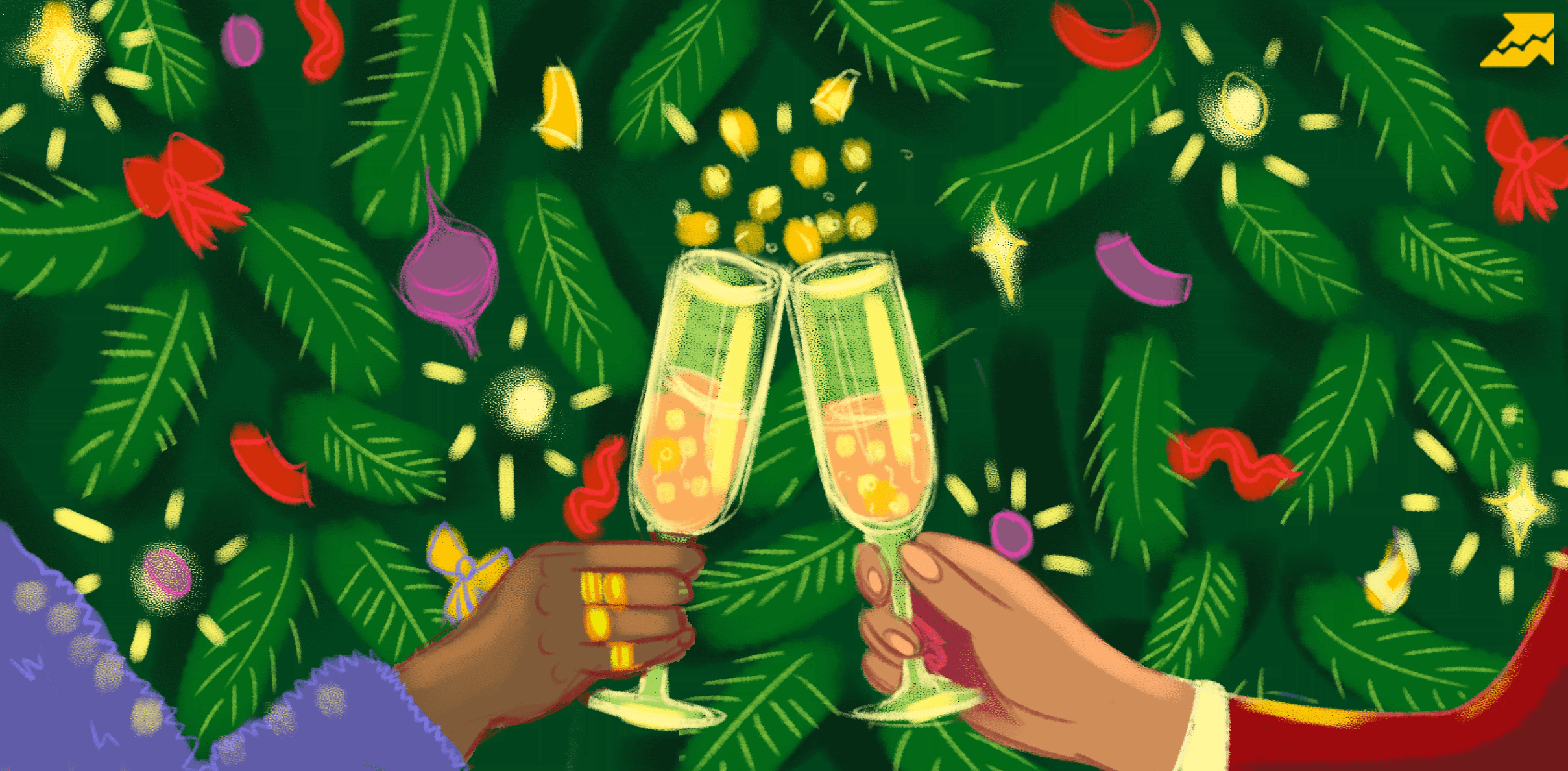 As the holiday season approaches, every business comes out with plans to engage its target audience and earn revenues. There are a few brands who have come out with effective holiday marketing campaigns and have done it right. You can take lessons from these campaigns and emulate their seasonal cheer in your own strategic plan to succeed.
The past holiday season saw an increase in consumer spending. It becomes important to plan a proper strategy to deliver the right message to your target audience during the holiday season when all other businesses are trying to capture consumers' attention and maximize their revenues. It's the time when customers are more likely to spend their money, giving marketers an opportunity to connect with their audience. One-third of shoppers say that their holiday weekend purchases were driven by promotions. You too can draw in more traffic and give a reason to your customers to get excited about by planning a holiday marketing campaign. This will help you to build an emotional bond with them. Below are the top three examples of the holiday marketing campaigns you can take inspiration from for your business.
Coca-Cola: emotional branding

Coca-Cola is known for its holiday marketing campaigns. Since 1931 the company has focused on branding itself for the holidays.
Coca-Cola brings a Christmas truck tour with
Holidays are Coming
campaign every year, since the last eight years. The truck tour takes place across the UK, and the fans are allowed to snap their selfies in front of the truck.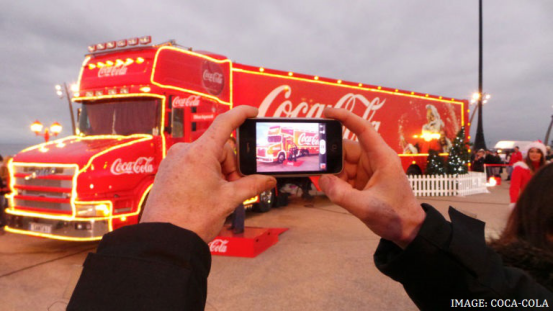 The company launches advertisements for the famous
Holidays are Coming
on TV. It encourages its fans to get involved on Twitter using the #HolidaysAreComing truck emoji. Fans can even share their pictures on Snapchat or Instagram in the festive period using Coca-Cola's unique filters.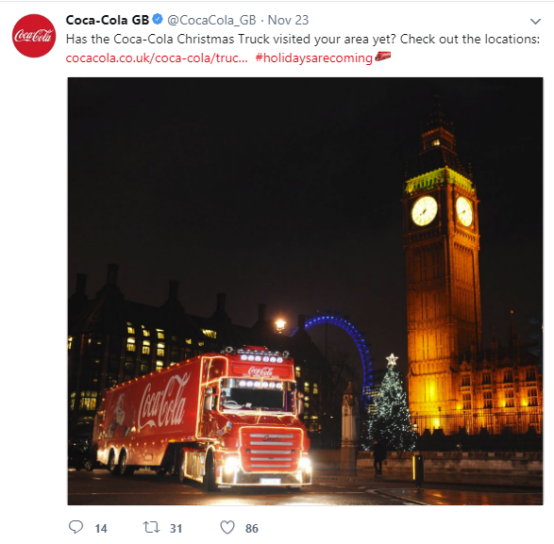 Coca-Cola is said to be responsible for inventing the modern Santa Claus to create brand awareness. Through its marketing campaign, the company wants to earn attention and empathy of the target audience. It has focused on selling not its coke bottles but delivering an experience to the people.

For the holiday season, Coca-Cola wanted to carve an identity as appealing as possible, and today people are attached to the ad. The company has encouraged thousands of people to take their pictures in front of the legendary truck. It has been able to take its advertising efforts into the streets, which is an experiential marketing effort.
The Holidays are coming marketing campaign is based on the concept of making people happy in the festive season. The same can even be seen on its social media pages. The campaign is built around the values of joy, experience, inclusion, and community, advocating the concept of emotional marketing.
Starbucks: personalizing products

Starbucks comes out with red colored holiday cups to engage its customers during Christmas. The cup has become an icon for the holiday season, which fans look forward to every year.
This year's cups have four different designs. There's a red cup too, but in a different way.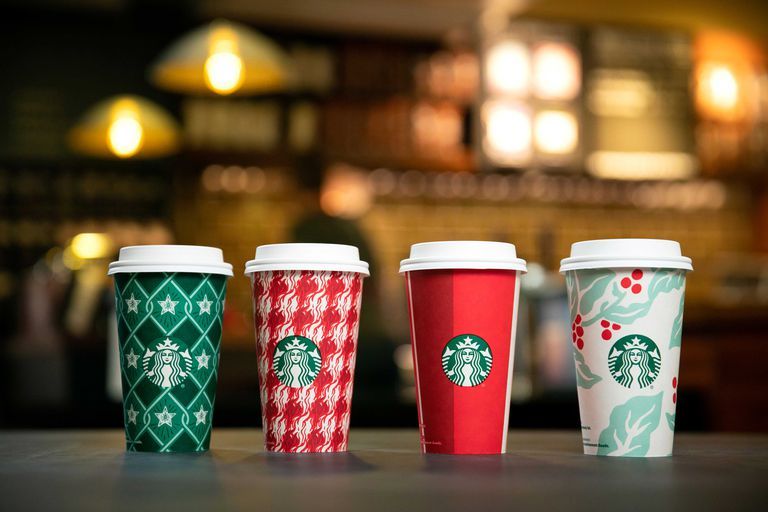 Image source: Starbucks

The below image shows the Starbucks cups from 2009 to 2017 for the festive season: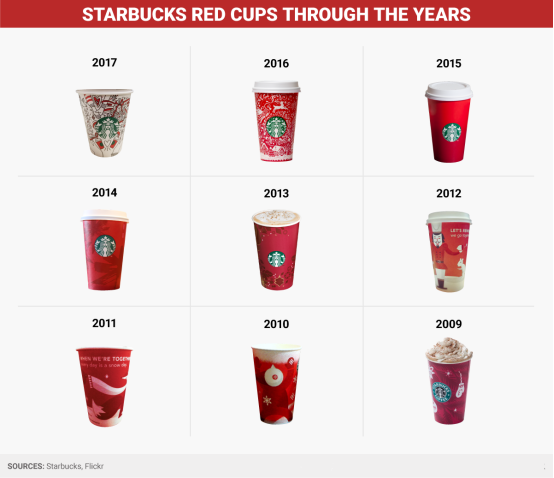 Last year the company introduced cups with red accents having a pair of hands holding red cups, festive ribbons and other illustrations like snowflakes, stars, hearts, and presents. Fans can color and illustrate the cup themselves as per their choice.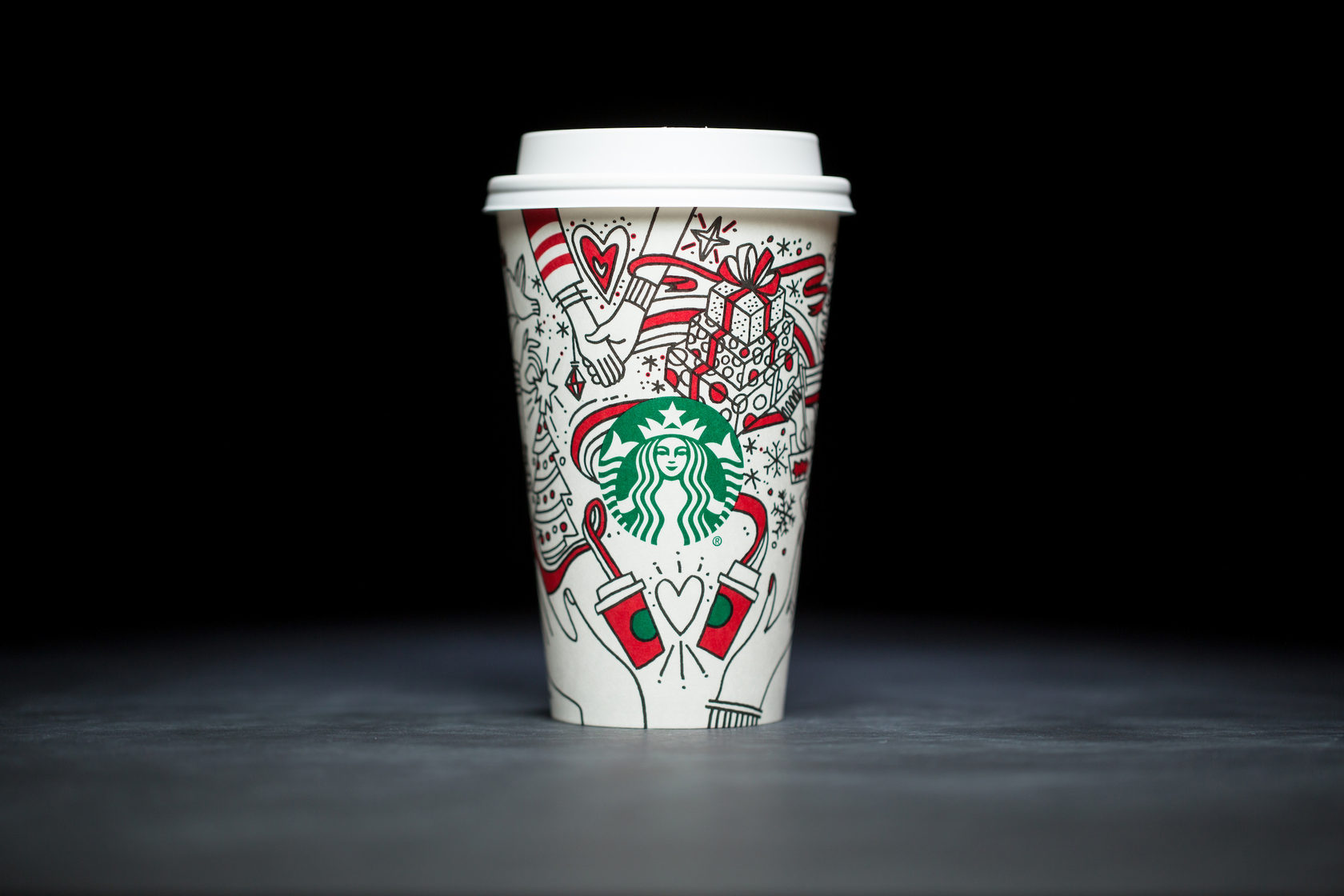 Image source: Starbucks

Later a new red holiday cup was unveiled to temporarily replace the color-in cups. The new design had a white heart held by two hands coming together to write someone's name, to make him/her feel special.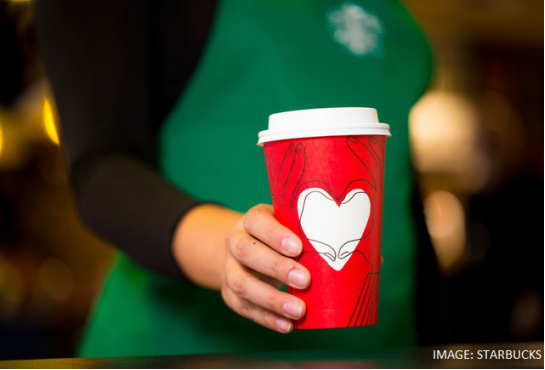 Starbucks asked its fans to write names and create festive decorations with the new cup and post these pictures on social media. It also has a red cup emoji on Twitter.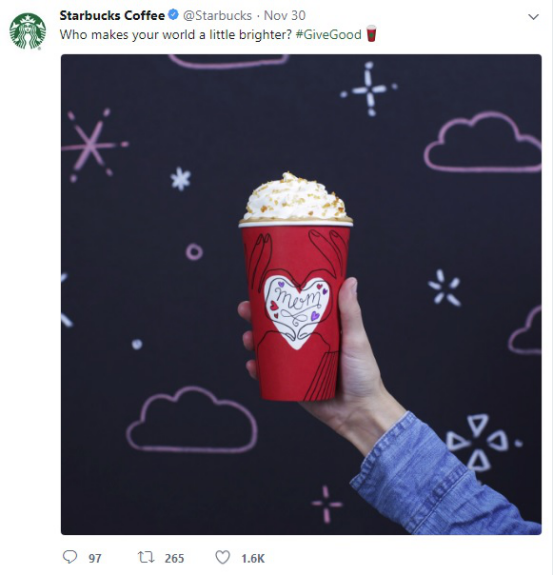 Starbucks has been designing cups since 1997 for the festive season to connect with its customers in a better way. With last year cups, the coffee giant wanted to encourage its customers to add illustrations and color, and write their names, to make them their own. It is a unique way of marketing for the company to involve customers and enable a two-way communication, instead of just talking to them.

Starbucks has set a social media trend by designing holiday cups. It is a very good example, which showcases that by bringing some packaging changes, you can stand out in the crowd. You can even generate excitement in your customers, who can positively influence your brand.

Every year Starbucks gets more creative in designing its cups to get customers in Christmas holiday mood. Fans like these cups and get excited to post their pictures on various social media platforms. Even celebrities post their photos with the coffee cups on social media, influencing their followers to get Starbucks coffee.

In 2016 Starbucks came up with a contest for the artists across the world to design its next holiday cup on the Starbucks cups. The company received 1200 submissions, which were posted on social media for its fans to see. This was a smart marketing technique by Starbucks, which not only compelled artists to buy Starbucks coffee to submit the design but also post on social media for all the followers to see and judge their designs.

HotelTonight: being different

HotelTonight is a mobile travel app that allows customers to book last minute hotel rooms just like Hotels.com. Its marketing campaign launched on Thanksgiving in the US and is relevant throughout Christmas talks about booking a hotel during the festive season by taking out time from the family life. In 2016, its humorous display ads revolved around its tagline
Visit, don't stay
. The idea was that you might want to stay away from your family during Christmas time and avoid wacky relatives.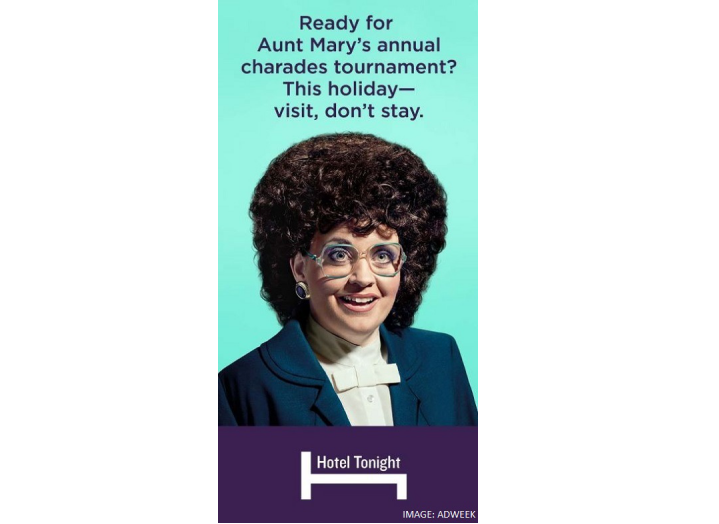 Last year HotelTonight introduced animal-centric ads as a follow-up to the 2016's cast of bizarre relatives. The ad with its
Visit family. Stay with us
tagline asked people to save themselves from their relatives' noisome pets, they might encounter when they are at home for the holidays.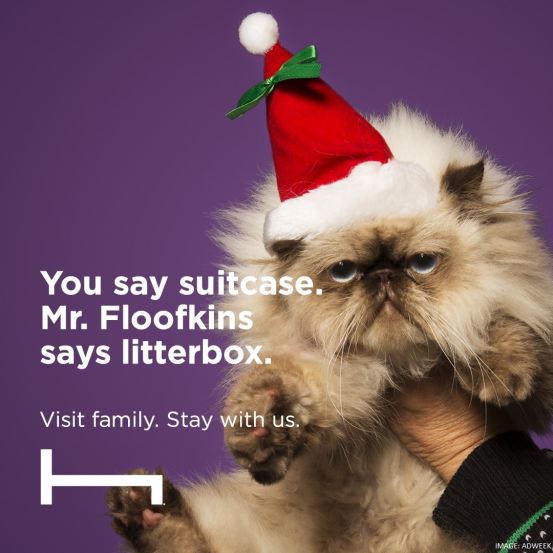 Through its humorous and entertaining display ads, HotelTonight wanted to encourage people to book hotels to make things more enjoyable in the holiday season. It wanted to convey that making time for yourself is equally important as visiting friends and family.
HotelTonight's marketing campaign had been widespread across social media platforms as well. In 2016, followers were asked to share their worst or funniest holiday family stories or experiences on social media and get a chance to win HotelTonight credits.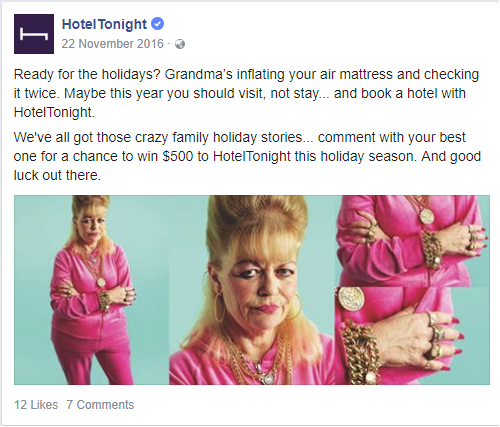 Most of the marketing campaigns focus on 'family togetherness,' but HotelTonight went against the tradition and came out with a different idea, asking people to book hotels as there's something like too much family time. Its holiday marketing campaign has been very popular, being able to speak in a different tone than its competitors.

The company is being humorous, confident, witty and appealing, trying to provide entertainment value to its audience. Its ads are highly visual, imparting a simple yet memorable message. The campaign has been lighthearted and amusing that many people can relate to.

HotelTonight has also made efforts to engage consumers on social media, leading to high visibility and enhanced brand awareness. Its social media marketing and display ads have been able to create a cheerful connection with the audience. The anti-family feeling is funny rather than hateful or serious, cleverly promoting the brand. HotelTonight has proved that humor is a great way to engage with customers and get them to share about your marketing campaign on social media.

Through your holiday marketing campaign, you too can spread your own holiday cheer to your customers and make them merry this season!
The competition is heating up, and your holiday marketing campaign has to be different to survive the competition. You can take away valuable tips and insights from the above examples to fuel your own marketing campaign in the holiday season. By avoiding to be a part of the clatter and connecting your audience through emotions and experience, you have better chances of success.
With a proper strategic plan, you can develop a stronger relationship with your audience and use the holiday season to your maximum advantage!
Found an error? Select it and press Ctrl + Enter to tell us
Cases, life hacks, researches, and useful articles
Don't you have time to follow the news? No worries! Our editor will choose articles that will definitely help you with your work. Join our cozy community :)
By clicking the button, you agree to our privacy policy.