What is mixed content and how to remove it from HTTPS-protected sites

Mixed content occurs when insecure elements are loaded over HTTP protocol to an SSL-protected page. An HTTPS page that contains any HTTP links is attackable which may influence SEO in a negative way.
What is mixed content on an HTTPS site
While applying HTTPS, it is essential to ensure only secure content on your site. Thus, all internal and external links to pictures, scripts, or other pages should be implemented relatively or over HTTPS protocol. It is recommended to apply links in a proportional form.
HTTPS pages are encrypted with TLS and protected from data theft. Mixed content makes your site fragile; it can undergo code altering if attacked. Subsequently, the connection fails to be secure.
In case an HTTPS page contains a link starting with
http://,
search systems identify it as
"mixed content error"
that degrades SEO.
According to
W3C specification, browsers report warnings about pages with mixed content: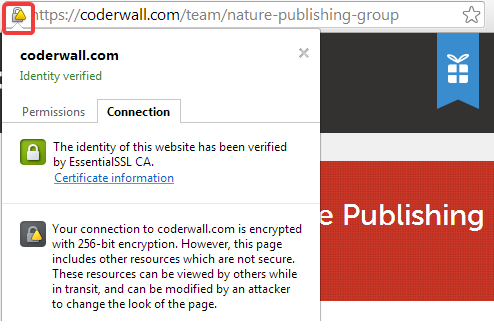 Error warning in Mozilla:

There are two groups of mixed content, passive and active.
Passive mixed content includes generally accessible elements that do not allow obtaining any kind of confidential or financial data when hacked.

Stealing such data via an insecure protocol cannot bring financial gains to fraudsters. All they can succeed to do is garbling your site by changing this content.

Passive mixed content includes pictures, audio files, video materials, and other elements that intruders may replace with hard-hitting files, thus disrupting the resource's normal course of work.

Active mixed content
includes scripts and frames that can seriously harm the site and its users if stolen. Src attributes of <script> and <iframe> tags are the foremost elements that refer to this type of content. Other endangered features are:
href attribute of <link> tag;

data attribute of <object> tag;

URL parameter in CSS styles;

XTMLHttpRequest including its queries.


In theory, this kind of mixed content may allow hackers to seize personal data, passwords, bank card numbers, etc. Even if users type in confidential information on a secure page, fraudsters can use scripts to arrange redirection to an unsafe resource where this important data will be stolen.
It is strongly recommended to avoid entering plastic card data if you have the slightest doubt about the site security.
Detecting and preventing insecure content on HTTPS pages
Using browser developer tools to check a big resource that contains a large number of pages is very hard work. In order to automate and simplify this process, you can use "Site audit" module by Serpstat. Open "HTTPS Certificate" section of the summary report: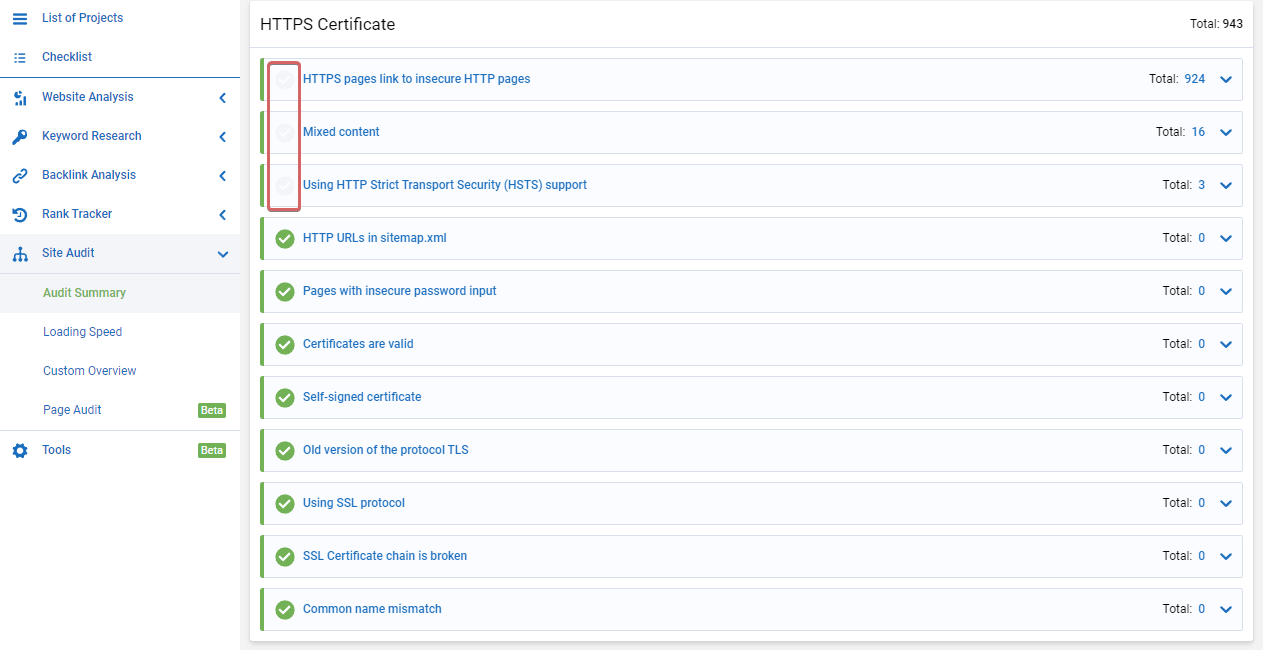 The report points out the errors related to mixed content. Let us examine the provided example in detail.
Invalid links from HTTPS to HTTP pages.

This error may be corrected by changing HTTP to HTTPS in internal links on the indicated pages.


Use of HSTS support.

This error type is attributed to web server peculiarities. To dismiss the error, you need to address hosting provider service to learn if it approves of using HSTS. The algorithm enables automatic transfer to the secure protocol even if a user starts entering a link with http://.


Insecure elements on the page.

If this type of error was reported, inspect the identified pages for any links starting with http:// and replace them with https://. In case these links transfer users to HTTP pages, you should download only the necessary information from such resources.

For example, it is better to upload required pictures or scripts to your own site instead of using links that lead to insecure sites. The next step is to replace the undesirable links to relevant ones or enable HTTPS protocol.


In addition, by using Serpstat report, you can find the insecure links included to the sitemap and find out if your project still contains any HTTP pages.
Besides, the site can be checked by any scanning program like SEO Frog which may also provide a total list of links with http and https applied in your site.
Mixed content undermines site appearance and SEO; for this reason, it should be timely detected and removed. It contributes to SEO, helps to dismiss browser warnings, and ensures user security.

All browsers are obliged to inform users in case a site contains insecure elements; potential visitors may prefer a competitor site that provides safe content.

You can turn to developer tools to detect the problems manually; however, it may take very much time. A quicker way to get detailed data concerning the incorrect use of HTTPS is using Serpstat.

A resource should be scanned for insecure links shortly after the site was created or protected by https.

In order to deal with errors, you should replace the links with https:// variant or upload required files directly to your server after downloading necessary information from other sites and then use relative links.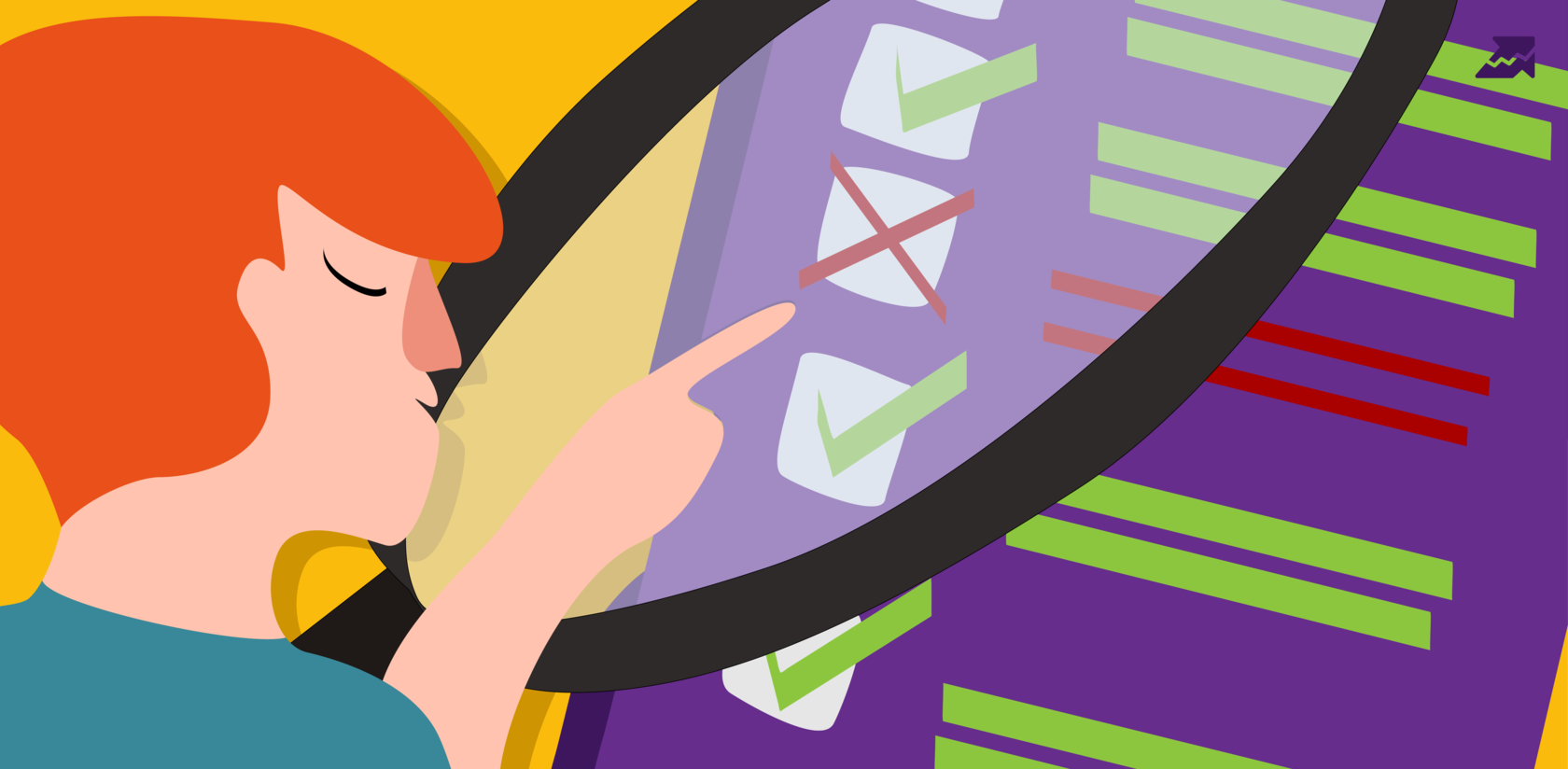 " title = "What is mixed content and how to remove it 16261788339478" />
Audit all the site or page in one click. A complete list of errors, sorted by severity, ways to resolve them and recommendations. Any frequency of verification and automatic email reports.

Speed up your search marketing growth with Serpstat!
Keyword and backlink opportunities, competitors' online strategy, daily rankings and SEO-related issues.
A pack of tools for reducing your time on SEO tasks.
Found an error? Select it and press Ctrl + Enter to tell us
Cases, life hacks, researches, and useful articles
Don't you have time to follow the news? No worries! Our editor will choose articles that will definitely help you with your work. Join our cozy community :)
By clicking the button, you agree to our privacy policy.