How To Use Landing Pages For Successful Marketing Campaigns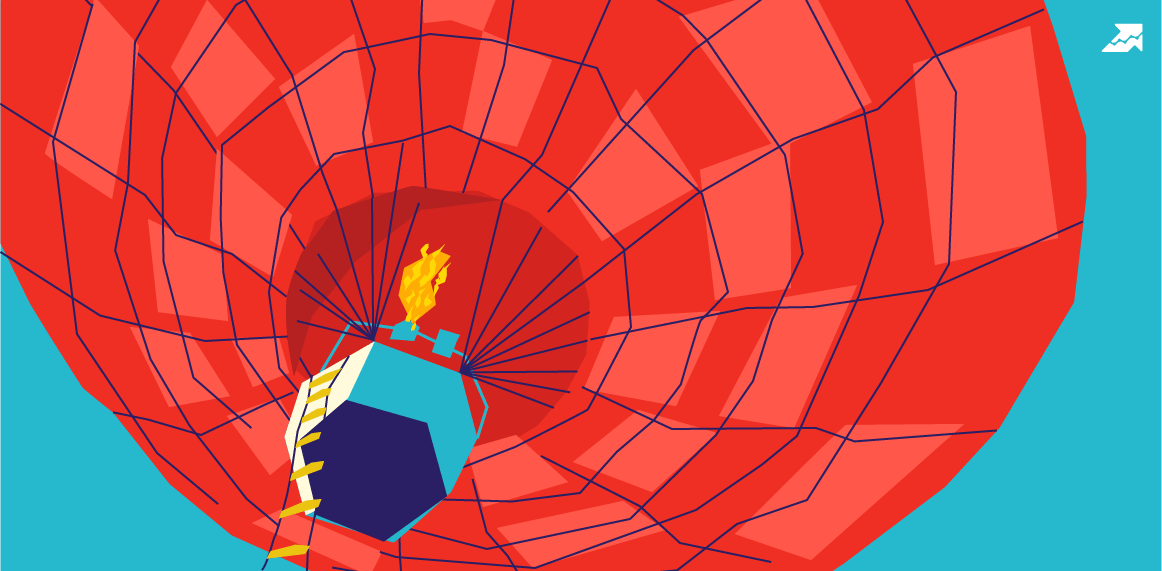 For lots of marketers and freelancers, using landing pages for a marketing strategy is something outlandish. I know they were for me when I first started my freelance business!

While the concept of a landing page seems pretty simple — it's any standalone page distinct from your website and aimed at generating leads or driving traffic to other pages of your site — putting it into practice can be way more complex.
The thing about how to use landing pages, though, is that they can be powerful marketing tools when you use them right. For PPC campaigns, driving event traffic, enticing people to enroll in an email newsletter, and even promoting new products or business launches, landing pages are your secret weapon.

In this landing page marketing guide, I'm going to walk you through the ins and outs of landing pages, and suggest a few actionable ways to use them in your marketing campaigns.

Let's get started.

Landing pages for campaigns by the numbers
Wondering what are page campaigns and how landing pages can enrich your overall marketing strategy? Consider these unique landing page statistics:
During his election campaign, U.S. President Barack Obama used landing pages and A/B testing to raise an additional $60 million in funding.
Companies that have 15 landing pages see 55% more leads than companies who only have ten landing pages.

Companies with more than 40 landing pages earn 12x the leads of those with 5 or fewer landing pages.

The average conversion rate on a landing page is 1-3%.

Using the right types of testing and targeting on your landing pages can boost your conversion rate by as much as 300%.

As you can see, landing pages are incredibly useful tools for driving conversions and capturing leads. Unfortunately upwards of
20 percent of companies don't have an effective landing page testing strategy, and more than 62 percent of the brands using landing pages have six or fewer pages to their name.
All this just comes to prove that, on the whole, landing pages campaigns are under-utilized, and that figuring out how to incorporate them effectively into your marketing strategy is one of the best ways to stay ahead of the pack!

How to use landing pages in your marketing campaigns: 3 smart tactics

Now that you know how landing pages campaign can fuel your overall conversion rates, let's discuss several smart tactics on how to weave them seamlessly into your marketing campaigns. Here are some tried-and-true tricks:

#1: Create a new landing page for every PPC campaign you run

When you develop landing pages that relate to your PPC campaigns, you make it easy for people to find more information. Landing pages marketing strategies are most commonly used as destinations for PPC campaigns and can go a long way toward boosting your results.

Just be sure that you've researched your keywords and target audience thoroughly before you build the page.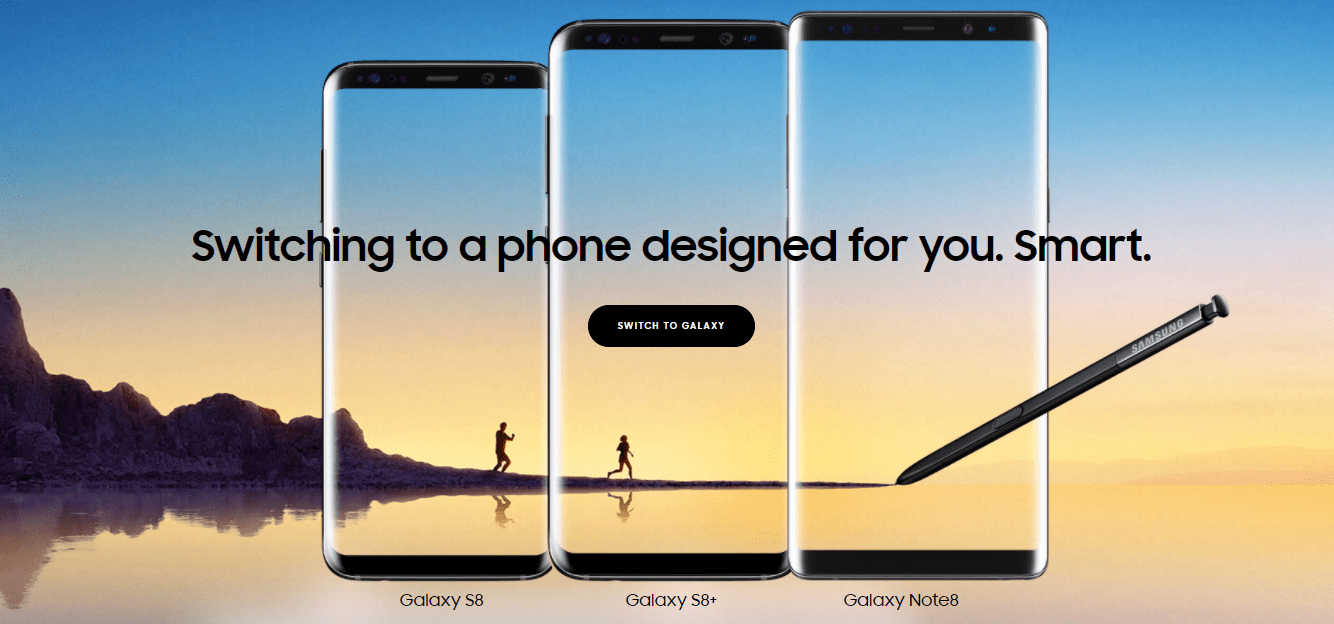 Landing page for marketing promotion of the Samsung Galaxy Note 8

#2: Use landing pages to provide customer segments with custom destinations
Landing pages dovetail beautifully with social media marketing. Regardless of whether you use Facebook, Twitter, or Instagram to run your promotions, a landing page can help make them more efficient.

Before you build landing pages campaign to complement your SMM strategy, make sure you've come up with a compelling offer and a unique value proposition. Remember that landing pages aren't the place to make a hard-sale or wax poetic about how great your brand is. Social media is an organic platform, and landing pages should follow suit. Keep it natural and user-focused for the best results.

For example of a brand that does this well, consider cosmetics company Glossier: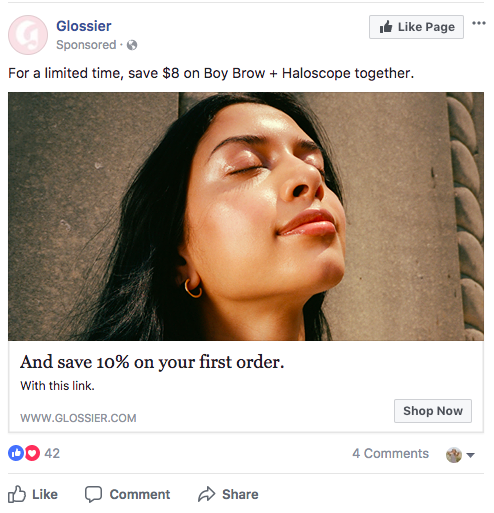 SMM strategy and landing campaign makes the great marketing effect
This post addresses the company's audience, provides a compelling offer, and directs users to a simple, straightforward, and easy-to-use landing page, which further explains the benefits of the product and offers a series of supporting videos and images to convince on-the-fence leads: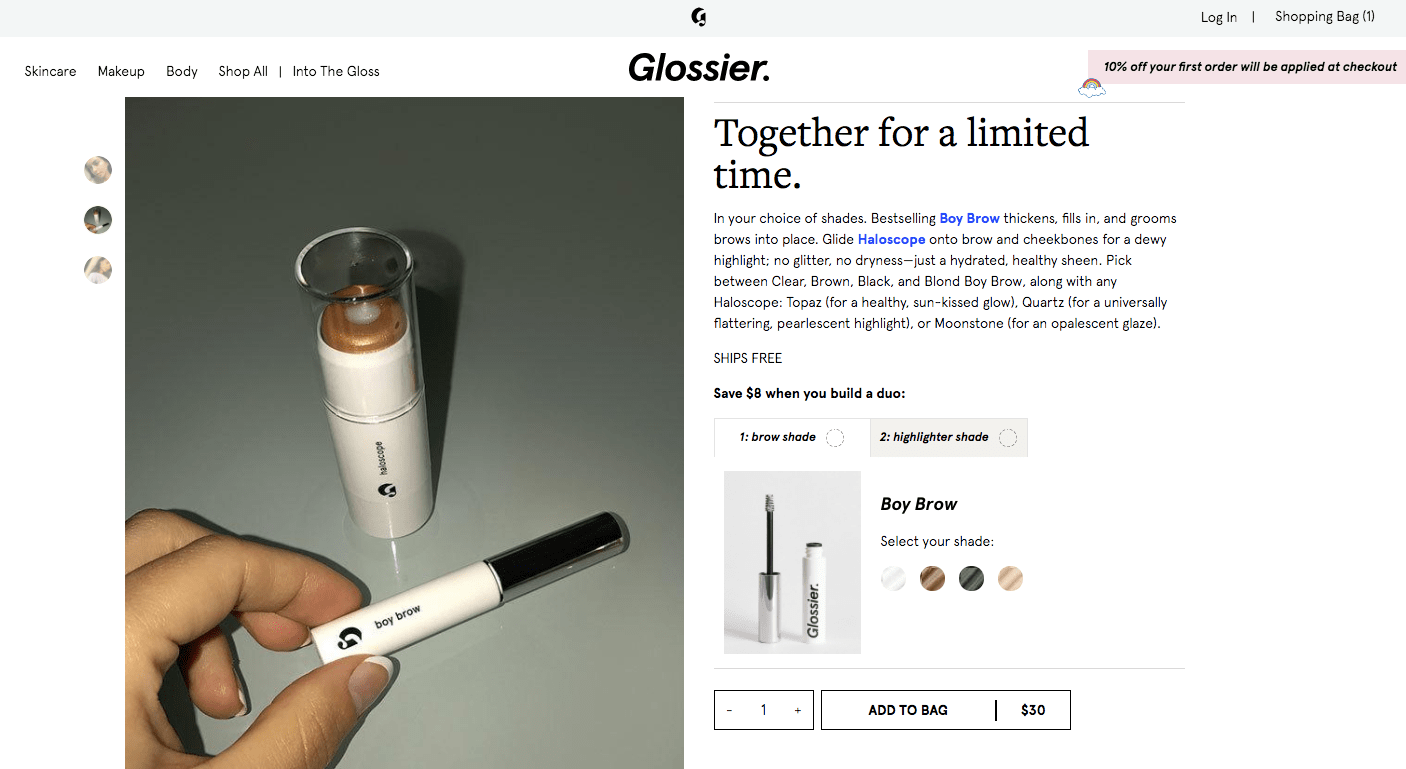 Combine different types of content in your landing page strategy
The landing page even offers a series of confidence metrics, including reviews and rewards, to set consumers' minds at ease and prove the value of the product. The page even offers a series of confidence metrics, namely awards and consumer reviews, to set customers' minds at ease and help them see the value of the product more clearly.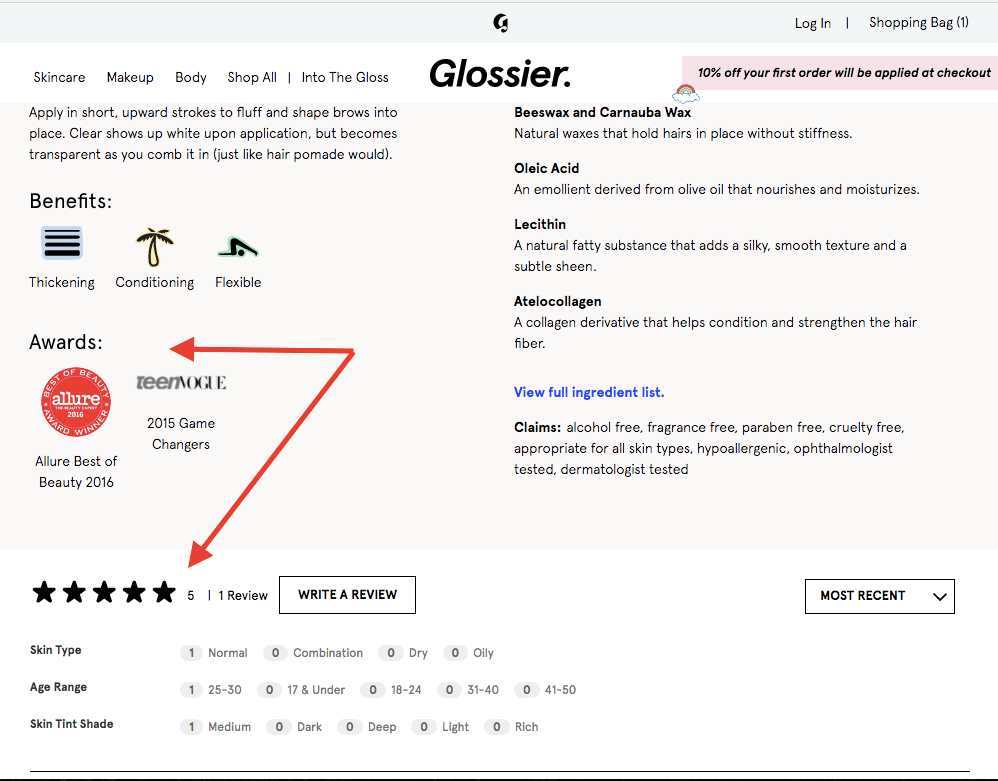 Landing page marketing campaign should show your strong sides

#3: Use landing pages to capture emails
If you're looking to build your email list, look no further than the power of landing pages. Ideal for giving away free content (like ebooks and downloadable lists), landing pages provide the room to give an in-depth value proposition without cluttering your website or social feed.

Even when you're using landing pages to build your email subscribers, though, you'll want to keep brevity in mind. Yes, landing pages provide a good opportunity to share long-form offers with your leads, but they should still be concise, to-the-point, and respectful of the reader's time.

When I first started building campaign landing pages, I treated them like novels. Instead of writing a short, concise offer and a unique call-to-action, I was busy penning Moby Dick and getting all excited about how much my readers would love it.

Guess what? They didn't. NOBODY converted.

Eventually, I figured out that the best offer doesn't have to be long. When I started paring things down and focusing, instead, on the reader's experience, things took off like gangbusters. Quicksprout confirms this in a really compelling case study: Confidis, a French organization specializing in credit loans, was building landing pages to encourage people to sign up for a program.

The first page was the definition of long-form: it included images, navigation, customer support links, and more. The second version of the page stripped all these things out and kept it simple and straightforward. The results looked like this: 48% more people converted to the shorter version of the page than the longer one!
Lesson: Keep your landing pages short, simple, and to-the-point. Put the most critical information "above the fold" and be sure you're cutting anything that doesn't offer immediate value to a customer — even on a longer-form page.


10 essential tips for landing page optimization

It's not enough to just build a landing page. You also have to know how to optimize it. For best results, follow these tips:


#1: Focus your landing page strategy on a single offer
Today,
48% of landing pages showcase multiple offers. Experts advise to follow the rule "the less is more", as multiple offers confuse your readers. To boost conversions, keep your pages limited to one offer per page.
Here's an example of how lifestyle coach Tim Ferriss does this on the landing page for his podcast: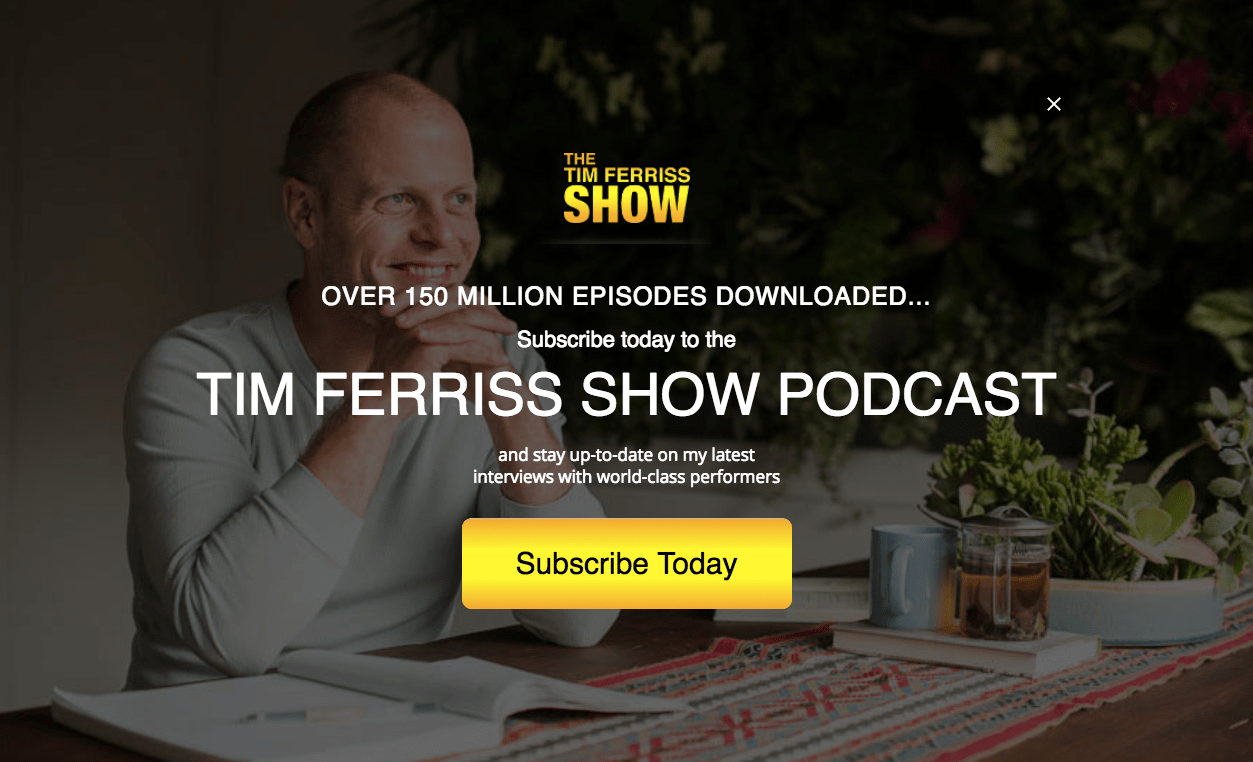 Tim Ferriss` landing campaign with multiple offer

#2: Don't make anything besides forms and opt-in buttons clickable
The idea of a landing page is to keep your readers on the page until they convert. As such, you don't want anything except your CTA buttons or forms to be clickable. With this in mind, remove links from images and resist the urge to make your offer-related graphics go somewhere else.


#3: Optimize EVERYTHING for mobile
Today, there's no excuse not to optimize your pages for mobile. More than 75 percent of all web users currently access the web on their mobile phones. This means that landing pages which aren't optimized for mobile could be costing you tons of conversions.
Think you have to be a design genius to create mobile-friendly landing pages? Think again.
There are a number of advanced website builders, like Ucraft, that provide built-in tools to optimize your landing pages for any mobile device. Using
Ucraft to create an LP or your personal website, you'll find that every template is automatically mobile-responsive.
When you're optimizing your landing page, don't forget to optimize your forms and CTAs, as well. For an example, check out this well-optimized landing page by Neil Patel: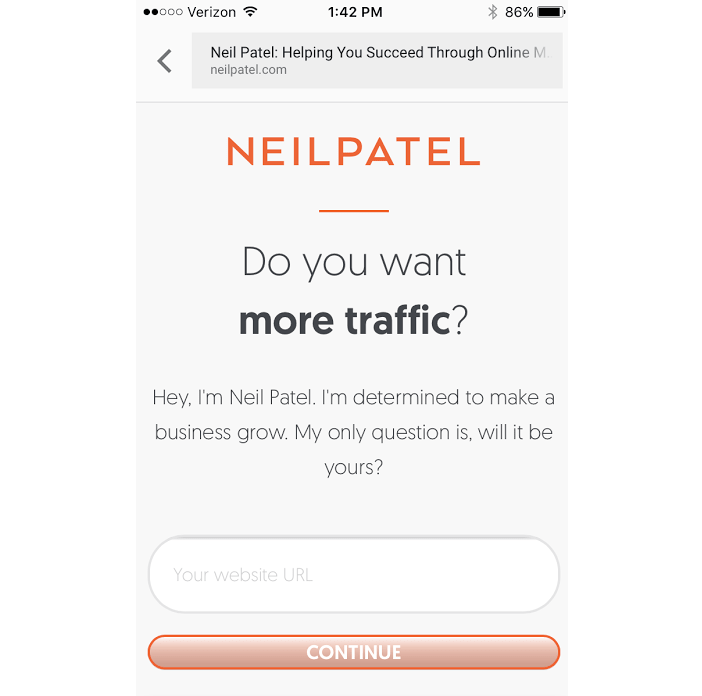 Example of well-optimized landing page
According to The Whole Brain Group, adding a video to your landing pages can boost conversions by as much as 86%.

For best results, build an in-depth explainer video or testimonial video for each landing page you create. Alternately (although this isn't quite as effective as adding a video), you can opt to include high-quality images that communicate your value proposition.

It'll boost your engagement and offer the social proof people need to take the leap! Here's a Crazy Egg page that does it well: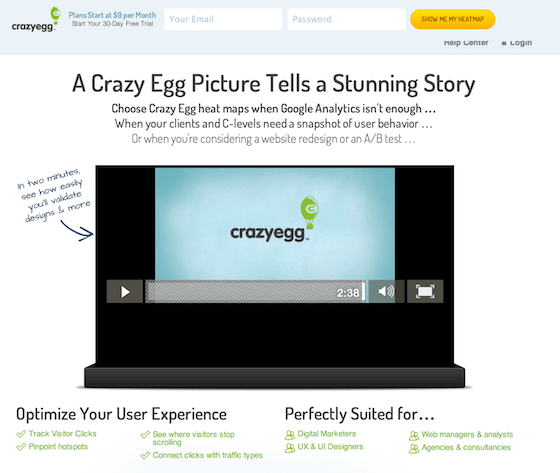 Enhance your landing page marketing strategy with video content
Remember, companies with between 10-15 landing pages gain 55 percent more leads than companies with less than ten. With this in mind, build a landing page to cover all audience groups of your marketing campaigns. Your bottom line will thank you.

If you're a small business that doesn't have any use for 15 landing pages, remember that you're not bound to that number. The general takeaway is this: the more landing pages you create for your business, the more likely it is that people will convert. With this in mind, create a new page for every campaign you run, and be sure each is unique from the next.


#6: Follow the checklist of the landing strategy
Landing pages come in all shapes and sizes, but the best ones share a few things in common. Before you let your landing page go live, you'll want to review it to ensure it includes all the following components:
A headline and sub-headline: these should include keywords and be actionable and compelling for your audiences.
A description: keep it brief and emphasize the offer's value.
An image: you can also use a video, if you'd prefer. Every page should have at least one visual element.
An opt-in form: this is for capturing visitor information, and should be simple to use.

Here's another Tim Ferriss page that does this well: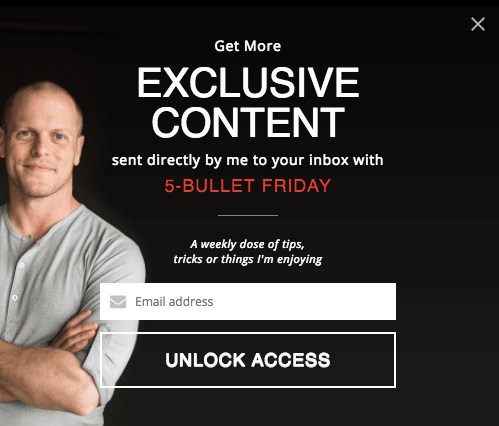 Example of the landing page for campaigns with nice structure

#7: Keep your headline and CTA aligned
To drive as many conversions as possible, your page's headline and CTA should go hand-in-hand. Consistent messaging improves your page and makes it more actionable for users. Consider this example: someone clicks a CTA that promises a free offer. Once they get to the landing page, though, they find they have to pay for a PDF. You can bet this person is going to bounce!

Instead, keep your CTA and headline consistent and ensure you're delivering on your promises. This builds trust and keeps users right where you want them. For best results, go so far as to keep your actual wording consistent. For example, if you use the words "free demo," be sure to continue using "demo" and "free" throughout.


#8: Pitch value not features
When people land on your page, they want to know why your offer is valuable, not what it's million features are. As such, you'll need to highlight the benefits of your offer in a concise paragraph or a few well-written bullet points. Remember: the clearer it is for your readers, the more willing they are to take advantage of the offer.

For best results, give your audience tangible bits of information. You might say something "decreases stress by 50%" or "boosts ROI 10x in 3 days." When your readers know that something provides proven results or addresses a specific issue, they're much more likely to dive in.

Your landing page should facilitate easy social sharing. If you haven't already, be sure you're adding social sharing buttons on your site to enable prospects to share your offer with their friends on social platforms like Facebook. This is a double-edged sword, though: too many social sharing links can actually paralyze users and
result in less sharing.
With this in mind, be sure you're only including links to the social profiles you use frequently, and which produce a positive ROI for your brand.

#10: Only collect the information you need
Don't make your users jump through dozens of hoops by collecting all of their information. Instead, only take the information you need to qualify leads. In some cases, this is just an email, in others, it's a name, location, and email. The makeup varies from company to company, but be sure to check in with your forms to see that they're as simple as they can be.
Here's a nice example from
HubSpot: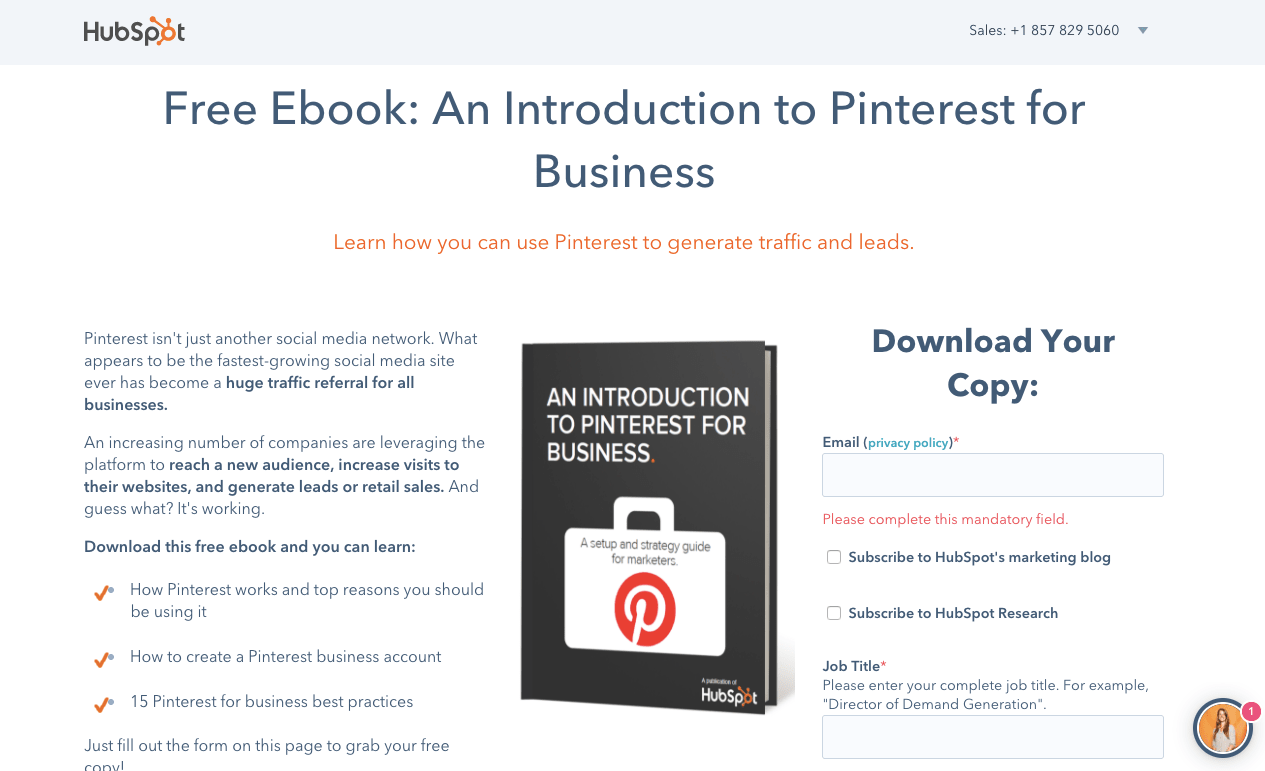 Landing page strategy should represent the most relevant information

Summary: every great business needs a good landing page

When I first started my freelance business, I had no idea how to use landing pages to grow or improve it. Today, however, landing pages are one of the primary "tools" in my toolbelt.
In addition to building them to complement and enhance my social campaigns, I use them to give away free content and more. Plus, building valuable landing pages has become easier than ever due to mobile friendly drag-and-drop builders.
In conclusion, landing pages are powerful tools for your company. When you know how to create them, when to create them, and how to optimize them for your audiences, you're bound to enjoy higher conversion rates than you ever thought possible.
You can also check the
Best Landing Page Builders list by G2Crowd :)
Speed up your search marketing growth with Serpstat!
Keyword and backlink opportunities, competitors' online strategy, daily rankings and SEO-related issues.
A pack of tools for reducing your time on SEO tasks.
Found an error? Select it and press Ctrl + Enter to tell us
Cases, life hacks, researches, and useful articles
Don't you have time to follow the news? No worries! Our editor will choose articles that will definitely help you with your work. Join our cozy community :)
By clicking the button, you agree to our privacy policy.