Google's Automatic Sanctions: How To Get Your Website Out Of The Filter
You're not notified when your website falls under the algorithmic filters. It is only possible to see that sanctions of search engines have been imposed on your website if there are traffic inclinations. If you take the required actions immediately, Google filters can be withdrawn over time.

What Google filters are there, and why are they imposed?
Search engines impose restrictions on websites of different age groups, subjects, and volumes. Traffic on any website can significantly decrease, even if this is a well-known and respected website.

However, search engines are more demanding for "young" websites. Practically any website is subject to restrictions for the first time after its creation. With proper unhurried optimization, these restrictions are automatically removed after a few months.

Below is a short-list of reasons why a website may fall under algorithmic sanctions, as well as the main types of filters.

These are the restrictions that are placed on newly created resources. The old domain only falls into the sandbox when the level of trust from the search engines drops, i. e. when your website is suspected of violations, but they are not proven. Basically, the duration of the restrictions is up to 6 months.

How to speed up exiting the sandbox?

Optimize your website using "white" SEO methods.
Gradually increase your link base.
Only include your thematic keywords in the texts.
If your domain has existed for a long time, and you suspect that you are in the sandbox, temporarily limit the use of high-frequency queries and switch to low-frequency ones. After a few months, when the traffic is leveled, return to high-frequency queries.

The restriction is not imposed on the entire site, but on one or several pages. For example, if most of the external links are anchors and only lead to one page, weight transfer via external links may stop the filter.

To remove it, you need to partially remove links and replace the other part with as many non-anchor ones as possible.

#3
Active increase of the links count
If the search engine registers a rapid increase in the number of external links, they are all disabled by the filter. To remove it, you will have to reduce the pace of link building and continue to maintain a minimum speed.

In this case, your website is displayed in the hidden part of the search when scrolling down the page. To see the link to your resource, the user must click "Show hidden results." This filter is often imposed for copying information inside the website or from other resources.

Lack of internal optimization, including interlinking, may also be the reason for that. After eliminating these problems, the website will take its previous position. You can check if there is such a filter through the search line on Google. Type:

If your website is displayed in hidden results, a filter is imposed on it.
This filtering algorithm lowers the website pages by 30 positions. This happens when black optimization methods are used. For example, if a PBN is detected, or hidden page redirects are applied.

To get rid of the filter, you need to stop using these methods and remove existing links from banned donors.

The filter algorithm examines the quality of external optimization. Your website can be punished for:
fast link building;

a mismatch in the subject of your website and your donor websites;

using banned donors;

redirects to the main page;

a large number of broken links.


It's not easy to free your website from this filter. It is necessary to completely fix the external optimization issues, carefully check each link, and wait for the result.
You can try reaching Google support, but this does not always make sense. You must contact them if you cannot contact the owners of the donors whose links you want to remove. Decline them and report this to the support team.
Colibri checks the semantic core and its relevance to the subject of your website. The entered query should lead the user to a website with useful and comprehensive information.

If the content on your website is of poor quality and the texts are overly optimized, your website will probably fall under this filter. Its algorithm recognizes the meaning of search queries and can match it with information on the website. So you will not be able to deceive the search engine with low-quality content.

This is one of the heaviest filters, the hardest to get rid of. If there are an excessive number of keys, outgoing links, duplicates, and advertisements on the pages, you should expect the traffic decrease. Often this filter is imposed for copying information from other resources, spam in comments, excessive mention of major keywords.

To get rid of the filter, you need to comprehensively work out the content segment. Sometimes you have to replace most texts on the website. After the changes are introduced, you need to wait a long time, normally, for over a year.

Are there eternal Google filters?
Google claims that no website can be banned forever. If the owner of the resource timely finds out about the problems, starts resolving them, and at the same time uses white methods, Google's sanctions will be removed automatically.

Another thing is when a long loop of filters stretches behind the site, and the reputation of a spammer has been laid on it more than once, it is practically impossible to fix the situation. In this case, it's easier to transfer the website to a different domain than to solve problems for years and try to improve your reputation.

How to find out that your website is under Google filters?

If you analyze organic traffic and visits data, you will be able to assume that there are automatic sanctions. Normally, in this case, there is sharp subsidence in the website ranking in search results. If your website has only lost a few positions, it is most likely that your competitors have taken up active promotion and the issue is not in the filters. But if the competitors' rankings are the same, and your site has remarkably fallen, it is likely that it lost positions under the algorithm impact.

One can surely argue about the sanctions with a sharp decrease in organic and direct traffic. In this regard, seasonality and the content modifications should be taken into account, as they can also lead to a temporary ranking decrease.

Check the search results in the Google Search Console and manually, compare the results with the same period in previous years. Here's what the site looks like under the Google filter on graphs: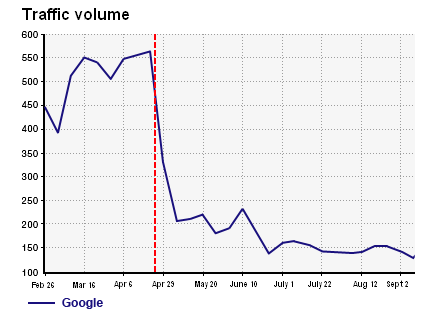 There is often a dramatic increase in the website ranking before a sharp traffic decrease. This is due to the use of different optimization methods, including black ones, which lead to an improved ranking. After detecting violations, traffic drops sharply.

The main reasons for a website to fall under search engine filters are related to low-quality content and external links, as well as violations in internal optimization. Google sanctions can be imposed on individual pages or to the entire website.

To remove the effect of the filter algorithm from the website, you need to completely fix the violation issues and wait for the ranking to come back. Light Google filters are automatically removed in a few months. Serious ones like Panda or Penguin will make you spend at least half a year to get rid of.

Speed up your search marketing growth with Serpstat!
Keyword and backlink opportunities, competitors' online strategy, daily rankings and SEO-related issues.
A pack of tools for reducing your time on SEO tasks.
Found an error? Select it and press Ctrl + Enter to tell us
Cases, life hacks, researches, and useful articles
Don't you have time to follow the news? No worries! Our editor will choose articles that will definitely help you with your work. Join our cozy community :)
By clicking the button, you agree to our privacy policy.