// В этом файле есть те нужные стили которые в других файлах нет.?>
SEO

–

10 min read

–

January 10, 2019
Best Search Engine Alternatives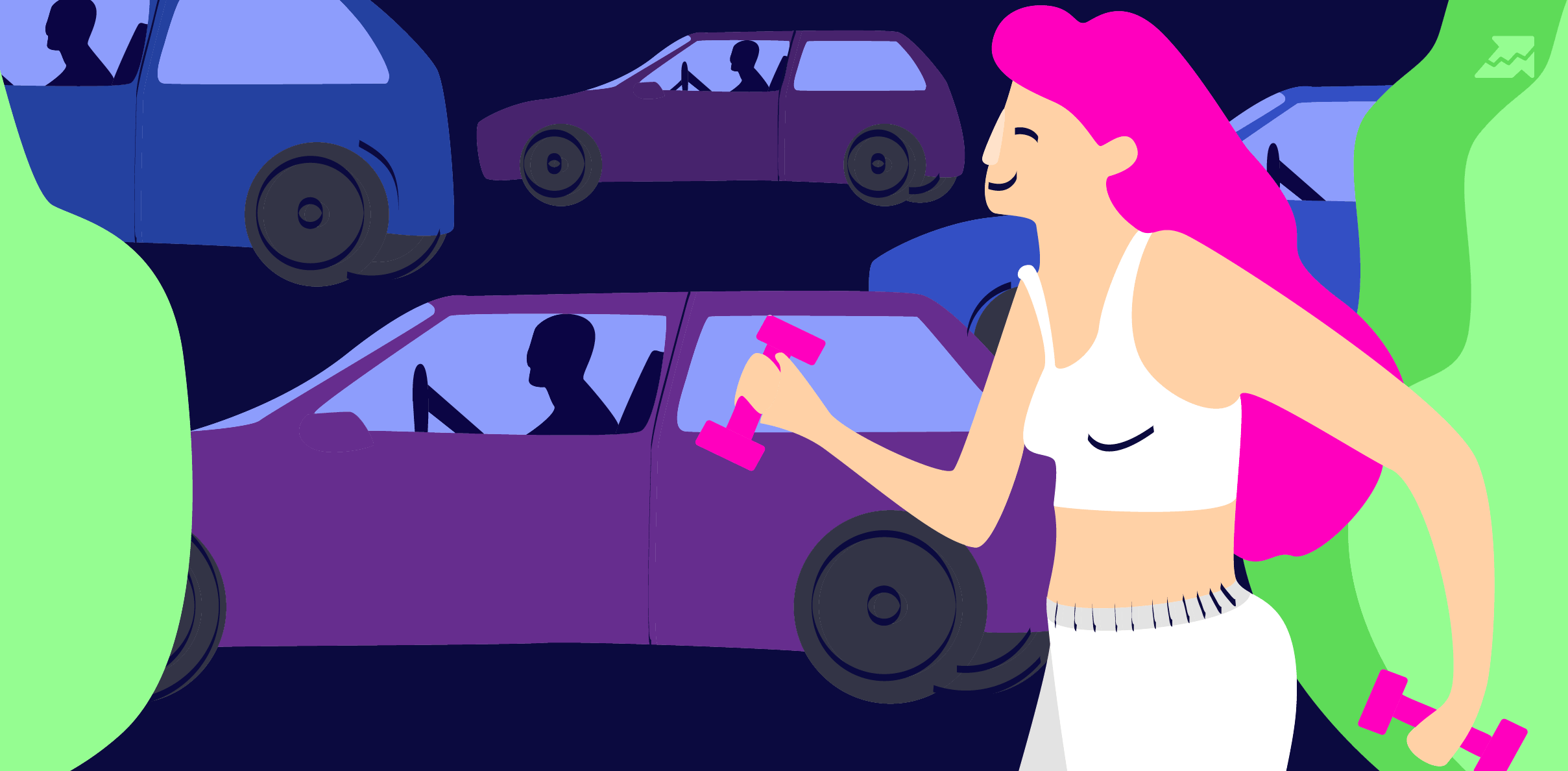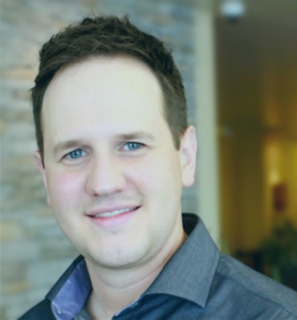 Ryan Gould
In July 2018, Google generated
over 63%
of all core search queries in the U.S. Microsoft and Oath (formerly Yahoo) didn't even collectively come close, at 24% and 11.5% of search queries, respectively.
While the statistics paint a clear picture of Google's dominance over conventional search queries, they don't tell the full story of how people search for specific things, where they search, and what websites, apps, and devices they use to find the stuff they want.
These days, search is more than Google

Sure Google has 93% of the search market share, but does that mean it's the best place to search for everything? The short answer is: no.
While Google may be the starting point in your quest for conventional (broader) information, it's not always the best place to quickly find what you're looking for.
Here are some examples of websites and apps that serve as alternative starting points to searching on Google.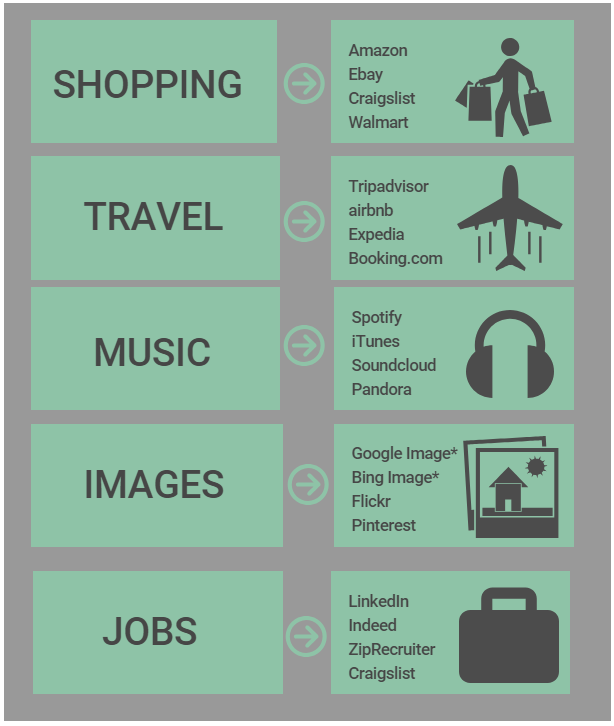 Note:
Google Image and Bing Image are listed as alternative search destinations to conventional search engines even though they are, in fact, actual search engines. But image search is its own animal and the results are (primarily) featured in a separate section of each of these engines, which is why they're listed among the alternatives.
Vertical search, for the win!

As illustrated above, there are many specialized websites (or apps) that focus on one topic such as travel, music, and shopping. These sites are sometimes referred to as "vertical search engines," and their popularity is evidence that the way we search is changing. Many of the sites serve multiple purposes.
For example,
LinkedIn
is a robust job search engine, but it's also a professional social network where companies recruit new talents, users can join groups to exchange information, and people can share and consume content on self-promotion, marketing, advertising, and professional development.
The need (and expectation) to find specialized content quickly drives people to seek search engine alternatives and is causing fragmentation of conventional search — a breaking away (for certain things) from the ever-ubiquitous Google.
Consider the following pie chart: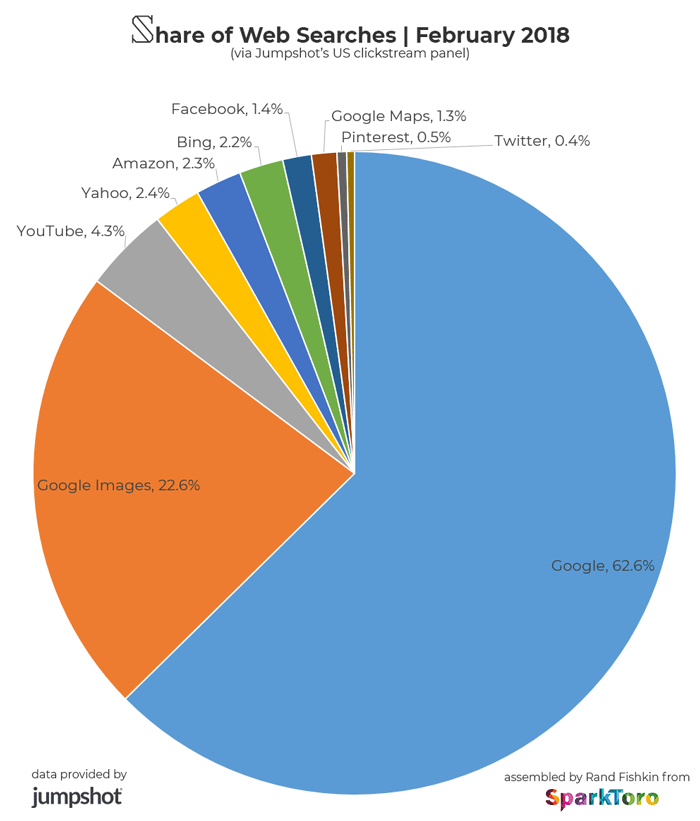 This chart is a great visualization of how vertical sites like YouTube (video), Amazon (shopping) and Pinterest (images) are fragmenting the search engine pie. Even though Google and Google Images are massive in comparison, all the sites listed above have a huge user base.
This post is about the best search engine alternatives - with a twist. We're going to list some of the best vertical search resources (sites and apps) broken down by category. Chances are you're familiar with some of these resources, but hopefully, we'll introduce you to some new gems that you can add to your arsenal of resources.
Let's get conventional search engines out of the way. Sure, there's Google, Bing, and Yahoo, but here are some alternatives if you want to shake it up a little.

DuckDuckGo
is a Google alternative that protects user privacy. The site doesn't personalize search results because they don't profile their users. DuckDuckGo generates results from hundreds of sources including sites like Wikipedia, and other search engines (so it's kind of a "meta-search" engine).
Archive.org
is a nonprofit library of archived free content including books, movies, music, software, and websites. Users can search collections of content in a variety of ways by drilling down from the content type to the content source (for example), by keyword, and by content source (e.g., the Boston Public Library). Archive.org's
WayBackMachine
allows users to search billions of archived web pages saved over time. For example, here's what Google looked like in 1998, the year they launched: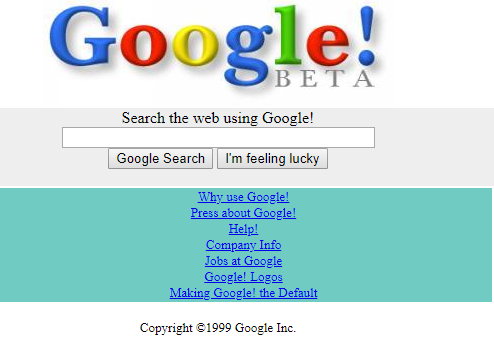 A screenshot of Google's original home page from 1998 (how cool is that?)

There are two kinds of Google alternatives when it comes to product search - retail stores bucketed under one (or a few) brands such as OldNavy.com which includes several brands under the Old Navy umbrella (Gap, Banana Republic, Athleta, etc.) and meta-shopping sites such as Google Shopping. We're leaving out Google Shopping and Amazon since they're so ubiquitous and offer up some alternatives that you might not know about.
Wayfair.com
sells home decor, furniture, and other household goodies. The site gets over 15 million monthly users (according to
Quantcast
) and is known for its massive catalog of products and brands. Prices tend to be lower than department stores, and they offer free shipping with most purchases (for orders over $49).
Nextag
is a price comparison website that was launched in 2000. You just type in a product - say, Ugg Boots, and Nextag searches multiple eCommerce websites like ShoeMall, Zappos and Macy's to help you find the best price. The site has great sorting capabilities that allow you to narrow your search down by color, price, category, seller and more. Nextag receives 30 million monthly users primarily in the U.S.
Newegg
specializes in electronics, computers and other gadgets as well as office supplies, but they've expanded into other categories including jewelry and apparel. Newegg is known for excellent customer service. They offer a premier membership program for $50/year which includes perks like free 3-day shipping, free returns and rush processing.

Amazon Music
is Amazon's streaming platform which was launched in 2007. The music engine includes tens of millions of songs, all of which can be accessed through Amazon's music app or via their website. Amazon Prime members have access to some of this music for free with their prime membership, or you can subscribe to the unlimited music service to gain access to Amazon's entire database of songs (ad-free and available for download).
YouTube
(for music) is a great alternative to traditional search engines if you want to listen to your favorite music or discover new stuff. The Music channel on YouTube has over 100 million subscribers and features official videos from popular artists as well as new and independent artists. Users can search YouTube (as one does) for specific artists, videos and songs or browse through sections that include new music, playlists, artists on the rise and more.
Metacritic
aggregates reviews of video games, films, music albums, and TV shows. Launched in 1999, Metacritic attracts 27 million monthly users. The site, owned by CBS, assigns rankings to games, movies and other media products by aggregating reviews from across the web. It's a worthwhile destination if you're in the market for a new video game (or TV Show or movie).

We'll end this post with a few meta search engines that focus on different verticals. Metasearch engines aggregate results from multiple sources. These sites can be broad, pulling results from conventional search engines like Google and Bing and listing the results in one place. They can also be more specific, vertical search engines that focus on one category such as Nextag. Here are a few you can test out for yourself.
Dogpile
was launched in 1995 and acquired by InfoSpace, one of the original search engine technology companies (even before Google) which owned sites like Lycos and Excite (two of the Internet's original search engines). Dogpile is a straightforward meta-search engine, compiling results from all the top players in search including Google, Bing, and Yahoo.
Kayak.com
is a meta-search engine focused on the travel industry. The site has the standard travel categories (flights, hotels, cars, packages, etc.) and allows you to your input to/from destinations and travel dates. It then searches hundreds of travel sites so you can comparison shop for the best deal. Kayak.com is extremely popular, with more than 33 million monthly visitors.
Last, but not least, is
SearchTempest
, a classified ads search engine. Launched in 2006, the site aggregates data from craigslist, eBay and Amazon and enables users to search more than one craigslist city at once. This is a helpful tool when you're trying to find something specific across multiple classifieds listings. Searchtempest can save you an extra step if you're looking for something specific, that's also used, so give it a try next time you're in the market for a pre-owned treasure.
The sites we've listed are just the tip of the iceberg when it comes to alternative search engines. There are tons of great search engine alternatives and a seemingly endless list of specialized sites for just about any category you can think of. Keep this in mind the next time you're looking for something specific on the web. Happy searching!
Learn how to get the most out of Serpstat
Want to get a personal demo, trial period or bunch of successful use cases?
Send a request and our expert will contact you ;)
Found an error? Select it and press Ctrl + Enter to tell us
Cases, lifehacks, researches and useful articles
Don't you have time to follow the news? No worries!
Our editor Stacy will choose articles that will definitely help you with your work. Join our cozy community :)
By clicking the button, you agree to our privacy policy.