PPC

–

21 min read

–

October 3, 2017
How To Set Up Retargeting Ads And Segment Your Audience For Better ROI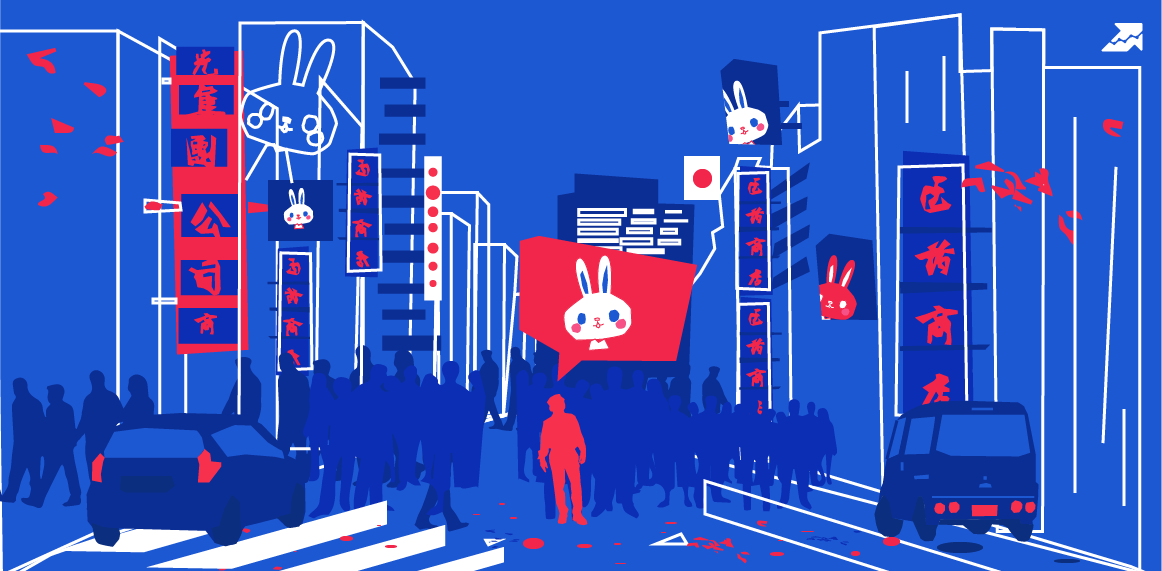 Retargeting performs better than all other targeting types for both
generating search traffic lift and for driving direct sales, and it allows companies like
Zendesk to achieve a 1,317% ROI on their advertising.
Studies also show that personalized ads tend to perform more than
3 times better than non-personalized ads. And do you know what the most effective way to personalize an ad is? Sure, you guessed it — retargeting.
So if you're not using retargeting, you should be. And if you are already using it, you could probably get much better results with a few slightly advanced tweaks.

Keep reading this article and I'll show you:
The different retargeting options available;


How to set up retargeting, if you haven't yet;


How to get much better performance from your retargeting by segmenting your audience (something your competitors are probably already doing).
Now, are you as excited as this guy? Then... let's start ;)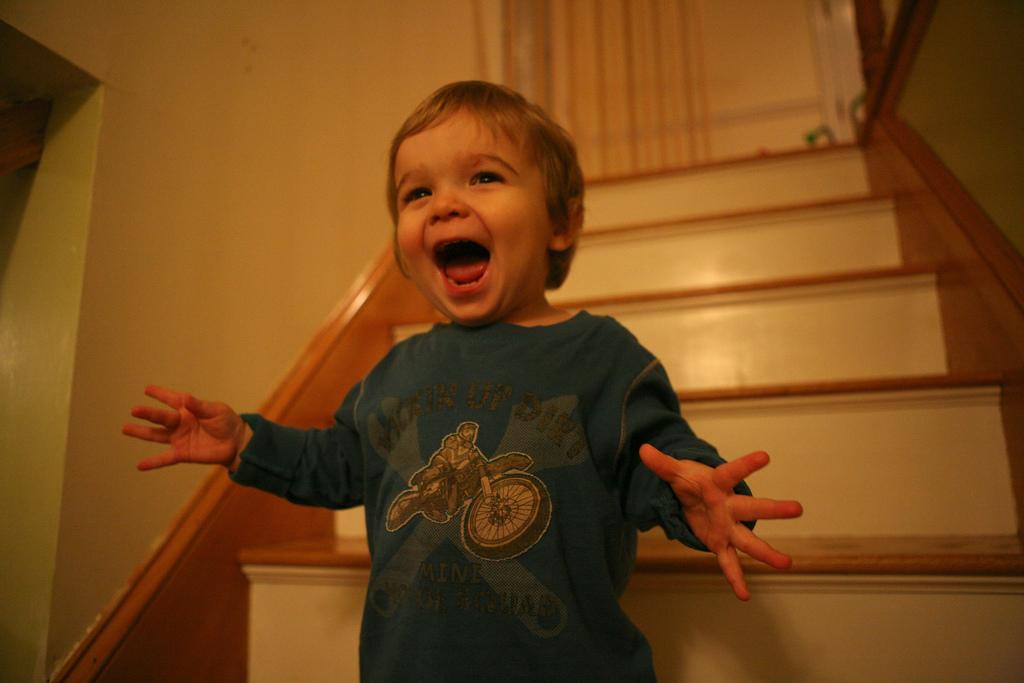 Did you know that
96% of people leave a website before converting, and 49% need to visit a site 2-4 times before making a purchase?
Retargeting plugs that gigantic hole in your marketing funnel by using cookies, mobile IDs and/or account login info to get people to come back to your site and buy from you.
As just one example, it drives
conversion rates of 50 to 60% for Kimberly-Clark (the makers of Kleenex, Huggies, etc.).
And that kind of result isn't out of reach for smaller businesses.
At my marketing agency, we've run retargeting campaigns for clients across dozens of industries, and we've found it to be one of the few tactics that work well in just about every situation. We've also used it ourselves to bring in both paying clients for our agency and students for our free marketing course.
Now that we've established the why, let's talk about where to set up your own retargeting campaign.

And then I'll walk you through exactly how to do it.

You can probably guess what the two biggest retargeting ad networks are:

Note, that both Google and Facebook serve retargeting ads across multiple devices. So for example, if someone is logged into their Facebook or Google/Gmail account on their phone, your ads will follow them over to a laptop, tablet or whatever else they're logged into, too. (If they're not logged in, the ads will still follow them around but only on that one device.)
You can use Google AdWords and Facebook Ads to set up, manage and optimize your retargeting campaigns directly, just like any other ads you might already be running on these networks. Or instead of taking the self-service route directly with Google and Facebook, another option is to use a third-party "full-service" retargeting provider like
AdRoll,
Perfect Audience, or
ReTargeter. These third-party retargeting providers aggregate ad inventory from the existing networks (including Google and Facebook), allowing you to set up a single campaign that targets multiple ad networks. That can make it simpler to reach across multiple networks at scale without needing to learn multiple self-service platforms. But it's also more expensive, as the third-party tools each take their own cut of your ad spend, which can make your advertising less efficient.
Another benefit of third-party retargeting tools is that they're easy to use. But that comes with a price, too: you have to give up the control and advanced features offered by the self-service route. For example, most third-party providers don't offer Google's remarketing lists for search ads, which is a great tool.
So if you want to have access to all the features, and the ability to thoroughly test different strategies and make fine-tuning tweaks yourself, you'll probably find the third-party route too restrictive. (Maybe that's why AdRoll is only used by about 30K advertisers, while Facebook Ads and Google AdWords are used by millions.)
If you've never managed ads before and would prefer a hands-off approach, then a third-party provider might be a good option. But if you're already managing your ads in Google AdWords or Facebook Ads, I'd recommend running your retargeting there, too.

How to get started with Google retargeting
First, if your account has switched to the new AdWords experience, jump back to the classic AdWords interface by clicking the three-dot menu at the top and then "Return to previous AdWords," because not every feature of AdWords is available in the new interface yet. (Don't worry, you can go right back to the new interface after we're done.)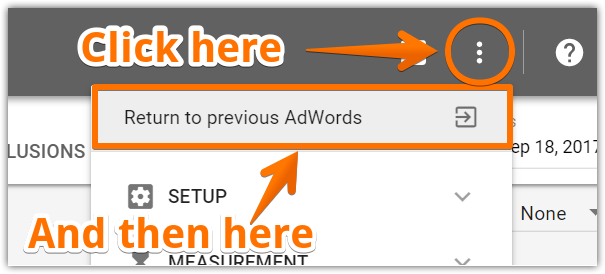 If you don't see the three-dot menu at the top of your account, that means you're already in the classic interface and nothing needs to be changed.

Next, go to Shared library toward the bottom of the lefthand menu, then click Audiences.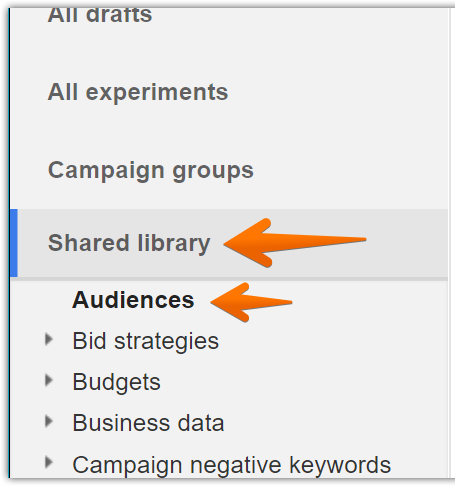 An Audience is just a specific group of people we'll be targeting with our ads.
Now you have several options depending on your situation. You can target:
Customer emails (by uploading a list of your customers' email addresses);
YouTube users (people who interact with your YouTube videos or channel).
In this case, I'll take you through the most common use case: website visitors. But there's nothing to stop you from coming back here to create more audiences, and as I'll talk about a little more later in this article, it's often quite smart to do exactly that.
So under the "Website visitors" option, click the Set up remarketing link.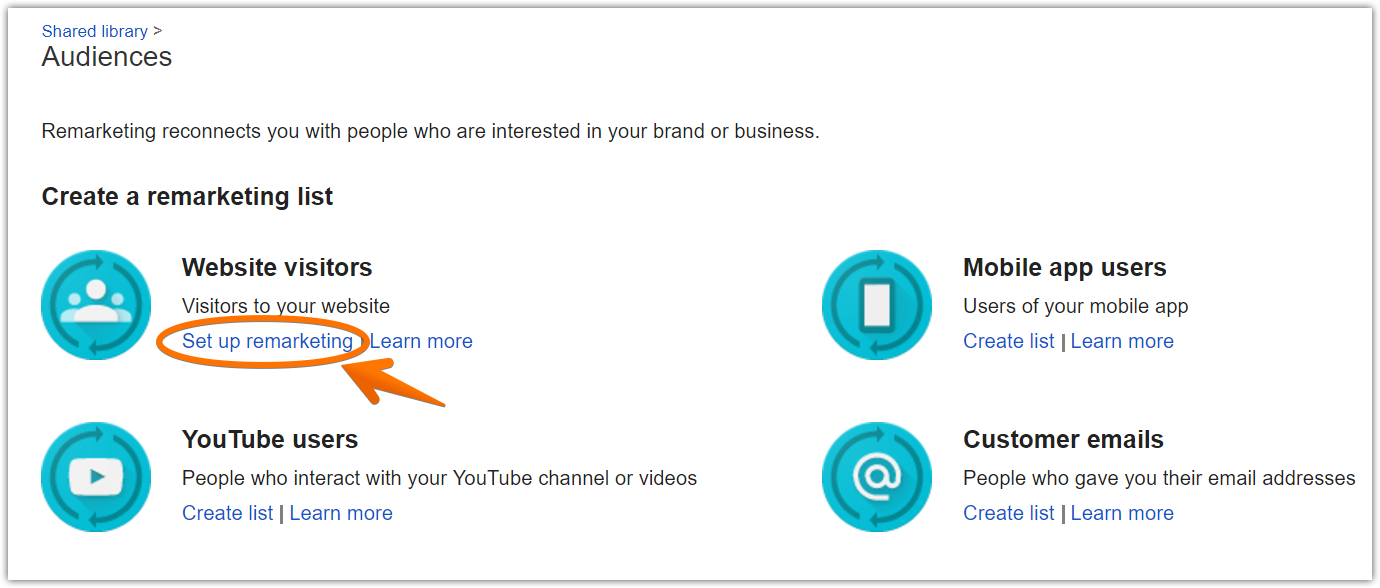 By the way, you may have noticed that Google likes to call it "remarketing" instead of retargeting. They mean the same thing.

Just to keep things interesting, Google also uses the term "remarketing lists" interchangeably with "remarketing audiences."

On the next page, you'll have the option to use dynamic remarketing ads.

These are great for e-commerce sites with lots of products, but they require a Google Merchant Center feed. If you already have that, then feel free to check the box. Otherwise, just continue.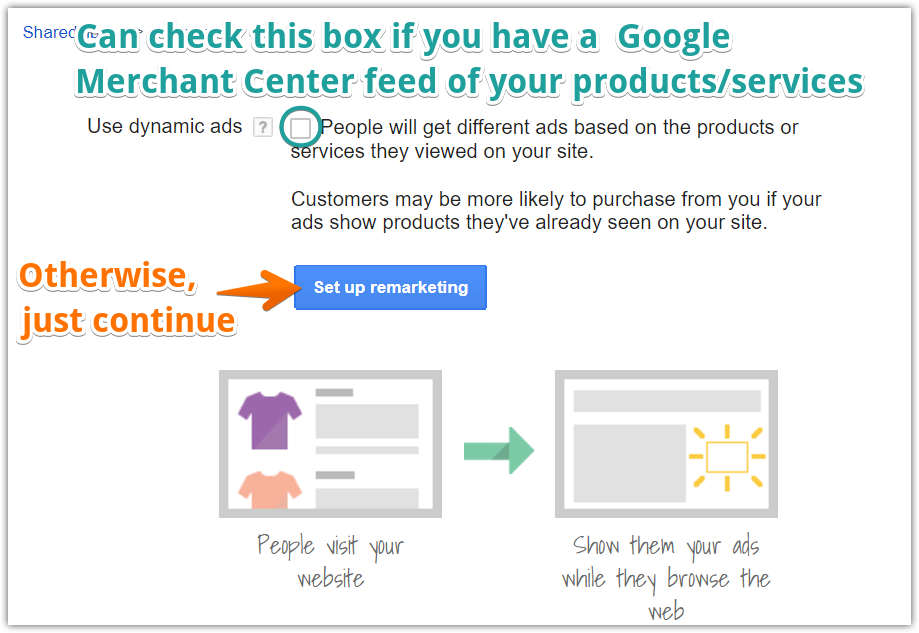 Set up your site tagging to start tracking people.
You have two options.

Option A is Use the Google Analytics tag instead of the AdWords remarketing tag. If you're using Google Analytics, I definitely recommend this option. It's easier and also more powerful than the other option.

Option B is installing the AdWords tag for websites, which is an additional snippet of code you'll need to install on your site. If you choose this option, you can click the "View AdWords tag for websites" link, or you can have the tag and instructions emailed to your webmaster. If this is the only option it shows you, that's fine it just means you're probably using an older version of Google Analytics (or you're not using it at all).

Both options are straightforward, so whichever one you choose, just follow Google's steps to get your tag set up.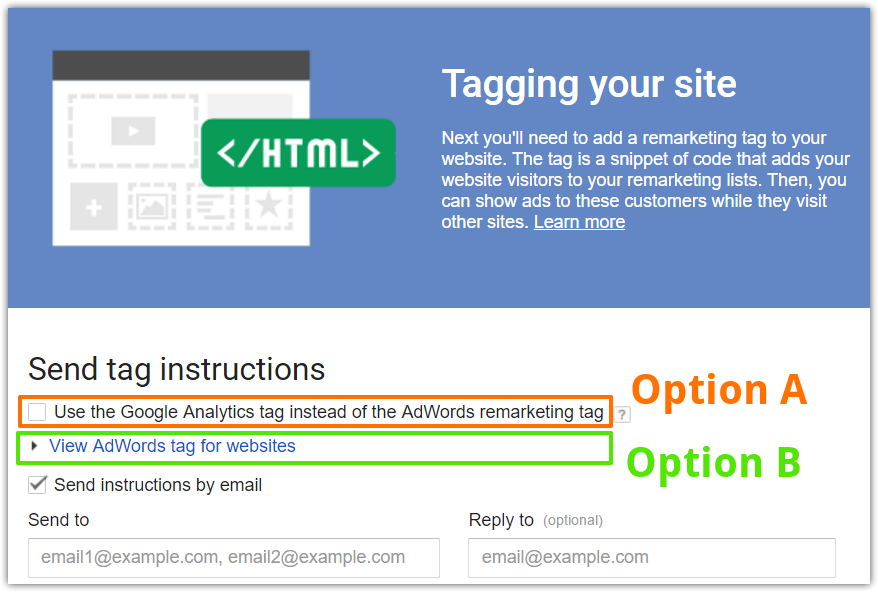 How to create remarketing audiences
Remember, a website remarketing audience or remarketing list is just a list of people who have visited your site recently that you can now follow around with your ads.

A lot of marketers make the mistake of using only the default "all visitors" audience, but the true power of retargeting comes when you put people into different segments based on what they've done on your site. By segmenting out different audiences for people in different locations, or based on which webpages they've viewed and where they're at in the sales funnel, companies like Watchfinder and Zendesk are able to get returns on investment of 1,300% and higher from retargeting.

You can have as many different remarketing audiences as you want. Well, up to 2,000. Don't worry, we don't need to go that far. But generally speaking, the more lists you break out, the better your results will be. You should definitely have at least 3 or 4 lists.

For example, let's say you have a site that covers dog and cat training. (Yes, cat training is a real thing.) So part of your site is about dogs, and part of it is about cats.

You can set up one remarketing list for visitors to the dog pages, one for visitors to the cat pages, and one for people who have visited both. This way you can show dog ads to dog people, cat ads to cat people, and… maybe CatDog ads to people who like both?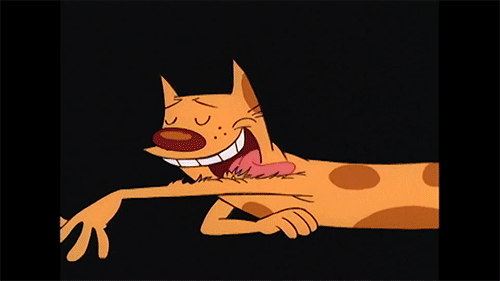 That's just one super basic idea. You can get as advanced with this as you want. By default, you'll already have an "All users" or "All visitors" list (depending on which tag type you're using). That's the remarketing audience that everyone who visits your site will end up in. Another automatically generated audience you might have is "All converters" or "Past converters." This is a bucket of everyone who has recently converted on your site, based on the conversion tracking you have set up. But if you have more than one type of conversion that you're tracking, you can go one step further and create a separate audience for each type of conversion.
This can be extremely powerful. For example, our agency site has three conversion goals:
one goal is contact form submissions (sales leads from prospective clients);
downloading one of our free marketing guides;
signing up for our free marketing course.
When someone visits our site and doesn't convert at all, we can retarget them with a different free guide offer that isn't publicly shown on the site, or else call out the marketing course.
Whereas if they convert by downloading one of our guides or signing up for the course, we won't retarget them at all because they'll already be getting our marketing tips via email. And if they visit our site and contact us for an agency quote, we can retarget them with some light branding ads to keep our company top-of-mind in case they're comparison-shopping our competition.
Every business is different, but it's important to use audiences that make sense for your visitors.
Bonus tip:
Here's a checklist of
8 proven retargeting audiences you can use for your business.

How to segment out different remarketing audiences for the different types of visitors to your site
Let's get back to our cat-dog example and create 3 audiences:
People who visited our site's cat pages


People who visited our site's dog pages;


People who visited both types of pages (or neither).

First, I'll show you how to create the first two audiences in AdWords if you're using the AdWords remarketing tag. Then I'll show you how to create them in Google Analytics if you're using the Analytics tag. And finally, I'll show you how to create the third audience in AdWords as a "custom combination," regardless of which tag type you're using.

Via AdWords remarketing tag (Option B)

In AdWords, go back to Shared library -> Audiences, then click the button to add another remarketing list. Again, the "Website visitors" type is the most common, but the other options can be useful too.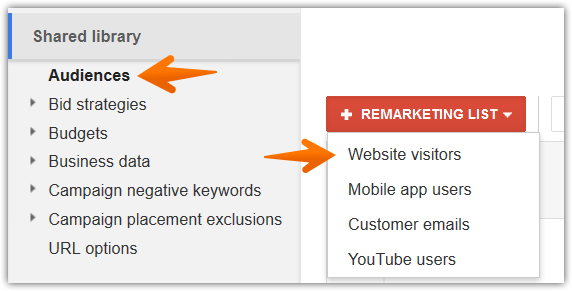 Give your new remarketing list a descriptive name, then click the "Who to add to your list" dropdown menu.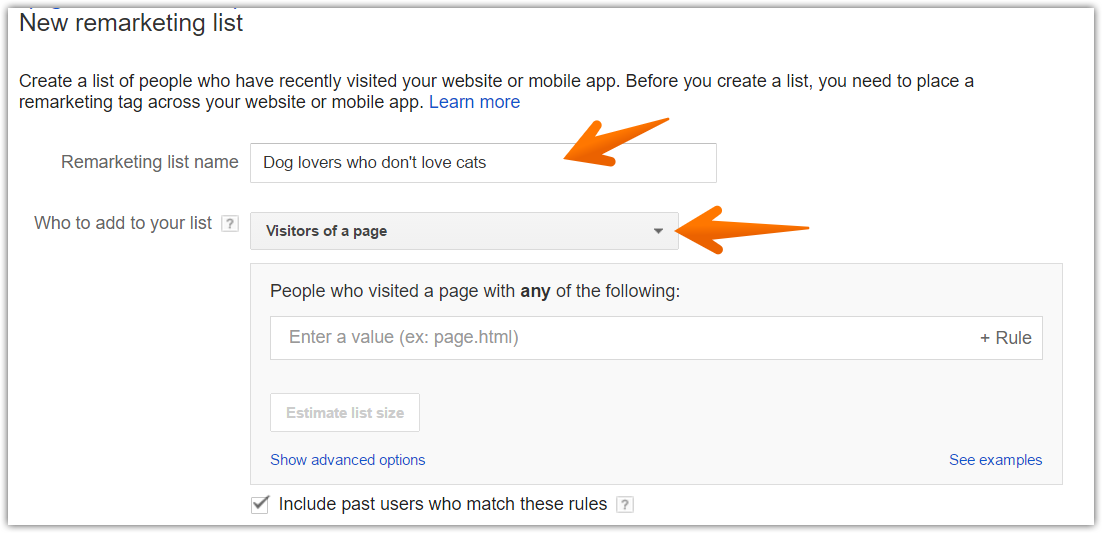 In this case, I'll select the "Visitors of a page who did not visit another page" option.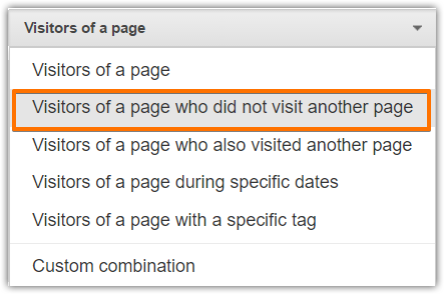 Then include URLs that contain the word "dog," and exclude URLs that contain the word "cat". (Tip: you could also do this to cover specific thank-you pages if you wanted to track specific conversion types, or to cover specific sales pages, etc.)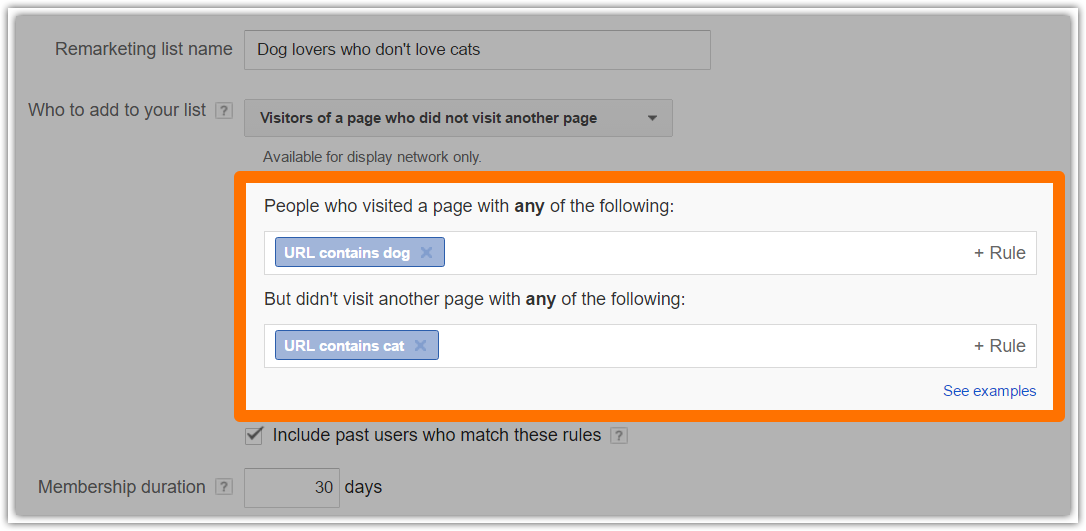 Next, choose a membership duration (default is 30 days) and save it.
Now you can just repeat the process to create your cats-only audience. Only this time, include URLs that contain "cat" and exclude URLs that contain "dog".


Via Google Analytics remarketing tag (Option A)

First, go to your Google Analytics account's Admin menu.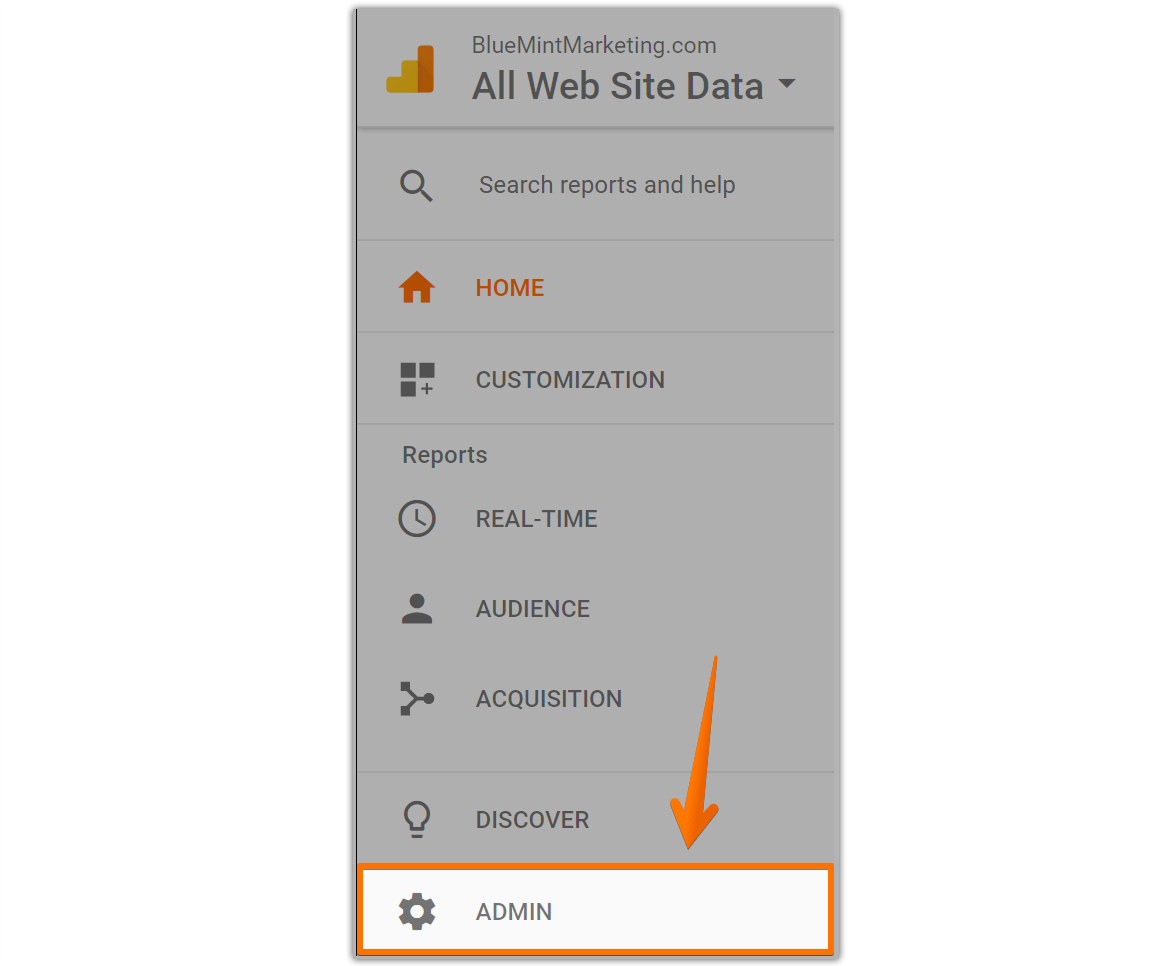 In the Property section (middle column), click Audience Definitions at the bottom, then click Audiences.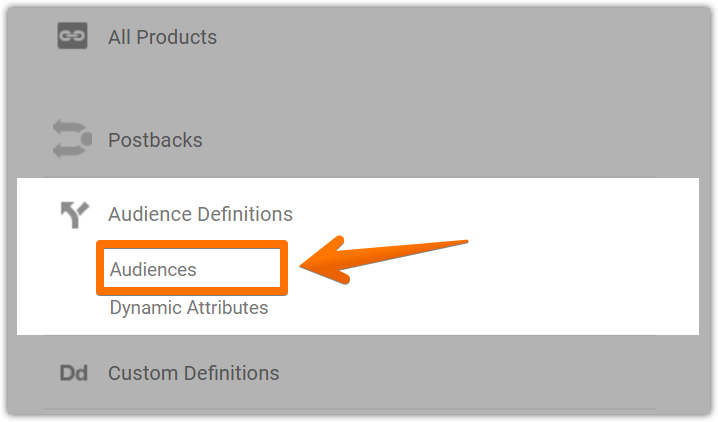 Click the + New Audience button.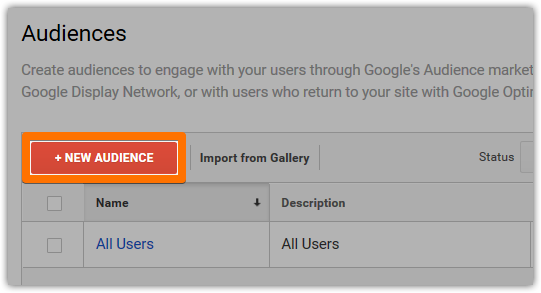 In step 1 of the link configuration, choose the Analytics View you want to use and the Destination AdWords account, and click Next step.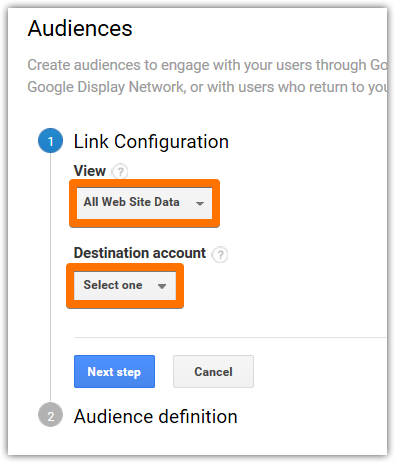 Step 2 is "Audience definition," which is where you choose exactly who you want to include and exclude from your remarketing list.
You have the ability to create or import a new custom audience definition if you want to get fancy, but for our purposes the preset options are all we need.

Here are what those options look like: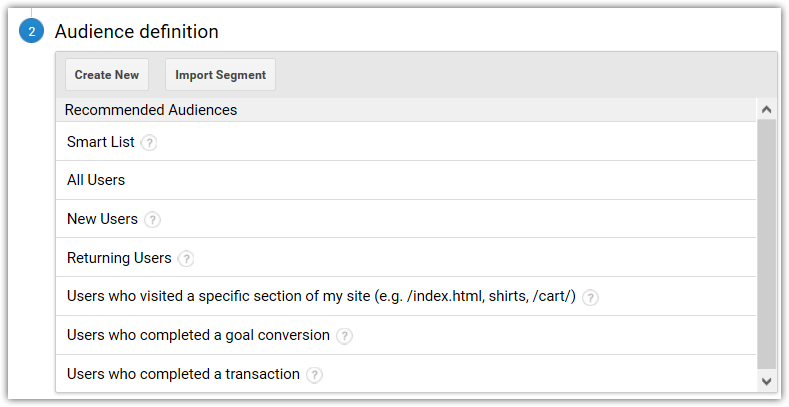 These can all be useful, but two of my favorites are "Users who completed a goal conversion" and "Users who completed a transaction," because you can use those to exclude (or include) people who converted in specific ways.

In this case, we're going to use the "Users who visited a specific section of my site" option to separate out dog lovers from cat lovers.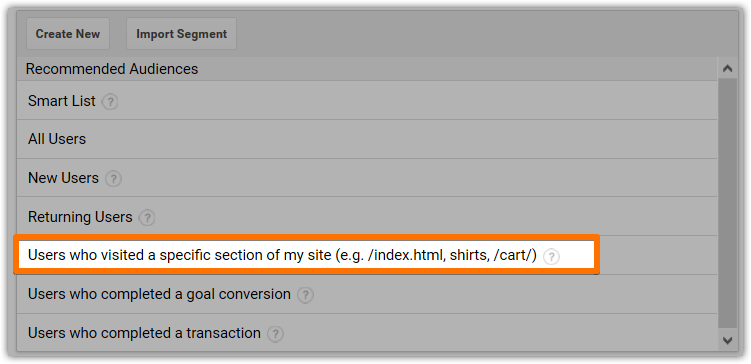 Select that option, then hit the pencil (edit) icon to change the conditions.

It will default to Page contains "/" which means any URL with a slash in it (in other words, every URL).


We want to only include URLs with "dog" in them, so write the word "dog" in that field instead.


As we also want to exclude cat lovers, so hit the + Add Filter button to add a second filter. Then change from the default "Include" to Exclude and change the default "Ad Content" to Page.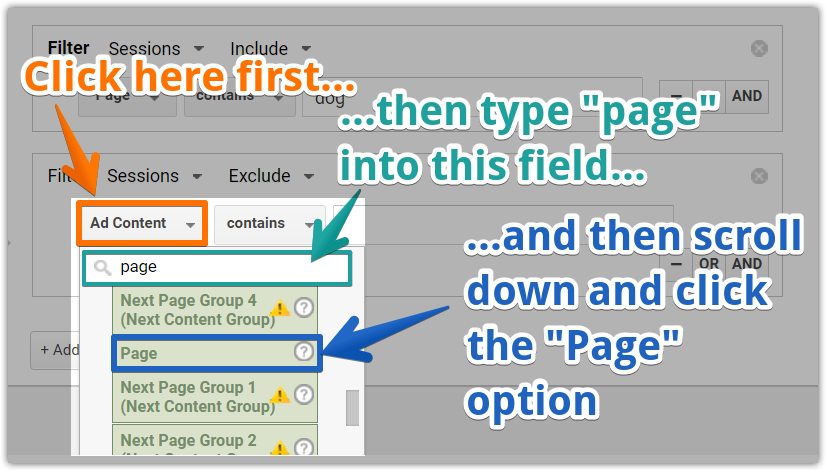 Now type in "cat" to exclude URLs that contain that word, and hit Apply.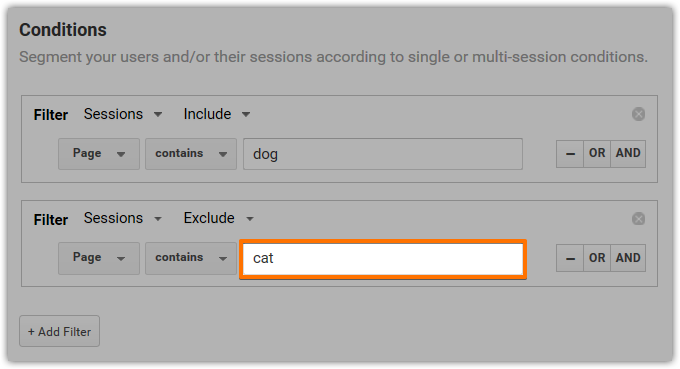 Give your audience a descriptive name, choose a membership duration and hit Save.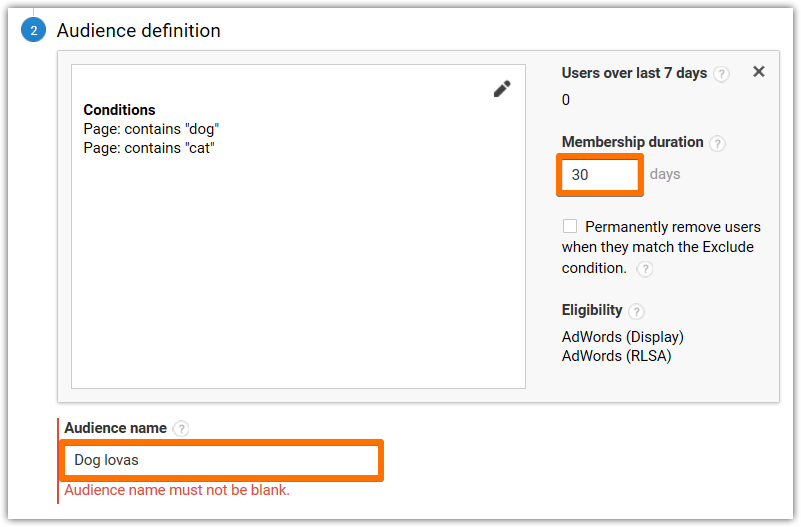 Now you can hit the "Back to the Audiences page" and go through the same process again, but excluding "dog" and including "cat".

Via custom combination feature

This will be our audience for people who seem not to have a preference: they've either visited both cat and dog pages, or neither.

We'll do this in Google AdWords.

Pop back to your AdWords account and go to Shared library -> Audiences one last time, then hit + Remarketing List.


Name it what you want, and under "Who to add to your list," choose "Custom combination".

A custom combination is like a meta-audience: it's a remarketing list that consists of a combination of other remarketing lists, which you can include and exclude as you see fit.
One great use of a custom combination is to create a "non-converters" or "non-purchasers" list, for marketing only to people who haven't converted or purchased from you.

In this case, we want to include all our site visitors that are not already included in our "dogs-only" and "cats-only" lists. So this list will contain people who visited both types of pages, as well as people who visited our site but visited neither type of page.

Keep the "any of these audiences (OR)" option in place, and click the "select audiences" button.

Select the "All users" or "All visitors" audience by clicking the little right arrow button, then hit OK. This is the first condition of your custom combination.

Now hit "Add another"… to bring up the second condition of your custom combination. Then click the drop-down menu and choose "none of these audiences," then hit "select audiences".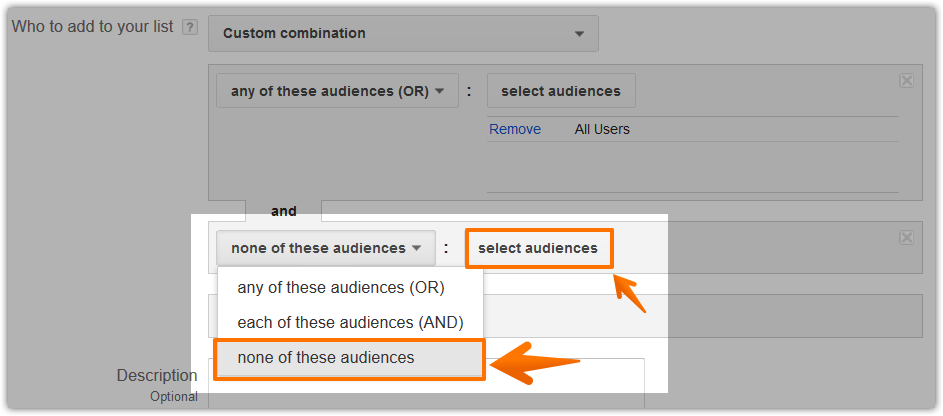 And select both your Cats list and your Dogs list, then click OK. (If you wanted to exclude converters, you could select your converters list(s) here.)

Now just hit Save and your custom combination is ready to use!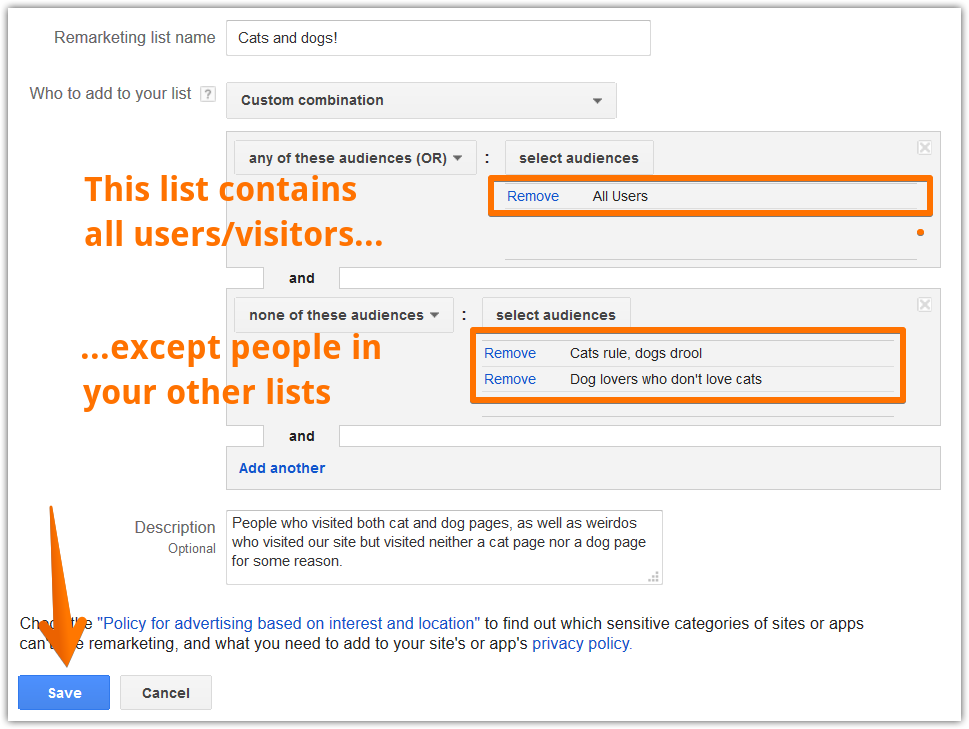 Now that we have separate remarketing lists for our three different types of site visitors, we can advertise to them all differently.

I'll show you how to do this in one campaign with three different ad groups, but you could use three separate campaigns if you wanted to assign separate budgets.


How to set up a retargeting campaign in Google AdWords
Start by creating a new "Display Network only" campaign by going to the Campaigns tab, clicking the +Campaign button, then Display Network only.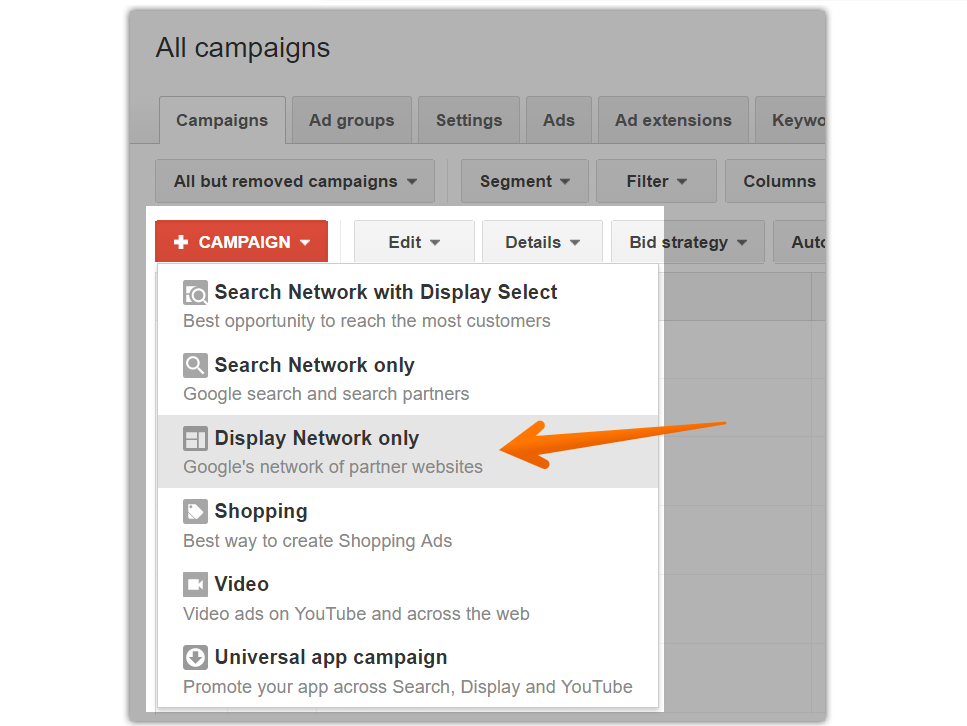 When it asks your marketing objective, you can either choose the "Buy on your website (includes remarketing)" option, or "No marketing objective" if you want to see all features. (I prefer "no objective," but it doesn't really matter.)

Name your campaign, set your budget and continue.

When it prompts you to create an ad group, name it based on the remarketing segment you're going to target. For example, "Cats only". For the targeting method, choose "Interests and remarketing."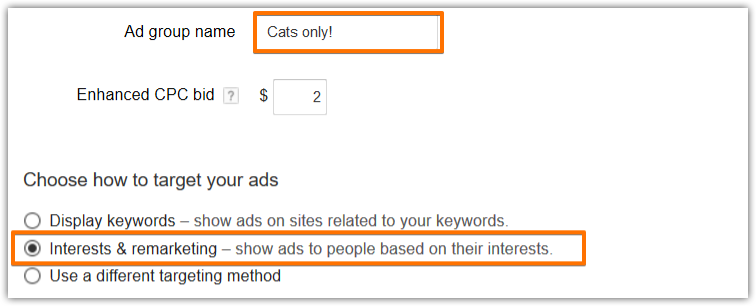 Then choose "Remarketing lists" from the dropdown menu below that…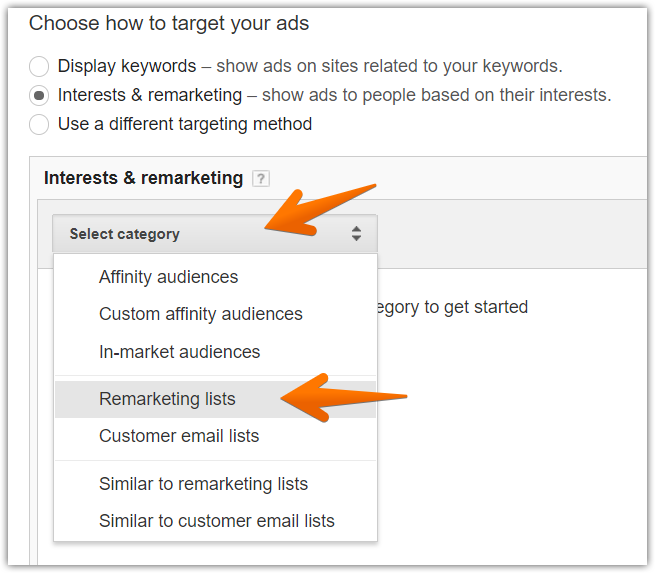 And select the remarketing list(s) you want to use for this ad group.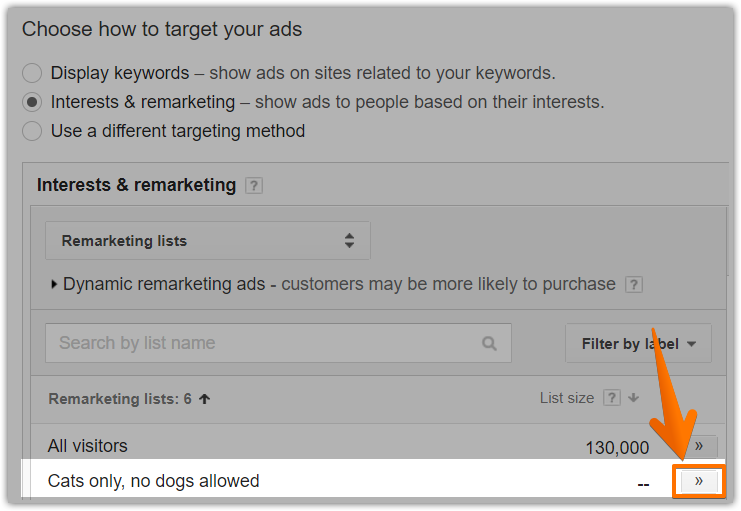 Now un-check the option at the bottom to "Let AdWords automatically find new customers," then save and continue.


Now just create your ads, repeat the process for your other remarketing audiences, and you're done!

Be sure to tailor your ads to your different audiences. Don't show dog ads to cat people.

If you just set up your remarketing tags for the first time, you may not be able to run any ads right away. That's because you need at least 100 people in a given remarketing list before you can use it, and sometimes it takes more than that before your ads start getting impressions.

But you can see how many people are in each of your lists whenever you want by just popping back over to Shared library -> Audiences, and you can also set up and activate your ads in the meantime they'll start running automatically as soon as your lists have enough people.

And once they are running, don't be surprised if retargeting quickly becomes one of the top ROI producers in your entire stable of marketing tactics.

Hope this guide was useful for you. Don't hesitate to ask if you have any questions!
Speed up your search marketing growth with Serpstat!
Keyword and backlink opportunities, competitors' online strategy, daily rankings and SEO-related issues.
A pack of tools for reducing your time on SEO tasks.
Found an error? Select it and press Ctrl + Enter to tell us
Cases, life hacks, researches, and useful articles
Don't you have time to follow the news? No worries! Our editor will choose articles that will definitely help you with your work. Join our cozy community :)
By clicking the button, you agree to our privacy policy.