How To Read Your Traffic: 4 Major Tools For Marketing Attribution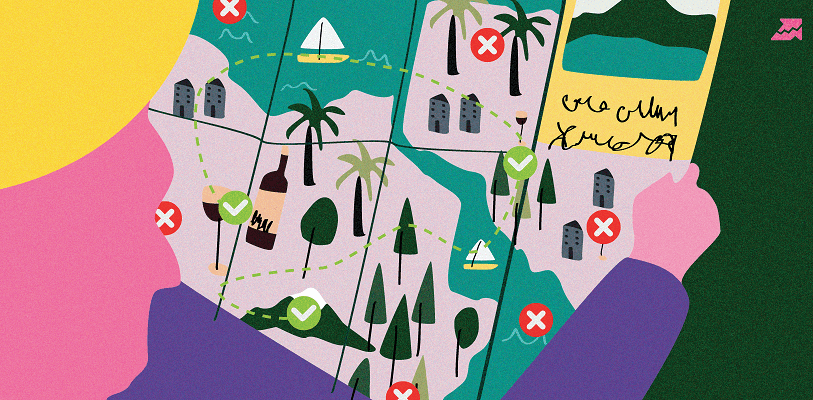 For every marketer, conversion is one of the biggest goals. However, achieving conversions is only the tip of the marketing iceberg. According to
Hubspot, proving the return on investment (ROI) of marketing activities is the second biggest challenge for marketers, right after finding new customers.
This means that the key to success isn't in good results but in tools and data that help marketers measure these results and improve them. The only way for any business to do that is to create a marketing attribution model.
What is attribution modeling?

Attribution modeling
(also called
marketing attribution
) is a process that allows companies to assign conversions to certain touchpoints along the customers' path and understand the effect of these touchpoints on the company's revenue.
Put another way, attribution modeling helps companies fill the gaps between their sales and marketing information by analyzing their customers' paths through a sales funnel.
Why is it difficult to accurately monitor conversion sources?

Every customer walks a unique path. Before buying a product or service on your website, users take lots of different actions on different online sources: browsing Facebook posts, stumbling upon search ads, googling brand names, etc.
According to
one survey from Digiday, 63% of marketers want to know customers' every step.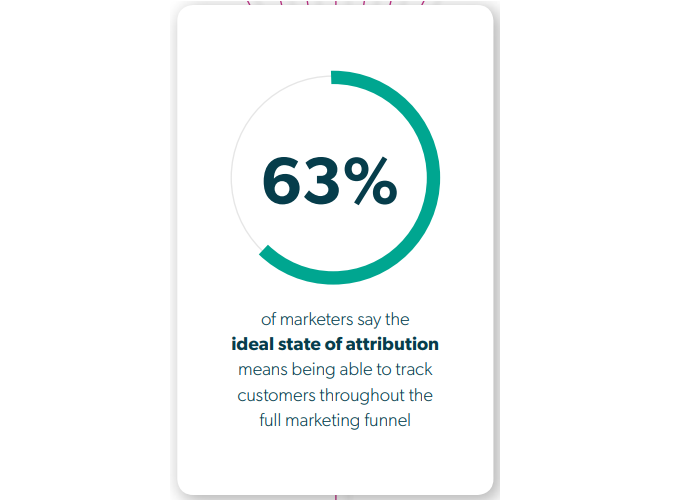 Still, marketing attribution is a hassle for most companies. There are several reasons for that.
Reason 1. The expansion of multi-channel marketing

Multi-channel marketing is gaining ground. Modern consumers are choosy. Every day, they consume tons of content on dozens of promotional channels.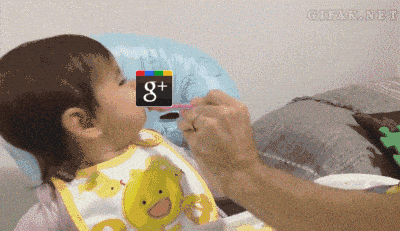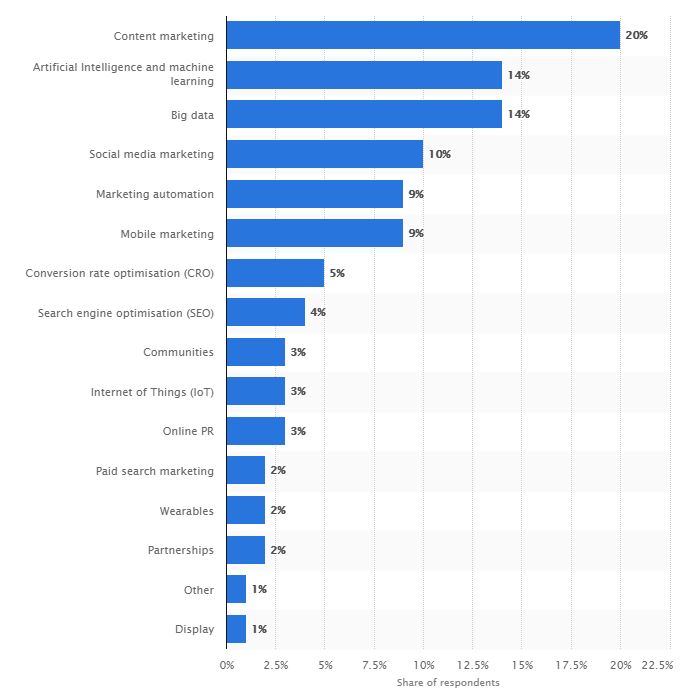 The chart above shows that
companies use more advertising techniques than ever
. This has its pros and cons.
On one side, businesses
get more opportunities to reach larger potential audiences
due to the vast number of available channels. On another side, businesses
get access to more information, which increases brand awareness but doesn't boost sales
.
Not to mention that more data may lead to more troubles, as you need someone who knows how to structure it and analyze it to benefit the business.
Reason 2. Cross-device tracking, or mobile is coming

In the past, marketers were happier because customers would buy from the desktop only. Why?

Let's start at the beginning. Have you seen Game of Thrones?

The series culminates in a battle between the White Walkers and humans, where the bad guys outnumber the good guys.

In the desktop–mobile battle, the circumstances are pretty much the same with only one exception: There's no happy ending.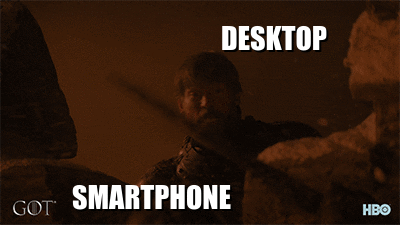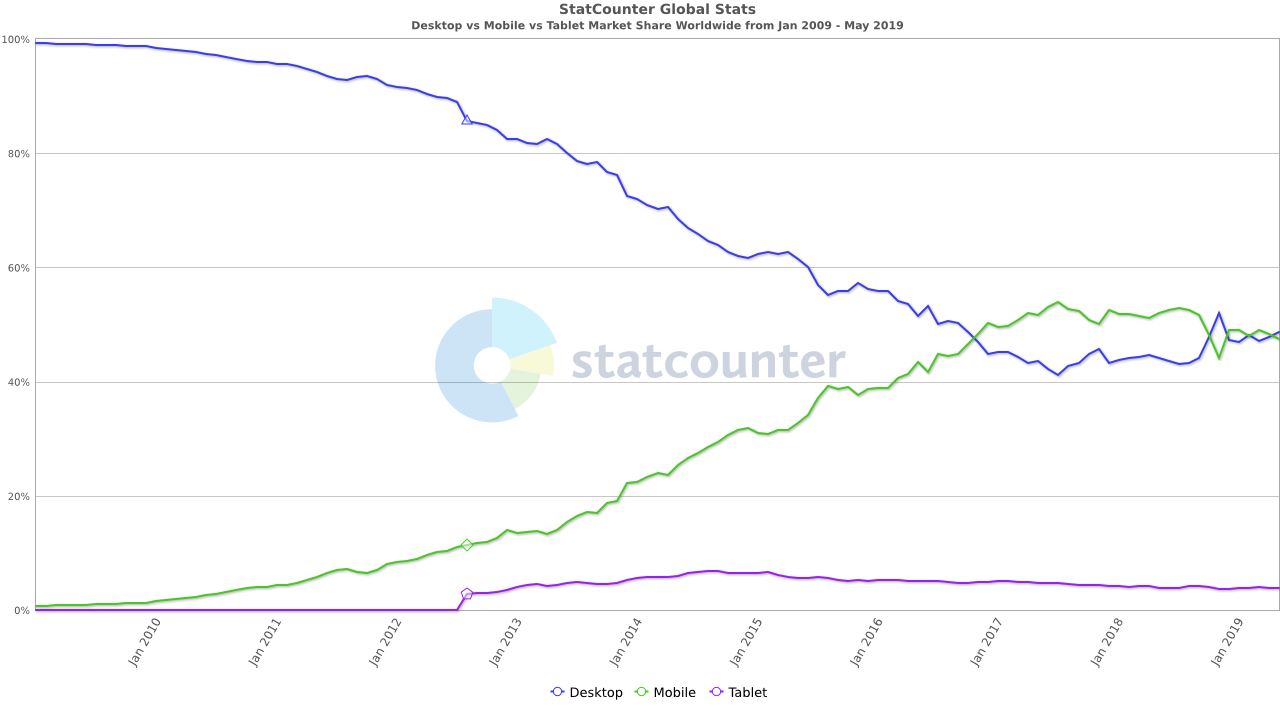 You don't have to be an expert to assume that the future of marketing is mobile.
So how is this related to marketers' moods and attribution modeling?

Cross-device tracking is an ongoing issue. When desktop was the major platform, it was easy for businesses to track user actions thanks to cookies stored on the user's device.
With the advent of mobile shopping, things have changed. Every device has its own unique cookies that cannot be transferred to another device.
In the past, when a customer found a product or service on a desktop computer and purchased it from a smartphone, a business had to use stratagems such as probabilistic and deterministic matching to identify this customer.
Luckily, cross-device tracking reports are now available on such platforms as
Google Analytics
and
Facebook Attribution.
We'll review them in the next part of this article.
Reason 3. The variety of attribution models

Choosing the right model is the third thing that complicates the marketing attribution modeling process.

There are two major types of attribution: single-source and multi-source.

Single-source marketing attribution models are the easiest to implement. They're perfect for companies with short sales cycles.
First click.
The first click model gives
100% of the credit to the first touchpoint
on the customer's path without taking into account all further steps taken by the customer.
Last click.
The last click model gives
100% of the credit to the last touchpoint
on the customer's path, ignoring all prior actions. There are also multi-source attribution models that are suitable for companies with a long sales cycle.
Last non-direct click.
The last non-direct click model assigns
100% of the value to the last touchpoint on the path, eliminating all further direct traffic
. For example, say a customer sees a Facebook post with a link to an online store, follows that link, and browses a product without buying it. A couple of days later, this customer sees a retargeted Google Ad and decides to go directly to the online store to purchase the product. In this case, the Google Ad is the last non-direct touchpoint.
Linear
. In the linear model,
every touchpoint gets equal credit
. Of course, all touchpoints have equal value only nominally. In practice, some interactions always have more influence than others in the customer's journey. The linear model can be effective for marketers who need to see the journey in general, instead of learning which touchpoint determines a sale.
Time decay
. The time decay model
evaluates touchpoints in the timeline
. The closer the touchpoint is to a sale, the more credit it receives. This model works great to identify interactions in the middle of long B2B cycles.
U-shaped (position-based)
. The U-shaped model identifies
any three touchpoints along the customer's path
. Also called position-based, this model
assigns 40% of the value to both the first and last touchpoints
. The
touchpoint in the middle gets 20% of the value
. A U-shaped model is perfect for registering pre-lead interactions.
W-shaped
. The W-shaped model evaluates three interactions:
the first touch (30%), the lead generation point (30%), and the opportunity creation (30%)
. The
remaining 10% is divided between the touchpoints in the middle
. Additionally, you can create a custom model based on the peculiarities of your buying process and powered by different algorithms.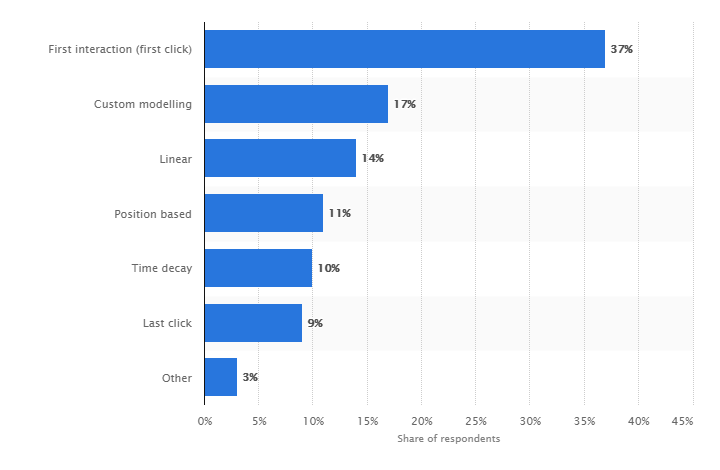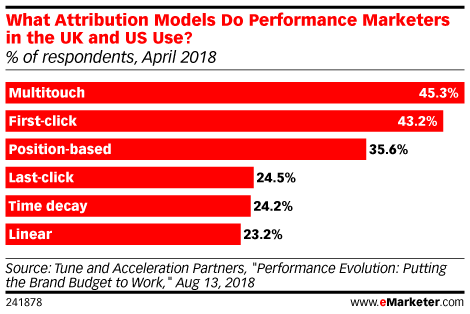 Your choice of marketing attribution model depends on many factors.

If a business sets a large number of touchpoints and uses multiple channels for advertising, the model will automatically become more complex.

The length of the sales cycle affects the modeling process as well. The longer it takes for a user to turn into a lead and then become a customer, the more effort it takes to build an attribution model that works well.

In addition, there are a zillion ways for customers to convert and buy, no matter the industry.

Ideally, to measure why, where, and when people take an interest in products or services, businesses have to combine different attribution models and come up with their own models that match their goals.

Attribution tools every marketer should use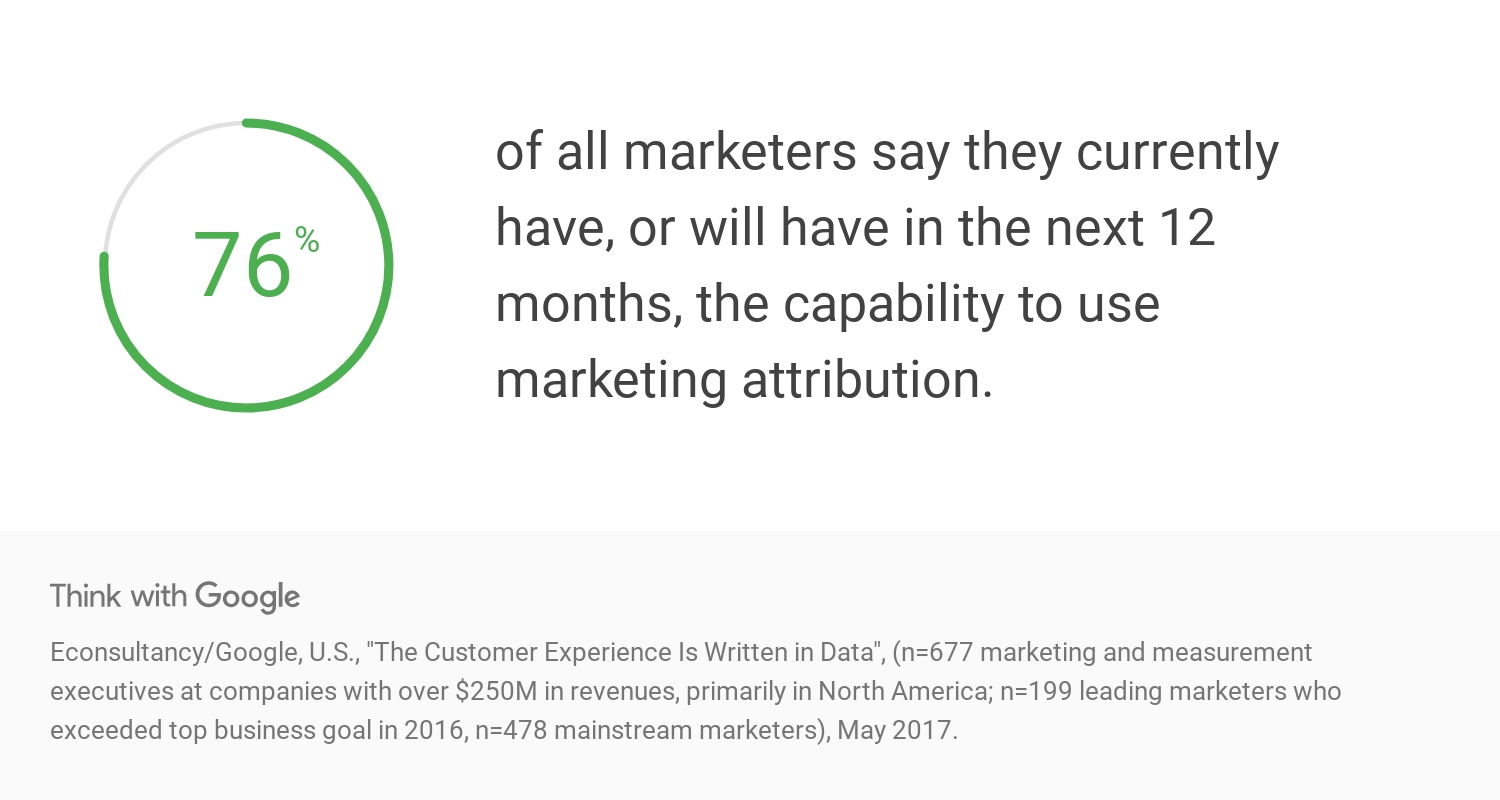 Karen Saude
r,
VP of Sales at Google
, says that the
mistake of many marketers is that they're waiting for a perfect measurement solution that doesn't exist.
She adds that measurement and ad platforms must be connected, and teams must work with data unified around audiences rather than channels.
Indeed, there's no perfect way to measure conversions. But still, there's a sure way to do it. Probably most, if not all, large, medium, and small business piggyback on Google and Facebook.
Google and Facebook are the two biggest giants in the advertising market. They provide enough data to learn everything about the target audience of any company in any niche or industry thanks to a large number of great tools for analytics and measurement.
Let's review the major tools that shed light on conversions.
Attribution in Google Analytics

There are two ways you can read Google attribution reports.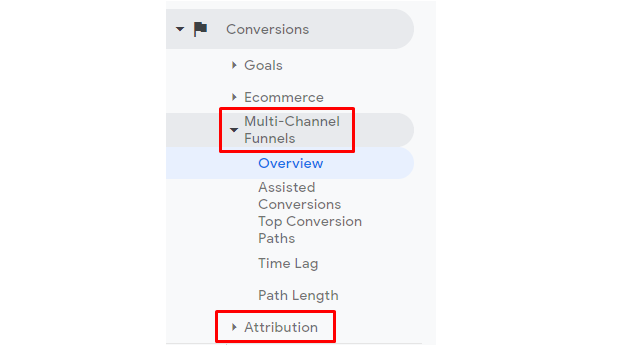 The first is in the
Multi-Channel Funnels
section in the
Conversions
tab of the Google Analytics accordion menu.
This menu gives access to five reports that display how different marketing channels work together to achieve conversions and sales.
Multi-channel funnels overview

This is a general report where you can view the total number of conversions for a certain period.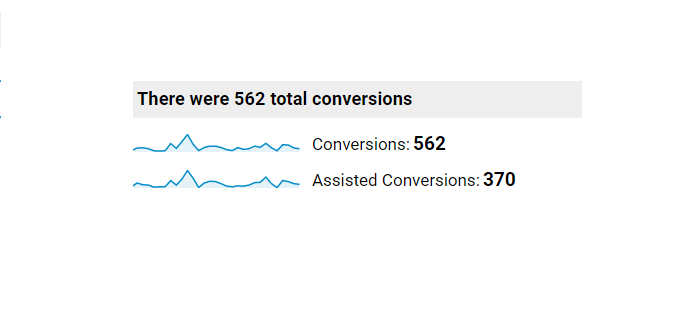 Below, there's a multi-channel conversion visualizer that highlights the conversion paths percentage with the combinations of channels registered in these paths. Keep in mind that you can add up to four channels to visualize your data in this report.


The Assisted Conversions report demonstrates the contribution of a particular channel to a conversion. In other words, you can see how often a channel starts, assists, and closes conversions.


The Top Conversion Paths report shows sequences of touchpoints that led to a conversion. Here you can see the number of conversions and their value.


The Time Lag report displays how many days it took customers to convert. The period includes the entire path from the first interaction to the moment of conversion.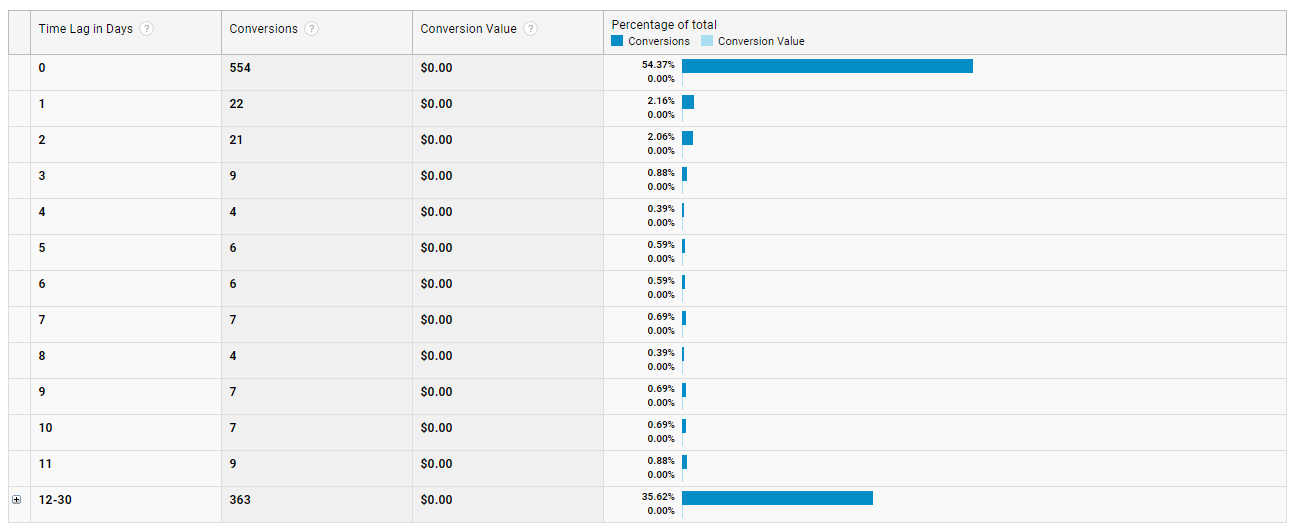 The Path Length report reveals how many interactions it took for customers to convert. Like the Time Lag report, this report informs about the number of conversions and the revenue from these conversions.


The second way to read attribution reports in Google Analytics is using the Model Comparison Tool. To launch it, click the Attribution tab.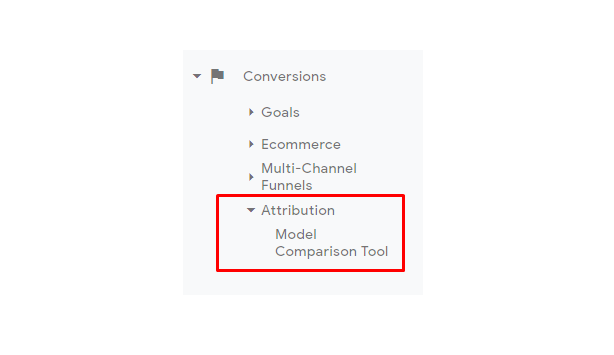 The Model Comparison Tool allows you to add up to three marketing attribution models at once to a single report. In this report, you can see the number of conversions or the conversion value (it depends on your selection) for each channel. It also lets you create up to 10 custom attribution models per view.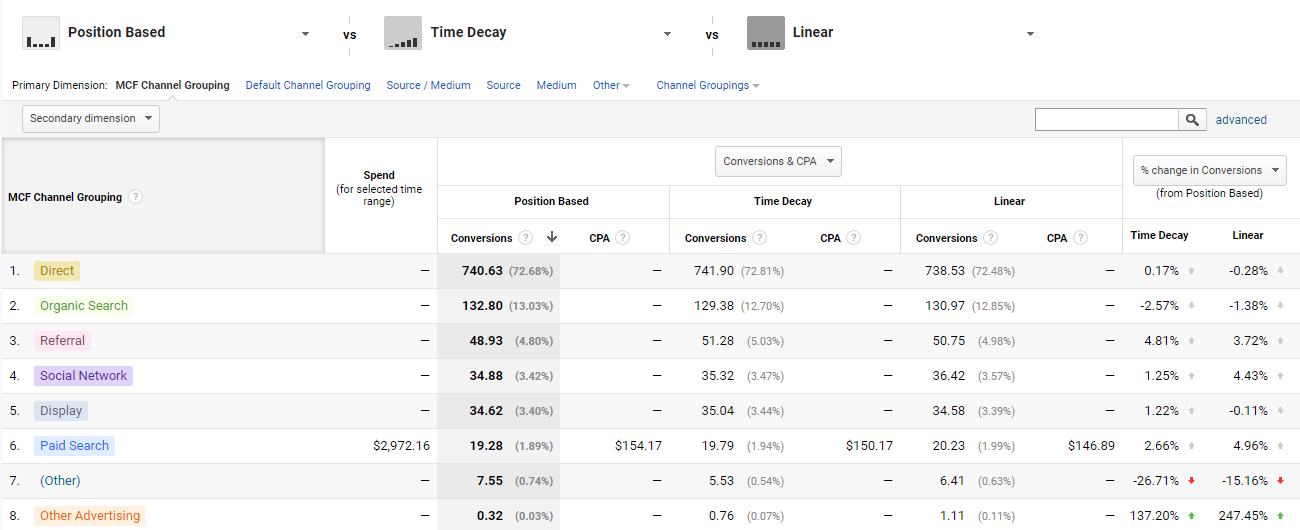 Google Signals is a tool that allows you to display cross-device remarketing ads and view user-based data in the
Cross Device
tab in the
Audience
category of the Google Analytics menu.
Keep in mind that Google Signals identify only people who have activated the
ads personalization feature in their Google accounts.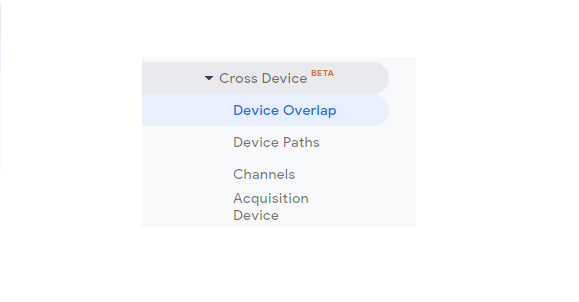 The Device Overlap report shows what devices and how many devices your audience uses to browse your content. You can segment users by device type and match engagements and conversions of each group.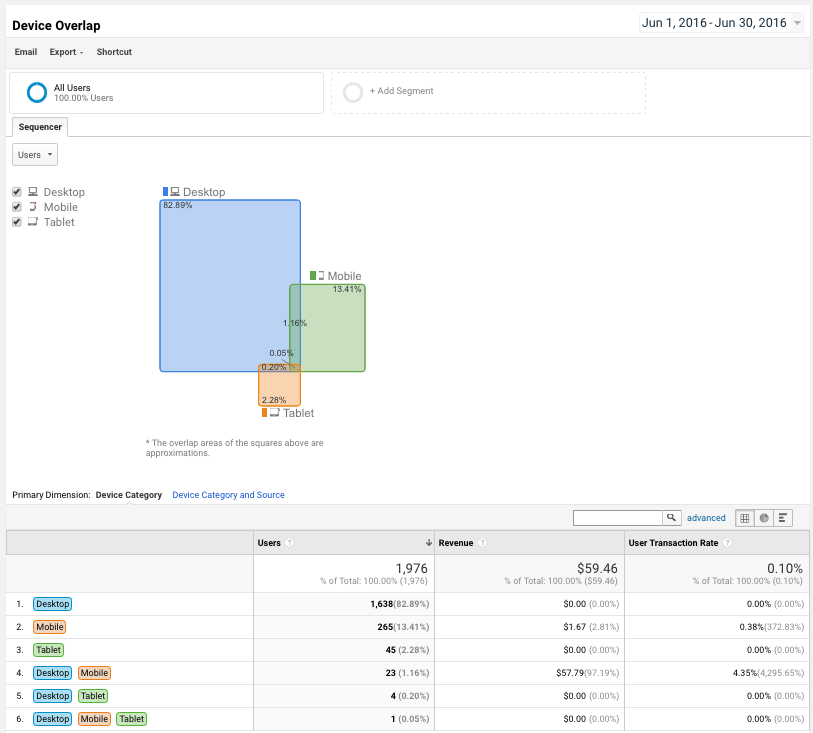 The Device Paths report shows the last five device types used before users convert. With this report, you can define different groups of users and understand their behavior.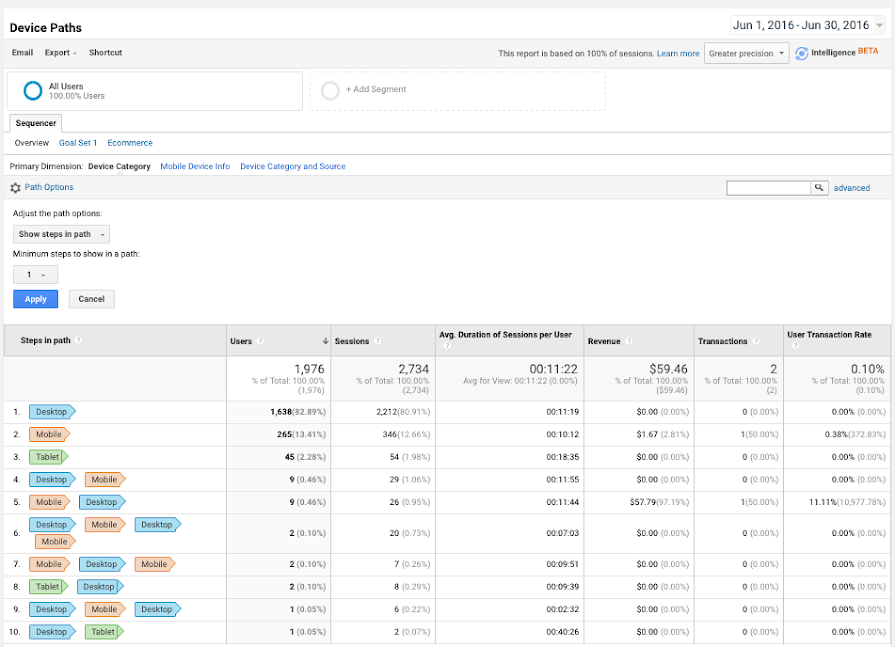 The Channels report helps you understand how effective specific channels are on particular device types. To get more data, you can switch from a default channel grouping to any other available filter: ad content, campaign, keyword, medium, source, or source/medium.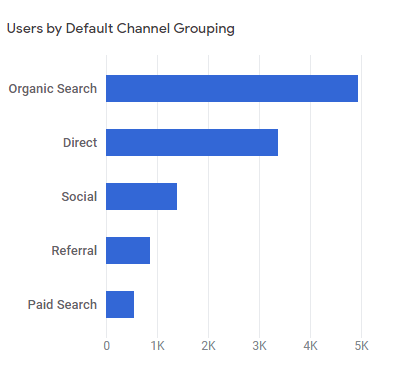 The Acquisition Device report displays the contribution of different device types to the process of user acquisition and conversion. In this report, you can view how many people you attracted on one device type, how many people you converted on that device type, how many people you converted on a different device type, and how many people you didn't convert at all.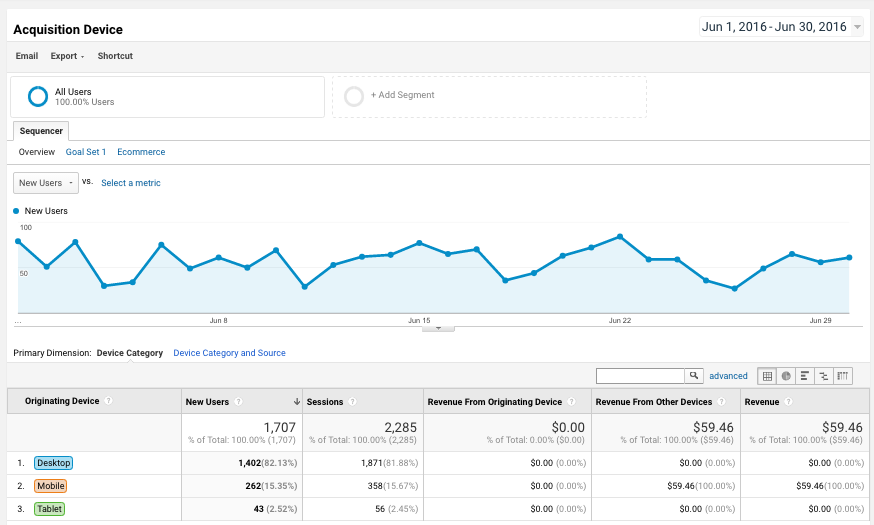 To turn on Google Signals:

Find the property you want to track and click Tracking Info, then Data collection.

Click Get Started and click through the activation panels.

Read the information about Google Signals and click Continue.

Choose the properties for which you want to activate signals.

Click Activate to activate immediately or Decide Later to do so later.

According to Facebook, traditional marketing attribution modeling tools miss
45% of digital touchpoints. That's why Mark Zuckerberg and his team developed their own solution.
The Facebook Attribution tool helps advertisers and marketers trace the customer's entire path across the Facebook family of apps and services. Facebook Attribution reports provide businesses with important data to boost ROI, adjust ad campaigns, and optimize ads.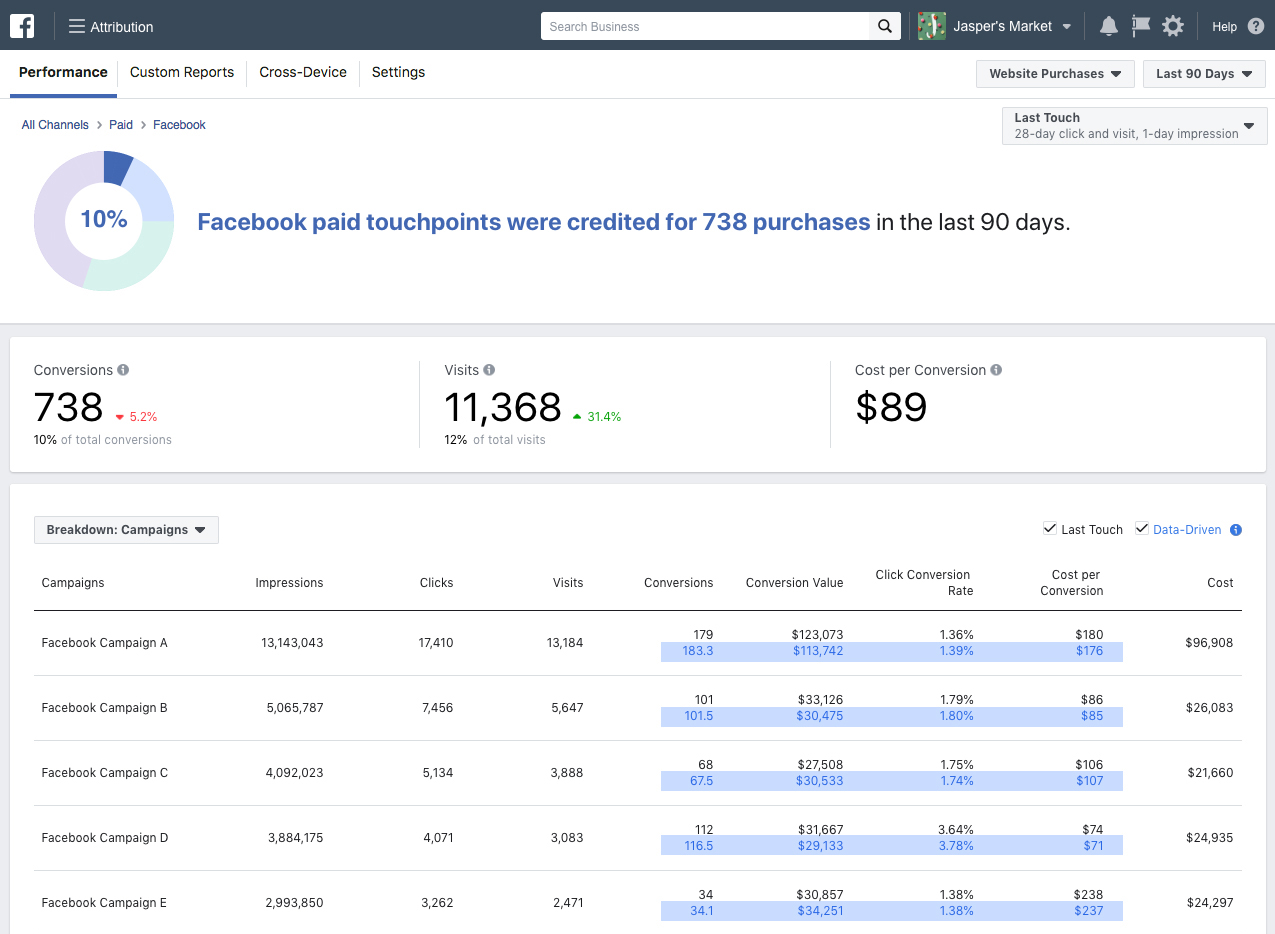 The crucial advantage of this measurement tool is the cross-device reporting feature.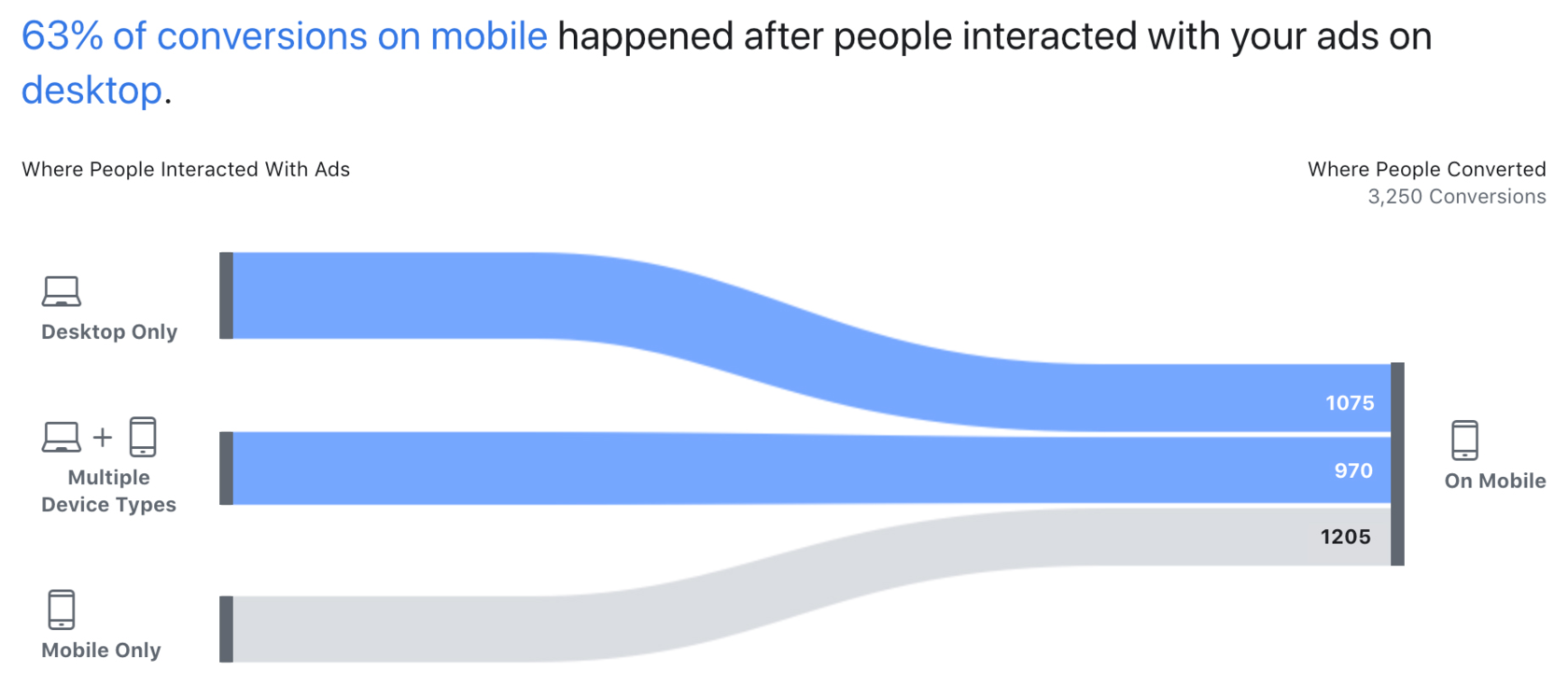 To use Facebook Attribution to the fullest, you need to set up a Facebook Pixel for your website or the Facebook SDK for your mobile app. Also, you need to use UTM parameters for your ads.

Funnels in Facebook Analytics

There's one more tool from Facebook to measure conversions and the time of their occurrence.

Funnels in Facebook Analytics are scenarios used to analyze customer behavior. Every funnel includes a sequence of steps.


Keep in mind that a customer must complete all the steps in the order set in the funnel to appear in that funnel. You can create a funnel for your Facebook Page or Pixel. To create a funnel:


Find the
Activity
tab on the left.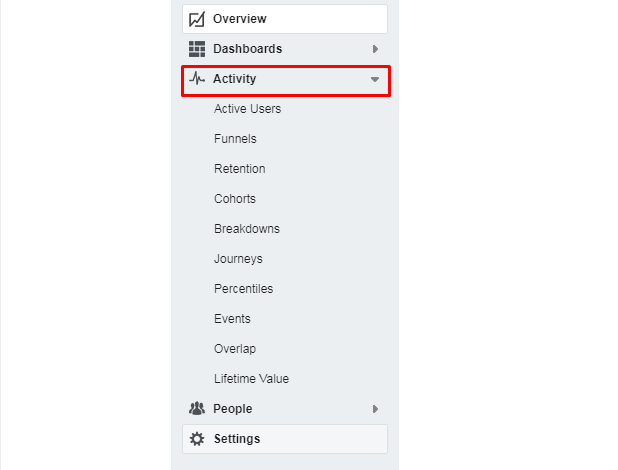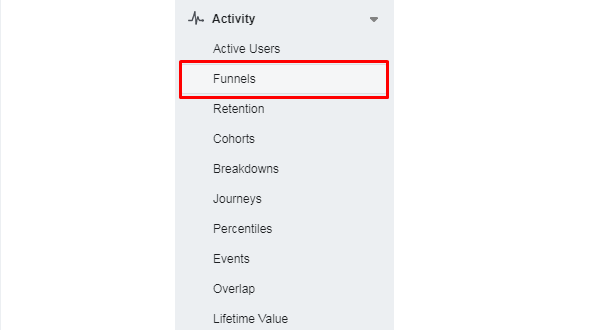 Create a set of steps you want your customers to take. To do that, click
Select Event.

Once you pick your event, click Refine to add more parameters to it.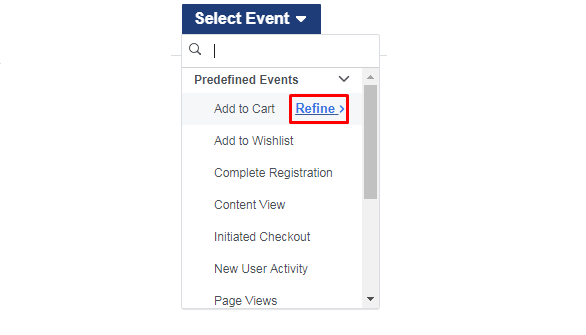 Choose a parameter that you want to analyze.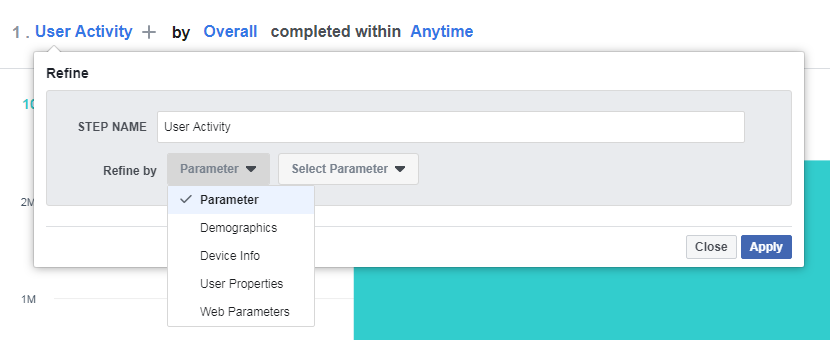 After you add an event, you can change or reorder it. You can also change the info and completion time for events. That's it. Don't forget to save your funnel once you finish it.


What can you learn from attribution reports? Everything you need for your business to prosper.

However, digital marketing is evolving all the time. That's why there will never be a universal solution for marketing attribution.

Instead, marketers will always be looking for new ways to measure conversions. If you want to get the full picture of the customer journey, you need to combine data from different sources: attribution reports in Google Analytics, Google Signals, the Facebook Attribution tool, funnels in Facebook Analytics, and so on.

Thanks for reading, and good luck!

Speed up your search marketing growth with Serpstat!
Keyword and backlink opportunities, competitors' online strategy, daily rankings and SEO-related issues.
A pack of tools for reducing your time on SEO tasks.
Found an error? Select it and press Ctrl + Enter to tell us
Cases, life hacks, researches, and useful articles
Don't you have time to follow the news? No worries! Our editor will choose articles that will definitely help you with your work. Join our cozy community :)
By clicking the button, you agree to our privacy policy.