SEO

–

6 min read

–

October 31, 2017
How to Increase Website's Crawl Speed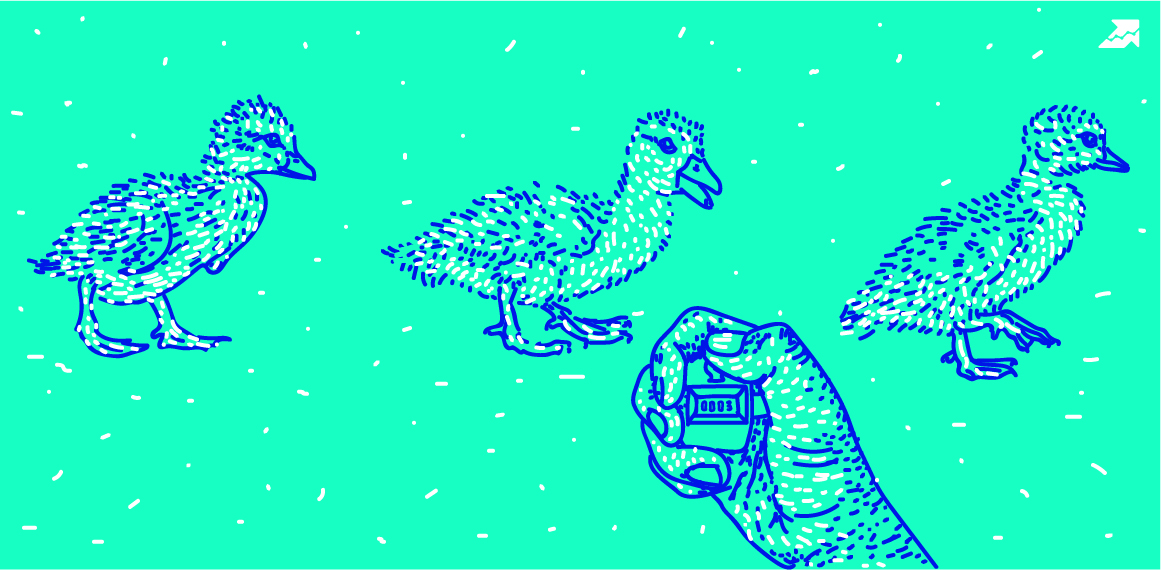 Site crawling plays a pivotal role in the world of SEO. When bots cannot crawl your site effectively, the pages not get indexed in Google and other search engines. Once that happens, the only way for people to reach you is to type your URL, which is not really convenient.

Thus, many website owners want to see changes implemented faster. This is especially true for those who run news portals and want to see pages indexed within minutes of publishing. Well, the good news is that there are a couple of steps you can take in order to make it happen.

Here is how to get more crawl attention and increase the site crawl rate.
If you haven't already, familiarize yourself with the concepts of
Googlebot, crawling, and indexing. For the purposes of covering our topic effectively, we will not go into detail on those.
Now, before addressing technical requirements for faster crawling, let me present some simple tactics that deliver results.
Firstly, we come across links: If Google does not pinpoint enough links that point to your website, it assumes it is not overly relevant. Naturally, this problem is mostly encountered by newly-established websites. To overcome it, start building quality links sooner rather than later.

Refrain from focusing on mere quantity because Google algorithms frown upon spammy practices and black-hat SEO. Do it the organic way, by guest blogging and commenting on other sites. Bear in mind that interlinking brings benefits as well because it passes link juice and enables bots to take on deep pages of your site.

Furthermore, make an effort to produce a steady stream of fresh content because this is the single most important criteria for Google. With regular updates (preferably on a daily basis), you are able to increase your chances of getting crawled more frequently. This is a much simpler and faster strategy than adding new pages.

Therefore, if you haven't started blogging yet, consider doing so ASAP. Just avoid duplicate content because Google bots can sniff it out easily and ignore parts of your website as a result. Stick to relevant and well-optimized content that echoes the user's intent.

Finally, it is a good idea to block access to unwanted sections of your website, such as admin pages and back-end folders.
As for the technical reasons behind slow crawling, they fall into three categories:
sluggish site performance;
So, first off, when the website is slow itself, the Google bots struggle to carry out swift crawling. If your website is slow, when Googlebot comes and starts making too many requests per second, it's slowing down your server. You can change the crawl rate manually in Google Search Console, it's not how often Google checks your website, but how many requests per second Googlebot makes to your site. Read more about changing crawl rate
here.There are no excuses for this fizzle. You can use
Google's special test to check your website's pages speed.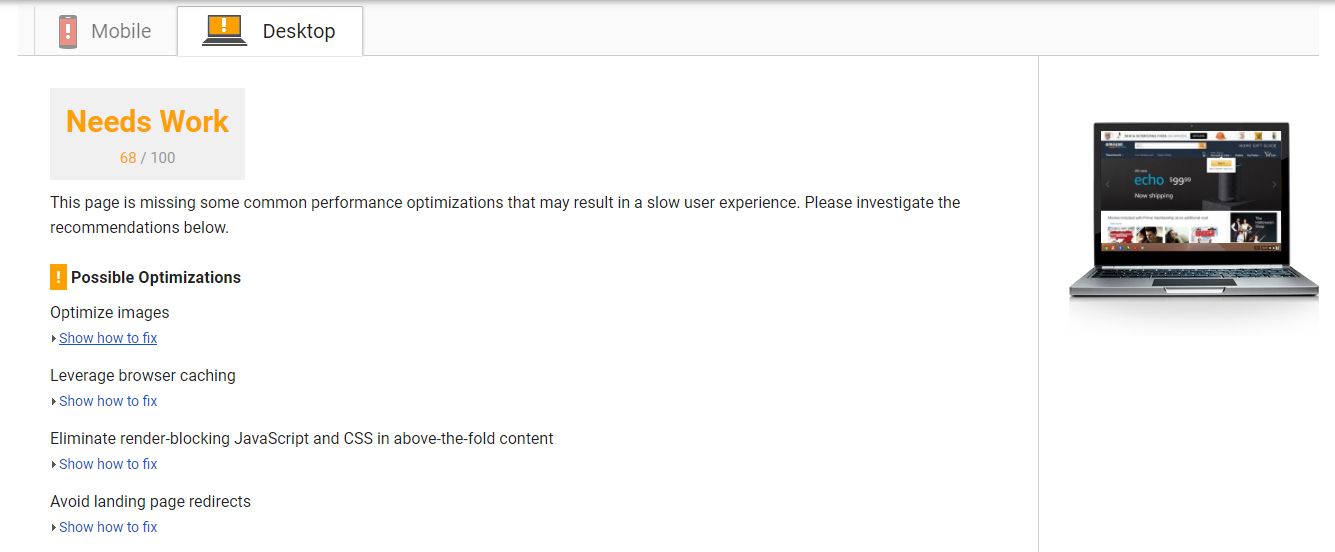 Or you can run an
SEO audit at Serpstat
and see how well your website is optimized. You'll see the list of errors and ways how to fix them and improve site speed. Of course, it should be mentioned that long load times do not just inhibit crawling, they also impede user experience: all the more reasons to step up the game.
Moving on to the issue of having too many errors on the website, the process of setting thing right is pretty straightforward. Namely, to fix the errors, one has to 301 redirect problematic pages to the proper URLs on the website. Run an SEO audit for your website using Serpstat to see what errors your site has and how to fix them.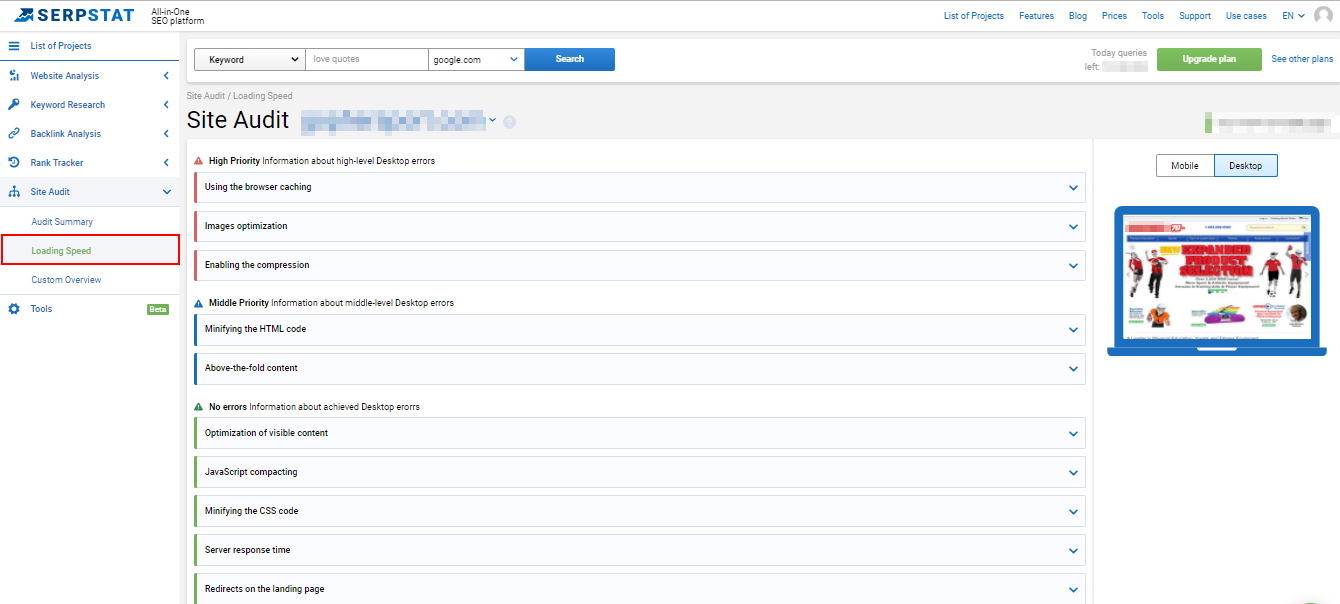 Additionally, you may check your website's uptimes (accept nothing less than 99%) with the tools like
Pingdom. You surely do not want Google bots to show up when your site is down. To go an extra mile, install Google Analytics for
SERP rank tracking
purposes, but also to give the Google heads up that a new site has come to life.
Finally, note that featuring a great number of URLs on your website does more harm than good in terms of crawling speed. Systems like faceted search navigation can cause this to happen, so keep an eye on those. To bring potential issues to light, some people manually crawl their own websites, with the help of tools like
SEO Spider.
1. To attain online greatness, you have to enable people to easily find your pages, via organic
keyword volume search
. So, the first thing to do is to develop a deeper understanding of how crawling plays out. Moreover, meet the technical requirements and create a sitemap.
2. Ensure that your website is fast, facilitate proper navigation, and update your site content regularly. Inspect your website for errors and fix them promptly. Following these steps, you will make strides towards gaining prominence and rise above the competition.
Speed up your search marketing growth with Serpstat!
Keyword and backlink opportunities, competitors' online strategy, daily rankings and SEO-related issues.
A pack of tools for reducing your time on SEO tasks.
Found an error? Select it and press Ctrl + Enter to tell us
Cases, life hacks, researches, and useful articles
Don't you have time to follow the news? No worries! Our editor will choose articles that will definitely help you with your work. Join our cozy community :)
By clicking the button, you agree to our privacy policy.