// В этом файле есть те нужные стили которые в других файлах нет.?>
How to Be the Envoy Of the Service?
Or the Everyday Life of Serpstat Customer Support Team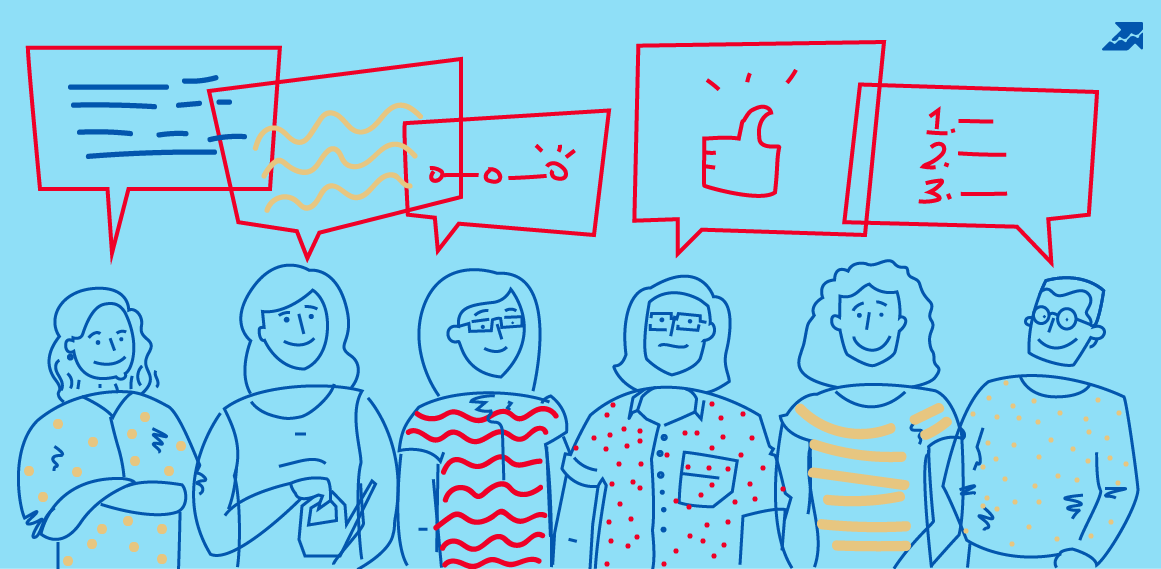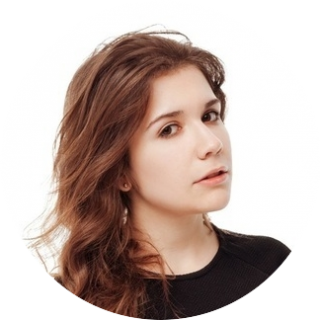 Elena K.
Editorial Head at Serpstat
Do you know what it takes to become a great Customer Support specialist? How to sweep clients off their feet? How to turn technical support into a client's daydream?

Serpstat Customer Support team is doing their best to get to the bottom of these questions.

Support specialist is a link between clients and the service. They are representatives who help users solve their problems and inspire them to work further. The impression Customer Support team makes on the user in chat is his/her first impression of the service thus the work our CS team does is crucial, no doubt.

In this post, I'll tell you more about our Customer Support department and even share the crucial principles they follow to make our users happier.

You've probably seen the green button at the lower right corner, seems like it's a simple green button. But have you ever wondered what's going on there? Let me introduce our Customer Success&Support guys:
Kate (Gata)

VP of Customer Support&Success
Our Queen of Customer Success who has built out the department brick by brick. Kate is ambitious and committed specialist, she is always searching for the new and better ways to make our users happier!

Kate (Kaisa)

Russian speaking Customer Support expert

Have you heard of Dr. Watson? If this character was female, it would be Kate ;) She is the one who always finds the way out of the complex situation.

Mary (Sigourney)

English speaking Customer Support
International relations, opera singing, and intellectual games — it's hard to believe that all these can be the interests of one person! Mary is a real all-rounder!

Eugene (Subzero)

English speaking Customer Support
Despite the fact that Eugene is a reticent and reserved guy, which is a bit unusual for experts working with clients, he has quite a big army of fans within our users. Probably, he knows some magic approaches that we don't ;)
Nataly (Belka)
Russian speaking Customer Success expert

The most creative person in our team who magically makes us feel like everyday is a holiday without any balloons and party hats. BTW, she's a real DIY fairy, as she always creates all party stuff for all holidays we celebrate here at Serpstat.
Anastasia (Stasse)

English speaking Customer Success expert

She is a real perfectionist by nature. She always keeps her fingers on the pulse of new approaches and ways on how to make her work even better.


Customer Support and Customer Success: why 2 are better than 1?

Let me cover the difference between these two directions, which may seem synonymous for the first sight, but they definitely aren't.

Customer Support: It's interactive. This direction is responsible for technical help and solving service issues customers face. The main goal of this team is to provide the user with a detailed and accurate answer to his/her question asap.

Customer Success: It's proactive. Building relationships with the already existing customers, helping them meet their goals and showing them how to get the maximum benefit from the tool are the main objectives of the customer success team.

Now, when you know the difference between these two definitions, let's figure out why they decided to split into two teams.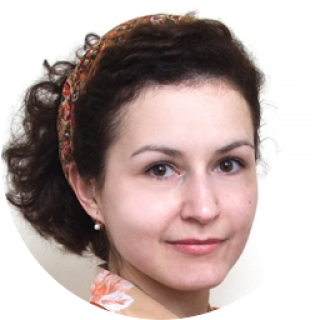 Kate
VP of Customer Success
Until recently our department was a mix of Customer Support and Success, where every specialist was responsible for both these directions. All of us spent most of the time in the Intercom chat answering users' requests. And this was the main problem of such approach as we all were 80% customer support specialists and only 20% customer success ones.

We decided to split our team and picked 2 people now responsible only for customer success part. In the table below you'll find the main responsibilities of both our teams: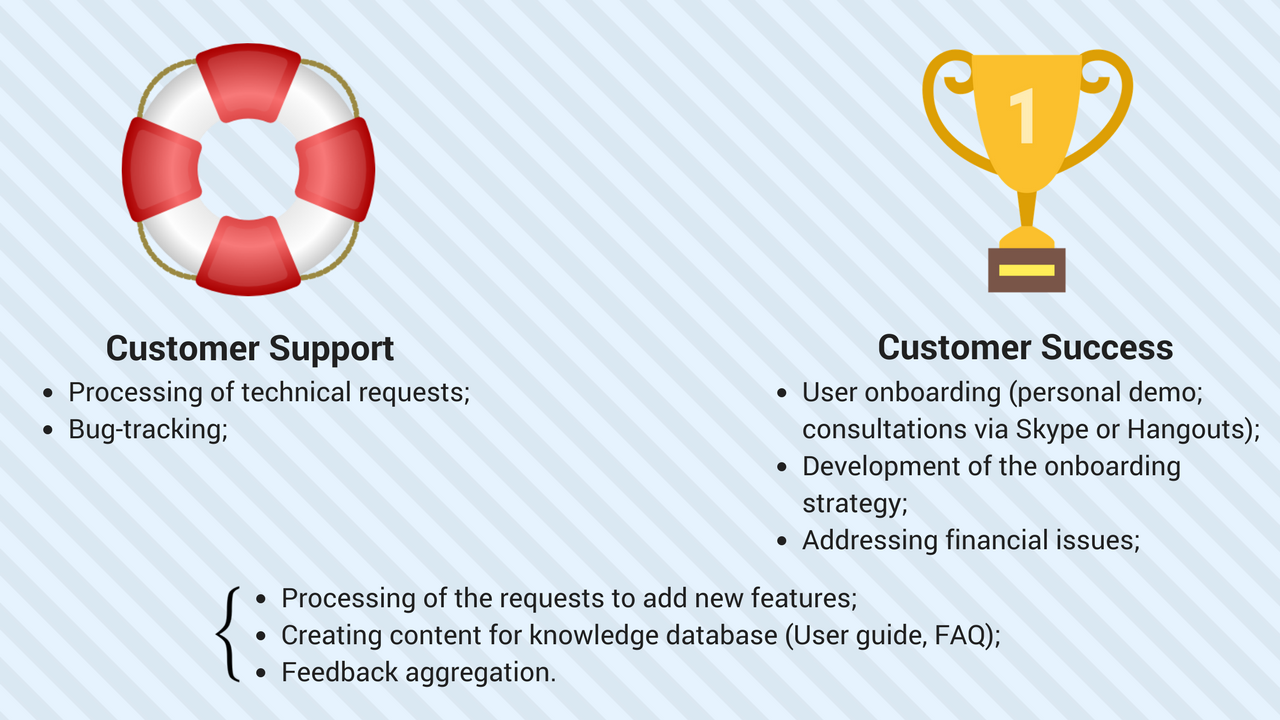 Our Customer Success&Support team was growing and developing along with the service itself. At the very beginning of Serpstat's existence, the only way users could contact us was via tickets, and it looked like a boring "question — answer" dialogue (I can't really be doing with the word "dialogue"). As we didn't want our users to feel like they're talking to the bank teller via the bulletproof window, we decided to change this system.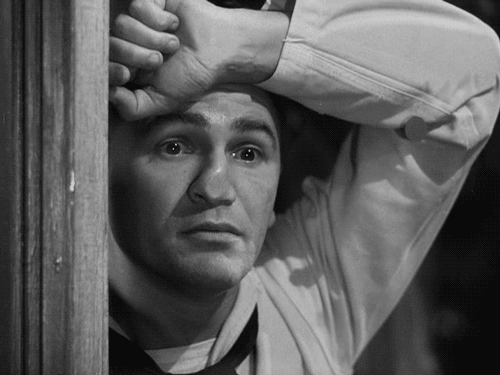 Changing the approach to more friendly and natural is impossible without an appropriate format of interaction, and this format is online chat. We analyzed different platforms and finally chose
Intercom
as our best-fit one. You've probably seen the green button at the lower right corner — this button opens the Intercom chat, where our team is waiting for users' messages 16 hours a day from 24 available ;)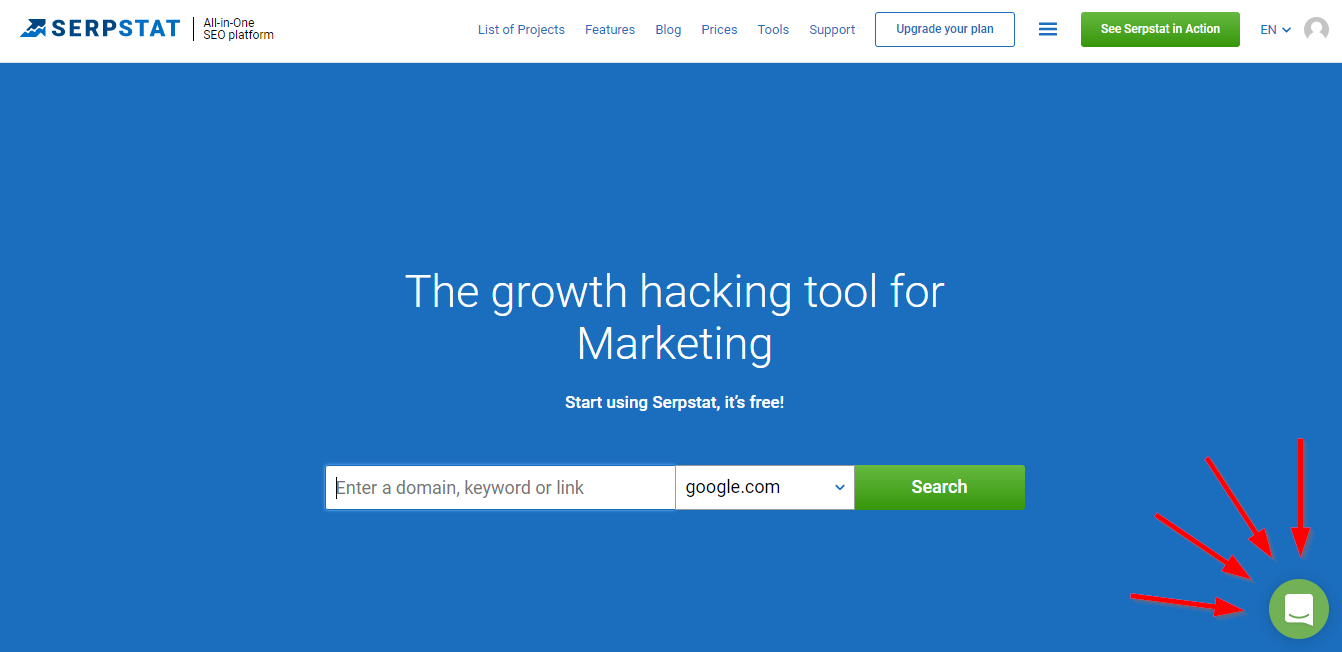 Moving from ticket system to live chat doubled the number of incoming requests:
Apart from writing about the problems users face while using the tool, they started asking us some clarifying questions;
They started sharing their feedback;
Some of them even requested to be contributors to our blog to share their successful use cases.

The key principles we follow and recommend you to use as well

I asked Mary, our Customer Support expert, to form these principles as nobody can do this better than the one who everyday follows them.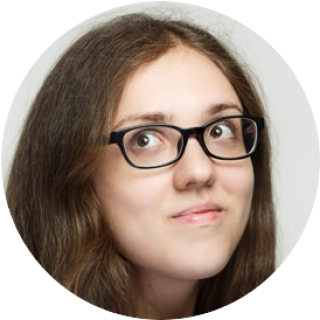 Mary
Customer Support expert

I'll share key points we always keep in mind. Hope you will find something new and useful here, borrow them and make your own team a bit better ;)

#1:

Informal and upbeat communication

At the very beginning of Serpstat's existence, we had no idea which format of communication to choose. We tested both formal and informal one and as a result chose the second one. Informal tone helps us to sound friendly and naturally. To make a customer feel comfortable, we use personal and friendly tone in our dialogues. Emoji and gifs help us to create a feeling that it is a real-life conversation and show emotions that you can't see through the screen.

We added the rating system to let our users evaluate the quality of our work and share their feedback.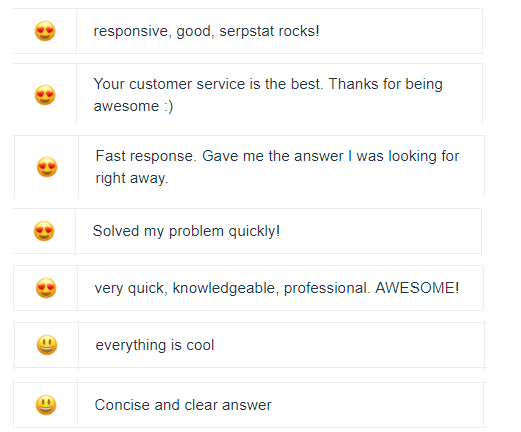 It's very useful because we can see what approach users like the best. Also we get feedback and this helps us to improve our work in chat. It's great when user has a feeling that our team is like an old friend. They can write us a message, and we'll be there to help him whatever it takes. Here is proof that our users love our friendly and informal approach.
Use of visual methods is a must-have when you need to write a step-by-step answer to the user's question. Thus we use screenshots to visualize our answers for better comprehension. Moreover, we use different visual marks as arrows and highlighting to focus the user's attention on the particular area.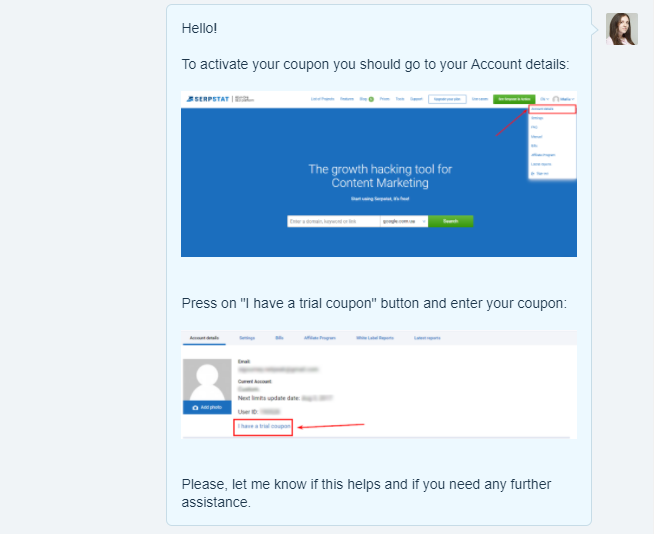 #3:

Individualized approach

I've already mentioned that here at Serpstat we prefer informal and friendly communication but the personalized approach is what we always keep in mind. It is important to match the style of conversation according to the client's messages. If you see that user doesn't greet you and writes short sentences maybe it's not the best time to send a bunch of emoji.

By the way, as a part of this approach our team was divided into customer success and customer support.


#4:

The speed of the replies

The main goal of any support team is to solve client's problem asap. Our users have no time for waiting for hours till we answer them, they want to receive answer quickly and continue their work with our service. Thus sometimes we have to work as a pit stop on the Formula 1.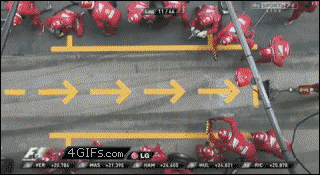 Let me boast a bit and share some feedback that proves that we do really follow this principle ;)


Actually, we work 16 hours from 24 available, thus we do sleep sometimes.

Yes, 8 hours are left and not to make our users waiting for nothing, Intercom created a special bot, his name is "Operator" by the way. He notifies our users that we'll answer him soon and will notify him via email about this. Quite a nice option!


#5:

Customer's voice is heard

As making our tool user-friendly and flexible is one of our main goals, we always take users' suggestions and requests as to adding new features or whatever else into account.
There are a lot of great SEO and PPC specialists with a huge experience among our users who are sharing their ideas on how to make our tool better. We always pass these ideas to our developers. Moreover, as Serpstat is a SaaS tool, bugs are an inevitable part of our work. Here is the algorithm we always follow after receiving bug complaint:
We pass this request to our QA team to ensure that the problem is on our side.


After getting QA's confirmation, we create a task at Redmine (project management web application) to fix it.


Then we add the link to Redmine task to the dialogue not to forget to share the great news with our user when the task is completed.


Then our devs team does some magic and poof — everything is again working.


We find the conversion with the help of Redmine link and notify the user that the bug he reported is already fixed.

In case user asks us to add new features, the algorithm is the same, but in the first step we ask whether adding such feature is feasible.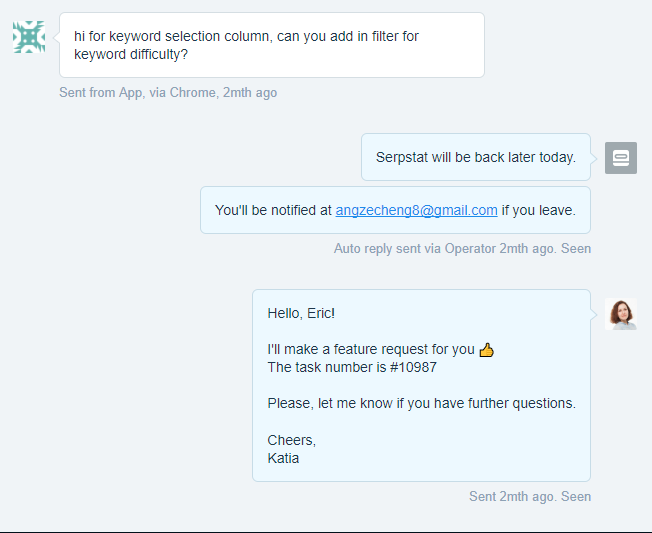 It's important to have enough materials for users so they can learn how to use your service. We have our own knowledge base that we build based on the most common questions we receive.


When a user asks us a question that is already covered in details in one of the sources mentioned above, we provide him/her with the proper source. If after studying the materials the user still has questions, then we come to the rescue. This approach helps us both save our time not answering the same questions several times a day and our users get the detailed answer with examples and screenshots.

It is important for Customer Support specialist to have perfect understanding and knowledge of the service, so that they can answer any question that user has.
Our support team knows the product from A to Z. We are the biggest fans of Serpstat. We always watch
Serpstat youtube channel
and keep the finger on the pulse of
our blog
when something new comes up.
Hope this post was interesting and useful for you. See you in the Intercom chat ;)
Found an error? Select it and press Ctrl + Enter to tell us
Cases, lifehacks, researches and useful articles
Don't you have time to follow the news? No worries!
Our editor Stacy will choose articles that will definitely help you with your work. Join our cozy community :)
By clicking the button, you agree to our privacy policy.